Have you ever tried to remodel your kitchen into a vintage themed kitchen? The process is not an easy one. It requires a lot of commitment and creativity. I have seen a lot of terrible vintage kitchen decor ideas.
Do you need to be a professional before creating the perfect vintage themed kitchen for your home? The answer is NO! In this article, I have put together a list of 35 vintage kitchen decor ideas, and the images will surely inspire you to create a fantastic vintage kitchen.
1. Rustic Style Kitchen Decor
This kitchen is given a rustic tag due to the rustic basket made from pallet wood. The pallet wood baskets and floating shelves with hanging cups and other kitchenware make this kitchen vintage.
2. Charming Vintage Kitchen Decor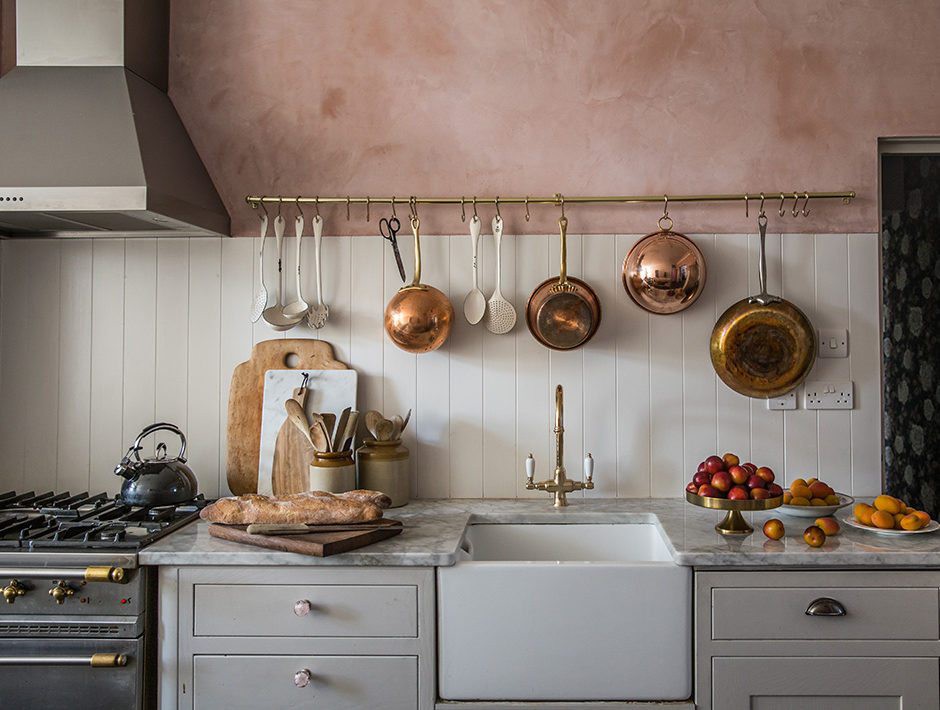 I love this vintage kitchen decor. I couldn't help but notice the pots and pans in copper and gold color, respectively.
3. Mismatched Chairs
You can consider this simple vintage kitchen decor idea. All you need to do is order different chairs and use them for the dining table section of your kitchen. The chairs should all be about the same size.
4. Industrial Lighting
For this vintage kitchen decor idea, industrial lighting is used to give it that final vintage touch. Another thing in this kitchen decor worthy of note is the decor sign on the wall. Amazing!
5. Wood Display
I love the floating shelf of this kitchen. I also admire the countertop made of wood. On the floating cabinets, different sizes of cutting boards are displayed.
6. Vintage Flower Vase
With a vintage-type decor, If you must have a flower vase in your kitchen, make sure it is vintage too. Here's one vintage flower vase that will look lovely on your kitchen island.
7. Metal Vintage Pail
This metal pail is a great place to store your kitchen utensils. It will look great on your kitchen countertop or kitchen island. It has a fancy wooden handle which makes it easier to move the pail.
8. Rustic Floating Wall Shelves
If you can't make a floating wall shelf for your home, you can purchase one like this and use it for your vintage kitchen decor needs. It is quite easy to install these floating wall shelves.
9. Vintage Kitchen Decor Idea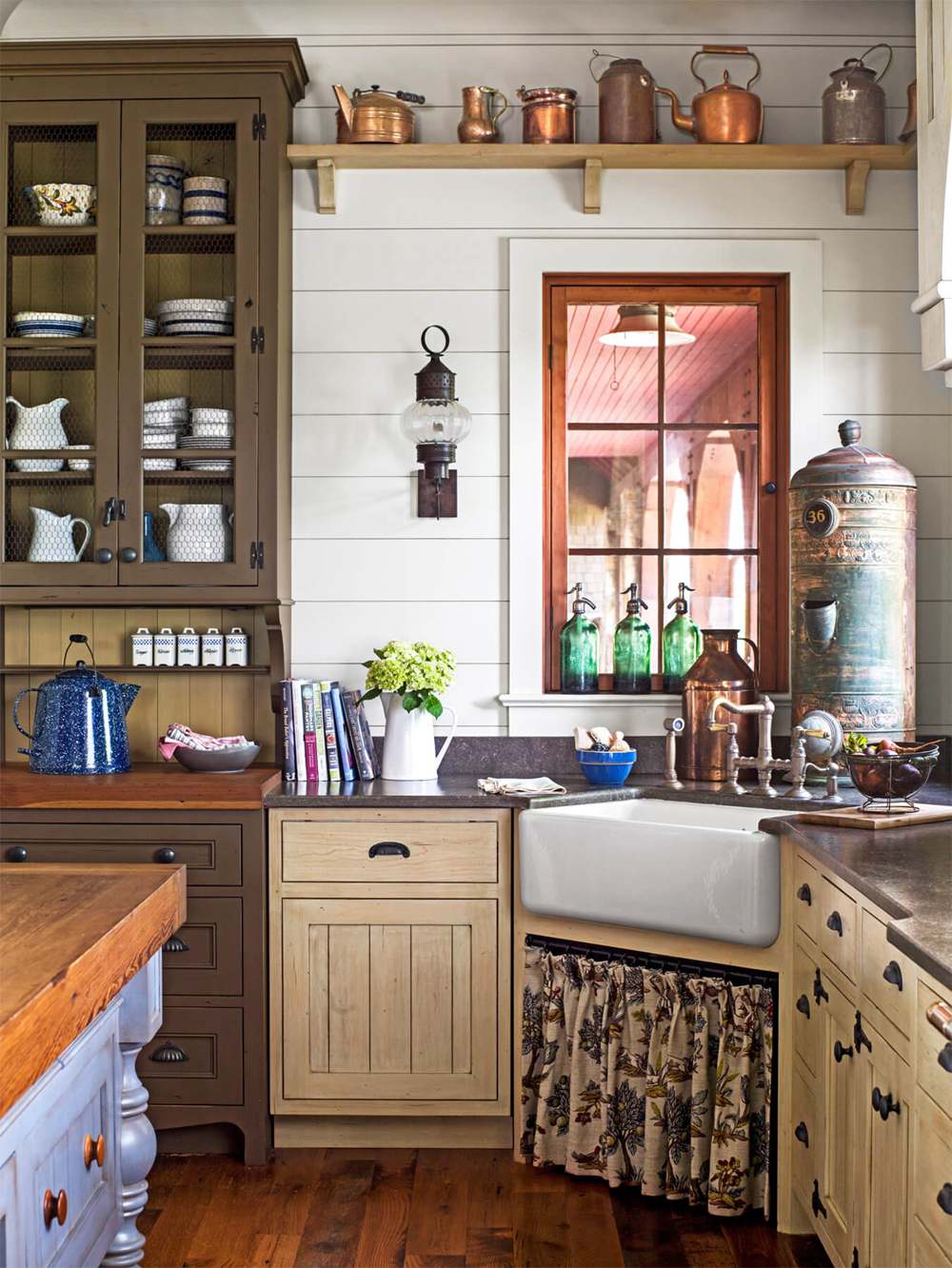 Here's another vintage kitchen decor idea that you would like. In this decor idea, most of the kitchenware is made of bronze, gold, and copper. The old water dispenser was another thing that caught my eye; it looks very vintage.
10. Vintage Appliances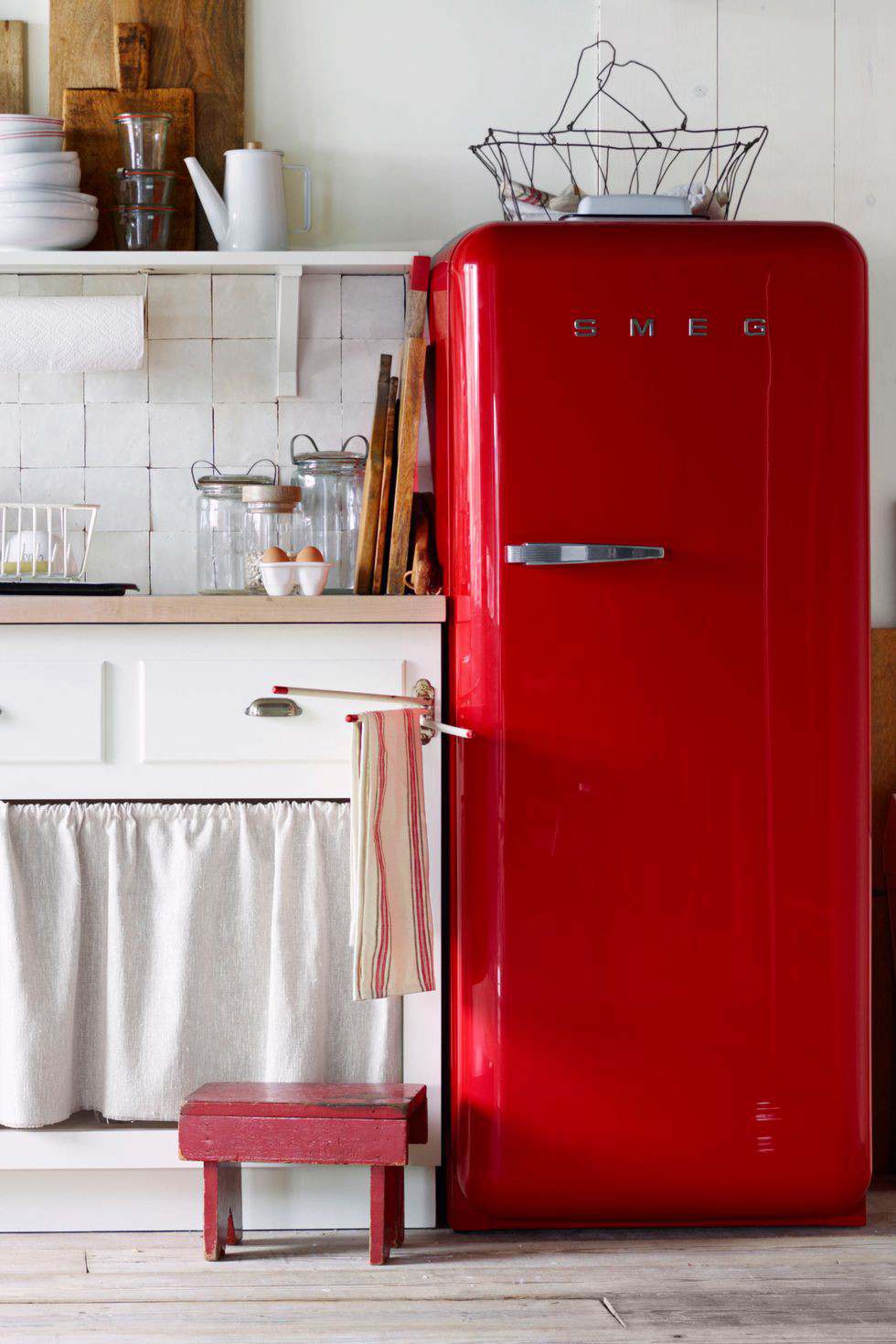 Every kitchen needs appliances. If you are looking at having a complete vintage style kitchen, you can consider having vintage appliances in your kitchen like this 50's fridge.
11. Under The Sink Of A Vintage Kitchen
Since you want a vintage style kitchen design under your kitchen sink, it should not have a modern look. In this kitchen, vintage furniture and also a vintage basket is used under the sink.
12. Green And Wood
For this simple vintage kitchen decor, the designer installed some floating cabinets and used baskets of flowers to add that needed vintage feel. I also couldn't help but notice the kitchen table; it is an amazing piece of furniture that is perfect for vintage kitchens.
13. Pink Vintage Kitchen Decor Idea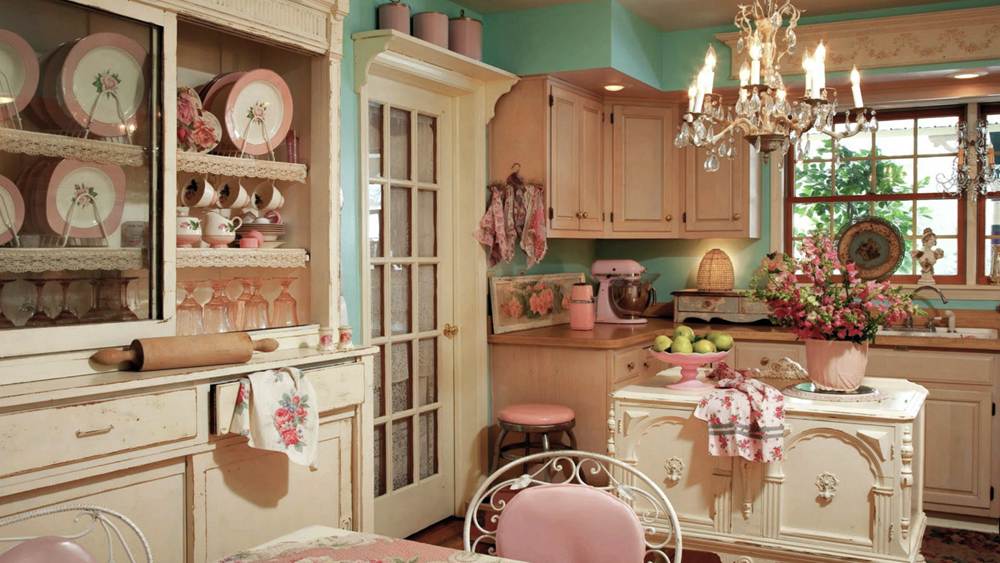 In this vintage kitchen, a lot of pink is used to make the kitchen look prettier. I love the fancy kitchen island with a pink flower vase and cake stand. The chairs in this kitchen are also made of pink.
14. Color Blocking
I like how the lower cabinets are in brown, and the floating cabinets are in baby blue. As an add-on, you can add a flower basket on the countertop.
15. Vintage Plate Rack
Here's another great vintage kitchen decor item that you can use to beautify your kitchen. This vintage plate rack cannot contain a lot of plates.
16. Vintage Style Plate Rack
Every kitchen deserves a plate rack; in fact, every vintage style kitchen deserved a plate rack that would match up with the overall vintage theme.
17. Old Crate Coffee Station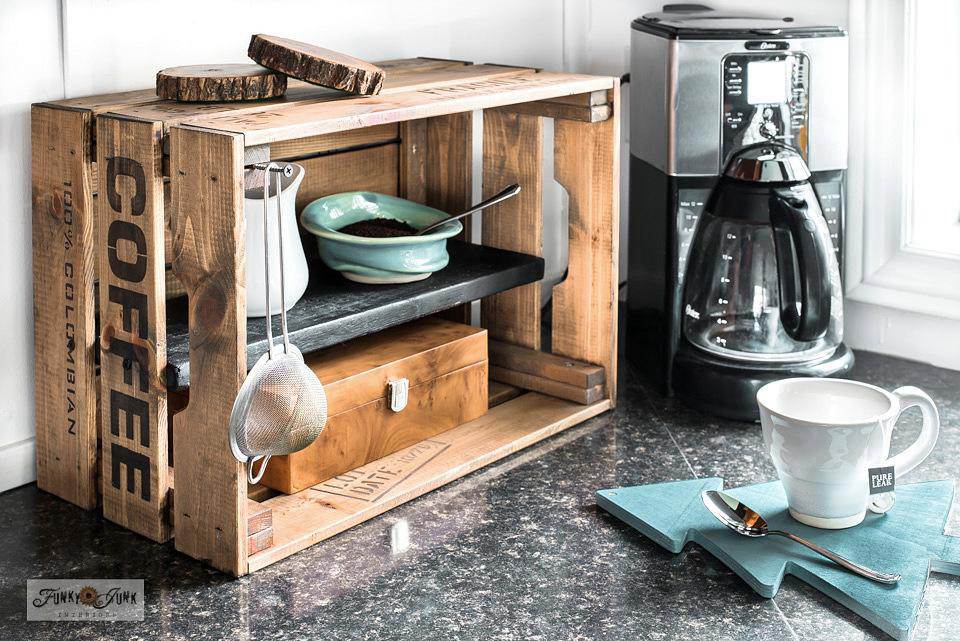 Make use of the space on your countertop by using an old crate to craft your very own coffee station. This is a great vintage kitchen decor idea that your family and friends are going to love. I have included a DIY link that will give you tips on how to make this crate from the comfort of your home.
18. Chalkboard Dinette Set
Another quick way to add a vintage feel to your kitchen would be by using a chalkboard dinette set as seen in the vintage decor idea above. It is beautiful.
19. Checkerboard Flooring
For me, I think having a checkerboard floor is a great way to add a vintage theme to your kitchen. All you have to do is purchase vintage-like tiles and add them to the floor of your kitchen.
20. Vintage Pendant Lighting
For your lighting needs, you should definitely consider vintage-style lighting. I found this amazing vintage pendant lighting. It is easy to install.
21. Vintage Wallpaper
Another quick hack to having a vintage themed kitchen is with wallpapers. There are a lot of wallpapers available for purchase. If you look closely, you'll also notice the vintage style rug on the floor.
22. Vintage Kitchen Decor Idea
For this vintage kitchen decor, a vintage rug was used on the floor of the kitchen. I also love the well-decorated floating shelves. Also, different variations of cutting boards are used to decorate this kitchen.
23. Vintage Wallpaper
There are tons of vintage wallpapers out there; you'll have to pick the best one that will suit the texture of your kitchen. This gray brick wallpaper should fit most kitchens.
24. Vintage Paint
In most cases, all you might need to give your kitchen that vintage theme you desire is to do a complete paint job. This pastel paint color works great.
25. Retro Style Kitchen
Almost everything in this kitchen is worthy of your love. From the vintage floor to the kitchen island, ladder in the kitchen, and more. All these things make up this vintage kitchen decor.
26. Beautiful Vintage Kitchen Style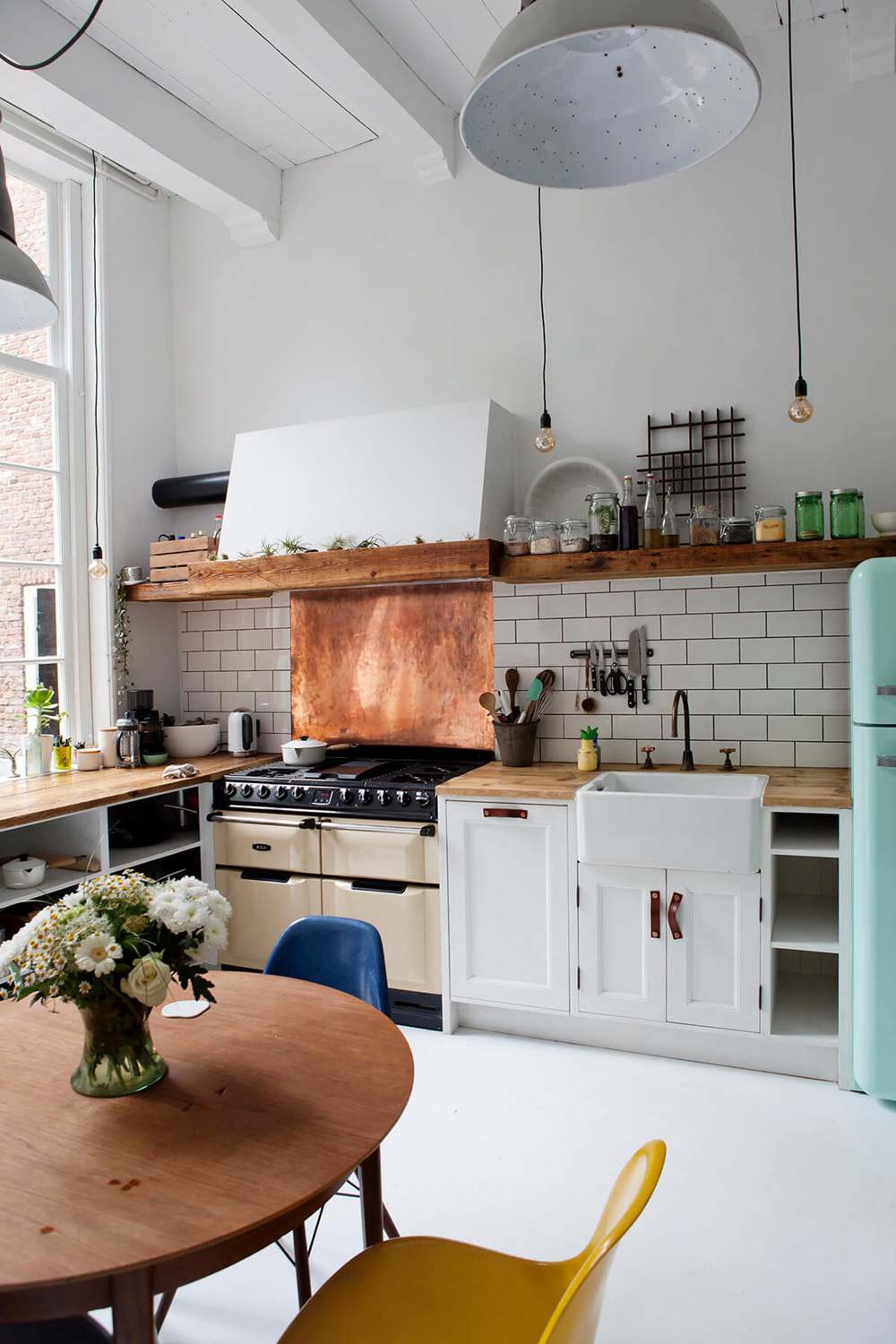 Here's another vintage kitchen decor idea that will inspire you to create yours. I love the subway tiles on the backsplash. I also love the use of wood for countertops.
If you are a true coffee lover, you would want to re-create this coffee bar idea in your vintage kitchen. The shelves look amazingly outstanding.
28. Peel And Stick Wallpaper
You can use this vintage wallpaper for the walls of your kitchen wherever you please. Installing this wallpaper is easy; simply peel and stick.
29. Vintage Kitchen Sign Wall Decor
"When life gives you lemons, add salt and tequila" This kitchen sign is 100% vintage. It will look great on your kitchen wall. I think you should give it a shot.
30. Kitchen Island Wallpaper
This kitchen decor is full of style and vibrance. The first thing I noticed about this vintage kitchen was the use of wallpaper on the kitchen island. It's truly amazing. Also, you can see that the designer used a fridge from the '50s.
31. Vintage Appliances
Here's one vintage kitchen decor idea you don't get to see every day. These deep navy cabinets look amazingly outstanding. I like the use of old kitchen appliances, like the gas cooker.
32. Statement Pendant Lighting
Have a good look at this beauty. The first thing I noticed was the table cover. I also noticed the statement pendant lighting just above the kitchen table. This vintage kitchen decor idea is wonderful.
33. Sun-Worn Vintage Cabinets
Here's yet another vintage kitchen decor idea that you should consider. In this kitchen decor, the cabinets seem sun-worn. You can achieve this sun-worn texture with the right paint mixture. Feel free to use vintage curtains alongside the vintage cabinets.
34. Pale Orange Painted Cabinets
Now, this is what I call beautiful. You can use peel and stick wallpapers to achieve this, but I would strongly suggest that you use paint. This vintage kitchen decor idea is fantastic.
35. Vintage Kitchen Curtains
All kitchens have windows, and all windows should have curtains. If you are looking at giving your kitchen that final unique vintage touch, you can consider using vintage style curtains. I found these ones and I think they are fantastic and would fit in a white vintage kitchen.