Nobody likes their kitchens dull and boring, which is why we are here to bring you some exciting kitchen paint Colors ideas to make your kitchen pop with vivid shades of happiness!
The Idea Behind Painting Your Kitchen
You could have an A-list series of kitchen appliances and furniture, but if you do not give your kitchen an impacting aura, then all of that would have gone to waste.
Creating an attractive aura is a clever tactic to make your kitchen look more engaging and inviting.
The sort that everyone would glance over to admire the beauty of.
And the easiest way to do that is by an action ever so simple and cheap: painting!
Our article will introduce you to the finest paint ideas and the themes you should incorporate with them.
Painting your kitchen before purchasing all the items for it is always a good idea.
That way you can coordinate the items with the paint and give birth to a uniform and harmonious theme!
24 Kitchen Paint Ideas To Give Your Kitchen A Splash Of Vibrance!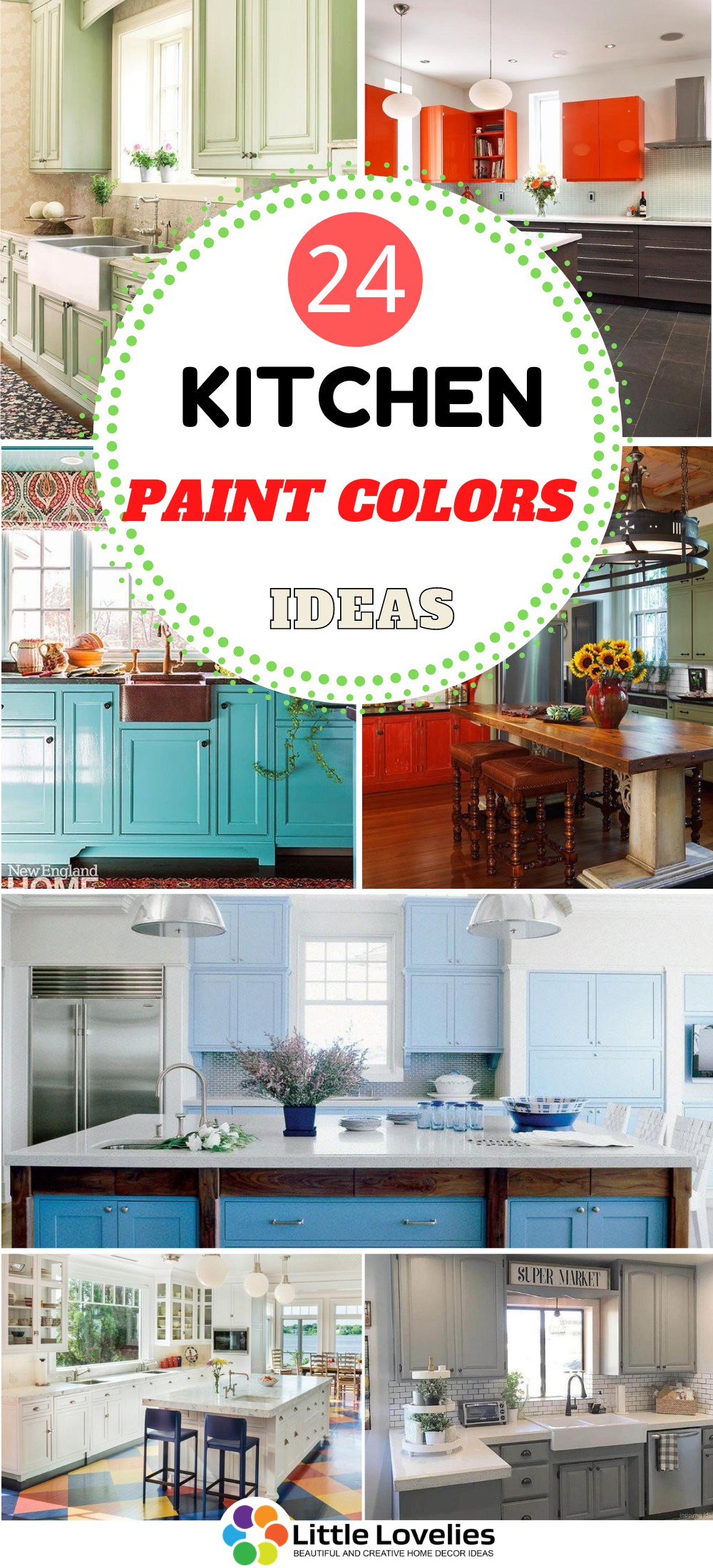 1. Canary Yellows!
Pastel yellows are not only a vibrant series of colors but also have the ability to make a room look well-lit and inviting. Pastel yellows coupled with white kitchen hardware are a duo that goes hand in hand! The addition of porcelain white floating shelves adds more to the grace of this homey kitchen!
2. Luxury Prussians
This gorgeous kitchen is elevated by the idea of incorporating such a charismatic Prussian blue to the walls of the kitchen cabinets. The kitchen has now acquired a new and fresh look that is extremely appealing to the eye. Incorporating a set of hanging lights will give your kitchen twice the radiance!
3. Devil's Snare
This scarlet-red themed kitchen is certainly not for the faint of heart. However, those obsessed with vampires and blood will find this kitchen extremely appealing. The clever addition of spotlights brightens the atmosphere of the kitchen while toning down the striking reds!
4. Aesthetically Minty
This Victorian cum Italian themed kitchen is extremely attractive. The mint green color is complementary to the entire kitchen theme. It also gives a fresh and earthy vibe to this aesthetically pleasing kitchen. The addition of planted pots adds more to the fresh vibe!
5. Tropically Papaya!
Orange is an amazing color to play with, but also a very tricky one at the same time. You can incorporate cool-toned matte greys with papaya whipped orange to give an executive and impressive touch to your kitchen!
6. Mulberry Jam
Shades of purple are essential heartthrobs. You can play them around to pitch in a retro cafe vibe, just like this kitchen. This delicious blend of magenta and mauve is making this kitchen look straight out of a movie scene. For more dramatic effects, you can look into more shades of purples! The gold spherical lighting gives an elegant sheen.
7. Carnation Macaroons
It is hard to play around with pinks, but pastel themed pinks are soothing and relaxing to the eye. They are also major advocates of elegance and charm! This enchanting carnation pink is looking ravishing with those white cabinets and gold lights! The Aztec themed flooring is giving it a touch of sheer grooviness as well!
8. Fresh Daisies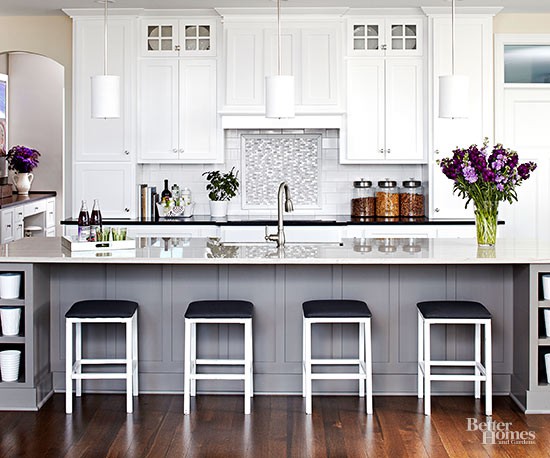 White is an utterly graceful color that can make a room flooded with sheer radiance and elegant vibes. An all-white kitchen theme coupled with some textured bar stools is all you need to make your kitchen look breathtaking! Adding some cylindrical white hanging lamps with further enhance the definition of your kitchen.
9. Slate Gray
Grays are extremely chic and executive monochromes. You can totally rely on them to make your kitchen look impressive and modern. But since they are serious colors, you might want to add some colorful floral arrangements to give it a vibrant blush of nature! Sandwiching a white marble kitchen countertop will further play a role in building attractive contrast!
10. Dark Belgian Chocolate
A kitchen inspired by chocolate can never go wrong. This dark fawn color interplay is an engaging yet sleek one! The clever pairing of color-coordinated furniture is making this brown kitchen look harmoniously delicious. But do make sure to incorporate bright lighting to tone down the darkness of this decadent color!
11. Under The Sea!
This gorgeous turquoise themed kitchen gives the perfect look of everything ocean and breezy. Accompanied by a set of colorful curtains give it further enhancement while the plants add to the earthiness of it!
12. Dramatically Noir
It only takes a few buckets of black paint to make your kitchen look this attractive. An all-black kitchen with an all-black lighting scheme is perfect for anyone who wishes to impress any incoming visitors. The idea of a black sink is commendable.
13. Golden Royalties
Who knew a bit of gold spray paint or plain paint could impart such a dramatic effect? If you wish to add speckles of blonde to your kitchen, then consider painting some panels of the kitchen counter golden. And of course, the hanging lights in gold will seal the deal.
14. Lemon Zest
Yellow is one of the most cheerful colors out there! It can also make your kitchen look retro and happy! This lemon yellow color is elevating the entire aura of this kitchen. And what could be a better duo with color this bright? Black! The black kitchen countertops neutralize the brightness of the yellow and keep it to a moderately pleasing level.
15. Fantastically Ochre!
Ochre is an extremely elegant color, and a luxurious one too! The milky brown kitchen cabinets go hand in hand with the excellent warm ochre paint in the background. With ochre paint, you will always need yellow-toned lights.
16. Ballerina Pink
Instead of painting your whole kitchen pink, why not just paint your kitchen island pink? It would contrast with the overall white kitchen theme while also giving a subtle pop of color! To further enhance the contrast, you can always add a set of baby pink curtains for an eternal glow!
17. Pewter Grays
If you wish to choose pewter grays as your kitchen theme, then make sure to add an element of white to lift the mood of the kitchen. Pewter gray and white is an iconic contrast that gives a farmhouse style look with an added bit of luxury. Adding a set of kitchen baskets to hang alongside will make your kitchen look more purposeful.
18. Candy Apple
Candy Apple cabinets and a slate grey kitchen theme are major glance stealers. The complementary grey tiles and the gorgeous kitchen tops make this kitchen look stunning. The addition of black bar stools is another innovative idea!
19. Pearlescent Hues
What an amazingly crafted kitchen! The perfect amount of white contrast boosted by the colorful patterned flooring. The window zooms into a fresh and nature-loving sight while the creamy grey marble kitchen island gives the entire kitchen the ultimate touch of luxury. You can also choose a pearly white kitchen paint for your kitchen and couple it up with a trendy flooring to nullify the monotony!
20. Soothing Maya Blue
Nothing is more appealing to the eye than a persuasive blend of ocean blues. The blue kitchen cabinets are accompanied by the crystal blue crockery items which make an ultimate harmony. The addition of Lavender and Lily plants makes this kitchen closer to nature and even more calming to the eye. And to enhance the textures, the addition of steel kitchen ceiling lights prove to be a marvelous choice!
21. The Jolting Jades
Dark Jade Green sparkling Gold makes an impressive color palette. This kitchen is executing excellent use of the jade green cabinets along with the champagne gold kitchen island-top lights. The use of a black texture for the kitchen island makes it more of a complex blend of colors. To make a great duo with the champagne gold lights, the golden faucets are inserted in the sink!
22. Chilli Red
This gorgeous Victorian style kitchen is given a medieval touch by the clever use of chili red paint on the cabinets. The matte black mini chandeliers add to the rustic touch while the square-shaped traditional brown bar stools execute a stunning theme!
23. Midnight Blue
A kitchen that displays a lot of personality and contrast! The midnight blue themed paint is encouraged by the use of matte grey paint on the cabinet placed aside. The pearly white cabinets enhance the blue color and the finishing looks extremely neat and catchy! And adding a few colorful flowers is always a good idea to give a unique pop of color.
24. Zesty Lime
This moss-colored paint is quite tricky to play around with! Because it can result in dull and boring hues. But if you deal with it the right way, then it can make your kitchen look unmatched in style and elegance. The key is good lighting. You need copious amounts of lighting to elevate this color into the desired brightness. This can either be done by the use of large windows or numerous scattered spotlights.