With these trendy and gob stopping kitchen curtain ideas, you can give your kitchen that extra-chic look that it deserves!
All kitchens have windows, which can look dull and mundane if not handled with a unique sense of style.
In this article, we will not only showcase an exquisite range of curtains, but also a large plethora of exciting ideas that you can couple up with those glamorous curtains!
25 Kitchen Curtain Ideas That Will Bring Your Kitchen To Life!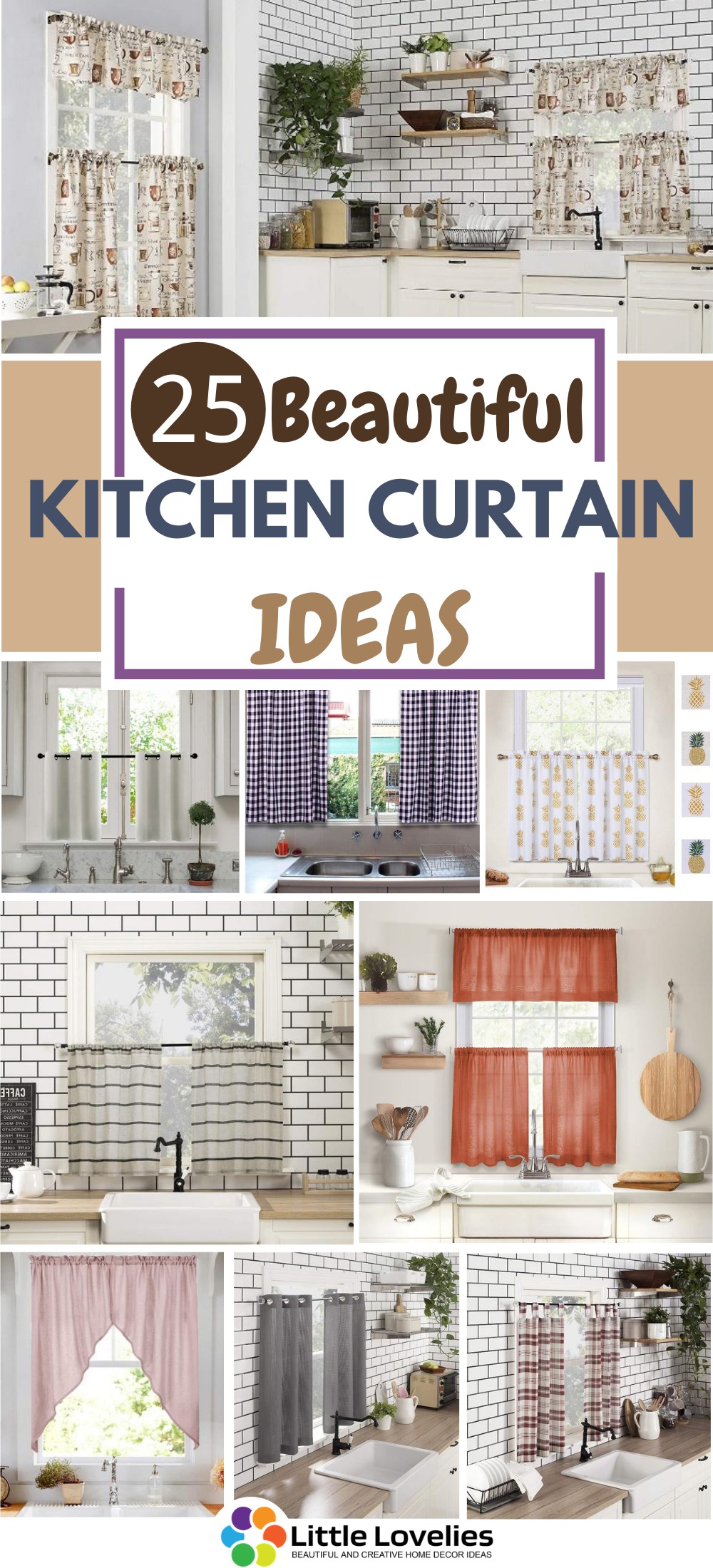 1. The Peace-loving Monochrome
These soothing pairs of bright white curtains can be seen displaying grey hues in the form of shadows. And not just that, amalgamating these curtains with the shiny silver faucets gives it more dimension and contrast! If you wish to style a pair of monochromatic curtains, then make sure to enable some form of a distinguishing contrast.
2. Checks or Chess?
It has been customary to incorporate checkered patterns into houseware items, especially those associated with the kitchen. If you are someone who wants a traditional and wholesome kitchen, without any fancy additions, then make sure to consider this set of black & white checkered curtains. Placing some succulents and paninis on the window pane will give them a touch of an evergreen vibe!
3. Before The Sun Sets
Do we all not love sunsets and their magnificent persona? Then why not try and incorporate it into a kitchen curtain! These printed curtains are sure to give your kitchen a pop of color along with a fresh look. Like this kitchen is mostly composed of monochromatic hardware, this curtain does a good job of imparting it with life and vibrance!
4. The Fruity Essence
Abstract patterns with a cute background theme always prove to be a heartthrob! These beige tinted pineapples contrasting against the creamy background tone of this curtain make this kitchen look twice as delectable!
5. The Not So Opalescent
If you have a good view outside your kitchen window, why try to hide it? Netted or halfway transparent curtains are not only the most romantic curtain options but the most gorgeous ones too. Their iridescent transitions are what make them so special and lovely. The brass/copper-rimmed rose gold vases put up a great theatre of exciting blends!
6. Old McDonald Had A Farm!
Unleash your inner child that you have always kept hidden! Curtains with a cartoon themed pattern are not for the faint of heart, but for those who seek inspiration from their childhood! They can make your kitchen reminiscent of those good old days at your grandma's!
7. Crimson, But Make It Two!
For windows that are tall and heightened, these double railed curtains will release the perfect amount of natural light. Not only does it maintain privacy but also keeps the kitchen well-lit. These luxurious crimson curtains interplay with the kitchen countertop items with a dancing elegance.
8. Stripes With Vibes
These white brick tiles in combination with those striped curtains make a geometrically satisfying duo. The overall greyish hues are enhanced by placing a menu chalkboard, that can give a kitchen that unique cafe-like look. Clever choice of colors has turned this kitchen into a piece of art. You can easily grasp an idea or two from this exemplary kitchen.
9. Blinded Or Blinds?
No products found.
Curtains are not the upholstery choice for everyone. No worries! You can easily shift over to a modern set of blinds to give your kitchen a futuristic look. A pinkish-coral painted wall contrasts extremely well with these soothing and modern set of blinds.
10. An Optical Illusion
Who knew a trick or two would come in handy for decorating your kitchen curtains? These curtains give the impression of a Barnhouse style window door! They can impart your kitchen with a rustic farmhouse style look while the opaque properties can help you control the amount of light you want!
11. You Reap What You Sow
Sometimes, an exquisite print of abstract florals can give your kitchen a pleasant glow. The white kitchen cabinet compliments the white background of the curtains, while the neutral red color gives the entire aura of the kitchen a positive pop of color!
12. Faded Neutrals
Not everyone is a fan of bright and eye-stinging colors, which is why we bring to you a range that is completely neutral and very stunning at the same time! These gorgeous rich and balanced colors can make your kitchen look whole and fulfilling. The subtle color scheme also imparts an elegant and fresh vibe!
13. Checkered Fantasies
Even though checkered patterns are often rendered traditional or retro, this one has a business class touch to it. This has been made possible because of the ravishing interplay between the kitchen hardware and the curtains. The white kitchen countertop reflects and highlights the checkered curtains further. The neutral beige wall paint is also a very smart addition!
14. The Pearlescent Luster
This whole kitchen holds a similar personality as that of a mirror! Everything is indulged into creamy or opalescent whites! The white kitchen countertop and the white vase only add further to this reflective kitchen!
15. Feathery Florals
This material alone for curtains prove to be extremely breath-taking and stunning. Keeping it light and simple is always a good strategy when it comes to styling your kitchen. The colorful florals very much compliment the rest of the ongoing kitchen theme!
16. I See Through You!
Yet again, a very reflective and pearlescent themed kitchen, thanks to those light and elegant curtains! A lot of interesting hues can also be seen. The blue kitchen mixer and greyish marble tray impart very interesting blends!
17. A Hint Of Grey
Browns and greys are not the friendliest of blends unless played right! Your kitchen can also be a version of this contemporary kitchen with futuristic embellishments. The sleek textured kitchen countertop and the white kitchen tiles and jars advertise an executive look to this kitchen!
18. Time For Tea!
What can prove to be better than a curtain that is entirely kitchen-themed! French-style curtain patterns that display pots and cups are an extremely likable category of curtains! Amidst these curtains, you can display a variety of your favorite mugs and crockery to make a statement!
19. Textured Delicacies
The best thing about textured upholstery is that it gives shape and dimension to the room intended, which in this case is the kitchen. The pastel light pink gives a ravishing and luxurious touch to this kitchen. The addition of floating shelves add more to the dimension and make the kitchen more appealing!
20. Cherries, But No Blossoms!
These cherry colored curtains with checkered patterns are giving us major kitchen goals! The idea of putting them up on a double railing is to ensure adequate ventilation. The cherry color also compliments the overall white monochromatic theme of the kitchen.
21. Minimalistic Ventures
Not all curtains are glance stealers. Some people prefer simplistic curtain styles, which allow the features of the kitchen to shine through. Just like this striped curtain is letting the kitchen hardware do the talking!
22. All That Glitters Is Not Gold!
You got that right, this is no embellished gold on these curtains. But it sure does give a glitzy appearance to the whole kitchen. Almost like everything just came alive! Gold is a stunning color for curtains if used in the right amount of increments. Not to forget, gold can contrast with a large plethora of themes!
23. The Beauty Of Abstract
These Moroccan style curtains are establishing a connection with the creamy whites of this kitchen. Everything from the kitchen cabinet to the sparkly silver faucet is in perfect harmony with this cool-toned Moroccan curtain!
24. Swirly Florals
Floral patterns always impart a fresh vibe to kitchens or any room for that sake. This beautiful grey curtain has an embroidered floral pattern with tangible twirls! It can surely make your kitchen look amazing, especially if you have a grey or white situation going on in the background.
25. Burnt Orange
Who would not prefer a touch of grooving fun? Vibrant colors are always a good choice for monochromatic kitchens. Not only do they complement the monochromatic kitchen hardware but also give them an exquisite pop of color!
Our Favorite Kitchen Curtains to buy on Amazon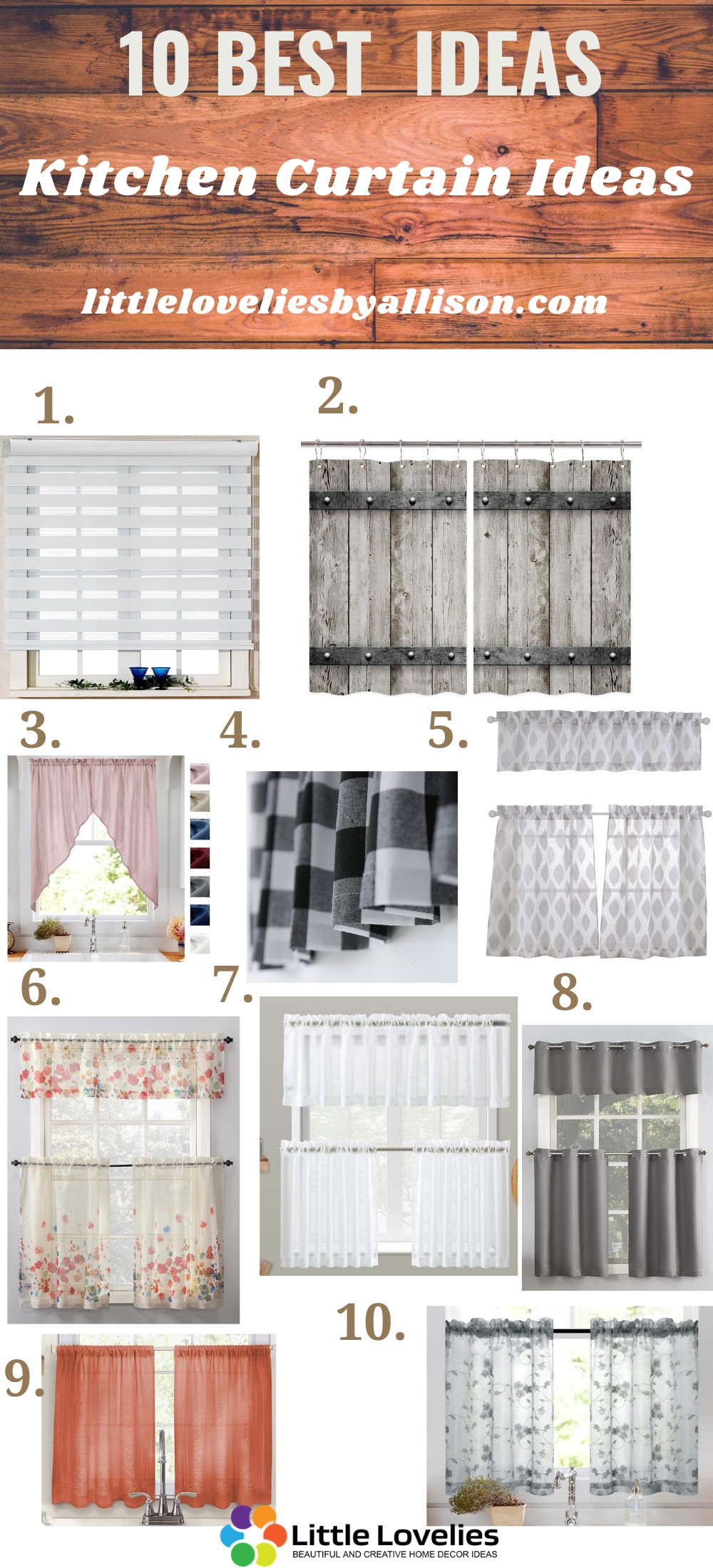 1 – Blinded Or Blinds | 2 – An Optical Illusion | 3 – Faded Neutrals | 4 – Checkered Fantasies | 5 – The Pearlescent Luster | 6 – Feathery Florals | 7 – I See Through You! | 8 – A Hint Of Grey | 9 – Burnt Orange | 10 – Swirly Florals
*We are a participant in the Amazon Services LLC Associates Program, an affiliate advertising program designed to provide a means for sites to earn advertising fees by linking to Amazon.com.*