Home coffee bar is something we as coffee addicts definitely want to have. Especially when we want to relax at home, without having the trouble running to a cafe for a cup of cappuccino.
Need inspiration in designing your own coffee bar? We have 36 coffee bar ideas you can refer to. You can choose the right coffee bar idea based on your personality, taste, budget and space. These coffee bar ideas can help you streamline your morning routine.
Best Kitchen Coffee Bar Ideas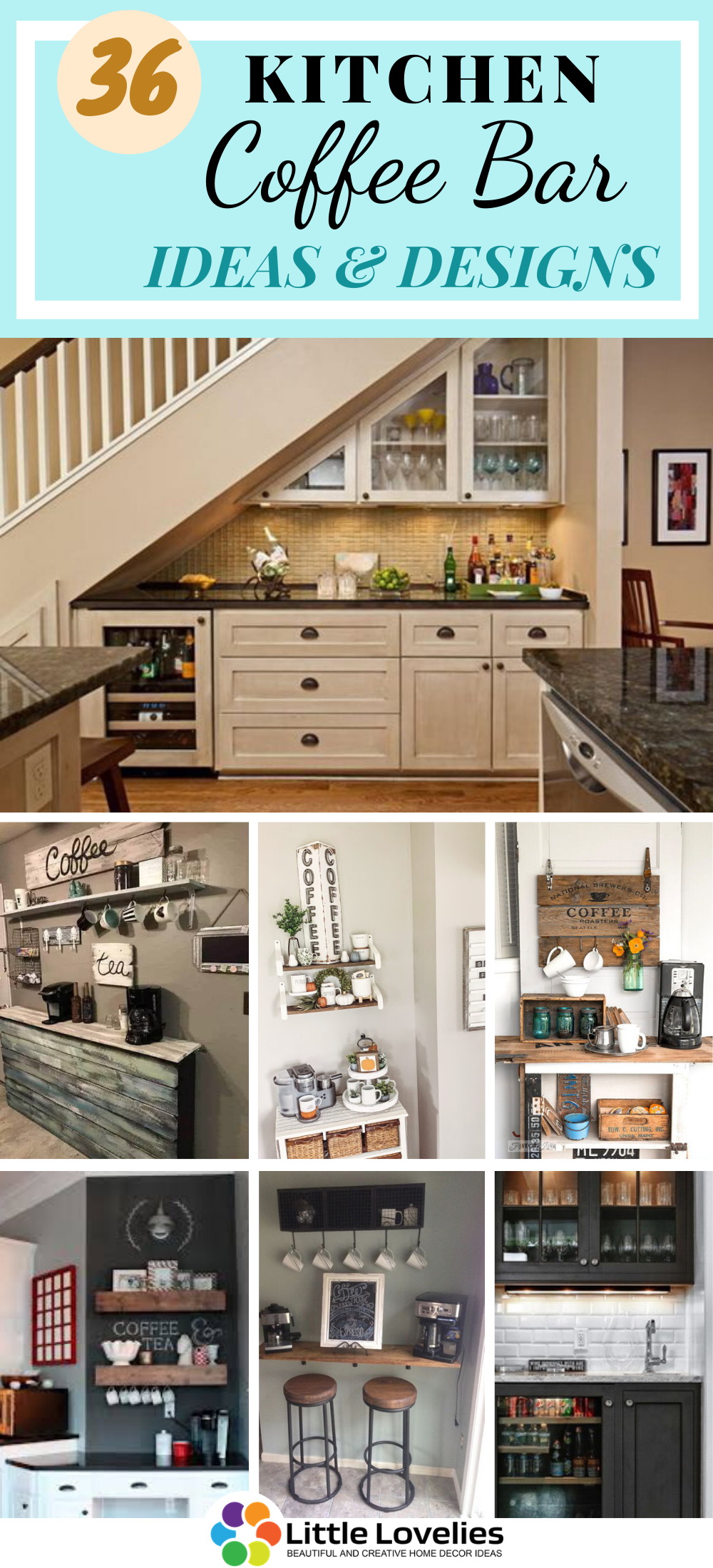 1.STYLISH WOODEN COFFEE BAR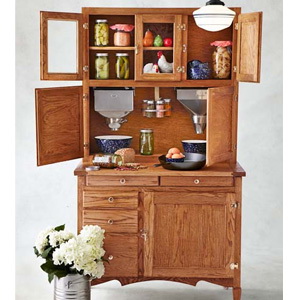 Wooden cupboard goes with all styles in different rooms. Set your coffee bar in the dining room and have a nice chat with your dearest people. Put some decorations such as flowers, painting and picture frames. With this stylish coffee bar, your dining room will be the coziest place in the house.
2.BLACK AND WHITE COFFEE BAR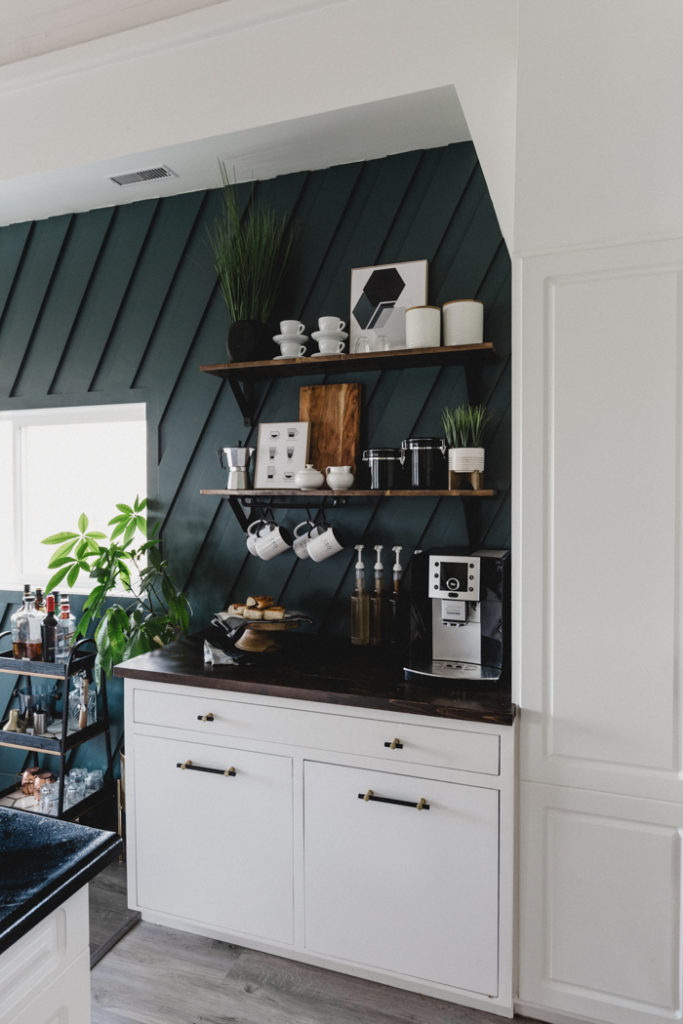 Black and white is not boring by any means. Use the white cupboard to match with the white wall. Set a black wall storage to put your coffee cups, and don't forget to place your coffee machine and water heater on the cupboard. A green plant in white pot can be a beautiful decoration too.
3.PALLET SHELF COFFEE BAR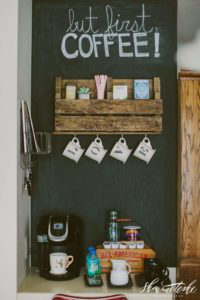 If you do not have that much space for a large coffee bar, try out this nook. The black chalkboard allows you to use your imagination. The mounted rack is a clear countertop for you to make delectable coffees.
4. COFFEE BAR WITH MIXED COLORS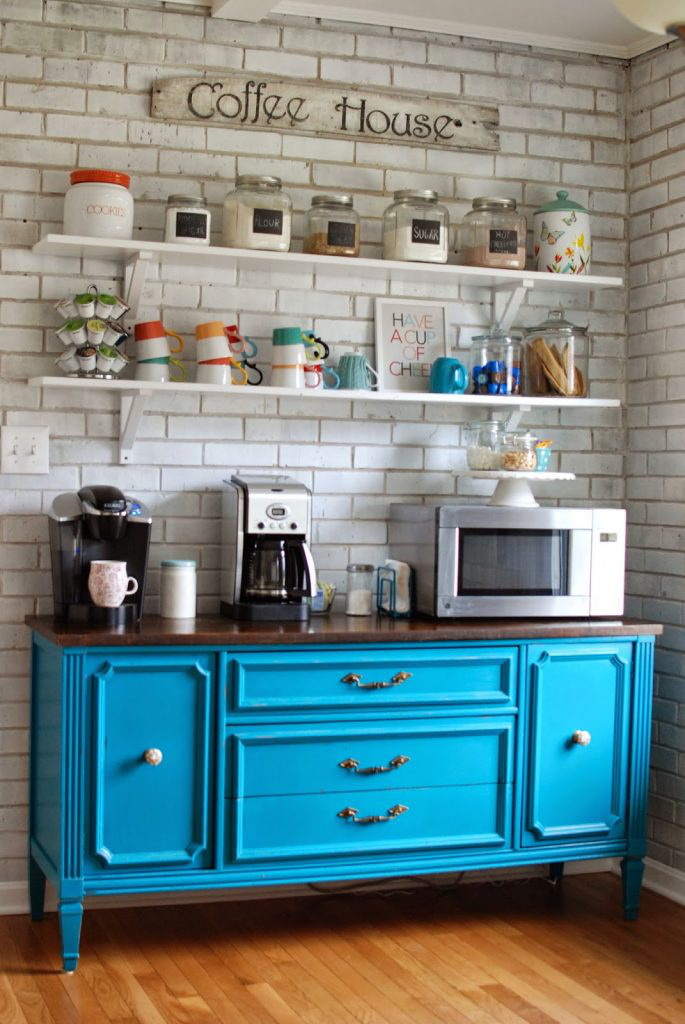 A coffee bar does not always have to be black and white. Adopting a wide array of bright colors is so worth trying. It can add a touch of vintage style to your coffee bar and complement the tiles.
5. A BRIDE COFFEE BAR AT YOUR HOME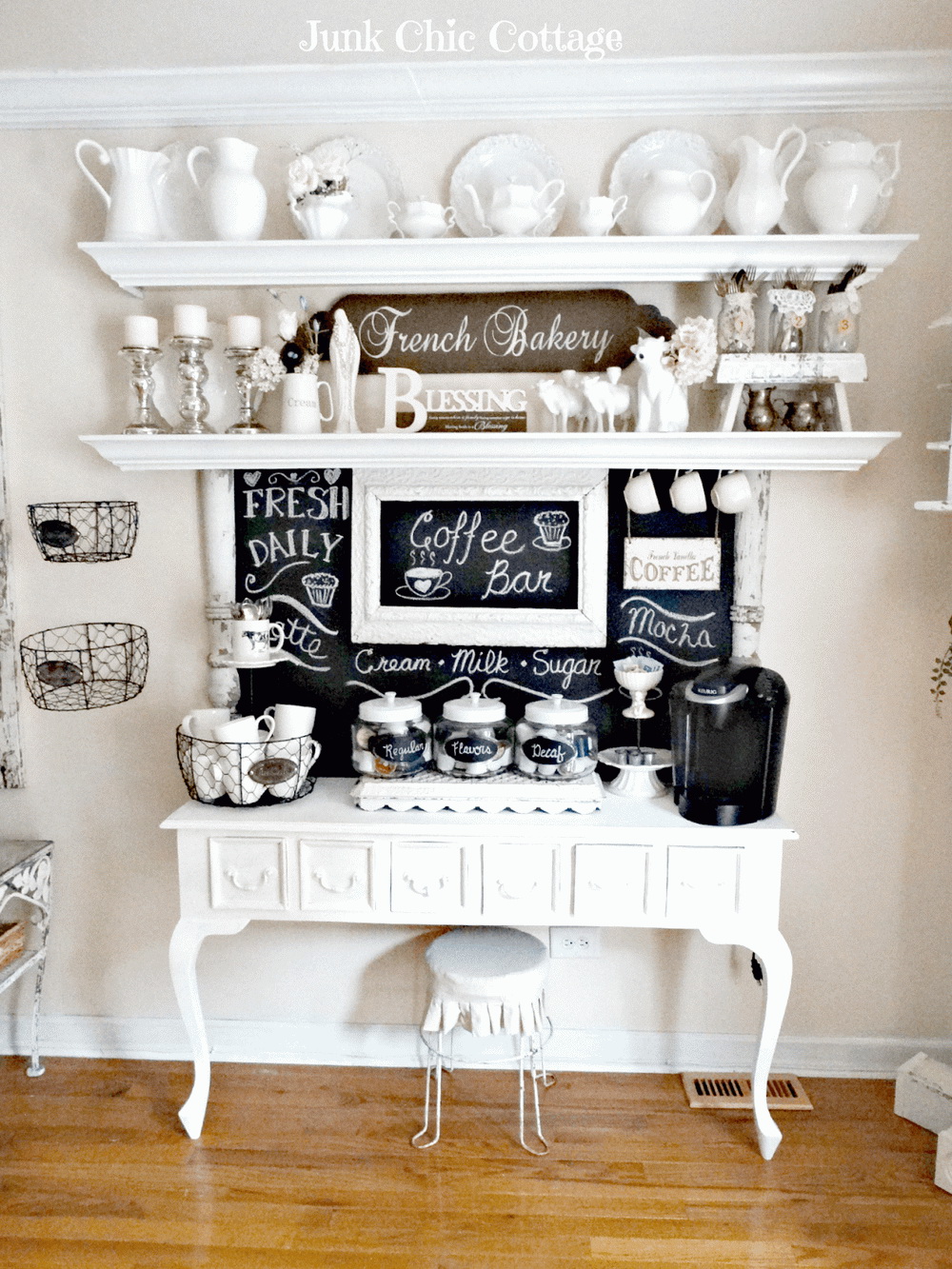 This coffee bar would make you want to hold a wedding or tea party. White curvy table is shoved against the wall as a countertop. Just like most coffee bars, the mini chalkboard above the table makes a pretty good decoration. Put some white plates and jugs on the top rack and the coffee bar would look even more fancy.
6. COFFEE BAR ON WHEELS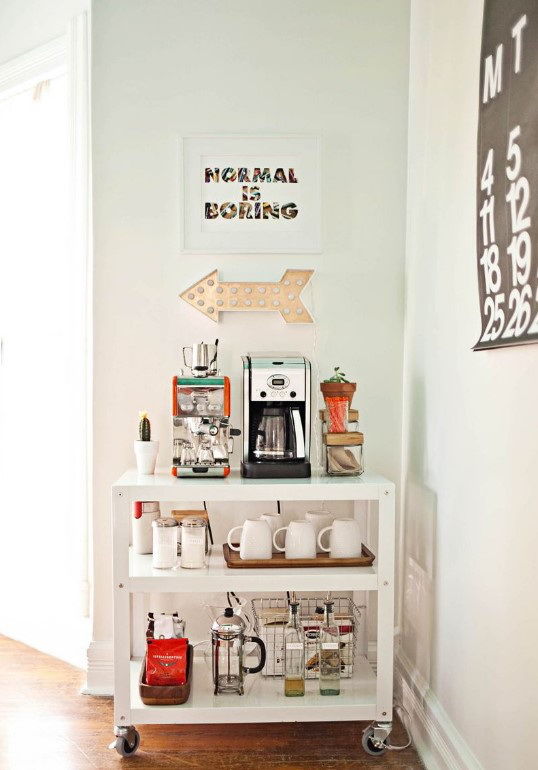 A movable coffee bar is an idea we should applaud to. This white coffee bar provides sufficient storage space for many kinds of coffees, sugar, and creamer. The four wheels allow you to move this coffee bar without any trouble. Furthermore, it fits right into any corners perfectly.
7.BOOKSHELF COFFEE BAR
A coffee bar can look as pretty as a tea party. This coffee bar emphasizes on the function rather than the look. Some colorful tea cups and photographs are arranged and hung meticulously for you to have spirit lifting morning. To reduce clutter, a basket on the bottom shelf is arranged.
8.WHITE WAXED COFFEE BAR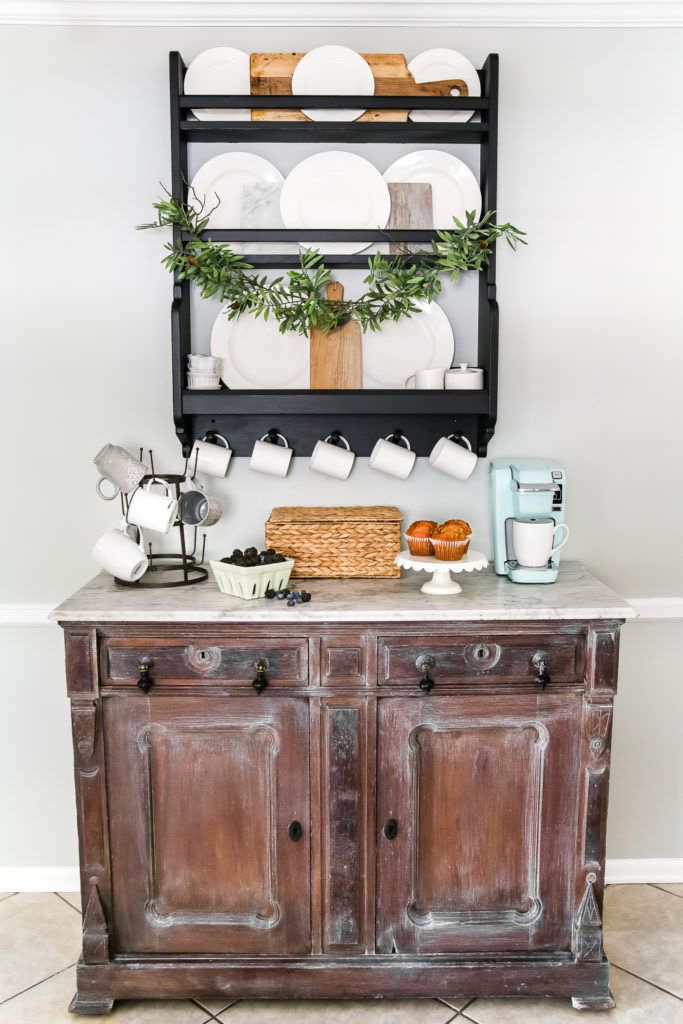 This is a true trash-to-treasure DIY, a marble-top with a glossy finish gives the coffee bar a more modern feel. You can cover any imperfections with baskets, jars, and an assortment on mugs.
9. WELL STOCKED COFFEE BAR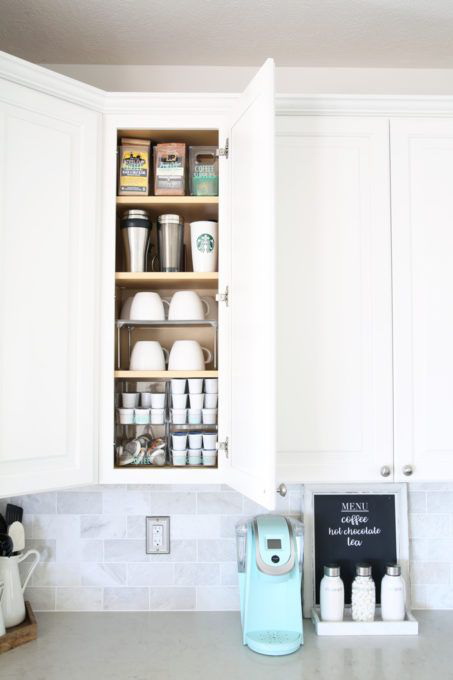 Work with what you've already gotten by changing a slim cabinet into a makeshift coffee bar. Put all the basics, including your favorite travel mugs for grab-and-go mornings.
10. MUG DISPLAY COFFEE BAR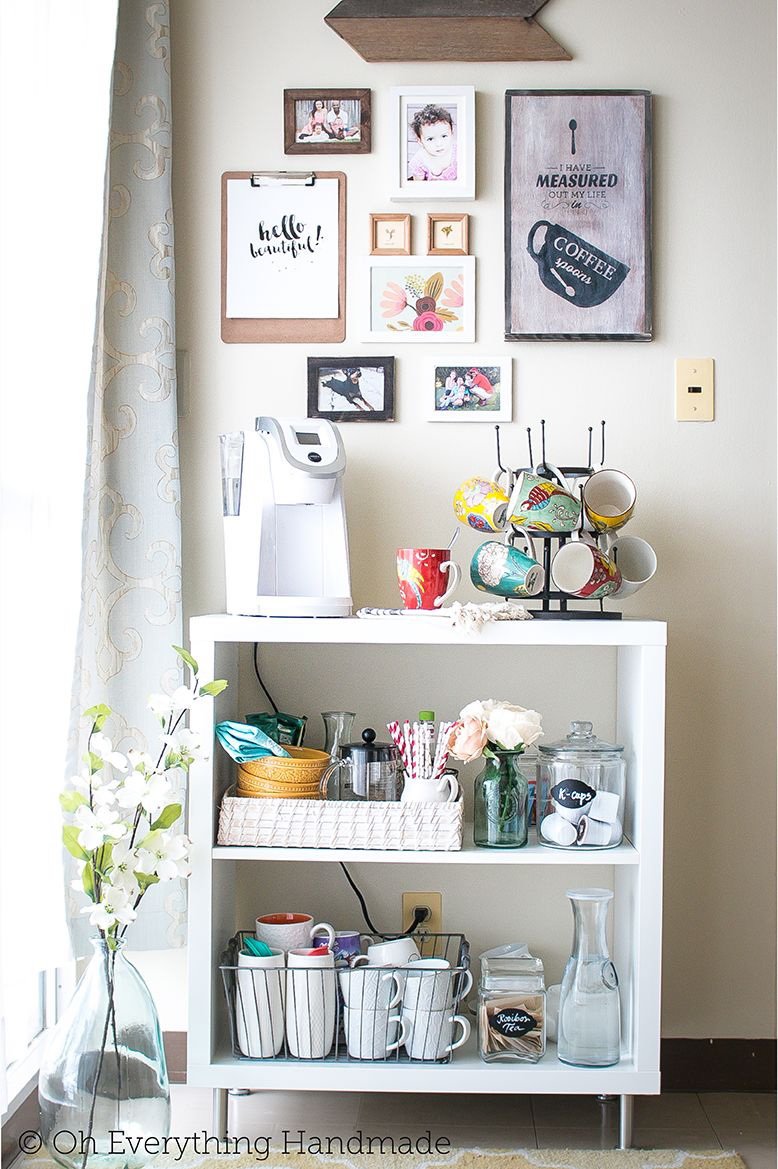 Infuse different colors into your coffee bar by adding a carousel of patterned mugs and straws to it.
11. MULTILEVEL COFFEE BAR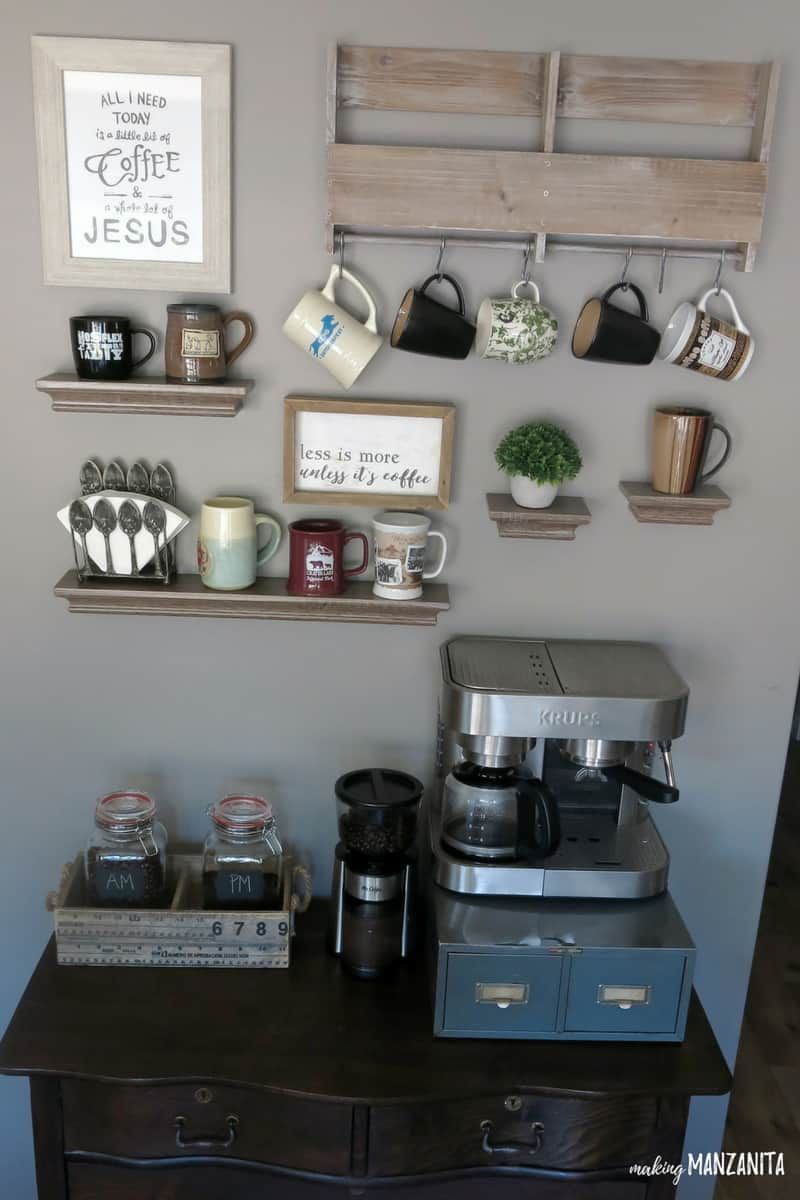 Just because you have limited space or drawers doesn't mean you can't have a coffee bar in the kitchen. Instead, hanging shelves of different shapes and sizes vertically to perfectly fit mugs, spoons, and other accessories.
12. REPURPOSED CART COFFEE BAR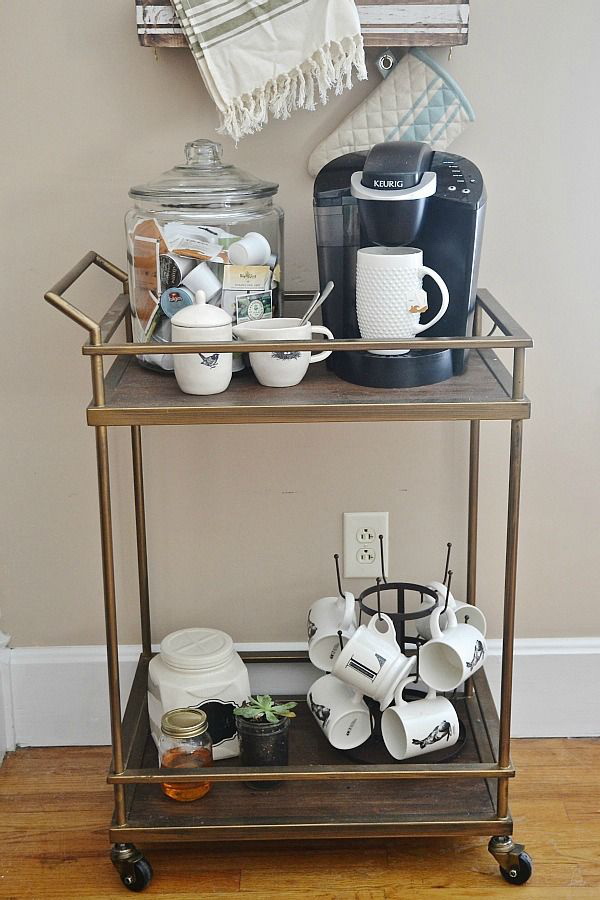 This cart style coffee bar provides convenience wherever you want to have a coffee or tea party. Keep the essentials on the top for easy reach. Put the fragile items on the lower shelf so as to lessen the impact.
13. MODERN COFFEE BAR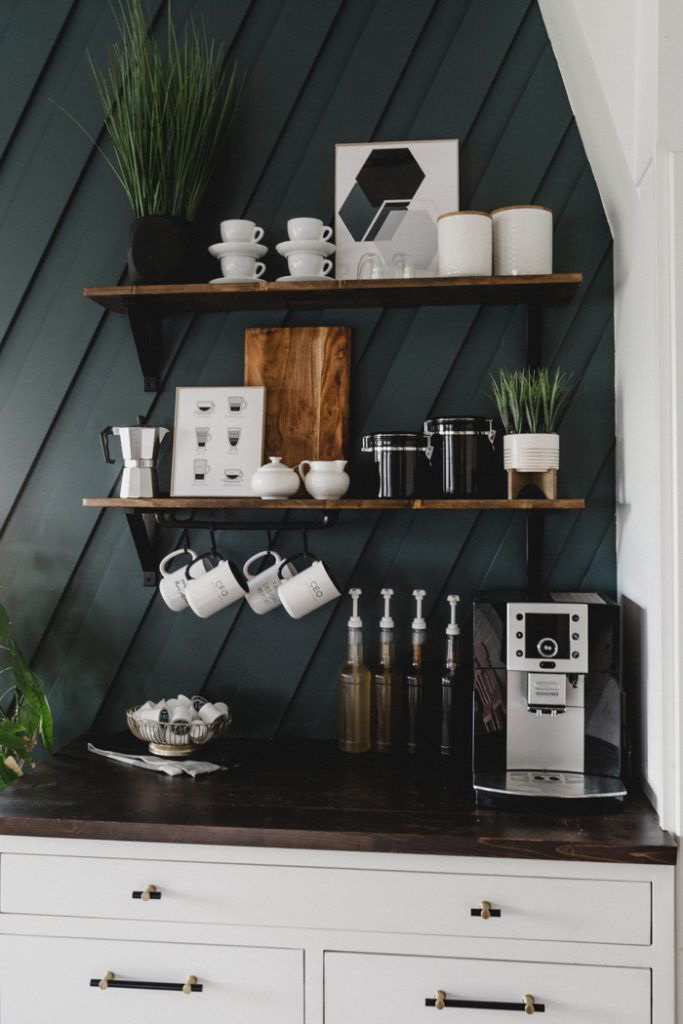 Align your coffee bar with the rest of your furniture by incorporating prints, faux plants, mugs and other essentials.
14. SPACE SAVING COFFEE BAR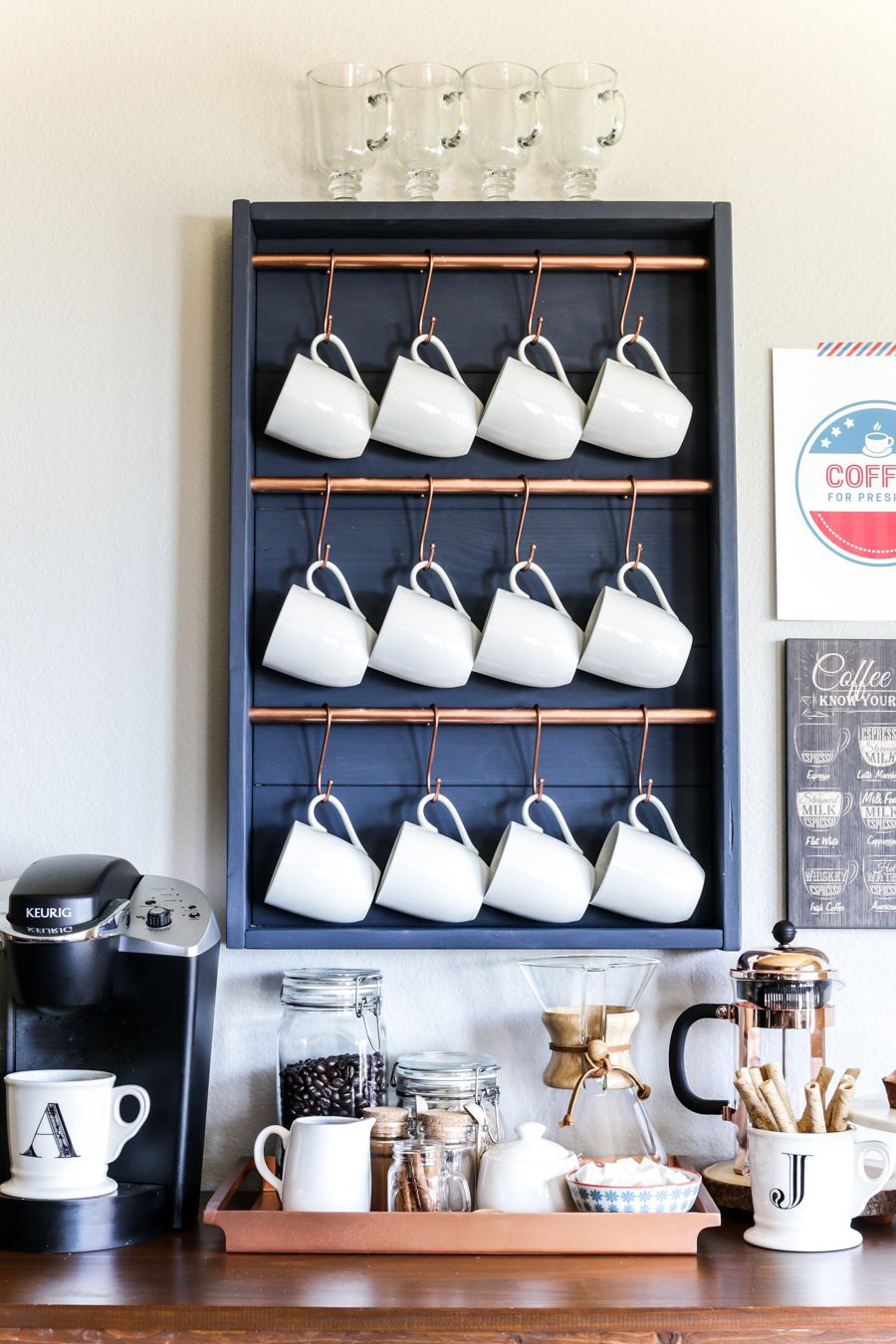 This navy and copper display enable you to hang up to 12 coffee mugs at one time which saves valuable counter space. And you can always add more on top!
15.COLORFUL COFFEE BAR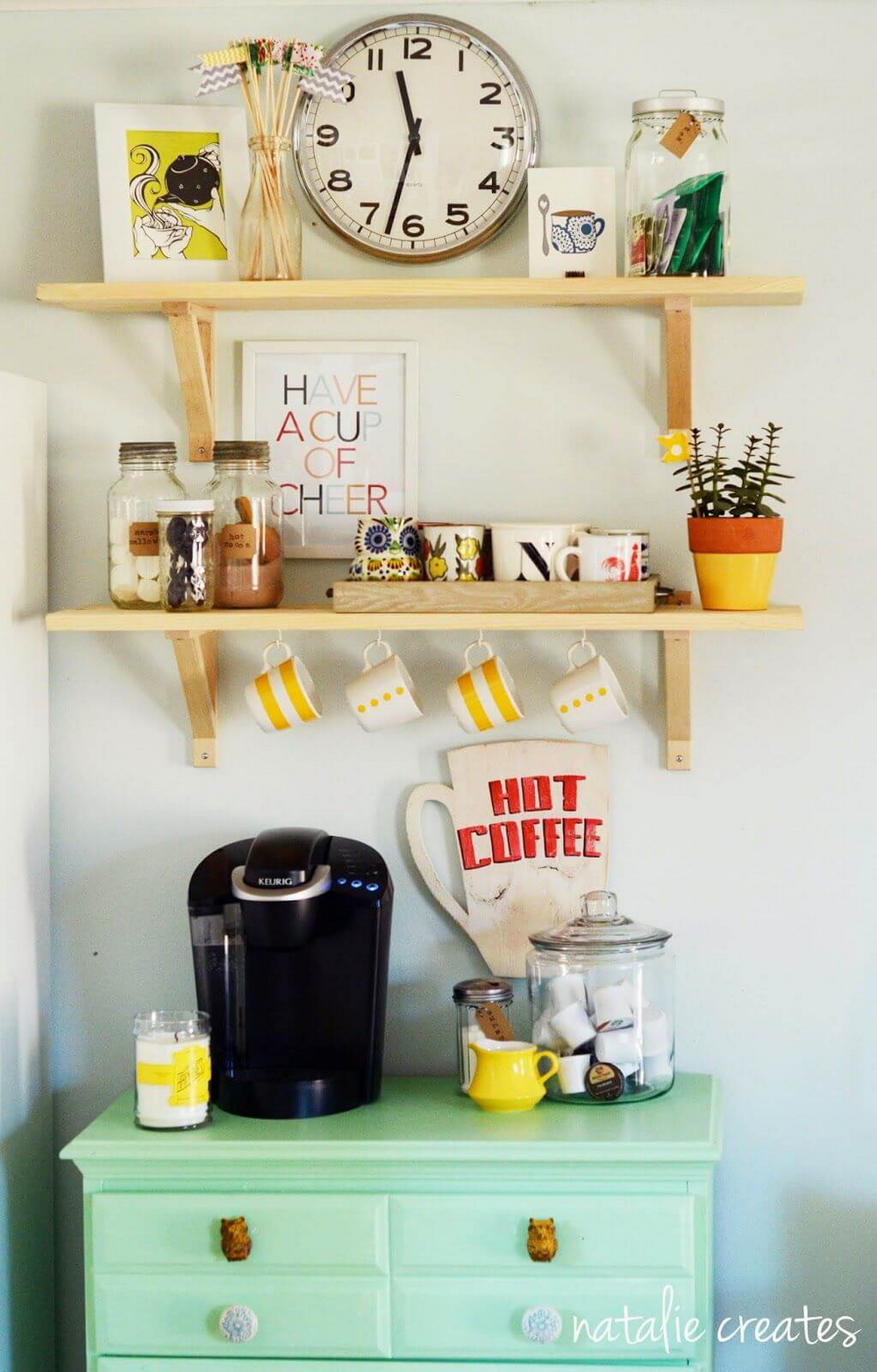 The aqua color table allows you to have a fresh start in the morning. And the mounted racks provide plenty storage space.
16. EVERYTHING IN ONE COFFEE BAR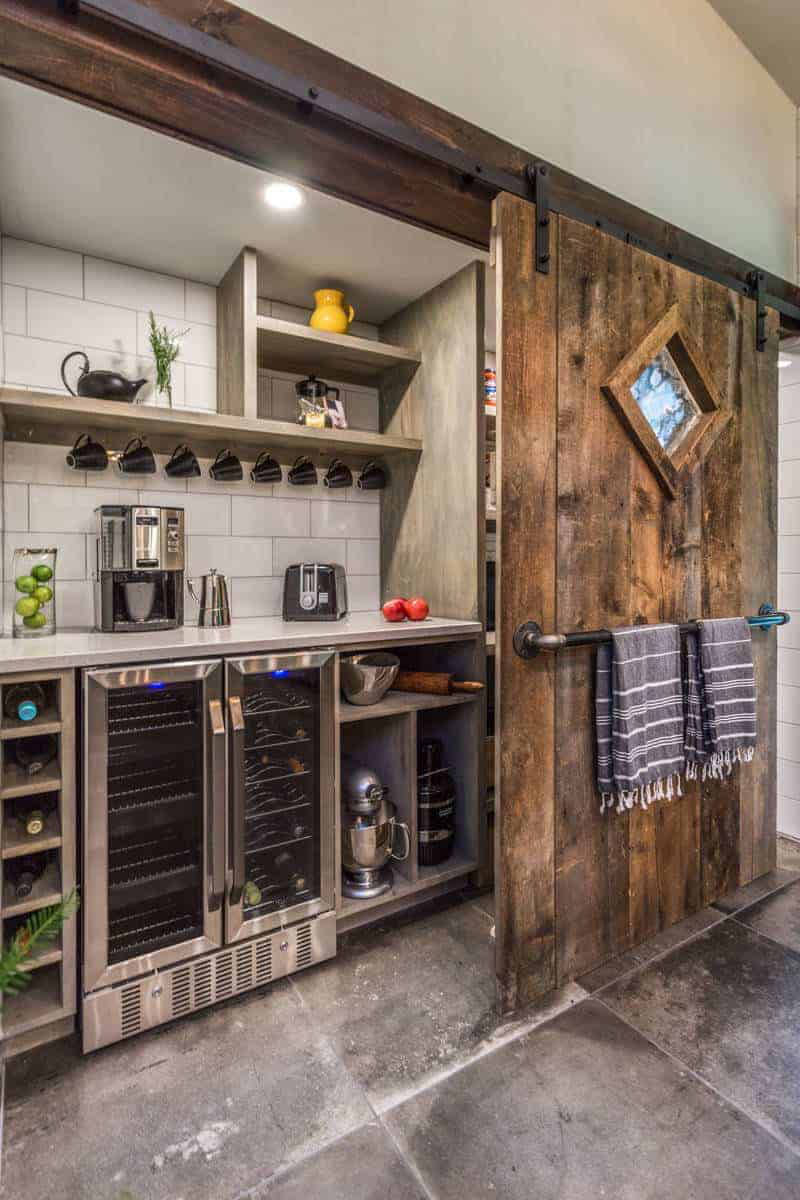 Have you thought about using your coffee bar as a storage for your snack? You can make a built-in cupboard as your coffee bar. Put your small kitchen wares on the same place. You can install a rustic rack in contrast to the white wall to make your coffee bar more stylish.
17.ALL WHITE COFFEE BAR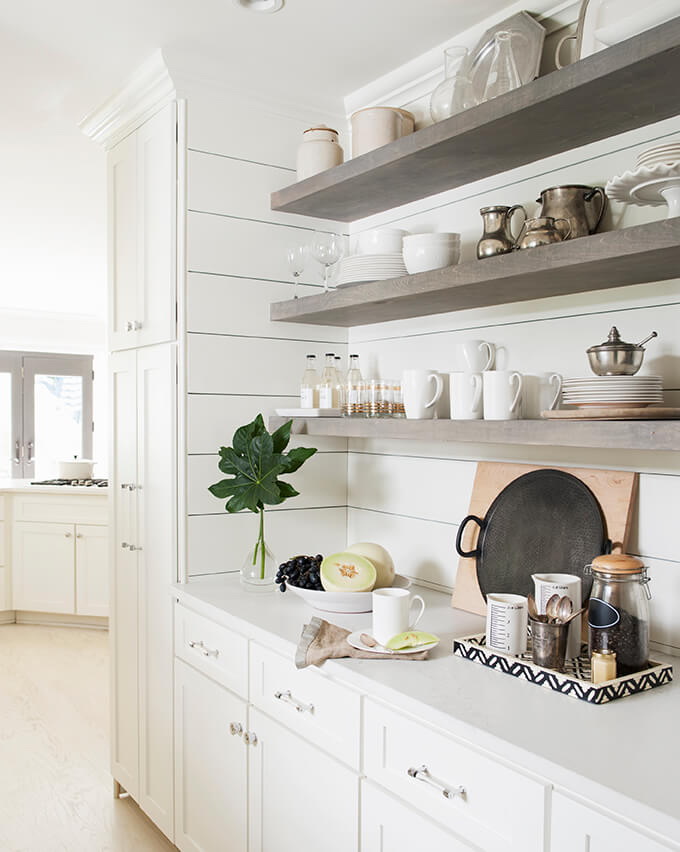 Get a little white dresser to use as your coffee bar and put your kettle on it. You can even decorate it with a tiny lamp too. You can set a wall storage to store your coffee cups to save wall space and add some decorations.
18.WINE RACK COFFEE BAR
This coffee bar is very stylish, it's hard to imagine that a coffee bar can be made out of a wine rack. The beautiful arrangement of the mug rack makes it even more attractive; also, you can make it even more fancy with a nice piece of artwork.
19.VINTAGE COFFEE BAR
For a vintage style lover, this coffee bar is something you can refer to. If you want to introduce variety into your bar, be sure to put more thoughts to make it look far-reaching, which means to make it vintage.
20.TIRED TRAY COFFEE BAR
A tired tray coffee is a very good mobile coffee bar and it doesn't take much space. If you don't have much space on your countertop or table in your kitchen for your coffee bar, this totally works. You can also choose to use a wooden tray and a mug rack as your small coffee bar.
21.WINE AND COFFEE BAR
You can store your coffee and wine inside the cupboard, and store your wine glasses inside the wall storage as well. It does not need too much decoration but the style is just great.
22.SMALL COFFEE BAR
This is the simplest coffee bar ever. You just need to set up a wall rack and style your coffee brew. Don't forget to install wall storage and store your coffee and cups. A couple of chairs are perfect too, so you can have a nice conversation with all your closest friends!
23.COFFEE BAR IN THE CORNER
If you don't have enough space, why don't you set it in the corner. You can store your coffee inside the cupboard, and spruce the top up with fun and festive decorations. Don't forget to store your favorite coffee creamer too!
24.GREEN COFFEE BAR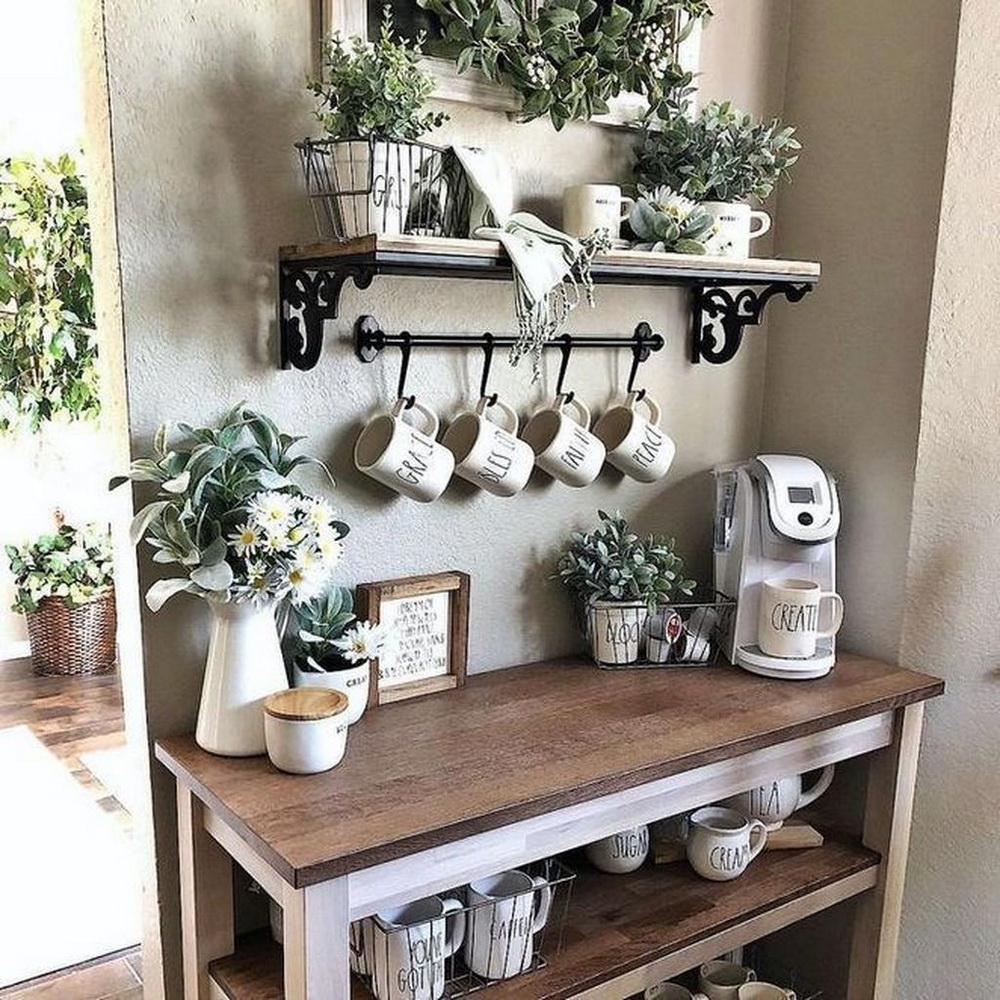 Any fan of farmhouse style will definitely like this unique country attire. Get a rustic storage to store your delicious coffee beans. Hang your 3-4 coffee cups on the wall, place the sugar can, creamer, and the rooster on the table. Then you can decorate the wall with plants to make your coffee bar shine with the happiness of the sun.
25.COFFEE BAR BELOW YOUR STAIRS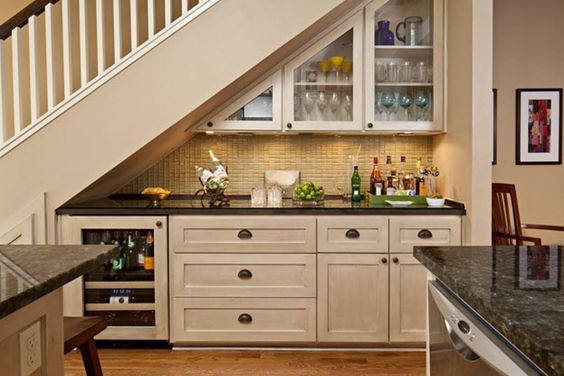 Do you have a little space below your stairs? Why don't you transform it into a coffee bar that Harry Potter would enjoy using! You can store all your coffee, wine, and chocolate inside so Dobby doesn't come by and eat them all! You can make your coffee anytime and enjoy it with your loved ones.
26. COFFEE BAR ON THE WALL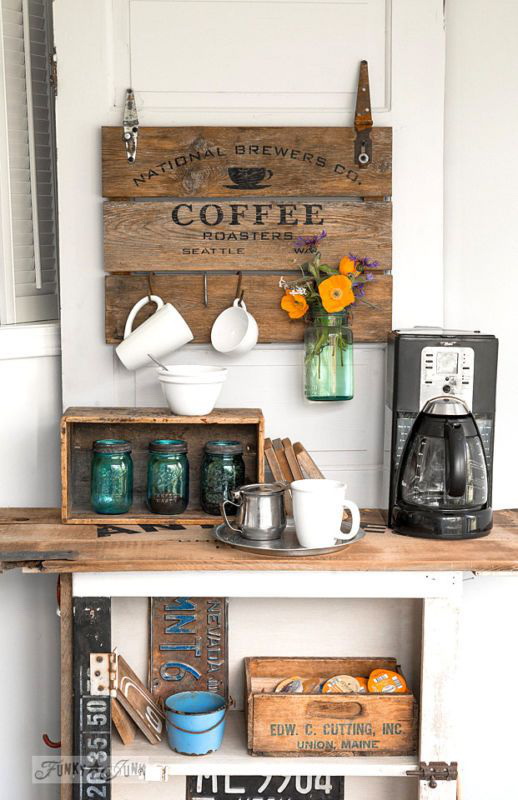 Are you living in a studio apartment that does not allow you to have a coffee bar? Don't worry, you can store your coffee on the wall. Store your coffee set in any certain order to make it classier. Also, you can hang your tools to seem like a modern gentleman who isn't afraid to make a table and sip delicious coffee from your 4th floor studio apartment.
27.FARMHOUSE STYLE COFFEE BAR
Do you want to show the world that you're so rich you can afford all the same color? Then this farmhouse all white look is just the right thing. You can store all your other things you don't ever use here as well. This all white coffee set says "hey world, look at all my cool coffee merch". The Catch however is that this space will never actually be filled with coffee because of course it's just for decoration.
28.FAMILY COFFEE BAR WITH LABELS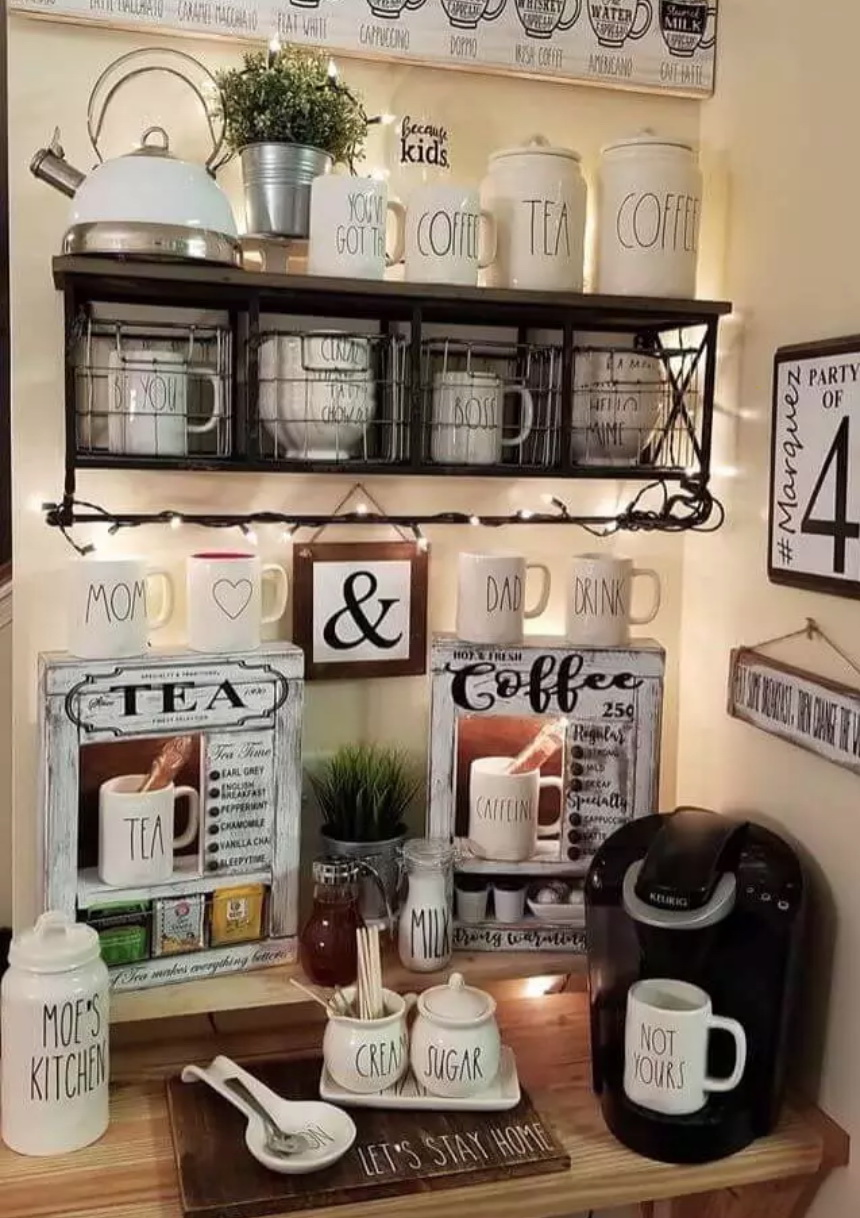 Family-friendly elements are obvious with all the words on the mugs. White mugs with "Mom," "Dad," and other labels are displayed all over the place. All the ceramic pieces are labeled with labels, creating a casual look that says you just recently learned to read.
The extra metal shelf keeps all your milk containers, jars, and extra mugs in prison. A wooden panel with popular coffee flavors adds fun and practical element in the décor.
29. RUSTIC WOODEN SHELF COFFEE BAR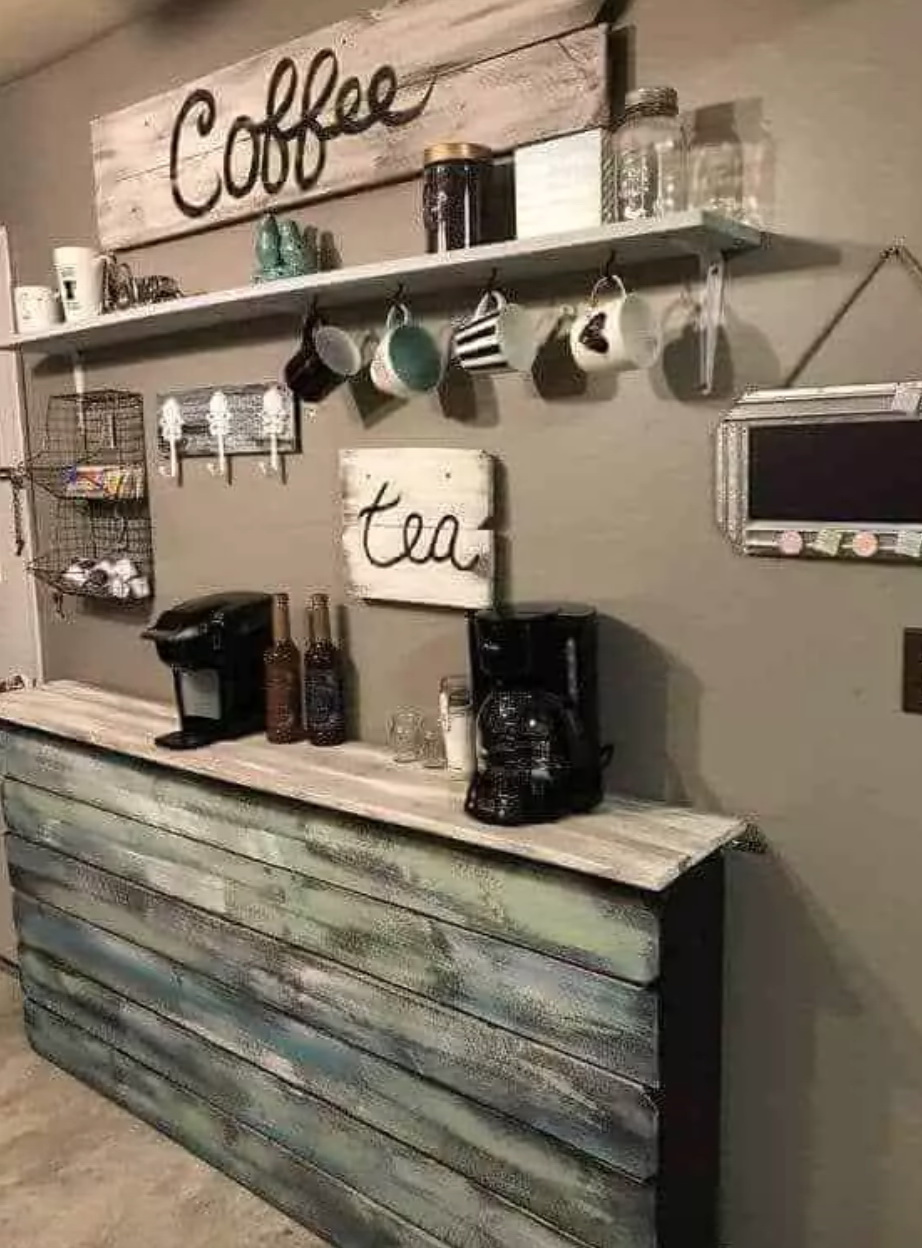 This coffee bar uses rustic wood to show off the unique design of small areas. Some wire and metal racks give additional space. There are hooks under the shelf to hang cups and your hopes and dreams. A simple wooden "Coffee" sign emphasizes your totally lack of personality.
30.COFFEE BAR WITH REPURPOSED DOOR
Unused doors can be used to create a free-standing coffee shelf that would fit nicely into any bored housewives' "stylish" home. This old door was repainted and two wooden panels were fitted to form a simple shelf to set things upon.
31.WEDDING HOT CHOCOLATE AND COFFEE BAR
This coffee bar is perfect for hosting early morning parties. Re-purposed barrels and door panel became the focal point of this setting.
32.COFFEE BAR AND STORAGE STATION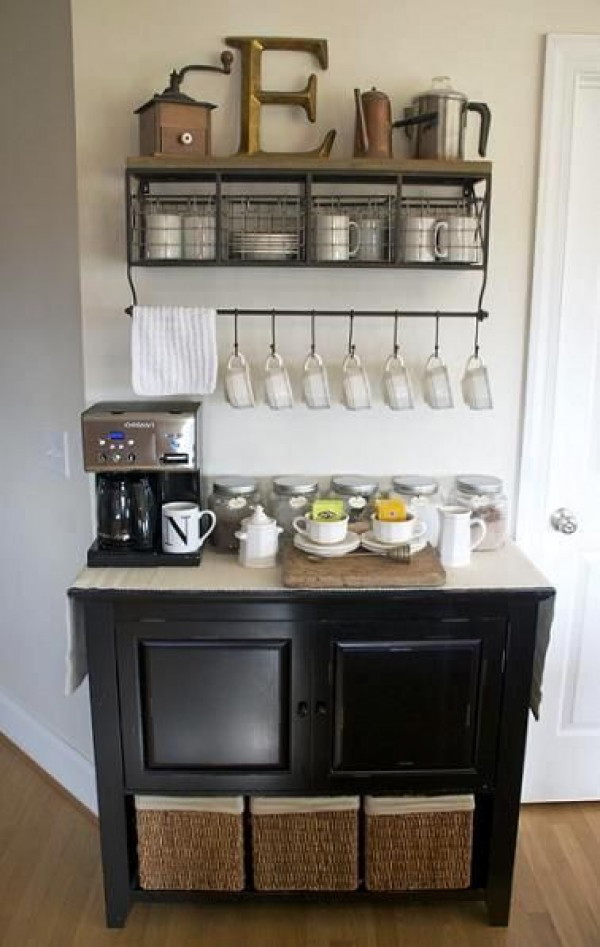 Coffee station that doubles as your storage space is such a smart idea; you will have your coffee station as well as so much room for all your other bags of coffee! In addition, coffee bar like this can be placed in any stylish house.
33.IN-HOME STUDIO COFFEE BAR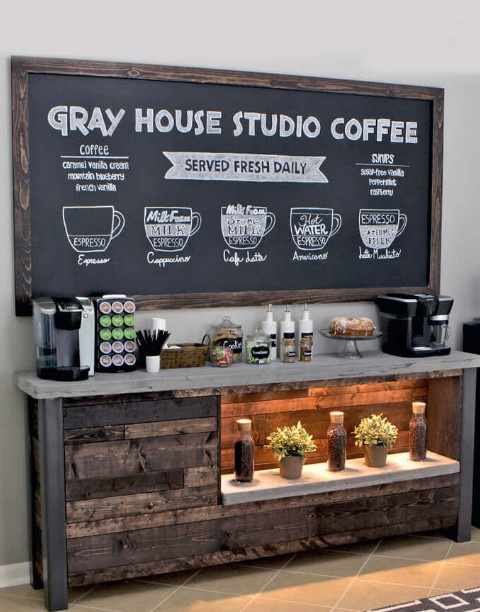 Do you want to turn your coffee bar into a Starbucks but without all the lines and hipsters? Then this design is just right for you! You can write whatever you want on the chalk board and nobody will misspell your name.
34.DIY TIMBER COFFEE BAR
Do you have unused lumber just lying around your house and can't find anything to do with it, why not turn it into a coffee bar. Old wood gives this house a DIY look and goes well with any home.
35.INDUSTRIAL PIPE THEME COFFEE BAR
The use of pipes as supporting materials for this coffee table makes for a great idea and makes for a stylish coffee bar.
36.BLUE TABLE COFFEE BAR
A unique text or a piece of art that is hung in this coffee bar makes for a great and stylish option. You can make this coffee bar as fancy as you want, which helps with the decor and atmosphere.