A dreamer always seeks for inspiration from the most enchanting fantasies, which is why we are bringing you some unreal dream kitchen ideas to leave you stunned!
How You Can Make Your Own Kitchen A Living Dream
Not all ideas come in with a large price tag.
Sometimes you have to be very vigilant and artistic to keep an eye out for intricate details, that can make your kitchen look graceful and dreamy.
And not all of them are expensive!
Creating your very own dream kitchen is a sure shot possibility!
Our article is dedicated to all of you out there who wish to build their own dream kitchen within a budget!
It is all about paying heed to the small things that impart huge impressions!
1. Sophisticated Hallucinations
This dreamy kitchen can surely become the reality of your kitchen too! The exquisite white and beige theme coupled with the fancy lighting is the key to it! The wavy rooftop light that is studded with spotlights imparts an enchanting glow to the entire kitchen. The hollow crystal ball light atop the kitchen islands plays a key role in highlighting the kitchen island along with contrasting chairs!
2. The Mistletoe Effect
This is a small kitchen but has a lot to say for itself. The display of green faux plants on the borders of the window gives the entire kitchen an everlasting holiday spirit! Whether it is Christmas or no Christmas, Xmas trees are great items to decorate in your kitchen. The oakwood floating shelves and the black abstract floor design is an excellent idea to make your kitchen look complete!
3. Lilac Skies
Playing around with exciting color ranges is the most convenient way to make your kitchen look a class apart. This purple themed kitchen is arranged with a neutral-toned purple and an Arabian island top light to give it an eastern glow! The use of a coral shade abstract wallpaper furthers adds to the uniqueness of this trendy kitchen!
4. A Hint Of Barbie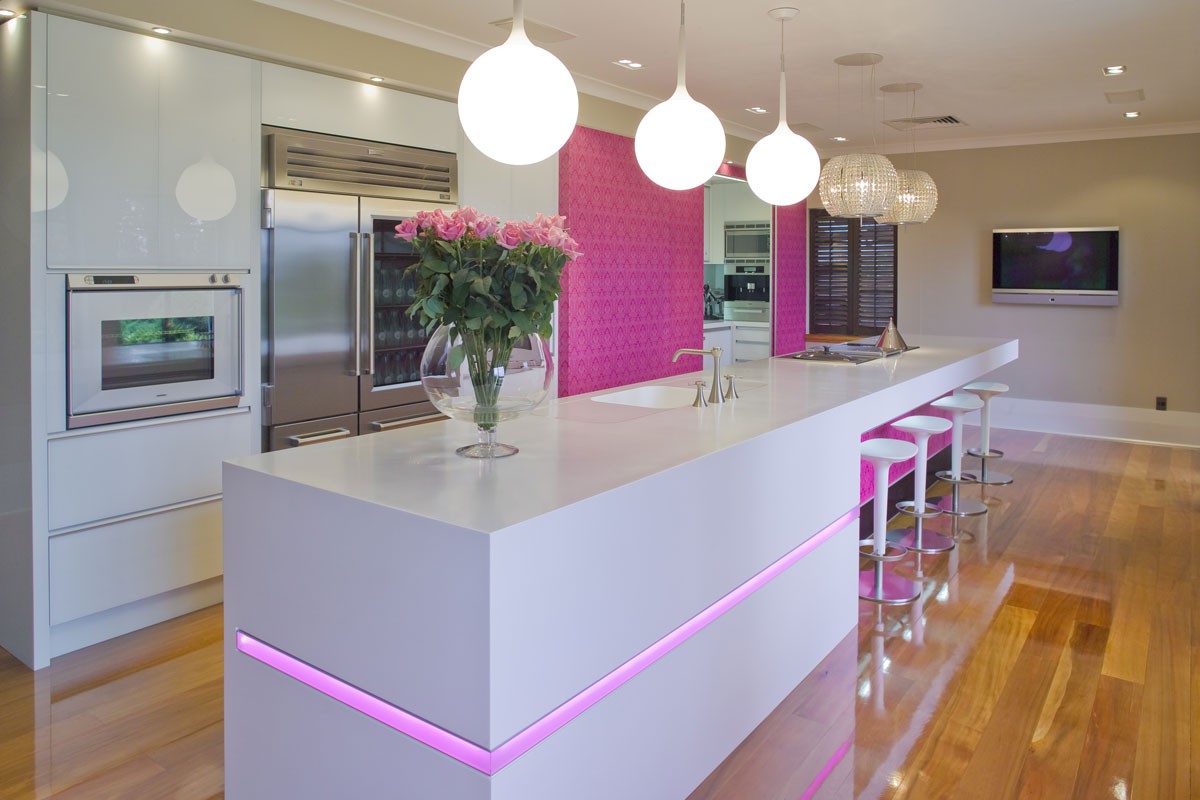 An intriguing way to make your kitchen island look extremely attractive is to get an led light inserted halfway through, just like this one! Not only will it contrast with the paint you have chosen for your kitchen, but also give it a futuristic look. Adding a few island top lights in interesting shapes and designs will boost the value of your kitchen!
5. An Earthy Glow
You can either choose a green color that will make your kitchen look sorrowful or the one which is keen on elevating the freshness of the entire kitchen! This pine and shamrock blend of green is giving it a unique glow. To add to the freshness, the designer has chosen to incorporate a set of plants in a crystal clear vase. This kitchen screams all sorts of crisply natural vibes!
6)  A Bohemian Fairytale
It is rather amazing how a simple flooring can grace the entire kitchen with a distinctive theme! Basil green cabinets, dome-shaped windows, and an abstract pattern flooring make this kitchen look sacred! The swivel shaped barstools play their role in enhancing the modernness of this kitchen.
7. Illuminated Greys
This kitchen may look impossible to bring to life, but it really is not! Notice the clever use of ceiling window panes which allow the sleek grey theme of the kitchen to shine through, without looking any dull! A kitchen console with a candle arrangement is also placed but you can replace the console with any modern table!
8)  Futuristic Folktales
Investing in a stylish kitchen island with a suitable lighting head can do wonders for your kitchen. This delicate kitchen is studded with an exciting blend of soft and neutral colors. The kitchen hood makes an amazing choice because it also serves as an exquisite light panel. The addition of black-framed photographs can give your kitchen more definition.
9)  Grand Fetishes
This futuristic kitchen is all about modern glows. The sleek and geometric kitchen hardware and the use of sliding wooden cabinets make it look like a future fantasy. And the spotlights give the final paparazzi feel!
10. Gold Frenzies
If your kitchen has a heightened ceiling, then you can put it to a lot of use. Even if you do not have much expensive hardware, you can make do with what you have just by investing in the right lighting. These gorgeous crystal ball hanging lights are the first to capture attention. The second is the yellow and copper toned color scheme.
11. A Dose Of Glam
Warehouse style ceilings can be very stylish if you use them right! Also, if your kitchen is big enough, adding a tv screen will make it a lot easier for you to follow up on your favorite show while cooking or even mimicking a step by step recipe! The marble kitchen island is showing exuberant reflections, thanks to the long-stranded hanging lights.
12. Creamy Cakes
An all-white kitchen is the dreamiest of kitchens! Because of its reflective and pearlescent nature, it can make any kitchen look breathtakingly angelic. But with an all-white theme, some contrasting elements are essential. For example a bit of black to form a melodious blend. You can pick anything black, whether it is in the form of shelves or the induction stove.
13. Olive Cravings!
Another easy way to manipulate your kitchen look is to play around with wallpapers or kitchen tiles. These vaguely floral olive kitchen tiles coupled with the copper tinted wooden cabinets are silently forming a pleasant duo. Crystal jars are always good ways to present one of your most attractive collections of nuts or spices. They also make your kitchen a whole lot more purposeful.
14. Faux Fantasies
Faux ceilings are the new trends for every room and not just kitchens. They exhibit the appropriate amount of light whilst making your kitchen look extra cool and futuristic. You can even play around with the ceiling light color to flood your kitchen into the vibe that pleases you the most! Notice the excellent choice for cabinets; these black-bordered white cabinets make the whole kitchen damped in a chic look!
15. Impressive Geometrics
Most people require a dining table for their kitchen if it is big enough. But not many people consider the possibility of incorporating one with a wacky design that everyone would care to talk about! This kitchen dining table has a unique shape to it coupled with jazzy chairs! It makes this kitchen thrice as unique as any other. And if you have some extra budget, the fireplace incorporated within this table will serve as a perfect area for a cup of coffee in winter mornings!
16. Melodious Noirs
A harmonious kitchen is all you need to get your kitchen going. Black and greys have always formed an exquisite blend of grace with hints of boldness. The incorporation of glossy black tulip-shaped lights in conjugation with the kitchen hood does the trick! Also, notice the unique abstract pattern vinyl flooring which gives the kitchen a personality of its own!
17. Lovely Lavenders!
This kitchen is a glorious scenery on its own! Even though it is so simple with nothing that fancy or expensive. The key to this is the amazing combination of creamy lavenders and the pearly white. The duo gives this kitchen a breathtaking and fresh vibe! The color of the cabinets is in perfect melody with the window panes whereas the plants play their role by adding a pop of green!
18. Doll House
DollHouse inspired kitchens are always so delicate and elegant. Plus, you can play a tea-party anytime you like! Except, you get to have real friends and real tea! The idea behind dollhouse kitchens is the selection of princess-like furniture and ballroom lighting. Plus you can enhance the effect of it by layering down some fancy flooring.
19. Nature-loving Pendants!
Sticking close to nature has amazing health benefits, which is why we decided to bring you these delightful pendant plants that can easily be placed in your kitchens to give it an evergreen glow. You could place them close to a window to make them look nice and dewy, or simply place them above a kitchen island to form a pleasant style statement!
20. Snow White
This kitchen is as dreamy as it gets! The succulent white kitchen tiles along with the glossy white kitchen counters give this kitchen an everlasting glow. The cleverness lies in the use of gold-rimmed chairs and sparkly faucets, which not only contribute towards an enchanting contrast but also impart a good sense of style!
21. Amber Glows
This whole kitchen has a very modern contemporary look, with all those executive kitchen counters and the chic looking appliances. But what makes it stand out is the use of those duck-beak shaped amber bar stools! They give this entire kitchen a pop of jazz and grooviness without stripping it away from its elegance! Now that is what we call the smart play of colors! The vintage pattern black and white wallpaper is further enhancing the style of this attractive kitchen concept.