Ever heard of a kitchen that steals gazes of all sorts of people? Well, gear up for some amazing kitchen makeover ideas that will leave you dumbfounded!
The Essential Renovation: Kitchen makeovers!
If you have decided to renovate your old kitchen, then you might want to pay attention to some amazing ideas in this article.
Kitchen makeovers require time, effort and a whole lot of money!
So we are here to suggest important ideas that you can incorporate to your existing kitchen to spare you the excessive costs!
However, if your kitchen is in really bad shape or you are in a mood for a total renaissance, then do not worry because our kitchen makeover ideas will leave you impressed - for sure!
1. Splash Of Mustard
One of the easiest ways to make your kitchen look renewed is the use of paint! And the sort that gives it a whole new look. Like the use of a bright mustard colored paint for the bar stools is making this entire kitchen look vamped up! The addition of lovely yellow sunflowers and the yellow kitchen mixer is another smart move to make!
2. Elegant Greyscales
It might seem impossible to achieve this kitchen look, but it really is not! You would be amazed at the difference a good set of kitchen cabinets and drawers make. The one with wide set builts and gliding mechanisms can give your kitchen a futuristic look. And to top it off with a cherry, you can insert a rim of your favorite LED lights within the panels to make it leagues apart from any other kitchen you might have seen!
3. Picturesque
If you actually are going for a full-blown makeover, then pay special attention to the window size. Window sizes not only help you govern the amount of lighting that your kitchen will receive, but also the style that comes with it. It can make any kitchen look twice as luxurious! Clear glass windows with sleek panels are the best options, just like this kitchen has!
4. Exquisite Splendor
Playing with colors and textures is a great idea if you are planning to renovate your kitchen. Kitchen islands provide you a good platform to execute good combinations of color. Just like this kitchen, a creamy white theme is sparked up by a Turkish blue kitchen island. The addition of textured kitchen tiles above the stove area enhances the definition of this kitchen. The rustic type bar stools give this kitchen an everlasting beauty!
5. The Ultimate Pictorial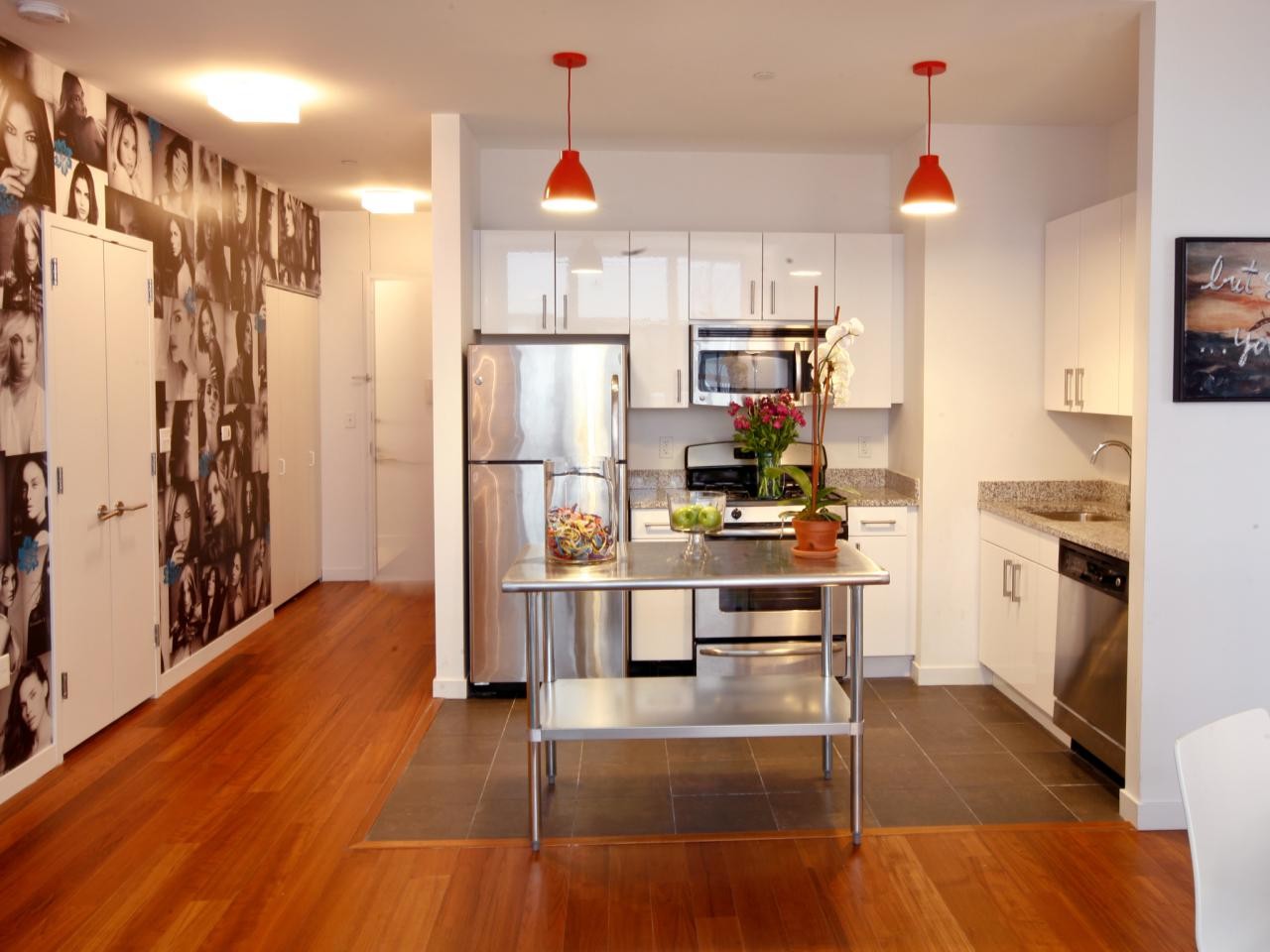 Pictures are a great way to tell stories, and a unique idea would be to arrange some in the form of a collage in your kitchen! Choosing them to be in black and white will give your kitchen a more dramatic look. But color preference is always a personal choice. If you can not afford a kitchen island, then even a steel assembly like this one will do. Just couple it up with some contrasting items for an evergreen glow!
6. Majestically Rustic
How lovely is this idea of incorporating street-lamp inspired lights. Their satin gold rims make an excellent impression of bespoke luxury. The french windows and the rustic style wooden flooring adequately flood the kitchen with lighting whilst keeping the rustic vibes alive. The ultimate look is sealed by the addition of luscious green and thick plants for that extra fresh vibe.
7. Matte Emeralds
Victorian themed kitchens can now be manipulated with subtle modern touches. This minty green themed kitchen is equipped with victorian style cabinets and chairs, which make it look very well compliant towards a gesture of bespoke royalty! Notice the elegant choice of faucets and cake stands.
8. Small But Classy
So what if your kitchen is small? Smaller kitchens are easier to style, if you know the right techniques! Induction stoves are the new lucky charms! Not only are they easier to use, but are safe as well. You can pair it up with a black collection of pot and pans to make the theme look harmonious. Textured grey cabinets and drawers will alleviate the overwhelming black. Also make sure to insert spotlights as they require lesser space.
9. Peaceful Bliss
The most interesting item used here is the three dimensional kitchen wallpaper used above the stove area. The kitchen now has more definition to it. Floating shelves are a great way to save space and showcase your favorite items ever so elegantly.
10. Cocktail Bar
You need not worry if you can not afford a kitchen island or if your kitchen is too small to accommodate one. You can always convert a part of your kitchen countertop into a mini kitchen island. This can be done by packing it up with some printed stick-on to distinguish it from the remaining counter top, just like this kitchen. And then adding a modern bar stool will give it a whole new look!
11. Curves That Speak!
If you are starting to renovate your kitchen from scratch, then do consider the fact that kitchen islands are not strictly cuboidal or rectangular. You can always get the sort which has unique curves. The idea behind that is to make your kitchen stand out from the rest! Not many people opt for furniture items outside of the box!
12.  Heart Of The House!
That is correct, the kitchen is truly the heart of the house. And if it is made to look this stunning, then it also makes its way into the soul! The rustic bar stools and the roped hanging lights form the textural elements whereas the interplay of white kitchen hardware brings this kitchen to life! The addition of a black panel mirror is also a great add-on!
13. Nordic Evenings
Working in this small but beautiful kitchen would be a delight! Because the designer did not limit him/herself upon the small size! The smart incorporation of a wall-mounted spice rack is a great initiative to save space! And to add a bit of freshness, plant pots have been suspended from the ceiling and walls!
14. Radiant Corridors
This corridor-like kitchen possesses so much style and grace. The designer has made perfect use of the length by incorporating an all-glass cabinet at the end. This is a great way to make your kitchen look stylish while you get to display one of your finest crockery items! Also, the kitchen countertop has been smartly designed such that it can also serve as a kitchen island with a lot of bright light flooding through!
15. The Perfect Make-over
A kitchen island that also serves as a built-in dining table! Now that is super innovative and thoughtful! The glossy black noir coatings over the kitchen island and the kitchen countertops contrast very well with the overall white themed kitchen. The addition of shiny metallic hanging lights enhance the textural components of this kitchen!
16. Gracefully Antique
If you are someone who gets inspired by ancient architecture, then we have found just the idea for you. And it also has a subtle touch of modern. The glossy textured wood flooring and the warm toned lighting is the first step to give your kitchen an antique vibe. Next, you need some medieval inspired cabinets with a hint of rustic, and couple it up with interesting blends of marble to serve as the kitchen countertop. The Victorian style lighting further enhances the vibe.
17. The Dorm Life
If your house or apartment is very small and you have run out of ideas of how to make it look neat and nice, then worry no more. With smaller kitchens, the idea is to enhance the tidiness of it to the maximum. Like this kitchen is inserted within a small concave of the house. And it looks super neat because of the color theme and the smart use of concise but useful products.
18. Smart Pantries!
Incorporating pantry cabinets into your kitchen is one of the essentials of a good kitchen makeover. They save a lot of space and make organization of your food and grocery items a whole lot easier. And whenever you open them, it gives you a sense of satisfaction!
19. Into The Cave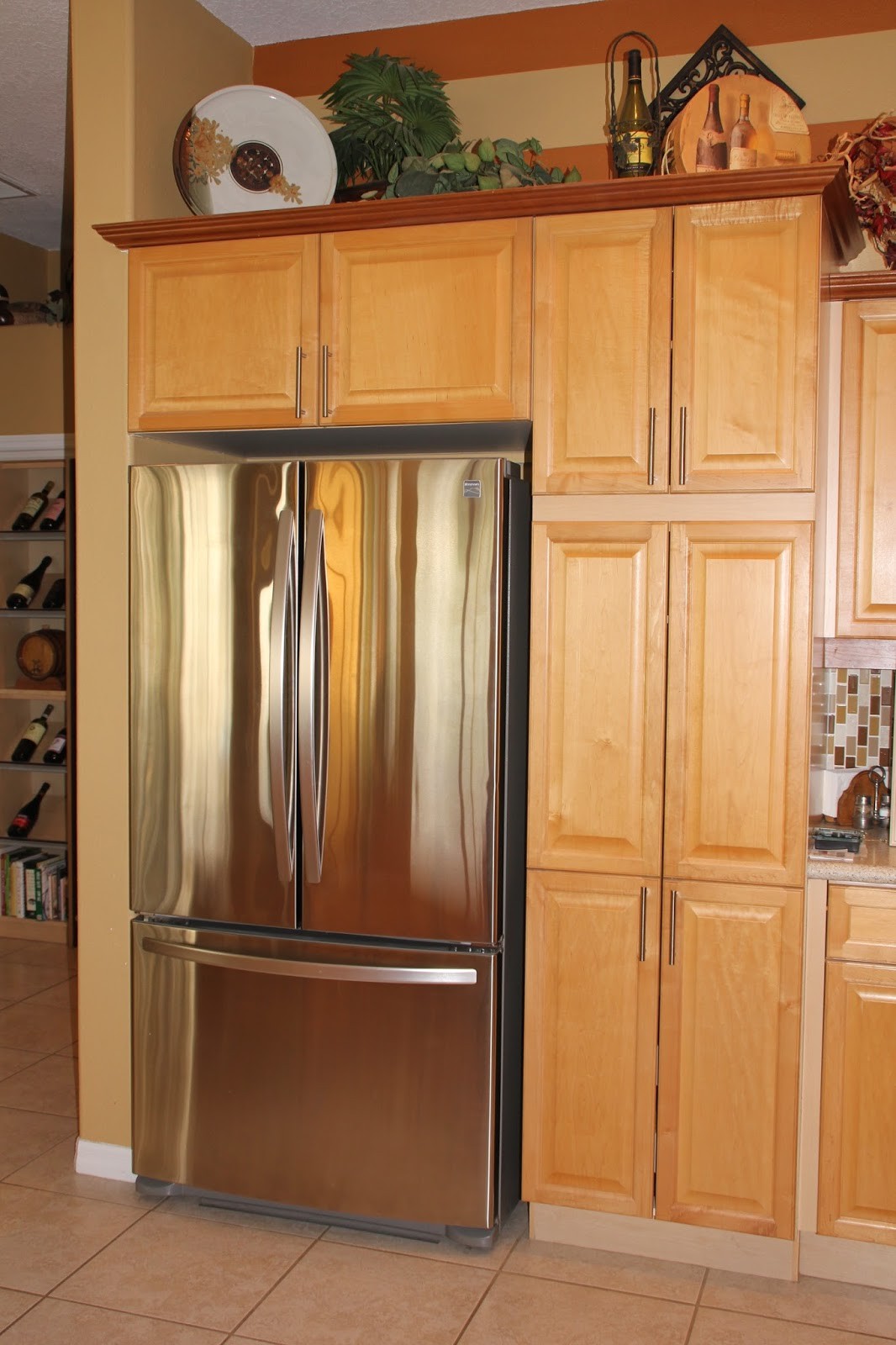 When considering redoing your kitchen from scratch, make sure to incorporate a caved area for your refrigerator to get inserted inside. This is a great idea because it not only saves a lot of space but also gives a look and feel of satisfactory customization! And ultimately your kitchen looks as if it has been paid a lot of attention to.
20. Open Views
Some people prefer incorporating their kitchen within their sitting area. And it is not really a bad idea because you get to interact with your family while doing your daily chores. Once you have considered implementing this idea, then make sure to incorporate a large kitchen island which will act like your entire kitchen working area! And since it will be out in the open, getting an induction stove instead of a flame-induced stove is a better idea for safety purposes. A nice kitchen hood will take care of all that extra heat and smoke!