A computer desk not only serves as a gaming table, but it can also be used for other table needs. Real gamers know the importance of having a quality table for their computers. It  helps you to perform at optimum, comfortably and on a durable surface for longer periods.
The desk does not have to come at a high price; you can make yourself one within a short time at a low price. You can make a classy, modern, or rustic design using these tutorials.
1.DIY Computer Desk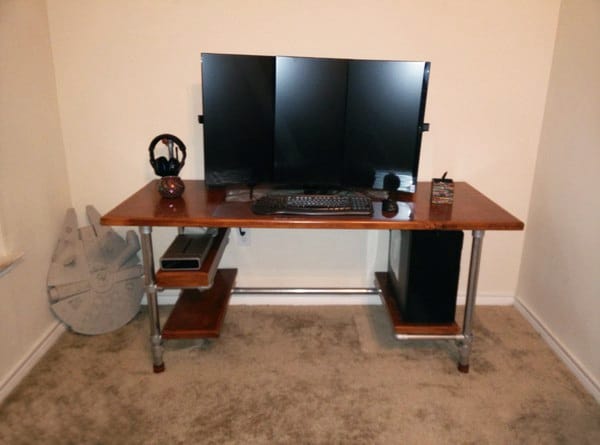 This simple design was created to help this guy with his gaming needs. He needed a simple computer desk and decided to build one himself. Its design is simplistic, yet beautifully crafted and suitable for monitors that are quite large.
In this tutorial, you would find a full breakdown of how this beautiful table was created to solve his gaming needs. It's modern, easy to assemble, easy to customize, but would need a lot of heavy-duty construction. If you're not a skilled builder, this may not be a good fit for you.
2.14-Stepped PC Computer Table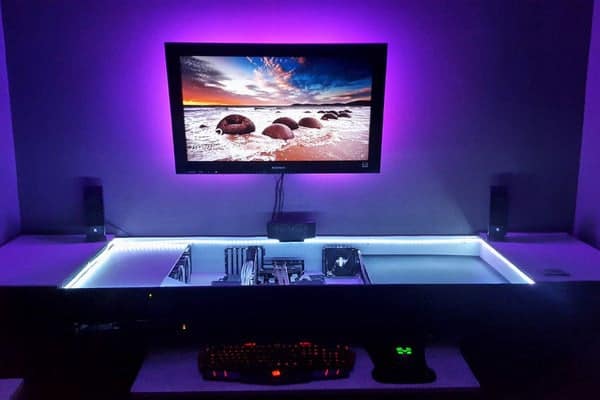 If you're looking to give your man cave a new look, a gaming desk would be a pretty good choice. This build inspired by Project Alternate is a gaming desk plus a storage compartment that is great for hard-core gamers.
If you're one who doesn't like shelves as part of your furniture, this build also works too; the storage compartment is fitted into the desk to give you ample space for storage. It's simple to build, and the tutorial is clear. Find out how to make it here.
3.Modern Industrial DIY Computer Desk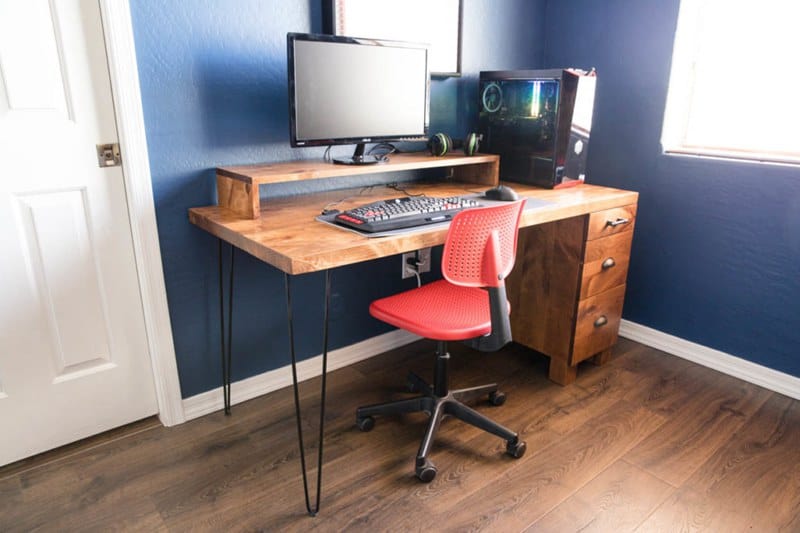 Using this tutorial, you can create this modern gaming desk design to suit your taste. One of the main features of this desk is the PC tower that sits atop the table. You may also want to add some fancy lights to give the table some more pizzazz.
Find out how to build the gaming desk here, using the instructions, dimensions, and materials you would find within. It's a straightforward and clear build.
4.2-in-1 DIY Parson Tower Computer Desk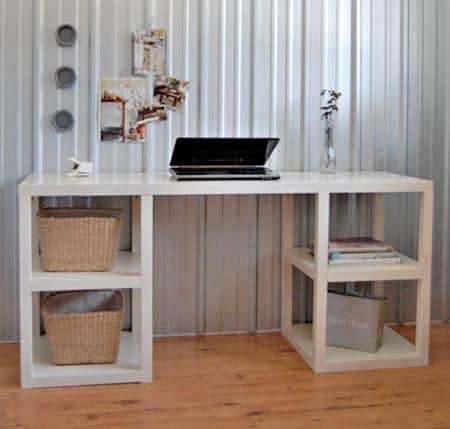 This gaming desk works both as a gaming desk and an ordinary computer desk. It is versatile and can quickly be built from scraps. It has a two-stepped storage compartment on either side for keeping some of your gaming stuff.
The dimensions and plan for building this desk can be found here. It also contains a list of materials, tools and a cutting list to help get yours done. It's made with only four steps and is not difficult to assemble.
The builder was able to get the desk done in just a few hours, good luck with yours.
5.DIY Modern Beam Gaming Desk
This lovely DIY desk was made using a few of the following items: Cabinet scraper, wood glue, sandpaper, power strip, monitor backlight, and a couple more items listed in the description box.
In this 9-minute long video, you would learn how to get this gaming desk. It is fully instructional, and the designer gives dimensions and measurements of his material as he works. The completely assembled gaming desk gives a fresh look to your gaming station. Find out more about how to get this done in this video.
A computer desk not only serves as a gaming table, but it can also be used for other table needs. Real gamers know the importance of having a quality table for their computers. It helps you to perform at optimum, comfortably and on a durable surface for longer periods.Quality workspace can significantly upgrade your productivity – whether you're wrapped up in coding or gaming, or just googling "write my essays".
6.DIY Gaming Table for $100
This desk costs only about $100 to build, and you can get yours done at a similar cost. This desk is a great looking piece of furniture for a man cave or a large space area. It's fitted with different compartments where you can keep necessary equipment that are useful for your gaming sessions.
The procedure to get this table built is in this video, also find a link to the ultimate setup guide for this tutorial in the description box. It is instructional, but you would have to listen carefully to get the products, tips, and tricks used to get the most of the video.
7.DIY Gaming Desk with Plans
For this build, prepare your marine plywood, black screw, wood glue, wood putty, primer white, flat black paint, masking tape, small paint roller, and a few more cheap items.
In this tutorial, you would find the 3D plans for the build; you may use them to get a rough idea of what your desk should look like. This video is clear but not so instructional. Pay attention as you watch to make the most of it.
As you build, you can think about the joy and comfort you would get when you get your desk done, and you use it for one of your gaming sessions. Check out how to get this done here.
8.DIY Black & Red Gaming Desk
This tutorial comes with a 3D sketch-up Model as well as AutoCAD Plans and Details. These would be very beneficial to you as you plan to get your gaming desk. It is about 10 minutes long and not instructional. Pay attention as you watch to grab the necessary information useful for your work.
The materials you would need for this build, you would find as you watch. This desk is classy and built for a modern styled apartment or work area. The best thing about this table is its unique color design. Get the details for this build here.
9.Ammo Epoxy Gaming Desk
This desk has a design that stands out because it is unusual. The inspiration for this design is extra special, and if you're a lover of ammunition and guns, this would be a great way to sync your interest with your gaming desk design.
Thankfully, this video tutorial is instructional. The builder tells us what he's doing at each step, and it assists with making the perfect build. Prepare your tools and materials; take note of what you need via the tutorial.
10.Short DIY Gaming Desk Tutorial
In this quick and simple tutorial, you will find out how you can get this classy and contemporary styled furniture. In just a few minutes, you can get the necessary details you need to get your gaming desk construction underway.
It was not difficult to build as you can get it done in under a few hours. See how to construct it here.
11.Ultimate DIY Gaming Desk
This setup video is for a pretty big desk, so if you're one who wants to take up a lot of space with the gaming desk, this is the perfect fit for you. It's a high-quality desk that can last as long as two years.
It has a 3D model plan, and you can make yours using an excellent 3D model software. Use all the measurements mentioned in the video as you listen. Find the video here.
12.DIY Floating Gaming Desk
In just about 13 minutes, you can get all the help you need to get your table ready. Although the beginning part of the video is not particularly teaching you about how to build your desk, you would yet find it interesting to watch; otherwise, skip to 3:25. Here is the video.
13.DIY Ultimate Gaming Table + free plans
In this video, you would find how to build the ultimate gaming desk with a sleek and modern finish. The designer built the desk to eliminate wires and cables that always peek out from beneath the table.
This design gives off a neat look when done. See more about how to make this sleek desk here.
14.DIY Modern Computer/Gaming Desk
Although this design is suited for a computed table, it can also serve as a gaming table. It was built using walnut and white oak. It has both a video tutorial and a written tutorial. The link to the written tutorial is in the description box of this video.
15.Superb Money-Saving Gaming Desk
With just $20, this designer got himself an excellent and functional modern-day gaming desk. The best part? You can create the gaming desk for yourself using three different methods. The design can fit multiple monitors, and you're desktop. Here is the video.
16.Custom DIY Gaming Desk
Just like a real DIYer, this gamer couldn't find a gaming desk to fit his specs, so he built his own. The desktop was made using an Ikea Hammarp countertop painted with white glossy paint.
It's built in an L-shape and works quite well. Find out how to make this table here.
17.Easy-to-Build DIY Floating Gaming Desk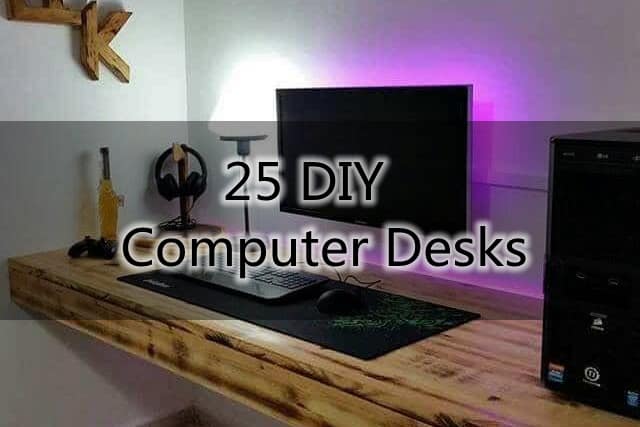 This is a straightforward gaming setup design. The designer used wood accents as the desktop for the CPU case. The instructions for building this table can be found here, (the 15th computer desk idea.) You can also check out how to set up the desk if you're out of ideas to design your table with.
18.8-Stepped Extreme Gaming Desk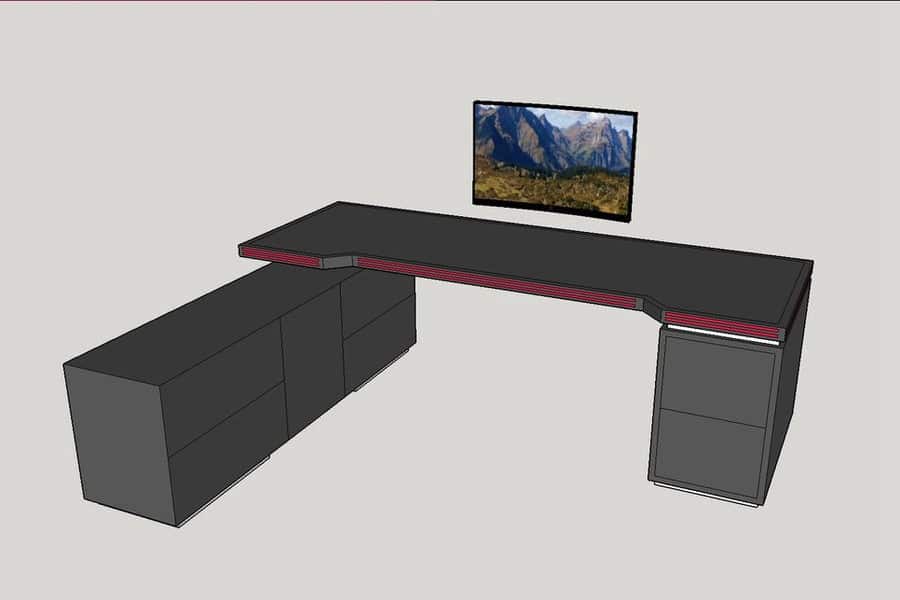 This desk comes with super amazing features and also has a cool design. Some of its features include super cable management, acrylic LED lighting, hidden compartments, and false bottom drawers with an ample desktop space for all your gaming needs. Here's how to build it.
19.The Simple, Easy, Large & Cheap DIY Gaming Desk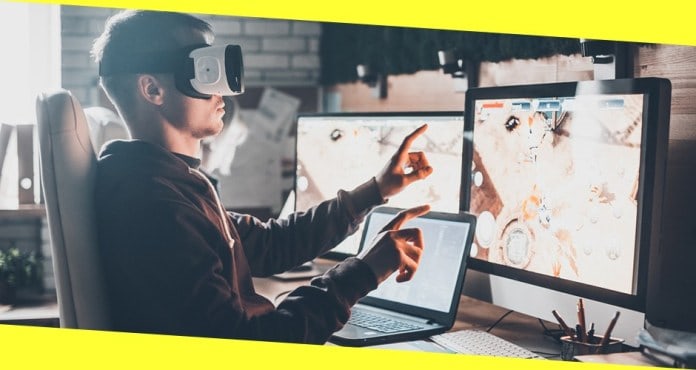 All of these need to go into consideration when you're building your desk. This gaming table matches these criteria to a T. You would need a surface, about 4 or 5 legs, some drawers and any other thing you think you want in it. You can have as many add-ons as you wish. Its building process is listed in 7 easy steps, find it in this simple tutorial.
20.An Adjustable DIY Gaming Desk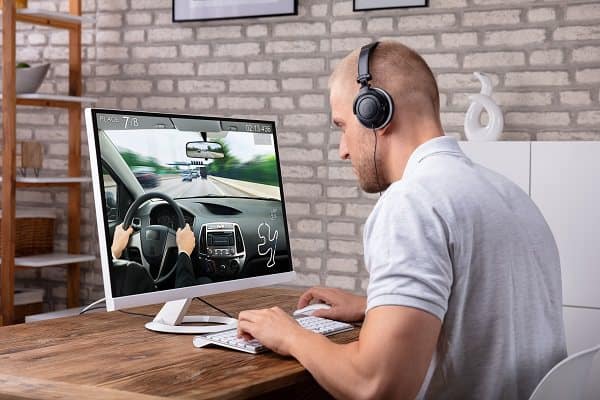 This table helps you to save up on quite a lot of money, it is simple and elegant and quite easy to build. The steps on how to get this done are highlighted in this tutorial here. This electric height adjustable standing desk is one of the best for gamers.
21.Modern Gaming Desk with LED
This desk was designed to fit a minimalist lifestyle, yet, helps you be very productive. It doesn't feature a closed storage area, however, and keeping your workspace tidy might be your only challenge. It's a versatile desk and can be used for other purposes outside gaming. See it here.
22.DIY Gaming Desk Build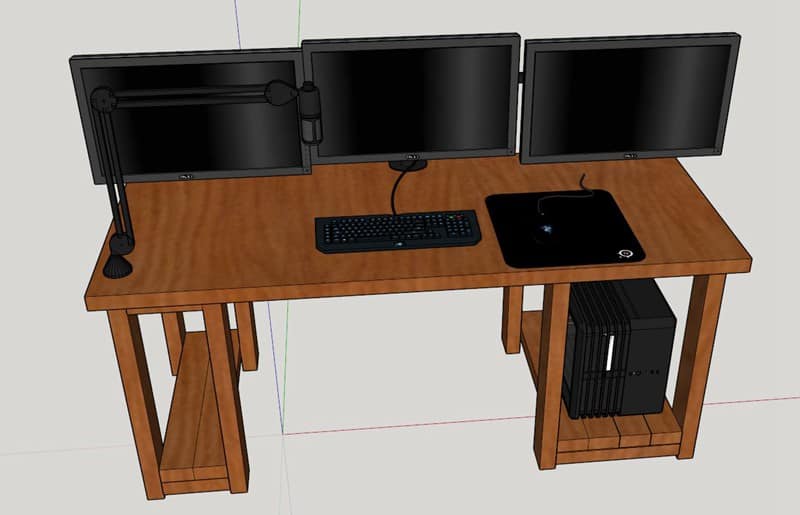 This gaming desk was created for 3 27" inches monitors. It is sturdy and durable. Strong enough to carry their weight without caving. The different steps employed in this build can be found here. It turned out quite well, have fun building yours.
23.'Healthier' Gaming Table for Under $200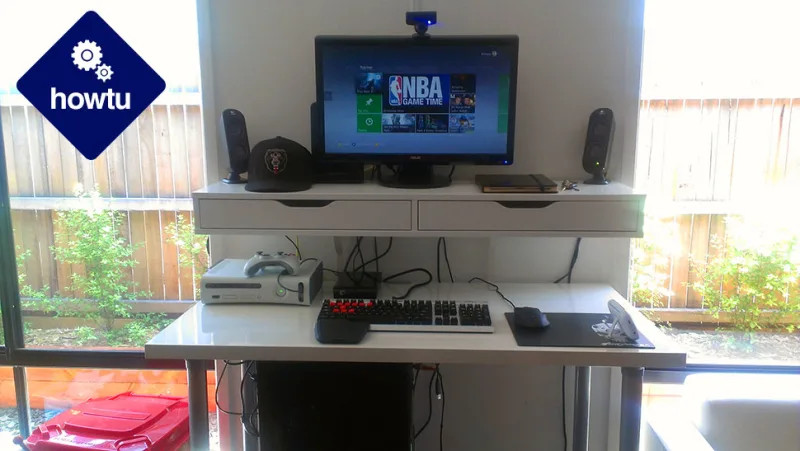 Gaming for long hours requires sitting for long periods, and this might not be too healthy or advisable for you. So, if you're one that cares about how your gaming sessions affect your health, here is a guide to building the perfect healthy gaming table at a pretty low price.
24.DIY Multi-Display Desk
This works both as a computer desk, and also as a gaming desk. It is a standing desk design and can be built using the simple steps which you will find in the video tutorial. It is an instructional tutorial, and the entire project was very affordable and significantly cheaper than buying a readymade desk.
25.Simple & Beautiful Gaming Table
This desk was made of metal and finished with beautiful wood design. It can be used as a gaming desk or for editing videos. You would need a bit of metalworking skill to get this desk built. However, the rest of the project is simple and straightforward.
The designer added RGB lights after his build was completed, so you can also design yours as you wish. See how to build and set it up here.
Conclusion
Your gaming experience doesn't have to be a chore anymore. You can spice it up by giving your gaming area a new and upgraded look. These gaming desks, no matter how simple their designs are, add a modern and elegant feel to any room. They are versatile and can be used for many purposes, apart from gaming. The tutorials are easy to understand, and you can get your table up and ready in record time.