Having a workbench at home or in your garage generally makes your work time experience way better and easier. Here in this DIY workbench plans guide, you will be shown a list of all the workbench plans ideas that you could use to produce an amazing and functional workbench that will suit your taste and give you that working experience you want.
So without further ado, let's begin and see the list prepare for you today. Building a workbench might be time-consuming, but the time taken is worth it. The end result is always amazing if done properly.
1. Easy DIY Workbench
We are starting with the easiest, coolest, and probably the cheapest, this project costs about $50 and it's just effortless to build. The video. started with the creator preparing his sheet of plywood, and other wood planks for cutting and screwing. The rest of the steps are doable for even a beginner.
2. How To Build A Workbench With Storage
Here is a great workbench that comes with a good amount of storage space that can be used to store anything, depending on the purpose you intended for the workbench. You can also use this workbench for a lot of woodworking projects.
3. DIY Budget Friendly Workbench
4. How To Build A $100 Workbench
Here is another workbench that was built for just $100 under 4 hours over 2 days. If you are a busy person this project might work for you, just 4 hours for only over 2 days and you're done.
See also: 12 DIY Office Chair Plans
5. DIY Workbench
This is a smart workbench that the creator made with just 12 plywood connectors, an Allen key, and 8 for layer boards. This is the simplest and coolest workbench so far.
6. DIY Garage Workshop Workbench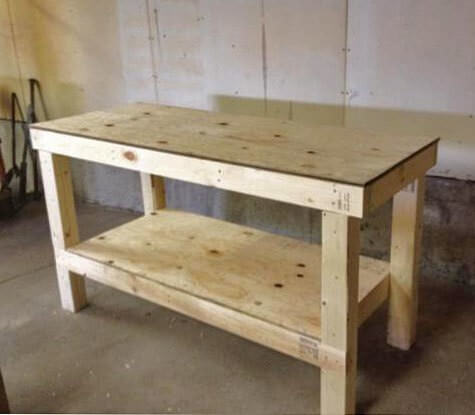 This is a great garage workshop workbench that the creator built with storage under it. It's a sturdy workbench and it's super easy to build.
7. DIY Workbench Plans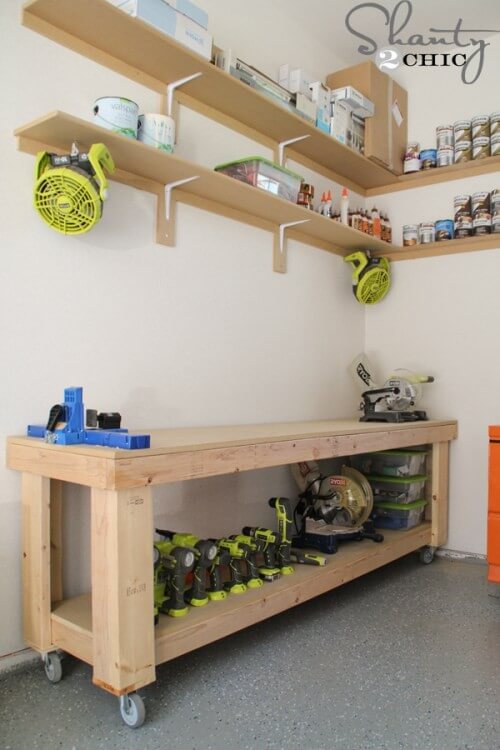 Here is another great sturdy workbench that is big, has a storage space, and moves on caster wheels. This makes this workbench a movable one making your work easy and smooth.
8. DIY Mobile Workbench With Table Saw
Are you in need of a mobile workbench? Here is a guide that will teach you how to build a movable workbench with ease. There is a downloadable PDF file in the link to assist you to learn more about the building plans and the cut list for the wood.
9. DIY Ultimate Workbench
The first step in making the ultimate workbench is getting the right building plans for the project. This video guide has a link to the building plans the creator used, once you have the plans ready, the making process is quite easy and simple to follow.
10. How To Make A Workbench
Working with a workbench is one of the best things you can do for yourself, makes you work faster and efficiently and provides comfort as you work. In this video guide, the creator is going to take you through some steps that will assist you to make a sturdy and movable workbench with ease.
11. How To Build A Cheap Workbench
You might not want to spend a lot on a workbench right now and yet you need a strong workbench, you can use this guide to make a super-strong workbench that is cheap and easy to make.
See also: 25 DIY Outdoor Chair Plans
12. DIY Workbench Under $100
With some 2x4 lumber wood, you can make a completely sturdy and large workbench for under $100. It's quite expensive and simple but it's a workbench that is ultimately long-lasting. This workbench also has no storage under it, it's just a simple, strong workbench.
13. DIY Simple Wooden Workbench
Here is a simple wooden workbench that the creator made with free building plans.
This completely makes your job a whole lot easier. You just need some wood boards, sheets of plywood, some self-tapping wood screws, and a few more items.
14. How To Build A DIY Mobile Workbench
This is a straightforward workbench, it's long, quite low to the ground, and has a large storage space underneath the benchtop. It also moves on caster wheels which is a sweet and essential addition. It's the perfect workbench.
15. DIY Rolling Workbench
This is a simple and almost portable workbench, it's not so big and it's movable. You can easily roll the bench in and out of your garage to work anywhere you want. This project costs under $50 and it is a fair price.
16. DIY Portable Workbench With Inverted Jigsaw
This is the definition of portable, this workbench is so portable that without the caster wheels for easy movement, you can also even move or carry the workbench with ease.
17. DIY Workbench
A good and efficient workbench is key to a good workshop. So if you have a workshop, you might need this workbench plan idea to get the right workbench that will suit your needs.
18. How To Build A Workbench For Garage
Do you need a super large workbench for your garage workspace? Then you have come to the right guide, this workbench is attached to the wall, and it's also a corner out like a bench. It's long, sturdy, and super easy to build.
19. DIY Workbench Build
This could be the best and most amazing workbench ever built. This workbench was built for under $100. It has no wheels, hence, this workbench will just be a stationary one.
20. How To Build A Fold Up Workbench
This is a workbench that you can fold up effortlessly, it's made of wood and it's super easy to build. You can remove the storage space below, fold the legs into the body of the bench, use the storage sheet to hold the legs in the firm, and with the handle by the side, you can carry your workbench around.
21. DIY Heavy Duty Workbench
This is a heavy-duty workbench that the creator made with just $200, that's super expensive compared to another workbench price. The 2 major features include cutting and installing. The bench is super strong and has no wheels and no storage space.
22. How To Make A Workbench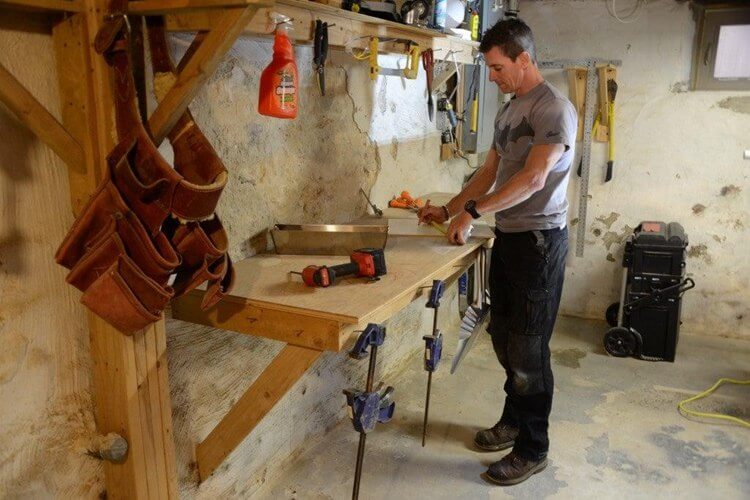 This guide will teach you how to make this workbench look like this. It's a simple floating workbench. It's seamlessly easy and easy to follow. This can never be a portable or movable workbench unless you want to ruin the build completely.
23. DIY Portable Workbench
This is another portable workbench, with storage space that has a door. It's a great workbench especially the fact that you can carry it from one point to another. It's also super strong and durable. This workbench can pass for an industrial workbench because of the quality of wood and finishing.
24. DIY Simple Workbench
This is a good and elegant workbench, after the making process, the final stage will require staining with a Minwax gunstock stain, and a Minwax polyurethane. The bench moves on caster wheels, making it super easy to move about with just a simple push or pull.
25. DIY Workbench With Pallets
If you don't have the time and money to get plywood or any other lumber wood, and you have some pallet wood around you can easily use them to make a workbench that is sturdy, durable, and aesthetically pleasing. The creator used recycled pallets which are easy to come by.
Conclusion
So, after all, it is said and explained, it all balls down to your choice and which guide on my list you wish to use to make an amazing workbench. A workbench is an essential part of a garage or workshop. I'm sure you will find the perfect workbench that will suit your needs and help organize your stuff around your workshop. Thanks for stopping by, till next time, bye.