In every household, there must be a table, right?  Have you checked table/tabletop prices? They are expensive. Worry no more you are at the right place.
In this article, you will learn different ideas and tutorials to follow to construct/modify a tabletop.
Why spend a lot of cash to buy tabletops while you can do it yourself. All you need are tools, materials, and these tutorials.
1. Drum Sticks Table Top DIY
Are you a drummer and you have a lot of unused drum sticks? You can convert them to a tabletop.
You will require wood, saw, drumsticks, screwdriver, wood screws, and a steel frame.
Begin by prepping the wood, create Tenons and rabbets, place the drum sticks perfectly and glue them.
Make a steel frame and attach the tabletop using wood screws.
2. Epoxy Resin Table Top DIY
To make this DIY you require epoxy, paint, hair pegs, pine edge panel round board, and sander.
First, begin by mixing epoxy. Do the first pour using white color, do a second pour using the dirty pour technique. (used all colors)
Day two inspect the tabletop, clean up the stiff drips on the bottom and add legs.
3. Sea Mosaic Table Top DIY
In this tutorial, you will need sea glass, a round table, mosaic tiles, tile adhesive, and sealant.
Firstly, prepare and clean the mosaic material. Do a test piece and tile the grim. Proceed to layout sea glass.
Pour tile adhesive, come up with the mosaic, and grout the table. Lastly, tidy up the pieces (to remove excess grout).
4. CD Mosaic Table Top DIY
Did you know you use CDs to make a tabletop? You will need an existing table, PVA glue, plywood, old CDs, white cement, and varnish.
Begin by preparing and cutting CDs in different shapes. Stick the CD pieces on the table.
Lastly, fill in the gaps
5. Glazed Penny Table Top DIY
Do you have a jar filled with Pennies? Use the pennies to make a tabletop.
You will require an old table, pennies, sandpaper, Tarn-X, screwdriver, paintbrush, metal cutter, and a heat gun.
Begin by scrubbing and sanding the old table, stain and finish, clean the pennies, and glue the pennies on the table.
Glaze the pennies and fix places with an error.
6. Copper Table Top DIY
This tabletop requires a table, copper, glue, copper epoxy, metal snips, clamps, square file, and light hammer.
Begin by cutting the copper sheet to fit the table and bend the sides. Glue the copper sheet to the table, bend lower edges and fill corners.
7. Thick Table Top DIY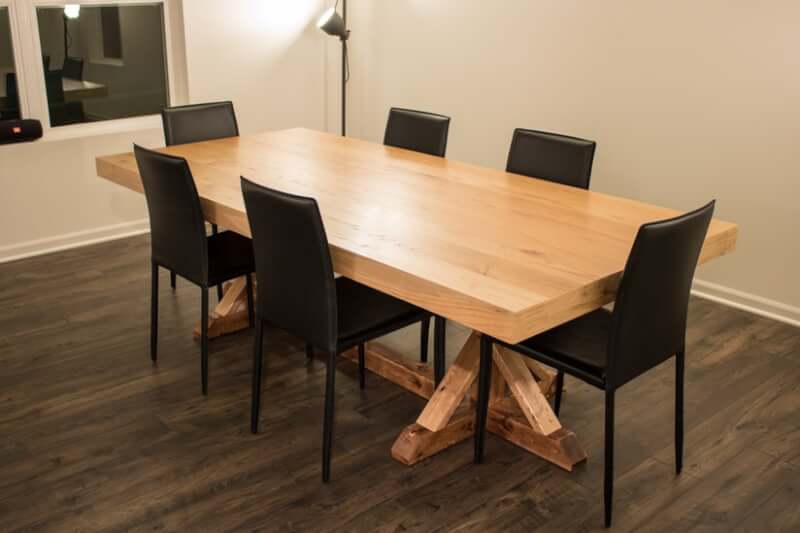 Making this DIY you will need wood glue, screws, wood finish, saw, drill, sander, and a paintbrush.
Begin by gluing oak boards together. Make sure that you glue them in small groups so as the tabletop becomes flat as possible.
Reinforce the tabletop using boards going across the width. Join the tabletop with base.
8. VIKA AMON Table Top DIY
You will require the following saw, F clamps, paintbrush, pine VIKA AMON, and wood glue.
Begin to cut material following the cut list, and drill pocket holes. Assemble the different parts and put corner supports.
Sand, and paint. Lastly, install the tabletop.
9. Bottle Cap Table Top DIY
Are you a beer/ beverage lover? Use those bottle caps to DIY a tabletop.
Begin by collecting bottle caps. Look for a table and plan your design. Begin gluing the bottle caps.
Prepare your surface using duct tape and then build a barrier. Cover the caps with resin and lastly remove the barrier and duct tape.
10. Glass Table Top DIY
To do this DIY you don't need to start from scratch. You will require an old table, paint, screws, and glass to act as the tabletop.
Finish the base by adding stain or painting it. Finish the top of the table too and screw it to the base with screws.
Get a glass and attach it to the table using screws with rubber washers to ensure it doesn't break.
11. Concrete Table Top DIY
Do you love concrete materials? Learn how to make a concrete tabletop.
You will need a fast-setting concrete mix, concrete patcher, small bucket, wood stick, and concrete paint.
Begin by preparing the planter saucer, mix the concrete and remove concrete from the saucer after 24 hrs.
Lastly, finish and paint the tabletop.
12. Tile Table Top DIY
Do you how to construct a tile tabletop? If no, this is how you do it. You will require a table, construction adhesive, grout, caulk gun, and tiles.
Begin to layout the tiles and stick them together. Grout and make sure the tiles are clean. Lastly, finish the tiles but carefully.
13. Veneered Table Top DIY
This is one of the easiest tutorials. You will require a masking tape, paper template, sharp knife, glue roller, plywood, and veneers.
Begin by making a paper template then cut veneers. Come up with a veneer layout by assembling your wedges to form a circle.
Substrate and glue tabletop. Place veneered substrate in a vacuum bag. Finish the tabletop by ensuring that the glue is dry.
14. Tongue and Groove Table Top DIY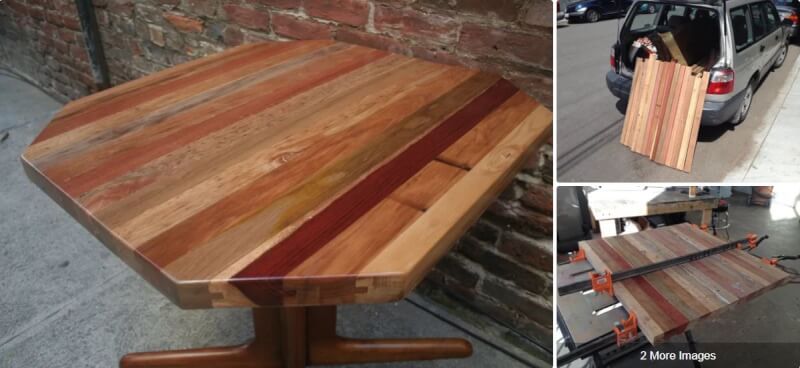 You will require the following rubber mallet, wood glue, chisel, saw, wood filler, sandpaper, and a metal spatula.
First, look for groove and tongue lumber, place closely the wood pieces and ensure they fit perfectly to each other.
Glue the boards together, trim off the ends to have a perfect square-edged rectangle, and then sand.
Apply filler on any cracks and then finish the table.
15. Maple Table Top DIY
Begin by gathering the following materials and tools hard maple, biscuits. Wood glue saw top, sander, and a low jack plane.
Break down maple into pieces and square them for tabletop lamination. Proceed to drill holes for threaded rod, and glue pieces for the tabletop.
Flatten and square up the tabletop. Sand tabletop, apply the finish, and then attach it to a steel base.
16. Hardwood Flooring Table Top DIY
To make this DIY you require a miter saw,  tape measure, hammer, belt sander, flat head screwdriver, and compressor.
Begin by measuring and cutting plywood to the required size. Mark areas where maple will cover the plywood.
Nail the first row of flooring on the marks and build from inside to make sure that sides are lined up. Sand everything to match the height.
Proceed to strain center and the outside row using color stain.
17. Cock Tiles Table Top DIY
You require the following table, cork tiles, cork glue, adhesive trowel, paint roller, and tape.
Firstly, prepare your tabletop and sand it. Cut the cork tiles and then apply glue on the tabletop. Position the cork tile on top of the table.
Lastly, apply varnish.
18. Wooden Building Block Table Top DIY
Doing this tutorial requires building blocks, plywood, wood glue, tape measure, saw, hammer, nails, and paintbrush.
Do a layout of your table and then cut the tabletop. Glue the pieces on the tabletop and trim the edges and seal.
Lastly, attach the tabletop to the base.
19. Deep Dish Cove Cut Slab Table Top DIY
To perform this DIY you require a table saw, and a block of wood slab.
Caution should be taken since it requires one to be very careful slight mistake can lead to an accident.
Using a round cove trim to dish a slab using a table saw.  Then you can use the slab as your tabletop,
20. Milk Crate Table Top DIY
You require the following supplies to do this DIY a piece of plywood, screws, tape measure, and crates.
Measure and cut wood based on crate measurements. Screw the wood pieces together to form the top.
Lastly, place the tabletop on the crate and make sure it fits in perfectly.
21. Alcohol Ink Tiled Table Top DIY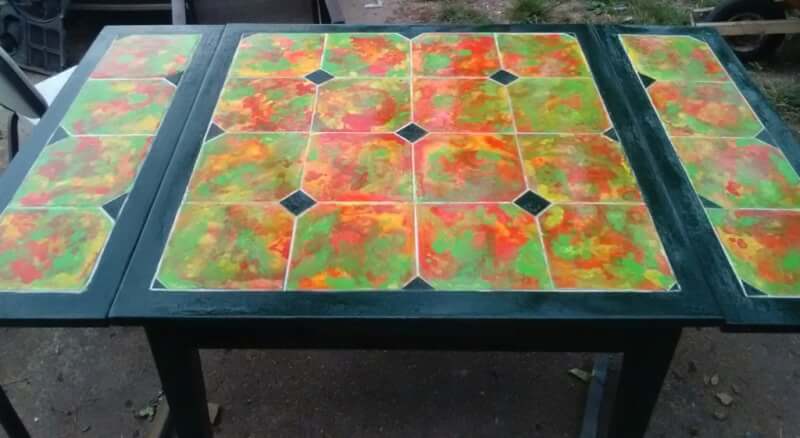 This DIY doesn't involve a lot of constructing but modifying an already available tabletop.
You require the following materials alcohol-based ink, sprayer, glove, and paintbrush.
Begin by spraying alcohol on the top table, spray or paint the ink mixture on the surface.
22. Hockey Rink Table Top DIY
This tabletop DIY requires the following materials foam core board, ruler, pencil, and colored duct tape.
Begin by measuring foam core and cutting rink shape. Construct the end and sideboards
Proceed to mock up the rink and trimming of end boards. Come up with a center and line.
Come up with the face-off circles. Lastly, assemble the rink and attach sideboards.
23. Pallet Wood Table Top DIY
Firstly, begin by assembling materials and tools such as outdoor lumber, pallet wood, metal brackets, wood screws, wood glue, mason jar, clamps, saw power drill, and sander.
Construct tabletop frames, cut pallet wood, and fit them on the tabletop frame. Lastly, stain the tabletop.
24. Vinyl Flooring Table Top DIY
Firstly, begin by making a design of your choice then build legs and rails. Proceed to assemble the frame.
Attach the tabletop and glue the vinyl flooring on the table. Lastly, finish the edges.
25. DIY Foosball Table Top
Do you love playing foosball and can't afford to buy one/ good news is that you can construct one at home.
Begin by cutting and painting the base. Cut/ trim metal rods, and print the Foos men.
Proceed to fit players on the rods. Paint the playing field; add walls, players, and handles.
Conclusion
Constructing these DIY table tops has its merits; you get as creative as possible, they save on cost, and you construct based on your specifications.
I highly recommend you to try these ideas. They can become a source of income once you do a great DIY and people love it.