Do you want to build a self-made table saw workbench but don't know how or what to begin with? Then this list is for you!
The table saw is a very versatile and important tool. One of the most important aspects of building a table saw workbench is that it provides you with a strong working surface, as well as storage for your tools.
I've gathered together 20 awesome DIY table saw workbench projects that will help you get your own work area up and running.
1. How To Build A Table Saw Workbench
To begin the building of your table saw workbench, you will need three 8ft 4×4 lumber. Cut them down into 36 inches in length making a total of 6 4×4 pieces for the legs. Layout the legs in an upright position on the floor measure the space in between each leg to cut the connecting framing pieces using 2×4s.
Cut the 2×4 in the dimension of plywood (2×8). Assemble the framing pieces into a square. Then lift it and secure it to the corner of the legs. Secure them with claps while putting the screws through them. After this, you can use a speed square to Check if the framing square and the legs are perpendiculars.
Once all this is done, you can go ahead and prepare the tabletop.
2. How To Make A Workbench With Built In Table Saw
This workbench had a total of six legs attached to a framing square using glue and screws. Then, another framing square is attached to the bottom of the legs to support the weight of the workbench.
For easy movement of the bench, attach six caster wheels to each leg. On the bottom framing square, attach some braces horizontally to it and place plywood on it for the base shelf of the workbench.
3. Table Saw Workbench Build
You can make a cutting list for this table saw workbench as most of the materials you will be using are different sizes of wood pieces. To start with, get some 2×4 and 4×4 lumber cut to length according to the cutting list. While cutting, make sure you use your personal protective equipment such as hand gloves and google.
4. DIY Modern Workbench
This modern workbench is a flat workbench that has numerous features that can make work easier. The features include a replaceable top, a roll of metal pegboards for hanging hand tools,  space underneath for a rolling tool chest, and a mobile workbench. Another thing that is very important about this modern workbench is that it is adjustable.
5. How To Build A Table Saw Workbench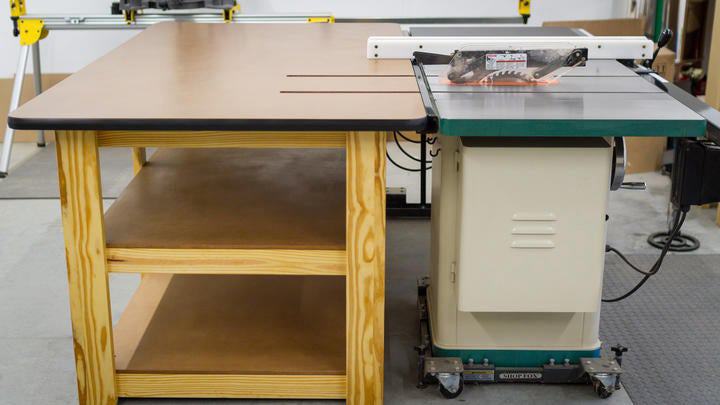 The first thing you need to do here is to select the lumber and other materials required. After this, rip the lumber into pieces and assemble them into Frames and legs. This particular project is super easy and functional.
6. DIY Table Saw Workbench With Wood Storage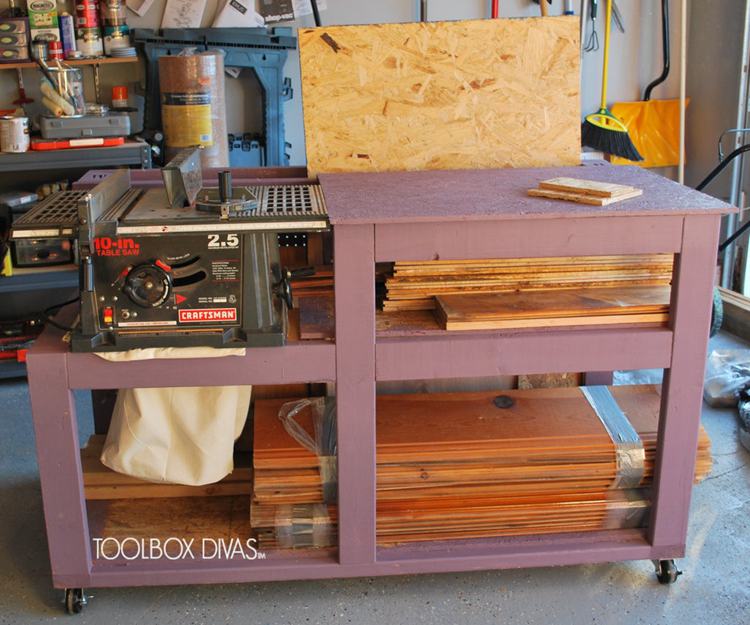 This table saw workbench cost up to $70-$80. It doesn't require so much expertise as the level of difficulty is moderate. Click the link below to learn more about the step-by-step instructions on how to build the workbench from scratch.
7. Mobile Workbench With Built In Miter Saw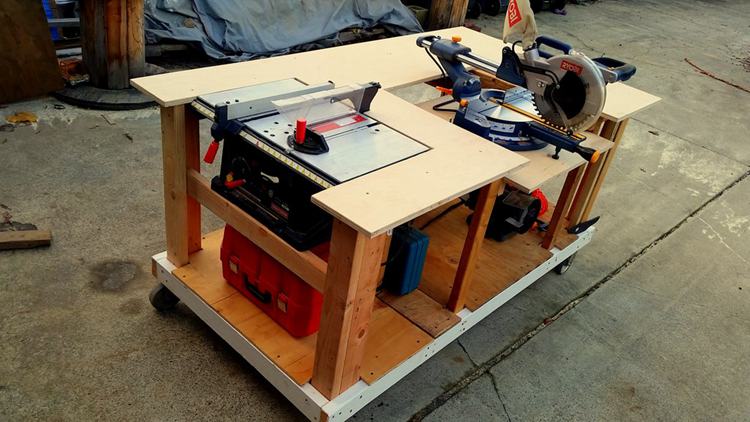 The materials and tools required for this mobile workbench with a built-in miter saw include 2×3s, 2×4s, 10×3" T-star screws, Marple plywood boards for the tabletop, casters, lag screws, carriage bolts, scrap plywood, miter saw, circular saw, clamp, level,  square, jigsaw, and impact driver.
The steps can be a little bit complicated but if you follow the instructions in this guide, you're good to go.
8. DIY Miter Saw Workbench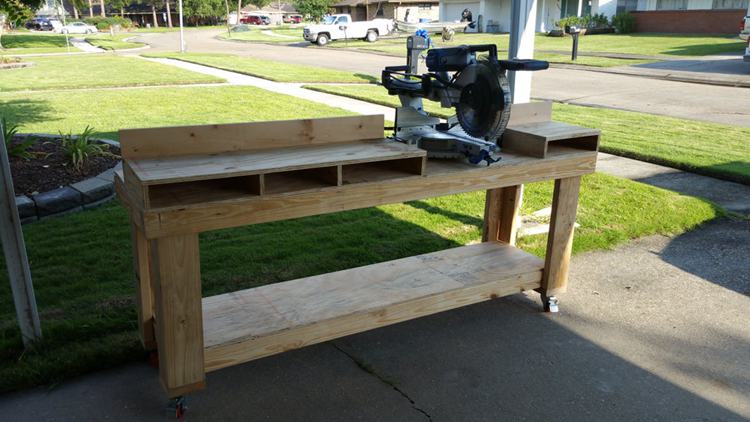 This portable miter saw workbench has four parts; the bottom frame and shelf, the top frame and shelf, the tabletop fence and compartment, and the caster wheels. You can start cutting and joining from any parts you like, but it's good to start from the bottom frame.
9. DIY Table Saw Workbench
Do you need a workbench that can fit all your heavy tools? This table saw workbench is the best for you. First, you need to take out all the tools you want to put inside the workbench so that you can determine the dimension for the table and the space that each tool will take up. You can draw the dimension on a piece of paper to make it easier. After that,
After this, gather the wood and other materials and start making the workbench assembly.
10. DIY Workbench With Built In Table Saw
The first step in making this workbench with a built-in table saw is to rearrange the garage or the workstation so there is adequate space for you to work and for the workbench as well. Sketch out the plans for the workbench including the necessary dimensions.
After that,  gather the materials and tools required. It is made out of 2 sheets of plywood and 11 2×4s. A cutting list would be a very good idea for cutting the lumber.
11. DIY Mobile Workbench
The size of this mobile workbench is  234cm×100cm×92cm. It incorporates a Dewalt DW745 table saw. The instructor drew the plan using SketchUp and built it using 12 10cm×5cm framing wood. The full details can be found in the video tutorial above.
12. Homemade Table With Built Saw
This homemade table doesn't require so many tools. All the tools you need include a hand saw, drill, carpenter square,  pencil, and tape measure. To make sure the table is mobile, the instructor attached 4 caster wheels to the bottom of the legs.
13. DIY Mobile Workbench With Table Saw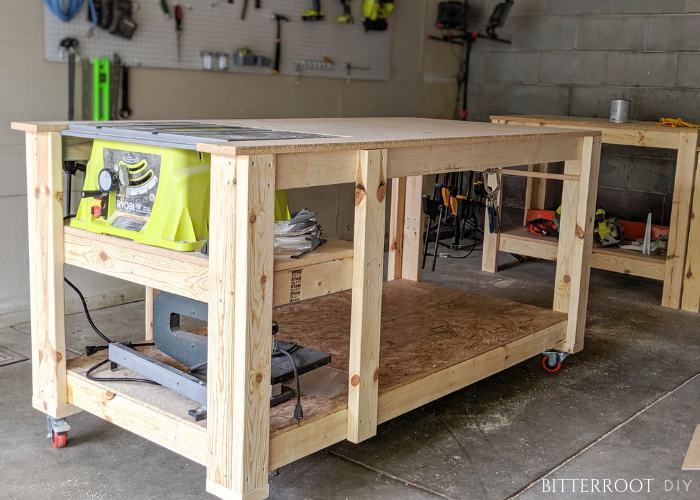 Here is another mobile workbench, it made out of 3″ locking casters, miter saw, jigsaw, circular saw/table saw, drill, tape measure, clamps, level, speed square, pencil, safety glasses, ear protection, ½" Screws, ¼" Screws.
The following are optional but if you want to use MicroJig dovetail clamps you will need them;  MicroJig dovetail clamps, MicroJig dovetail router, ¼″ Shank bit, router, ¼″ straight router bit.
14. DIY Mobile Workbench With Table Saw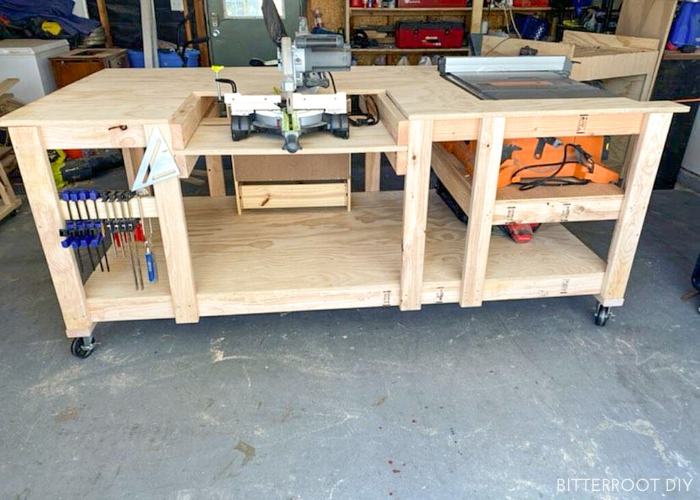 You can start this project by making the bottom frame assembly. Attach the front and back legs to the bottom frame using 2 ½" screws each. Also, attach the side legs. Place the bottom shelf on the bottom frame and secure it with 11/4" screws.  Then go ahead and prepare the top frame and the shelf.
15. How To Build A Table For Your Table Saw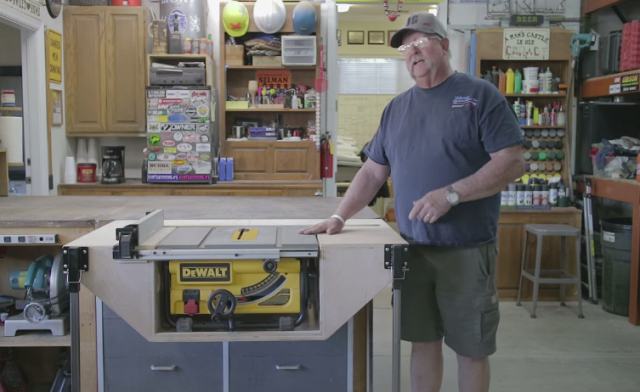 Have you heard about the Jobsite table saw? It is a powerful machine that is known for its accurate cutting power. But, due to its portability, it is not very effective in cutting a full sheet of plywood. In this guide, the instructor showed us how he modified his old workbench and installed the Jobsite table saw in it.
16. How To Build A Mobile Workbench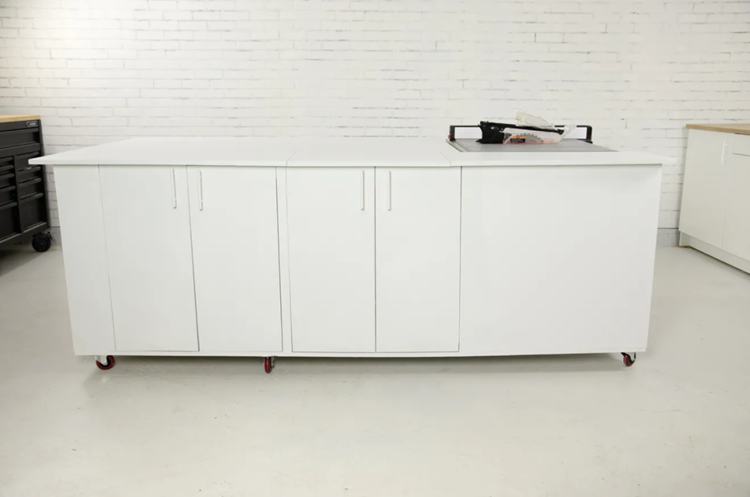 Though this project requires some experience with woodworking, it isn't necessary that you need to be an expert before you can do it, average/ moderate level of skill is alright. The project takes up at least 10 hours of your time and it is quite expensive. The estimated cost of plywood and door is $450.
17. How To Build A Workbench
This is made out of 8×2 plywood sheets, 2×4 pieces of wood, and casters. Here is how to transform these three basic materials into a workbench; First, gather the tools required for the cutting and joining of the lumber.  Cut the plywood and the 2×4 into pieces. Join two pieces of 2×4 together to form each leg of the workbench.
18. Homemade Table Saw And Workbench
This homemade workbench with a table saw makes use of the idea of turning a handheld circular saw into an upgraded table saw. The rail track mechanism of the workbench was made out of recycled bicycle gears and chains.  Watch the video to learn more about the project.
19. DIY Table Saw Workbench
If you want to build a simple and inexpensive workbench where you can put your table saw on, this should be the best idea for you.
The instructor started by joining the legs of the framing pieces and after that, he attached framing pieces to the bottom of the legs as well.  Then, he went on to attach small braces that will divide the workbench into sections.
20. How To Build A DIY Table Saw Workbench
In this video tutorial, the instructor started by making the framing assembly. He assembles 4 framing pieces on some 4×4 pieces, adds glue to each corner, and secures them tightly with screws. After this, he assembles the legs to each corner of the framing square and attaches them with screws.
Conclusion
We have come to the end of this article. The featured table saw workbench projects are so diverse and cover a vast range of skills. The interesting thing is that all these workbenches are built by DIYers all over the world. Some were built in Germany, others in Canada, and some in the United States. These creative people have truly impressed me with their way of solution and ingenuity.