You've been wondering why your garage has been disorganized with different tools lying anywhere they found themselves? Keep calm, all you need to organize your garage is a wonderful workbench.
Here in this guide, I have 25 DIY garage workbench plans for you to help you organize your space.
1. How To Build A Workbench For Garage
A workbench is very essential in a garage if you want your garage to always look tidy and clean. Here is a video tutorial on how to build a workbench by yourself. The workbench was 72 inches long with a storage shelf attached to it.
2. How To Build A Workbench
How do I build a workbench? This question always hangs above the air for some people. Well, this video tutorial is all you need to clear all your doubts on how to build an affordable and sturdy workbench. The instructor started by listing the materials needed for the project and he made mention of the tools required as well.
3. 10ft DIY Garage Workbench Plans
This 10ft long and 35inches tall workbench is giant and sturdy. The total cost of making it is about $150. Though that is not very cheap it is still affordable than a commercial workbench.
4. Simple DIY Garage Bench And Storage
Since the garage bench is blended in with storage.it is very good to make plans for the project to have a particular direction when designing the garage bench. The first thing to do is to create a frame for the shelves using some 2×4s.
5. DIY Garage Workbench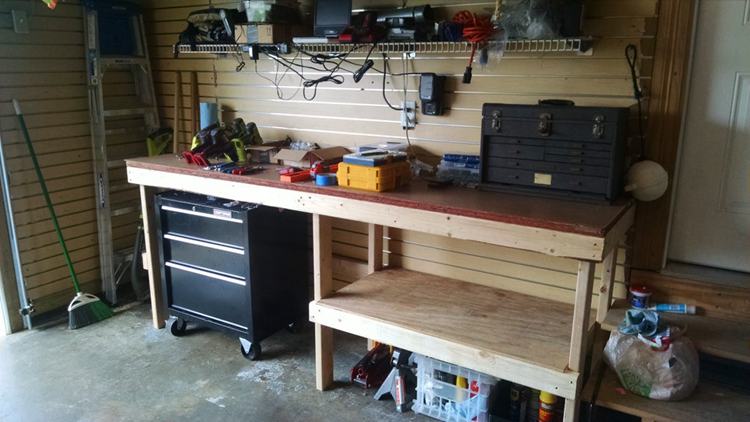 Three things make this guide easier for a beginner with no experience in woodworking. The three things are a full cutting list, accurate dimensions for the workbench, and a list of hardware used.
6. Garage Wood Workbench DIY
The preferred length of this workbench according to the instructor is 9mm tall. And the guide started by preparing the legs and making sure the measurements were accurate.
7. DIY Foldable Garage Workbench
Each bench has a particular purpose that triggered its existence, but for this foldable garage workbench, it must tick some line before it can be categorized as a foldable workbench. Let me show you some of those things: It must have dog holes for bracing and it must take as little space as possible when folded.
8. Cheap And Easy Garage Workbench
The entirety of this DIY project is woodwork and for successful woodwork, there must be a cutting list for every piece of wood that goes into making the workbench. By doing this, you won't forget any part of the project. After gathering the materials and tools for this workbench, the next thing is to make the cutting list. This will make it easier and faster.
9. DIY 1-Hour Workbench For Garage
Do you have an hour of your time, some lumber, and hardware? If yes, let's watch this video together and learn how to make a workbench for a garage. It is very easy and affordable.
10. How To Build A Simple Workbench
If you would prefer a mounted workbench over any other type. This is for you. It is simple, affordable, and exceptional. About the mounted workbench is a mini vertical shelf that serves as storage.
11. DIY Garage Shop Workbench
One thing that makes this garage shop workbench exception is the provision of optimum storage space. It has a wide built-in pegboard for small tools and base cabinets that hold items needed in your workstation.
12. How To Build A Rolling Garage Workbench
You need 4 power tools to make this rolling garage workbench possible. An air compressor, a table saw, a miter saw, and a jigsaw. To make the workbench roll, attach caster wheels to the legs and you're good to go.
13. Garage Workbench Plans
Making a frame for a woodwork project is always very amazing because it is like you've built the skeleton of what you want and what remains is to cover it with a body. The first frames you need to make are the tabletop and base. Both are in an L shape.
14. 2x4 8ft Workbench Plans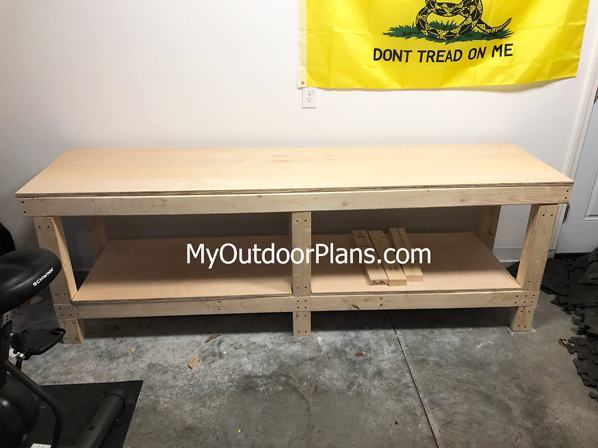 The only thing that separates the tabletop and the base of the workbench is the legs. The workbench is 8ft long. The legs were made from 2×4 and pilot holes were drilled on them where they would be joined to the tabletop and base.
15. How To Build A Heavy Duty Workbench
To build this heavy-duty workbench, you need to start from the sides. Carefully build each side and attach the necessary support to it. Then cut the thick plywood to the preferred size and place it over the sides.  It is super easy and cheap. It doesn't require much of your time as it is portable.
16. DIY Garage Workbench
17. How To Make A Workbench For Garage
For this garage workbench, you need a long list of materials and tools. The materials include limber, plywood, screws, T-track, corner bracket, pocket hoke screws, washers for caster screws, workbench casters, circular saw, router, pocket hole jig, hand saw, drill, clamps, and chisel.  Check the video above for appropriate information on the process of building this garage workbench.
18. DIY Workbench Build
Though this workbench is not very big( in length and width) it is 46inches tall and it is very strong and sturdy. It was built for about $100. After assembling each part of the workbench, extra support was attached to every corner. It is the Simpson tie bracket.
19. DIY Workbench
This simple and cheap workbench was made from 2×4s. Other instruments and materials used in the process of making the workbench include Stanley Sharptooth hand saw, crown 10 inches dovetail saw, Irwin quick grip bar clamp, Dewalt corded drill, Milwaukee router, Dewalt circular saw, and bosch orbital sander.
20. Building A Garage Workbench
This garage workbench is made out of 2×4s and ¾" plywood. It is 12 feet wide, 35 inches tall, and 23 inches deep. The instructor started by cutting and laminating two pieces of wood together to form one leg. Then, he assembles the frame and attaches the legs.
21. DIY Garage Workbench
First thing first, you need supplies. Here are some of the supplies used in this garage workbench project :
11 2x4s, 2 4x4 pegboard segments, 2 pounds of 3" screws, nails, electric screwdriver, electric drill, drill bits, hammer, saw a circular saw, tape measure, level, sandpaper, Philips head screwdriver, and pencil.
22. How To Build A Garage Work Table
To start with, build the front and back leg frame, then connect the two. Prepare the tabletop and add shelving to it. Attach a pegboard to the rear of the 2×4s aiding the shelf with screws.
Below are the materials and tools used for the project.
Table saw, plywood, miter saw, Jigsaw, wood screws, drill, level/square, tape measure, 8ft 2×4s.
23. How To Make A Workbench For Garage
If you love a stationary workstation and a workbench to fit into it. You should be reading this guide on how to build this amazing garage workbench.
The first thing to do is to measure the preferred length of the workbench and mark it on the wall where the branch will be installed.
24. Ultimate Mobile Workbench DIY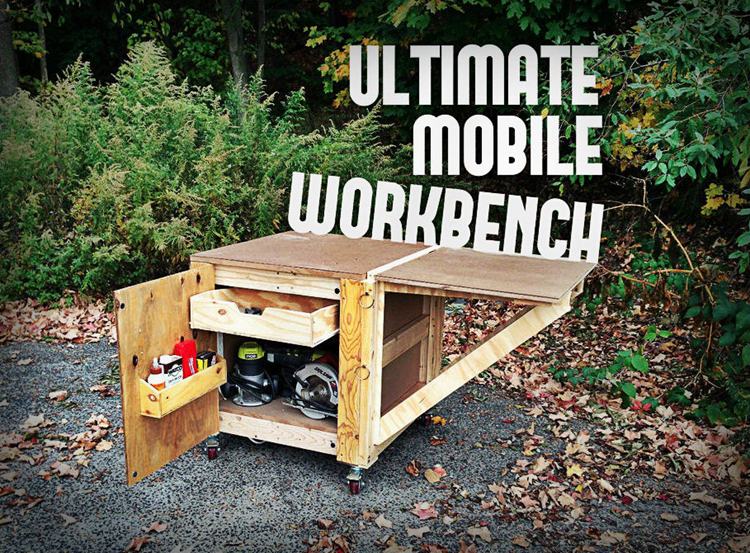 Not everybody has a large garage to install a large and tall workbench. If you're among this category of people, you don't need to worry. Here is a mini workbench that can size your space.
It is movable, strong, and sturdy. It doesn't require much time to finish and it is cheap. Here are some of the materials required for the mini workbench:
Sander, jigsaw, hammer, chisel set, power drill, miter saw, drill bits, and table saw.
25. DIY Garage Storage And Workbench
This garage workbench is blended into storage shelves. This makes it exceptional. Having a workbench and storage on the same plan is amazing. Apart from the storage and workbench, it also includes a wide area at the center where a pegboard is attached for small tools.
Conclusion
There you have it! 25 amazing plans for the garage workbench. Each plan is very affordable, and the steps are easy to understand. Feel free to use the comments section if you have any questions or contributions regarding this article.