This is a sweet DIY that will help you make several kinds of amazing chairs that you can build from scratch all by yourself. Some of the chairs that will be featured in the list below will be small and can only take one person, and some will be bigger that will take up to two or more people.
We included 25 DIY outdoor chair projects on our list, feel free to browse through and pick your preferred project. Have fun building.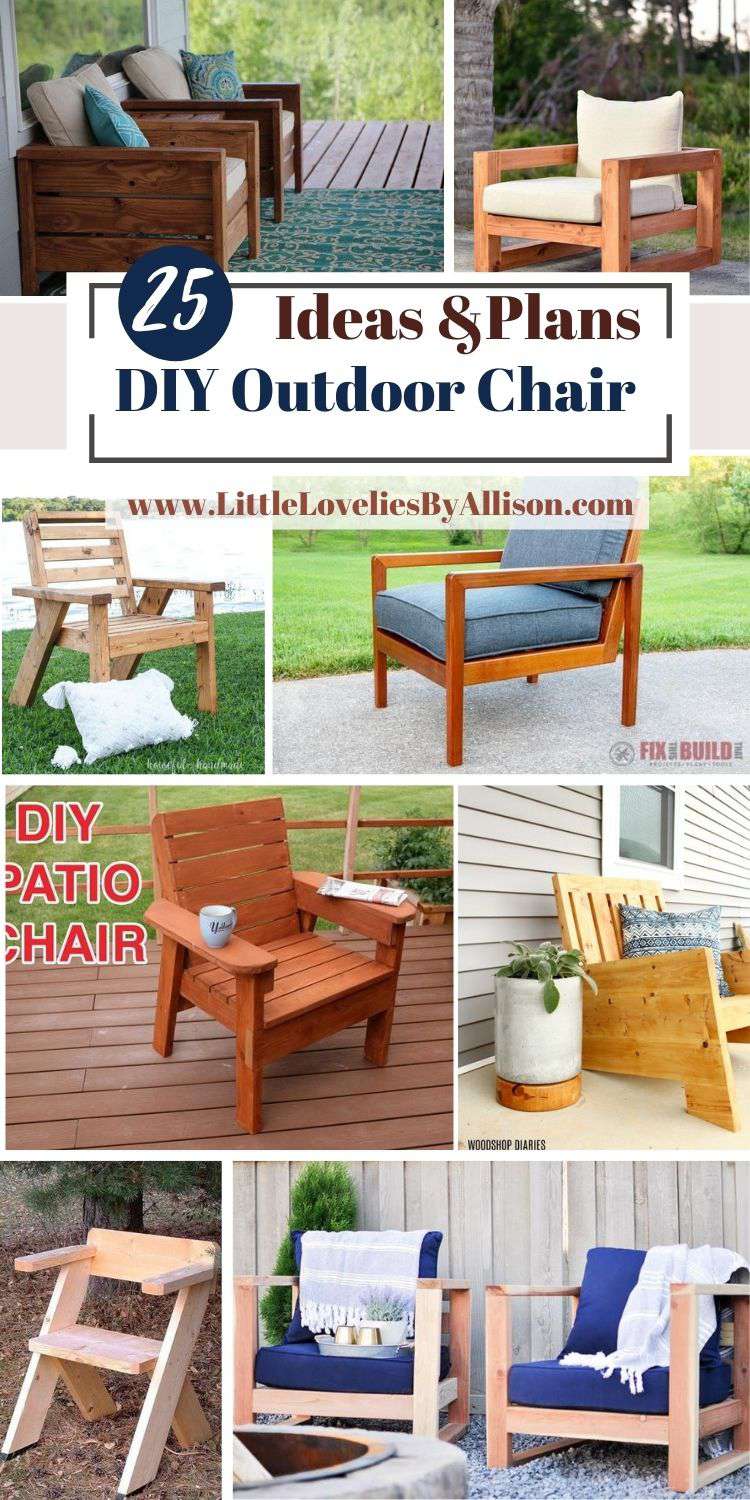 1. DIY Modern Outdoor Chair
In this video guide,  the creator made a modern chair from a 4x4 Douglas fir lumber wood. The making process was simple and fun to follow. The creator also used wood glue, wood dowels, lag screws, and wood stains. Check the video link to see the dimensions for the woodcutting in the description link below the video.
2. How To Build An Outdoor Chair For $30
This Is an amazing outdoor patio chair that can be made for just $30 and will match your house. It's simple. design so you don't have to worry about any complex woodworking process, it's rather easy and simple to follow.
3. How To Build A Patio Chair
Here's a sweet patio chair for outdoor use that the creator made with a few materials and tools you can get from Amazon at a fair price. There is an option to download the plans the creator used to build this chair, this will assist you better in making the chair with the proper dimensions.
4. DIY Outdoor Chair
The first step is cutting the wood planks into smaller pieces that you will use to make the chair frame. Most times it's not always about the starting but the finishing, the creator finished with a total boat halcyon clear gloss varnish. The chair is super comfy and easy to move around.
See also: DIY Adirondack Chair Plans
5. Modern Outdoor Chair DIY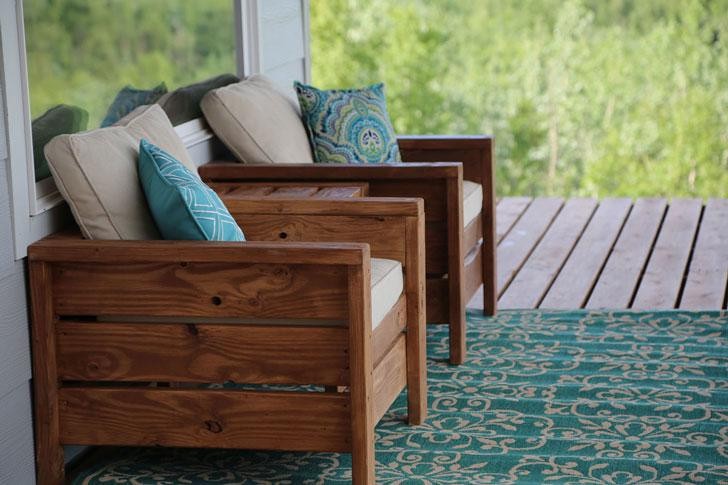 The creator used some 2x4 and 2x6 lumber woods to build this amazing modern outdoor chair. You'll also. need a seat cushion, Deck screws, and exterior glue. This project is quick and easy to follow.
6. DIY Patio Chair Plans
It's always good to build something with a plan, and this outdoor patio chair comes with a sweet building plan that is intended to guide you to build this chair with ease if you decide to use this guide. In that plan, you will get the entire dimensions required for the build, and it'll make your job easier and faster.
7. DIY Outdoor Lounge Chair Build Plans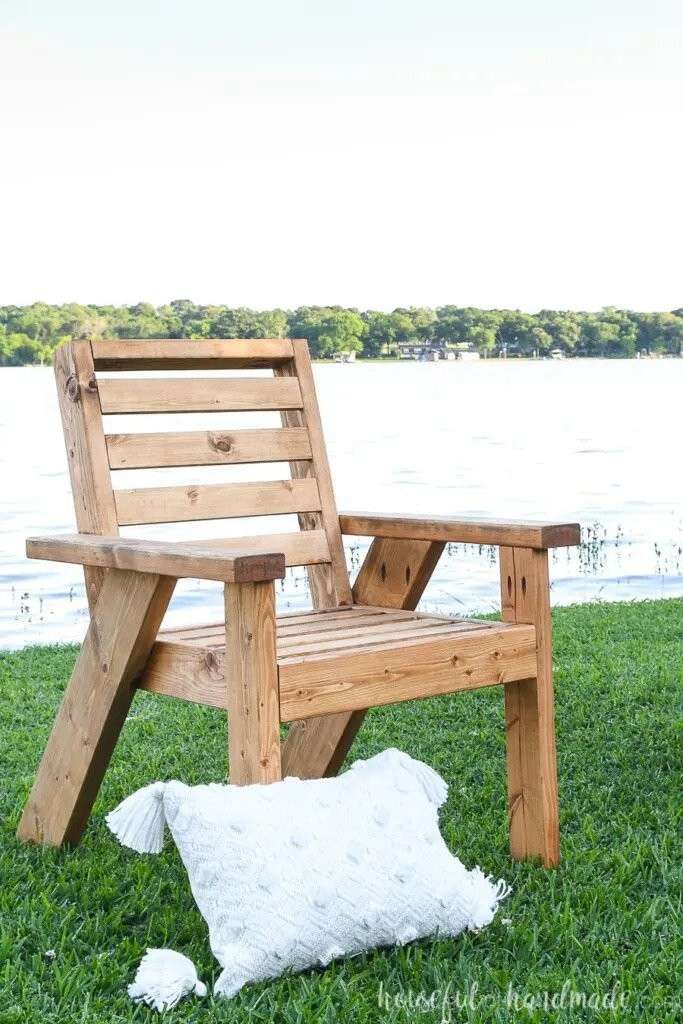 Learn how to build a perfect place to relax and enjoy in your yard with this amazing outdoor lounge chair with its build plans. The project is super straightforward, and reliable. You need a sturdy lounge chair quickly? This guide can get done for you. All you need are things like pocket hole screws, outdoor cushions and pillows, wood glue, and a few others.
8. Modern DIY Outdoor Chair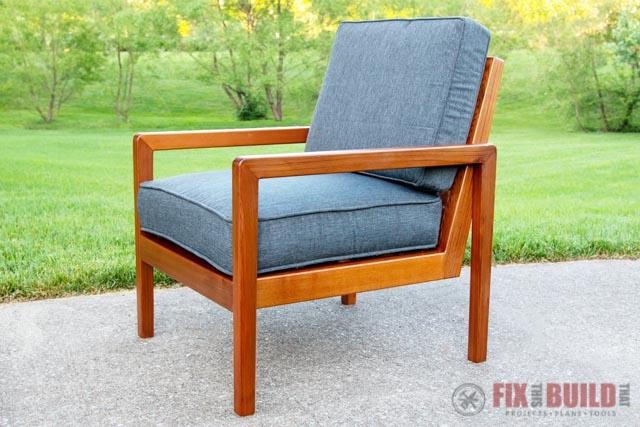 Here are the tools you need to build this modern outdoor chair as it is important to always have the right set of equipment for every build. You need a miter saw, dowel jig, JET parallel clamps, router table-JET, Kreg k4 pocket hole jig, table saw, and a Bluetooth earbud. The materials are easy to come by so you don't have anything to worry about.
9. DIY Modern Outdoor Chair
The first step starts with the creator cutting the wood planks into smaller pieces that will be used to make the chair frame. The frame is going to be bigger than the lower part of the chair that you would place the cushions. The making process is super easy to complete.
10. DIY Outdoor Chair And Couch
These patio chairs and couch are super easy to make, and it is in a modern style. Here are a few materials you need: some Douglas fir boards, furry strips and pine wood, titebond 3 glue, roller, and a few other supplies.
11. How To Build An Outdoor Lounge Chair
If you are interested in building this chair yourself, there is a link to the build plans below. This build might need quite a lot of power tools and a few simple materials. The chair has no handle and can take up to two people comfortably.
12. DIY Cheap Outdoor Chair
This is a single outdoor chair that was made to take only a pillow, and no cushion, unless you have a really small cushion that can fit. The chair is quite small but looks big.
13. DIY Modern Outdoor Chair Free Plans
This is quite a big modern outdoor chair with free building plans. It has a built-in bookshelf, an armrest, a comfortable deep cushion sofa, and a full-size bed feature. It's an amazing DIY project.
See Also: DIY Gaming Chairs
14. DIY Outdoor Chair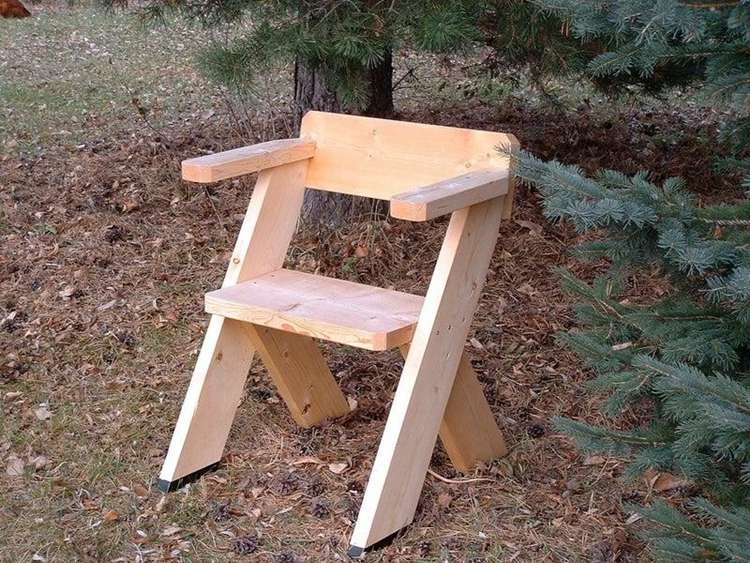 This outdoor chair idea is great, it's small but comfy, easy to carry around, and portable. It has a short armrest, and you can decide to use either a cushion or a pillow but never both. The first and most technical part of this project is cutting the wood planks to make the leg frames, then set the top, the armrest, and the backrest.
15. DIY Outdoor Chair Makeover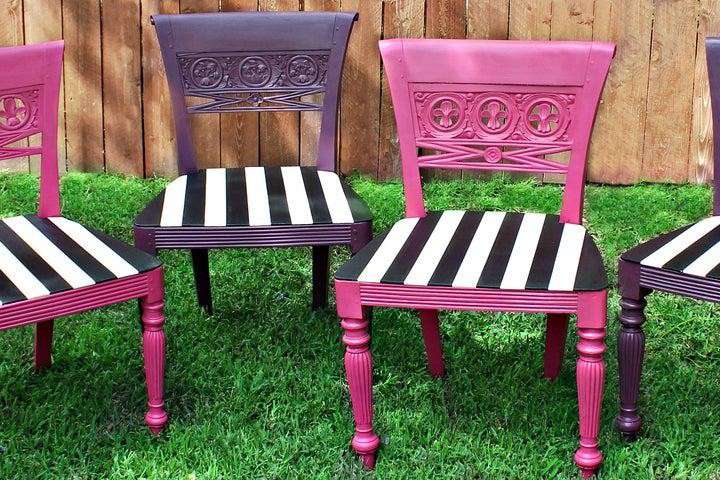 Here is a fun cool outdoor chair makeover idea. You'll need a plywood sander, hammer, nails, paint, wood varnish, and more. Note that this guide doesn't teach how to build a chair, but rather shows you how to makeover one. So if you have an old chair at home that needs a makeover, this guide is your go-to.
16. DIY Simple Outdoor Chair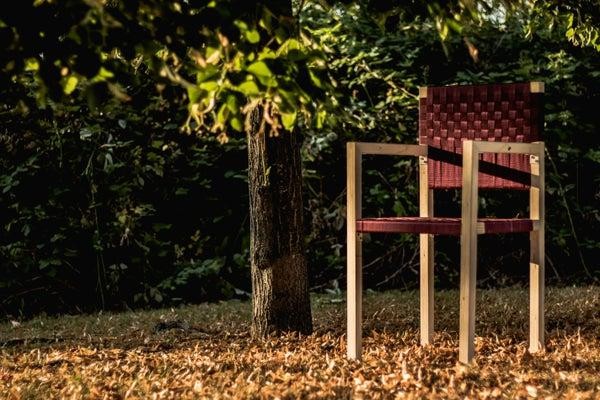 Here's what you'll need for this guide, some plywood sticks, an elastic band of 30 meters, outdoor oil or polisher, and some mounting brackets. If you don't have tools to work with, you can check the guide and see where the creator got him, he put a direct line on the online store.
17. DIY Modern Outdoor Sofa
This is the coolest outdoor sofa that comes with a small outdoor chair to match. It's perfect to sleep in or carry up to 3 people at once, it's that big. There are buying plans for the sofa in the video description link, and also affiliate links to where the tools and materials were purchased.
18. Simple Outdoor Chair DIY
This is a simple and elegant outdoor chair that requires some experienced woodwork, so if you're not a great woodworker, this project might seem difficult, it's not fair for beginners, but the steps are quite simple to follow.
19. DIY Cinder Block Bench
This is a unique bench or chair or sofa, you may call it whatever you want. It was made using cinder blocks as the entire frame. The rest of the bench was made with wood. If you have wonder blocks at home, and some wood planks, why waste them, start building something today.
20. How To Build A Modern DIY Outdoor Chair
This is a modern outdoor chair, perfect for relaxing and reading or working from your laptop. It's super comfy because the chair tilts backward ensuring that you rest and feel comfortable enough. It's super easy to make and it's a quick build.
21. DIY Modern Outdoor Chair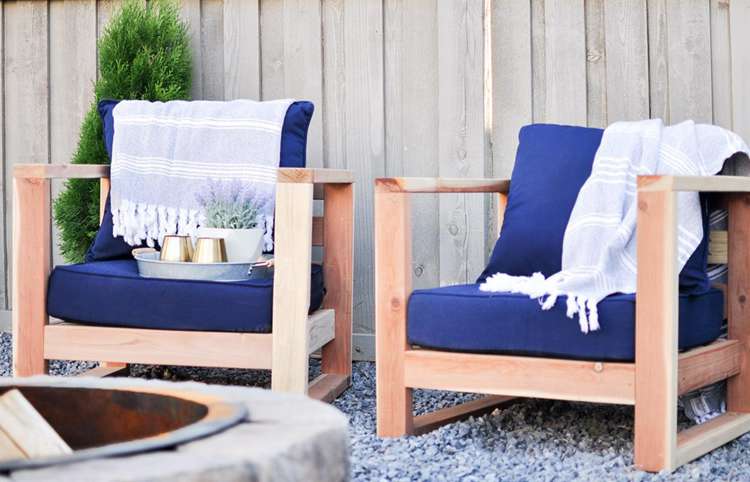 Do you have some 2x4s at home? If yes, why not make some comfortable outdoor chairs for yourself, you won't regret it. You may need some cushion and pillow, but that's all and you're good to go.
See also: DIY Rocking Chairs Plans
22. DIY Outdoor Chairs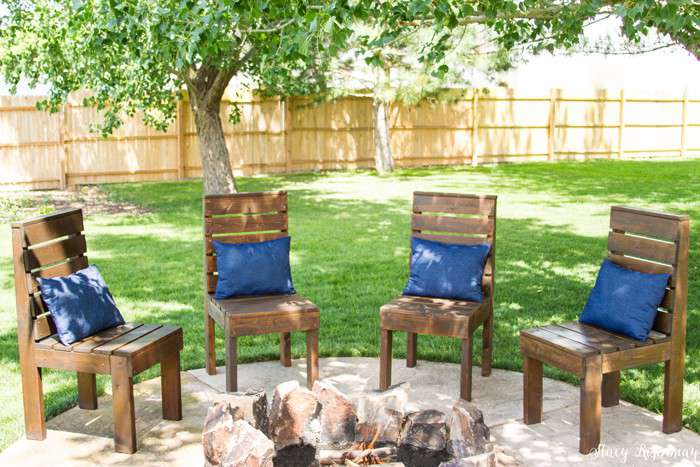 Here is another simple yet modern outdoor chair, but not for resting because there are no armrests in this particular chair, just pillows to rest and ease your back.
23. DIY Modern Outdoor Chair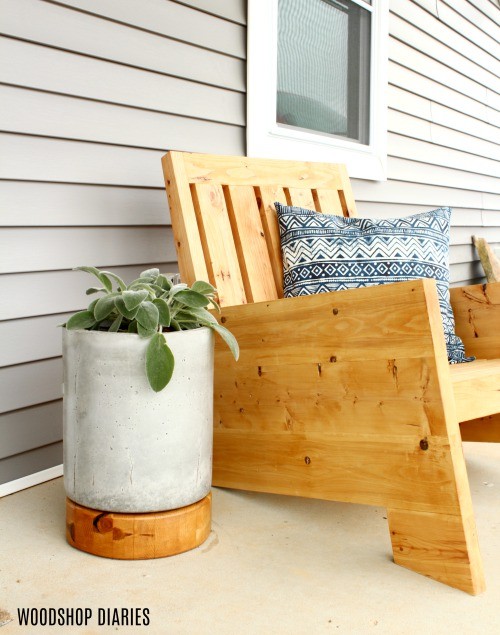 This guide has a great building plan for $9.99 that will assist you to build this outdoor chair with ease without making any mistake and wasn't in resources as well. You can also even build a concrete planter to go with the chair build, as you can see in the image above.
24. Homemade Outdoor Chairs From Pallet
Do you have some pallet boards at home? It makes your job a whole lot easier. Instead of wasting the wood or throwing them away, you get to make some outdoor chairs to comfortably sit and drink a cup of how.
25. DIY Outdoor Couch
The creator in this video guide is going to show you how she built an extra long outdoor couch with some 2x4s and it seemed pretty easy and effortless. You're going to need two cushions, a back cushion, and a seat cushion.
Conclusion
We have come to the end of this DIY outdoor chairs build, it's quite effortless to build, especially for the ones that have a building plan either in pdf or any format that you can use to build the chairs and make them look modern and unique. Thanks for stopping by to view this DIY, hope it helps, bye.