A camper is an investment for the whole family as a way to get an affordable vacation. A good camper can be expensive, however, it does not need to be. You can make your own small, affordable, camper to suit your specific needs.
A camper can be a mode of self-expression. The paint and design can communicate how you would like the world to see you. This article will be looking at 23 DIY Micro Camper tutorials on how you can make your camper who widely available materials.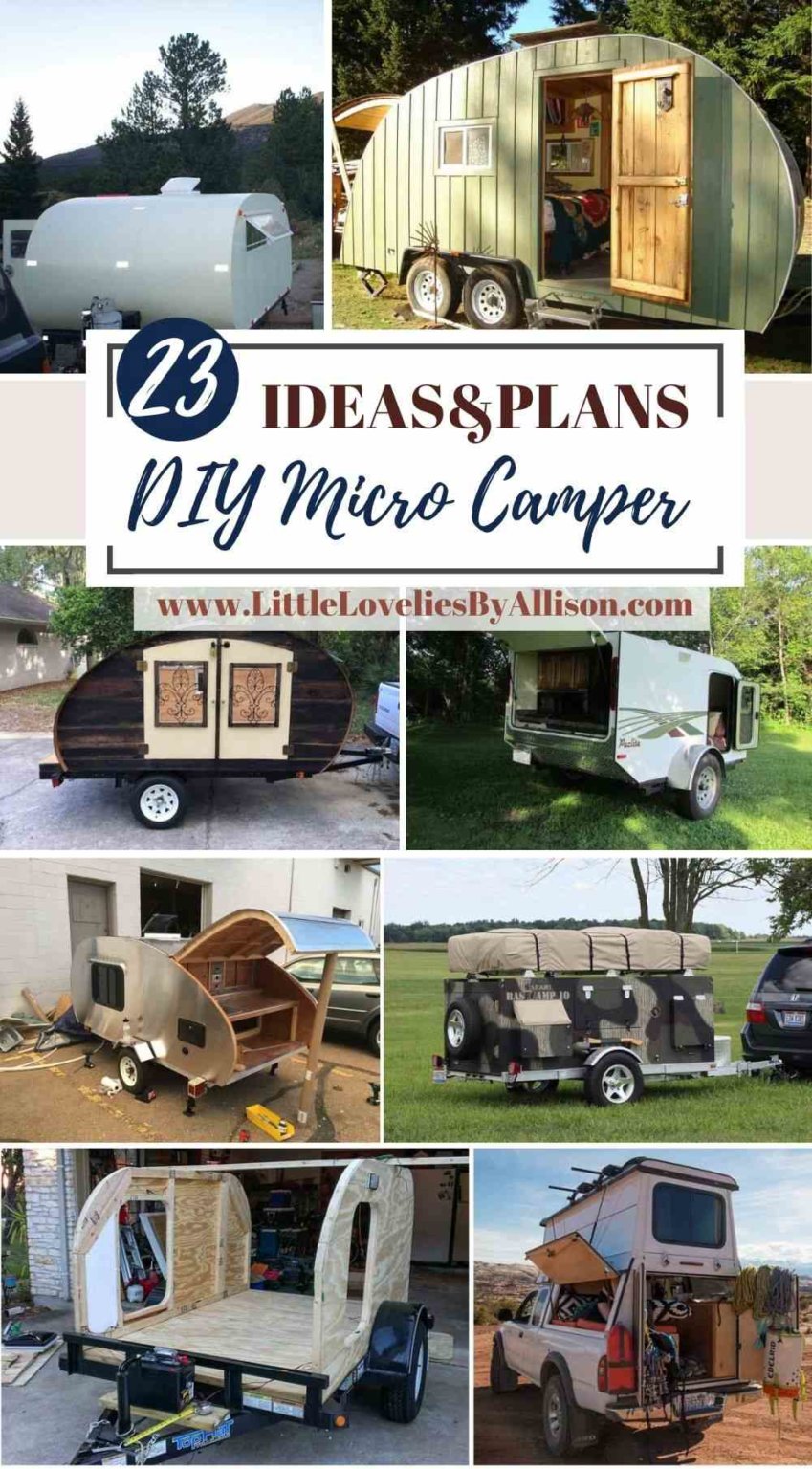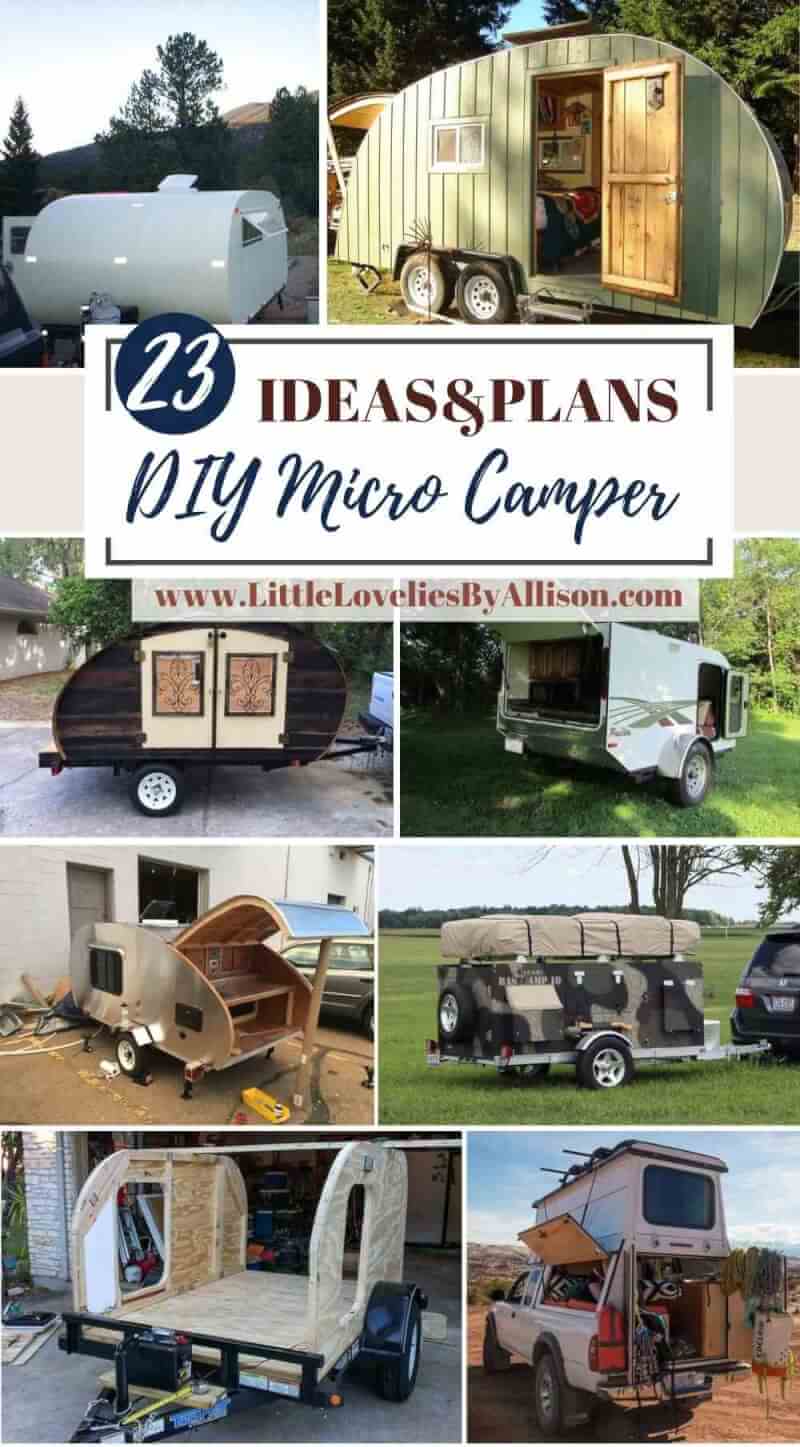 1. Camping Trailer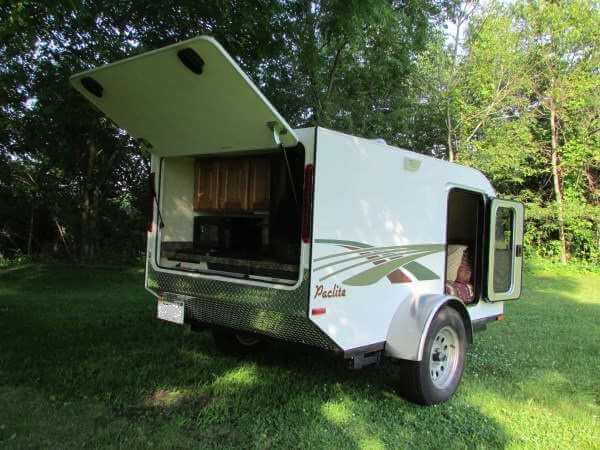 For this, you have to create a chassis on which the trailer and the wheels would be attached.  The chassis is created from iron beams that are weld together. These beams are then welded to the axle.
Fashion the body from wood, add the doors and windows. You have the freedom of choice to go in the shape you would like.
2. Cozy bike camper
This camper is meant to be as small as can be. It is supposed to be lightweight enough to be towed by a bike.
You would need a trailer. You can use an emergency homeless shelter to make the home. Combining them would give you a micro camper.
3. Tear Drop Camper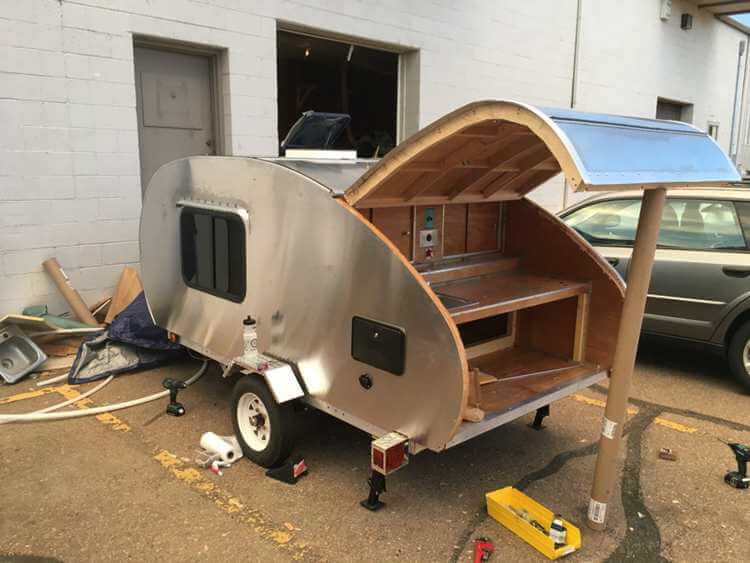 This design looks like a teardrop which has the effect of adding to its streamlined shape. It is important to study the trailer kit and designs carefully.
You can fashion the platform bed with 2*4 planks of wood. You then follow the teardrop design. Ensure you make the roof and walls using high-quality wood. The result is an aerodynamic and lightweight camper.
4. Off-road Micro Camper
With a trailer, you can have a movable bed as your leave the beaten path and venture into the wilderness.
You have to create a flatbed, with a single axle. You can use a floorboard to create the floor. The wall and the roof can be made with plywood. Make sure it sturdy to handle the off-road rigors.
You may Also Like:
5. Off-road Overlanding Camper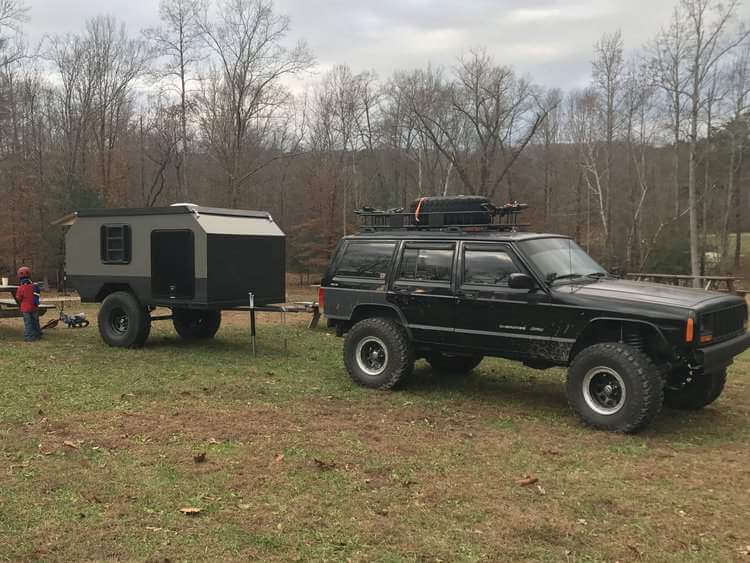 This camper can be packed on any spot which makes it very versatile. The top can open, allowing you to enjoy nature to its fullest.
With plywood, you can fabricate the light body. You then waterproof it with fiberglass. Make sure to create a sturdy frame.
6. Tiny Traveler Trailer
The idea is to have a camper that is easy to navigate and takes up little space while having the same functionality.
You have to get a bed with a single axle. The body is fashion from cardboard with gaps for the doors and windows left out. The roof is made from aluminum to prevent corrosion.
7. Budget Micro Camper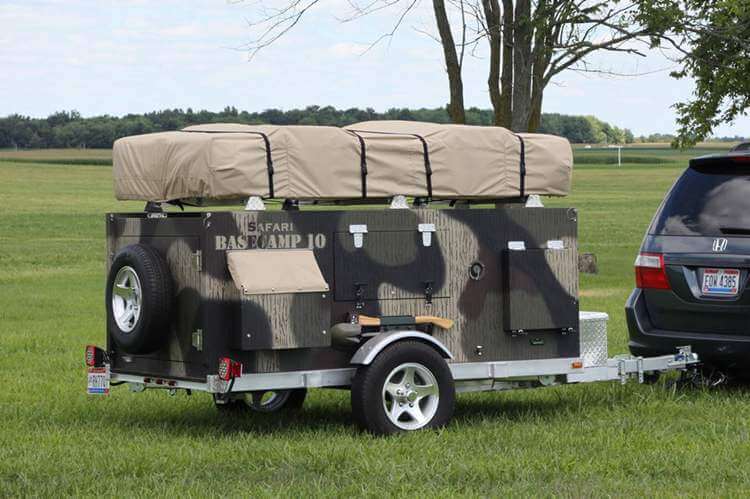 This camper is built to be as affordable as a camper can be. It a great alternative to buying one.
The camper is based on the 4*8-ft. aluminum trailer frame. The floorboards are replaced along with the jack, couplers, and taillights. From there add a heavy-duty axle, alloy wheels, and new tires to your setup.
8. A Box trailer covert
With a small box trailer, you can make yourself a very versatile camper. You can buy this box trailer at your nearest retailer.
With the box trailer, most of the work is already done. All you have to do is make cutouts for the windows. You should also work on the plumbing and electrical to make the most use out of it.
9. Recreational Camper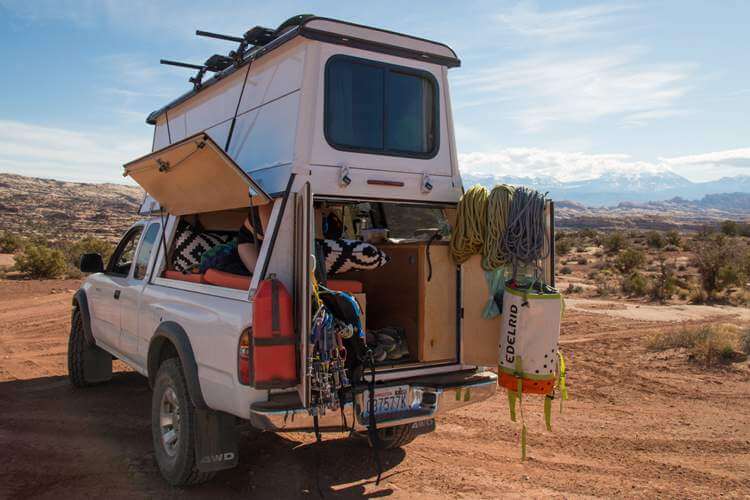 This design is made to turn your car into an RV, which makes it great for an affordable vacation.
You have to start with a pick-up truck. You have to add an extension to the pickup truck to make it taller. With the extra space, you can add the necessary plumbing and electrical.
10. Rustic truck Camper
This camper has the technology of the truck while retaining a very rustic flavor to it.
The camper is made out of stained wood that gives it a beautiful old look. The camper is on top of the truck.
11. Travel Camper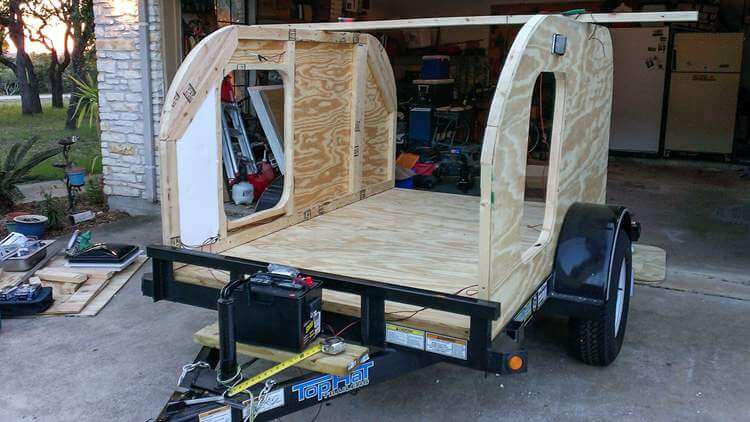 This small camper is great for long cross-country treks with your car. It is light and has enough space to sleep in.
Get an affordable trailer as a basis. Great the walls and the sides of the trailer using cardboard. With pins add a roof and the necessary doors and windows. The result is a small roving room you can use for camping.
12. Overland truck camper
This allows you to convert your pickup truck into a camper easily. With a 4*4 truck, you can easily go off-road with it.
At the back of the truck, you can make a frame from wood that goes upwards. Fit the walls and the roof of the camper with plywood. This will give a very capable camper for your vacations.
13. Demountable Campers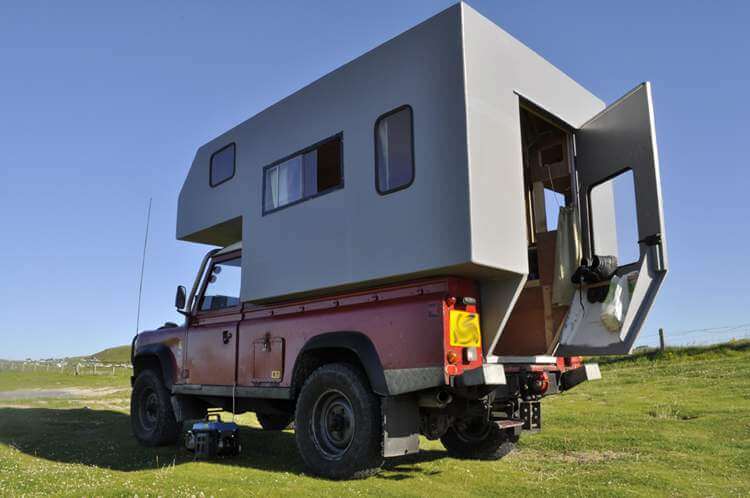 This camper is built on its versatility. Since it can be taken off your truck, it makes it adds to its utility.
The camper is high at 1.9 metres, allowing for a lot of space. With wood, create the frame on the back of the pickup and create the wall and roof out of wood. Ensure to leave the space for the walls and the windows.
14. Car Camper Covert
A regular car can be turned into a camper. This process is easy and requires little skills to create.
With plywood and heavy-duty brackets, you should create a table-like platform. These should be foldable by a hinge to create more space when necessary. It can act as a bed, and provide space underneath them for storage.
15. Van Camper
A van has tons of space. All this space can be converted into a camper with all the amenities for a camping trip.
With a relatively cheap van, you can have a foldable bed installed. You can also proceed to get plumbing a toilet installed. With the necessary electricals, you can even get a fridge installed in the camper.
16. Micro Camper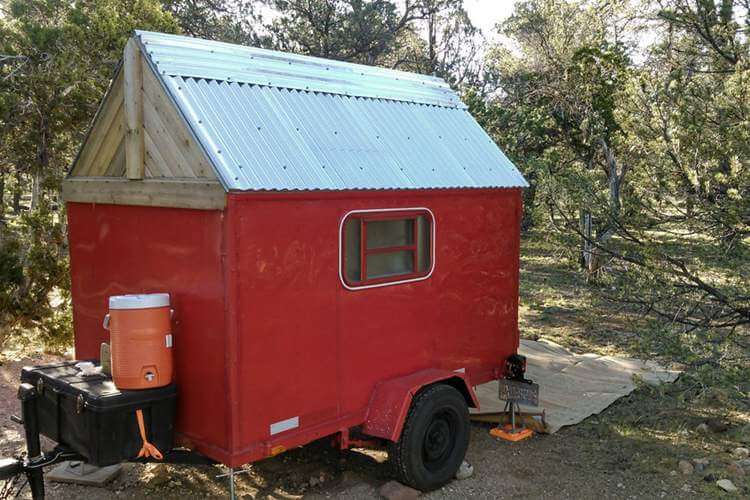 With a used cargo trailer, you can build a smaller and nibble camper you can easily move around.
With a single trailer axle and aluminum for the sides and roofing, the trailer really comes together. Add wiring for all your appliances.
17. Nautical themed camper
This requires a high skill level to pull off. However, when complete, it is a very beautiful camper.
This camper is made out of wood. This includes the floor and the roof. Where it shines is the interior décor that is inspired by ships and sailors.
18. Homemade Micro Camper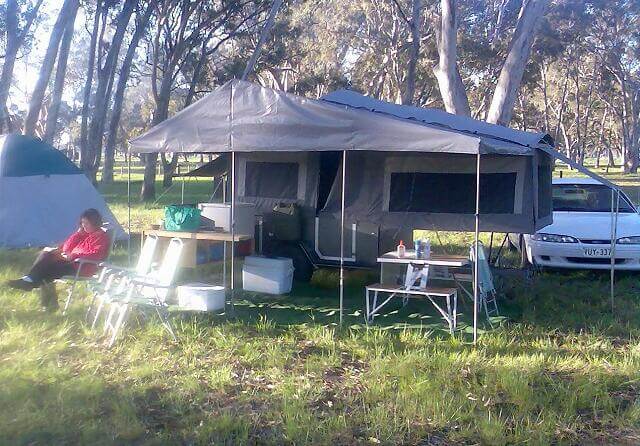 With a tent and a used 7*5 trailer box, you can make your camper.
Using a single axle, you can create a floor with boards, giving you space beneath it for storage. You should have frames that will hold, the canvas, creating a roving tent.
Click here for more information
19. Pop up roof
With an old van, you can create a roof that pops upwards creating a lot more room in your camper. This process requires a skilled technician to do well.
Cut the roof of the van. Attach the roof to lifts, to allow it to rise and lower. Reattach it back to the roof, this allows you to pop the roof. Cover the sides with cannas to protect against the rain.
20. Toxin-free teardrop trailer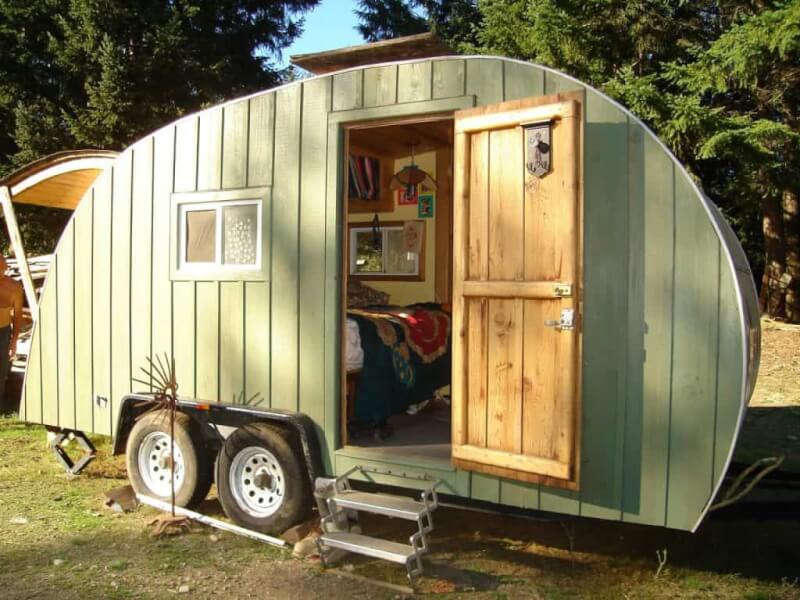 The idea behind this camper is to create one that is made completely free of toxic materials. It is supposed to be as green as possible.
The trailer is made almost completely of solid wood. The floor is made of plywood and has been made completely of natural finishes and paints. The roof is made from stainless steel with prevents rust.
21. Oleum Paint Camper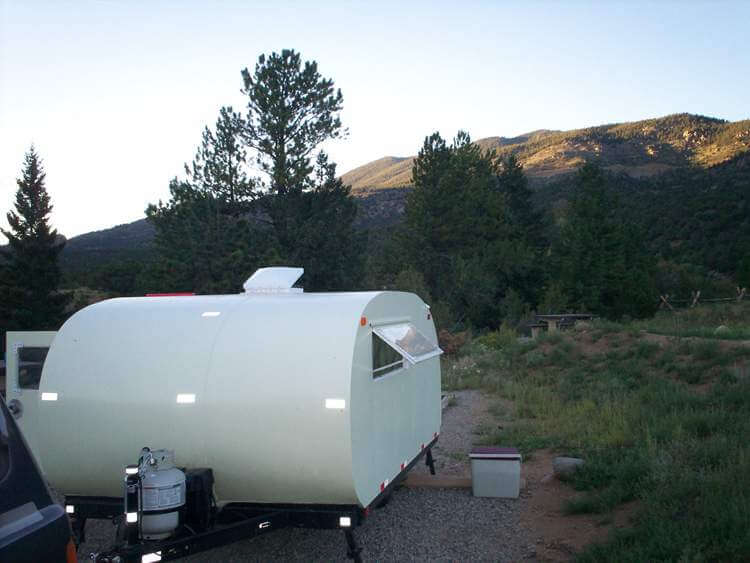 With an old trailer, you can refurbish it to create a very good-looking camper.
Clean the old trailer and create the frame of the camper from plywood. Create it with a teardrop design and have an aluminum roof. Sand it down with a power sander and give it a Rust-Oleum black paint job.
22. Charming small camper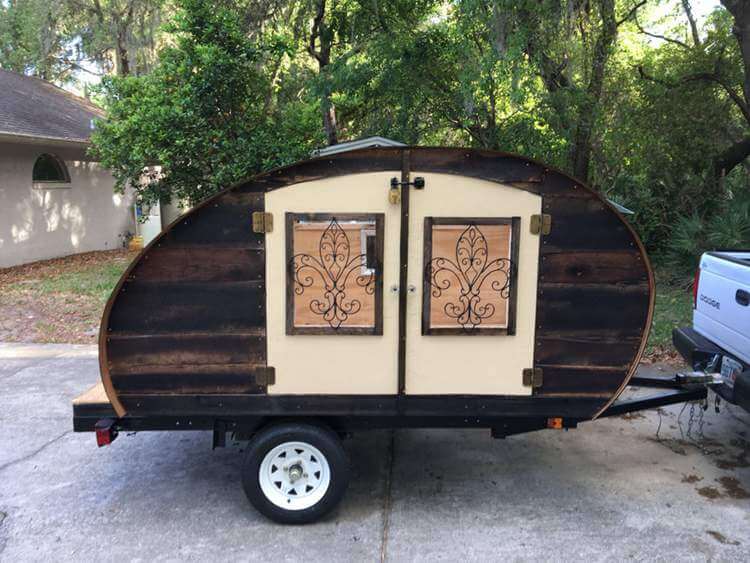 With plywood, you can make a rustic-looking teardrop camper. It is designed to look like a carriage from Cinderella.
The frame is put together using wood. The roof instead uses a Plexiglas skylight that lets you enjoy the night sky. The sides are stained to give it a rustic look .
23. Rustic Micro Camper
This camper does not require tons of skills to pull off. It has a very distinct old feel to it.
To make this, you would need a used trailer and some wood. With the wood, crate the wall of the camper. You can use corrugated iron sheets for the roof.
Conclusion
Micro-campers are great for their versatility. They are not only a way to get a cheap vacation for you and your family, but can also be used as homes. Those who want one have the option of buying one on the market, or they can decide to build one themselves.
With the DIY options, the build quality of the camper is solely in their hands. The makers can also express their creative ambitions with the camper's design.