Many of us are very fond of RV-ing, but inevitable distractions have discouraged us and ruined our plans and dreams. DIY presents a new and fantastic way of making traveling easy and very comfortable for you. Slideout storage is one new method of keeping things in place while driving.
The fun part of this DIY RV slide out storage tray compilation is that it is elementary and beginner-friendly. It'll be super cool if you have all your kitchen units and tools saved up in one place without going through the pain of looking around for it. Check out these beautiful tutorials and try building one for your RV, workshops, or even kitchen. Let's get started!
1. DIY RV Storage Drawer
See this super cute RV storage drawer that helps you blend life indoors and outdoors. Creating an RV storage drawer is quite tasking because it requires a lot of cutting and screwing for it to be able to fit perfectly into your compartment.
Although this DIY RV storage drawer is quite tasking and requires heavy tools and machinery, it is beginner-friendly and easy to create if the available materials are ready. Follow this tutorial and see how well you can create your RV storage drawer using the necessary tools and materials through this simple guide.
2. DIY RV Storage Bay
Storage drawers are essential, especially during travels, and trying to purchase one can be very expensive. This great DIY RV storage bay saves cost and unnecessary expenses in times like this. The fun part of this DIY is that you can create your storage bay without the aid of someone else! Get ready while I drive you into this new phase of making life easier and unique with ease.
3. How To Build A Slide Out Tray For RV
Apart from creating a storage drawer for your tools and boxes, you can also create a slideout kitchen build! This can also serve as an outdoor cooking station or even a dining area.
This traveler's travail project has made life easier and cheaper than expected! With hinges, plywoods, drawer glides, aluminum trim, and a few other tools, you can finally build a slide-out tray for your RV.
The height of the runner is often determined by the door opening clearance. Hurry! And watch other procedures of creating a slideout tray with ease.
4. DIY Sliding Aluminum Tray For RV
See this heavy-duty deluxe sliding aluminum tray that lifts anything. An aluminum tray is essential can take up a fair amount of weight.
An aluminum tray is the most recommendable, but it's often avoided because of the heavy-duty machinery used in this project, and that is why they are usually costly. Nevertheless, the aluminum tray lasts longer, and it can carry heavy goods than expected without bending or causing any defaults.
Check out this tutorial and see how you can build this excellent aluminum tray without an expert as a supervisor.
5. DIY Roll Out Cargo Tray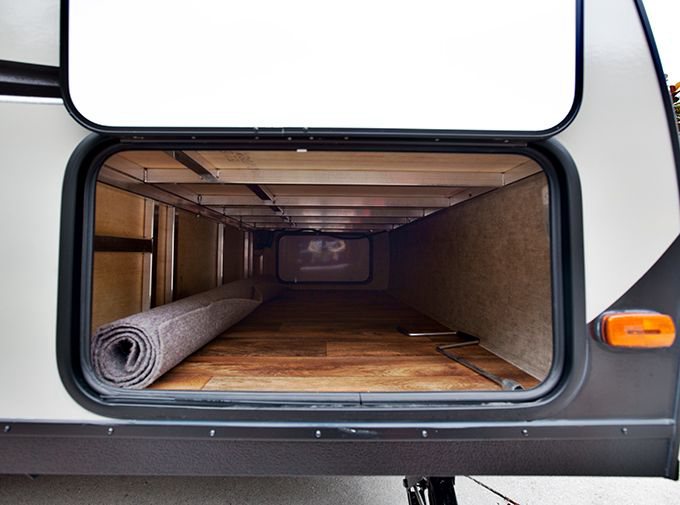 Have you ever thought of the pain of getting everything else through the pass-through storage compartment because you do not have any cargo tray available yet? That can be very annoying and discouraging.
This nifty DIY roll-out cargo tray is here to save stress. This unique roll-out cargo tray comprises plywoods, hinges, side frames, glue, racks, staples, and paint. Enjoy this simple and easiest way to create a roll-out cargo tray.
6. RV Slide Out Storage Tray Guide
One of the reasons why people are so desperate about storage trays is because of the pains of moving something as heavy as a freezer, and it can be so saddening to create a storage tray that cannot hold up to 300 or 500 pounds of loads.
This DIY storage tray reveals a new and better method of creating a thicker and stable storage tray for heavy tools. Let's get started in making this RV storage tray that will make RV-ing much easier.
7. RV Slide Out Storage Tray DIY
This is an awesome slideout storage tray for campers without recreational vehicles! This storage tray is impressive, and it is capable of containing all you'll need concerning kitchen units.
Even with a minivan, you can create this storage tray without bothering about feeding when caught in the wild. Travelling is made easy provided you have a suitable car. Check out this tutorial and see how traveling can be made easy without an RV!
8. DIY Van Slide Out Storage
Traveling is usually fun and adventurous, and having everything that will make you comfortable matters a lot too. Slideout or runners are generally known to be in the form of trays, but you can create great slide-out storage with a platform! It will be much easier to have a forum with lots of drawers and spaces for different tools.
This DIY platform is a 34 inches heavy-duty slide-outs and relatively easy to create. Through this simple guide, you will learn how to create a slideout platform for the kitchen and tools unit without littering the RV with lots of unnecessary materials.
9. DIY Slide Out Tray Installation
Apart from creating a slideout for your compartment,  you can also create a slideout for your bus, which will involve a different type of installation. If you're not familiar with cabinets, no worries, this DIY slideout teaches you how to install a purchased slideout.
Purchasing a slide-out is quite expensive, but this DIY saves the cost of paying a technician for installation. Follow this simple guide closely and see how you can install a slideout without the aid of a technician.
10. DIY Heavy Duty Trailer Tool Drawer
This DIY heavy-duty trailer tool drawer is adorable and easy to slide. It is made of style, which requires strength and screws. Although it is time-consuming and quite tasking, the outcome permanently erases the stress you went through just to create it.
Creativity is one of the fun parts of life and most times leads us into a new phase of self-discovery. It'll be super amazing if you create a heavy-duty trailer tool drawer that you can use even in the next few years. Try out this different way of creating a tool drawer with slideouts.
11. How To Build A Storage Slide For Your RV
Frequently, even in our tool shops, work vans, we also need a storage slide to locate our tools quickly. This DIY storage slide showcases different methods and ways of building a storage slide for youse tool shops, work van, and even RV.
Using materials like hinges, steels, plywoods, screws, drills, steel board, you can create these storage slides in any locations listed out here. Learn how to build handy storage through this beginner-friendly tutorial, and try one for your workshop!
12. DIY RV Slide Out Storage Tray
If you have a storage area that is deep or hard to reach, the building is a slide-out, the best option to utilize space and time. This video will show you how to easily build a slide-out even in a small and tight storage area. You will also learn how to hold the slideout from falling off while driving through this simple guide. Let's get started in saving spaces and costs.
13. Easy DIY Slide Out Cabinet Tray
Cabinet trays are primarily used for tool shops or even kitchens. This fantastic DIY slideout cabinet tray is also made for a bus or RV, which requires a lot of strength and screwing.
Building a cabinet tray is not easy because of the several measurements and cutting to avoid making a bigger or smaller cabinet tray. This tutorial discloses a more straightforward way to build a cabinet tray for your tools. Enjoy!
14. DIY RV Slide Out Storage Tray
Amazingly, you can also build a storage tray for your overlander! It requires heavy-duty machines and can not be created at home. This slide storage tray is made of steel and requires a lot of power-draining devices for cutting and drilling.
You can also build this storage tray for your overlander by giving the materials out to be cut and drilled. That way, the installation will be made accessible. Through this video, you will learn how to take measurements and cut them, making your project easier for you.
Conclusion
Storage slide-outs are significant, especially for our RV. However, it can also be built for other purposes but is always recommendable for an Rv. Amazingly, you can create your storage slideout without bothering about the buying and installation process.