If you are not a person who can sit all the time at work, the chance is you will fall in love with a standing desk. It offers an ergonomic design and movement variability. To save some money, you should make a DIY adjustable standing desk.
Let's help you build a standing desk! I guarantee you can nail it. So, let us have a look at the 20 unique DIY Adjustable standing desk plans.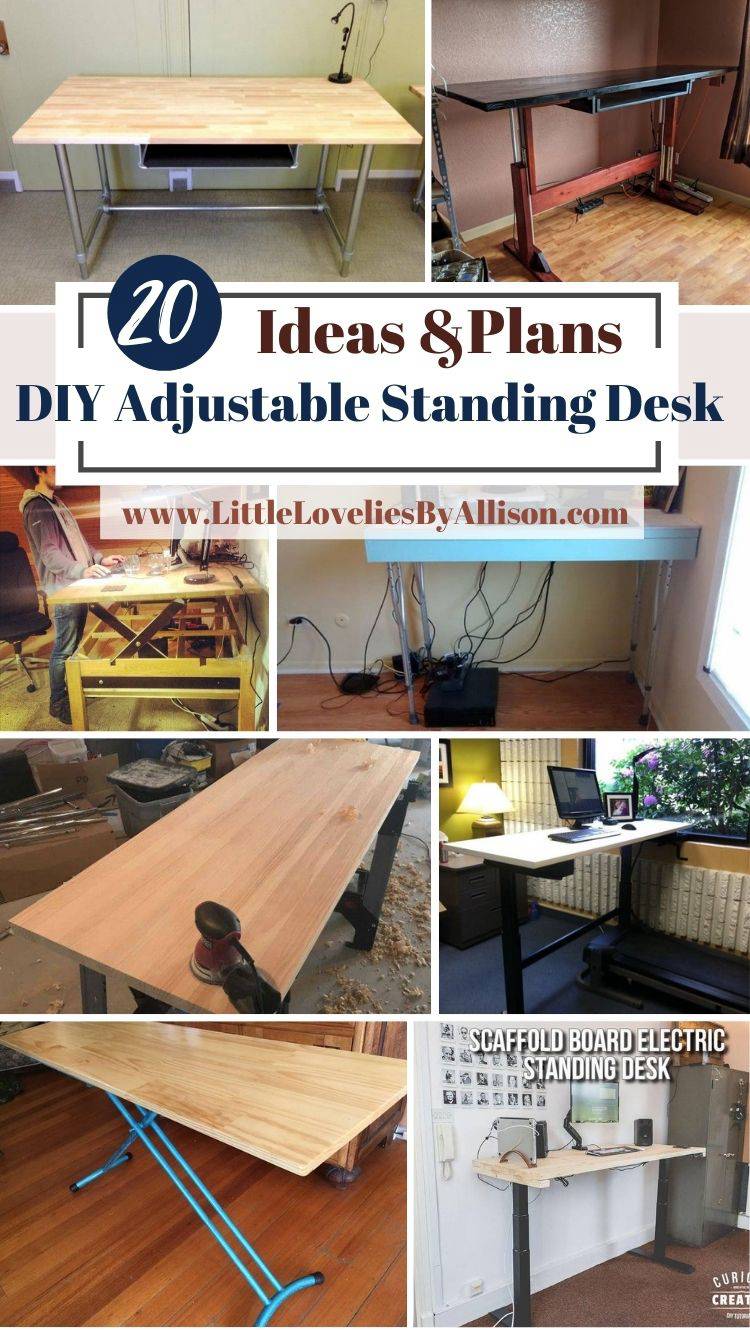 1. How To Make An Adjustable Standing Desk
It is well known what it will cost you to get one of these tables at the local store. They're usually expensive and we're trying not to break out wallets here. So this is an easy woodwork project. To replicate this design you can use some sets of used woods or new wood. Attached to the wood will be your sliders and then your tabletop.
2. How To Build A Standing Desk That Can Be Adjusted
This is an automatic, hydromatic, ultramatic adjustable standing desk. It is electronic and has some woodworking also. Therefore it's time to make your workstation more comfortable and healthy too.
For this project these supplies are needed; birch plywood, 12V electric power supply, two 12v actuators, three premium 2 by 4's, two U-bolts, eight metal L-brackets, 12ft of 22awg battery bolt, single DPDT toggle switch, two sheets of craft foam, 4 pairs of quick connect terminal, four ¼" nuts and bolts, four straight joining brackets.
3. How To Build Adjustable Tables At Home
Right there in your home, you can build a unique table to suit your specificity. This video walkthrough shows you to make this metal, manually operated, adjustable work table. It functions in a way that when the handle is rotated in an anticlockwise direction it lifts the table upward and when rotated in a clockwise direction it brings it downward.
4. DIY Adjustable Height Desk Legs Out Of Wood
If you have a computer-related job, the health benefits of having an adjustable table are great if you don't want to be found sitting all day and gaining bad postures. With this video, you can head on to get the needed supplies and get building while you can to have a more safe workspace.
5. DIY Adjustable Standing Desk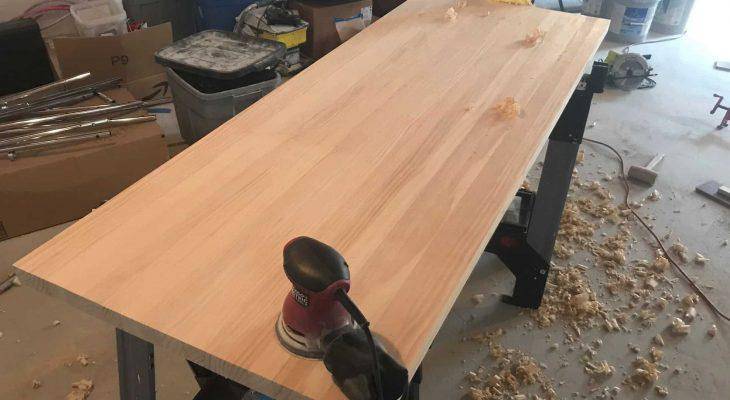 It's okay to have a work desk or work table where you can easily switch between sitting or standing positions to avoid health problems further associated with a particular posture. Let's get working as we create an adjustable table.
After setting up your frame, measure the length and width of the tabletop. With your choice of wood, cut to size. Plane, sand, and stain. Finally, install the tabletop to the frame and then install the control unit.
6. DIY Electric Standing Desk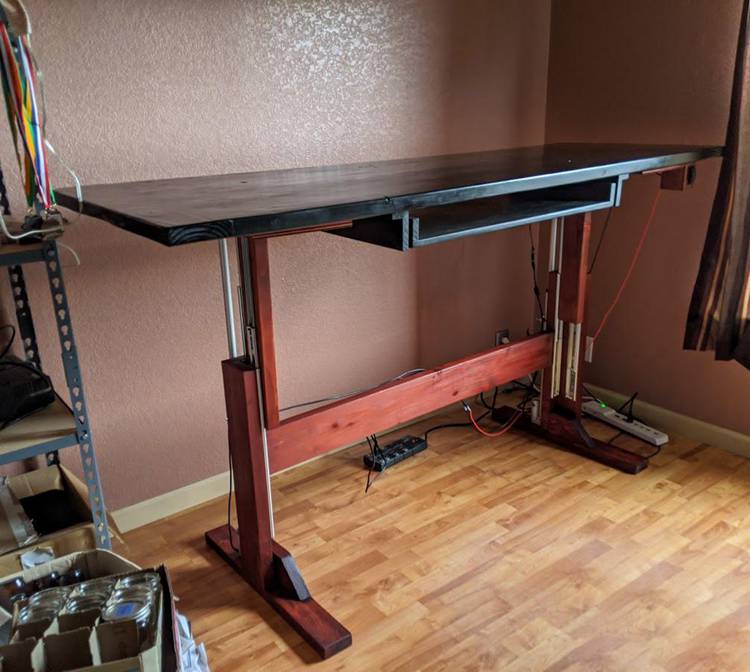 Provided here for your effective output are systematic pictures, detailed instructions, tools, and materials needed. You have to be patient while getting this done if you truly want your work to come out perfectly just the way you want it. I assure you of effective workflow while using this adjustable table.
7. DIY Adjustable Height Standing & Sitting Desk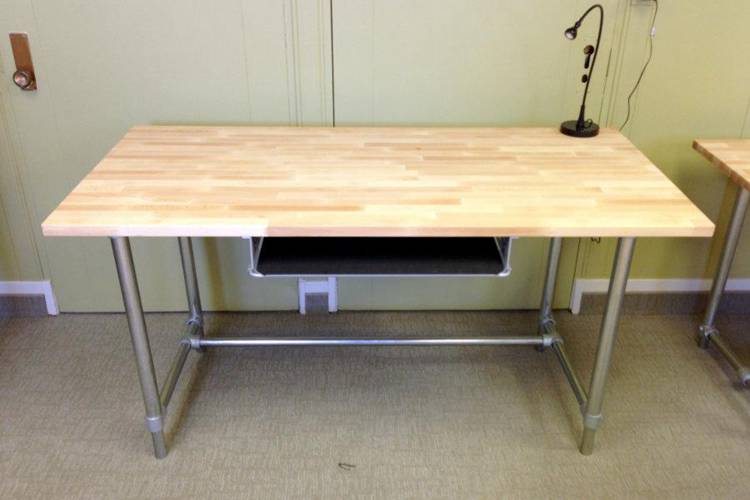 This isn't the kind of desk that can be adjusted every day, but you have absolutely no qualms if you want to try standing up or convert to sitting. This adjustable height desk can adjust from standard sitting desk height to standing desk height with a few simple adjustments. Additionally, it has a solid top, industrial base, and is easy to adjust - what more could you ask for in a desk?
8. DIY Foldable Standing Desk
I'm pretty sure anyone would love this foldable standing desk. You might just be wondering how possible. Well, it's possible and really cool. Your design begins with a pair of crutches adjusted to the specific height and with this simple layout and steps you can attain this.
9. DIY Adjustable Standing Desk
So far we've gone through desks that can be set up in your home or office in a particular position. But most intriguing is this standing, mobile desk which has an adjustable neck to keep it any height, an electrical outlet, and a USB port, now that's the digital I'm talking about.
10. DIY Adjustable Height Desk
Jason in this tutorial provides an explicit step-by-step process towards making this DIY project. What is here is an adjustable height desk with a DIY and crank mechanism style. You're so gonna love this new creation of yours.
11. DIY Adjustable Standing Desk
Adjustable tables aren't specific to adults alone. Your kids too can also have an adjustable table to fit their height even in their growing process. It helps restrict the need to change a table while they grow much faster. So this table is designed with three sets of legs that are easily exchanged.
12. DIY Standing Desk
Due to preference, an exposed plywood look is what the designer longed to see, your taste might be different but first, get the idea. You can make this using one sheet of plywood, two linear actuators, varnish paint and lacquer spray, glue, and screws.
13. Standing and Treadmill Desk DIY
This is important for people who want to stay active and fit even while working. It keeps the energy for the day and you'll rather feel more productive while achieving two different things simultaneously.
Now introducing your standing and treadmill desk which you can create given a matter of time. Ensure to remove all unnecessary parts on the treadmill and modify the control panel. Move on to build the desk, test, and install.
14. Scaffold Board Electric Standing Desk
You can always opt for a standing desk not just because they're great but also for the health benefits attached.
For this build you will need; Electric Standing Desk Frame 'Furna E2' (UK)
Manual Standing Desk, Scaffold Boards, Flush Wireless Charger, Cable Management Cage, Wood Glue. Ensure to glue and support the boards. Unpack the frame and do the necessary installation according to the manufacturer's guide.
15. DIY Adjustable Standing Desk
There is some sort of mechanical construction done here which can easily lift even a high load. Be patient with the process and you'll love the results while you enjoy your flexible working postures.
Necessary components required for this project include; bearings x 24,  thick plywood (about 2cm thick), furniture wheels x 4, bolts with flat heads & nuts x 12, mechanical winch x 1, small Construction wheels for cables x 2, cable mounts/clamps x 4, cable x 1, small construction hooks x 2, strengthening elements like metal corners on top of table base x 4, strengthening elements on the bottom part of table sides, 90* metal corners x 4, wooden pins or other improvisations, screws, 90* metal corners for the top of table x 2.
16. DIY Portable Height Adjustable Desk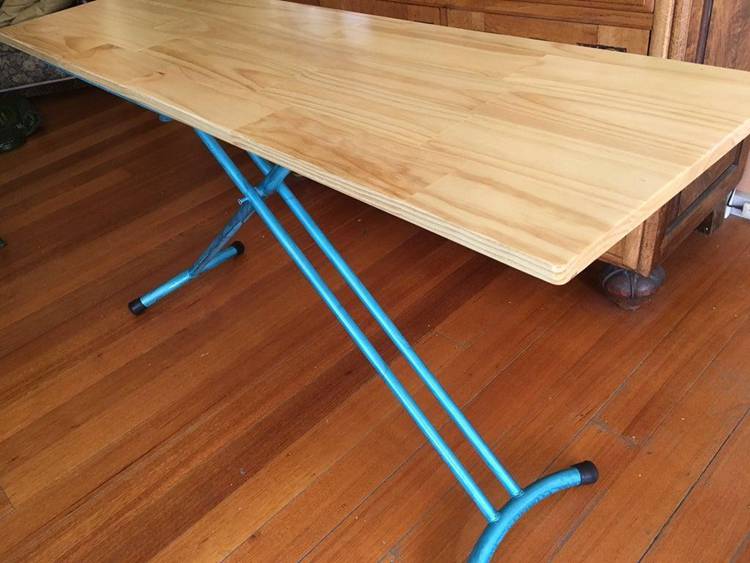 This is a handy height adjustable table that hides behind the door when not in use and is made from Upcycling an old ironing board. This workspace functions equally and greatly well if you're sitting on the floor, lounging on the couch, or using it as a standing desk for the laptop. It's a simple build so you can get it done.
17. Portable Height Adjustable Laptop Table DIY
Using PVC pipe to create this portable height adjustable table is super basic and easy. In addition to this is that this table is multifunctional. It can be used as a study desk, laptop/computer table, writing, reading, drawing, board games, gardening, puzzles, and so many others.
18. Motorized Standing Desk DIY
I sincerely love how this just sits against the wall. You'll learn how to make this wall-mounted sit/stand desk. The desk is raised by linear actuators and slides on linear bearings. It is made of steel and wood.
19. How To Build An Adjustable Standing Desk
Before embarking on this project, trust me you may want to seek in-depth welding tutorials and techniques to avoid irreparable errors. You're going to be doing some kind of welding here so I'll advise you to get the skill or get someone to weld for you. But this desk is just great for its use.
20. DIY Adjustable Standing or Sitting Desk
This desk has a metal leg and wooden top or base. Trust me it is fully adjustable to any height regarding your position. It is really handy when you don't want to make a permanent commitment to sitting or standing.
Conclusion
Having a DIY adjustable standing desk is necessary. It does not only add a sense of personalization but also lets you select the material and finish. So, end the wait now. Thanks for stopping by!