A kitchen sink usually is not the first thing you notice when you enter a kitchen. How about we make it really catch the attention?
Sinks don't always have to be only a functional, but also a decorative element of the kitchen. There are plenty of choices in material, size and shape and they can become a focus point in the room. Take a look on this list to find out the best kitchen sink ideas to inspire from!
Best 34 Kitchen Sink Ideas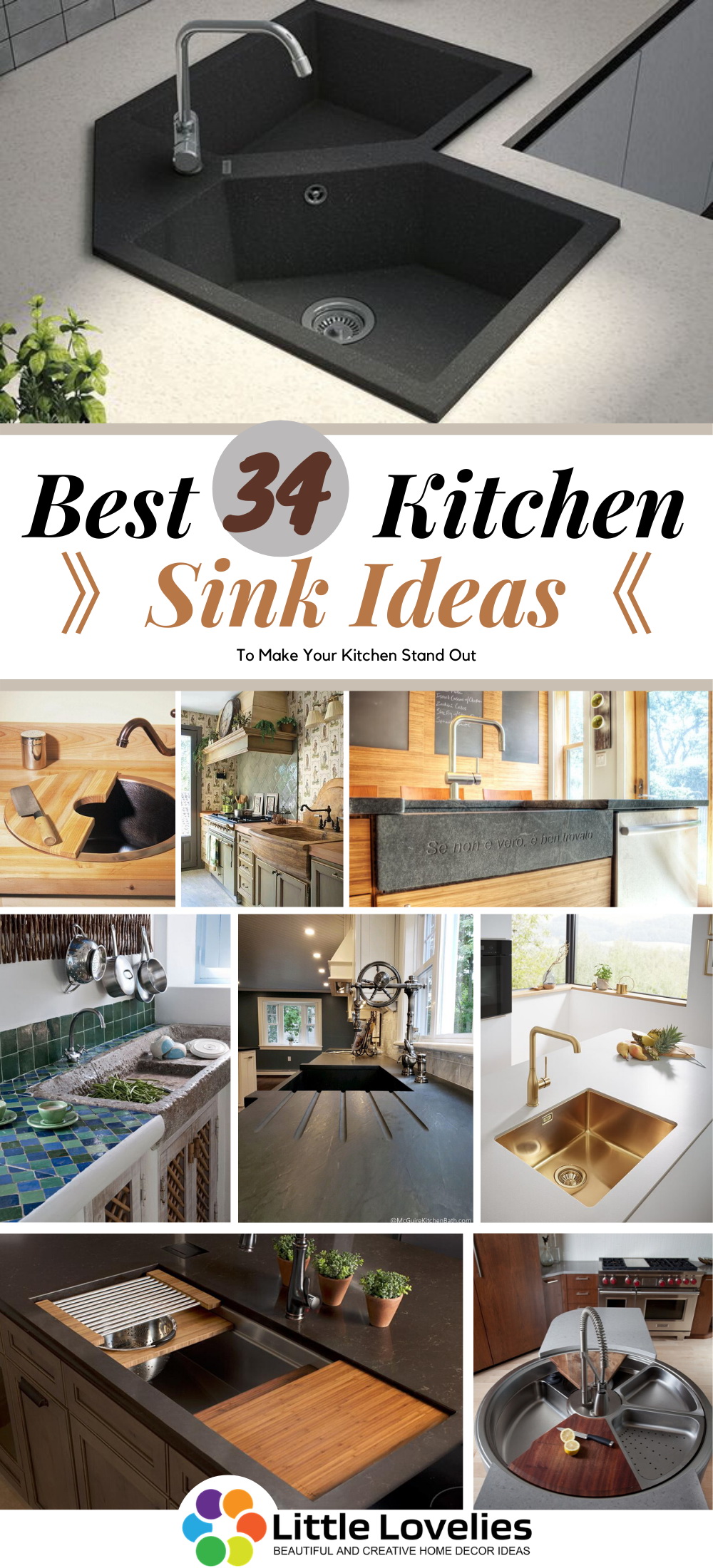 1.Go Back To Basic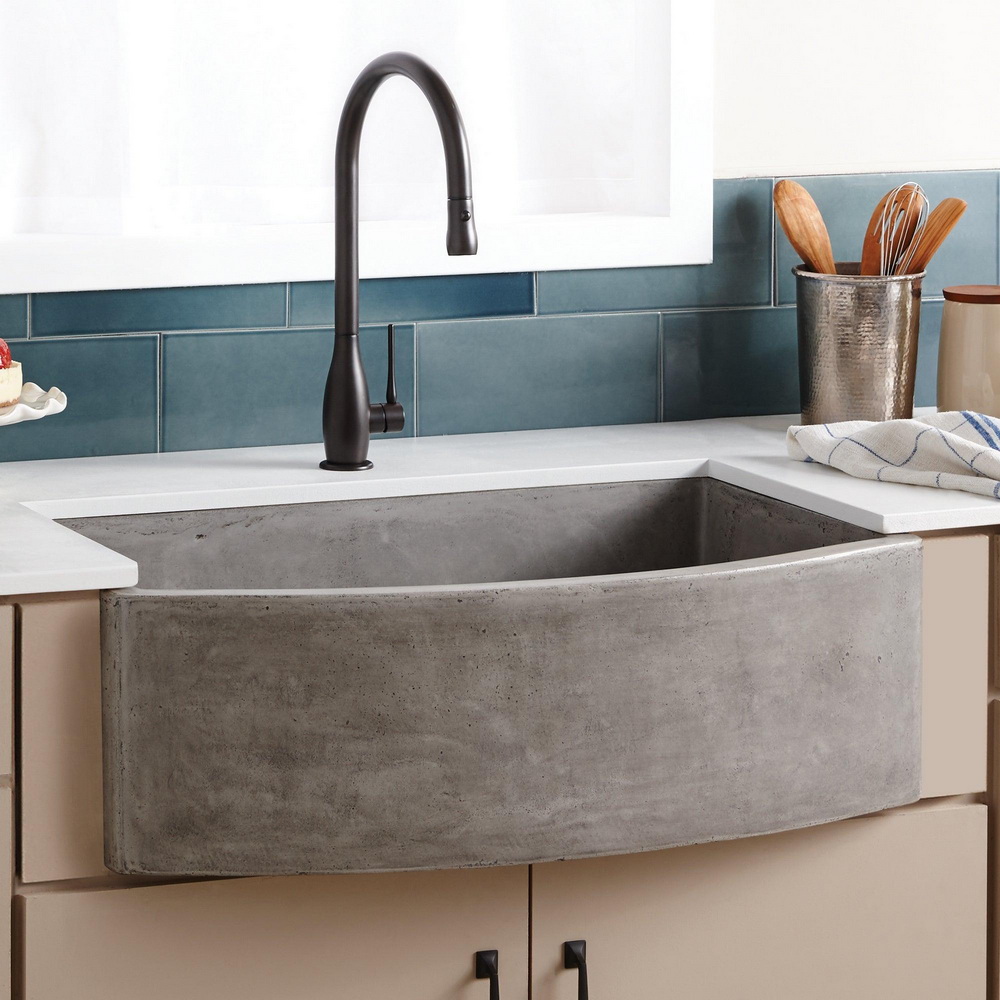 Allow the farmhouse style into your kitchen. This kitchen sink made of concrete is a clever choice for using a basic material in a different way and the result is quite unique. It is also large and it comes in different colours.
2.Brass Never Left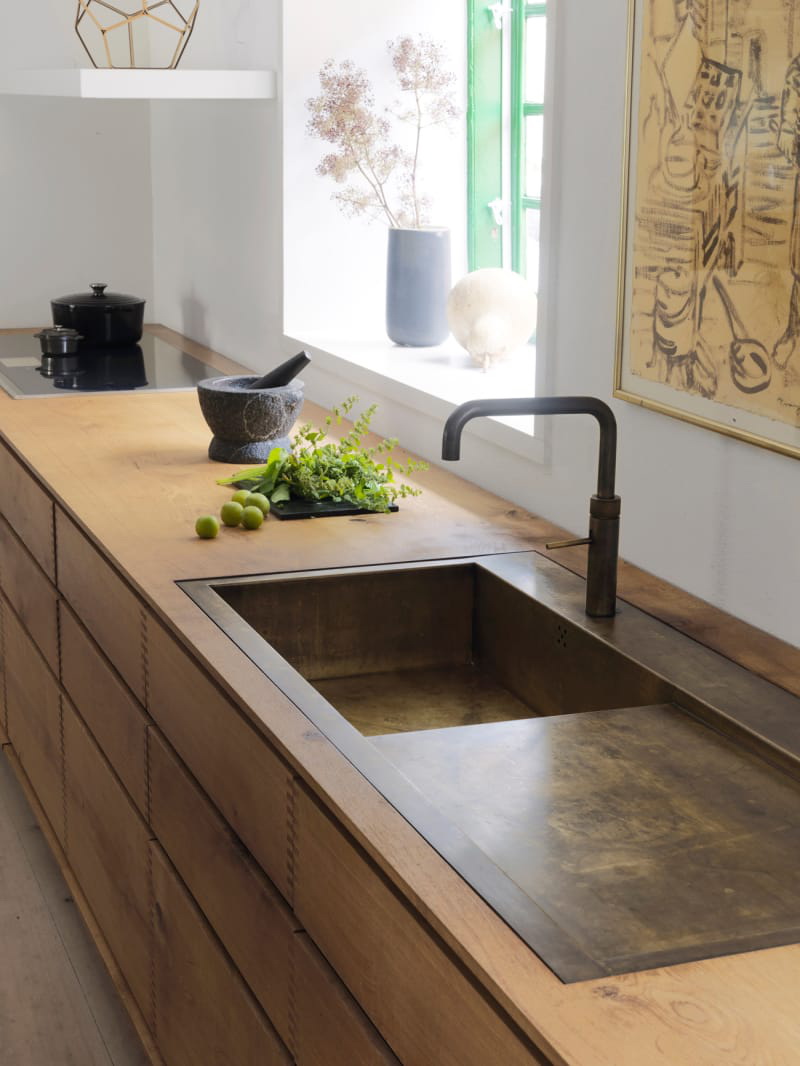 Wood and brass are a beautiful combination. This sink which is very functional brings the rustic style in and an elegant touch since it is a discrete choice. A marvelous upgrade for your kitchen either you live in the countryside or not.
3.Black Is All You Need
Let's assume that the primal colour of your kitchen is black and this extends to the countertops. Why not keep the same colour for the kitchen sink as well? Perfect, modern and fitted well with the surroundings.
4.Classic But Sturdy
Sometimes the best choice is a usual kitchen sink. If that's what you are looking for, then go for a double bowl stainless steel sink. It is functional and it matches with any type of countertop.
5.Comfortable In Black
What is better than a stainless steel sink? A black stainless steel sink! It is a stylish element and together with the wooden countertop is creates a fascinating result. This gunmetal black kitchen sink also is protected from scratches due to his coating.
6.Two In One
When it comes to designing some people are really smart. Here is an example of the worktop of an island with is used as part of the kitchen sink. It is modern and helpful for the water to fall in the sink when you wash the dishes.

7.Porcelain And Perfect
A double bowl porcelain kitchen sink is a wonderful addition for your kitchen. The real magic here is the wooden countertop and the apple green cabinets matched with a white sink. Rustic style: Affirmative!
8.Fairytale Exists
This amazing pink coloured kitchen is a sore for the eyes. I couldn't imagine any better combination than this porcelain sink together with the pink tiles, the cupboard painted with a light palette of colours and those vintage little golden faucets.
9.Stone Age
This could be my grandmother's kitchen at the village. An amazing image with the wooden cabinets and this sink made of stone. Details which stand out: Bronze rustic faucet, small curtains instead of cabinets.
10.Rustic At Its Best
The farmhouse kitchen dishwasher reminds me of an old washer people used for their clothes. It is made of stone, it is large and to be honest you don't need many ornaments around since it is an ornament on its own.
11.I Got You Covered
A modern white kitchen sink with an also contemporary style faucet. The catch here is the wooden cover which can assist in covering the bowl and also as a place to leave the dishes to dry.
12.Trip To The Countryside
This is the type of dishwasher that you will remember after you see it once. A fluted apron porcelain kitchen sink and a rustic bronze faucet on top. We must comment here also the marvelous grey cabinets which complete the picture.
13.Eye-Catching Recipe
When you set foot on this room with the white classic cabinets you will believe it is another usual kitchen. Then you will have a look at this magnificent copper dishwasher with floral engravings and you will change your mind!
14.Water Is The Driving Force Of Nature
I don't know what to look first in this amazing kitchen. Many of the cabinets are in aqua colour but the really surprising element is that the dishwasher is also in aqua. Innovative idea and beautiful to the eye.
15.Golden Touch
Modern is what many of us seek and when it comes to kitchen, a clean image is the perfect choice. A simple kitchen sink can be easily upgraded by installing a golden faucet which is a reminder of the industrial style and is the center of attention.
16.Shine On
This is the definition of contemporary style. A marble countertop which includes the black kitchen sink and a golden minimalistic faucet. A pretty clever and stylish installation in a small space.
17.Express Yourself
If you are looking for a way to put your own signature in the details of any room of your house, then this is a very good choice. A black marble kitchen sink with a quote engraved on to always remember what is important to you.
18.Red Is The Colour Of Fire
For you who are not afraid to use an intense colour for the decoration of your kitchen, this red sink is waiting at the corner. Matte coloured and a silver faucet that is wonderfully matched.
19.Stone Inspiration
Stone material is capable of offering a modern feeling when it is used properly. This soapstone sink with the same material backlash gives just that. The golden faucet is an extra element which enhances this image.
20.Double Trouble
How about a double sink with plenty of room to work on? Or even better, how about a black, double bowl stone kitchen sink with two beautiful rustic golden faucets-hoses??
21.Creativity Is A Way Of Life
Those ceramic tiles are an inspiration on their own when you walk into this colourful kitchen. Those patterns continue all the way to an integrated kitchen sink. The outcome is not only impressive but functional as well, since the tiles are enamelled.
22.Porcelain With A Twist
Using porcelain for a kitchen dishwasher is a way to embrace rustic style. A double kitchen sink with decorated porcelain in white and blue colour enhances even more the countryside feeling and it is worth installing.
23.Unfinished Business
When someone uses concrete as decorative element in their home, it means that they have a good taste. This double sink made from concrete and an industrial faucet creates this illusion of an unfinished but perfectly complete picture.
24.Made In Japan
This kitchen sink may be Japanese inspired but I can ensure you that it is quite useful anywhere else as well. It comes with six cutting boards and metal containers for you who like to chop comfortably many different ingredients to create your recipes.
25.Jewelry Always Fits
White countertop, black sink and a unique faucet can make your kitchen look arresting. The detail which is the reason this sink is included in this list is this knurled golden faucet which resembles a piece of jewelry!
26.Make It Easier For You
Who doesn't want to wash their dishes as easy as it gets? This pull-down industrial black kitchen faucet does the trick and it is quite modern to the eye. We shouldn't forget to mention the wooden countertop and the white sink which match perfectly to the whole.
27. A Change In Shape
A sink doesn't have to be always rectangular. A copper round kitchen sink with a cutting board to assist you with the chopping is a wonderful solution for a small kitchen.
28.You Spin Me Round Round
Take a look at this awesome functional kitchen sink! Round shaped and with all the tools required to complete your cooking. The cutting boards, the metal containers and the pull-down faucet which goes everywhere is the dream for every person who knows the procedure of cooking a meal!
29.Do It All In One Place
This kitchen sink offers every step of the way to serve your guests. It is a large installment which includes a cutting or serving board, a drying rack and a bowl with lids. Get yourself a knife and some veggies and you are ready to go!
30.Elegance Is Golden
I can bet that there are many of you out there who appreciate an elegant detail in your kitchen. What is better than a golden sink with a golden faucet on top? I could picture this countertop white or black, and still the result would be thrilling.
31.Don't Reinvent The Wheel, Just Realign It
Innovation can be expressed in many different ways. In this example, it is a contemporary black kitchen sink with a wheel pull-down faucet. I mean, come on, this is an amazing idea!
32.Rustic All The Way
A shallow stone kitchen sink integrated in a countertop with tiles of blue and green shades. A rustic idea which can be pictured in any vacation house or a house at the countryside.
33.Put Baby In The Corner
We've seen a lot of kitchen sinks so far, but what if the best place to put it is in the corner of the kitchen? This black double sink can be the solution to save space and to add a something modern in the room.
34.Wooden Magic
All the materials are nice, but nothing is like good traditional wood. Bring the farmhouse atmosphere with the wooden sink and a faucet as rustic as it goes. If you ask me, I always love wooden additions because they are additions of style as well.
Conclusion
All in all, we must admit that there are countless different kitchen sink ideas out there. The purpose is to find the one which suits best in our kitchen. However, I totally encourage you to be creative and add parts of your personality in every little detail of the room.