Cooking can be a pleasurable experience for many people and a pain the ass for many others. Albeit, what makes cooking challenging most times is the scrub-down and strenuous upkeep.
Things could have been a lot easier if there was a way to cut down on those. There appears to be a solution and that is the Kitchen Hood.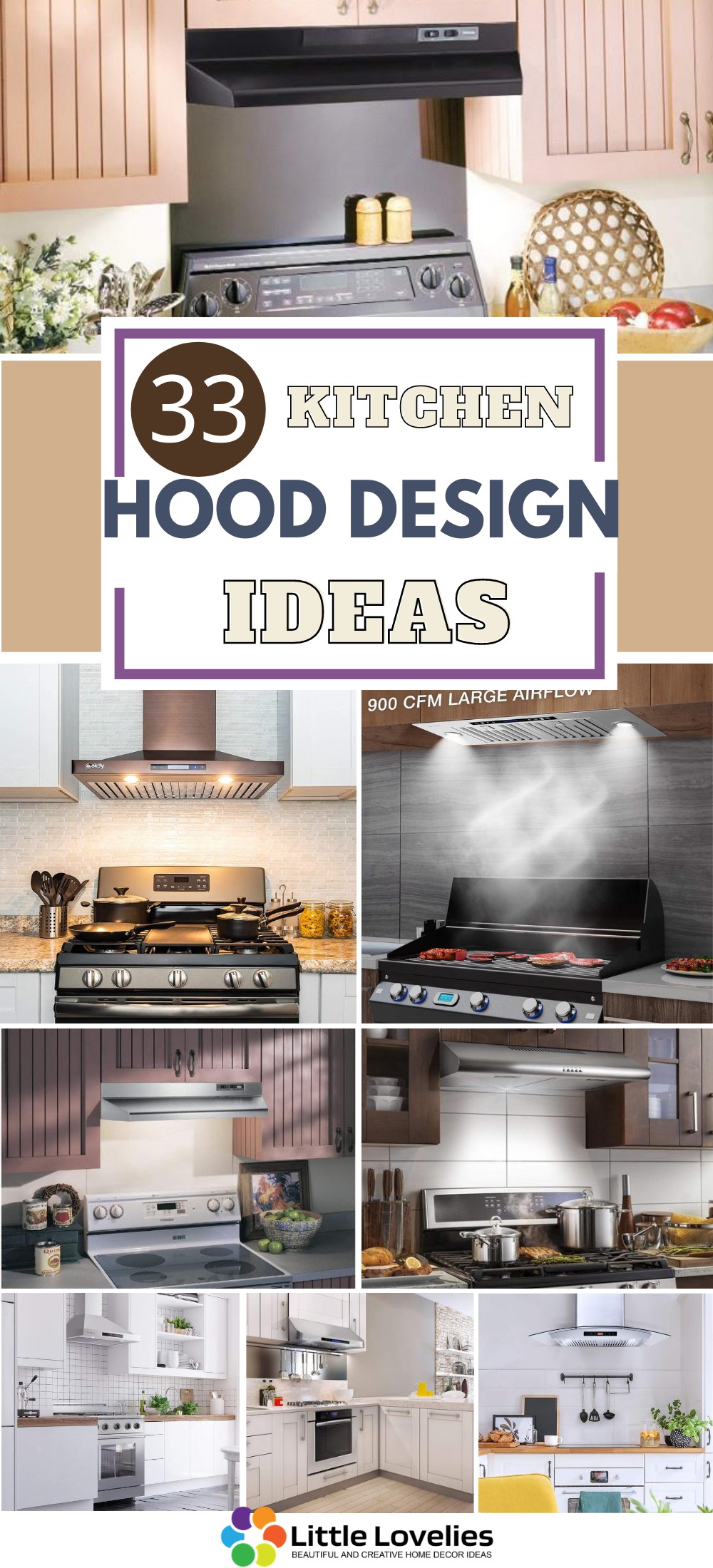 What Does a Kitchen Hood Do?
Also called an Exhaust Hood or Vent Hood, a Kitchen Hood is the versatile fixture that uses a built-in fan to collect airborne grease, smoke, fumes, steam, and combustion products out of the kitchen. Those particles tend to be generated while cooking and their continued presence can be irritating.
The 33 Kitchen Hood Ideas to Try
Now that you understand the importance of the kitchen hood/range hood, it is pertinent that you get the best.
Below, we have taken the time to explain 33 different kitchen hood designs you want to buy for your kitchen.
1. Convertible Chimney Style
This range hood features an efficient airflow system that suctions up particles from the air and makes the kitchen well-ventilated.
With the modern design and energy-efficient lights, you can be sure that cooking will be a breeze anytime of the day.
2. Under Cabinet Kitchen Hood
Your kitchen hood can still look good when positioned under the cabinet. With the superior filtration system that uses mesh filter to trap oil and grease, this is the type of range hood that will keep your kitchen fresh at all times.
3. Convertible Range Hood
Interoperability is the idea behind this kitchen hood, as it is meant to be used in different formats.
You will also like the placement of an exhaust fan under the cabinet so that filtration will be a lot easier.
4. Slim Kitchen Hood
If what you need is a range/kitchen hood that doesn't take up space, consider buying this product because of the slim design that fits into any available space.
5. Stainless Steel Under Cabinet Range Hood
Stainless steel kitchen hoods last longer. And with the convertibility of this product from duct to ductless, the trapping of grease and sucking up of odors will be easier.
6. Mountable Kitchen Hood
It makes sense to mount your kitchen hood as this one is so the hood will be directly positioned to suck up the particles and odors as they are released.
7. High-Quality Hood Insert
Quality, two-speed fan control and effective lighting from a protective lamp lens are the attributes that make this kitchen hood insert the best for your cooking place.
8. XtremeAir Non-Magnetic Range Hood
The convenient placement under the cabinet, as well as the arc flow design with permanent filters help to trap oil and grease in real-time.
9. Touch Screen Ventless Kitchen Hood
The unique selling point of this range hood is the touch screen functionality that allows for seamless operation.
On the other hand, the carbon filters enable ventless operation so the kitchen hood can operate without disrupting your activities in the kitchen.
10. Stainless Steel Vent Hood with Speed
This kitchen hood combines 3 speed motor for right amount of suction and venting from the top to suck up odors faster.
11. Automatic Kitchen Hood
You don't always have to do the work because this kitchen hood provides you with a push button to automate its operation.
12. Kitchen Hood with Baffle Filters
Here is a range/kitchen hood that empowers you with the baffle filters that are designed for faster trapping of odor, grease and instant sucking out of steam via the exhaust fan.
13. Dishwasher-Safe Kitchen Hood
This is the type of kitchen hood you need for rest of mind, as it is dishwasher-safe while packing the best operation and a push button for convenient control.
14. Wall Mount Kitchen Hood with Ducted Exhaust Vent
This is a range hood that is designed with modern homes in mind. You can be sure that it will fit into any type of kitchen design you may have.
15. Range Hood with Custom Lights
Whether you are cooking in the day or at night, this kitchen hood will light up your kitchen and suck up the odors and grease.
16. Permanent Convertible Kitchen Hood
This is a range/kitchen hood that is both fixated/permanent and convertible. You are rest assured that it will illuminate the kitchen and filter out grease, odors and other particles that might make the kitchen uncomfortable for you.
17. Built-In Kitchen Hood
Here is a new model of kitchen hood that defies the odds of the traditional variants. Instead of using the vent from top model, it allows you to insert it in available spaces in the cooking area.
18. Sahale Black Range Hood
This kitchen hood further adds color to your kitchen with the sahale black tones. The versatile operation, optimal speed and effective lighting are also there to make your cooking experience splendid.
19. Round Top Vent Kitchen Hood
This kitchen hood design is not only thick, but has a round top vent that ensures optimal operation anytime you are using it.
20. Under Cabinet Kitchen Hood with Push Controls
The secret to enjoying this kitchen/range hood is to place it under the cabinet where the contemporary modern design aids the kitchen hood to add sophistication to your kitchen.
21. Auto Clean Pacific Stainless Steel Kitchen Hood
Made in Taiwan, this kitchen hood packs style, speed and automated features that includes shutting it off automatically after heat and smoke must have been eliminated from the kitchen.
22. Chimney-Like Range Hood
This reminds you of a chimney and like a chimney, this kitchen hood is highly-efficient and durable.
It also has push button controls and wall mountable feature to make things easier for you.
23. Handcrafted Kitchen Hood Design
This is a range/kitchen hood that has one of the slimmest designs, making it easier to install it under longer cabinets.
Also, it has quiet precision meaning that you wouldn't even know that it's on. That's how quiet it can be.
24. Modern Kitchen Hood
Kitchen or range hoods needn't be like the traditional designs that are almost not fitting into the interior of many kitchens.
That informs the reason why you want to purchase and install a modern kitchen hood as the one we have here. That is partly because of the elegant appearance and mainly because of the superior stainless steel filters that trap cooking oil and grease.
25. Energy Star Kitchen Hood
While you are buying a kitchen hood, it makes sense that you purchase the one that has an Energy Star rating because that indicates the kitchen hood wouldn't consume much or eat into your energy bills.
26. Portable and Reusable Kitchen Hood
Portable and designed to fit into anywhere, this range hood has reusable aluminum filters that make the filtration process even better.
27. Top-Quality Hood
If all you have been looking is quality, you can be confident that this kitchen hood is the one that will complete your kitchen and keep it cleaner and hygienic.
28. Kitchen Hood with Technological Highlights
Technology wasn't spared when designing this kitchen hood and it is evident in the hybrid baffle filters that capture cooking odors and grease, as well the powerful 300 CFM motor.
29. Chef Kitchen Hood
Specially made for chefs and general kitchen use, this range hood is what you need to illuminate and keep your kitchen clean without having to break a bank to afford the professional models.
30. The Ultimate Kitchen Hood for Your Kitchen
Look no farther for the best and all-encompassing kitchen hood because you have it all right here on this one. From the efficient filtration system to the premium power and quiet operation, this range hood has it all!
31. Durable Stainless Steel Range Hood
Kitchen hoods made of stainless steel tend to last longer, and that is the idea behind the one we have right here that features durable stainless steel construction, contemporary styling, versatile use and high-quality hood insert.
32. Minimalist Design Kitchen Hood
The first thing that will strike your attention is the brushed bronze stainless steel of this range hood that adds more color tones to the kitchen.
That is not leaving out the additional components, including 2 baffle filters with dishwasher safety, extremely quiet exhaust fan and a powerful 194W motor.
33. Turbine Blade Kitchen Hood Design
Some kitchen hoods take the shape of turbine blades and they have improved efficiency.
Some of the attributes you will like about this range hood are the filter-less self-cleaning system, ultra-quiet operation and dishwasher safety.
Wrapping Up
Kitchen hoods add more appeal to your kitchen while making it easier for you to have a cleaner kitchen thanks to the excellent filtration system.
What do you like the most about kitchen hoods and which model will you like to buy?
*We are a participant in the Amazon Services LLC Associates Program, an affiliate advertising program designed to provide a means for sites to earn advertising fees by linking to Amazon.com.*