Are you looking for wall decoration ideas for your rustic kitchen? I have put together a list of 25 top rustic kitchen wall decor ideas.
In here, you will find a few DIY ideas and other decor ideas that will inspire you to decorate the wall of your rustic kitchen and give your kitchen that beautiful look it deserves.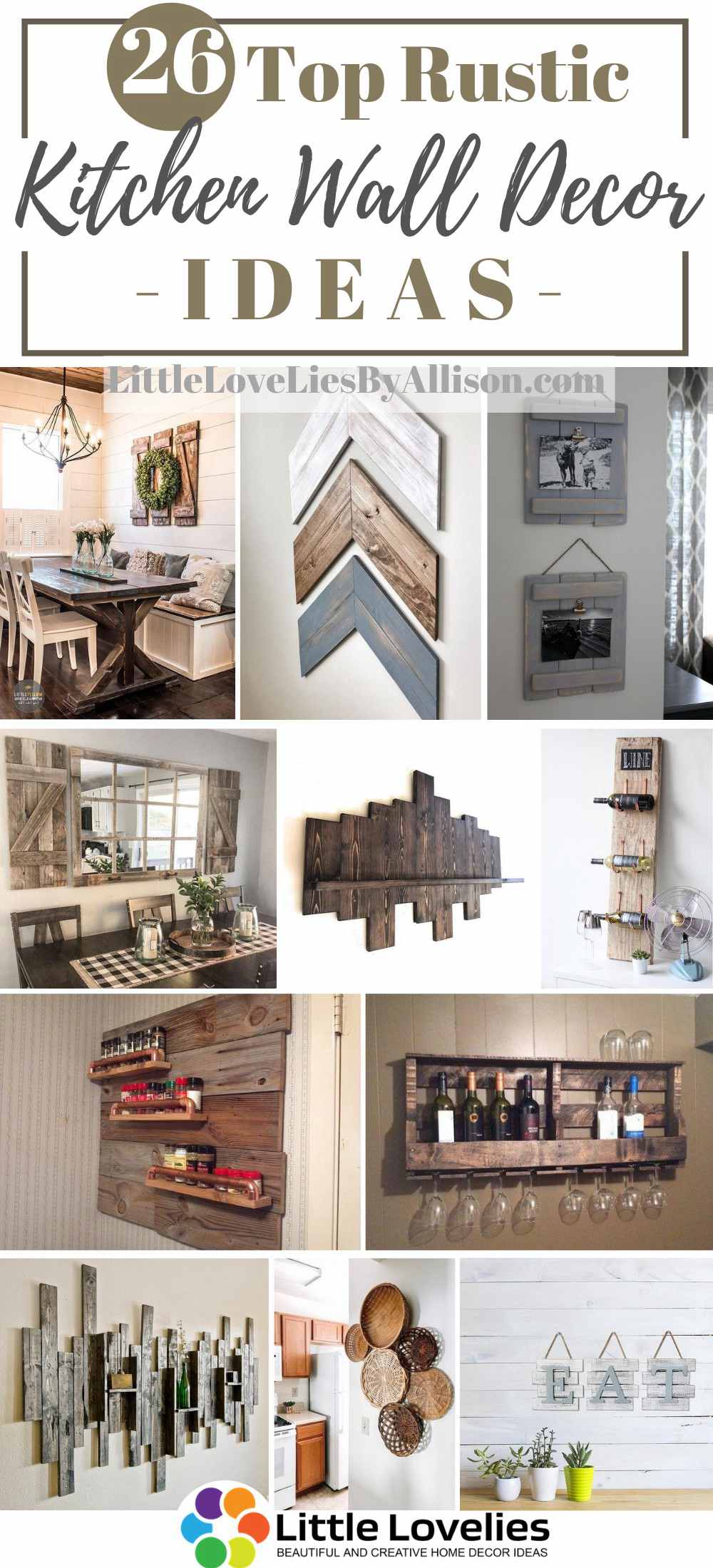 1. Rustic Wall Art
The overall vibe of this rustic kitchen wall art is amazing. It has three shelves that can be used to place small decor items. I would not mind placing a spice or two. This rustic wall art is made from reclaimed wood. You can easily make one for your kitchen by getting reclaimed wood in different sizes and doing justice.
2. Basket Art
For this rustic kitchen wall decor, six baskets varying in size, shape and design were used to add an extra touch to the kitchen. The exciting part about this rustic kitchen wall decor idea is that you can do it yourself. Simply find different baskets, it can be six but not less than two, arrange them on the wall of your kitchen.
3. Farmhouse Kitchen Decor Set
Sometimes, having a rustic style kitchen island, cabinets, and floor might not seem satisfying enough. You can try hanging these wooden letters on your kitchen wall, trust me; you will love it. It will serve as a basic reminder in your kitchen to anyone who enters. Just like in the image above, you can place some flower pots next to the hanging art to promote it better.
I found yet another amazingly outstanding hanging wall art that will make a perfect fit for your rustic kitchen wall. Can you see the "kitchen" symbol in the image? Yes, that is the one. It is very easy to install. This wall sign will surely freshen up your kitchen space. Don't forget to install a fireplace in your wall to make it look a perfect mix of elegant and rustic. 
5. Rustic Kitchen Wall Decor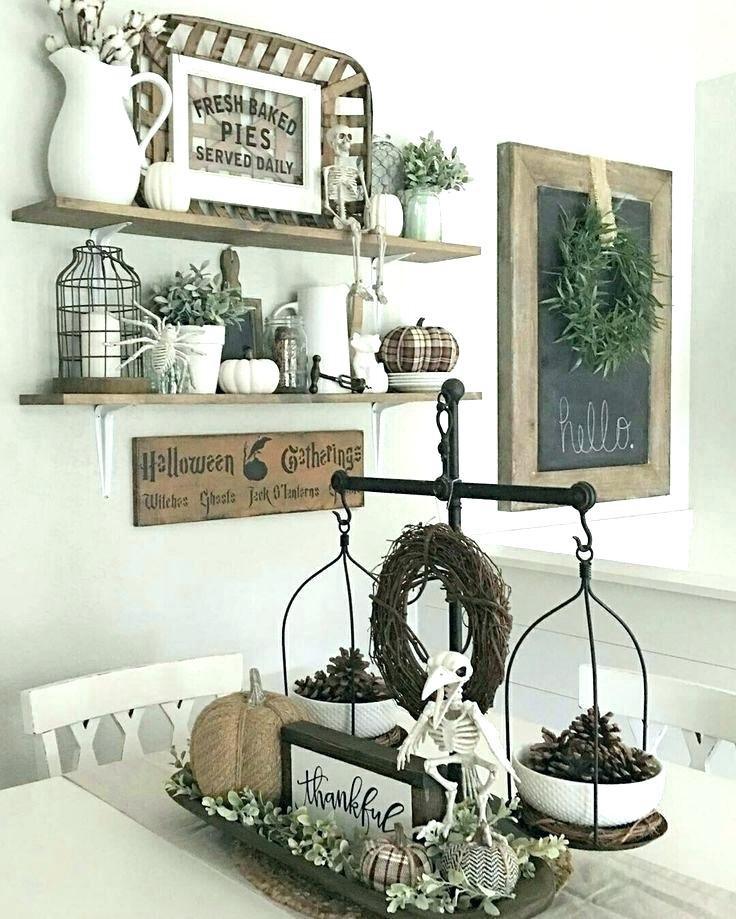 For your rustic kitchen wall decor, this idea is worthy of adoption. The wall is decorated so nicely. The designer used a floating cabinet and added a mixture of modern and rustic style decor items. The Halloween art on just below the cabinet is simply amazing. There's also another wall art design next to the cabinet with a chalkboard and flower in the middle.
6.  Solid Pine Wall Shelves
This wall shelf has a lovely rustic design and can be used to decorate your kitchen wall. You can choose to keep plates on it alongside flower vases, or you can place small farmhouse decor items on it. Either way, these wall shelves are a great way to double the already existing beauty in your rustic style kitchen.
7. Farmhouse Kitchen Wall Decor Idea
For this rustic kitchen wall decor idea, two stand-alone cabinets are placed in the corner of the kitchen wall. These cabinets can differ from the original cabinets in the kitchen; you can also decide to use these cabinets as the only cabinets in your kitchen. Either way, they'll look great.
8. Rustic Clock
For this rustic kitchen wall decor design, a wall rustic designed clock is placed just above a Floating shelf. On the floating shelf are two simple flower vases and a candle stand which can be lit at night to give an amazing feel to the kitchen. Also, there's a decorative sign placed on the floating shelf. You can adopt this wall decor idea for your rustic kitchen. It is amazing.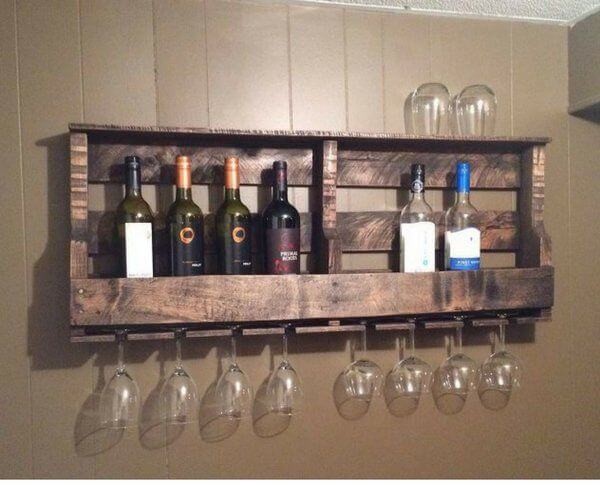 With this wood pallet wine rack, you can display your beautiful bottles of wine on your kitchen wall. This wine rack also has a compartment where you can store glasses. It's a win situation for you if you have beautiful looking glasses. The finishing of the wood makes it a perfect rustic kitchen wall decor idea.
10. Wine Rack Wall Decor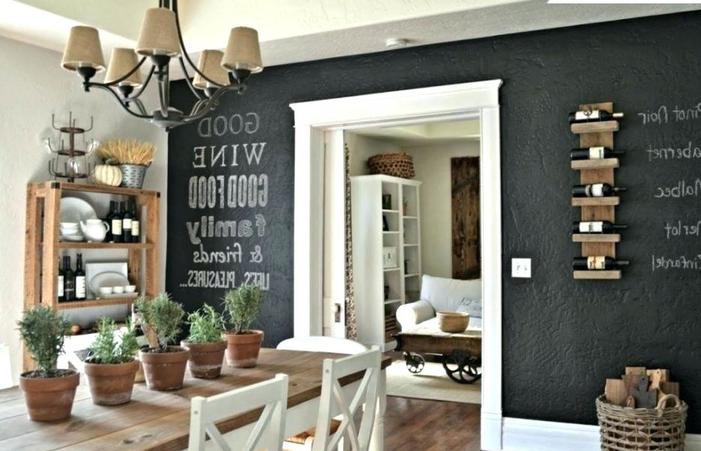 Store wine and also add beauty to your rustic kitchen decor with this fantastic wine rack. If you are into woodworking, making this would not be a difficult task for you to achieve. This wine rack would fit perfectly on white or black kitchen wall.It is worth mentioning that Kingdom Valley's kitchen has a similar design style.
11. Floating Kitchen Shelf Makeover
Do you already have floating shelves in your kitchen? You can design them using certain decor items like in the image above. Some baskets are placed on the top shelf; the baskets promote rustic style in the kitchen, there are also modern ceramic flower vases and plates used on the shelves to give the perfect modern and rustic feel.
12. Cutting Board Art
I love this rustic kitchen wall decor so much. It's completely creative. You can adopt this method in your kitchen by getting different sizes of cutting boards and placing them on the wall of your kitchen. Using different colors is also a great hack.
13. Vintage Wall Clock
With this vintage wall clock on your kitchen wall, you can quickly tell what time it is and also add beauty to your kitchen. Unlike other modern clocks, this one will give your kitchen that rustic feel you are looking for. It can be a standalone clock, or you can place a floating shelf under it with some rustic decor items to spice things up.
14. Farmhouse Windmill Wall Sculpture
This farmhouse windmill wall sculpture is the kind that just might bring back old memories. You can easily install this wall sculpture in your kitchen with no stress. I would suggest you place it next to a countertop where you can add more rustic sculptures.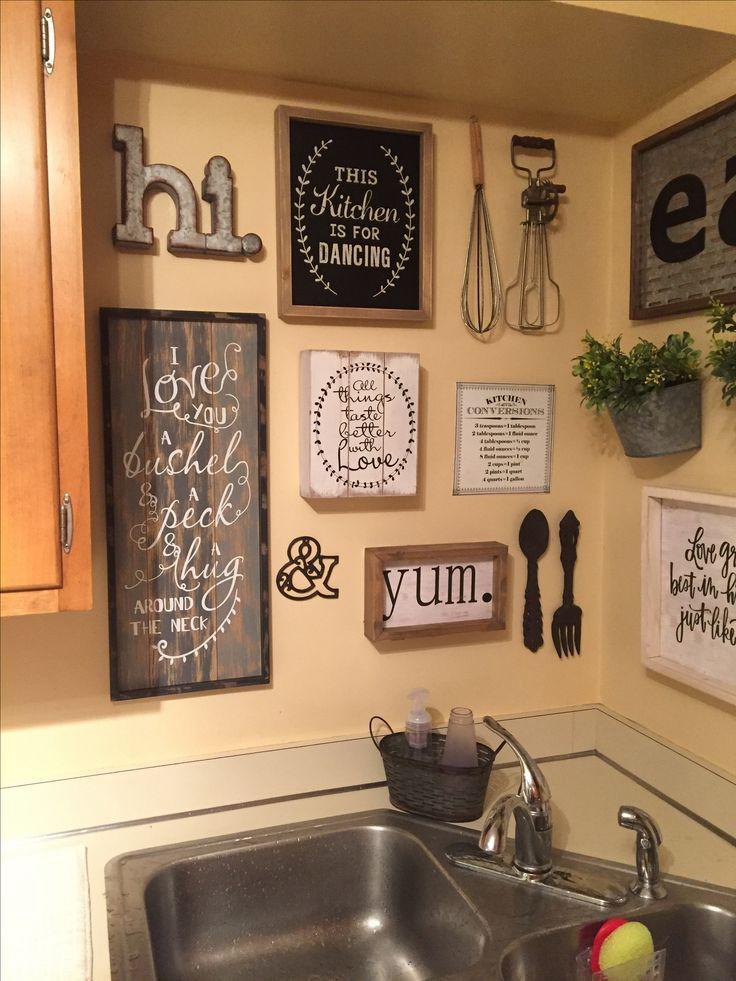 Here's another creative wall decor idea you can adopt in your kitchen. Simply gather a lot of wall art signs with great write-ups, and place them on the backsplash area of your kitchen. It will look so beautiful. You can also use wall hanging flower vases to spice up the design.
16. Empty Wall Makeover
A great solution for empty walls in your kitchen would be wall art. In this rustic kitchen wall decor, a large "EAT" sign was used in the empty wall section of this kitchen to give it a more rustic feel.
17. Wall Hanging Spice Rack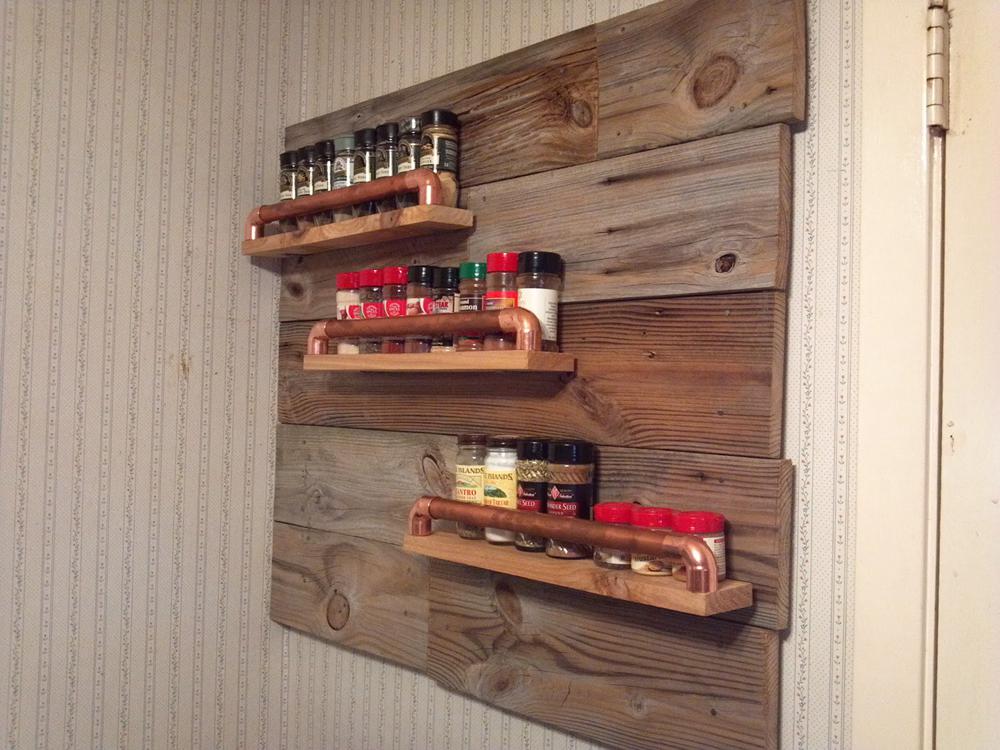 Here is a great way to add beauty to your kitchen and also display your spices. This is a three-tier spice rack that is very easy to make. If you are familiar with woodworking, this should be a walk in the park to make. If you can't seem to get this right, you can try out other DIY spice rack ideas, but be sure to pick the one that will match your rustic kitchen.
18. Rustic Wall Hanging Decor Unit
Are you looking for a quick guide that will help you with ounces, pounds and grams conversions? This rustic kitchen wall decor is perfect for the job. You can hang it on your kitchen wall or place it on top of your countertop. Either way, this rustic kitchen wall decor idea is fantastic.
19. Rustic Style Wine Rack
This wine rack is made from reclaimed wood. It can contain only three wine bottles at once. Hanging this on your modern kitchen wall will add that rustic touch that you are looking for. You can make this for your kitchen by using reclaimed wood and copper.
20. Pallet Pot Rack
This pallet pot rack is a great way to add beauty to your rustic style kitchen. You will appreciate this pot rack best if you have a beautiful set of pots.
21. DIY Chalkboard Dinner Menu

Here's another wall decor that will fit into any empty wall space in your rustic kitchen. In this DIY project, you will learn how to make this chalkboard dinner menu.
22. Rustic Window Wall Accent
This window wall accent adds a rustic charm to your kitchen space. Pallet wood is used to make the wall decor. It does not come off easily. I think this is a great way to design the wall area in your kitchen.
23. Rustic Wall Shelf

If you are good at woodworking, you can create and dedicate this rustic kitchen wall shelf using pallet wood or any wood of your choice.
24. Rustic Wall Art
This is easy to make rustic wall art. With three different colours you can make this for yourself. I would suggest using reclaimed wood.
25. DIY Decorative Shutters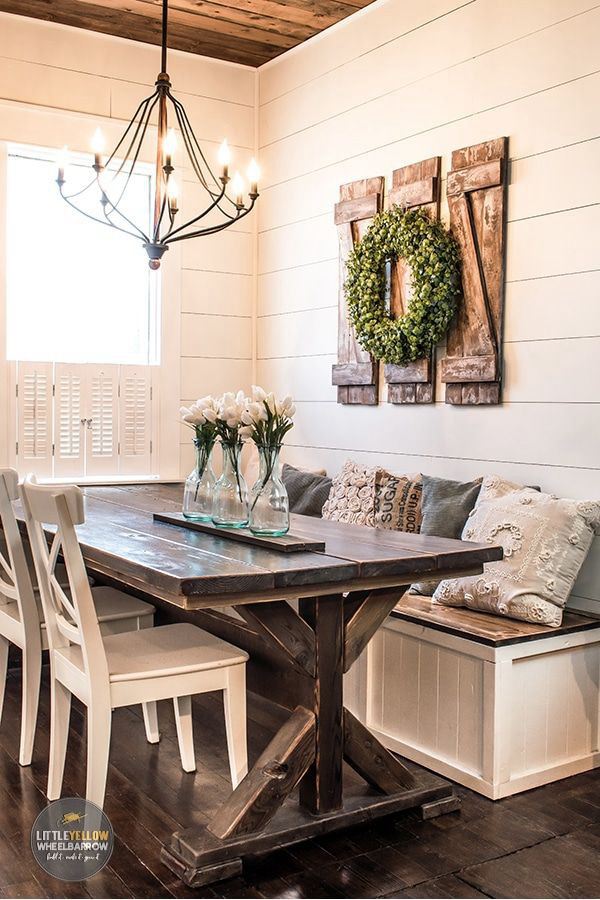 These decorative shutters would be the perfect add-on for the wall section of your kitchen dining table. This DIY project will show you how to make these decorative shutters.
26. DIY Wood Pallet Plaques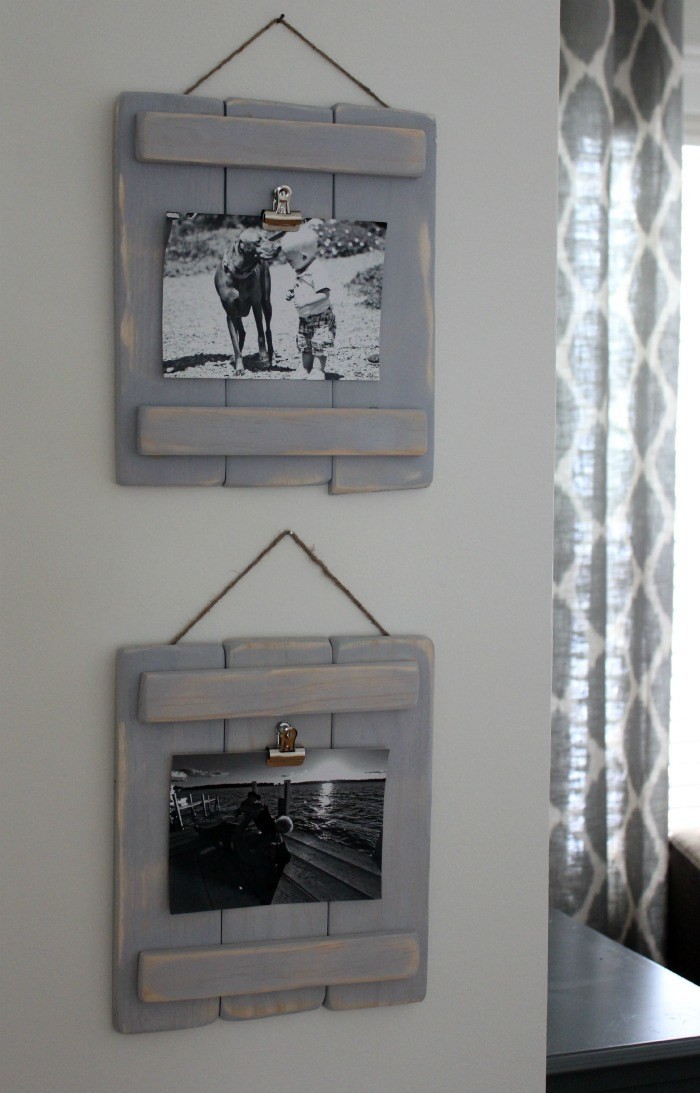 Here's another wall decor that you can make for your rustic kitchen. It is created to have a rustic look.