Is your kitchen too boring and lifeless? Do not worry, as we are here to bring you the finest collection of kitchen wallpaper ideas that will make you want to purchase one for your kitchen right away!
24 Kitchen Wallpaper Ideas To Make It Look Thrice As Elegan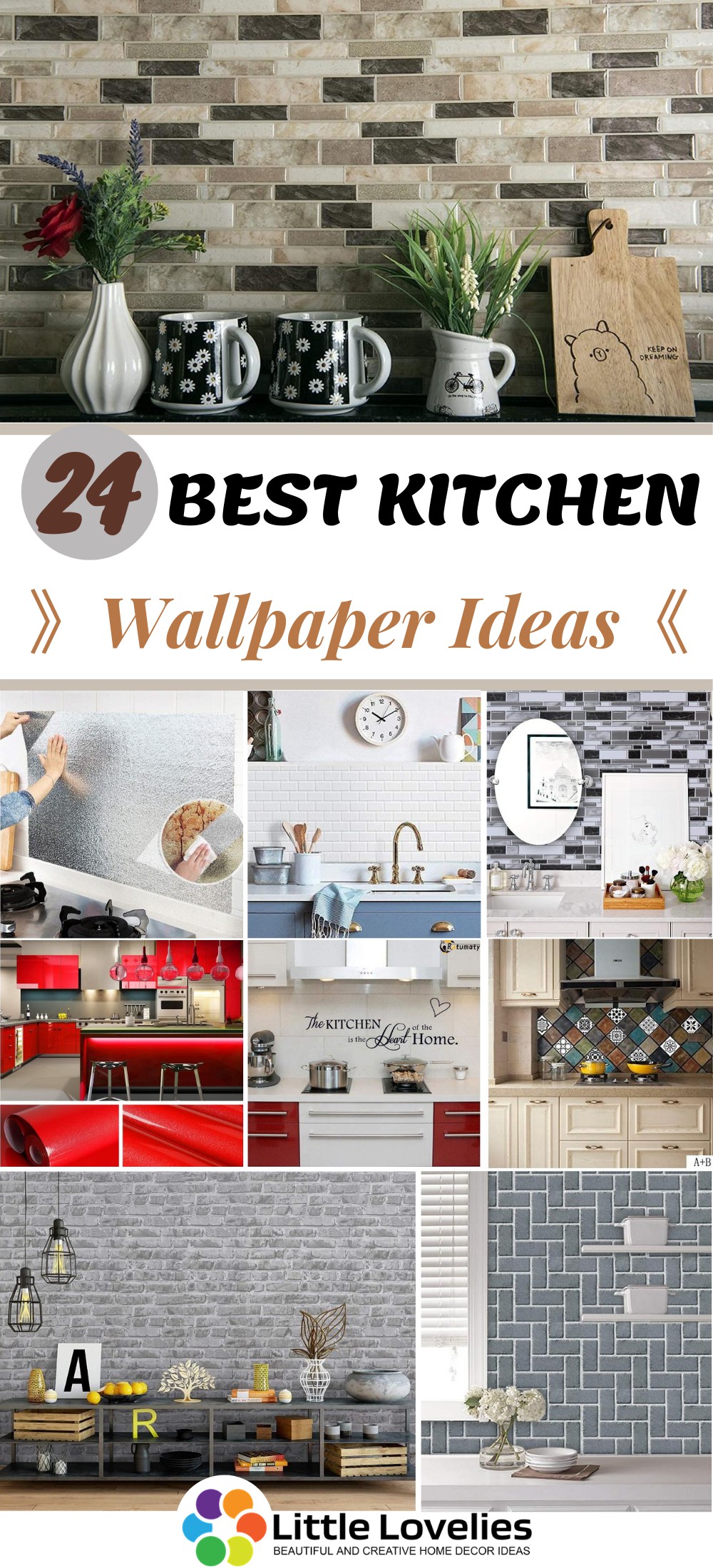 How To Style Your Kitchen
Many people choose to invest a lot of time and effort into their kitchens, because they are areas of high activity.
And often the ones with the most memories.
Wallpapers are a great strategy for making your kitchen look much more lively. There are wallpapers for each mood and theme.
If you wish to go for a modern contemporary theme, then you can keep an eye out for monotoned textures or minimalistic abstracts.
But if you are someone who likes a chic and vibrant look, then you can lean towards those with trending graphics and bold patterns.
Another method to ace at designing your kitchen is to dress it with suitable kitchen items, the ones that could execute commendable contrast with your kitchen wallpaper.
In this article, we will show you some amazing wallpapers and the items that are best suited along with them!
1. Artistic Reflections
This kitchen wallpaper is a grey-themed brick wallpaper which can be seen playing an excellent medley with the bright white marble sink and the exquisite set of frames. An added touch of luxury  is imparted by the clever use of creamy marble textured jars. The pearlescent arrangement of flowers seals the deal with graceful elegance!
2. The Beige Family
When you choose to use a beige themed wallpaper, you automatically acquire the liberty to use a wide variety of setting options for your kitchen. This beige-themed brick wallpaper is in harmony with the beige chopping board. An earthy vibe is also imparted, thanks to the wonderful plant display.
3. The Blinded Wall
The color white brings us the benefits of getting to play around with a lot of colors and shades. The white brick wall highlights the cool-toned blue color of the kitchen cabinet ever so elegantly!
4. Whimsically Silver
These wallpapers come with a dual set of advantages. Not only do they impart a glitzy-glam reflective appearance, but are also very easy to wipe off those irritating spills and splatters!
5. Black & Bold
Nobody can beat this bold and charismatic color! And now that it has come in a chic marble texture to serve you major delights! You can top this up on your kitchen countertop as well; this would make it look more uniform and harmonious with the wallpaper! You can also place a set of white pot plants to demonstrate excellent style.
6. Mellow Yellow
An excellent way to make the simplest of things stylish is by the use of colorful and vibrant pots and pans. This neutral toned brown brick wallpaper has acquired a new vibe of liveliness, just by the simple display of popping yellow cookware!
7. White Wood
White on white means elegance upon elegance. This peace loving color is now in a wooden textured, coupled with a sweet array of decorative items that very well contrast with the pearlescent luster of the kitchen countertop. Bringing in a set of rosey or pink flowers executes sheer radiance.
8. Boho Oceans
Patterns are super cute, especially if they are boho style! These light and navy blue boho patterns are very soothing to the eye. You can easily pair them with a matte black kitchen sink or kitchen countertop, which will make it look trendy and executive class at the same time!
9. Turquoise Mediums
This whole kitchen looks absolutely serene and calming. This is because of the unique interplay between water inspired colors. Not only do they make the kitchen look more illuminated, but also impart an evergreen glow that induces calming vibes!
10. Jazzy Blues
An extremely appealing combination is executed by this blue & white boho-style wallpaper along with the stunning matte prussian blue kitchen cabinet. The kitchen countertop is sandwiched in between to make glimmer the exquisite pearly shade of white.
11. Medieval Patterns
The patterns that were inspired from the olden days have now been refurbished to execute modern glows. This exquisite wallpaper is giving this minor kitchen display a luxurious touch. This chiffon white wallpaper is given a pop of groovy green with this precious home-based coriander plant! An excellent way to give your kitchen a homey touch.
12. Blissful Monochromes
Sometimes it is better for the colors to remain silent so they can allow the kitchen elements to shine. The linen white shade of this kitchen wallpaper is silently imparting elegant vibes whilst allowing the elements of the kitchen to speak for themselves.
13. High Definition Duos
What makes this wallpaper so different from the rest is the bold distinguishment between white and black. Albeit a common brick wallpaper, but with a lot of personality! The matte black hanging lights are complimenting the black rims of the wallpaper whereas the white core is in perfect harmony with the variety of displays on the kitchen countertop!
14. Creamy Alabasters
What a sheer but radiant due this kitchen is relaying! The soft-toned alabaster wallpaper is synonymous to the color of the kitchen countertops. The pearly white cabinets play a further role in making this kitchen more enchanting and inviting.
15. Glossy Wordings
If you are looking for a wallpaper that aids in style and convenience, then these glossy neutral toned wallpapers will be the best choice for you! Easily wipe off any mess that is splattered onto it. Also, since the background is quite a neutral one, you can easily paste one of your favorite kitchen quotes onto this!
16. Fruity Cocktails
Not only do these printed wallpapers look super cute, but are also very good at connecting with a traditional farmhouse style kitchen. A multitude of designs can be found in this range, which allows you to choose the graphics that appeal you the most!
17. Executive Shades Of Grey
The thing about grey hues is that you can play around with some really attractive themes. The colorful decorative items along with the white grid vase is making this room look a class apart. The addition of hollow grid hanging lamps in matte black add more style to this unique kitchen!
18. Victoriously Red
Not for the faint of heart! This modern retro style red kitchen is sure to steal glances of any visitor that passes by. An excellent idea to make this red pop is to insert a strip of LED lights tucked in within the panels underneath the kitchen counters. You can make everything from the cabinets to the kitchen countertops red and glorious!
19. Appealing Geometries
This modern contemporary kitchen is very minimalistic, but has a lot to say. An exquisite blend of color and style is what makes this grey and white kitchen unique. A floral expression is always appreciated amidst cool toned monochromes. This brick grey wallpaper has a mild blue hue to it. The pearlescent ceramic items add more to the beauty of this kitchen.
20. Cafe Barbera!
If you have always wanted a home-style cafe in your kitchen, then look no further! Instead of getting a wallpaper, you could just opt for some trending wall stickers! They come as graphics, quotes and even posters! And you can place them wherever you deem necessary, so you are the boss of how you want your kitchen to look like!
21. Kaleidoscopic Mosaics
A hint of Boho or a splash of Aztec will hurt nobody! Make your kitchen an artistic palette by incorporating fun and abstract wallpapers. A mosaic print gives a lot of dimension to your kitchen whilst imparting a creative and fun touch.
22. Inspirational Patchwork
This unique kitchen wallpaper is reminiscent of a crochet sleeve full of creative patchwork! What makes this kitchen exciting and warm is the invitational blend of cool toned colors. The arrangement of vibrant yellow cookware gives this kitchen more dimension!
23. Criss Cross
It is rather remarkable how wallpapers as simple as these can enhance the radiance of the kitchen! This creamy white wallpaper with a geometric pattern looks very neat! If you are someone who likes their kitchens to look illuminated and glowy, then go for whites! They will never disappoint you.
24. Mermaids' pearls
What a picturesque impression of an ocean themed kitchen! You can go for turquoise and midnight blue shades to play and contrast with your ongoing kitchen theme. The cubical blues holding the elegant collection of  seashells give this room a breath-takingly fresh vibe!