Although colorful kitchens do a splash, there's nothing like a black kitchen making a stylish display. There are so many options to design black for a big focus, from black cabinets to splashbacks to black & gold pops. The uniqueness about black kitchen cabinets is that they not only look unique, but they can also hide marks and other damage. They have a way of bringing out the color of the painting and other items that make them look brighter.
When going to paint your cabinet to black, please ensure you pick a high-quality color, or you can buy already painted black cabinet.
35 Black Kitchen Cabinets Ideas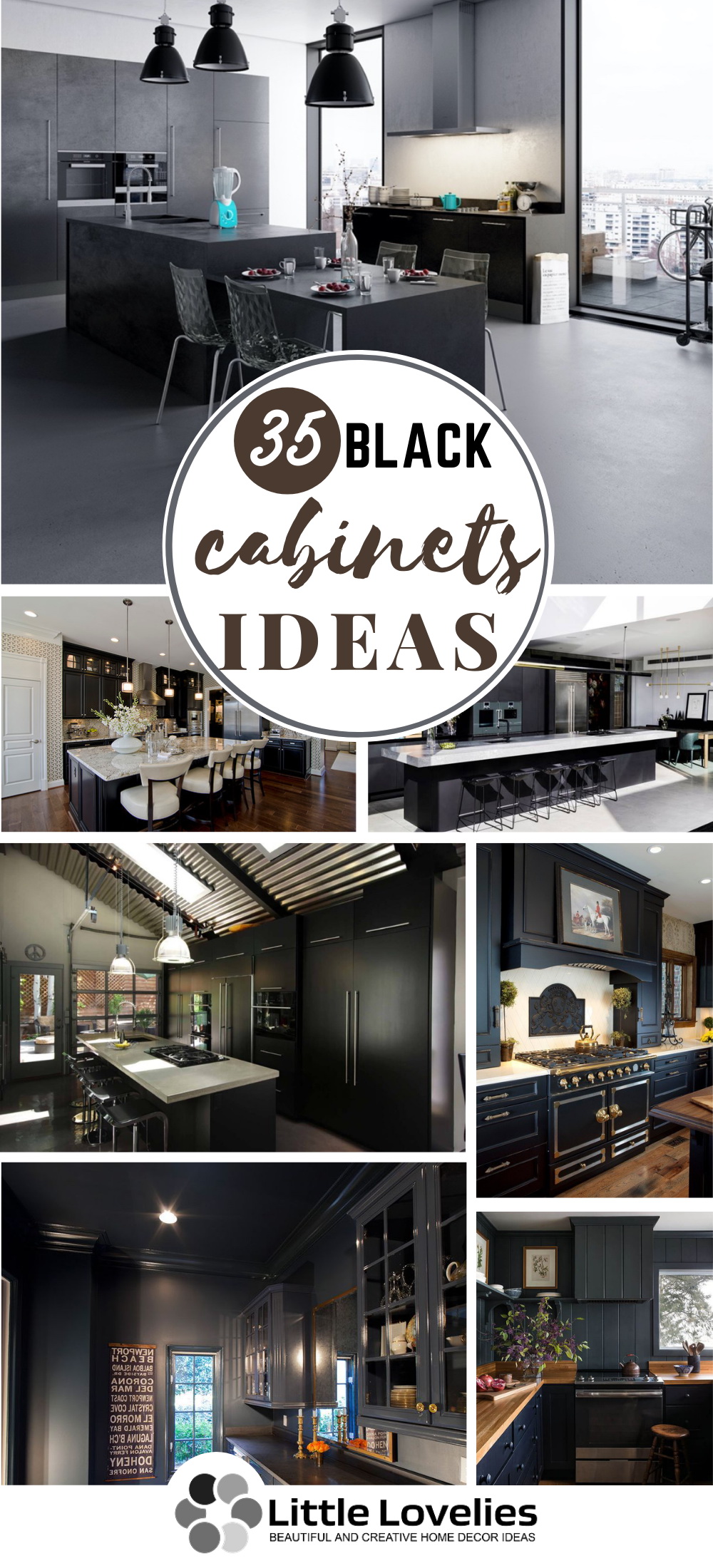 1. Dark Stone Kitchen Cabinets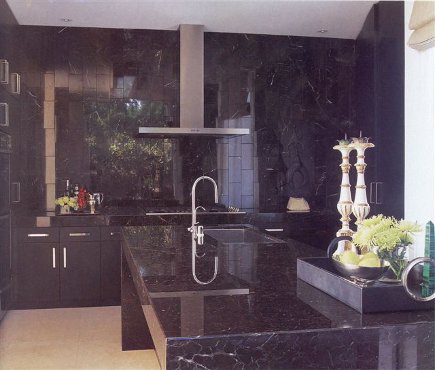 The stunning all-black style kitchen is first on the list. The black stone is brilliant, making your kitchen island elegant and splashback. The downlights in your kitchen at the back will add much-needed comfort.
2. Black Cabinets With White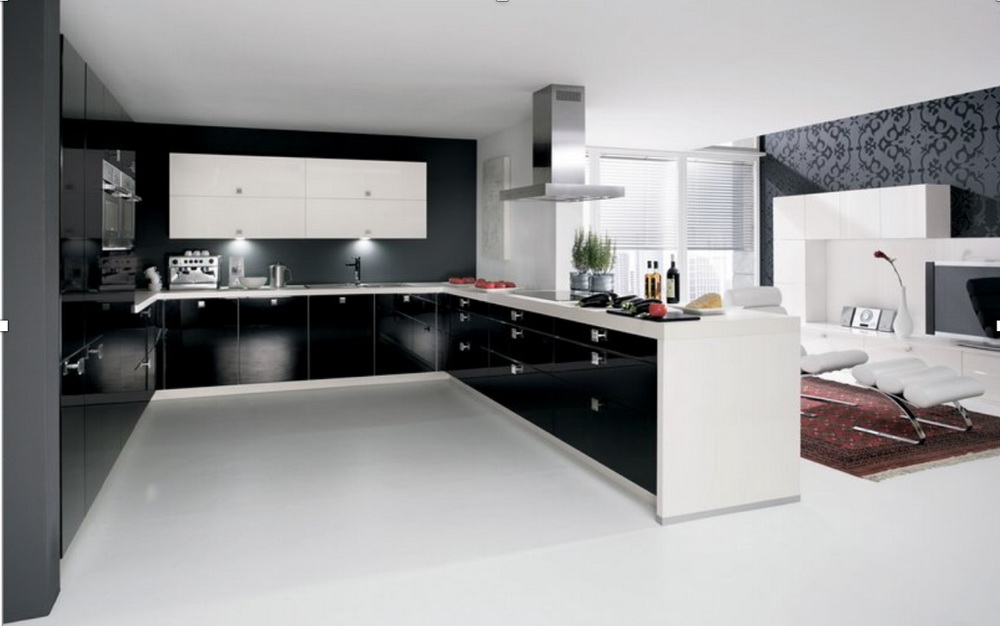 You can't go past black and white if you are looking for a kitchen cabinet colour scheme. This design is a unique combination that will look fantastic in the coming years.
3.Black Cabinets and Brass Color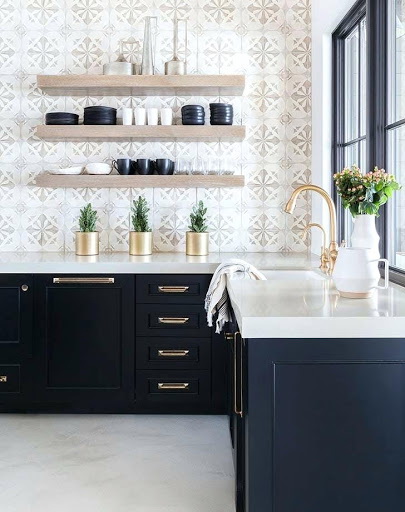 You can use brass hardware to add color and excitement to your black kitchen. The brass shines out against your black cabinets and looks fabulous with black wall lamps. It will generate warmth in your lumber cabinets and have a place to highlight your favourite mugs, dishes and accessories.
4.Contrast Kitchen With Black Cabinets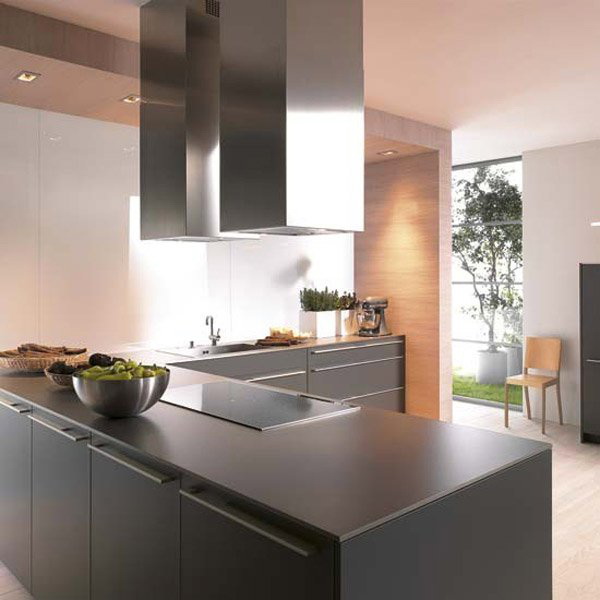 You can use black to create contrast in your kitchen with great creativeness. Take, for example, the place. This integrates a large rectangular island with a brass sink and then uses matched off-white kitchenware next to plain black cabinets.
5.Traditional Kitchen With Black Cabinets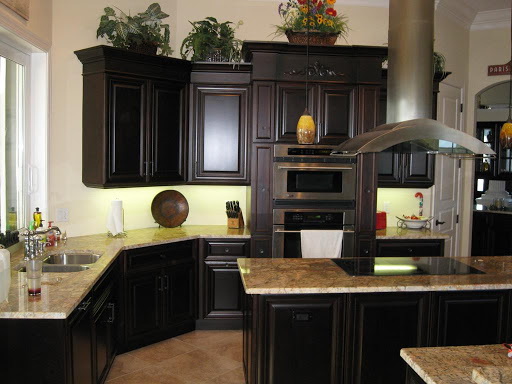 If you want versatility in your kitchen that meets luxury, then you'll have to go for conventional kitchen cabinets in black colour. They are perhaps one of the most famous styles of today because of their ability to pull a classic design feature together with traditional specifics.
6.Wood Kitchen Black Cabinets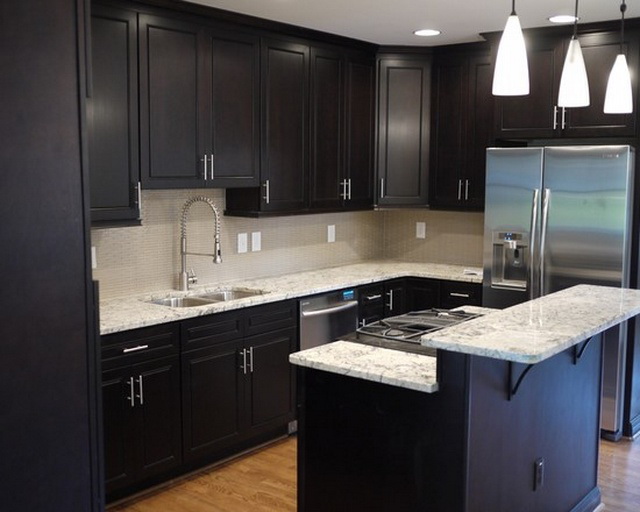 Wood is the most widely used material used in kitchen cabinets, owing mainly to the wide variety of available materials, styles and finishes. The best part is that it can produce unique designs for your kitchen. The black-colored cabinets give your kitchen a classy look.
7.Birch Wood Kitchen Cabinets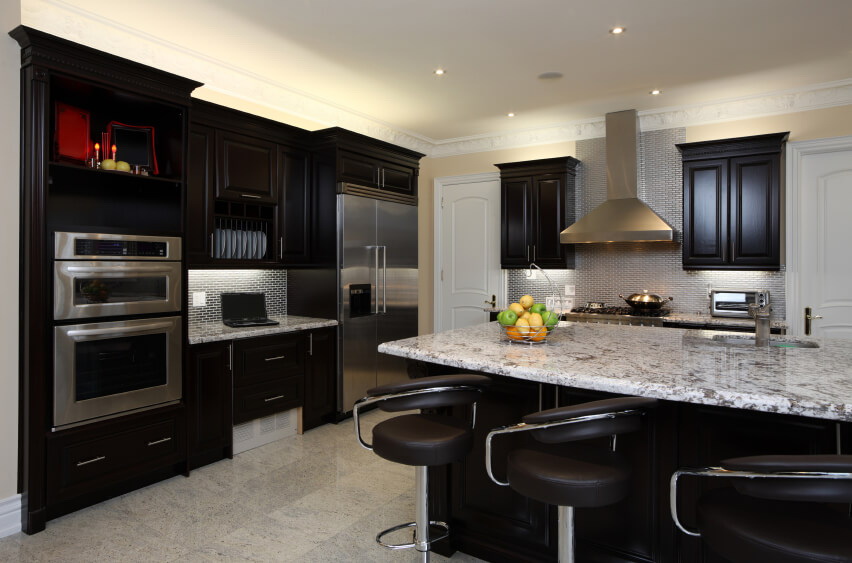 The birch wood is a bountiful hardwood procured from forest areas of the U.S and Canada. When you are searching for cheap kitchen cabinets, then due to its abundance, this will do for you. The wood is translucent and has a somewhat yellowish color. This is the best natural finish and shows an apparent and realistic design.
8.European Kitchen With Black Cabinets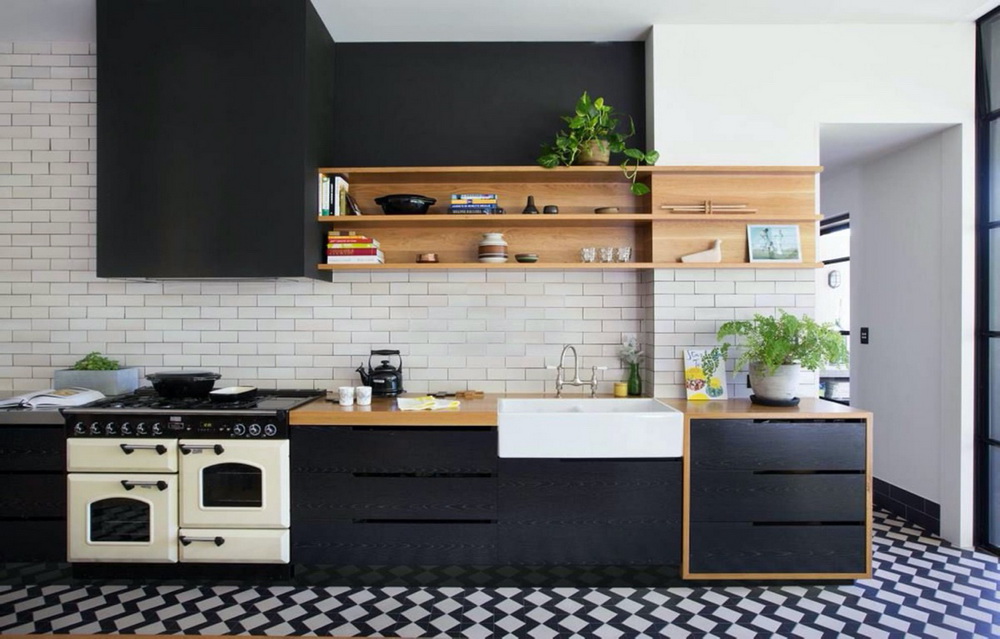 You can try cabinets of European style that are made with a higher degree of functional artistry, often used by European cabinet makers. Some of its unique features are that they contain concealed hinges. Many of these cabinets have horizontal grain characteristics and a modern style.
9.Oval Kitchen Island with Black Cabinets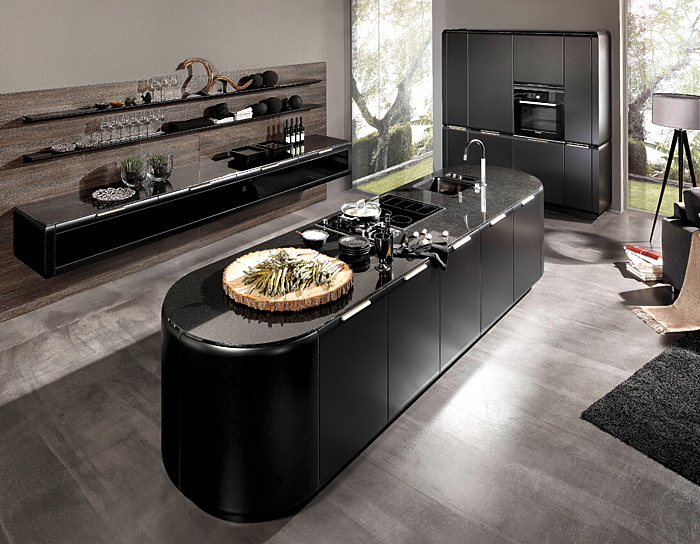 Not only is it fashionable and creative touch to have an oval kitchen island in your cooking room, but it also adds firmness and beauty to the overall visual aesthetics. And frankly, working in a place without sharp edges is so much more satisfying! The presence of blue and black bruise will prove this.
10. Black Kitchen Cabinets Under the Stairs
The kitchen will often pose you with suddenly creative challenges. The stylish kitchen architecture makes use of the room beneath the staircase here. A contrasting zig-zag line provides visual and functional satisfaction, and your kitchen area's black spot is a bright accent for the overall project.
11. Black Kitchen Cabinets with Marble Backsplash
For your black kitchen cabinets, there is another style element that never disappoints, namely the marble. Sign of luxury and beauty, adding to your current black kitchen cabinet setup must be the best color. Marble is not only stylish product with many trendy combinations, but it is also a robust and durable material for kitchen cabinets.
12. Black Kitchen Cabinets in a light-Filled Space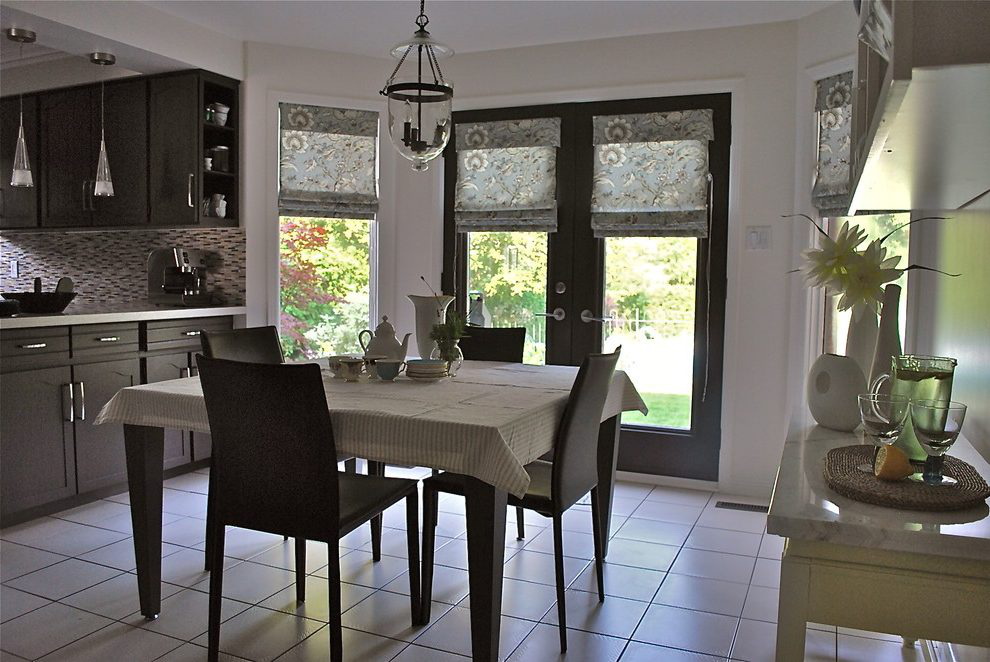 The luxurious and luminous premises are suitable for the combinations of the black kitchen. The large windows are the ideal source of natural light and an enticing backdrop of natural greenery, providing the vitality required for the design project. This light and fluid relation to the outside is the perfect combination for a black kitchen.
13.Play in Shapes and Geometry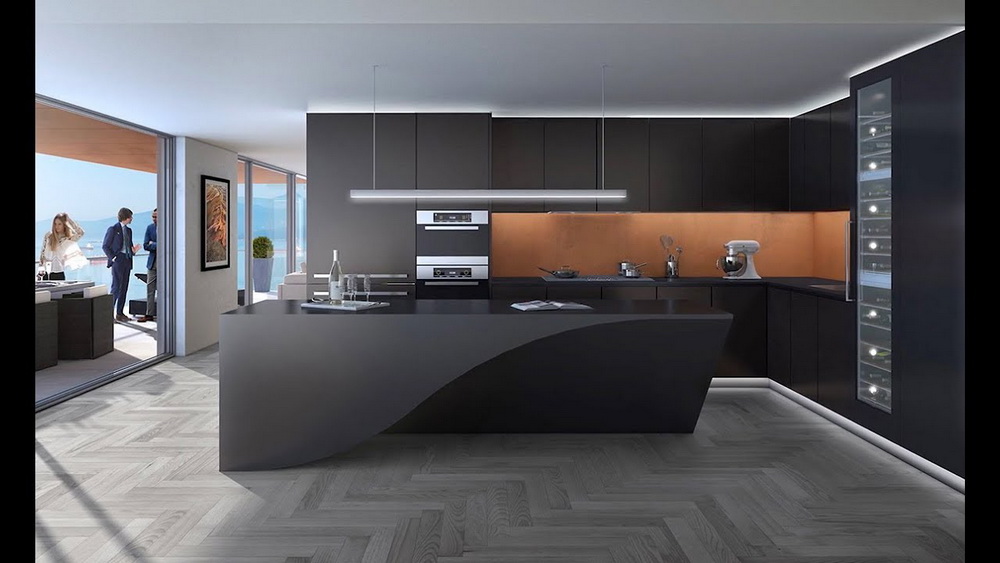 If the idea of a linear fashion, square-shaped kitchen cabinetry in the black lining is boring to you or monotonous. Your gig is the geometric play. Stepping out of standard forms and straight lines in black can be quite beautiful. You can use irregular slanting lines to establish a dynamic and unique emanation for those black kitchen cabinets.
14.Combine Black Cabinets with Natural Wood Accents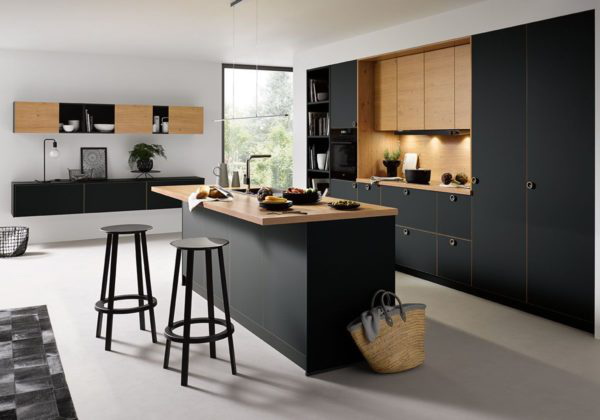 Wood is a material that has been used for decades in interior decoration and although advanced innovations are always designing new ways to apply wood-like materials. You can combine with trendy black frameworks, and the wooden inserts give your kitchen cabinets a better, more refreshing, and more beautiful design.
15. Art Gallery like light Installation with Black Cabinets
The spotted colors and illumination-like art gallery infrastructure are quite sleek and realistic. We highlight your favorite design details beautifully and offer a wine perspective that may be missing in other ways. Spotted light project is implemented in the design of this black kitchen. It not only guarantees excellent overall conditions while working on the kitchen worktop but also makes the dark black kitchen composition lighter and brighter.
16.OSB Cabinets Black Kitchen
An innovative concept idea can become a DIY project. Why not build your kitchen cabinets out of OSB panels with tailored measurements and properties. They are then painted in trendy black and voila. You will have a beautiful kitchen with a stylish feel. The realistic appearance of the wooden particles is complemented by the gloss that comes from the black paint.
17.live and Imaginative with Black Cabinets
From the fantastical rug and cushions to the green explodes, this kitchen is simultaneously super vivid and creative (especially with the addition of open kitchen cabinets). The black cabinets with chromium specifics are enhanced by the white wall tile, which allows transformation to the wooden shelving and chromium hood.
18. Black Kitchen Cabinets with a Silky Milk Paint Finish
The black-coloured kitchen cabinets are very vibrant. Sometimes all at the same time can be trendy, innovative and chunky. Choose your favorite descriptor and black might just fit that category. This is because black is so versatile in style.
19. Dramatic Red and Black
At large doses too much drama can be overwhelming, but when the space is limited. You can put on the drama element. Trim black cabinets and red flips make a fascinating combination, which makes your kitchen tiny and remarkable.
20. Black White and Hints of Red
This classic color combination goes delightfully right in your cute kitchen. Complete with black kitchen cabinets, white subway tile backsplash, and checkered dish towels.
21. Black and Butcher Block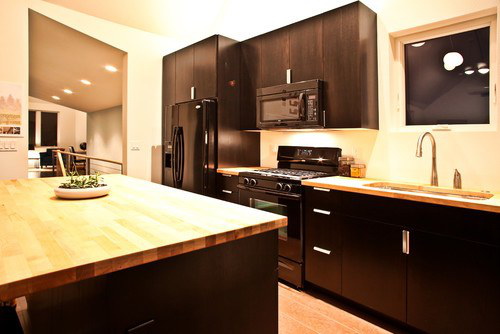 A moderate-stained angled kitchen countertop considerably softens the strongness of your black kitchen cabinetry. A spring green backsplash color can be used to connect to the natural look.
22. Galley Kitchen Black Cabinets
With clean-lined, black cabinets in a galley-style kitchen, you can make your kitchen simple. That will give you a nice framing feature at the end of the kitchen to the stunning selection of stainless steel.
23. Black Cabinets with Gold Hardware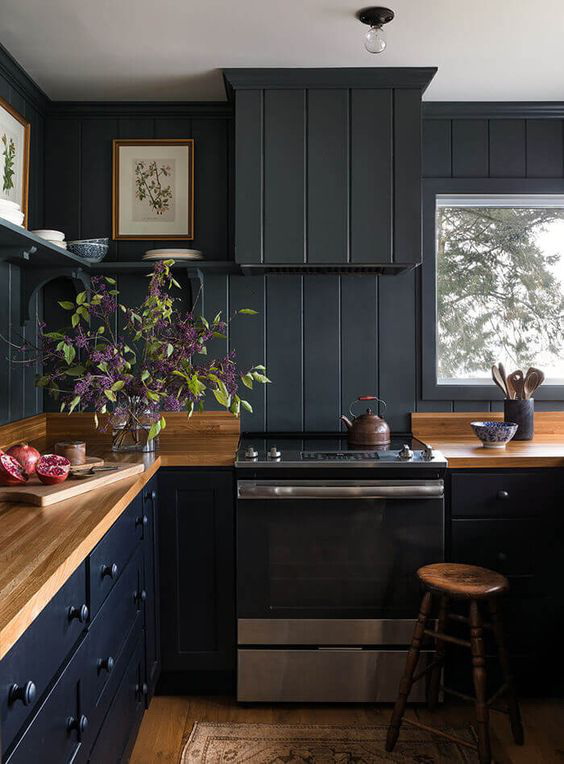 Is there a better mix of luxury or elegance than black and gold? In a similarly simple kitchen, black provides the ideal backdrop to these golden glimmers.
24. Glossy Black All Around
You can put such shiny black items into the glossy black cabinets of your dream kitchen. In your kitchen, the streamlined design would not look sleeker and more trendy. You can also keep the crown molding black as a design genius stroke.
25. Black Cabinets with Colored Lighting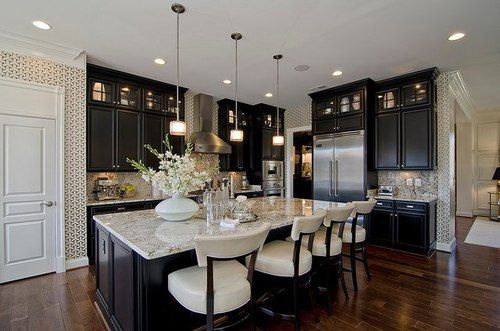 You should know that as far as color accents go, the white kitchen cabinets are flexible, so are the black kitchen cabinets. We provide you with a bold neutral foundation on which colors will shine.
26. Rustic and Black
The rustic charm and warmth of grainy wooden surfaces in your kitchen, whether they are walls, countertops, shelves or ceiling beams are beautiful when you're juxtaposed with black kitchen cabinets.
27. Black Cabinets with Colorful Rug
Almost each kitchen part is permanent, to put it that way. A vibrant tapestry, like this Oriental tapestry in dark red color. Provide you with a good design and visual split from the chunk-o'-color of your black cabinets.
28. Black Cabinets with Soffits
You can extend the intensity of your black kitchen cabinets by painting the soffits and molding, if the similar color applies. The effect from floor to ceiling is astounding.
29. Industrial Style Black Kitchen
Industrial stylistic is a prevalent and trendy art every aspect of the modern urban design scene, and the design concepts that hold those elements will fit perfectly into your kitchen project. The cabinets in the black industrial kitchens usually are kept in clear lines, geometrical shapes.
30. Matte Black Kitchen Cabinet
At the moment, matte finishes are prevalent all over the world. The matte surfaces and tools give an elegant style, texture, and calmness to your kitchen. Your kitchen will look spectacular in matt black with black cabinets.
31. Black is Fabulous on the Backdrop of Exposed Brick Wall
Almost all of the tasks chosen are a combination of the black kitchen features with visible wall panels. The mixture of such complex juxtapositions will make your black kitchen look even more trendy and dramatic. You can use black cabinets that will look great with a black backdrop of an exposed brick wall.
32. Black Kitchen Cabinets in a Small Kitchen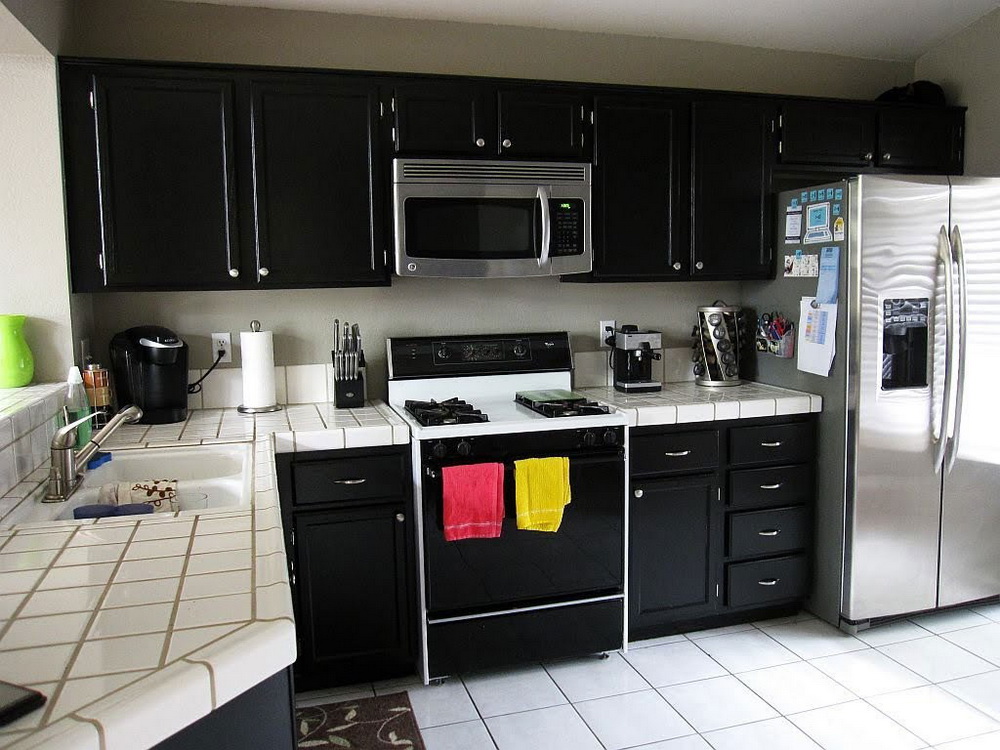 That's not a reason to dismiss the dark kitchen cabinets' idea when you have a restricted kitchen area. In reality, unless you allow the items in comparison, to control the layout is the aesthetic rule that Black interior design make a smaller room look appropriate.
33. Surround Your Black Kitchen with Splashes of Color
The black is monochrome and standard color. You can elegantly mix with all the other shades. Practically, the variations of colors for your black kitchen cabinets can't go wrong. Grant your creativity a chance to experiment and enjoy the imaginative idea of putting an audacious and innovative decoration.
34. Kitchen Island with Bar Stools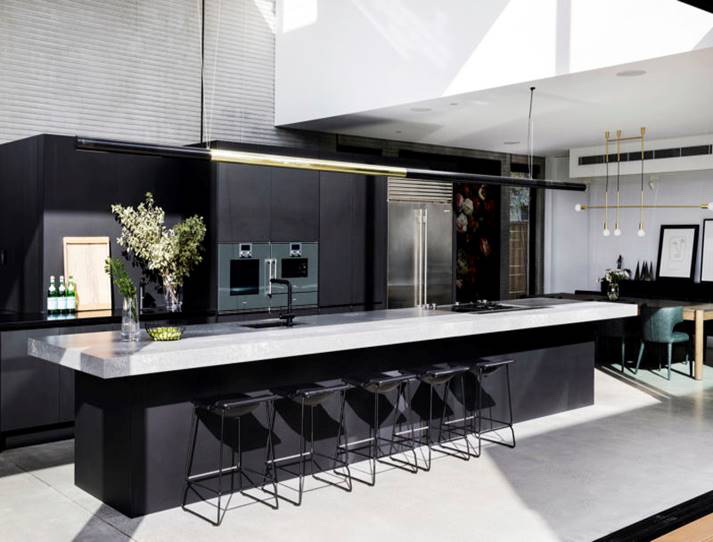 The possibility of maintaining the area functionally isolated from the rest of the house is among the potential obstacles to have a black kitchen cabinet in your home decor. You can make a kitchen island with wooden benches that offers a decent move among premises, with excellent added value for meeting friends and relatives.
35. Black Kitchen and Transparent Island
The benefits of this decorative feature are fashionable and trendy, which add to your kitchen's working space. For noisy kitchens, an additional countertop is always a bonus. However, that can smartly turn into a good decoration concept.