Is your love for cows growing by the day? Do you own a farmhouse with a lot of cows in it? Having a cow kitchen isn't a bad idea. I found that cow kitchen decor ideas are unique and beautiful.
Here, you will find a list of 26 cow kitchen decor ideas that will inspire you to create the cow kitchen of your dreams.
Cow Kitchen Decor Ideas You Can Use In Your Farmhouse Kitchen Today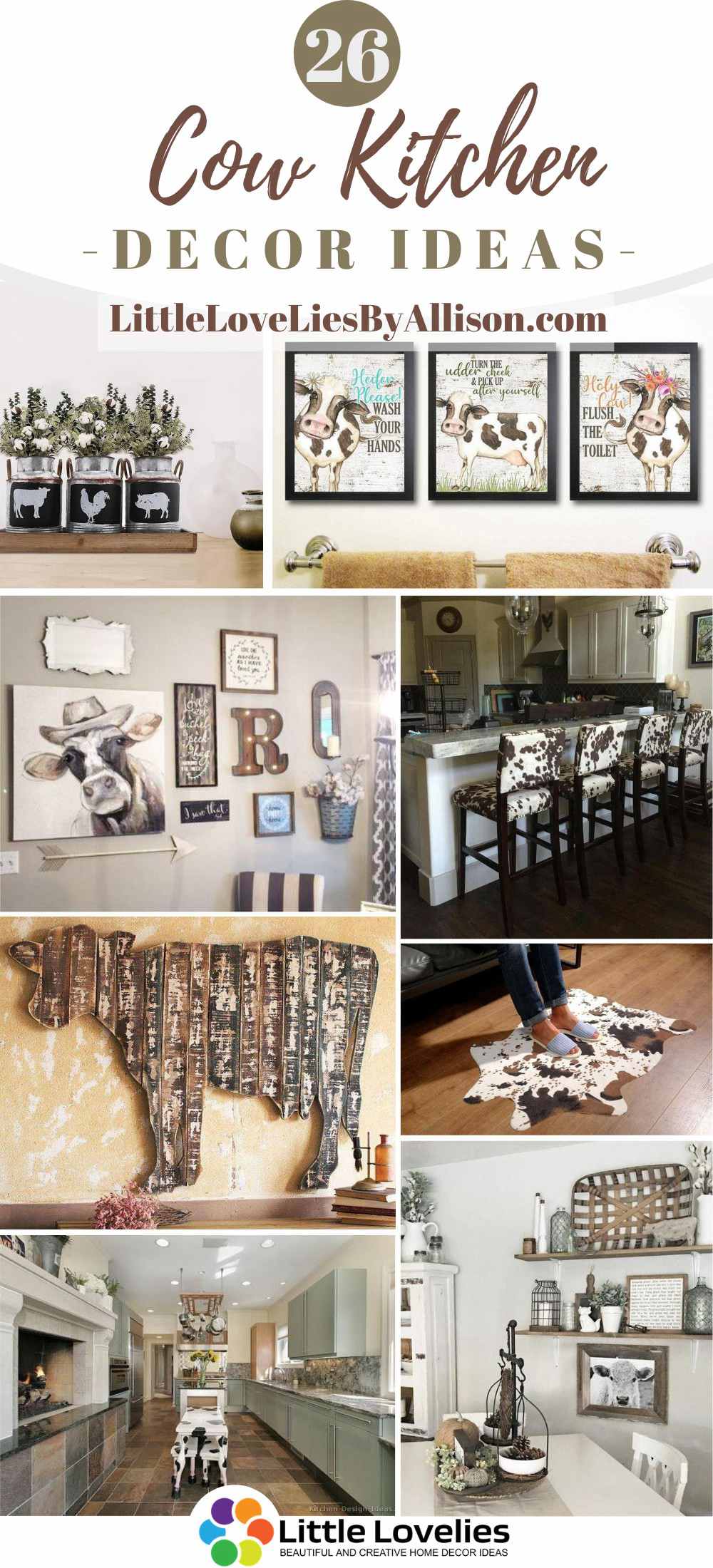 1. Cow Kitchen Wall Art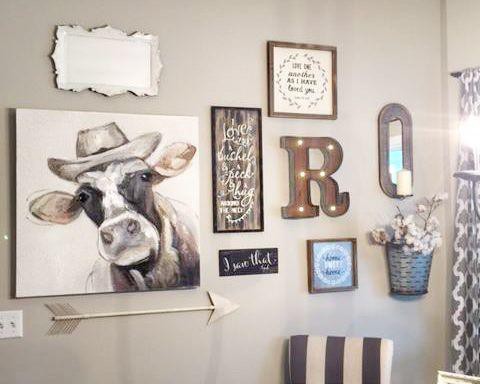 I think a cow kitchen decor should have a color scheme that will depict the colors on a cows body. Using black and white wall art isn't a bad idea. For this cow kitchen decor, part of the wall is decorated with art signs. I especially love art with a cow's face.
2. Cowhide Bar Stool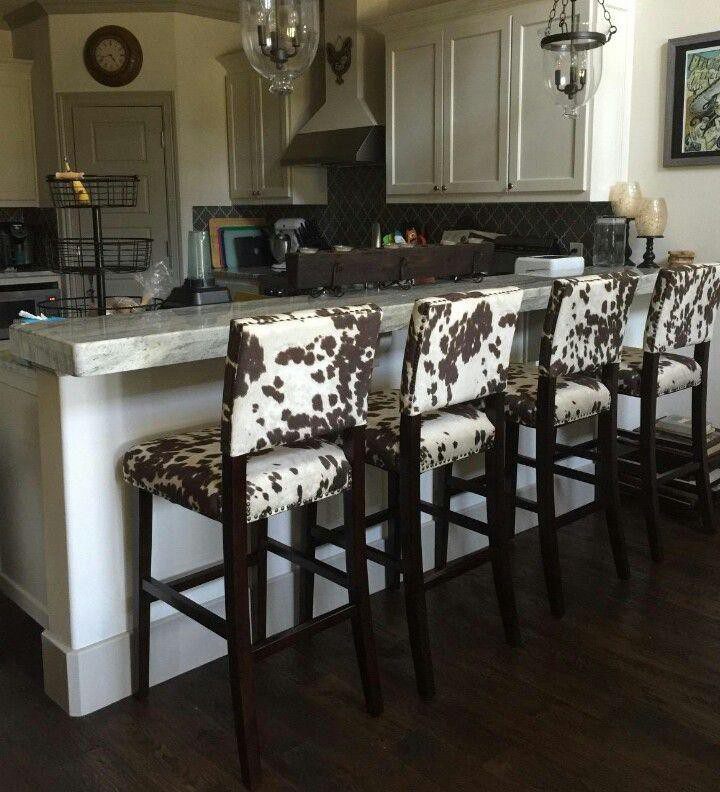 If you have a large kitchen island in your home, I suggest this cow kitchen decor idea. Cowhide is used on the chairs to give it that farmhouse style look. Feel free to use a flower vase with a cow color scheme design.
3. Modern Kitchen With Farmhouse Feel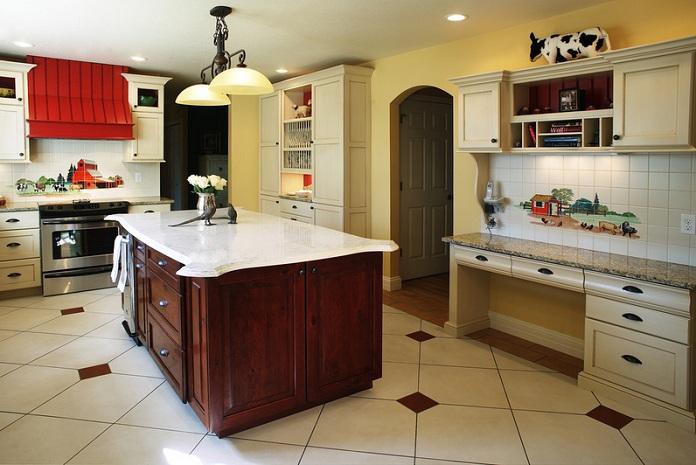 This might not be a 100% cow kitchen decor, but I love it. If you look close enough, you will notice the artificial cow placed on the floating cabinet, and just below the cabinet, there is a wallpaper that shows a farmhouse. Almost the same style of wallpaper can be seen on the other kitchen backsplash.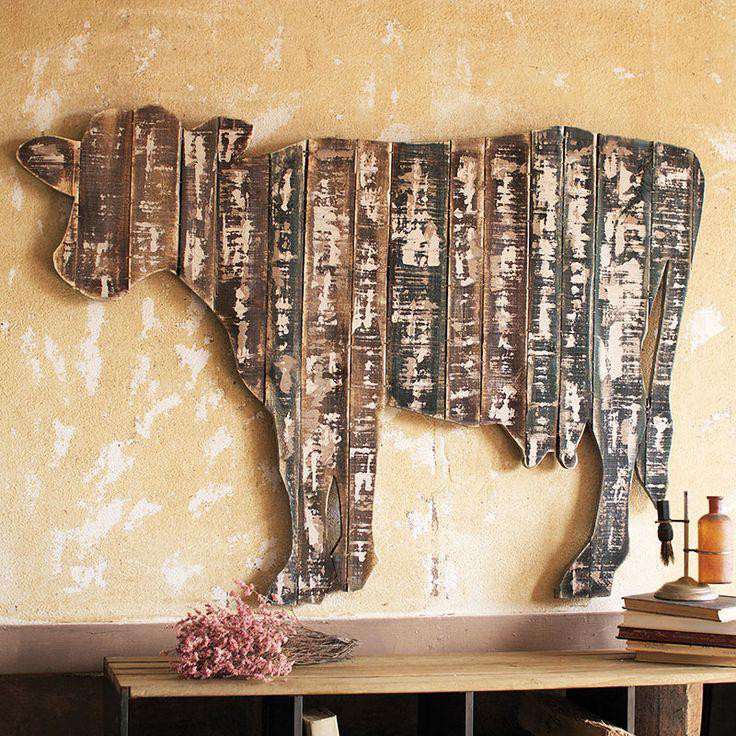 If you are good at woodworking, I will highly suggest this wall art for your kitchen. This wall decor idea would be perfect in a rustic style kitchen. I love how the creator was able to craft the shape of a cow using reclaimed wood. It's truly amazing.
5. Cow Kitchen Clutter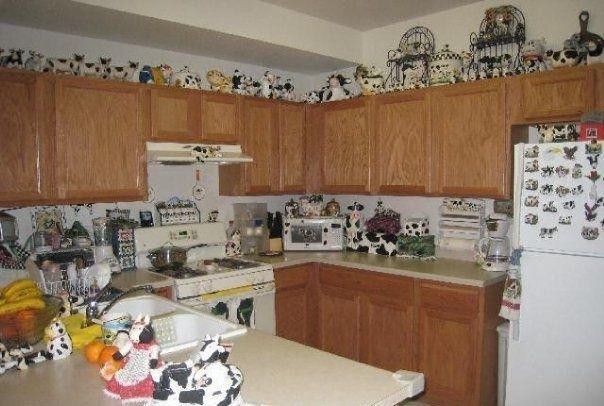 I would classify this cow kitchen decor idea as a bit extra, but extreme cow lovers might love this cow kitchen decor idea. In this kitchen, a lot of cow sculptures are used all over the kitchen. I, however, would suggest the use of just a few statues.
6. Cow Print Appliances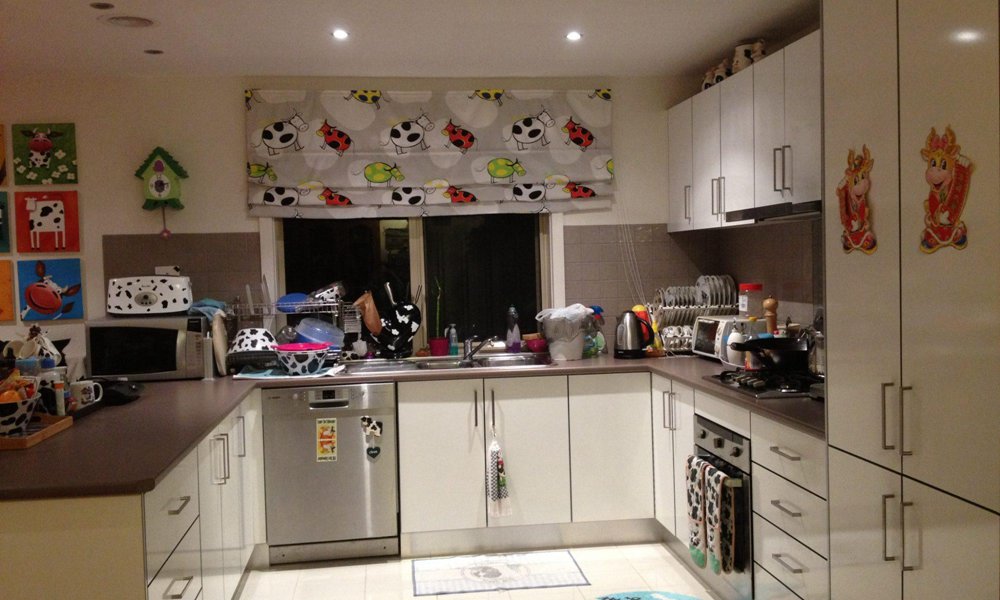 Another method of adding cow decor to your kitchen would be to purchase some appliances with cow prints. In this kitchen decor, you can see that the toaster, bowls, and even the oven gloves all have cow prints. I like how this kitchen decor introduces a cow decor style without doing too much. A cow window blind is also used in this kitchen decor.
7. Cow Print Kitchen Rug
One great way to add a cow feel to your kitchen without including much is by using a cow printed kitchen rug. Anyone who enters your kitchen would immediately notice this unique kitchen rug. Its best trait is that it is non-slip.
8. Cow Wall Decor
Trust me when I say this wall decor set would look great in your kitchen. You can place them next to where you hang your kitchen towels. However, I feel that the best place to keep these cow wall decor pictures would be over a floating shelf; that way, you can explore more design options.
If your kitchen dining table is looking dull, you might want to add a table runner. This table runner has black and white, which sort of depicts the colors on a cow's body. If you already have a cow printed flower vase on your dinner table, this idea would make it look more appealing.
10. Cowhide Bar Stools
Have a look at these wonderfully made bar stools covered in cowhide. Making cowhide bar stools might not be an easy task, you might need the help of a professional and might have to spend money, but it will be worth it for the beauty of your kitchen.
11. Rustic Metal Jars
I found this fantastic set of jars that you can use in your kitchen. The jars are perfect for a farmhouse style kitchen due to their rustic look. You can place this on the countertop of your kitchen island for decorative purposes.
12. Cow Kitchen Decor Idea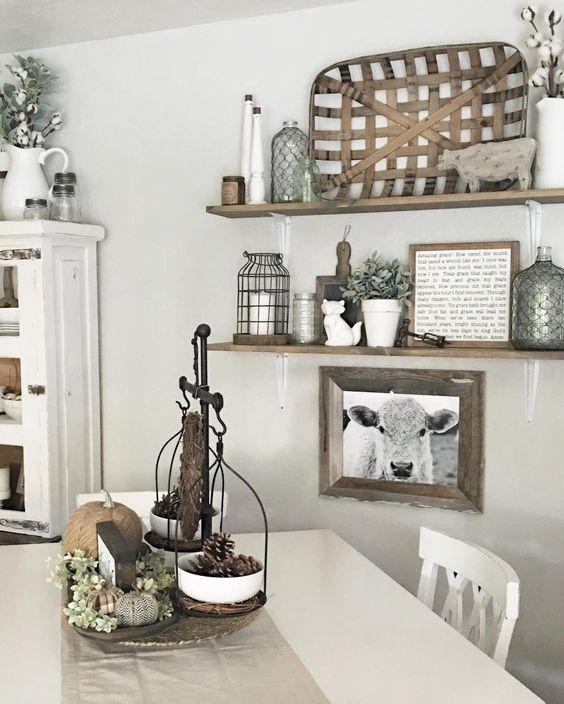 Here's another one I love so much. The designer was able to transform a modern kitchen into a modern/farmhouse style kitchen. This was done by adding a few farmhouse items in the kitchen like the basket on the shelf and the framed image of a cow. There's also a cow sculpture at the top of the shelf.
13. Cow Kitchen Paint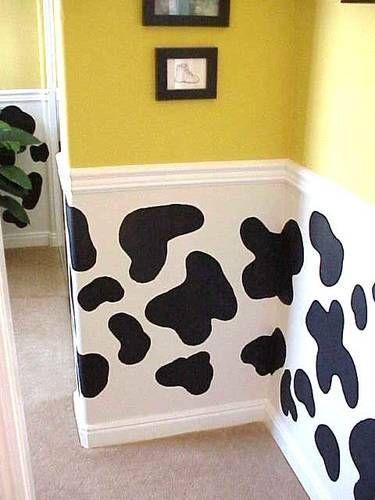 Here's another cow kitchen decor idea you can try out. You can paint the lower part of your wall in black and white using the pattern on a cow's body. Since the lower part of the kitchen wall is painted in black and white, you can use a different color on the top part of the wall.
14. Milk Cow Placemats
You can also use these placemats in the dining section of your kitchen. I think they are great and would look great on a white, brown, and even black dining table.
15. Simple Cow Kitchen Decor
Here's yet another cow kitchen decor idea that you might want to use in your kitchen right away. On the wall of the kitchen is a floating shelf covered in black and white like a cow. On top of the shelf are images of cows and farmhouse art design.
16. Cow Kitchen Window Curtain
Does your kitchen have an ample window space like this? Using a small window curtain won't do. You can purchase and use large curtains with cow color design. I think this kitchen decor is fantastic. If you look closer, you would also notice that a cow table cover is used on the kitchen table.
17. Cow Print Rug
I came across this cow print rug, and I must say, it is really amazing. I like the shape of it. You can keep this anywhere you deem fit in your kitchen. It would be a great cow kitchen decor item to use. This cow print rug will definitely give your kitchen the cow decor you are looking for.
18. Cowhide Rug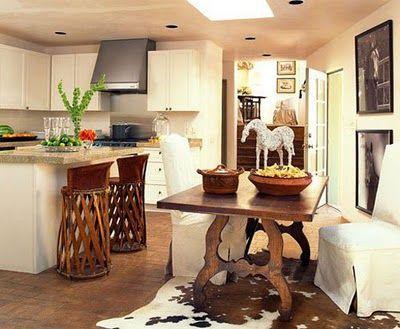 In this cow kitchen decor idea, not much is used on the cabinets and kitchen island. The designer instead paid attention to the dining table area. The dining table is placed on top of a  large cowhide rug, giving the kitchen a cow-themed look.
19. Cow Kitchen Dining Tableware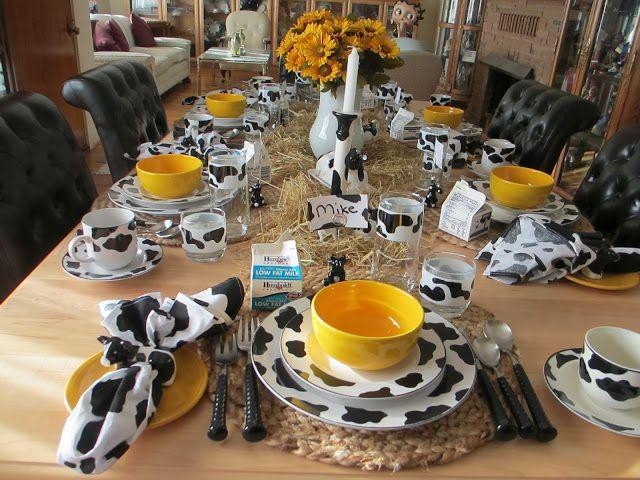 If you really love cow kitchen decors, you wouldn't mind having a set of dining tableware in cow print? You can use them occasionally or all the time. Either way, I think this is a great way to activate your cow themed kitchen decor.
20. Kitchen Backsplash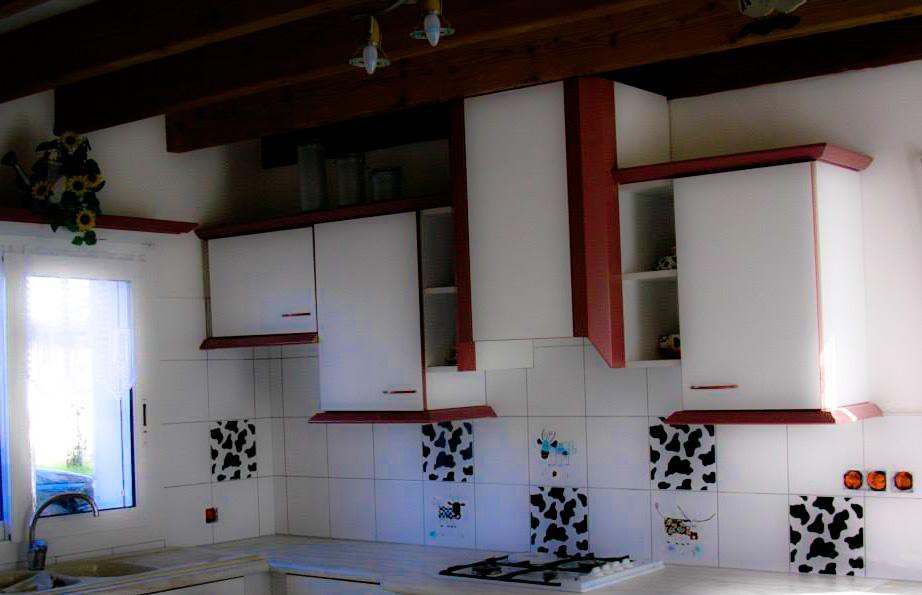 Amazon
Are you stuck with choosing the right cow kitchen decor idea to use? I have got you covered. One of the fastest ways you can add a cow theme to your kitchen is by using a cow kitchen backsplash. The installation process of this backsplash is quite easy; all you need to do is peel and stick.
21. Cow Wall Art
For this cow kitchen decor, the designers simply purchased a cow wall art and placed it on the wall next to their dining table. I would prefer this wall art next to a floating cabinet, but I guess this idea works great too.
22. DIY Cow Picture Backsplash Idea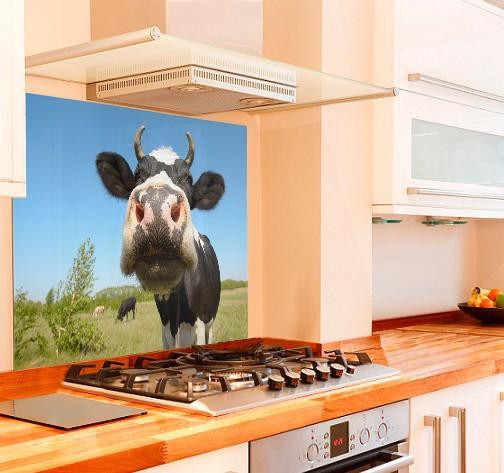 Do you run a farmhouse? Do you have a favorite cow? If your answer is yes, here's something you can do. Measure the space in your kitchen backsplash area, get an excellent photographer to take a picture of your favorite cow, and make sure the dimensions of the image fit the kitchen backsplash space. Finally, stick the printed picture of your favorite cow on your kitchen backsplash.
23. Cow Picture Frames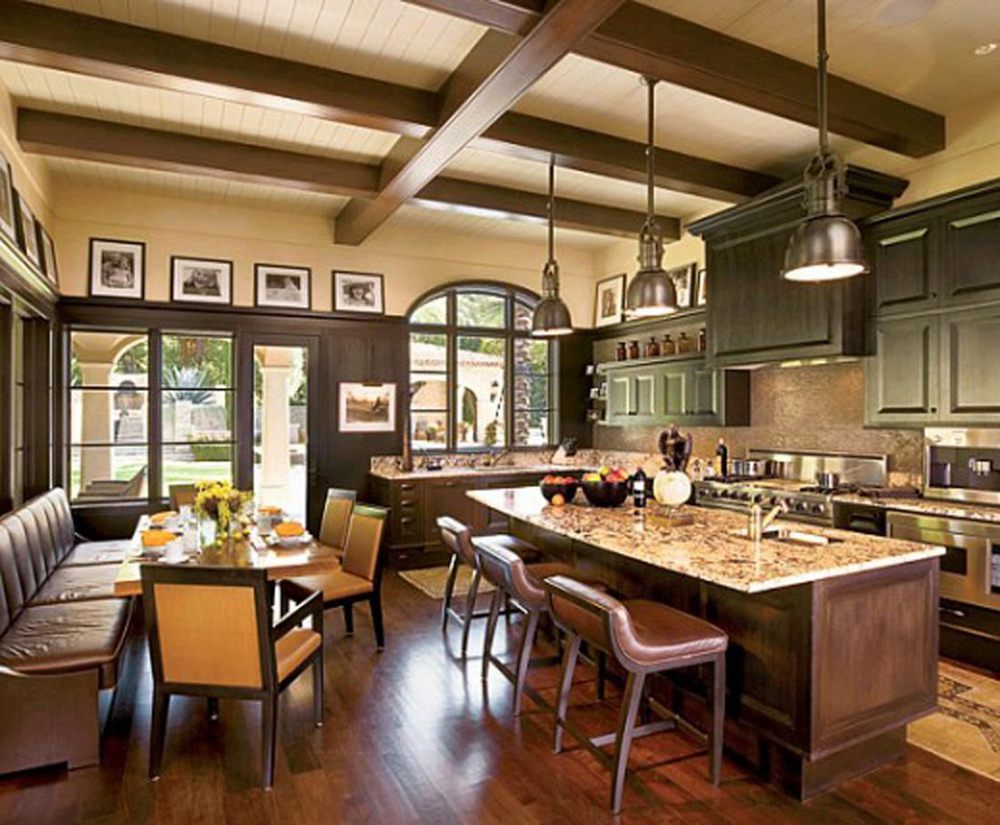 Some people have a lot of cows that they love. Well, you can use the decor idea in this image to your advantage. In this kitchen decor, they are a few framed images of cows placed on the top section of the wall.
24. Cow Stickers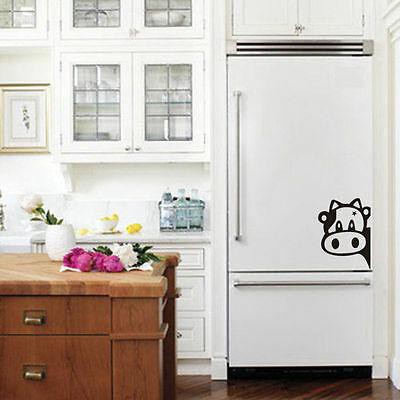 Another quick way to transform your kitchen to a cow-themed kitchen is by using stickers. I found this cow sticker, and I think it will be a great fit for your fridge.
25. Mini Cow Kitchen Table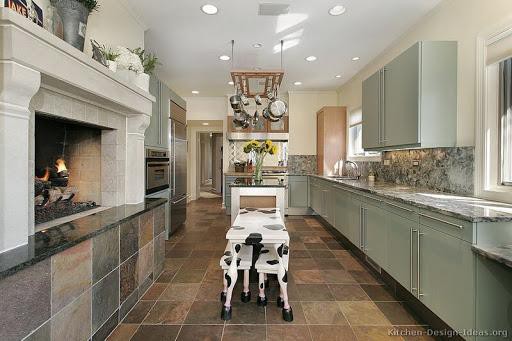 For this cow kitchen decor idea, a small kitchen table with a cow pattern is placed in the middle of this kitchen. This is a great way to add a touch of cow theme to your modern style kitchen. Having a bigger table in cow patterns would not be a bad idea, though.
26. Kitchen Towel
Black and white towels would be great for your cow kitchen decor since most cows are black and white. You can add some cow sculptures and wall art to your kitchen to complement the kitchen towel.