One way to add beauty to your dinner table is by using fantastic placemats. Even as a complete beginner, making DIY placemats is one of the easiest things to do. All you would need to do is gather the right tools needed to make the placemats.
In this article, I have gathered 25 DIY placemats ideas that you can easily make for your dining needs. All the placemats listed in this article are beautiful.
Creative DIY Placemats Ideas You Can Make For Your Home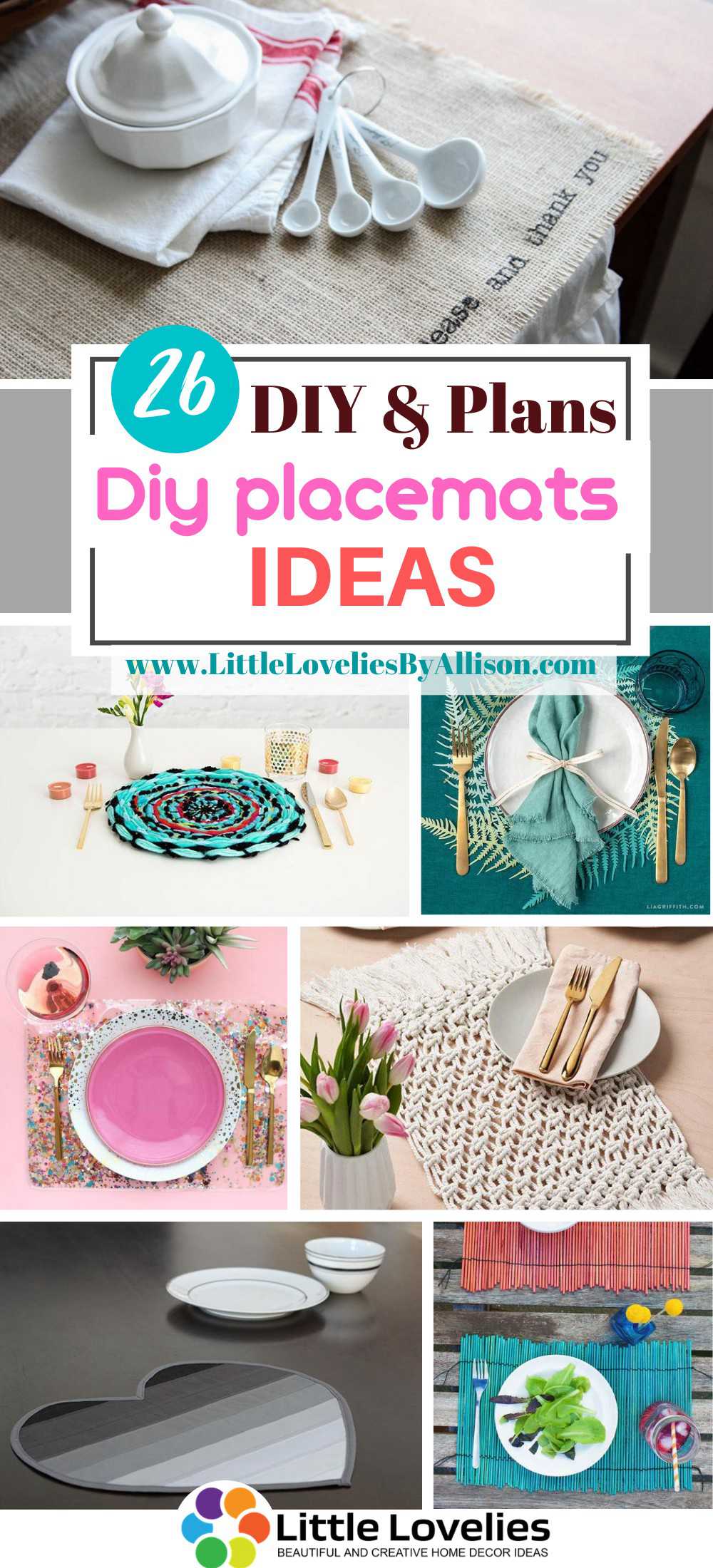 1. DIY Sisal Rope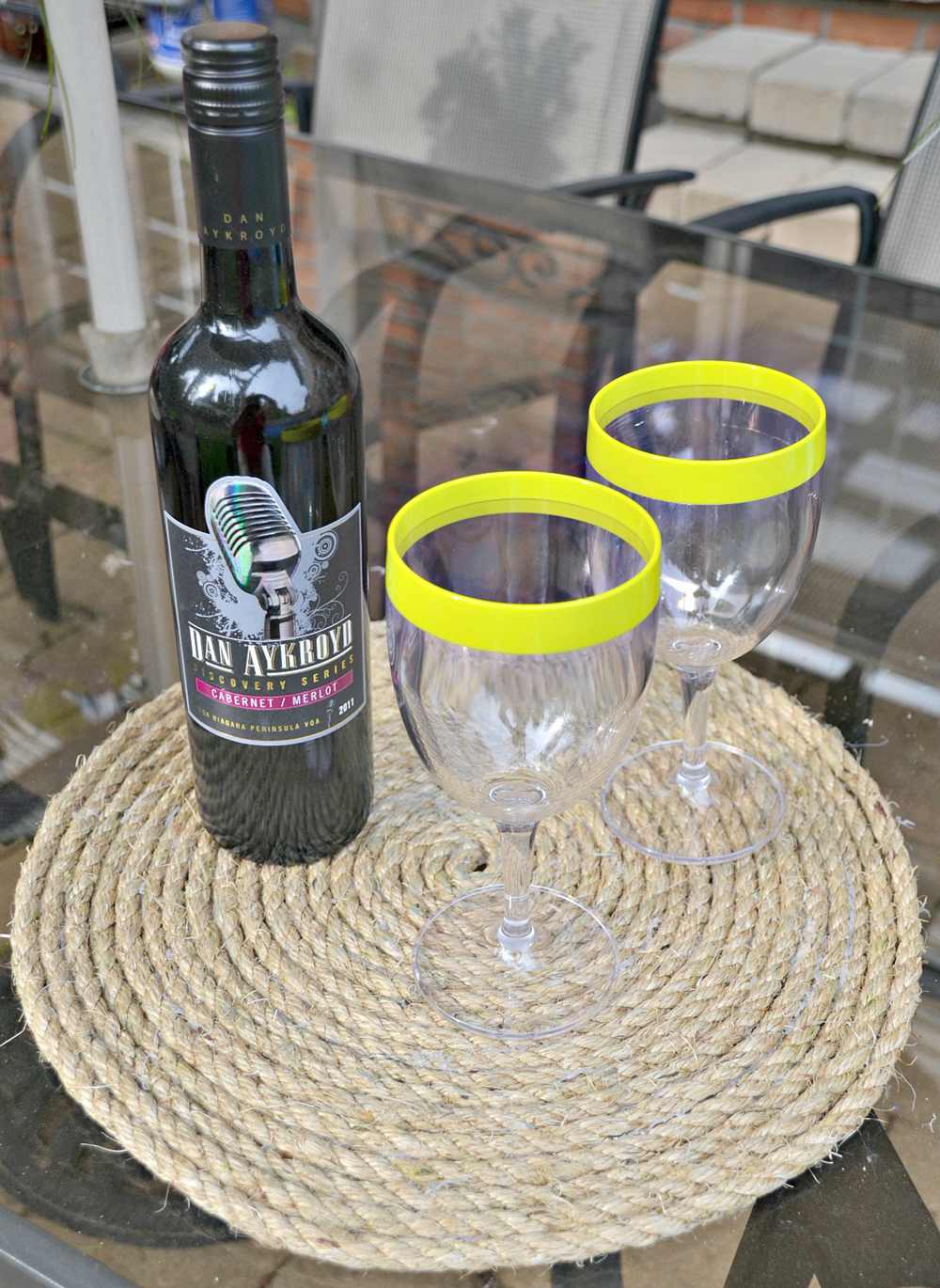 I have seen a lot of DIY placemats ideas but this has to be one of the best. Using rope, the creator was able to make this amazingly outstanding placemat which I think would be perfect for outdoor dining situations. The process of making this placemat is not so easy but I'm sure you'll get the hang of it after a few tries.
2. Spring Table Decor

Here is one you don't see every day. It's amazing how Lia got inspired to create this placemat using paper. The beautiful placemats above were cut out from paper. The colors used are perfect for springtime. You can use different color combinations to match other seasons.
3. DIY Dyed Placemats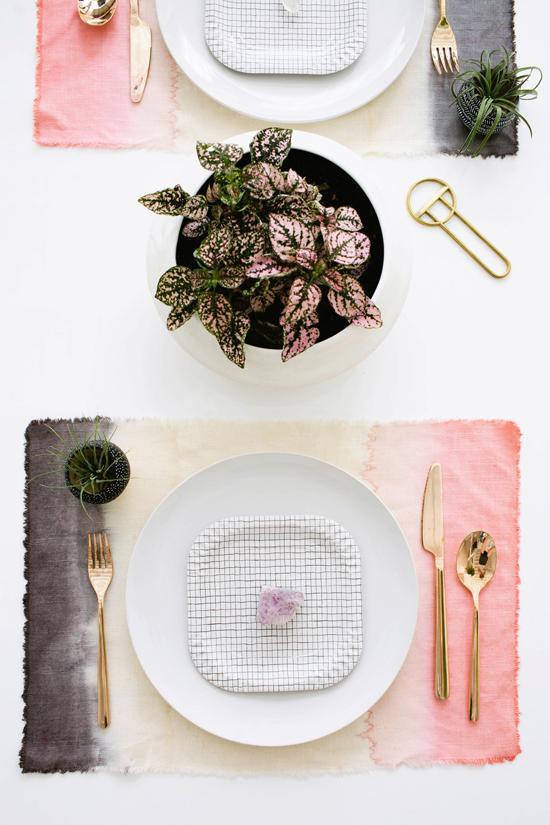 If you are a fan of tie and dye, you would love this DIY placemat idea. I love how the process to make this placemat is easy and interesting. This kind of placemats would work perfectly for a wedding reception. The materials used in making this placemat are easy to find. I'm sure you'll have fun making this.
4. Printable Parisian Placemats

Your kids would have fun with this. You would agree with me that having regular placemats for your children's dining table might seem a bit boring for them. Being a fun parent, you can place these printable placemats on their table. All you would need to do here is download the images and print them. That's it!
5. DIY Pebble Placemats

Here's another one that you would love. These placemats would fit perfectly in a rustic kitchen. Simply place it on your table and watch your rustic kitchen evolve. Aside from being lovely, these pebble placemats are very easy to make.
6. DIY Confetti Placemats

This confetti placemat is not just easy to make, it is easy to clean. If I were to recommend one of my top five best DIY placemats, this would be inclusive. This kind of placemat would be the perfect kind to use if you are having a party or celebration in your home. These placemats add a party-feel to your dining table.
7. DIY Macramé Placemats

This DIY project might take quite some time to complete, but once completed, you'd be glad you started the process in the first place. This beautiful macrame placemat is simply woven. Making this would not just add beauty to your dinner table, the art of macrame is also said to help in relaxation.
8. DIY Pinwheel Placemats

Instead of using the regular placemats, you can add some spice to yours. For this DIY project, what Racheal did was to get some placemats she found at Ikea, she then went ahead to add some color to the placemats. I think this is a fantastic DIY placemats idea. It is a great way to add color to your diner table.
9. DIY Color Block Placemats

Using color block placemats is another way to add color to your dinner table. They are quite easy to make too. However, I would advise that you consider the color of your kitchen, dinner table, and chairs before going on to pick colors that you would use for your placemats.
10. Denim Placemats

You can use new or old jeans. Whichever you please, just make sure you are following the steps and doing it rightly. This is by far one of the easiest placemats you can make. For this project, you'll need to get ready tools like scissors, thread, needle, and other sewing related materials.
11. No-Sew Placemats

Here's another colorful placemat that can be used on your dinner table. The intriguing part about this placemat is that you don't need to sew it. It's very easy to make with the help of a few tools. The process here is what matters, you can decide to use any material of your choice.
12. DIY Vinyl Placemats

Has anyone ever told you not to throw away the old vinyl in your basement? Well, they had a point. It's time to make good use of that old vinyl. In this DIY project, the creator was able to create this beautiful placemat using vinyl, cork, and some other tools.
13. DIY Burlap Placemats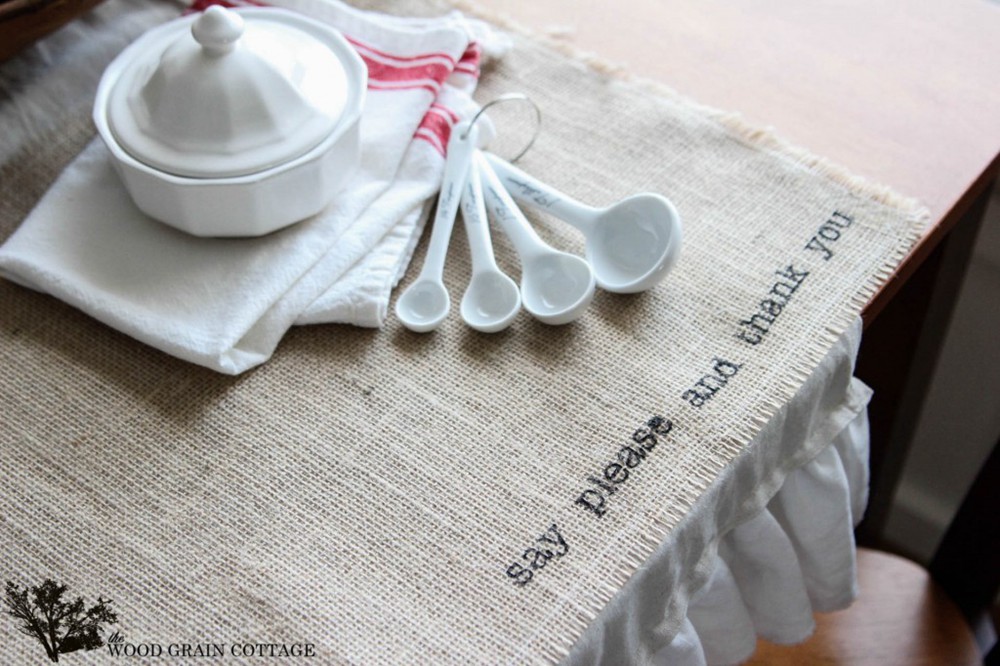 Here's a low budget DIY placemat idea that you can try out in your home. Burlap is a low-cost woven fabric that is used for a whole lot of things, in this case, it is used as a placemat. This kind of placemat would work perfectly for rustic kitchens.
14. DIY No-Sew Floral Fabric Placemats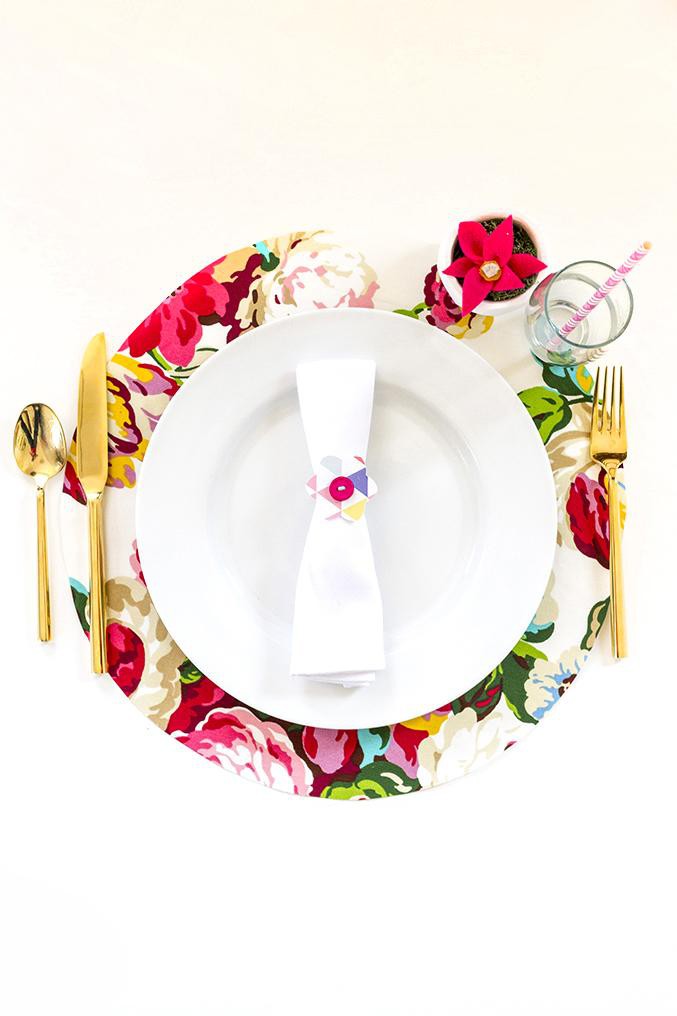 You do not need to spend a lot of money buying floral placemats when making them is a lot cheaper and more fun. These placemats are also no-sew. Yup! No needle and thread are needed to make this fantastic placemat.
15. Colorful DIY Placemats

I love creative ideas, if you love them as I do, you would fancy this weaved placemat. I love the colors used. This placemat would be a perfect fit for a kitchen table with a white countertop. The steps to making these placemats are not difficult to comprehend. I'm sure you'll get the hang of it in no time.
16. DIY Tile Placemats

Here's one you don't see every day, actual tile placemats. For this DIY project, actual tiles were used. I love these placemats. If you are wondering what was used as the base for the tiles, it's cork. So, you'll need to get ready some rolls and also tiles.
17. DIY Speckled Placemats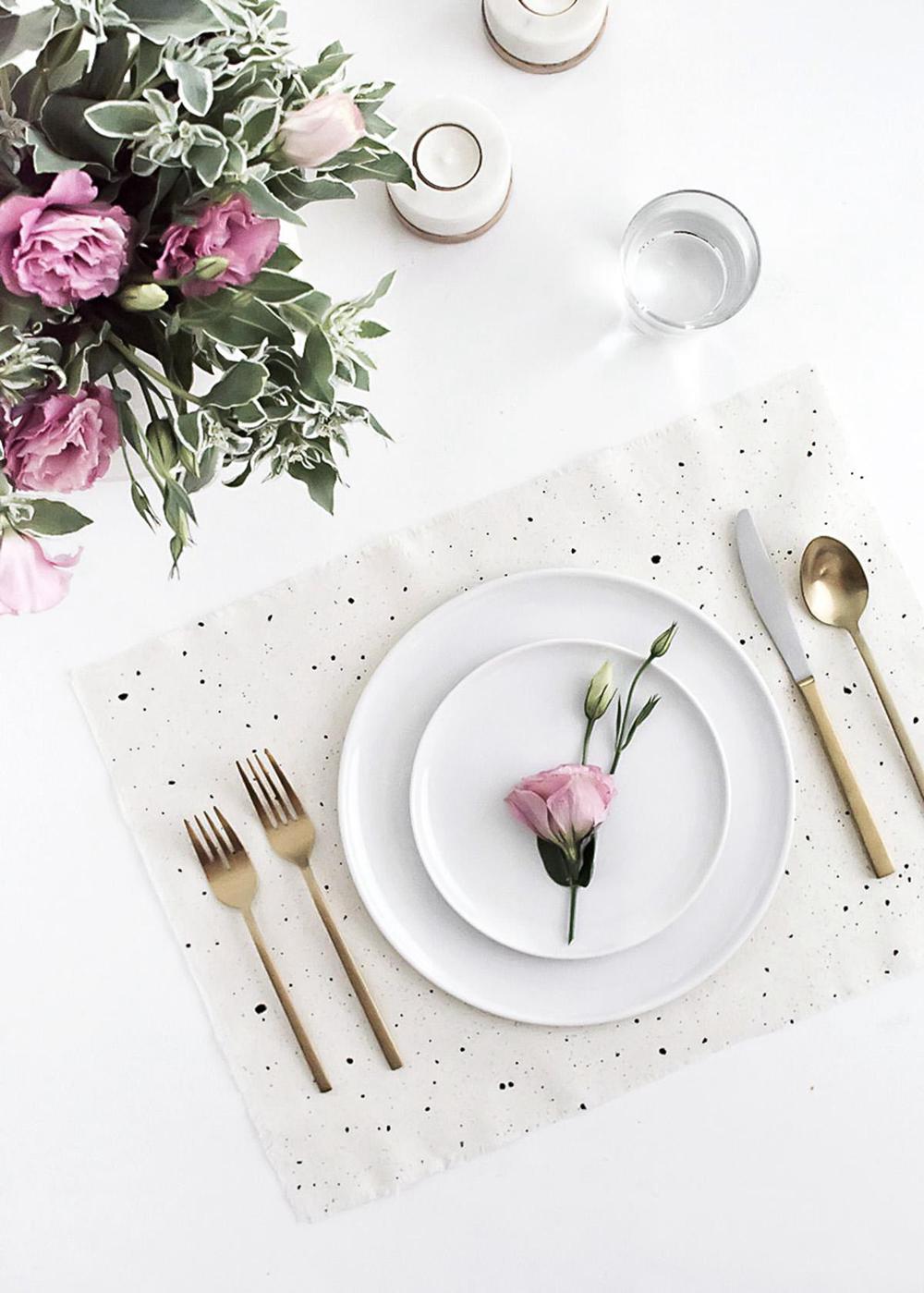 You do not need to be the perfect artist to make these speckled placemats. Anyone and everyone can do it. All you would need are the basic tools, some fabric, a brush, and paint. Making this placemat would be fun for you, trust me.
18. DIY Abstract Quilted Placemats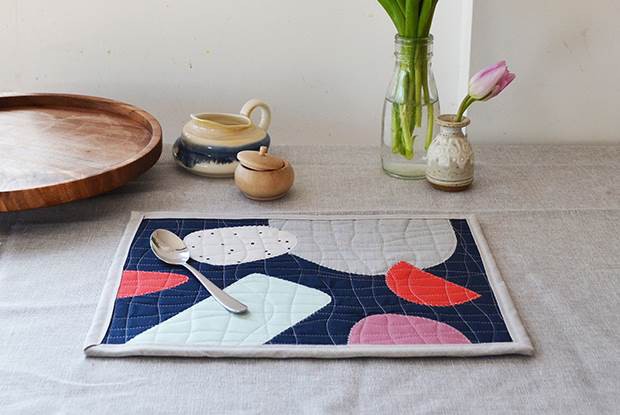 Add color to your white dining table with this placemat. The process of making this is fun. However, you would need a sewing machine to do this. Simply gather pieces of cloth and get creative. The steps required to do this are in the DIY tutorial above.
1819. DIY Wooden Placemats

Having wooden placemats in the dining section of your home isn't a weird idea at all. I have seen people use wooden placemats one too many times. For you to make this, some basic woodworking skill is required. I like these wooden placemats because they are easy to clean. Also, they can serve as a great accessory in your kitchen.
20. Redesigned DIY Burlap Placemats

This DIY burlap placemat is the best I have seen. It's one placemat that can fit perfectly into any kind of kitchen. The process of making this placemat isn't an easy one though, it will take a while to finish the making process but it will be worth it in the end.
21. DIY Reusable Table Placemats

The making of this placemat idea is quite easy. All you would need to do is print, cut, and laminate. You will need to laminate if you want to reuse this placemat again and again. I think this is a great DIY placemat idea that you can use for your dining table.
22. DIY Heart-Shaped Placemats

Here's one that you can make for special occasions like a date maybe? Having this in your home isn't a bad idea, I strongly feel this heart-shaped placemat would come in handy someday.
23. DIY Tiled Placemats

These tiled placemats give your dining table a unique look. If these were to be sold, you'd have to spend a lot.
24. DIY Dyed Wood Placemats

These placemats would be perfect for an outdoor dining table. You can make different colors or use one color for all.
25. Children's Placemat DIY

This one is perfect for your little angels. It is easy to clean just in case your kids decide to make a serious mess.
26. DIY Leaf Placemats

Perfect placemats for autumn. The leaves look real, right? Well, they are not. They are artificial leaves. This DIY placemat idea is quite easy to accomplish. You'll love it.