There are different forms of decorations that can come in handy for your cakes. Instead of going to the store to get them for a pretty high amount, you can decide to make them at home by yourself. Trust me, you can actually make yours suit your taste.
We have put together 22 DIY Cake Topper Ideas that you can DIY from the comfort of your home using a few tools.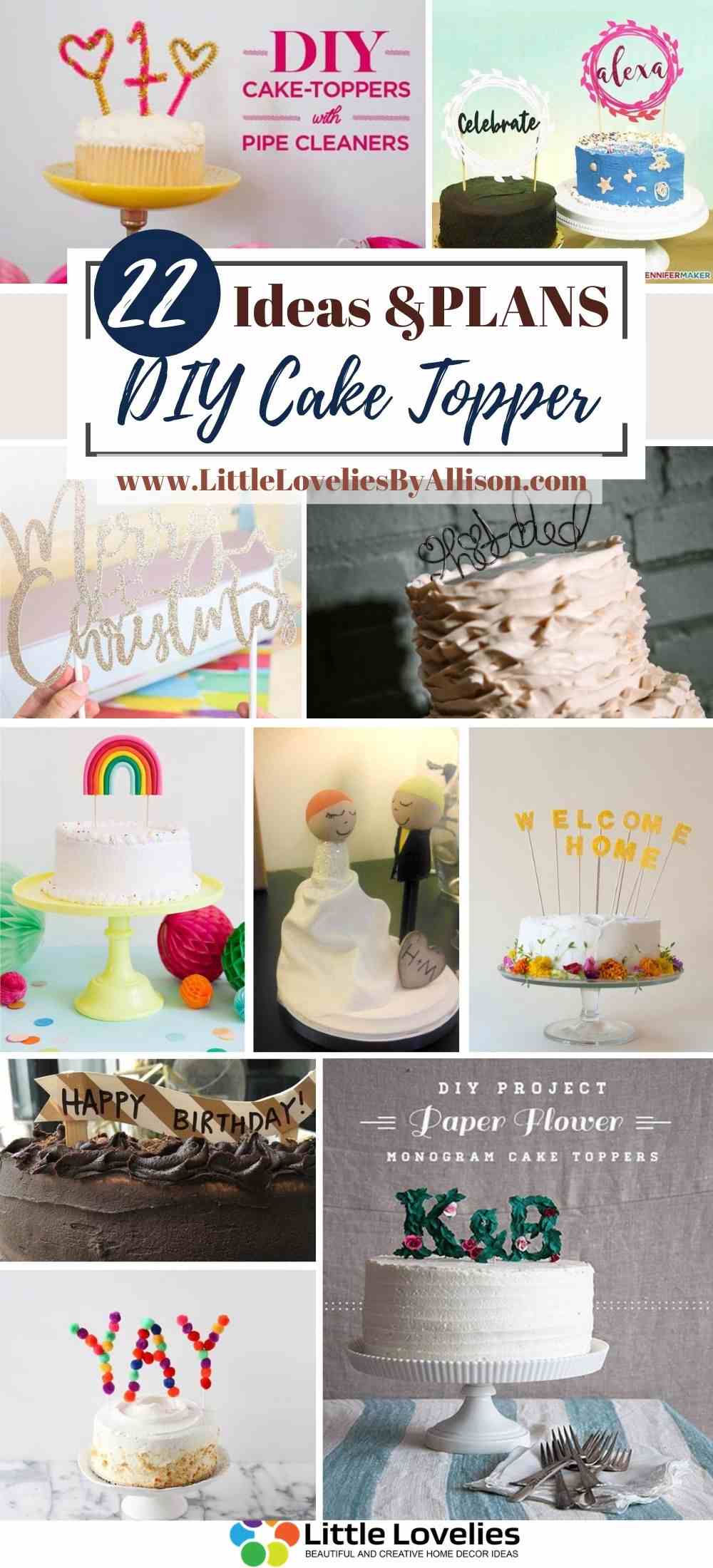 1. DIY Cake Topper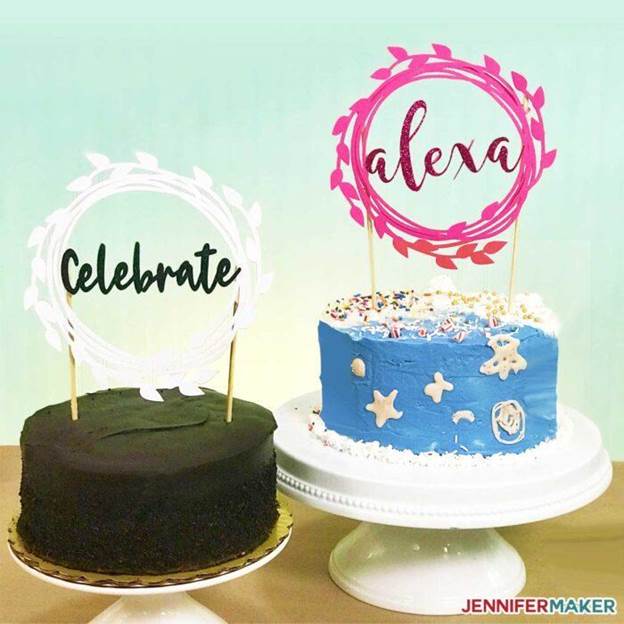 This DIY cake topper uses very few materials and you can actually create a name tag for the cake. All you need is card stock, bamboo skewers, and glue. Get a template and cut it out. Attach your cake topper layers and finally bamboo skewers.
2. DIY Cake Toppers With Pipe Cleaners
This is a very easy DIY cake topper that is made from pipe cleaners. Even if you got done and the plans changed, you can still work something out in an emergency. All you need to do is cut and twist. Get the shape you want and pin it to the cake.
3. DIY Cake Toppers With Cricut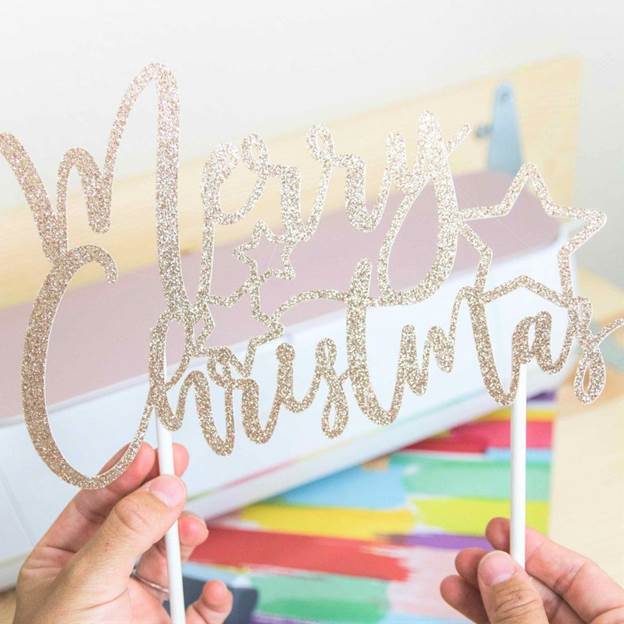 This is a glittered DIY cake topper that can be used for any occasion.  It uses two pins for balance. You will need a circuit maker, glitter/ colorful cardstock, glue, green mat, scraper, and brayer. Create your design then use a circuit maker. Add your glitters and you are good to go.
4. DIY Cake Topper With Cardboard
This cake topper is made easily with cardboard. All you need to do is cut out the pattern you would love to work with for your decoration. You can use a design app on your pc. Place it on a cardboard and cut it out. You can spray it to give you your desired color.
5. DIY Cake Toppers
This is an exquisite heart shaped DIY cake topper. Since the pattern on the cake topper comprises different colors, you can choose your preferred colors and get tissue of that shade. Cut them out in small squares. Draw out a pattern for a heart shape, add glue, and pour the squares over it. Do it for both sides and you are good to go. There are so many other patterns.
6. DIY Hand Lettered Cake Topper
You will need to be really careful as you are making this hand lettered cake topper. Make a double printout with one in the reverse so you can attach the two together to form the front and the back. Fix your skewers in between.
7. DIY Rainbow Cake Topper
This is a rainbow cake topper since it has all the colors of the rainbow on it. You can decide to tweak your own colors to the preferred ones of the cake owner. You will need sculpey clay in rainbow colors, parchment paper, a knife, and skewers. Roll your clay into thin rolls then lay out on the parchment paper. Cut off the excess and bake then fix your skewers.
8. DIY Cake Topper
If you need a cake topper for your wedding cake then this can be good for you. You will need some wooden doll bodies, large beads, dowel rods, circular plaque, and wooden hearts. Paint up the bottom plaque then form and paint the doll. Dress them up as man and wife and glue them to the board.
9. How To Make A Wire Cake Topper
This is one of the easiest DIY cake toppers that you can come across. You will need wire, a wire cutter, and a template. Shape the letters the way you want them then leave wires at the end to stick into the cake.
10. DIY Cake Topper
A cake topper made with roses can easily be used for a wedding. You will need different colors of paper and card stock, glue, toothpick, and printer. Print out your inscription and cut it out. Glue toothpick to the bottom. Cut out your leaves and roses and attach them in bits.
11. DIY Edible Cake Toppers
This is an edible cake topper that comprises circles and stars of different sizes. You can easily use a fondant cutter to make these shapes from your fondant icing. Attach skewers and decorate. The making process is easy to follow if you have all the required materials.
12. DIY Sprinkle Number Cake Topper
There are a lot of amazing designs you can work with for your cake decorations. For this, print out numbers to use as templates then place a piece of wax paper on top. Use your buttered icing to create the numbers then pour your sprinkles over it. Do the same for the back.
13. DIY 3D Baby Shark Cake Topper
This is a 3D cake topper that is double sided and it makes it easy to work with. Glue the pieces together in shape. Decorate the letter with the baby sharks and add the name just below it. Glue the stick finally. This is an amazing DIY cake topper that you can DIY for your kid on his or her birthday.
14. DIY Balloon Cake Topper
This balloon cake topper will require a see through balloon with sparkles within it. Put air into it. Seal it with a ribbon and tie off your stick to it.  The making process of this DIY cake topper will take you a few minutes to complete.
15. DIY Cake Topper
You can capture memories with your cake topper. Get a piece of scrapbook paper, 2 bamboo ticks, a permanent marker, scissors, and a hot glue gun. Mark and cut banners, write your message in it, and glue bamboo ticks. Glue the back of the banner and you are set.
16. DIY Pom Pom Cake Topper
Are you looking to try something out of the ordinary? Check out this DIY cake topper. This is made from colorful pom poms. Bend the pipe cleaners to the shape or inscription you want. Begin to attach the pom poms to the shape created. Poke the end of the pipe cleaners into the cake.
17. DIY Halloween Cake Topper
For this DIY cake topper project, the creator used Cricut. This is a unique project that can be done on your next Halloween cake. The making process is quite easy to follow. This is one cake topper that would leave your family and friends in awe. You should check it out.
18. How To Make A 3D Cake Topper
For those of you who are in love with 3D crafts, I found one that you can DIY for your cake. This tutorial will teach you how to make a 3D cake topper using parchment paper, wood sticks, a hot glue gun, and a couple of other tools. Putting all the materials together to create a cake topper is pretty easy.
19. Welcome Home Cake Topper DIY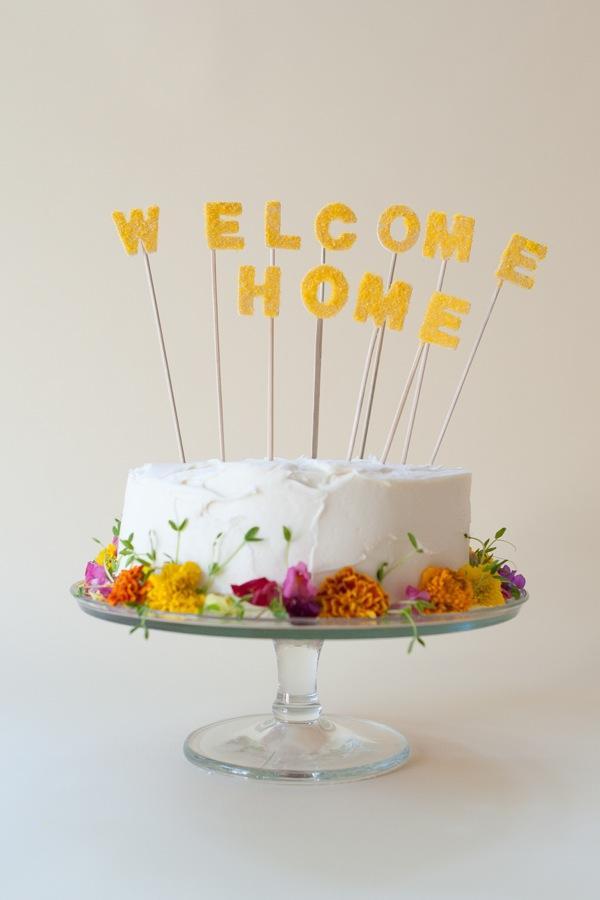 For this cake topper, all the letters are separated in a clear manner and the other words are lined up below the first one. For the materials, you will need wooden letters, glue, a paintbrush, skewers, and edible sanding sugar. The first step is to pop out letters, turn them over, and glue a skewer to each letter. Let it dry. Paint each letter and glue it face down to the sanding sugar. Let it dry finally.
20. How To Make A Cake Topper At Home
This is a really remarkable DIY cake topper that can be used for any kind of cake. A wrench is decorated with roses with an inscription within. To make the roses, fold a square piece of paper into a triangle and cut it out. Glue the pieces to make roses. Trace out the inscription on a plastic sheet of paper. Cut out and paint. Carve out your wrench shape out of hard paper ten glue all the pieces together.
21. DIY Balloon Garland Cake Topper
This is a balloon garland that can be used to decorate a cake. This adorable mini balloon garland is really fun to make. Fill-in air into all the balloons you wish to use for your project. Using a pump will make the work a little bit faster. Tie the mouth to stop the air from escaping. Use a wire cord to connect all the balloons together. Glue a skewer to the balloon and fit to the cake.
22. DIY Unicorn Birthday Cake Topper
This is a really creative way to decorate your cake. You can either draw out your unicorn pattern or decide to print it out. Fold it as many times on paper and carve it out. Fit on as many skewers as are available then begin to decorate the different parts of the unicorn. Stick with the lower part of the skewers into the cake.
Conclusion
There are many options to choose from. Feel free to bookmark this page for future reference. All of the DIY cake topper projects in this article are easy to make. Most of the materials used are easy to come by. Also, you do not need any skills to make them. Thanks for stopping by.