There are a lot of guides out there that show you how to make a cupcake tower or stand, but the question is, are they beautiful enough? Do they match what you are looking for? The good news is that you do not have to settle for less. We have put together some of the best ideas.
While reading this article, you will find 23 DIY cupcake stand ideas that you can make. Most of the ideas listed in this article won't require you to spend above $10. The materials and tools used are things you should already have at home.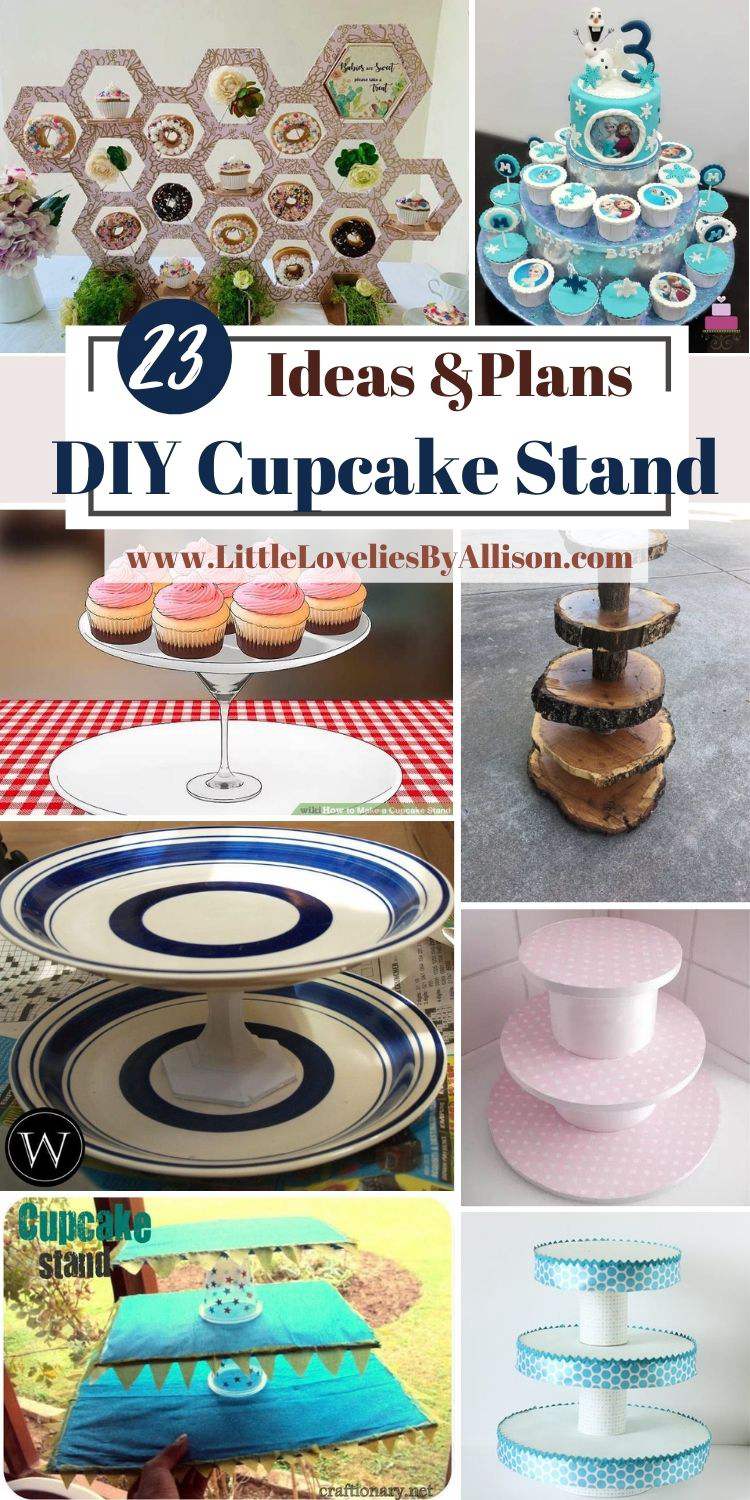 1. Homemade Cupcake Holder
Serving cupcakes look so much better when served on a stand. That is why your cupcakes are presented on not just a stand but a really presentable stand and right here is one of those stands which is surprisingly homemade to suit your taste and style. It is as simple and basic as using cardboard.
2. DIY Cupcake Stand
Using cardboard and used tissue rolls this cool cake stand can easily be made. Proceed to cut the right dimensions of the circle, cover all with scrapbook paper. Wrap tissue rolls with fine-colored paper and assemble them together.
3. DIY Cupcake Stand
Here is a beautiful cardboard cupcake stand. This may demand more attention and time as it is not the regular circle cardboard stand. This is made to look like a stair, also covered in white paper with golden strips at the front edges to beautify.
See also: 22 DIY Cake Topper Ideas
4. Easy Cupcake Stand DIY
With a cardboard cake circle of 27cm, 20cm & 14cm, glue gun, pink & sky blue chart paper, cardboard for stand legs, and lace to decorate your beautiful cake stand can be done. After gluing pink and sky blue chart paper to circles and stands, glue legs to circles and lace the edges of the cake circle. Beautiful!
5. How To Make A Cupcake Stand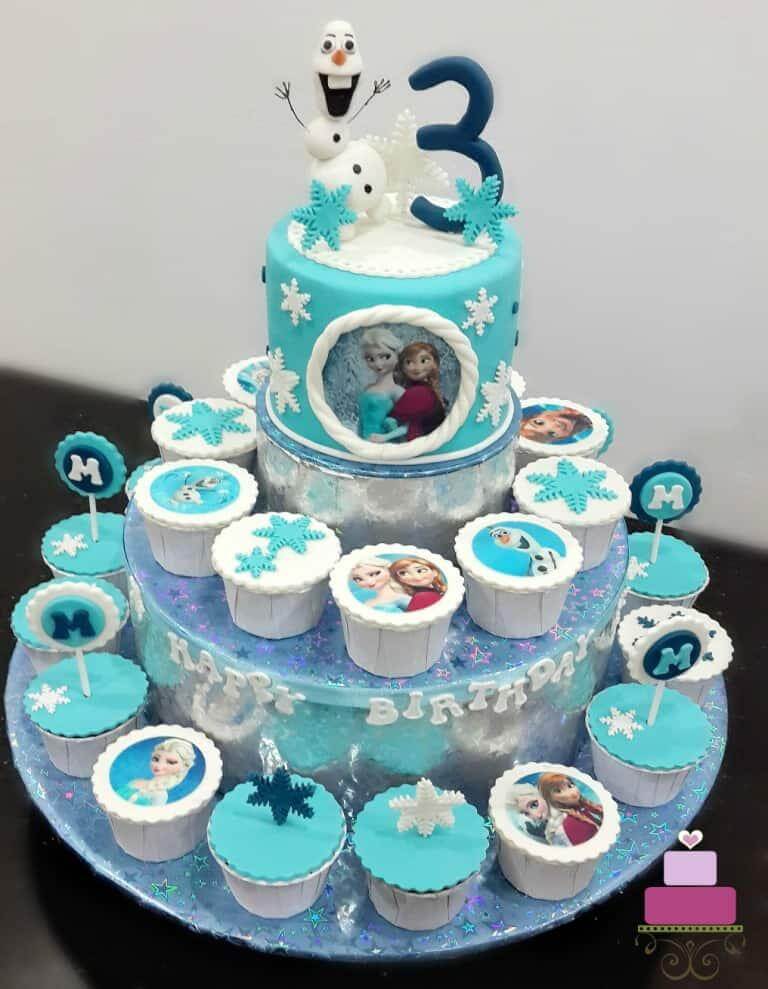 Using paper glue, wrap board, and styrofoam dummies with wrapping paper. Make snips at the ends for easy folding. Assemble the stand by hot-gluing dummies to boards. Here are just what you'll need to get it done; Styrofoam dummies, Wrapping papers, Cake boards, Glue & Hot Glue, Scissors, and Ruler.
6. How To Make A Cupcake Tower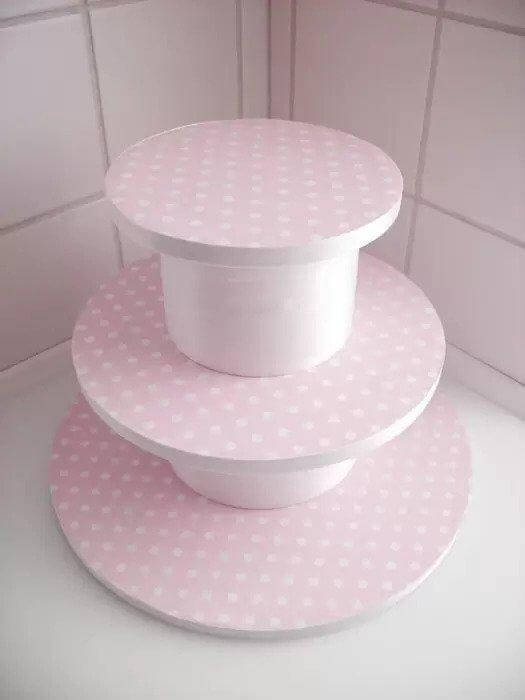 When these materials are available you can proceed. Satin ribbon, enough for both cake boards and the Styrofoam cake dummies, Thick paper, Glue stick or double-sided tape, Craft glue, Strong double-sided carpet tape, Metal pins, pair of scissors, pencil, Fasten ribbon to cake dummies, glue satin ribbon around the sides of the board after wrapping, then assemble.
7. How To Make A Cupcake Stand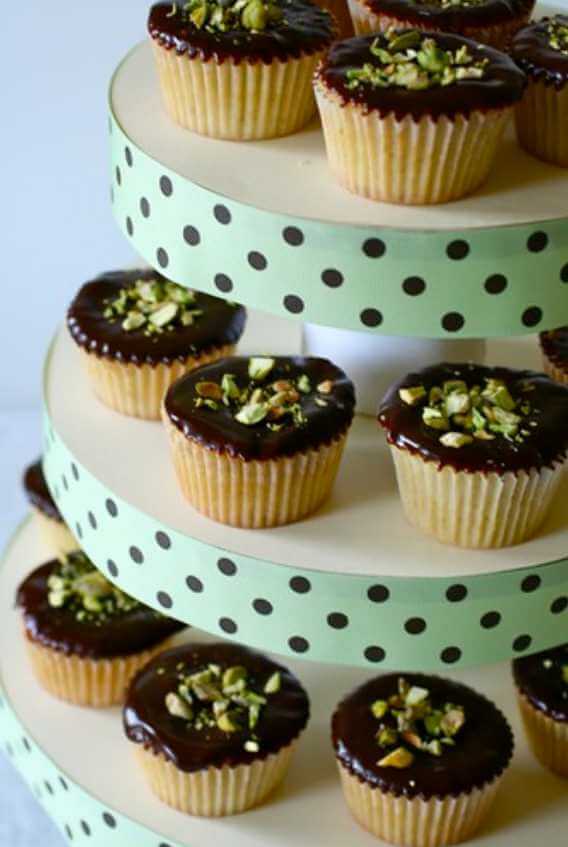 Using styrofoam discs, Soup cans to act as supports, Cardboard cake circles, Card stock, Hot glue gun, Ribbon for edging the tiers, Ruler, Paper cutter, Pen, and scissors. This beautiful cupcake stand can be made. With circles double glued, glue support between two circles, attach ribbon around the edges and that's it!
8. 4 Ways To Make A Cupcake Stand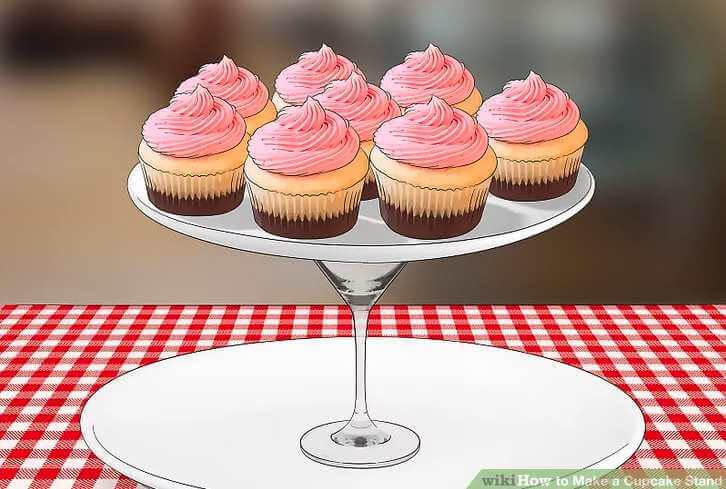 This happens to be the most basic way of having a cupcake stand because your household item can serve this purpose. Get a plate to fit as a base, then you'll need middle support which you can use a martini glass or a vase, and finally lay the plate. Assemble all 3 and place your cupcakes. Voila!
9. DIY $5 Cupcake Stand
This is really quick and easy. Just get about 3 disposable cups, a hot glue gun, and rounds. Firstly apply glue to the top of two cups and place face down on the base. On the bottom-up part also apply glue so the second tier can rest on. Do the same for the last tier and your stand is set.
10. DIY Cupcake Stand Using Karton
Over here is a quite big stand we have and it is made using the following; Big box, zesto box, glue, double-sided tape, glue stick, white Carolina. Cut parts of cardboard that'll match up to make a stair, cover parts with white Carolina. Proceed to assemble the parts together by gluing right in place.
11. DIY Dollar Tree Cupcake Stand
This DIY cupcake stand isn't on a difficulty level, it's a simple stand that can be achieved. Just ensure these materials are available for use; 2 pizza trays, white small plate saucers, 6 ¾ PVC pipe couplers, PVC piping (two 6" pcs and one 3½" pc and E6000 glue. Go ahead to glue parts and assemble them together so that your stand is ready for a sweet display.
12. DIY Cupcake Tower
Here's another DIY cupcake tower. Glue gun & glue sticks, 12" cake discs, ribbon, two cans, contact paper, scissors, pen, and different color scrapbook paper. Cut out cake discs to varying tier sizes, cut out scrapbook paper to same sizes also and cover with contact paper and glue each to the disc. Assemble other parts and get baking so you can display them.
13. DIY Donut Cupcake Stand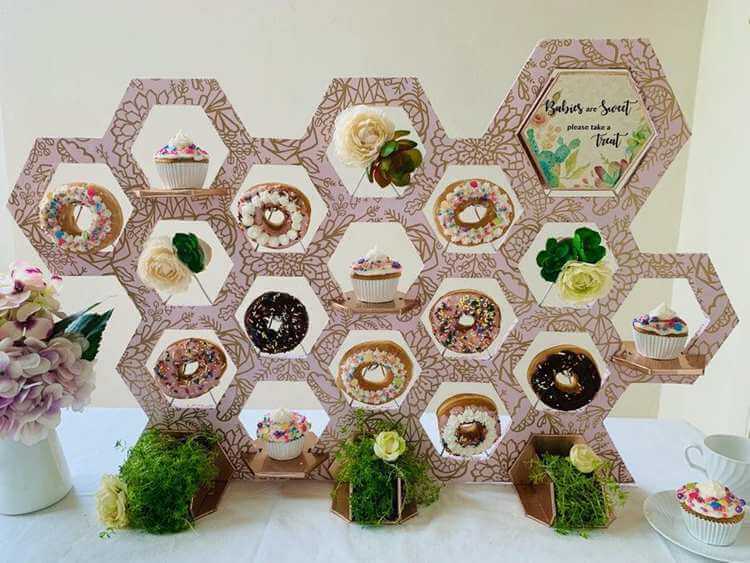 This beautiful stand is far from the regular circular stands and it can be used to also place donuts and not just cupcakes alone. This simple homemade stand can spice up your sweets making them look more presentable. You can get this down using these supplies; 3 pieces of 4.25mm thick corrugated cardboard 24" x 40", 3M multipurpose adhesive, Glue gun or glue sticks, Tube ⅛" ID 3/16" OD, 35" length (It can be made of any metal or heat resistant plastic), Vinyl, 12 gauge Galvanized Wire, Faux plants or decorations to fit your theme.
14. DIY Simple Cupcake Stand
This is basic and really inexpensive. You won't be requiring much effort and materials here. With 2-3 plates (depending how tall you want it.), 1-2 Candlestick holders, Glue and Spray paint you can now have your cupcake stand.
15. DIY Tiered Cupcake Stand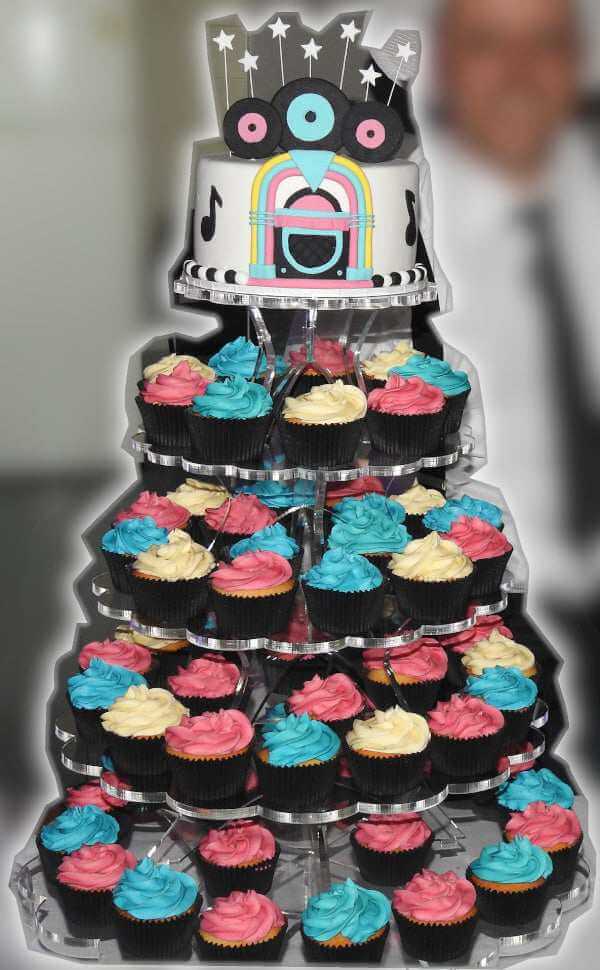 Over here is an amazing and unique cupcake acrylic stand. You can start by creating your design on the software before sending it out to the laser cutter. After cutting is done, assemble pieces together and set your cupcakes on display.
16. How To Make A Wire Cupcake Stand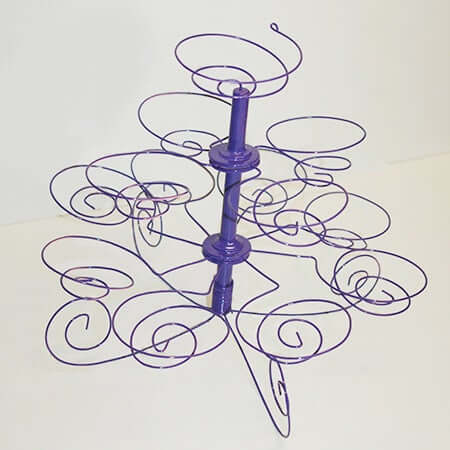 We have a really cool and wonderful cupcake stand here. This stand is made with wire that is twisted and bent to give it this unique look which will also give your cupcakes a statement look. Here are some of the things you need, Galvanised fence wire, spray paint, Pine dowel, 12mm diameter, Long-nose pliers and/or cutting pliers, Epoxy glue and washers.
17. DIY Spiral Cupcake Stand
You may be looking for something more unique beyond the regular stands. Right here is an amazingly beautiful spiral cupcake display stand which is made using the following materials as well as a creative mind; PVC tube, ribbon, GI wire, pliers, cupcakes, glue gun and sprinkles.
18. DOllar Tree Cupcake Stand
This is a very beautiful stand. Get a Pack of burner covers, 5 candlesticks, spray paint, crystal garland, glitter, bling wrap, E6000 glue, mod podge, and hot glue. Apply mod podge on candlesticks and sprinkle glitter, spray paint but add bling wrap, add crystal garland to pizza pan as well. Proceed to glue candlesticks to pans so your stand is ready afterwards.
19. How To Make Cupcake Stand From Cardboard
Cut cardboard to different circle sizes and cover with aluminum foil. Do the same for the stands. Hot glue stands in between circles. Wrap stands with gift wrap paper. Having done that you can set up your cupcakes carefully.
20. DIY Cardboard Cupcake Tower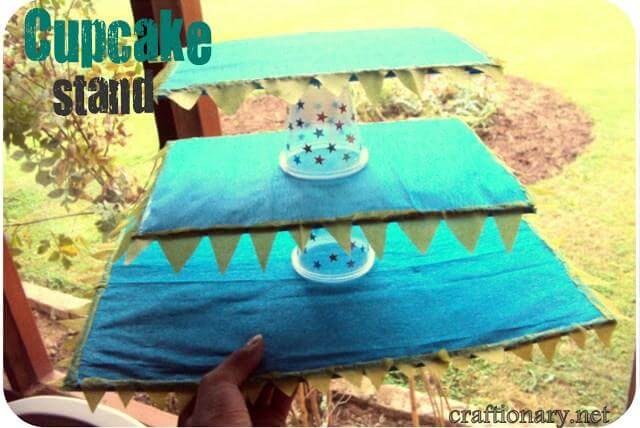 For this DIY project, you will be needing cardboard, disposable glasses, crepe paper, strong glue, and a very good glue stick. Endure to wrap cut boards with crepe paper and then glue cups in between as supports. You can now serve!
21. DIY Cupcake Stand
Using Styrofoam discs in 4 sizes, Scrapbook paper, Wide ribbon, Ric Rac, 3 full cans of soup and Hot glue gun, move on to wrapping edges with ribbon and ric rac. Cover tins with scrapbook paper. Glue together and assemble. Happy baking!
22. DIY Wedding Cupcake Stand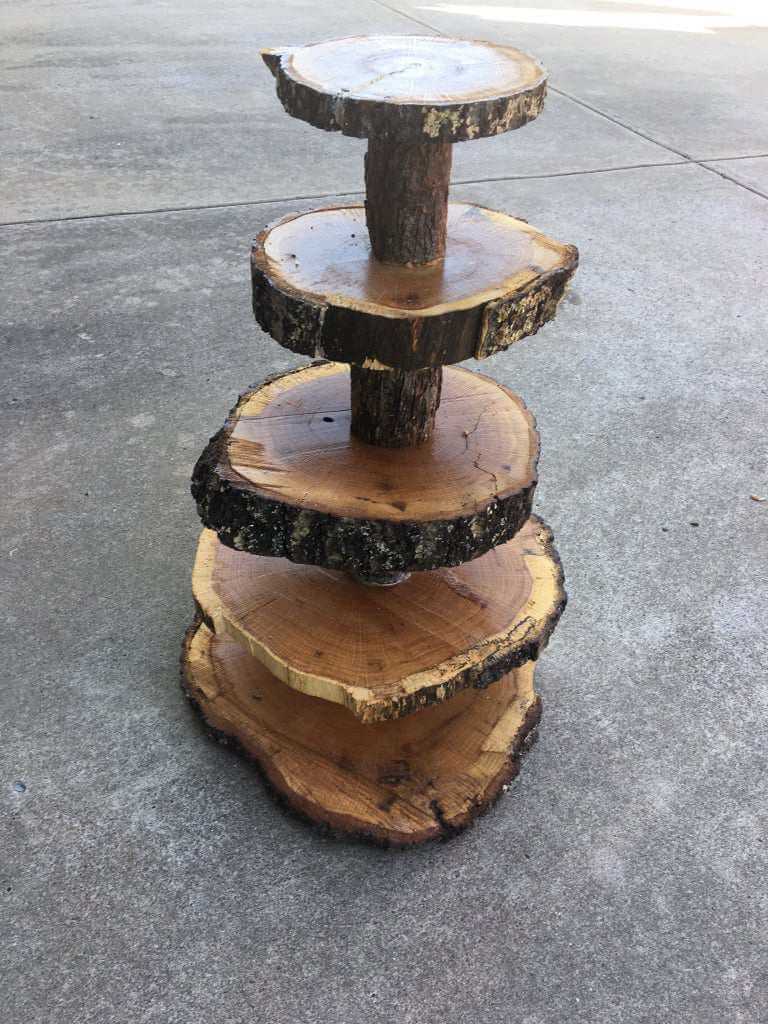 This is a special cupcake stand and a rare one at that. What we have here is a four tier oak cupcake stand cut out of an oak tree and varnished to prevent immediate cracking and drying off of the wood. Towers are drilled to base from bottom to top and top to bottom.
23. DIY Elegant Cupcake Stand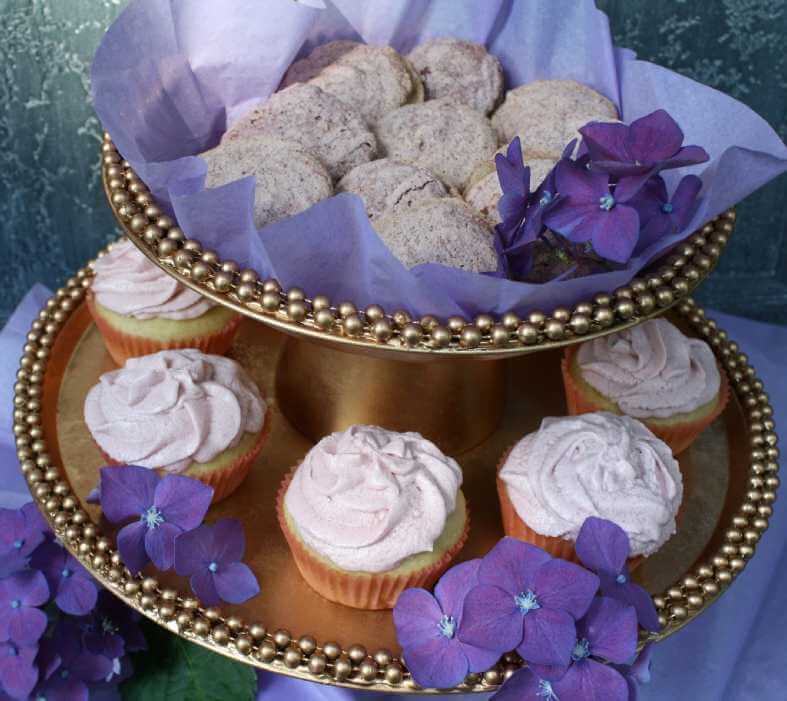 The following will be needed to make this stand; 9" Pie Pan, 12" Pizza Pan, Large Pot, Medium Pot, Metallic Mardi Gras Beads, Scissors, Hot Glue Gun and Glue, Spray Paint, Industrial or Super Strength Adhesive, Paper Towel. Glue beads to pans and spray. Glue pots to pans and set out your desserts on display.
Conclusion
Were you able to find the perfect DIY Cupcake stand for your needs? If yes, we would love to know which you chose and why. Creativity is very much welcome when making any of the cupcake stands above, feel free to make adjustments where you deem fit.