A rain chain can be as simple as just a chain but often they have metal tubes, flowers, or other shapes suspended at intervals down the chain which help to funnel the water as well as looking beautiful.
A rain chain is a decorative chain that you can use in place of an unsightly downspout on your home. When it rains, the rain chain makes a pleasing water feature using the rain runoff from your roof. Here's an article containing 25 DIY Rain Chain ideas that you can make from home.
1. How To Make Your Rain Chain
Do you love the sound of trickling water like in a water fountain? Then you will love a Rain Chain or Chain downspout and here's a great way to have yours.
2. Dollar Tree DIY Rain Chain
Rain chains are a fun way to add sound and excitement to your garden. They are added just underneath the gutter drainage of your roof. Learn how to make yours within a few hours. Here's a tutorial that shows how to make a unique dollar tree rain chain.
3. DIY Rain Chain Downspout
Here's a real quick video walkthrough on how to replace your downspout. A stainless, copper, or aluminum chain will do as long as it doesn't get rusty over time.
4. How To Install A Rain Chain
You know rain chains are also a great way to help your plants grow. So by channeling your chain from the rooftop it just drops below on your plant or planter box and the splattering is really good.
5. DIY Ombre Rain Chain
To make this beautiful rain chain, start by making available these materials:10 mini terracotta pots, blue, black, and white paint, paintbrush, 8′ of a large chain, 10 small chain links (enough to fit through the hole in the bottom of the pots). Paint the pots to your desired shades of color. Use a set of pliers to separate a chain-link then slip one end through the bottom of the pot and connect them again. Do that until you're done.
6. DIY Rain Chain From Wire-Wrapped Rock
Getting rocks from outside may seem stressful and to avoid that you can decide to buy a bag of decorative rocks at the store. Alongside this, get wire and paper clips and proceed with the tutorial provided here to make a beautiful sight out of the heavy downpour in your home.
7. DIY Rain Chain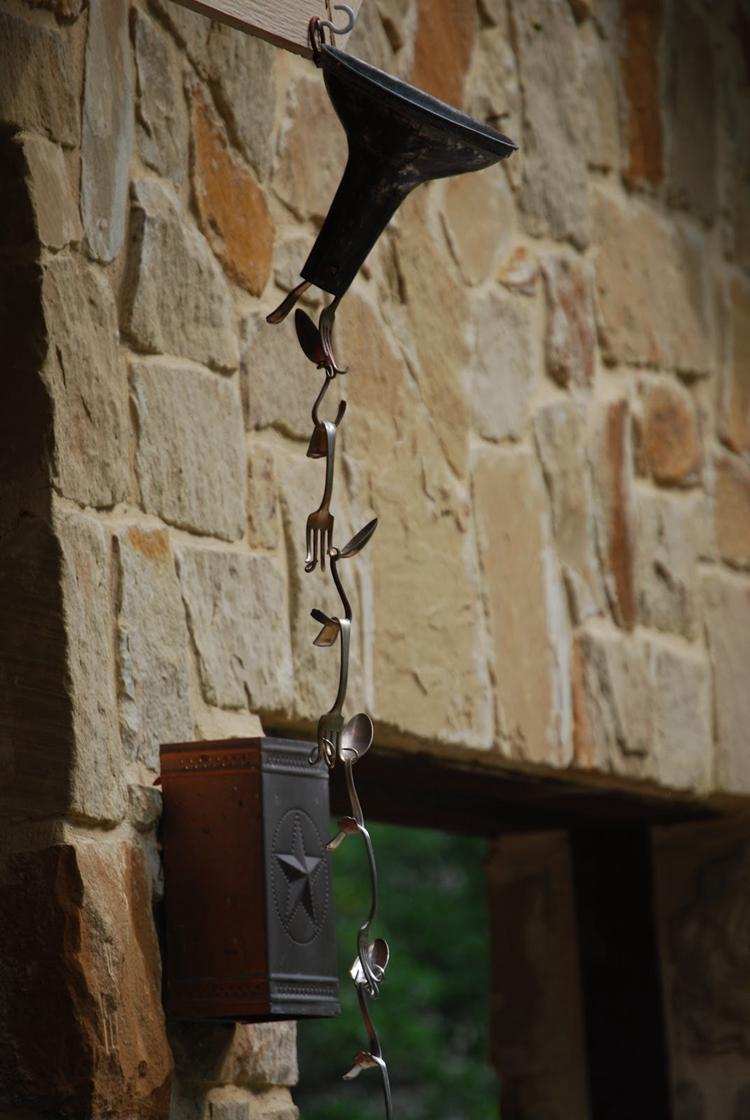 If eventually, you love this, which of course you will. I advise you to experiment with this carefully as you don't need to be a metalsmith to work this out. This piece of creativity was made with a common cutlery fork and spoons. It is made by twisting the tines of the fork into interesting shapes and bending the handles of the spoon and fork using a plier for ease.
8. Rain Chain DIY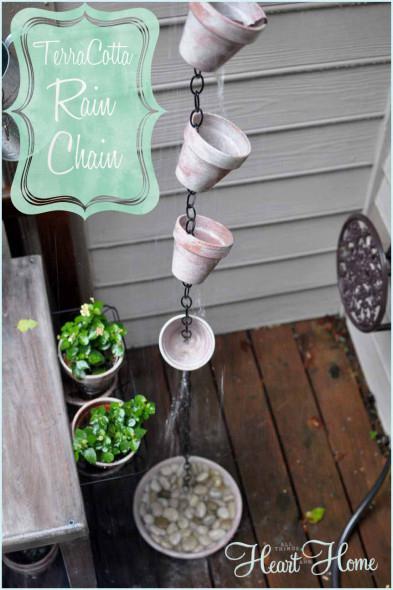 This is a quick and easy project which won't take up so much of your time. In a couple of hours, you can be done with this project. You can have this hanging down to the gutter so the water just flows away. Underneath the rain chain is a bowl full of river rocks and your rain chain looks pretty when it rains.
9. Homemade Rain Chain
In this video, follow the creator and mean how to make a fun homemade rain chain that looks really beautiful in your garden and produces a pleasing sound.
10. DIY Rain Chain Under $10
Installing a rain chain is a simple way to help redirect rainwater into the ground, a planter, or a rain barrel. Surprisingly, you won't be spending so much on making this.
11. DIY Easy Rain Chain
Watch this fun video and learn how to make a rain chain all by yourself by simply using strings or ropes and pots. With a hole at the bottom of the pot, pass the rope and make a knot to keep it firm. Keep doing that for as long as you want your chain to be.
12. DIY Homemade Rain Chains
This simple rain chain is a super easy DIY, and adding a little custom color is only marginally more work and well worth it.
13. DIY Copper Rain Chain
To make this coil out of the copper rod, grip the end of the copper tubing and the PVC tightly in one hand, then start wrapping the copper around the PVC while pulling on the copper to prevent kinking. After that is done, use a pair of cutters and snip off the coil into rings. Adjust the rings and make the chain.
14. DIY Rain Chain
This is a simple rain chain that just runs from the roof gutter down into the planter box. So instead of having the conventional rain downpour, you have this basic chain downspout. Ensure that the chain is raised closer to the gutter for better action.
15. Mini Bucket Rain Chain
Rain chains are a decorative alternative to a fall pipe or downpipe. This over here is a rain chain with bucket spacing.
Hence to have this in your home, foremost you need supplies to get things down aright and here's what you need; Rustless chain with a link size of about 9-10mm wide x 15-20mm long, 15 mini stainless steel "presentation buckets", Approx 150-300 mm of heavy gauge rust proof wire, A drill and 10mm HSS bit (or whatever bit size suits your chain), plus a small bit for a pilot hole, center punch, and a hammer, round or half-round needle file, Pliers.
16. Homemade Rain Chain
How lovely will it be to have these golden cups hanging from your roof? You can get this type of decorative cup at the store alongside other necessary items you will be needing for this project. Make a hole at the bottom of each cup where you want to feed your chain.
17. DIY Rain Chain With Waste Bottles
What we have here is another plastic bottle craft and the creativity is top-notch if you're looking for anything basic. Begin by separating the top and bottom sections of the bottle. Pass your chains through forming a link and voila.
18. How To Install A Rain Chain
So far I'll say this is super lovely, easy, and affordable. It is an easy way to install a plastic rain chain for your gutter or rain gutter and it just involves using about two to three strips of plastic chain hanging from the gutter downward.
19. DIY Simple Rain Chain
Far from the regular downpour, you can imbibe this new way of dispersing water or redirecting the flow of water. Learn how to install this simple rain chain with these given steps.
20. DIY Ombre Rain Chain
Create a dainty rain chain that will redirect that tiresome rain onto your luscious landscaping. Using terracotta pots, 12" gold chain, terracotta saucer, and other items, this can be easily made.
21. DIY Rain Chain
Using these cute little tin buckets with stars that are 4" tall and 4" across the top, you can have beautiful water discourse. But then, disconnect one end of the wire handle on the bucket and place it through the chain, then connect it back. The buckets should be positioned about ten to twelve inches apart.
22. DIY Simple Rain Chain
You'd love how adorable and lovely this rain chain is. By following the simple steps in this tutorial you can set up one in your home and redirect the rain to your landscaping.
23. DIY Copper Rain Chain Planter
Here's another amazing rain chain, it serves a dual purpose. Take a look at it being a rain chain and a beautiful mini planter hanging pretty and glowing. So for as long as it rains, your plants will bloom and project the beauty of the chain in the absence of rainfall.
24. How To Build A Rain Chain From Pipe
You can also build an amazing rain chain from a pipe, this DIY shows you how to build one with ease. The making process shouldn't take long as long as you have the necessary materials and tools ready.
Conclusion
Rain chains are known for hanging from the gutters of homes and even temples. You can assume they are purely decorative but trying it out will state the fact right. They replace downspouts and harness the flow of rainwater in such a simple, calming way.