Have you been looking for ways to make a DIY pottery wheel? A Potter's wheel, or Potter's lathe, or kick wheel, or spinning lathe is a machine that is used to shape-round ceramic wares from clay. They can also be used for applying imprint decorations or rings of color. It involves a few techniques like jiggering and jollying that are parts of the Potter's wheel.
They are quite expensive as they can go from about $700 to $1700 in price. So, in a bid to help all those who are deterred from their pottery passion by the rather expensive nature of getting Potter's wheel. I was on the lookout for a pottery wheel and discovered a lot of wonderful options. Here are some of the best options that I found in my quest to find ideas for making a pottery wheel.
1. How To Make A DIY Pottery Wheel
Here is your chance to be able to make a DIY pottery wheel that works perfectly all the time and lasts for years to come, with a budget as low as $200. For this DIY project, a motor with quite several torques would be required, this is because of the force that will be exerted on it. A DC motor is preferable, plus you would need other affordable materials that can be gotten from any hardware store around you.
2. How To Make A $50 Pottery Wheel
Every potter needs a pottery or Potter's wheel for their next masterpiece with clay, but not everyone can afford to buy a pottery wheel considering the high cost. But, you can always make one for yourself with the right resources and materials, and that is why this DIY video tutorial was made just for you, with a motor from a ceiling fan and plastic bucket you can make your pottery wheel for just $50. A sweet deal right!
3. Quick DIY Potters Wheel
This is one of the quickest, make-do, and equally effective DIY Potter's wheels I have ever seen. In about 20 minutes or less, depending on how good and skilled you have become. The supplies used for this make-do DIY Potter's wheel are quite a few and can be found easily anywhere around us, they include 1 bicycle wheel, 4 zip ties, 3 layers 0f 20mm sheet timber, and some other additional materials.
4. DIY Pottery Wheel
This is quite a fancy depiction of a pottery wheel, a steel pottery wheel, or do I say, a spinning hand lathe. Well, whatever you might decide to call it, you have to best believe that it works, and it works perfectly. A trial would assure you, all you have to do is follow the steps and instructions given in this DIY video tutorial carefully, the source for the main materials used like the Sprocket, DC motor, electronic timer, motor controller, PC fan, after which you begin to assemble them the right way and use.
5. How To Make A Pottery Wheel
With a concise and well-structured DIY tutorial for the benefit of learning how to make a pottery wheel, you would be able to grasp the concept behind the differences of some of the parts like wheel construction and how they help make the pottery wheel work better. It is a fun tutorial, simplified as much as possible to make the learning process easy. instructables
6. Pottery Wheel DIY
This is a super fun DIY tutorial, you learn and still have fun learning. It is majorly how to help you work your DIY pottery wheel out of spare bits of materials around, after which you make a creative gift called the Spirograph, which means Circular art. It is simple, understandable, and very easy, and also it is a softie on the pocket with affordable materials like; x1 Super Glue, x3 Rolls of Washi tape (duct tape would be preferable), x1 One medium-sized, lightweight wheel, x1 Deconstructed mini-easel. instructables
7. Homemade Pottery Wheel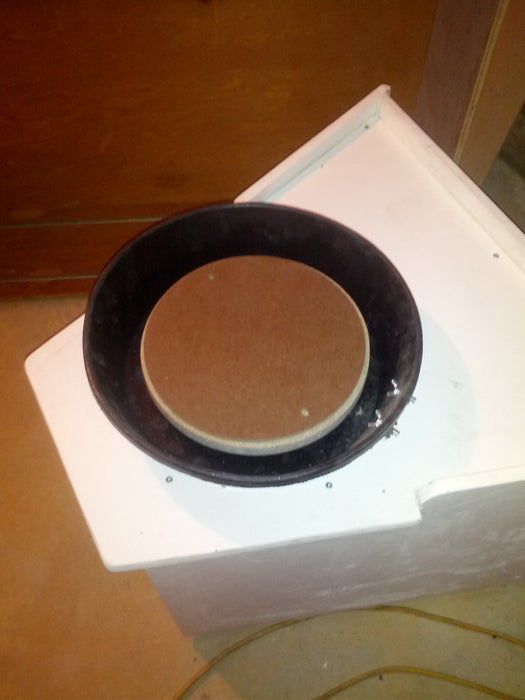 One of the best and most informative DIY tutorials is concerned with the making of a pottery wheel. Made easily at home, you would love engaging with this step by step instructional tutorial where you can learn how to assemble and fix the frame required for your pottery wheel, add essential parts, fix up and add a little bit of color, then set your pottery wheel in full motion. instructables
8. Pocket-Sized Pottery Wheel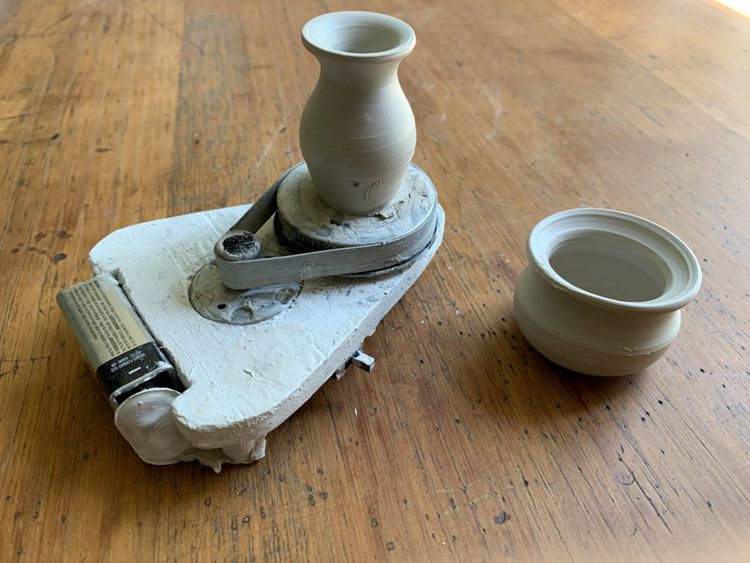 Forming beautiful and artistic objects like the one shown in the picture above, should be a lot of fun and a great form of recreational activity, but everyone knows clay forming, or pottery as generally known, is quite dirty and expensive with supplies, plus requires a large work area, all these mattered but not any longer with the emergence of pottery wheels.
DIY pottery wheels like this one where you can do all your clay artistic work with less dirt, fewer expenses, less work area, and less stress. Engage with this DIY tutorial to learn how to make this, here is a list of some of the materials you would be needed, 5"x5" plywood board, ⅜" or ½", wood dowel, ⅜" in diameter, 9-12v dc motor, ball bearing, 5/16" bolt, 1-1 ¼" long, jar lid, 2-inch diameter, must have an overhang like the one pictured. Instructables
9. Homemade Pottery Wheel
Another creative homemade DIY pottery wheel, with a combination of wood and steel. It is absolutely easy to do and does not cost much, a budget of about $50 could work it out, including sourcing for the materials. So, whenever you have got some spare time, and love DIY crafts and pottery, you could try this out.
10. How To Make Pottery Wheel
It is nice to make a  pottery wheel with a low budget, but what is nicer is when you can make a pottery wheel without even spending a dime, and it works out perfectly. This is possible with the use of old bike parts and a functional tutorial like this one that helps you in organizing each side how best it fits.
11. Potters Kick Wheel Under $100
For those who love pottery, but can not just afford to get a pottery wheel at the moment, here is a make-do project that can work as a substitute- a Potter's kick wheel. With just about a budget of under $100 to purchase all the materials, you can be sure to make this. This DIY video tutorial explains how to cast the flywheel, build the frame, assemble the spinning plate, and grind the flywheel.
12. DIY Potters Wheel
Black sure brings the best out of any object, and this beautiful black Potter's wheel is not only an eye's delight but an effective clay-forming tool. It does not require many skills and techniques as shown in this DIY video tutorial and materials can be inadvertently purchased at any hardware store.
13. Homemade Pottery Wheel Plan
A well-drafted map-out plan and directions on how to make a homemade pottery wheel. The creation of every project solely depends on a structured plan. Here are some of the materials you need for this project 2 window sash pulleys (2-¾ in. diameter), 1 "V" clothesline pulley (5 in. wheels; ¾ in. hole), 2 – ¼ in. bolts (2 in. long), 2 wing nuts, nails, 12 flat head wood screws (1-¾ in. long). smallfarmersjournal
14. Pottery Wheel DIY
It is always nice to recycle old products, old non-degradable products can be always repurposed into other things, like this old bike in this tutorial used to make a pottery wheel. The process is easily understandable for anybody including amateur craftsmen. instructables
15. Solar Powered, Bike Frame Pottery Wheel
Isn't a pottery wheel with a bike frame powered by solar energy, a techy and exquisite idea for a DIY project. If you are interested in making one for yourself, you should check out this DIY tutorial. In as much as, it sounds techy and complicated, on the contrary, it is quite easy to achieve, following you go through the steps carefully. The materials involved in this project are affordable and include a Sprocket, chain, bike frame, motor, chain breaker, and the solar panel itself. instructables
16. How To Build A Variable Speed Pottery Wheel
An electrically powered speed variable pottery wheel. The electricity is powered by water, so the source is not expensive. A properly constructed project for everyone who loves pottery and DIY projects to participate in. Instructables
17. How To Make A Mini Pottery Wheel
In this DIY video tutorial, you are going to learn how to make a mini pottery wheel that is used for making mini pottery crafts like mugs, ceramic bowls. With this, you can make different objects and generate sales from their production.
18. DIY Mini Pottery Wheel Machine
This is yet another mini pottery wheel machine DIY video tutorial for another mini pottery wheel machine used in the creation of mini ceramics objects. The best part about this tutorial is the simplicity of detail, and the use of affordable, sourceable materials like a DC motor, a plastic bottle cork or cover, and some gears. The end-result works are entirely fine.
19. Homemade Potter's Wheel
A detailed and understandable DIY video tutorial encompassing all processes included in making a DIY pottery wheel at the convenience of your home workshop. You use a drill to cut and assemble parts and the main component is the motor wheel. In all, after constructing your project, the results are especially beautiful and effective.
20. DIY Pottery Kick Wheel
The kick wheel or Potter's wheel is an essential tool for everyone who loves pottery, but getting this item can be expensive. You can curtail the expenses of getting one by making one for yourself. It's easy, trust me and you just have to follow the instructions on this tutorial, get the required materials and you are good to go.