It's easy to make something with a big impact, even if you don't think you have any creative skills. But I'm here to guide your skill and creativity as you make these pretty and lovely ornaments for holidays and giftings.
We have put together this list of 25 DIY glitter ornaments ideas for your viewing pleasure, check out the ones we've listed, I'm sure you will find a suitable project for your home.
1. How To Make Glitter Ornaments
I want to share with you an easy DIY glitter ornament that you can make with ease and by so doing your Christmas tree would be all glammed up. Using these materials you can have your own ornament; mini plastic cup, clear plastic ornament, syringe, vinyl, SVG Christmas word designs, clear polyurethane or polyacrylic,
2. DIY Glitter Ornaments For Beginners
This video walkthrough will guide you on how to make this glittery Christmas ball. This awesome DIY project is great for beginners, kids' craft, and Christmas presents or trees. I'm sure you're gonna have fun here.
3. How To Make Glitter Ornaments For Beginners
You know the magical feeling that comes with Christmas decorations and all. That's the best feeling, of getting to decorate your tree. So you're going to be making yours and you'll be super duper proud of yourself.
4. DIY Best Glitter Ornaments
Right here you will see how to create this beautiful and cheap ornament in this super easy and no mess step-by-step tutorial that's perfect for beginners. Here's what you will need; glitter, cups, napkin, clear ornament, floor cleaner.
5. DIY Glittery Wood Slice Ornaments
This beautiful pre-sliced birch would make a perfect ornament for your tree. All you need to glam up your wood slices is a mod podge, extra fine glitter, and a small brush. So begin by adding mod podge on your design, then glitter on top, and to the next section the same thing. Finally, run mod podge through so your glitter stays pretty.
6. DIY Colorblock Glitter Ornaments
This interesting post will definitely inspire you or anyone to craft a handful of gorgeous glittery green ornaments to trim your own tree with, during the holiday season. Firstly you're going to need a paper mache which will be painted with any color of your choice (but green was used here). After that, apply a mod podge and a generous amount of glitter to fill up the mod podge. Finally, coat with gloss spray to give a lasting look.
7. DIY Modern Rustic DIY Glitter Ornaments
I love how shimmery and beautiful these ornaments turned out. I will share with you a way to make this ornament using copper glitter and glass. Using a glass ball, paint the outside with gold paint and go over it again with copper paint. When the paint is dry apply white craft glue and sprinkle heavily with copper glitter.
8. DIY Glitter Ornaments
Right here I'll be sharing with you how to make a giant gumdrop ornament with glitters that adds a pretty and sparkly touch. Use these supplies to get started; paper mache eggs, gold string, X-acto knife, cardboard or cardstock, hot glue, decoupage, gumdrop colors of paint, chunky translucent glitter.
9. DIY Glitter Ornaments
It's nearly impossible to have boring trees with no decoration of any kind, it just doesn't sit well with me, I don't know about you. But this amazing idea is quick and easy and it looks just awesome. To begin any great project they're starting points and it all begins with the materials needed. Ribbon, plier, styrofoam balls, skewer, beads, glitter, mod podge, bowls, and wire.
10. How To Glitter Christmas Ornaments
In my opinion, kids will have the fun of their lives working on a project like this, you can help them get a little messy🤭. You will learn how to add glitter to Christmas ornaments using a clear plastic ornament, clear acrylic sealer, the glitter of your choice, and funnel.
11. DIY Easy Glitter Ornaments
It's time to get working on some beautiful handcraft, your unique piece will match up to the expensive ones you find at the store. Put about ¼ inch of polycrylic in each ornament and swirl so the content is even round the ball. Put out the excess. Now pour in the glitter and make it even round the ball.
12. How To Add Glitter To Dollar Tree Ornaments
Ornaments aren't just for trees, let's get that before getting started. It can be used for presents or giftings to friends and family. All you need to why started is glitter, glue, and plastic ornament.
13. Glitter Ornament DIY
I'm here to share with you how to make this easy DIY glitter ornament. The benefit of doing this particular idea that the inside has a more uniform coverage and the outside remains smooth and shiny. Put a small amount of floor finish in your ornament and swirl it out. Put in your glitter and swirl it out too. Put the top back and voila!
14. Simple Glitter Ornaments DIY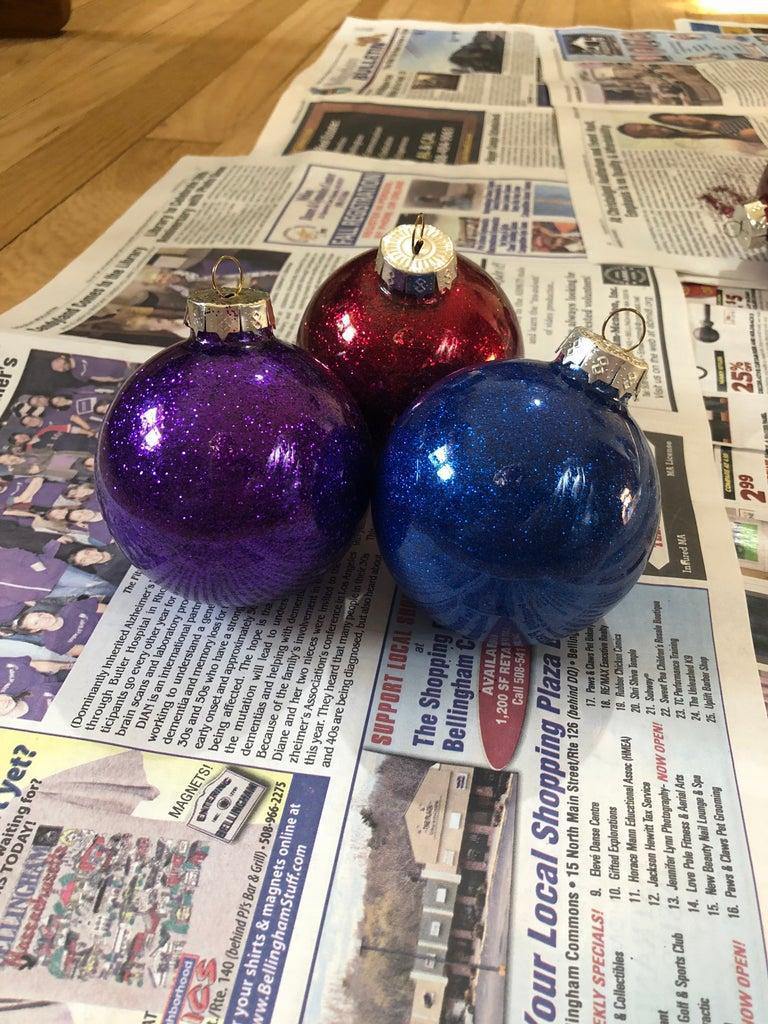 This DIY project is very simple and great for beginners. The overall project takes about 10-15 minutes to complete so don't be scared of wasting your time. You can't begin except these items are in place: Clear ornaments, Pledge Floor Finish, Fine Glitter, Newspaper (for safe working environment), A disposable cup/bottle.
15. DIY Christmas Ornaments Glittering Stars
For the festive and holiday season, Stars are essential for decoration. These can be glittering stars or colorful stars depending on your choice and need. Dedicate some time to this project and have a wonderful time crafting.
16. DIY Glitter Striped Ornaments
I don't know if you've ever seen a non-breakable ornament, but they are in any way pretty simple. This beautiful ornament has stripes of glitters of different colors. You keep applying stripes of glue and glitter. Using Ornaments, Hemp, Glitter, and Mod Podge you can get started.
17. How To Make Glitter Unicorn Christmas Ornaments
This craft is creative and super cute. I really love the way this glitter unicorn Christmas ornament looks. So lovely. Firstly fill the ornament with polycrylic. Next, add glitter and swirl around so it fills space in the ball. Add unicorn embellishments to your ornament and voila!
18. How To Make DIY Ombre Glitter Ornaments
You know what else is more interesting, an ombre glitter ornament. Yesss, it's possible to stop wondering. Just follow this step-by-step tutorial and you'll see that it's easier than you imagined.
19. How To Make Shimmering Star Ornament
I don't think you want your kids to be part of this project, this isn't for minors. Explore the steps involved in this video and get busy instantly. These shimmering stars will do great justice to adding beauty.
20. How To Glitter Ornaments Using Polycrylic
After going through this tutorial and following the steps strictly. When you create yours you will avoid the stores for any kind of ornament, Lol. You'd rather sit at home and get your ornament ready in no distant time.
21. DIY Red Glitter Ornament
You may call me a lover of glitter. I wouldn't mind because I love it when it sparkles. We're going to have our glittery ornament made within a few minutes. So you want to take off the lid of the ornament and add a bit of polyacrylic inside and rotate around the ornament before you spill it out. Then pour your glitter and rotate also and pour the leftover out too.
22. DIY Glitter Star Ornament
Your kids will have fun squishing, rolling, molding, and cutting these glitter-infused creations with way less mess than traditional glitter. Glitter dots have a special coating that lets glitter stay on the dot and not all over your hands and floor. Begin with Crayola Glitter Dots Sparkle Station Kit, Child-safe needle, Fishing line/metallic thread.
23. DIY Dipped Glitter Ornament
Using Glass Ornaments, Glue (mod podge works great), Glitter and Paint you can make this awesome looking ornament for your tree or gift box. So put paint in your ornament and turn it upside down so all the paint drips out. Place it normally so it dries. Apply mod podge at the bottom and dip glue in glitter.
24. DIY Glitter Dot Ornaments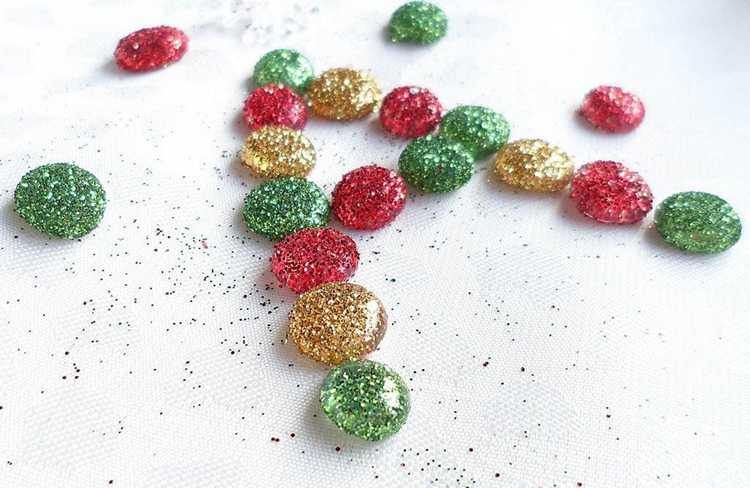 I just love the simplicity and uniqueness of this glitter dot ornament. In addition, it's super easy and fun to make. With your different colors of glitter in separate bowls, use your glue gun and make just a drop on the glitters. You can make as much as you want.
25. DIY Glitter Ornaments With Vinyl
Should I say adorable or lovely is the word for Christmas ornaments? Well, whichever one works perfectly. With your glitter, polycrylic, vinyl, glass or plastic ornament, transfer tape, sticky hair Spray, or gel, you're a step closer to achieving this.
Conclusion
As much as festive seasons are for jollying and buying gifts or presents, you do not want to wrap up that gift in a weird manner or keep your tree standing all empty. Ornaments will do justice and fix the beauty appropriately.