Whether you collect sports jerseys for fun or you hope to make some money from them, it is important to have your collection stored and displayed rightly to preserve their value. What better way to store and preserve your jerseys than immortalizing them in a jersey frame. Rather than let you go buy some expensive jersey frames, we'll show you how to DIY them yourself.
Have you seen those cool rustic-looking frames on Pinterest? They look so easy to make. But, did you know that you could make them yourself for a fraction of the cost? Satisfy your creative side and don't break your bank by making this DIY Jersey Frame. Here are 20 DIY jersey frame hacks that'll get all your favorite jerseys up the wall in no time.
1. How To Frame A Jersey
Are you a football or basketball fan or your children are? Have you got lots of jerseys from your favorite players and you've been looking to immortalize them? Not to worry, we've got you. Rather than go buy a pretty expensive jersey frame from the store, you can DIY your jersey frame. All for under $10. All you need is a pack of 16 x 20 frames (they come in a pack of 5). A pack of plastic safety glasses (ensure they're the same size as your frames). Duct tape, cardboard, glue, paint, paintbrush, and some areas. And yeah, you're good to go.
2. DIY Jersey Frame
Are you a sports enthusiast or have you played some back in high school? Still, have your jerseys? You can frame your favorite ones and always have them with you. All you need to do is to purchase the jersey frames (these were gotten from Amazon). The Jersey frames come with a hanger inside. So all you need to do is open the plastic safety glass, put your jersey on the hanger and back in the frame, then seal it. There you go. You have your jersey frame, ready to go.
3. How To Frame A Sports Jersey
These shadow boxes come in different sizes: Xdeep, Xlarge, large and small. The beautiful thing about them is they can accommodate any jersey style. Baseball, soccer, basketball, hockey, and football jerseys can all fit into them. The shadow boxes/jersey frames also come in different colors; cherry, oak, black. The same goes for the felt inside. They also come with led lights, pretty useful when it's dark. All you need to do is hang or pin your jerseys inside the frame and that's it.
4. How To Frame A Jersey For Cheaps
Have you been wanting to frame your favorite jerseys? They're pretty expensive to buy, yeah? Well, we can show you how to frame your jerseys for cheap. You'll need to get some supplies; strips of wood, plexiglass, cardboard, paint, a paintbrush, and some pins or hangers.
It's pretty much easy. You paint the strips of wood black, then frame a couple of them to the plexiglass. Do the same for the cardboard (after cutting the actual size you need). Place your jersey inside and glue the glass to the frame. There you have it. Your DIY jersey frame did cheaply.
5. Cheap jersey Frame DIY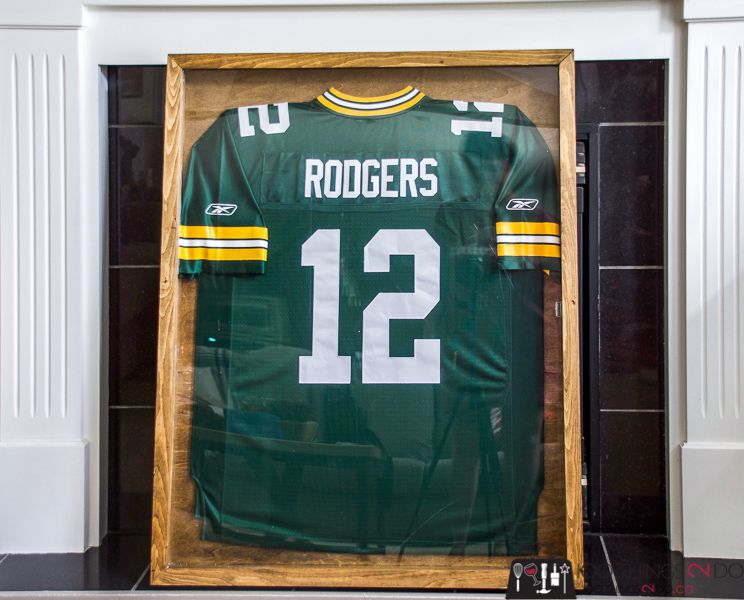 Buying jersey cases can be crazy expensive right? Why buy them when you can make them? We show you how in this step-by-step guide. All you need is to get your materials and you're good to go. You'll need some plywood, select pine, plexiglass, pocket hole screws, varnish, cardboard, paint, paintbrush, etc. 100things2do
6. How To Make A DIY Jersey Frame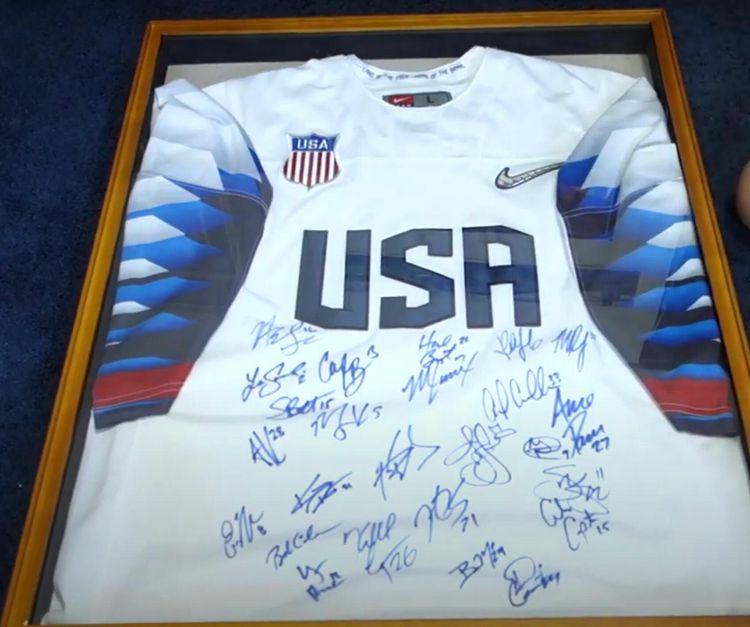 One of the most important things about making your DIY jersey frame is choosing the right frame. We recommend using shadow boxes to display sports jerseys. Apart from the rectangular shallow frames that shadow boxes have, their glasses are ideal for displaying and protecting bulky items because they provide more space between the backing and the glass itself than a traditional jersey frame does.
Once you choose the right frame, the next step is to get your other supplies and of course, your jersey and you're well on your way to mounting your favorite jersey. Wikihow
7. How To Frame Jersey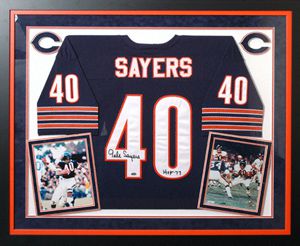 There is not any single piece of sports memorabilia that better defines passion and team dedication than the jersey. Jerseys connect the fan to their team. Jerseys don't do any good tucked away in a closet. They go unseen. Also, coat hangers aren't the best way to preserve a jersey's value. To do this, you must frame the jerseys properly using a shadowbox. Excited yet? Come on, let's get into it. cardboardconnection
8. How To Frame A Football Jersey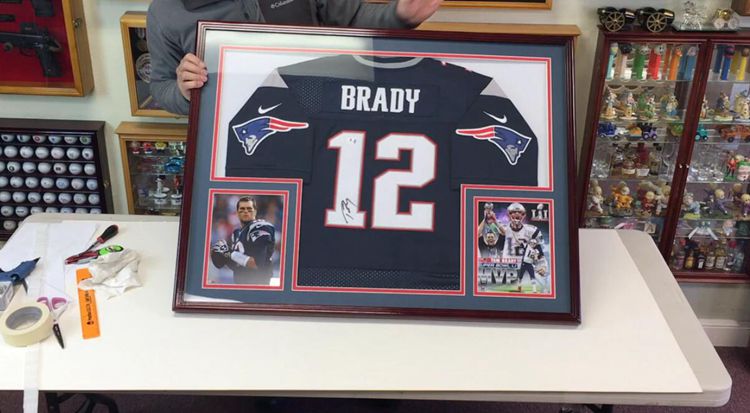 Do you have an autographed jersey or a match-used jersey? Don't lock it up in a closet or a box. Display it proudly. You can do that by framing your jersey. Here's all you'll need: Jersey Framing Kit. X-Large Jersey Frame. Custom double matting. 30"x42" mat board. Straight pins. Masking tape. Tape measure. Scissors. Utility knife. Clothing iron. Glass clean. sfdisplay
9. How To Frame A Jersey With Matboard
Want to frame and immortalize your favorite jersey? Not to worry, we've got you. The best part is, you can frame it with a mat board. The first thing to do is get your jersey on the board and draw the outline/frame of the jersey on it, then cut it out. They attach that frame to a foam material and cut it.
Now you have your jersey frame. Put your jersey over the frame. This way your jersey sits perfectly. The next step is to get your shadowbox ready and pin your jersey to it and voila! You're done.
10. Custom Frame Hockey Jersey
Are you a hockey fan or do you play yourself? You can make your DIY custom frame hockey jersey. We can show you how to do it. It's easy. Come on.
11. How To Professionally Frame A Jersey
Have you ever wondered how to professionally frame a football jersey? Well, that'll probably make you and the rest of the football fan world. Good news! We can show you how. You'll first need to gather some supplies and materials. A shadowbox or jersey frame, a mat board, plywood, glue, screws, brush, and some paint and we're good to go.
12. Jersey Frame DIY
This DIY jersey frame hack is pretty easy to learn and master. All you need to do is travel the outline of the jersey onto cardboard and cut it out. The next step is to fit the jersey over the cardboard so it isn't rumpled. Now it's time to take your shadowbox out. This one was from IKEA. Place and pin your jersey in the box and there you have it. You can place pictures of the sports star in the frame so it doesn't look empty. But hey, wasn't that easy.
13. Affordable Jersey Frame
Want to know how to DIY an affordable jersey frame? Then this is for you. This project will cost you about $40 and that's very affordable as compared to how much you'll get them for in stores. Come on, let us get into it. Instructables
14. How To Frame Any Sports Jersey
Hey there, are you looking to frame your sports jersey? Be it soccer, hockey, baseball, or basketball jersey, the process is pretty much the same and we can walk you through it.
You'll be needing lots of pins though. It pretty much involves tracing the outline of your jersey onto cardboard, fitting the jersey on the cardboard, and pinning the jersey to the backing of your shadowbox.
15. DIY Jersey Frame Under $30
It just gets better and better. You can frame your jersey for under $30. You heard right. This DIY project will cost less than $30. And it's pretty easy to do too. You'll need a shadowbox frame, measuring tape, cardboard, a pin, and glue. Come on, let's show you how to get it done.
16. How To Frame An NBA Jersey
This video shows you how to frame your favorite NBA jersey. All you need to get is a shadowbox frame, preferably painted in the colors of the jersey or you can do the painting yourself. You'll need cardboard for trading and lots of pins. It's that easy. Let's get into it.
17. How To Frame A Sports Jersey
Do you have lots of sports jerseys and would like to frame your favorite one? Not a problem, we've got you. The first thing to do is get all of the materials you'll need. Cardboard, duct tape, pins, measuring tape, shadow box. Then you start by creating the jersey pattern on the cardboard and fitting the jersey on it. The next process is pretty much easy. Come on, let's show you.
18. How To Frame A Football Jersey
Hey, football fans and lovers. Want to learn how to DIY and frame your favorite player's jersey? We can show you. You'll be thanking us for this for a pretty long time.
19. DIY Jersey Frame
Immortalizing your jerseys never goes out of fashion. Rather than buy the frames, you can learn how to DIY a jersey frame and save some money. Here is a step-by-step guide on how to do it.
20. Framing A Jersey
Everyone loves to wear jerseys to support their favorite teams and players. Better still, we all love to frame them to show our undying support. However, not everyone knows how to frame a jersey. But we can show you how. You'll need scissors, a 24 inch by 30-inch shadowbox, and a 30 inch by 20-inch foam board for this particular project. Come on, let's show you the rest.
Conclusion
There you have it. 20 DIY jersey frames. All of the tutorials listed above are easy to make if you put your mind to them. We hope you liked them and they proved useful. What are you waiting for? Let's get to work. Thanks for stopping by! Feel free to leave a comment regarding this article and we will get back to you in no time.