Who doesn't like pom-pom garland? This article shows you how to make beautiful DIY pom pom garland projects. The fuzzy, comfy, colorful, and decorative ball-like material is a perfect fit for home decor, party decor, baby shower decor, and even Christmas decor. The fact that they are also very easy to make is such a huge bonus! Not everyone has the time or strength for difficult and tasking crafts, plus they do not require any special skills.
The first authentic Pom-Poms garland from Mexico was made by the Tzotzil, an indigenous Mayan people from Mexico. Initially, they were made with the use of Cotton, but over the years artisans and DIY craftsmen have swerved their attention to acrylic yarn because of its brighter looks compared to cotton.
Pom-Poms are glittery, classical, and very attractive items used by cheerleaders and maybe, fans to liven up sports events. They are so eye-catching that they have been turned into attractive pieces of decorative materials, just by attaching a string to the Pom-Poms to form a Pom-Pom garland. They are becoming quite popular these days, as a lot of people are beginning to feel connected to the cool, calm, and pretty decorative apparel. Here are 20 of the best and most simple DIY Pom Pom garland tutorials you can ever find.
1. How To Make A Pom-Pom
Here is an easy way to make a Pom-Pom garland using just acrylic yarn, a pair of scissors, and your hands. You wrap the yarn around your hands steadily and then shape them into a trendy ribbon pattern after which you use the scissors to cut out the loose part giving out the fuzzy look. It is a perfect home decor project that does not require too much cash to fund and has no special skills.
2. How To String A Pom-Pom Garland
After making a Pom-Pom garland, you might be wondering how to string them together to form a garland, the obvious reason being that there are no openings on the Pom-Poms. With the help of a yarn threading needle, all you have to do is pick a loose yarn and hook it with the yarn threading needle and push in-between the Pom-Poms. It comes off looking very nice and beautiful.
3. DIY Pom-Pom Garland
Discover new trends and techniques on how to make the perfect Pom-Pom garland and how to use them for decorations. With a Pom-Pom maker set and other equipment, and following the easy DIY instructions in this creative DIY tutorial, you would be on your way to making a beautiful home decor accessory.
4. Make A Pom-Pom Garland
Get creative with your Pom-Poms and make beautiful Pom-Pom garlands befitting for kid's room decor or kid's party decor. It is a really easy DIY project that anybody can participate in. It is a superb DIY video tutorial for your next DIY project.
5. How To Make A Pom-Pom Garland
You learn everything you need to know about Pom-Poms, Pom-Pom garlands, their origins, their usage, and other ways to style them with an easy DIY tutorial. You can create your Pom-Pom garland in any size and color that you prefer. You do not even need to know any special skills to make a Pom-Pom garland, and they are easy on the pocket type of project. diycandy
6. Tassel + Pom-Pom Garland
I am sure I am not the only one who can not get over the beauty of this Pom-Pom garland design and the beautiful tassel hung to it. Well, you can also get this for your room decor to hang on your curtains or bed frame or anywhere you deem pleasant. The materials used in the production of this Pom-Pom garland are omegacryl yarn(which I think is a cool word for a real good yarn), you could also use wool yarns if you couldn't get the omegacryl yarn( they have to be thick, though), tassel comb, large eye blunt needle, scissors. honestlywtf
7. Pom-Pom Garland
This is one of those colorful DIY Pom-Pom garland projects, as different colors are used in this project giving it a lively, fun look. LED lights are added to the strings making it all the more fascinating. You should check out this DIY tutorial and learn how to make something like this for your home decor. sassandbelle
8. DIY Pom-Pom Garland
Shake up the Christmas feeling this year with this loveable DIY project, Pom-Pom garlands are perfect for hanging on Christmas trees, left to drape over a mantel, or kept plainly at a boring corner in the house. They are such beautiful, easy, and cheap DIY projects for anyone and everyone. lovelyetc
9. How To Make A Pom-Pom Garland
This is your chance to create a tiny, cute, fluffy orange Pom-Pom garland. With yarn, your hand, a yarn threading needle, and this superb video tutorial you can make this Pom-Pom garland by yourself without even needing a Pom-Pom maker kit.
10. How To Make Pom-Pom Decor
It is always nice to save up money whenever you get the chance, it is even better when you save up money on a product or project and still get the desired results you need. You can save up extra loads of cash during the holiday on holiday decorations by making a cheap and beautiful DIY Pom-Pom garland with colors for the event.
11. Perfect Poms Poms
You can use Pom-Poms for so many things, decorative accessories, joyful celebratory accessories, clothes accessories like the furry tops on head warmers, hats, and some bags. They add beauty and class to everything they are in contact with which makes them one of the best accessories ever. You can become a pro in making them as you follow these DIY instructions carefully.
12. DIY Whimsical Pom-Pom Garland
Here's another cool whimsical Pom-Pom garland DIY tutorial, you would firstly, learn how to make DIY Pom-Pom makers, for days when you might not find a Pom-Pom maker, you can make one with cardboard, you would need wool yarns, adhesive, a sharp pair of scissors and a round-shaped object.
13. Pom-Pom Garland By Fireside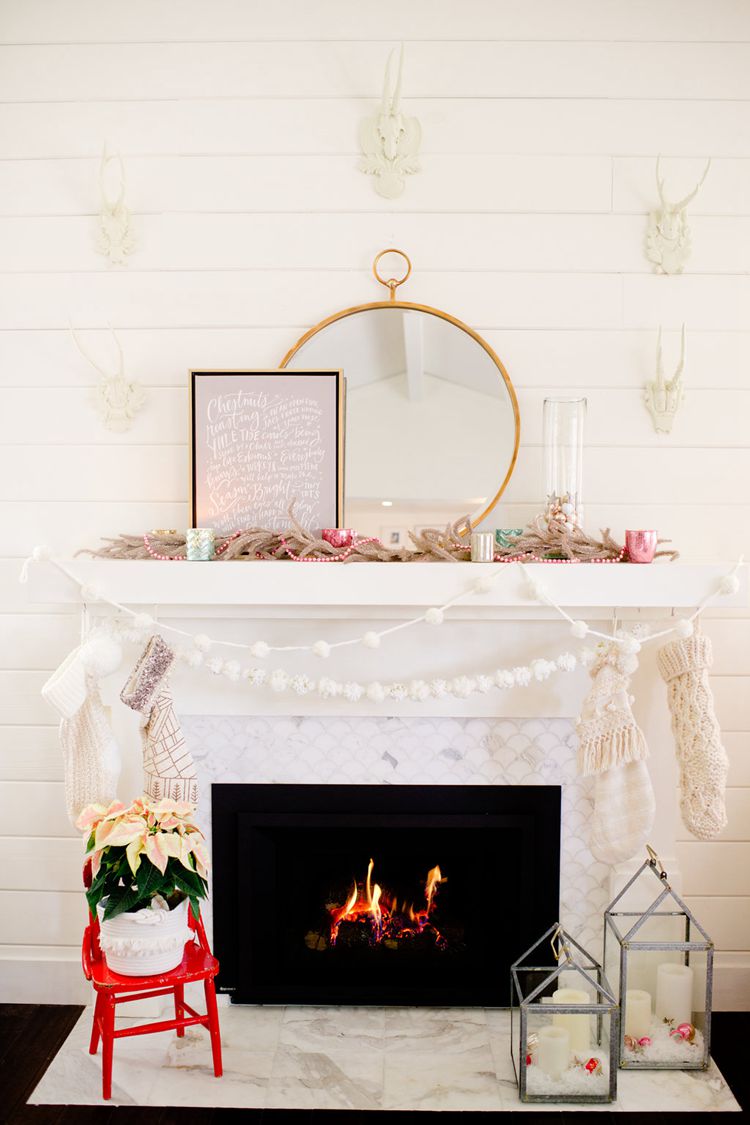 Are you also into sitting room home decor? Like the hearth type of Pom-Pom garland. They add to the beauty of the fire hearth space. Just like what is shown in this DIY tutorial guideline, the processes involved in this DIY project are not too difficult or expensive. Enjoy making your Pom-Pom garland with ease right now. modern-glam
14. DIY Pom-Pom Garland
It is nice to note that with simple basic materials you can make such pretty decorative materials. Materials such as a DIY cardboard template, yarn wools, strings, sharp scissors, and a few others. They can be used to light up the atmosphere or ambiance of a room. kipandco
15. How To Make The Perfect Pom-Pom Garland
Pom-Pom garlands bring joy to the holiday season, springing up cozy colors in their fluffiness, then you add beads to them, like the one done in this tutorial, and have the perfect holiday decor accessory. Some of the materials and supplies you might need are worsted weight or thicker yarn for stringing your poms, plastic yarn needle, assorted beads (wooden here & metallic), scrap pieces of Omegacryl, washi tape, and beads. theneonteaparty
16. Long Pom-Pom Garland
Make a long Pom-Pom garland, which means you get to cover more space, without spending much again. The DIY tutorial carefully explains, discusses the techniques employed to make the project, so amateurs and beginners can fully participate and achieve massive results. artbarblog
17. DIY Tulle Pom-Pom Garland
This DIY video tutorial is perfect for enabling you to make your tulle Pom-Pom for your Pom-Pom garland. It is a super easy project, although it requires a lot of time which is normal for anyone who wants to make a Pom-Pom garland.
18. Pumpkin Pom-Pom Garland
Roll your acrylic yarn around two objects standing at opposite points,  using any color of yarn, and then cut them properly to form the Pom-Pom shape, by now you are halfway into completing your DIY project, and leave them hanging around your house.
19. Super Easy Pom-Pom Garland DIY
A super easy and fun DIY project for your kids. It is safe, although you have to guide them while using scissors. They are a colorful project for you and your kids while you share beautiful moments with them. It involves the use of yarns, yarn threading needles, scissors, and a Pom-Pom maker kit if you wish.
20. Wooden Bead And Pom-Pom Garland
The combination of wooden beads and Pom-Pom garlands might fit in well as a good necklace for cultural festivities. It is just a basic craftsmanship idea, so working on it can not be hard. They can be used for various other things but the after results are so beautiful and surreal.
Conclusion
String up some style with a festive DIY Pom Pom Garland and make your space super custom. This decor makes a great backdrop above your sweets table or as part of a larger decor scene and is surprisingly easy to make. Feel free to go through the plans again and make your favorite pick.