With the price of things going rapidly high, a pontoon boat cost ranges from $14,000 to about $200,000. Based on your budget you can find one that seems affordable.
Do you need a pontoon boat? Pontoon boats are not just for fishing or entertaining but can be used for all sorts of things.
They are sturdy, safe, and have the tendency to last a long time. Usually, they are larger boats that are fit for multiple people. This makes them fun for large groups or families to go on outings with.
Pontoon boats bring a lot of joy for hours. If you're in the market for a pontoon boat, it's probably fair to assume that you think a lot of memories can be made on a pontoon.
However,  When purchasing a pontoon, there are a few things you should keep in mind. The two biggest purchase factors are your budget and how many people will be using the boat.
How Much Is A Pontoon Boat? - Factors That Affect Price
There are a couple of factors to consider before buying a pontoon boat and the majority of these factors affect the prices of pontoon boats. We are going to give a brief breakdown below stating some of those factors.
New Or Used
If you are going for a new pontoon boat, it will definitely cost more than a used one. Even if they are of the same brand and manufacturing year. When it comes to new or used pontoon boats there is usually a huge difference.
Cost: A new pontoon boat will obviously cost way more than a used one due to certain factors like cleanliness. Looking at buying a new pontoon boat? Then get ready to spend almost double of what you would have spent on a used one.
Condition: New boats obviously have better conditions in terms of wear and tear, and cleanliness. A used both might have cracks here and there, this is something some folks do not want to see.
Warranty: Buying a brand new boat from the manufacturer gives you a warranty for the product. With this, you could get a replacement if something goes wrong. A used boat usually doesn't come with a warranty.
Customizations: A used boat might come with a few customizations from the previous owner and if you do not like them, it'll be stressful to take out. But new boats come fresh, customization is up to you.
In summary, the risk involved in buying a used pontoon boat is usually high, but used boats aren't so bad if they have been properly cared for by the previous owner.
Size
The price of a pontoon boat changes based on the size you choose. I recently discovered that larger pontoon boats tend to cost more than smaller ones. However, smaller ones can also surpass large ones in price based on extra customizations.
| | | |
| --- | --- | --- |
| Size | Length (feet) | Price $ |
| Small | 12, 13, 14, 15, 16, 17, 18, 19 | 2500- 14500 |
| Medium | 20, 25, 30, 35, 40 | 17000-34000 |
| Large | 30, 35, 40, 45, 50, 55, 60 | Up to 47,000 |
Materials UsedIf your intent is to tour the river with friends and family, you will need a large boat that can accommodate the number of people you will be cruising with. If you are me who loves fishing, then a small or medium-sized pontoon would work great.
Another factor that would definitely affect the cost of a pontoon irrespective of the size is the materials used for production.
For example, the decking of the pontoon is an area that provides support for your gears and also passengers, this decking can come in vinyl, composite wood, aluminum, and a couple of other materials. These materials vary in their price ranges.
Engine
The engine of a pontoon boat usually has a major impact on its price range. The higher the horsepower the more expensive the engine price will be. In some cases, manufacturers offer the buyer the option of having two engines which obviously means more money.
Pontoon engines range from 25 Horse Power to 450 Horsepower which can cost from $5000 to $64,000. This price isn't for the whole boat but just the engine. If you want a faster boat, a higher horsepower would do the trick, but how deep are your pockets?
 how much horsepower does you boat really need? To summarize:
115hp has become the starting point for horsepower and can be a very suitable boat for lots of boaters;
150-175hp choice is a great all-around pontoon and can truly be a versatile "do it all" boat;
200+hp is the way to go if you have a need for speed and want the best performance out of your pontoon.
Features
Another factor that would affect the overall price range for pontoon boats is the features installed by the manufacturer. Yes, you can always go the DIY-way, but it will look a whole lot better if done by the manufacturer.
Some extra features not seen in other boats that might require you to pay higher are;
Cup holders
Docking lights
Electrical equipment
Swimming ladder
Inverter
And more
Types Of Pontoon Boats
They are other classifications of pontoon boats, but these are some of the main categories you would most likely see when looking to buy one;
Fishing Pontoon Boats: These pontoon boats are used basically for the purpose of fishing and usually do not have many luxury features. They are also simple in design and quite affordable. Fishing pontoon boats can accommodate from 7 up to 12 persons or more. The price ranges from $17,000 up to $40,000
Recreational Pontoon Boats: Boats like this are used for sports like water skiing and are also great for a little family tour. Recreational pontoon boats can accommodate from 9-15 persons and the price ranges from $24,000 up to $80,000 or more. This is because of some extra features.
Tour Pontoon Boats: Pontoon boats meant for touring are usually the biggest in size, boats like this would accommodate up to 44 persons or more, however, the price can range from $200,000 up to $500,000
Luxury Pontoon Boats: These kinds have some of the best gears onboard that provide maximum comfort. If you ever sat in a luxury pontoon boat before, you will understand. However, luxury doesn't come cheap, get ready to pay huge for pontoon boats like this.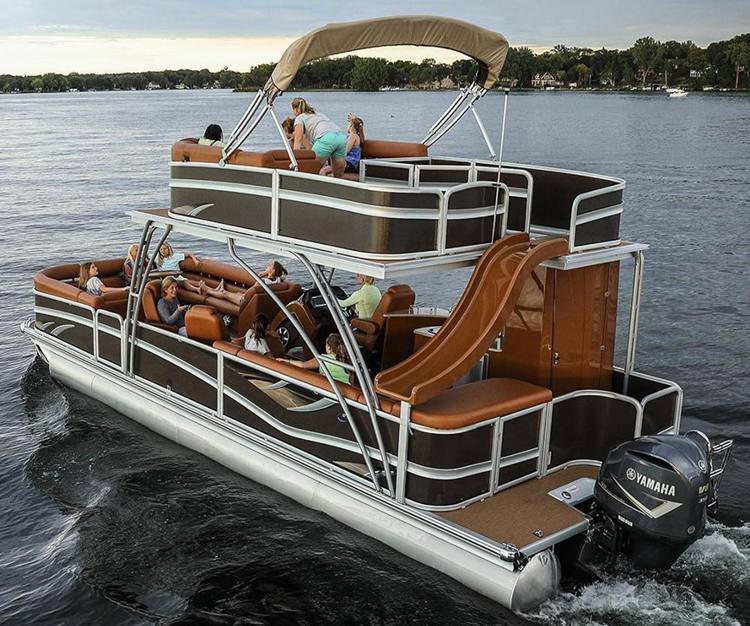 Other Things To Consider
Even after purchasing a pontoon boat, you aren't really safe from spending more money. There are other necessities that will require you to spend more money on your pontoon boat. Some of them are;
Maintenance: This involves keeping your pontoon in good shape which will involve purchasing gas for your pontoon, under maintenance, there's also boat insurance that will cost you from $100-$300 every year. You will also need to get a license which may vary in price depending on your location. The average price for a license is from $55 to $65.
Boat Trailer: The purpose of the boat trailer is to enable the user to transport their watercraft. They are different kinds of boat trailers each having different prices. This usually costs $2000-$5000
You also have other expenses such as; Safety Equipment - $1000- $1700 and Repairs - $1000. Most of these prices are to be paid yearly, while some are one time payments.
Frequently Asked Questions
Do pontoon boats keep their value?
Pontoon boats do not keep their value, although there's a lot of value from using them. After the first years of usage, the value tends to drop really fast, however, the speed of depreciation reduces significantly after the first years of usage. I don't think this should be a reason not to get one and have some fun time with your family.
How much do pontoon boats depreciate each year?
The depreciation may vary for the models, regardless, we have made a table showing the average percentage of depreciation per year. Check out the table below.
| | |
| --- | --- |
| Year | Depreciation % |
| 1st | 20-30 % |
| 2nd | + 5-10 % |
| 3rd |  + 5-8 % |
| 4th | + 5-6 % |
Is a boat a bad investment?The depreciation may also slow down to 1-2% per year, this is also based on models and the year that it was produced. For example, a 2007 pontoon boat must have lost value over the years, it's not bad to buy a "2007 pontoon boat" in 2021 or 2022. However, if you are concerned about value, your pick should be the latest version.
A boat can be a great or bad investment, as a novice, before you buy a boat, you should first read a buying guide that would give you information that will gear you towards buying the perfect boat that suits you. Also, owning a boat is mainly for the pleasure or sweet adventure that comes with having it.
What is the best time of year to buy a new boat?
Research accumulated over time shows that the best time of year to buy a new boat is FALL. This is because the prices tend to drop during this period as many manufacturers offer discounts and promo offers. This happens due to the decrease in the purchase of boats during FALL.
Final Advice
It is essential that you consider a whole lot of factors before buying a pontoon boat. The amount of money required to own a pontoon boat doesn't stop at the amount of the boat, you would still need to have more money to maintain your pontoon boat.
I hope this article has been helpful to you. Feel free to share this article with that friend or family member that is considering buying a pontoon boat. Thanks for stopping by.