Care to build a DIY kissing booth? The Kissing Booth is a fun way to invite people on your big day! Do you know who else it's a lot of fun for?  The guests! Come show me how you'd do it and win a prize. You could have the greatest photo booth or the most talented photographer, but if you don't have this kissing booth, what's the point? For some, it's fun, while others see it as tradition.
If you've never been to a kissing booth before, then you'll most likely be confused by the idea. I mean, the idea of strangers kissing each other might seem weird to some people. What if you don't like how they kiss? What's going on with your mouth? But fear not! Kissing booths are highly entertaining, and usually have lots of happy customers. In this article, you will find a couple of projects that will teach you how to build a kissing booth not only for adults but kids too.
1. Kissing Photo Booth For Kids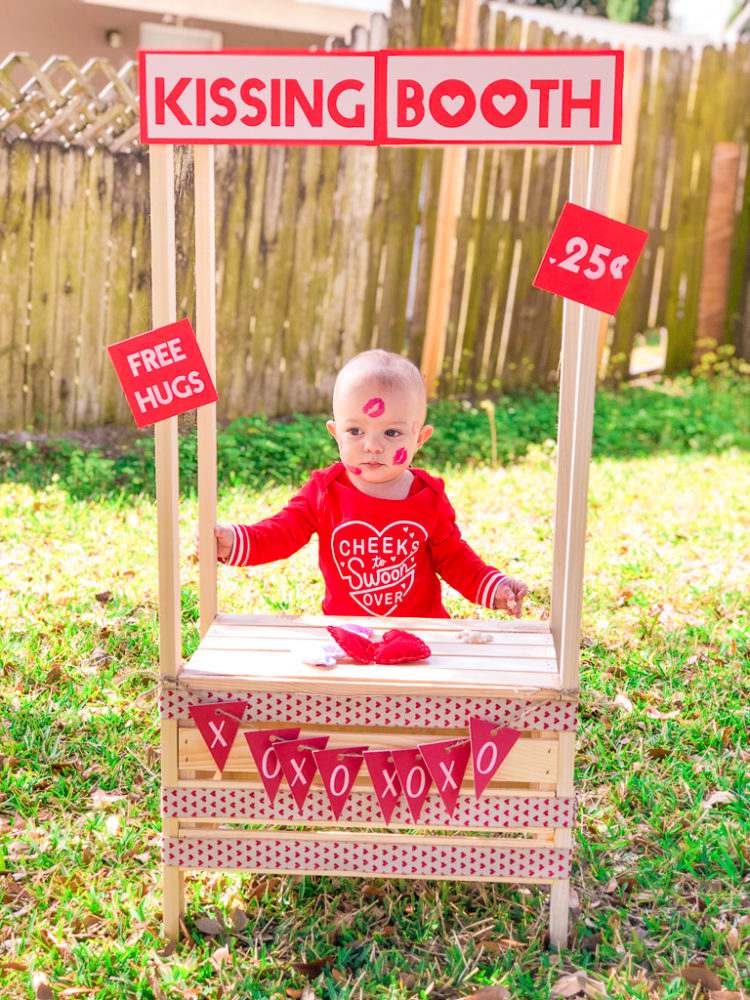 Here is the first and super cool kissing booth for kids where they can gather and get free hugs, cheek kisses and have a fun time. This booth is pretty easy to make. All you need are a few woodworking materials and tools to get started. You'll need unfinished wood crates, bar clamps, a Cricut standard grip mat, and lots more. The making process is quick and easy to follow. butfirstjoy
2. Homemade Kissing Booth
Take a look at this fantastic homemade kissing booth for adults and kids. It's super fun to build if you're building with someone and pretty affordable. The creator used lumber wood that cost him about $20, wood letters and paint. It's that quick and easy to build your kissing booth from scratch if you're using this guide. hwtm
3. DIY Kissing Booth Photography Prop
This small, low-budget kissing booth is made from supplies like a wooden crate, zip ties, ribbons, and acrylic paint. The making process is pretty quick, straightforward, and easy to follow. The first step to an excellent kissing booth with this guide starts with painting the wooden crate you have acquired, then after the paint has dried, attach a wooden frame to the edge of the crate and attach your stylish ribbon design. driventodiy
4. DIY Kissing Booth
This is a versatile project that costs about $15 to build from start to finish. This project consists of four simple steps, and the first step requires you to get a wooden crate as your first and most important material for this kissing booth project. Next, you'll need some scrap wood planks for the sides and a wood board at the top,write-ups that will carry your designs and write-ups. coastalbend
5. Kissing Booth Frame DIY
There are several ways to get a kissing booth up and running. The creator of this video guide used a cheap kissing booth frame, easy to make and super easy to carry around. You can take portrait photo shots with your friends inside the kissing booth frame. You'll need hard cardboard of any color; cut it into a picture frame format. Then, add your designs and lettering by the sides. It's that quick and easy.
6. How To Make A Kissing Booth
Here is a pretty sturdy kissing booth that can last a super long time. It's not only durable, but it's also stylish and beautiful. The creator used wood boards, cedarwood planks, a small plastic spray bottle, dark walnut stain paint, and lots more. This is also a good woodworking project that is perfect for beginners.
7. Valentines Day Kissing Booth
It's about that time to embrace the love in the air, get yourself a super cool kissing booth for yourself and your loved ones. Although, if you can't buy a good kissing booth for a fair price, how about you try making one effortlessly today.
The materials and tools needed are easy to come by, and this project is best done with friends to lend a helping hand. You'll need some pallet boards, screws, and other woodworking tools to make your job seamlessly effortless.
8. DIY Mini Kissing Booth
Do you need a small mini kissing booth for your kid's toy collection or just as home decor? Here is a simple video guide that will show you how to make a mini kissing booth effortlessly. For the materials, you'll need a small wooden crate, some wood dowels, popsicle sticks, mini strings, a chalkboard sign, a hot glue gun, paint, felt hearts, and lots more. You can also use the mini kissing booth design to make a larger and more realistic one.
9. DIY Kissing Booth Sign
The image above already explains the kind of kissing booth you'll be making if you decide to try out this video guide's idea today. For this vintage valentine kissing booth sign, you'll need a few supplies like a heart-shaped acrylic craft paint in hot pink, sandpaper, chalk paint in charcoal, white, and light gray, clear contact paper, and lots more. This kissing booth sign can also serve as excellent wall decor. littleredwindow
10. Kissing Booth For Kids
Here is another simple kissing booth for kids. The making process is pretty simple enough for even a beginner. You'll need hardwood sheets, small hinges, spray paint, and a few 2x2 wood planks. This project is affordable and remarkable; you'll just need the required woodworking tools to get the wood cut right. Check the link to learn more. crazycozads
11. How To Build A Dog Kissing Booth
Here is a one for the dog lovers checking this DIY right now. Yes! You can get a kissing booth for your dog, and you may not find many kissing booths like this at your local stores, so making one yourself is always a good idea. You'll need foam core board, a tri-fold display cardboard, spray glue, foam rubber pipe insulation, and a few more for the materials. With just four simple steps, you're good to go. aspcapro
12. DIY Kissing Booth
It's time to pucker up and get ready to make an excellent kissing booth like this for yourself. You'll need wooden boards, wood glue, nails, and a few other materials and tools. You need to check the guide to get the cut list for the wood. The assembling process is pretty simple to follow. homemaidsimple
13. How To Make A Cheap Kissing Booth
Indeed of a low-budget kissing booth? Try out this fantastic DIY video guide now. This video tutorial guide will show you how you can make this kissing booth without a cutting machine. All you need is a utility knife or anything just as sharp and effective, your cardboard. After cutting, you'll need to apply your designs and lettering.
14. Dog Kissing Booth
Here is another fantastic dog kissing booth for you. You'll need cardboards, your heart-shaped designs, kissing booth lettering and other stylish signs, a hot glue gun, a marker, craft paper, and lots more. Check the video link below to learn more.
15. Valentine Decor Kissing Booth
Do you need an excellent kissing booth design for your valentine's day decorations? Here is an incredible way to make a mini kissing booth decor. First, you need to make the heart plant, then get some dowel sticks, clay plant pot, floral foam, twine, and a few more items. Check the link below to learn more.
16. Kissing Booth For Hamster
Hamster lovers, where are you? Take a look at a sweet, portable, and easy-to-build kissing booth for your favorite hamster pet. You'll need lots of popsicle sticks, glue, scissors, paper to cover the sticks after assembling them, and then some final custom finishing touches, and your hamster kissing booth is ready to go. Check the link to see the making process and how it was done.
17. How To Build A Kissing Booth
You can build this kissing booth for kids and adults. You can take a sweet pucker-up moment with your kids and it becomes a family kissing booth. You'll need wooden stakes, plywood, nails, screws, paint, and other ornamentals that will be added for decorations. The making process is seamlessly easy to follow. Check the link to learn more. ctmommyblog
18. Cute Kissing Booth
This is simply a mini cute kissing booth that was made from pine wood boards or any other wood board that you have laying around. You'll also need acrylic paint to give your wood a sweet and smooth finishing. Check the guide's link to learn more. craftymcqueen
19. Rustic Kissing Booth Sign
You are looking for a simple rustic kissing booth sign that you can make for a fair price? Then you should try out this guide. First, you need a wood slice or plaque, wood finish, white glitter, vinyl stencil, and acrylic craft paint. Check the link to follow the making steps accordingly. number-2-pencil
20. How To Make A Kissing Booth
Finally, here is the last and more=st remarkable cute kissing booth on this DIY guide. This kissing booth was initially made for infants to have a lovely video and picture moment. The creator used cardboard, hard paper, scissors, marker, tape, glue, craft paper, and other items used for decorations. The making process is quick and easy to follow.
Conclusion
That's all we have for you right now, but I'm sure with these few DIY guides above, you can make as many kissing booths as you may wish to have. We are glad you have found what you are looking for; big thanks for your time, cheers!