Making a DIY bubble wall is a technique of Designing a glass or any clear material in such a way that it displays bubbles. It is not a very simple task as it requires your understanding of some electronic devices.
However, you don't have to worry so much if you want to try your hands on any bubble wall as all you need will be provided in the guides listed below. Just go through them and learn. Check them out now, and get to work immediately!
1. DIY LED Bubble Wall
This LED water bubble is among the simplest water bubbles you can try your hands on. Once you know the techniques behind it, you're good to go. You don't need any expertise skills. The materials you need include silicone sealant, hot glue gun, wood, nail, glass, pipe, and water. See the link below to learn how to join these materials together to give a beautiful bubble wall.
2. How To Make Bubble Wall For Aquarium Wall
As you can make a bubble wall for anything, this particular wall is for an aquarium. You need two types of hose for the aquarium wall; these are plastic level hose and silicone hose for the air pump.  Other things you need include 2 pre-cut bamboo sticks, an airflow regulator, and a silicone sealant.
3. Homemade Bubble Wall DIY
Check out this homemade bubble if you have an off-cut of tile that you don't know what to do with.  Cut two rectangles and 2 small squares out of the tile pieces. Join the 4 pieces together to form a rectangular box with silicone sealant and adhesive spray. Once the box is done, prepare the air hose and puncture some holes on it. Watch this video tutorial to understand the project better.
4. DIY Bubble Wall
Are you willing to design your house with the latest technology that is trending now? If yes, this tutorial is what you need to be informed about the bubble wall and how you can make one for yourself. There are different types of the bubble wall, this means that you can customize a bubble wall into anything (according to size, shape, color, purpose, feel, look, and design).
5. How To Make A Bubble Wall Easy
A bubble wall is always a beautiful sight to watch. This is made from clear glass, silicone sealant, air hose, and some other materials. Silicone sealant is used because of its adhesive strength and it works well on glasses. See the video above for the full tutorial on how to make this bubble wall with ease.
6. DIY Bubble Wall Display
One beautiful thing about this bubble wall is its ability to display different colors of light. This is due to the installation of color-changing led lights. The lights make the wall more beautiful and cool. You can use any materials you like as much as it is a clear material that you can see through. After the project, you can place it at some strategic places in your house where you know it can easily catch attention.
7. Homemade Aquarium Bubble Wall
If you're looking for a budget-friendly, beautiful, and relaxing bubble wall for your house, this is the best option for you. In this video tutorial, you will learn how to make a simple and cheap bubble wall to decorate your house.  Some of the materials you will need include an air stone, air pump, 3-way connector, and aquarium tube.
8. How To Make A Bubble Wall Aquarium
All you need to make this homemade aquarium bubble wall is a glass for the wall pieces, a glass cutter for cutting, silicone glue to adhere the piece together, an aquarium air pump for the bubbles, pipes, a 12-volt adapter, and some LED lights. Once you gather all these materials and you watch this tutorial, you're good to go.
9. DIY Bubble Wall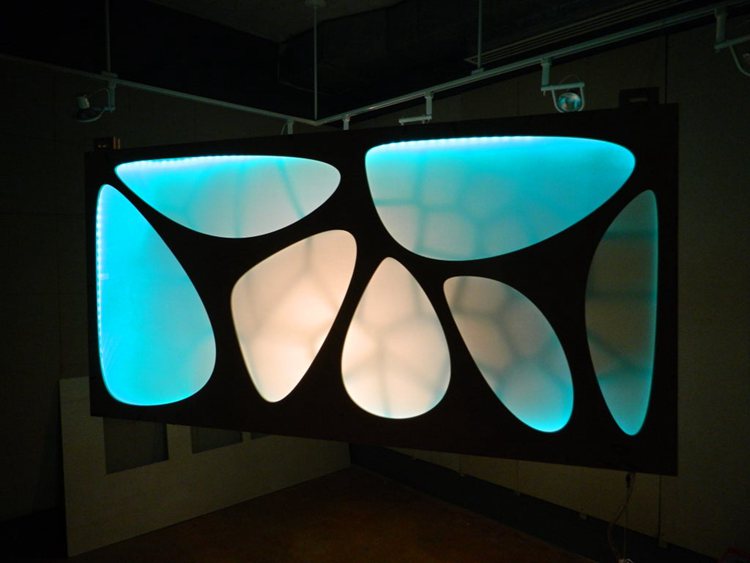 See here an interactive wall for children's play which can also work as lighting. All you need include two sheets of birch plywood, a roll of latex sheeting, wood screw, silicone, air pump/blower, solid-state relay, double-sided tape, and LED light strips.
Start by designing the 3D image of the wall, you can use a CAD program to this effect.  Depending on how many sides you want the wall to have, you will need many panels; for a double-sided wall, you need three panels and for a single-sided wall you need two panels. Check out the link for more details about the project.
10. DIY Bubble Wall Infinity Mirror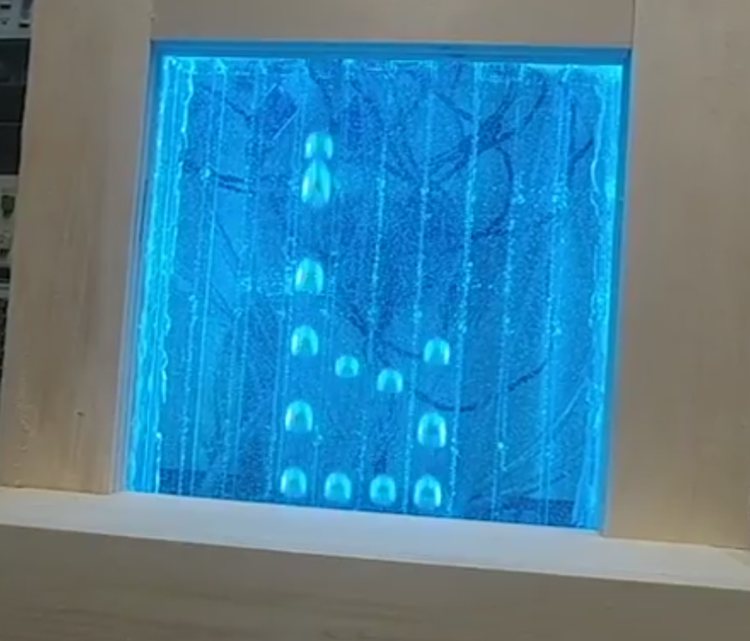 You don't need a computer/design program to build the bubble case for this, all you need to do is to get some pieces of  PET-G, HIPS to construct the wall, and silicone to adhere the pieces together. You can pour water into the case to test if it is leaking for necessary adjustments.
After this, start with the woodwork. You might need the help of an expert here if you're a beginner with woodwork, but notwithstanding it not very difficult you can learn.
11. DIY Scrolling Bubble Display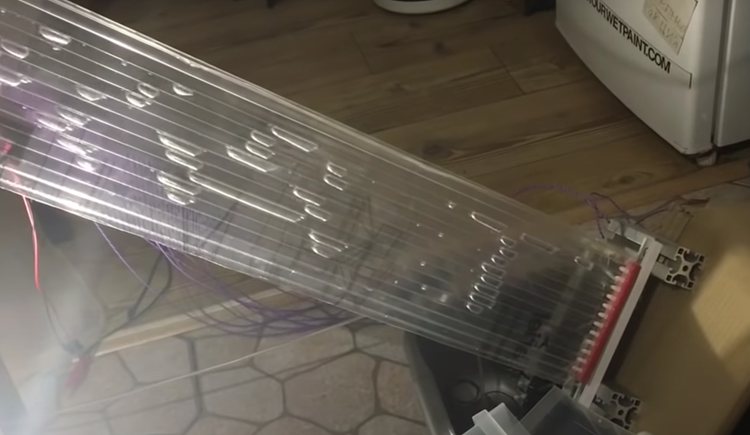 It is very amazing to see one's name displayed in bubbles. I will be very happy to see my name in the bubble. Here are what you need for the project: an Arduino, twin wall roofing polycarbonate sheet, silicone sealant, an endplate, an airbrush compressor, wire, soldering iron, solder, and. Some more.
The first thing you need to work on is the twin wall channel and the nozzle plate. See the link below to learn more about the project.
12. How To Make A Bubble Wall Very Easy
See here how to make a simple bubble wall with glass and silicone glue. You need two pieces of glass. Place one of the glasses down and attach a paper tape on one side of it. Use the paper tape as a guide to measuring where the silicone glue line will be. After making the silicone line, place the second piece on it and you're good to go.
13. DIY Water Bubble Wall
There are three parts to this water bubble wall; the first part is the glass that will display the bubbles. The second part is a wooden stand that will hold the glass, while the tired part is the assembly where you put all the parts together to get the bubble wall.
14. Making A Bubble Wall From Scratch
To make this from the scratch, get two pieces of plain glass (45cm×55cm), 2 thing pieces of the glass, and silicone sealant. With the silicone sealant, stick the two thin pieces to the sides of one of the glasses. After this, put glue on the thin layers and place the second glass on it.
15. DIY Bubble Wall In Bottle
Make your bubble wall inside a bottle. It is very simple and cheap. All you need is a bottle, 2 bottle caps, an air hose, LED light, and glue. Make holes on one of the bottle covers and one single hole on one side. Fill the bottle with water and cover it with the cap with holes. Attach the other cover with glue and you're good to go.
16. DIY Bubble Wall Craft
This is made from leftover tiles, glue, adhesive spray, adapter, and air hose. Find something to puncture jokes around the air hose. That is where the bubbles will be coming from.  Build a frame with some plastic panels. Make a rectangular box with the pieces of tiles and put the frame inside the rectangular box.
17. DIY Bubble Wall Using Acrylic Sheets
All you need for this bubble wall is an aquarium air pump, a flexible pipe, 2 sheets of transparent acrylic glass (5mm thick), and some acrylic cement/favorite as adhesive. While working with adhesive, it is advisable to wear gloves. At least a rubber/plastic glove is fine. To start with, remove the protective sticker from the acrylic sheets and start work.
18. DIY Bubble Wall For Aquarium
Here is another bubble wall for the aquarium! Bubble wall makes an aquarium look more colorful. The first thing to do is to gather the materials you need (check the link below for the list of materials).
After gathering the materials, take the air hose and close one opening with glue. Then, Punch holes around the house with any sharp object you can find. Check out the next step in the video tutorial below.
19. DIY Bubble Wall In Wine Glass
A bubble wall in a wine glass! That sounds amazing and fun. Here are what you need: color, wine glass, cooking oil, water, and a tablet. Pour the cooking oil into the wine glass, then pour the water.
The water will go down the glass because it is less dense than oil(meaning it is lighter than oil). Now, add drops of the color to the surface of the oil and allow it to sink. After this drop, the table and the bobble start forming.
20. How To Make A Bubble Wall
Silicone is the most common type of glue when it comes to bubble walls. It works well on glasses and the adhesive strength is high. Asides from the silicone glue, other things you need include clear glass, color-changing led lights, compass, air hose, measuring tape, and adapter. Click the link below to see the full tutorial on how to make the nibble wall.
Conclusion
There you have it! 20 amazing Bublé walls you can make for your home without having to rob a bank. If you have any contributions or questions regarding this article contact us via the comments section and we will get back to you in a jiffy. Thanks for stopping by! Have a great day/night!