Have you ever been in that frustrating situation trying to find a particular spice amidst other spices? It can be frustrating. With a spice rack, it is easy to organize your spices and easily reach them.
Here is a list of 25 DIY spice rack ideas that you can make yourself. Some of them are easy; all and others are not so easy to make.
DIY Spice Rack Ideas For Organizing Your Favorite Spices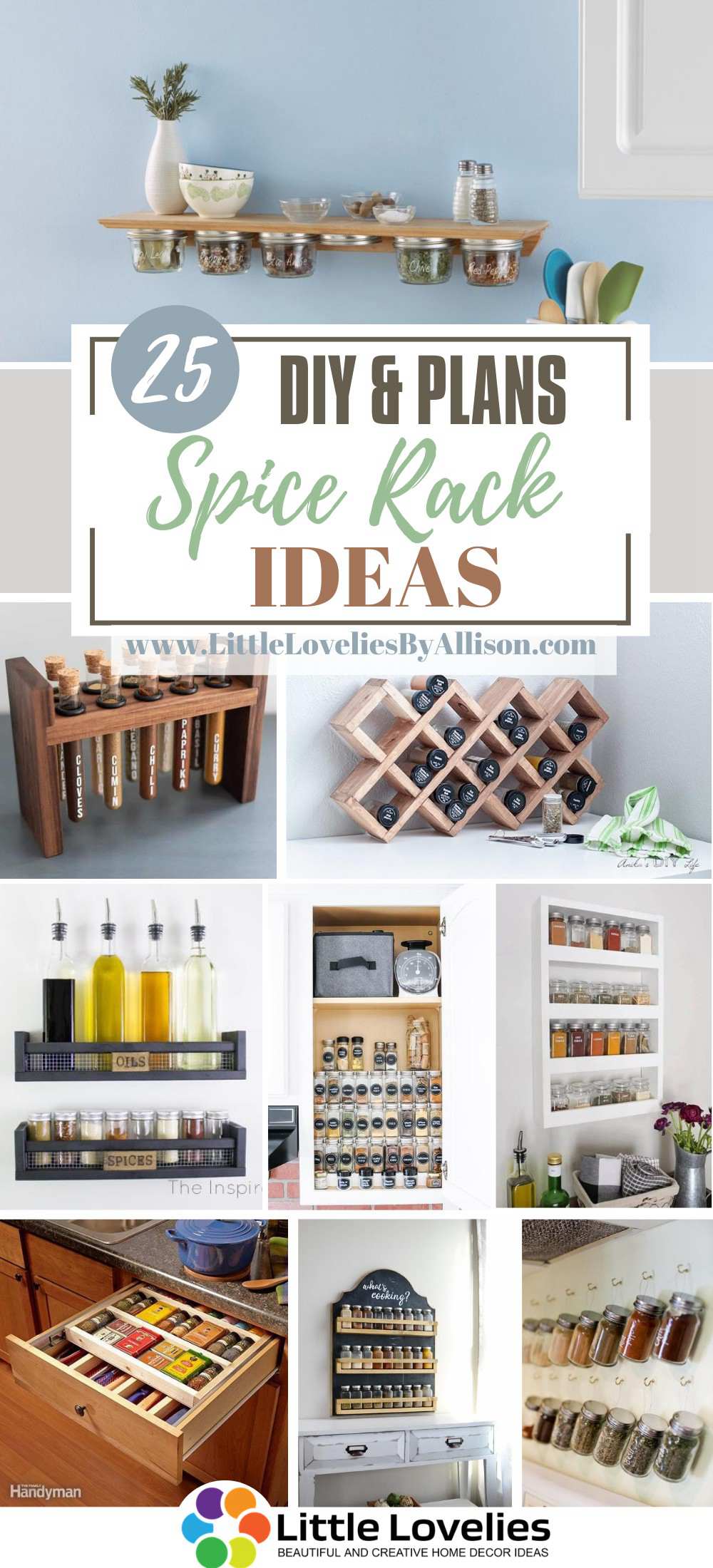 1. DIY Two-Tier Spice Rack
I listed this DIY spice idea first because I use this in my house. I love how all the spices fit perfectly in the pull-out drawer. With this spice rack, getting spices out won't be much of a challenge. It is quite easy to make too, all you need to do is follow the plan and steps to the latter. This is one DIY spice rack that will serve you for a long time.
2. DIY Magnetic Spice Rack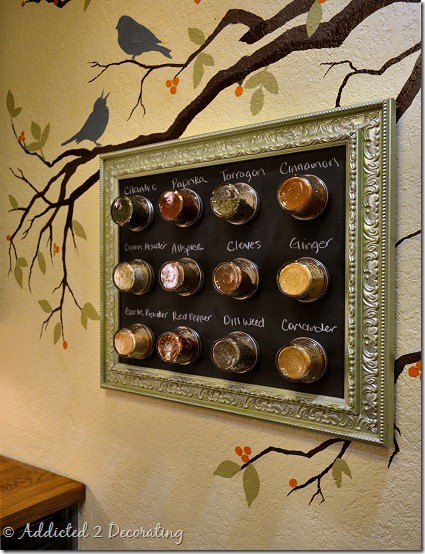 While doing my research, I also came across this unique magnetic spice rack. It can even act as a decor in your kitchen. For this DIY project, a chalkboard is used alongside magnet and other tools. I love how the spices are labeled on the chalkboard, making it easier to know the spice before picking.
3. DIY $1 Spice Rack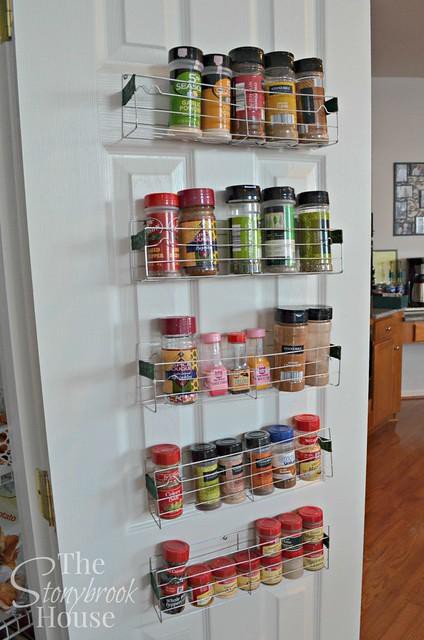 The beautiful DIY Spice rack you see in the image above would cost you just $1 to make, and no! I am not bluffing. This is a fantastic spice rack hack. Lori deserves some accolades for the excellent job done.
4. DIY Wooden Spice Rack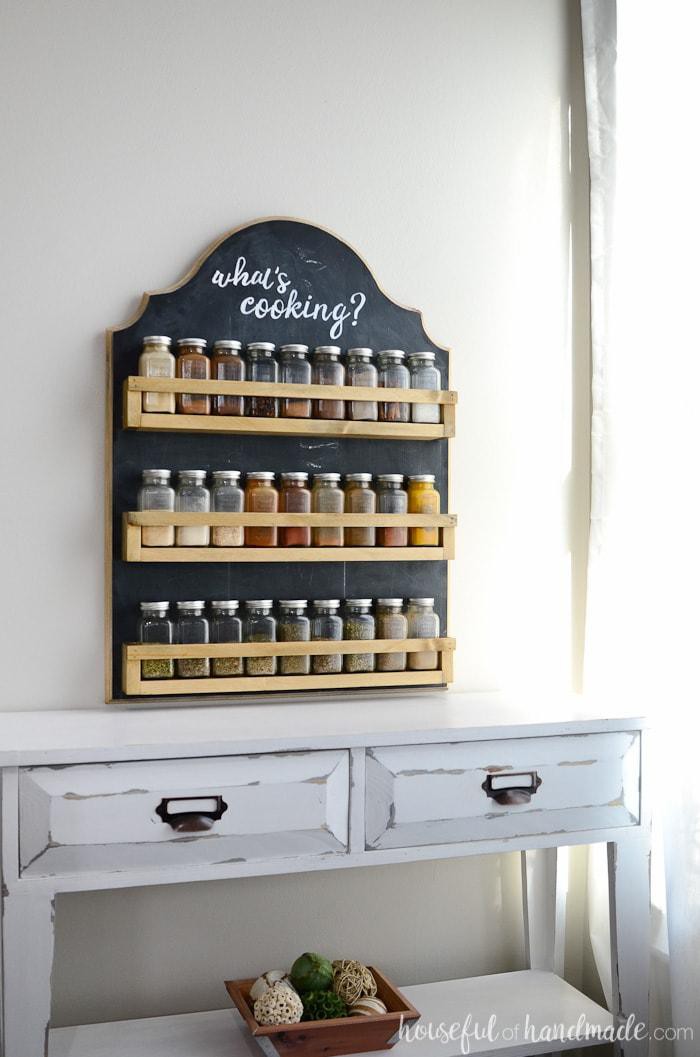 I think this is an amazing way to organize all the spices you have in your home. For this project, Kati was able to transform her old school spice rack to the beautiful piece you are looking at using wood.
5. DIY Spice Rack Door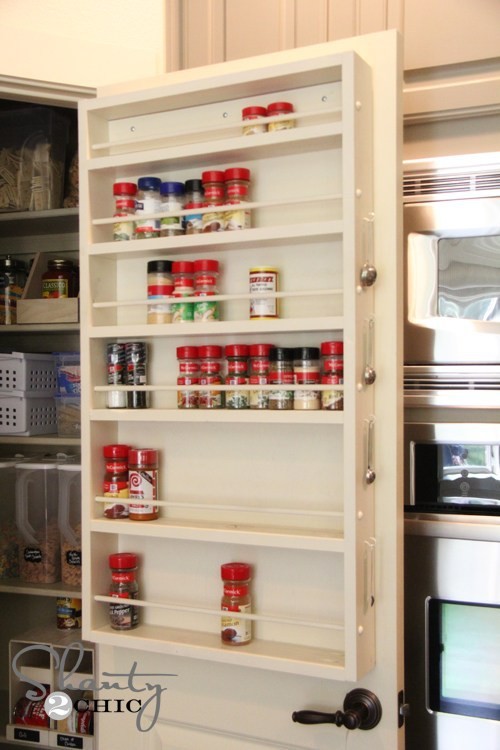 Are you looking for the perfect place to place your spice rack? Placing it on a door is a fantastic idea. In this DIY project, the creator was able to craft out this amazing spice rack and hung it on her door. It has six compartments, which means there's a lot of space to store as many spices as possible.
6. DIY Test Tube Spice Rack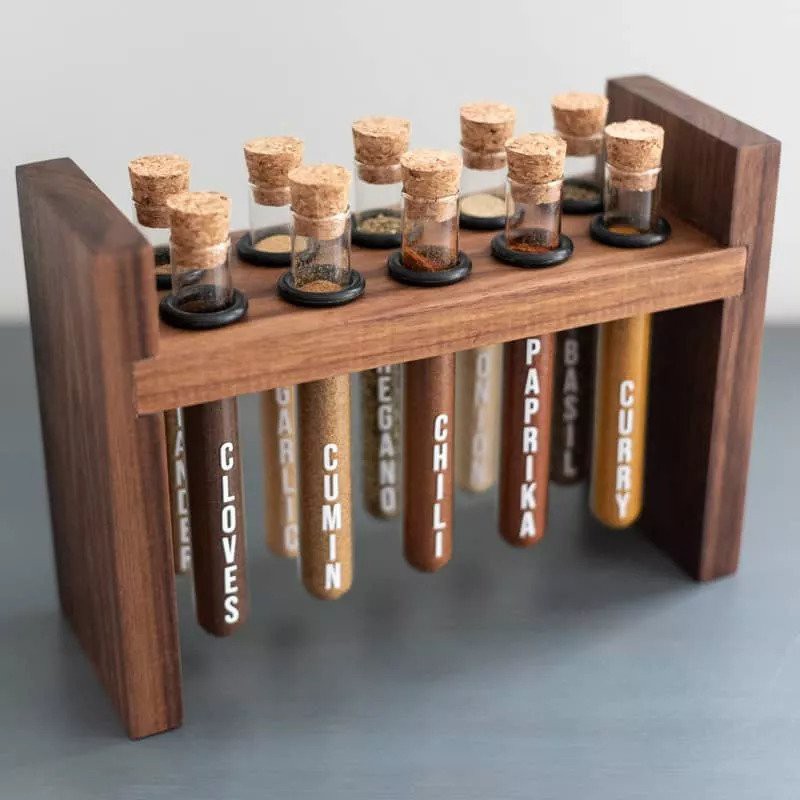 Science lovers would admire this spice rack. This is an idea you don't see every day. Although this spice rack has a lovely look, it isn't so easy to make, you will need to drill almost perfect holes, take specific measurements and do a lot more before you can get the result. I think this is a great way to store spices in your kitchen.
7. DIY Tiered Spice Rack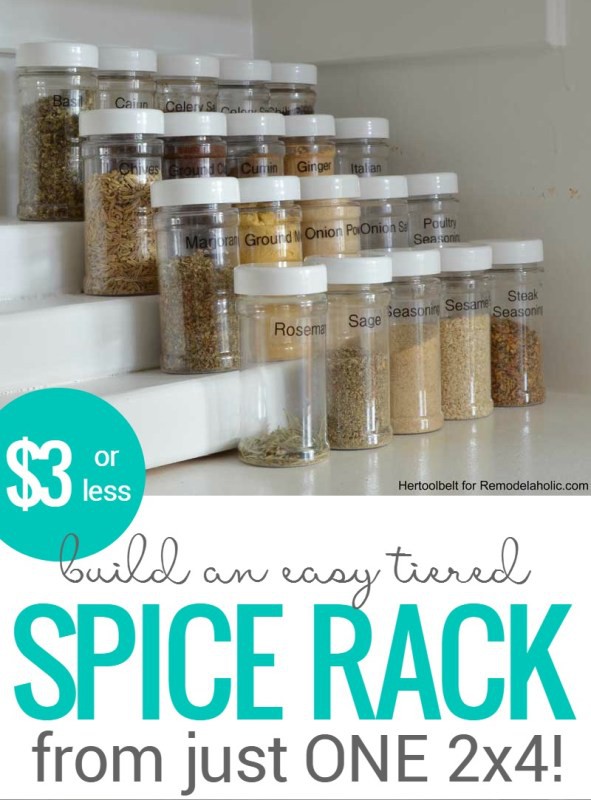 Here's a spice rack that is easy to make and also cheap. To make this you would need a few tools like a drill for the holes, and a saw to cut the wood. After making this spice rack, you should place it on a floating cabinet for easy access.
8. DIY Rustic Shelf For Spices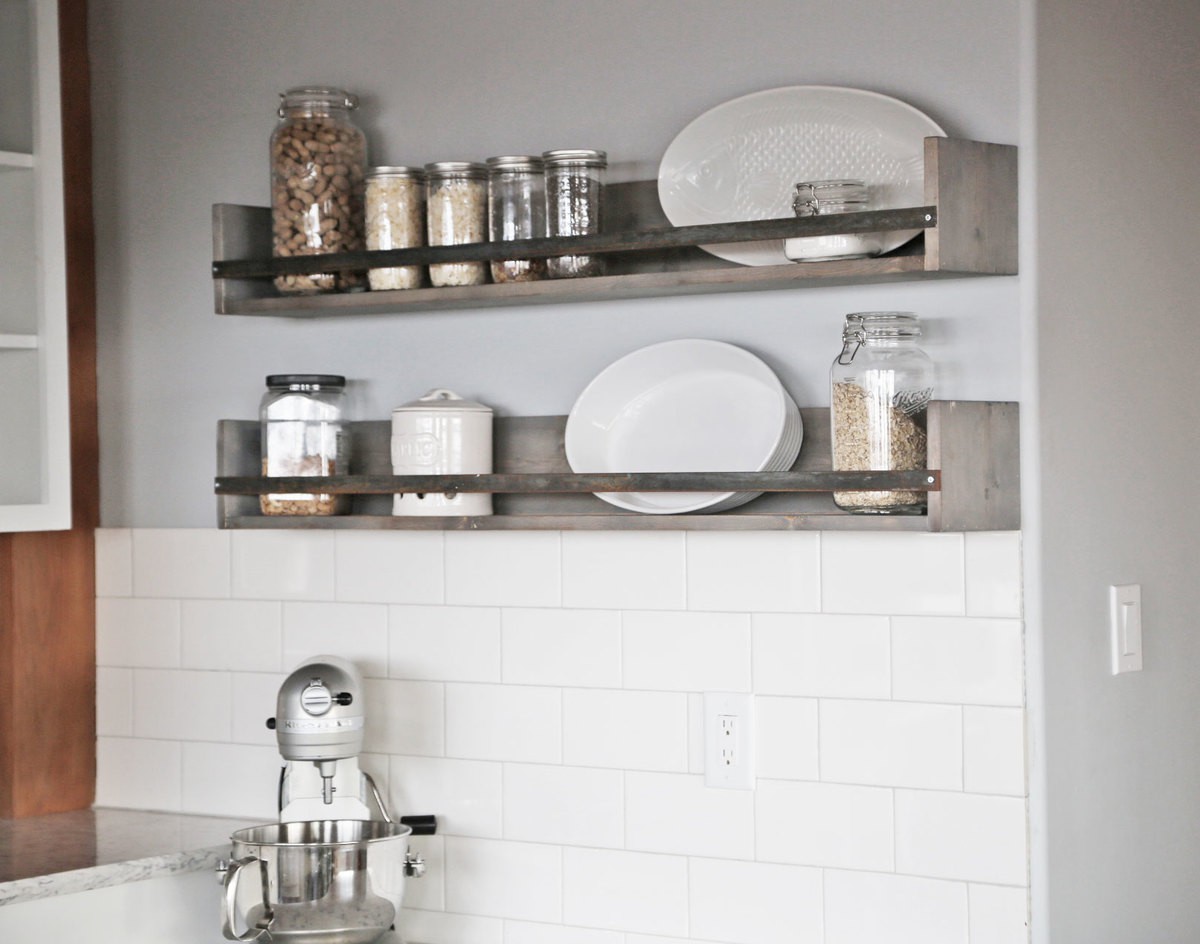 If you are thinking about trying a rustic kitchen design in your home, consider adding this spice rack to the rustic decor items list. The making might be a little tough initially, but you'll get the hang of it with the right tools to help.
9. DIY Mini Mason Jar Spice Rack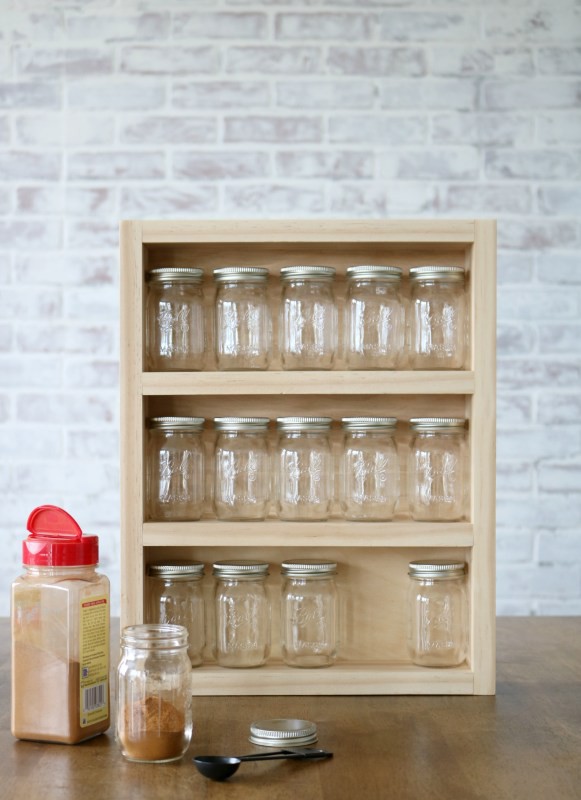 Here's another easy to make spice rack idea. It can be used to store up to 15 mini mason jars containing spices. You can place this spice rack inside your pull-out cabinet, but I would prefer to put it on top of the kitchen countertop.
10. DIY Kitchen Spice Rack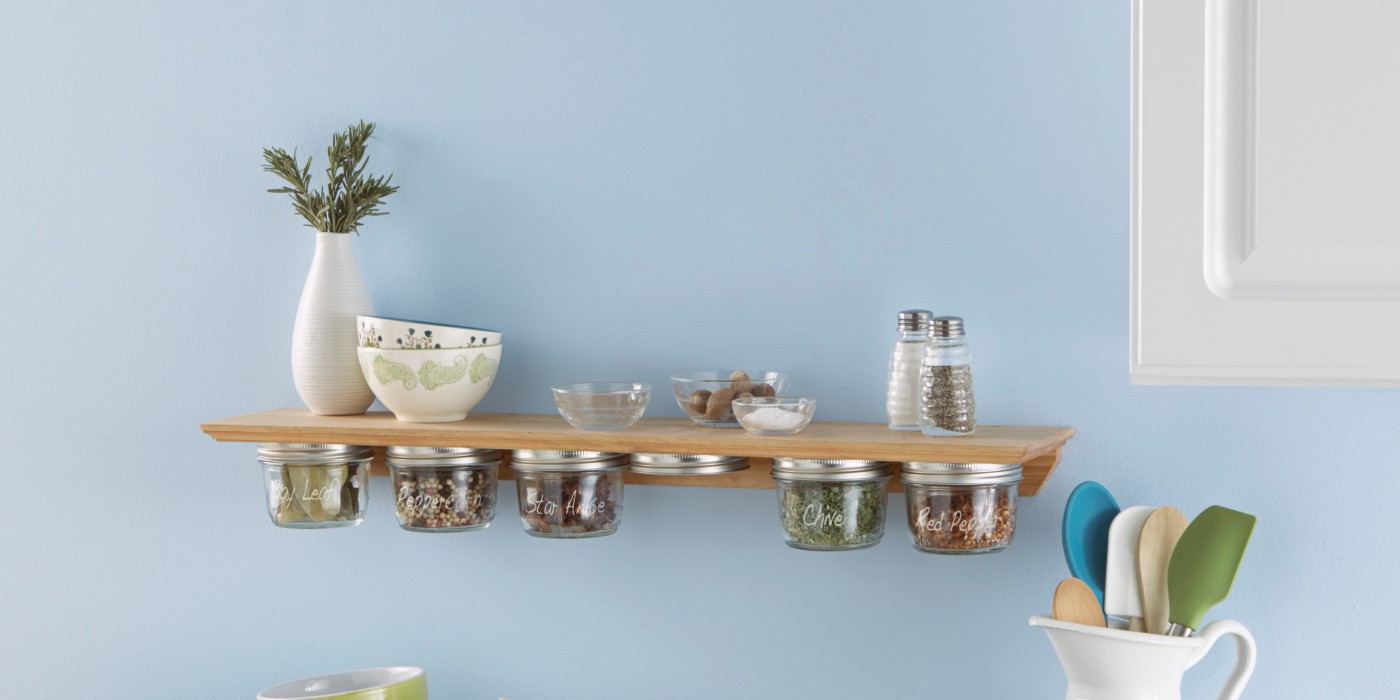 The way this kitchen spice rack is built makes it easy to access your spices. You can make this for your kitchen and hang it just above your countertop. This spice rack isn't space-consuming, and that's amazing. I would suggest this for small kitchens.
11. DIY Built-In Spice Rack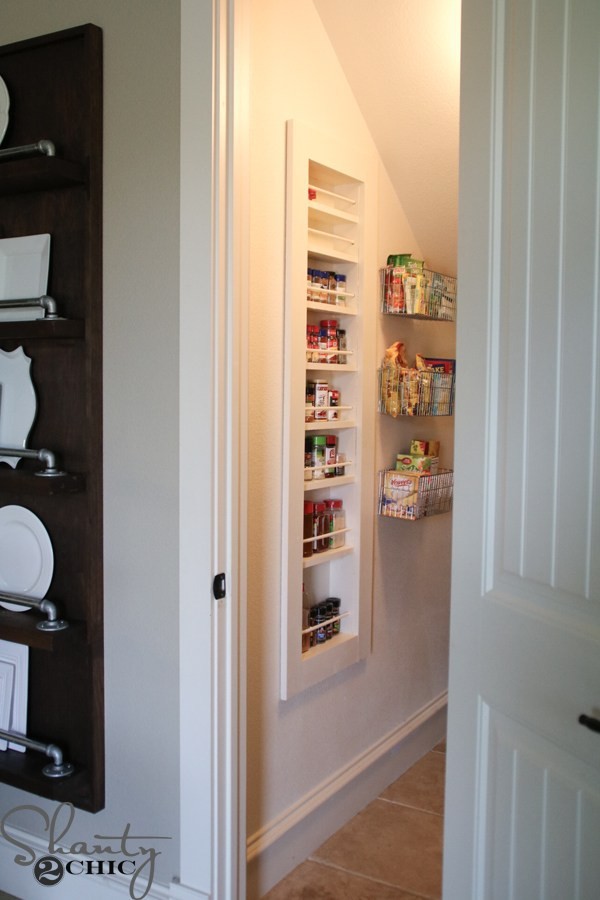 This is, by far, one of the best DIY spice rack ideas I have seen. It is built-in, and I think that's a fantastic way to store spices. This spice rack has eight storage compartments, which means that you'll have more than enough room to store all the spices in your kitchen. This spice rack is ideal for people who have a lot of spices in their kitchen.
12. DIY Small Pantry For Spices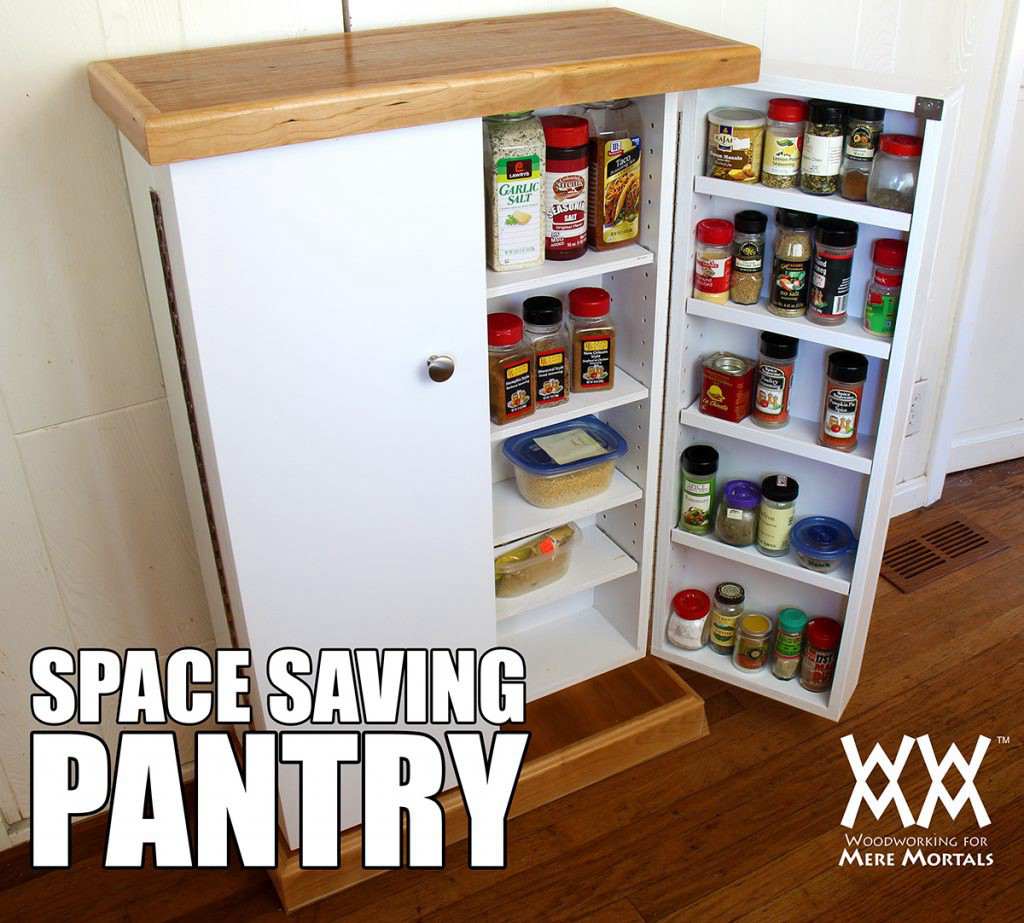 This pantry is ideal for large homes. This small pantry is space-saving, it won't take up much space in your kitchen, but it has many compartments that you can use to store a lot of spices. I would prefer see-through doors on this pantry, but the doors used work great.
13. Spinning Spice Rack DIY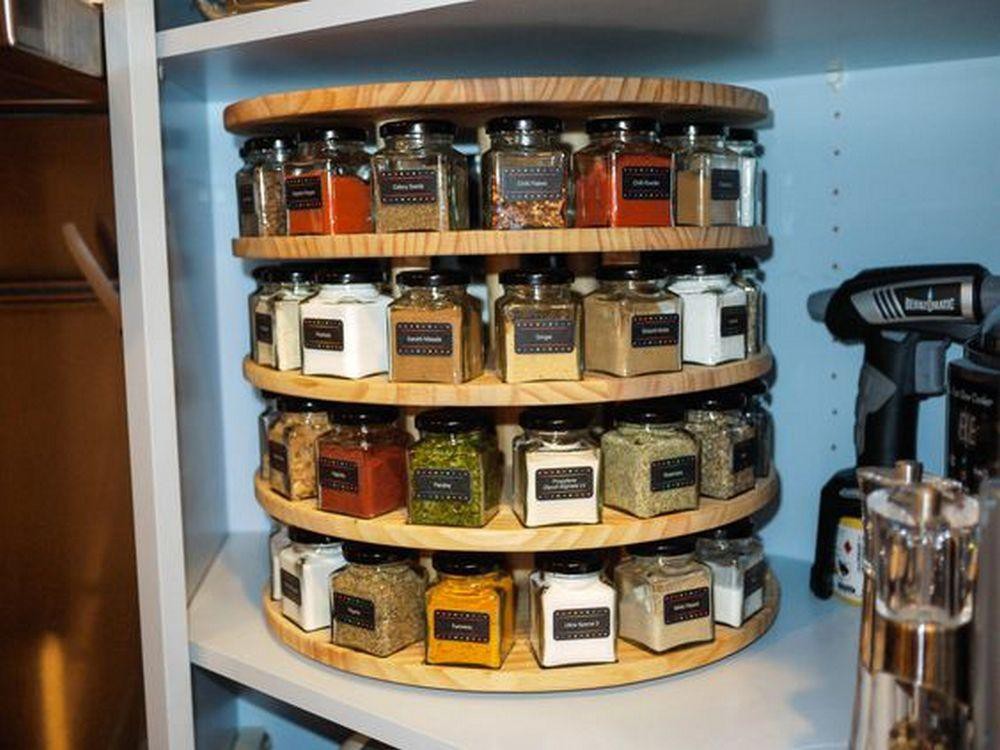 This spinning spice rack is one of a kind. It is built for cabinets. I think keeping this in the corner cabinet section wouldn't be a bad idea. On this spice rack, there's enough room for all your spices. Also, it's spinning nature makes it easier for you to grab a spice from the rack.
14. DIY Country Spice Rack
If you have a country-style kitchen decor in your home, consider this country-style spice rack for your spice storage. It has three compartments for storing your spices. It might not be able to house a lot of spices, but it is amazingly outstanding.
15. DIY Fancy Spice Rack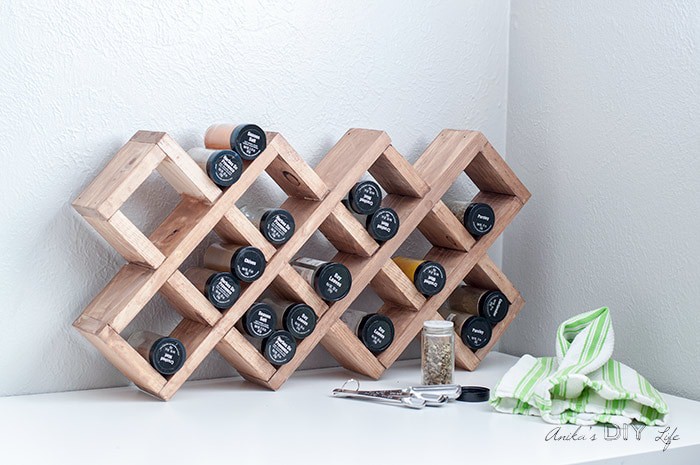 If you are looking for a spice rack that would add beauty to your kitchen, it's this one. It is quite fancy and can accommodate a good number of spices. It's made using scrap wood, the best place to keep this spice rack after making it be on top of your countertop.
16. DIY Spice Rack Idea
For this DIY project, the creator was able to transform an old cabinet to a fantastic space-saving spice rack. If you have an old cabinet in your kitchen, you might want to try out this amazing DIY spice rack idea. The transformation process is quite easy to follow.
17. DIY Spice Jar Storage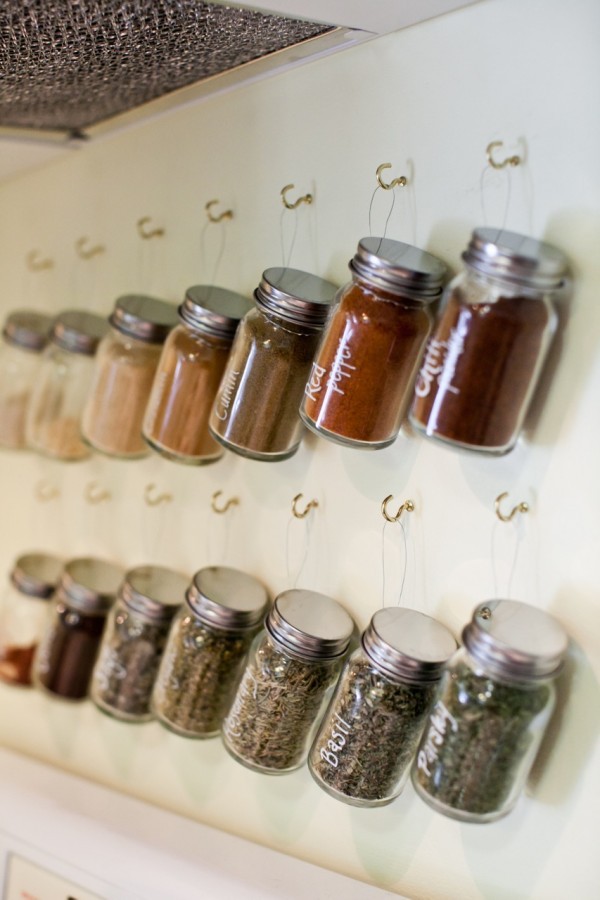 If you don't want any more wood in your kitchen, you can try out this idea. This DIY spice jar storage is very easy to make, all you have to do is get the tools needed, read the instructions, and you'll get it right. Also, you will need to dedicate an area of your kitchen wall to hang the spice jars.
18. Coke Bottle Spice Rack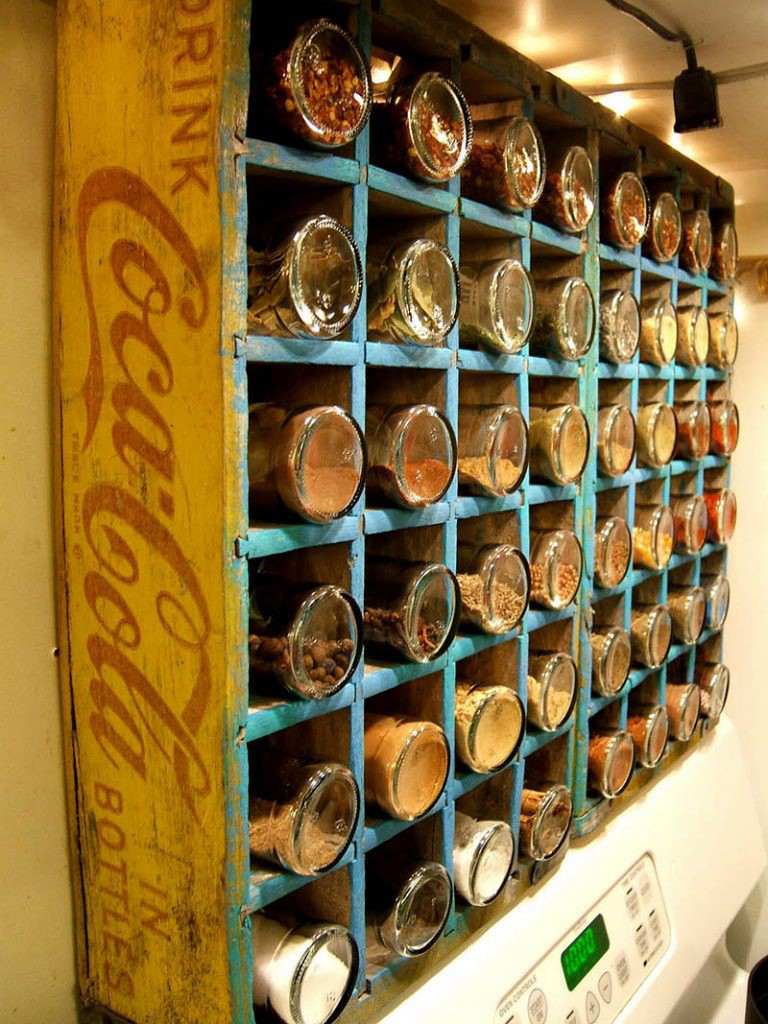 Making this coke bottle spice rack is not a task that will stress you. All you need to do is get this old coke bottle box and also get the jars for spice storage. This idea would be an ideal fit for rustic kitchens.
19. DIY Wall-Mounted Spice Rack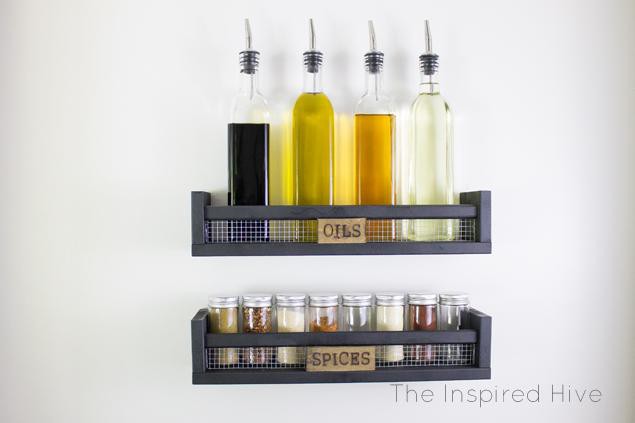 Here's another DIY spice rack worthy of note. It would fit perfectly in your rustic kitchen. If the black color does not cut it for you, feel free to paint the wood with your preferred color. This spice rack is easy to make. Even a complete beginner would be able to make this wall-mounted spice rack.
20. DIY Pallet Wood Spice Rack
Pallet wood lovers are not left out. This pallet wood spice rack is an amazing piece of art that will not only act as a storage compartment for your spices. The making process isn't easy; you might need to have woodworking experience to be able to do this.
21. DIY Countertop Spice Storage Bin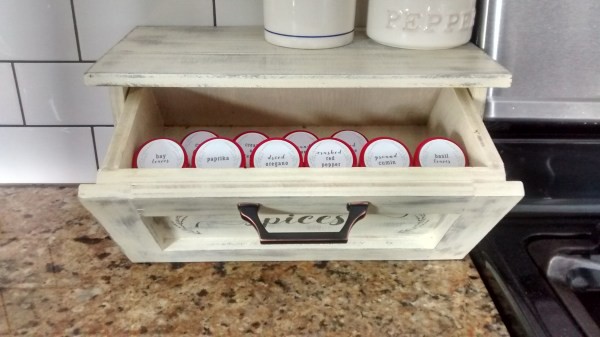 This DIY spice rack is amazing. It is a great way to store your spices and also add a nice piece of furniture on your kitchen countertop.
22. DIY Tiered Spice Rack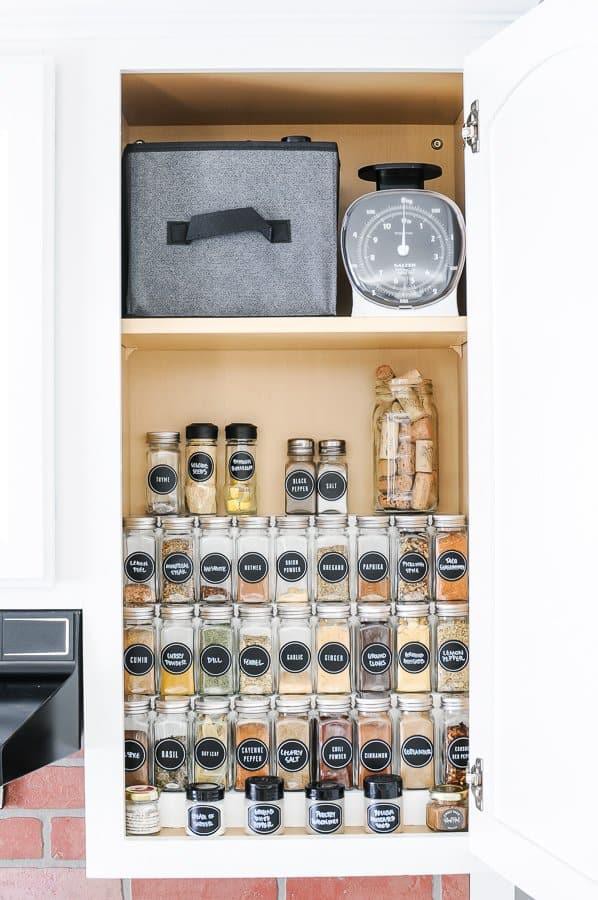 Most people seem to prefer keeping their spices in their cabinets. Truth be told, if you have a lot of spices, organizing them in a cabinet might be an issue, but thanks to this tier spice rack, you can save a lot of spices in your cabinet.
23. DIY Ultimate Spice Rack
This is one of my favorite spice racks. It can contain a lot of spices. You'll need to label each spice, so you know which one you are taking.
24. DIY Modern Kitchen Spice Rack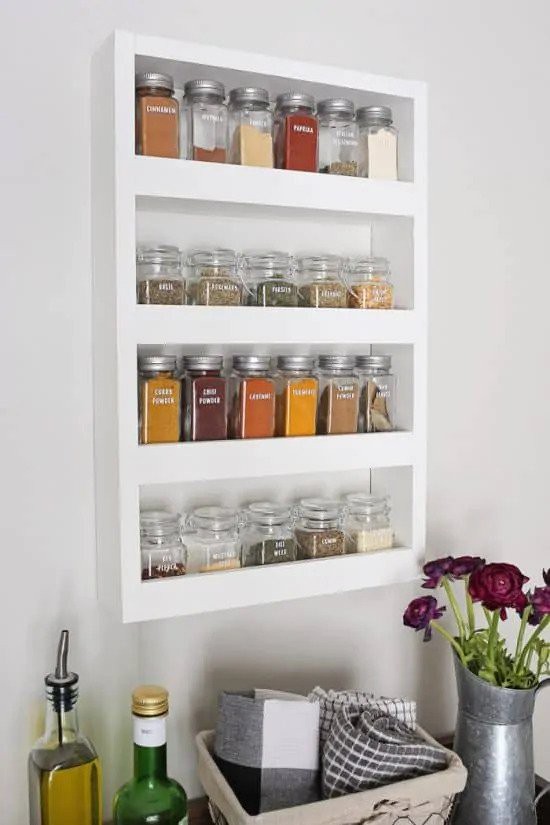 I found a DIY spice rack idea that would be perfect for a modern kitchen. The creation process is not so easy, but it's fun, and i'm sure you'll get the hang of it.
25. Easy DIY Magnetic Spice Rack
A magnetic spice rack is quite satisfying to pull out. Here's a DIY project that will show you how to install a magnetic spice rack in your kitchen.