Did you know that making a fancy cutting board by yourself is more cost-saving than purchasing one online? All you need are the right wood-working tools and a plan to follow.
I have put together a list of 25 charming DIY cutting board ideas that will inspire you to create yours. All the  DIY cutting board ideas listed below have their plans inclusive. Why wait? Get to making one for your kitchen. You'd be glad you did.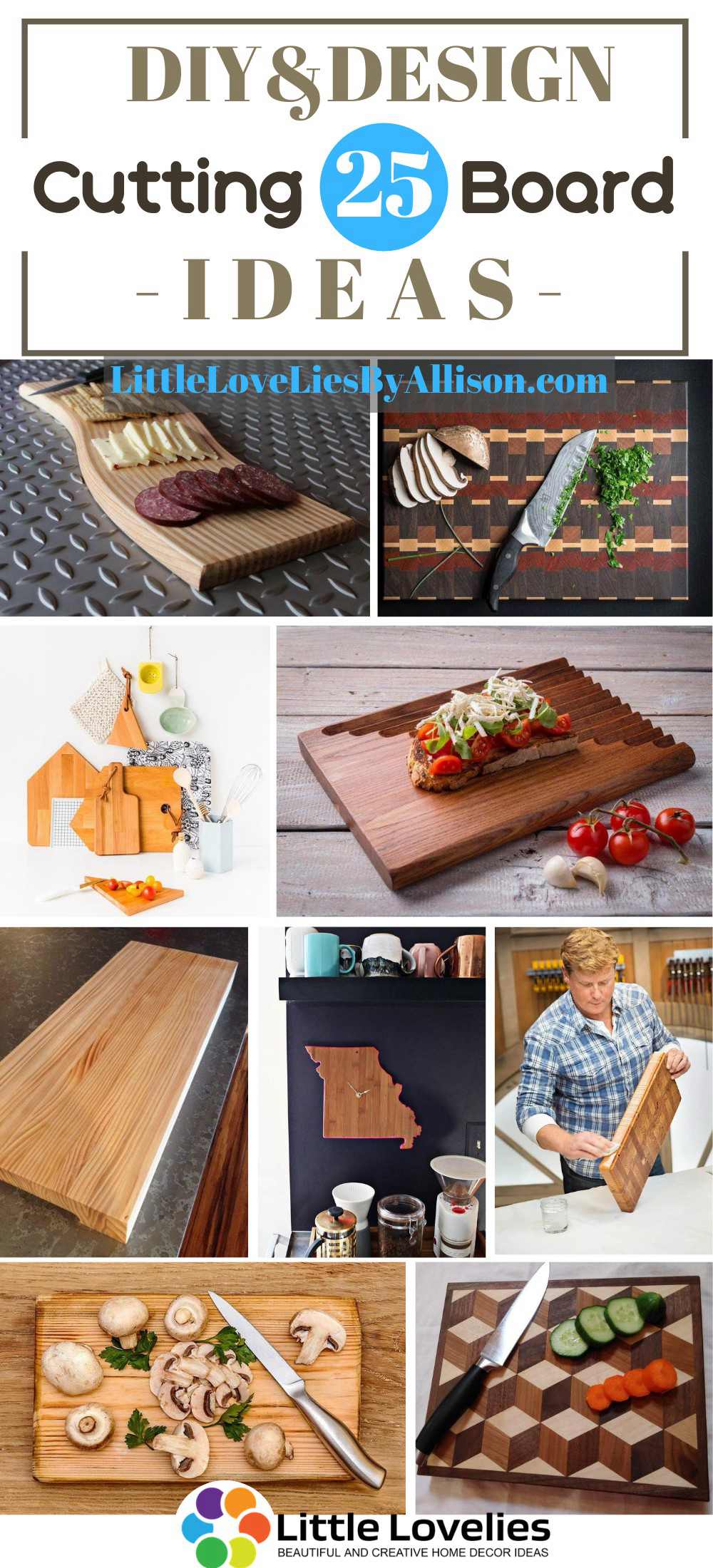 1. DIY Drunken Cutting Board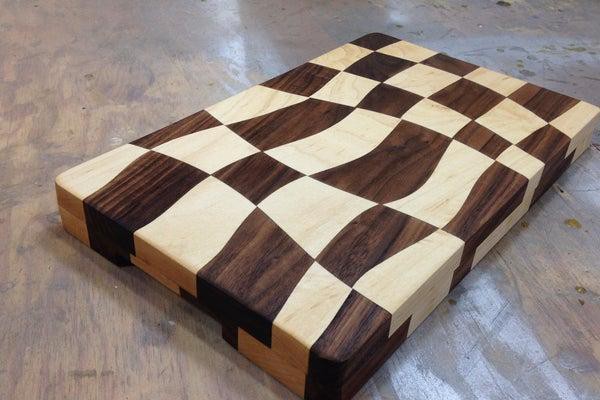 Here's a funny but unique cutting board that would make an excellent piece for your kitchen. The creator was able to use his imagination to make this cutting board, and he named it the drunken cutting board because it looks like how an overly drunk person would see a perfectly checkered platform.
2. DIY Simple Cutting Board
Making a cutting board is not as easy as it may seem. There's a lot of cutting and gluing that eventually leads to the finished cutting board. This is one simple-looking cutting board that you can make for your kitchen.
3. DIY Cutting Board Wallet
Now I must say, This is a creative idea. The creator was able to craft a cutting board with a compartment where you can store certain items like cards and just about anything that would fit. This is a portable cutting board that can work well in kitchens, due to its small size, you can also take it along for your camping needs.
4. DIY Cutting And Serving Board
Now, this is one DIY project that you need to try out. You might not use it often but it will surely come in handy someday. This cutting board can also be used as a serving board. You can cut stuff on the board and immediately transfer it to the serving section. You will require a few woodworking tools to make this board.
5. Modern Kitchen Cutting Board DIY
If you have a modern kitchen, I would recommend a simple-looking cutting board. I found this amazing one on "home depot." For this DIY project, you will learn how to make a simple cutting board for your kitchen.
6. 3D Cutting Board DIY
Do you need a fancy cutting board? I found this fantastic looking 3D cutting board, and it is not so easy to make. The process is time taking but would be worth it in the end. This cutting board would also serve as a great decor item for your kitchen.
7. DIY Cutting Board
Here's another fancy cutting board that will add beauty to your kitchen and will also serve well. I love the color mixture of this cutting board. You can have different colors on yours. Either way, this cutting board is amazing.
8. DIY Scrap Wood Cutting Board
Do you have scrap wood around you? Don't ignore them. The fancy cutting board above was made from scrap wood. I love the different color variations of this cutting board. If you have a rustic kitchen, I suggest you opt for this cutting board.
9. DIY Chevron Cutting Board
Here's one cutting board that will grab the attention of anyone that walks inside your kitchen. This cutting board was created using walnut scraps and maple. You will need some woodworking tools to aid you in making this chevron cutting board. The steps to making it are quite easy to follow.
10. DIY 1000 Piece Cutting Board
A thousand pieces of wood were used to create this fantastic piece of art. I think this is by far the best cutting board I have come across. To make this cutting board for your kitchen, you will need to get a couple of supplies.
11. DIY Engraved Cutting Board
Just like any cutting board, this one adopts almost the same creation process. One unique thing about this cutting board is the engraved symbol in the middle, which makes the cutting board look more professional. To do this, you will need the help of some woodworking tools.
12. Diy Cutting Board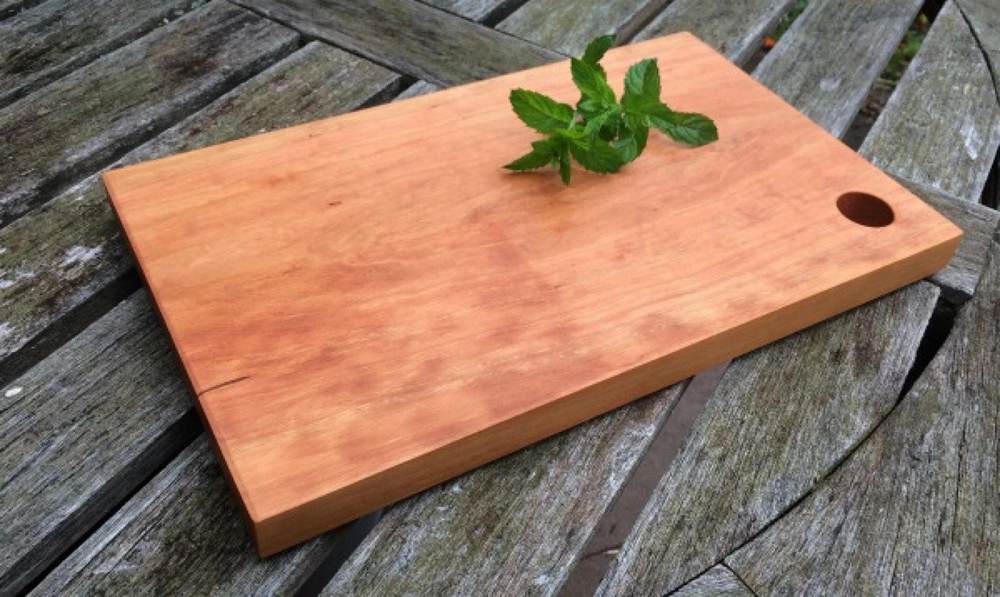 Here is a DIY project that would not require a lot of work to get done; you also won't need to get a lot of woodworking tools. The primary thing to acquire is wood, other processes that follow are not so difficult.
13. Modern Kitchen Wood Cutting Board DIY
This cutting board is ideal for large kitchens. If you require a larger board for cutting food items, you can easily make for yourself this one. The dimensions given in this DIY project can be altered. You can make the cutting board smaller or bigger, depending on your needs.
14. Fancy DIY Cutting Board
For this DIY project, you will learn how to make two fantastic cutting boards for your kitchen. They are beautiful. One cutting board is shaped like a house, and the other has a beautiful shape with a cute love symbol. The ladies would love these DIY cutting boards.
15. DIY End-Grain Cutting Board
End-grain cutting boards are great. Not only are end-grain cuttings beautiful, but they also can absorb the impact from sharp blades. With this board, your knife won't go blunt any time soon, end-grain cutting boards help your knife stay sharp. In this DIY project, you will see the process of making an End-grain cutting board.
16. DIY Curved Cutting Board
Still not seen an idea worth making? Here's another cutting board you can make for your cutting needs. The making process of this cutting board requires a lot of woodworking tools. You might require some amount of woodworking skills to be able to make this unique curved cutting board.
17. DIY Plaid Cutting Board
This cutting board will do two things for you; the first is that it will be used to cut and chop food items in your kitchen. The second is that it will act as a decor item in your kitchen, just make sure the board is visible for people to see, they will love it. And the best part will be when you tell them you made it yourself. I included a link to the full DIY details for this plaid cutting board.
18. DIY Bass Clef Cutting Board
Are you a music lover? If the answer to that question is yes, then this cutting board deserves a spot in your kitchen. The creator was able to design this cutting board with a bass clef symbol on it. The steps might be a bit stressful, but you would be glad you made it.
19. DIY End-Grain Cutting Board
This beautiful end-grain cutting board is exceptionally adorable. I would suggest this end-grain cutting board for a modern kitchen, it will also fit perfectly well in a rustic kitchen. The making process requires a lot of tools and effort, but You'll be happy after seeing the end product of your hard work.
20. Butcher Block Cutting Board DIY
Here's a butcher block cutting board. It can be used as a cutting board and also a serving board. Either way, it will serve you for a very long time. This DIY project won't cost you much to make; if you know your way around woodworking tools, you'll spend only a couple of hours creating this cutting board.
21. Walnut Cutting Board DIY
Here's one DIY cutting board idea that won't take a long to make. You should be able to make this in less than 2 hours. For this project, you can use any wood of your choice, but the creator used eastern walnut. Even a complete beginner would be able to make this cutting board by following all the listed steps.
22. DIY Geometric Cutting Boards
With the use of wood and other tools, there's almost no limit to what you can create. For this DIY project, Brittni Mehlhoff was able to craft this amazingly outstanding cutting board for her kitchen, and they are so beautiful.
23. DIY Cutting Board Clock
I couldn't help but include this amazingly outstanding cutting board clock. Unfortunately, it can't be used for your cutting needs, but I think this is a must-have for all wood decor lovers. Making this cutting board clock is quite easy.
24. Cutting/Serving Board DIY
This board can be used for cutting and serving. I love the design used on this cutting board. You don't see a unique design like this every day.
25. DIY Brick And Mortar Cutting Board
Here's a fancy brick-like cutting board. I love the pattern used. It is quite easy to make if you follow the steps rightly. It will surely add beauty to your kitchen.