A charcuterie board is made for purposes like when you want to throw a party, or an event or want a gathering of friends and you need to stylishly display a mix of fruits, meats, loaves of bread, nuts, condiments, and other favorites to make it pleasant and appetizing to your crowds.
A DIY Charcuterie Board Wood is your blank canvas for a masterpiece. Pinning is just the beginning, this one wood post has a ton of DIY projects to choose from. I've collected and showcased 25 of my favorite wood DIY charcuterie boards here, they provide step-by-step tutorials and pictures to help you get started. Whether you're looking for something simple to follow or need more detailed instructions feel free to browse around this page.
1. DIY Charcuterie Board
In this DIY video tutorial, you are to learn how to create a giant handmade charcuterie board or tray with wooden boards. The charcuterie board is a party popper making each meal a total eye-appetizer, with this tutorial you can comfortably construct a charcuterie board with non-porous wood in this case.
2. How To Make A Charcuterie
Here is why charcuterie boards are a legit important item for every individual, you can use them to style your meals displaying methods, they are also a beautiful and ideal gift for your friends and family. It does not require a lot of skill to make as shown in the DIY video tutorial above, here is a list of some of the materials required which are a Delta miter saw, Howards cutting board oil, Total boat epoxy, Biesemeyer Table saw and a few other materials.
3. Easy Charcuterie Board Tutorial
This is a well thought, out of the box DIY charcuterie board, apart from it being extra easy to make. These charcuterie boards are made into a newer, unique and beautiful shape, other than the conventional rectangular-shaped ones.
4. Making A Charcuterie Board
Might just be me but this charcuterie wood board reminds me of another certain important kitchen material- a knife chop or chopper. This DIY video tutorial explicitly goes through all processes from smoothening of the world with an electronic wood smoother, carving, joining of bits and parts. All these make the creation process of a charcuterie board a thrilling and lovable one.
5. DIY Hardwood Charcuterie Board
There are so many things that come to mind when a charcuterie board is mentioned, many see it as a rectangular-shaped wood for assorting different types of meat, cheese, and other edibles, but many do not know the actual purpose of a charcuterie board, how it is made. This DIY tutorial guideline seeks to highlight many of these things and also explain how to make one yourself without much strain. simplyrootedfarmhouse
6. Wooden Charcuterie Board
Wow, whoever knew a wooden charcuterie board was once called cheese boards, serving boards, or platter, cringe! Well, not only names have changed, but making them and outlook has also changed with just feel materials and supplies like a lumberyard, jigsaw, and a palm Sanders, you can now make such beautiful, antique wooden charcuterie boards like the ones shown in the picture above. theartofdoingstuff
7. DIY Charcuterie Board
Charcuterie boards are mostly made from non-porous, dense woods like maple and the rest, but this does not mean using another wood like Pine, in this case, would not work. Here is a DIY tutorial on how to convert pine woods into a beautiful food serving tray, marking and cutting out the edges with cardboard and a saw respectively. housebyhoff
8. Charcuterie Board Inspired By French Boards
It is no longer news that charcuterie boards are a French invention that has globalized and remained in need over the years. So, why not take inspiration from the creators and achieve something spectacular, that was what the creator of this DIY tutorial did. maisondepax
9. Fancy Charcuterie Boards
This DIY video tutorial perfectly nailed the concept of converting and repurposing different wood stacks into the ultimate fanciest charcuterie boards.
It is quite easy as you would come to find out when you check this tutorial, here is a list of some of the materials that were used in making this project, and luckily, each material has a site for easy purchase and pickup, they are Ryobi 15 Amp 10", sliding miter saw, MasterCraft 12.5" planer, MasterCraft drill press, DeWalt 5" variable speed random orbit sander, Triton oscillating spindle sander, Titebond II wood glue, Rikon 14" deluxe bandsaw, Rigid R4512 Table saw.
10. How To Make Charcuterie Board
Here is how to make a charcuterie board from start to finish with walnut slabs, using a pencil you mark out strategic points on the board, then you cut specific parts, dry them off and go into the not too stressful DIY project.
11. Making A Wooden Charcuterie Board
Of course, to make a wooden charcuterie board or any charcuterie board, you would need wood. Woods are quite expensive to purchase, to deal with this challenge, this DIY tutorial made use of a more affordable piece of wood with high quality. You can learn how to make yours all by yourself with basic, safe tools.
12. Finishing A Charcuterie Board
Someone once said the problem of every creature is not starting, but finishing, and I agree. Putting the finishing touches into a product such as the charcuterie board determines how long and how well they are going to serve its user. A great finishing tool used in this video is the butcher block oil which sustains the hardness of the charcuterie board and gives it a hard layer.
13. Live Edge Charcuterie Board
Charcuterie boards look hard to make, but once you study the processes and all, you would be wowed to find out how easy they are to make actually. With just simple materials you can forge this wonderful bit of food and kitchen artistry to life. lazyguydiy
14. Charcuterie Board DIY
Here is a sleep pinewood charcuterie board. I just love how charcuterie boards can be formed into any crazy, daring, and fun shape. This could be also used as a flour dough tray, apart from its initial purpose of serving intricate, delicious meals. mylifeonkayderosscreek
15. Large Wooden Serving Board
With the help of this DIY tutorial and its guidelines, you should be able to make a pretty large wooden charcuterie board or serving board, whatever you might want to call it, and also carve a cute addition of a handle. Trust me, you do not need to be a woodcarver or have any special skills, just follow the processes in this DIY tutorial duly. bloomintheblack
16. Make A Cutting Board
A proper food tray, charcuterie board, cutting board, whatever you might want to call it, this piece of kitchen furniture sure serves all of its purposes without hitches.
Learn how to make this with clean slate wood, smoothened properly and you sure would not regret the decision. Popsci
17. DIY Charcuterie Board
With just scrap wood pieces measuring about 1x8 in length and breadth, and some already made leather pieces, this beautiful charcuterie board was carved and designed. This kind of charcuterie board is built to last, measuring from how the processes and measurements are carefully done and put in place. A must-view Video DIY tutorial for anyone seeking to create a charcuterie board.
18. How To Make A Simple Serving Board
Wow, funny this is a simple serving board, with such a dramatic look of a charcuterie board, well, that is the beauty of this project. This is because with how difficult it seems to look, its creative process is disputed, with just how easy it is to do just about anything with this DIY project.
19. DIY Charcuterie Board
This is one of those DIY projects made with a lot of fun moments. Where no matter how hard the project might be, the fun embedded in them, exemplifies the ease in creating them. With an array of tools and materials like wood, drill, electronic wood smoothers, and some other important items, you could go on and on into becoming a pro and making them for business purposes.
20. Wood Cheese Board DIY
Learn how to make a wood charcuterie or cheese board with the help of this DIY video tutorial. It shows how a wood-burning tool cures the wood of bacteria and makes it a lot harder and denser for better servings. A truly educational DIY charcuterie tutorial.
21. DIY Wood Cheese Board
A full package wooden charcuterie board, otherwise called a wooden cheese board, for serving cheese, charcuterie which might mean meat of various forms like pork, chicken, and the rest. You can use it as a food tray for your romantic moments. Done with affordable wood,  saws, and knives for carving. diyinpdx
22. Quick Charcuterie Board
Here is a really quick wooden charcuterie board, if you are short on time, but also need it badly. Made via the help of either walnut, cedar, or oak wood, it is a convenient and practical DIY project. Some materials that are needed for the project are 2 Screw Drawers, Pulls, Hammered Bronze Spray Paint, Drill, Vinegar, Scrub Sponge, Butcher Block Oil, and Finish Foam Brush. palletandpantry
23. Mini Wood Charcuterie Board
Once in a while, it is always better to adapt to smaller versions of things, because going overboard sometimes can be overcrowding a lot, this also goes for the charcuterie board, a lot of people are used to doing the conventional way of making large charcuterie boards for large amounts of meals when all that was no was a miniature version for a date or special friends. Follow up on these guidelines to learn how to construct a mini wooden charcuterie board for an ideal small gathering. pinchplateparty
24. Serving Board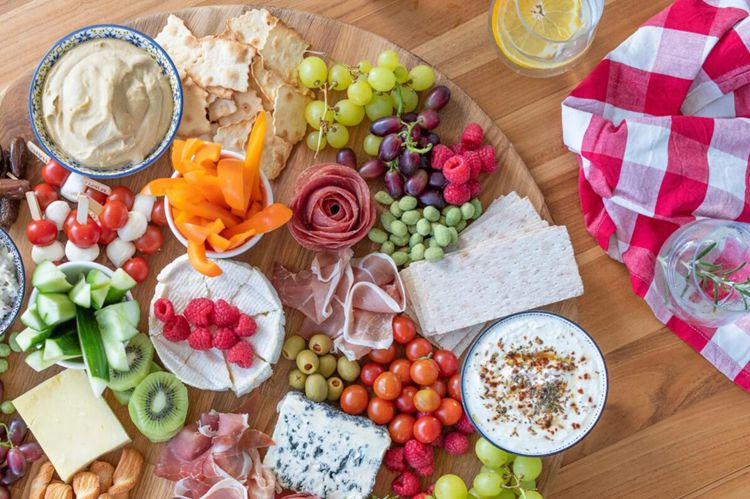 In just about an hour, make this extra large charcuterie board or serving board for the whole family. It is that piece of apparatus that can accommodate all types of foods and fruits in one sitting. It is very easy to make and barely requires any form of special skill or talent. littlehouseonthecorner
25. How To Make A Charcuterie Board
A redefined way to make a charcoal board with just about a half log of walnut wood. The aftermath result is total mind-blowing but it's also essential to come up with the parts of the scenery.
Conclusion
A charcuterie board is a wonderful addition to any party or get-together. It's an easy way to entertain and show off your hostess skills. Choose your favorite design to start making your own custom wooden platter or board!