So, how important is it to have a can crusher at home? Some people may debate its importance, but I believe if you are viewing this post then you probably need one for yourself, so welcome to this DIY guide.
We have listed 20 methods that will teach you how to make a DIY can crusher. Making one isn't as hard as it seems. Go through this article, make your preferred pick and start building.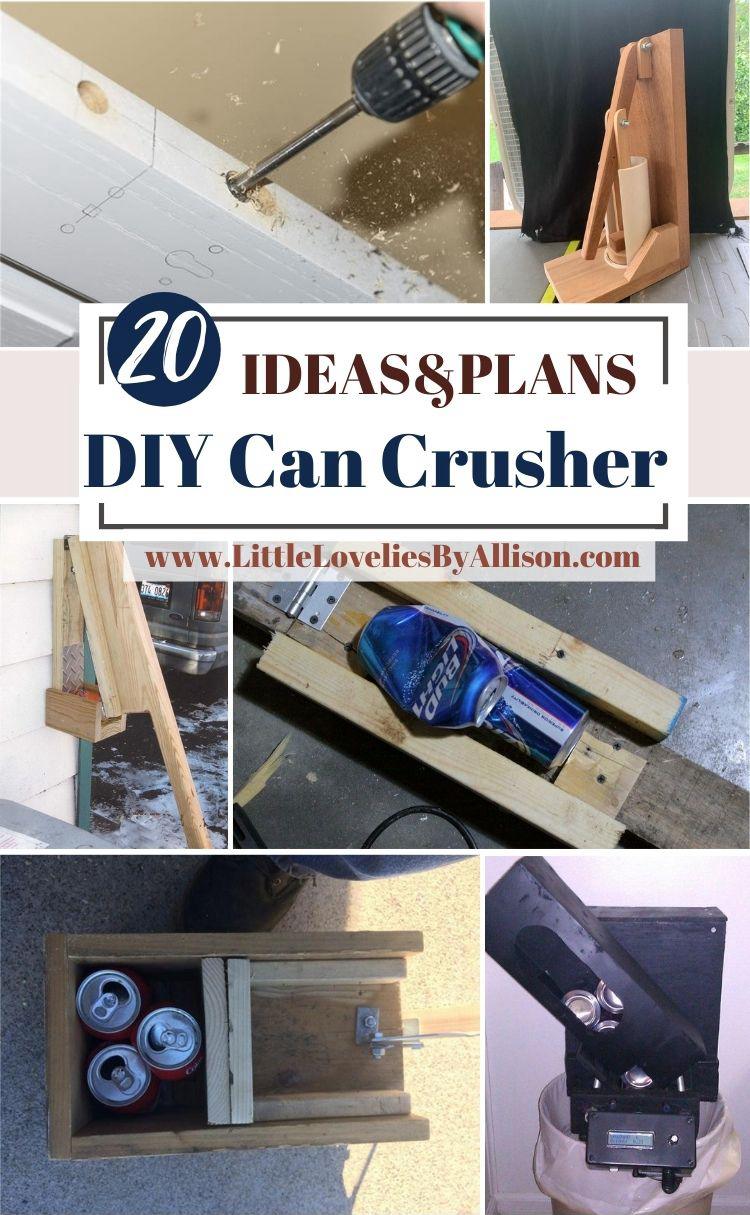 1. DIY Pneumatic Can Crusher
So this video guide starts off big, with a bench grinder, this was to sharpen the spade bit that the creator used to make holes on ¾" plywood. The making process is super easy to follow, and this project will require some advanced woodworking tools.
2. DIY Shop-Made Can Crusher
This is a wooden shop-made can crusher, it's made out of some pieces of plywood, it has a handle that controls the crushing block. The crushing block is built on another wooden base to make it sturdy when you're cruising the cans.
You'll also need to use your feet to crush because you might hurt your fingers if you press down with your hands to crush the cans. It's a simple design, portable, and pretty easy build. The only downside is that it can crush just 1 can at a time.
3. DIY Pallet Wood Can Crusher
This is a vertical can crusher made from pallet wood. It's super-efficient and can crush 2 cans at once. Some simple and easy-going woodworking tools were used so it's not an expert woodworking project, anyone can build this, even a beginner.
The creator added a routered channel for the pin he used this helped the plunger stay properly aligned, and when you press the handle down, the block goes down and crushes the can effortlessly.
4. Free DIY Can Crusher
So, if you wanna crush some cans, get rid of them littering your space, and you don't want to spend money buying or making one, then you should try this guide, the creator made this can crusher for free.
He used 2 pieces of woodblock, a door hinge, and 2 empty cans. He cut out the can lid and attached them to the end of the woodblock, then put the hinge on the other end to enable him open and close the structure. It's super quick and easy to make and you don't have to spend a dime.
5. How To Make Aluminum Can Crusher
The creator of this guide decided to take his project a step further and built an aluminum can crusher.  You'll need two 16 inches long 2x4 wood boards, a drill to make holes, hinges, screws, a cabinet handle, 2 jar lids, and an hour of your day. It's pretty quick and easy to make, and it's also efficient in crushing any can.
6. DIY Simple Can Crusher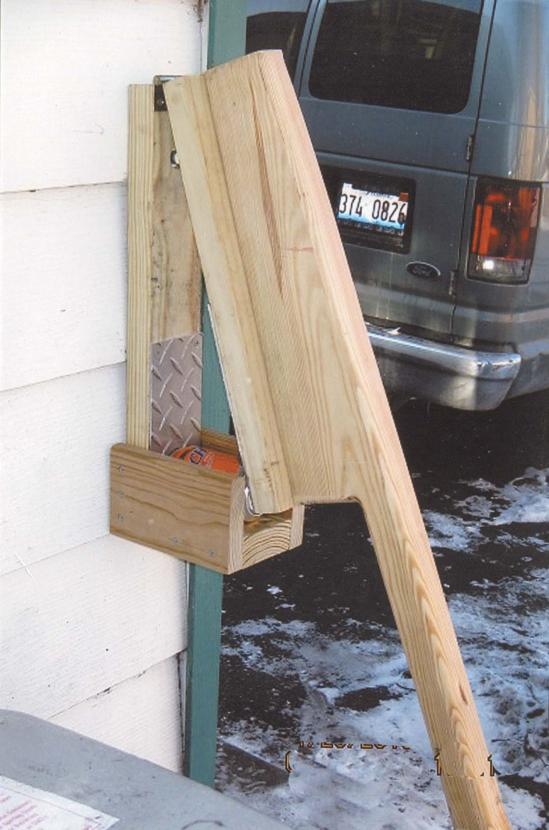 The creator of this guide wanted a can crusher that was easy to access, easy to use, and super effective. He made a wooden can crusher that was attached to the outside wall of his house. So, all he has to do is walk by, put a can in, and push the long handle to crush the can.
The only downside is that the structure is big and takes up a lot of space but yet can only crush 1 big can at a time.
7. DIY Wooden Can Crusher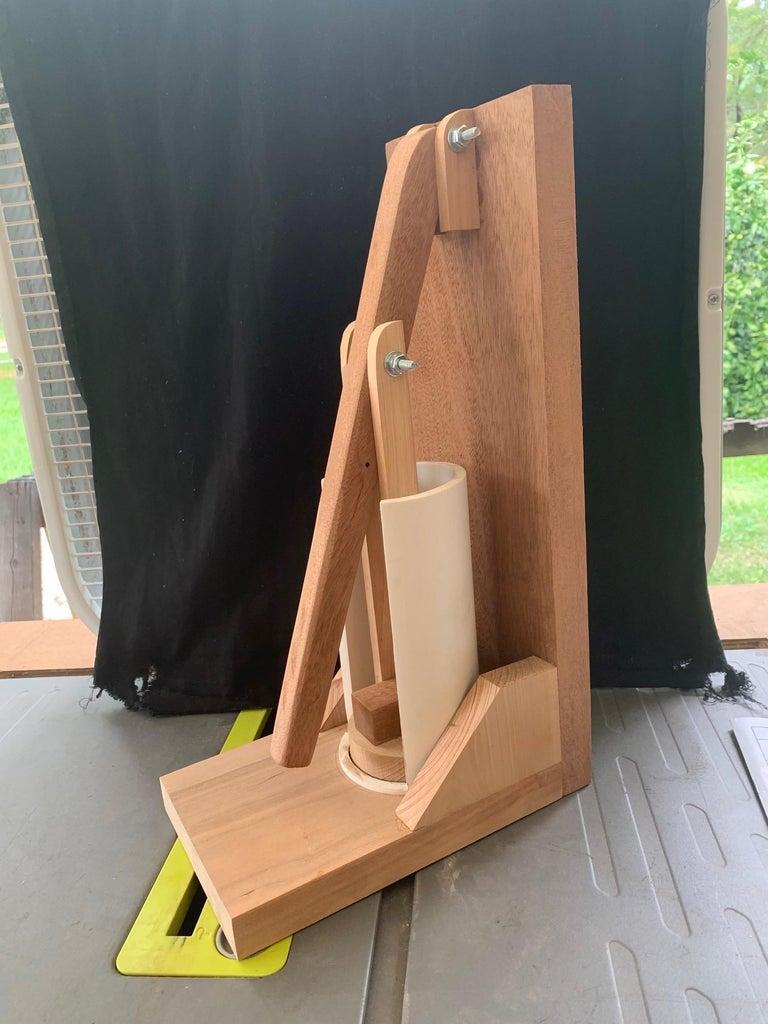 For this project, you'll need lots of scrap wood, a large PVC pipe, 3 bolts, nuts, and washers. The wooden can crusher was easy to build and it does a great job in crushing any kind of can, with the law of gravity by its side. You'll also need adhesive to glue some of the wood pieces to each other.
8. DIY Simple Can Crusher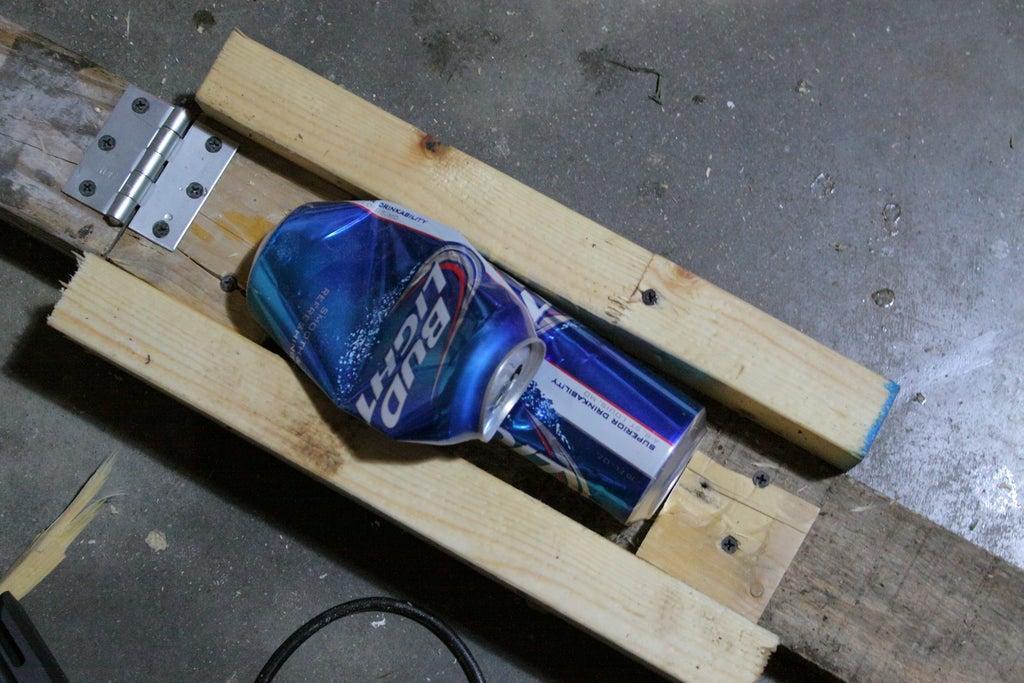 You want to get a can crusher up and running right away, how about you try out this guide and build a can crusher in 15 minutes. You'll need wood, a hinge, screws, a drill, and a handsaw. This is a simple woodworking project, easy for anyone to do.
9. DIY Pneumatic Can Crusher
So, this pneumatic can crusher worked out just fine. The controls were effective and they can crush at least 2 cans at once. The creator used a PVC pipe and PVC pipe end cap. It's an air-powered can crusher with a control switch, so you can stay a few steps away and crush your CNS with ease with a simple press of a button.
10. How To Make A Hydraulic Can Crusher
First off, the creator built a frame to accommodate the crushing syringes. The creator made some wood boards but didn't really show us how he did it, so I guess you're going to have to figure that one out by looking at the design. He also used some bolts, nuts, tubing, 4 syringes, and scissors. It's a cool design although the crushing process seems stressful.
11. Can Crusher DIY
This is a simple can crusher design, with your wood pieces ready you can assemble in minutes. You need to also check the video guide to see the dimensions for the wood boards. You can also attach it to the wall and simply crush a can with the handle, lifting it up to take the can, and pressing it down to crush it.
12. Homemade Wooden Can Crusher
This video guide produced a more durable and sturdy can crusher because the creator made something similar years ago and decided to improve on the design and mechanical function. So, it's more effective and faster than ever. It's a simple homemade wooden can crusher.
13. DIY Arduino Controller Can Crusher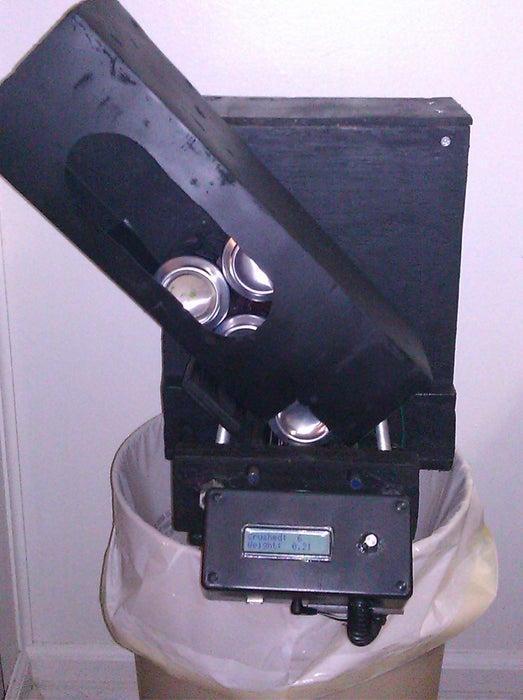 This guide is a bit more technical although, if you follow the creator's steps carefully, you will understand the setup. It's a high-end luxury can crusher. The creator used a lot of stuff for this like a plastic clothesline pulley, wood, 1602 LCD screen, cable wrap, project box, motor controller, protoboard, pins, wire, Arduino, lock washers, and lots more. This can crusher can crush up to 6 cans at once and everything goes into a bin below.
14. Can Crusher Made From Wood And Metal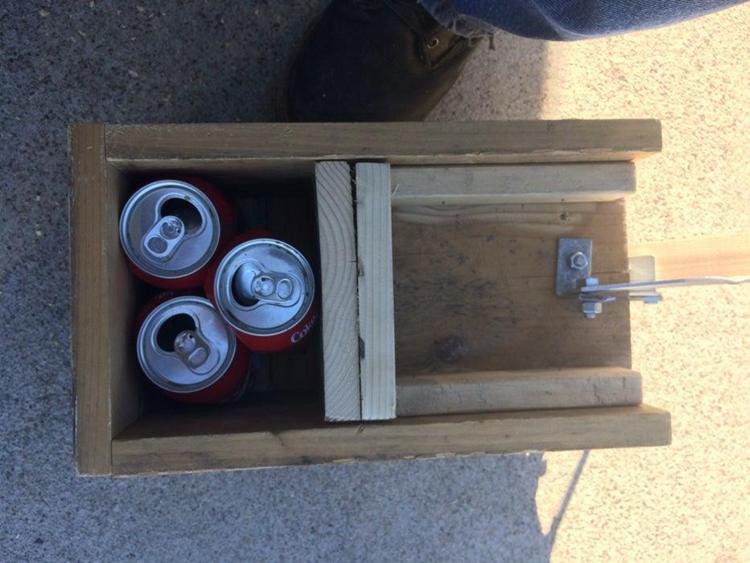 This can crusher is super easy to make, it's unique from the others on this list, portable and can crush up to 3 cans or more. The materials and tools needed are a metal strap, wooden strap, bolts, a drill, measuring tape, an electric saw, a staple gun, and a few more tools.
15. DIY Can Crusher From Crap
The creator of this guide made his can crusher from a pile of crap, now the problem with that is that the crap he has might not be the same crap you have, so in order to make this can crusher you'll need to find the craps he used.
16. How To Make A Simple Can Crusher
This is one of the most effective can crushers on this list, the number of cans you can crush in one sitting is unlimited. The creator made this crusher with a large iron pipe, some iron rods, metal straps, a welder, metal sheets, and everything metal you can find. The way it works makes it easy to crush lots of cans at once.
17. Homemade Can Crusher
Here is another amazing homemade wooden can crusher. It's easy to make and can only crush a can at a time. It's portable and has a flexible handle.
18. DIY Can Crusher With PVC Pipes
So this is a can crusher made with PVC pipes, PVC pipe elbows, a wood board for the base, and a few other supplies. The downside with this crusher is that the pipe is small and might not be strong enough to crush cans for a long time, so it's a no! for durability.
19. Homemade Can Crusher
This is a big can crusher, it's easy to build, but too big and heavy to carry around. The creator used a small car wheel and made it in such a way that as the wheel turns the block goes back and forth crushing anything in front of it.
20. Homemade Can Crusher
This is an amazing can crusher, it's quite portable, the creator used a pneumatic piston, flat steel, a male hose coupler pneumatic fitting, an NPT silencer, and two high-end pieces of equipment. The making process is simple to follow and it's an effective can crusher for anyone.
Conclusion
That's all for now on the can crusher ideas, as you can see they are pretty easy to build and can function with any material respectively. Have fun crushing, and thanks for stopping by see ya! If you have any questions or contributions regarding this article, feel free to use the comments section below.