Scaffolding is a temporary structure made from any material of your choosing, meant to support a construction crew when they are building or repairing bridges, buildings, and other structures. It's usually made with wheels for easy movement.
Now, this guide is going to show you 15 DIY scaffolding projects that you can build without having to rob a bank or spending too much. Ready to make a scaffolding? Let's begin!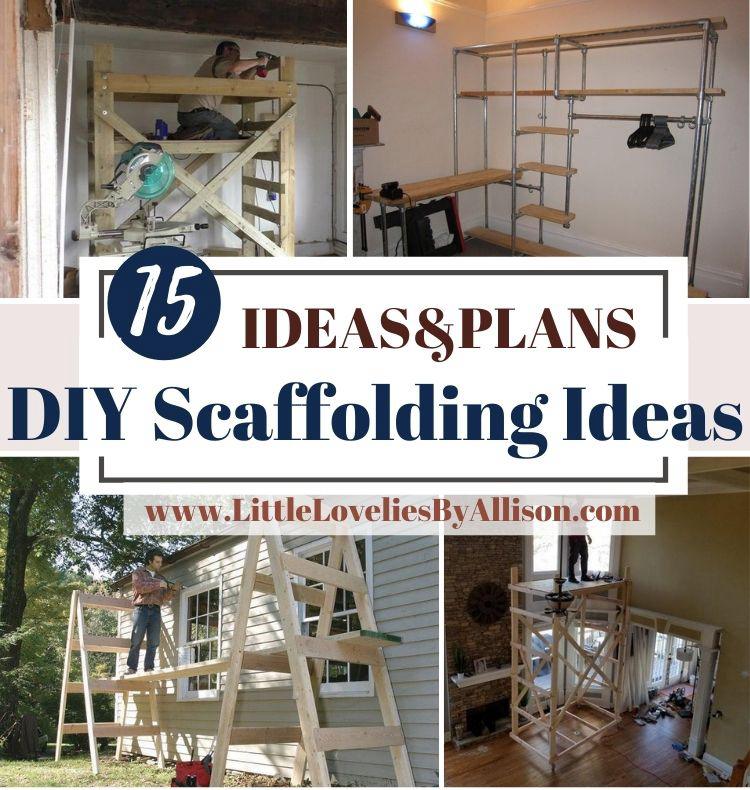 1. DIY Scaffolding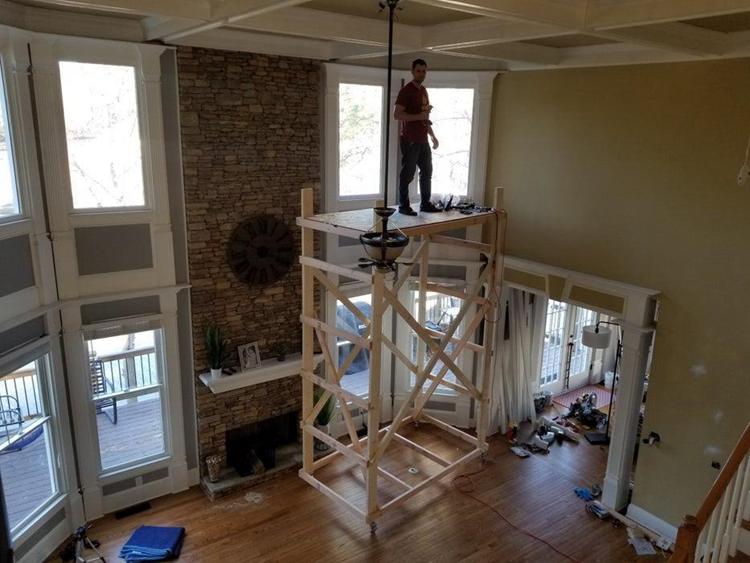 The first and most important step in making this scaffolding tower from Framing lumber is to sketch the structure out on paper. This keeps it fresh in your mind and it's easy to work in case you miss a step. Next, you start setting up the bases then the vertical posts, the wheels, the side support, and finally some additional side support.
2. DIY Wooden Scaffolding Tower
Before you begin you should check the guide to see the health and safety warning. This isn't a mobile scaffolding tower, it has no wheels and it's super sturdy. The first step will require you to get the design, after that you'll need these dimensions to work with, this will help you purchase the right size of wood.
The width is 840mm, the span is 1500mm, the length is 1800mm, and finally, the joist is 47x100 C16 of 450mm centers. The making process is simple to follow, and it's a cool scaffold.
3. DIY Scaffold Storage System
This is a simple design, it's scaffolding with storage space. The creator used sandpaper, hacksaw, spirit level, Allen keys, and measuring tape. The structure is made up of steel pipes, and lumber wood. The making process is pretty simple to follow.
4. Simple Homemade Scaffolding
This is an A-frame scaffolding, it's easy to make, sturdy, and super convenient. One amazing thing about this guide is that the creator takes more time to explain the build and how it works and shows a few steps that will guide you.
So, with the explanation, you probably won't need the steps if you're smart enough. The creator used framing lumber as the major wood and a few woodworking tools.
5. DIY Scaffolding
So this video guide will require some calculations, the creator started off the making process by creating a diagram of the side of his house he intends to make a scaffolding for. His house is pretty tall and that means he needs to build something just as tall. He built a scaffolding that was 16 feet tall, if your house isn't that tall, this probably won't work for you, so actually, it all depends on what suits your needs
6. DIY Scaffold tower
This isn't a building project, it's rather an installation project. The creator bought this scaffolding tower kit and installed it from start to finish by himself. If you have the money and wish to get a scaffold, you'll probably need this video guide to direct you on the proper way to go about the assembly. You can also check this video to see where he got his scaffold tower
7. How To Make A Low-Cost Scaffold
Here is a super easy-to-build low-cost scaffolding tower, it's portable, and stands 12 feet tall. The creator made two designs for the scaffold, one with more height and the other with an extension in the width, but less height. Both designs were made from Framing lumber.
The structure is practically two 12 feet tall ladders with an 8 X 900mm cross support. For the base the creator used 70mm X 35mm framing timber to make it sturdy, the blocks are 8 X 70mm, and the studs are 8 X 3200mm.
8. How To Make Basic Scaffolding
The creator of this guide made an 8-foot long scaffolding, the height was perfect for him due to the size of his house, so if your house is taller, feel free to add a few feet to it, maintaining the same scaffolding tower design. This is a woodworking project that requires woodworking tools and materials. It's pretty easy to build and the steps in the video are simple to follow.
9. DIY Rustic Scaffold Table
Are you in need of a scaffolding side table, well here's one with a rustic design? Here are the few things you'll need to make this 120 X 65cm rustic scaffold table. You need several scaffold pipes, cut to 63cm, 48cm, and 106cm.
You also need a saw, tee clamps, scaffold wall plates, pieces of wood, scaffold boards, wax or stain for the wood finish, and a few more supplies. The making steps are simple to follow in just 3 easy steps.
10. Low-Cost DIY Scaffold
So the creator had all these components for the scaffolding tower already kept somewhere safe, he didn't even mention where he got it from, but only explained how it works by assembling it himself.
This scaffolding tower is so unique that it can be assembled and disassembled in less than 30 minutes, and you can easily carry it to where you'd like to store it. This scaffold is a low-cost project and it's quite easy to build from scratch.
11. DIY Aluminum Scaffold Tower
It seems the trending guide is how to assemble a scaffold tower, no one is really stressing about building a scaffold from scratch. The creator got an aluminum scaffold and installed it all by himself around his house.
The good thing about this is that you can take the structure apart, store it and only assemble it when you want to use it. The installation process is simple to follow, so no worries about this being time-consuming.
12. DIY Scaffolding For Tiny House
Before you begin, you should probably have a rough sketch of the scaffold on paper, this will help guide you properly to accomplish this scaffolding.  After that, you're supposed to use some recycled or reclaimed wood, which is pretty easy to come by.
The house is quite small and the scaffold is pretty big, so if the creator decides to increase his living space, this scaffolding will also serve him perfectly. This could be your choice if you have a small house as well.
13. DIY Mini Scaffold
The creator of this video tutorial guide got a 4-foot GSSIM mini multi-use scaffolding. You can dismantle it and store it somewhere safe or assemble it in an easy way and use it whenever you want. This mini scaffold also comes with wheels, making it super easy to move about while working with it. The assembly was under 1 hour and it was pretty great after he was done. This mini multi-use scaffolding was made because the creator didn't want to spend much on a different one when this could serve him better due to the height of his house.
14. How To Make Simple Scaffold
The creator of this video tutorial guide is an actual building contractor, and he didn't want to spend much on scaffolding when he can easily make one himself. He decided to make the guide simple to understand, by others without the knowledge of woodworking.
This is a simple woodworking project with simple woodworking tools and lumber wood. Funny enough, this is a one-legged scaffold tower, and it's still pretty sturdy and durable. This structure is temporary but because of the quality of the wood, it can last a long time.
15. Easy DIY Scaffold
Here is the last scaffold tower on this DIY guide. It's super easy to make and the making process is simple to follow, understanding the components used, and building it from scratch.
The creator used cross braces on the wall side of the back of his house, he also used safety rails, woodworking tools, and paint-can holders. Although, this scaffold takes up a lot of space, with the support legs stretching to the ground to hold the scaffold frame firmly with the wall. With this, it's sturdy and durable.
Conclusion
So, scaffolding can be built from scratch and can be assembled when you buy the parts. It's always good to make it yourself if you have the woodworking tools and a little experience, because you'll have full control over the structure, how high it will be, how wide, the type of wood used to ensure its durability, and strength. Buying a scaffold is also great, easy to set up, and less time-consuming, but what you buy is what you get, unless you spend a lot on something more expensive which can be more durable and strong.
Either way, I hope you've found the right scaffold on my list that suits your needs. Nevertheless, have a great scaffolding building time, see ya!