Are you working on your garden and you don't want to rush into the house to clean up? or you're like a portable sink to install in every corridor of your house and field? Check out our list of 20 DIY sink projects.
Here, you will learn how to make beautiful sinks. Some can be used outdoors and some indoors. The steps in making them are easy to follow, it might take your time, but it will be worth it in the end.
1. DIY Concrete Sink
The first on the list is the DIY concrete sink. It is made from sink mold, silicone, and concrete vibrator.  Depending on the size you want, the form is screwed together with a drywall screw then uses silicone to seal each edge. Measure and mark the area you want to attach your sink mold then attach the melamine with a small bead of silicone, you can use any color of silicone you want. Then build the second form on the first after that, fill the forms with concrete and refine it.
2. How To Build A DIY Outdoor Sink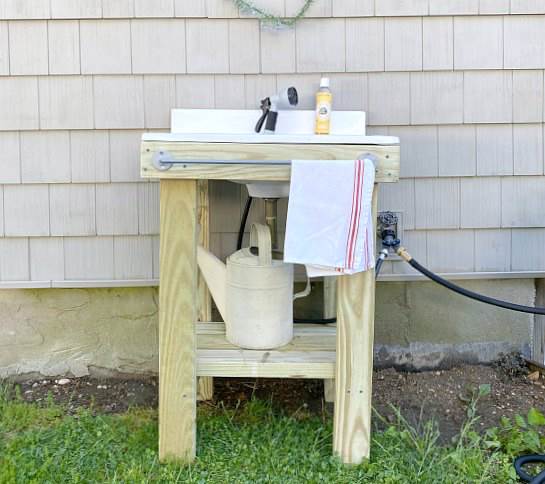 The materials needed for building this outdoor sink are pressure treated 2"x4" boards, a recycled bathroom sink, a hose splitter, a washing machine hose, and galvanized watering can. Make sure to measure the furniture accurately to give the desired shape. It is very easy to make and its furniture finishing touch gives it an attractive look.
3. DIY Portable Sink
This is an amazing portable sink that gives you confidence and joy at the same time when packing for a mini holiday because it is created in a way that allows you to pack it like every other stuff you're carrying for your journey. Isn't this great? It is made from the drying rack, water cooler jugs, and water pumps. It takes the form of a PVC frame.
4. DIY Low Budget Concrete Sink
This sink bowl is made by trimming the edges of a regular basin, this basin serves as the sink bowl. Other materials used are plasticizers for concrete, microfibre, solution dye, course cement, sand, and water. The cost of building this concrete sink is very low.
5. DIY Field Sink
This is a movable hand washing sink that is suitable for camping any outdoor gathering. It builds from a 5-gallon bucket and lid, door hinge, score wood, brass fittings, etc. The incredible part of this hand wash is that it has a foot pump which allows you to wash your hand with ease. You don't have to use your hand to turn the tap, your leg is in the best position to do the work.
6. Outdoor Sink DIY With Wine Barrel
In building this outdoor sink with a wine barrel, you will need an oak wine barrel, bar sink, faucet, sink drain, electric drill, a jigsaw, and many others. Choose your wine barrel, sink, and faucet. Drill two openings by the side of the barrel, but before drilling the barrel, make sure you secure the staves within the ring to prevent the wood from splitting. Then, create the space for opening and water. After which you will cut out the sink and faucet space from the center of the barrel.
7. DIY Concrete Sink
This sink is built by gently creating and shaping 3 pieces of foam with your hand. The materials needed for this DIY are foams, glass fiber, and concrete. The making process is quite easy to follow if you can gather the necessary materials and tools.
8. DIY Stainless Sink
This mobile shower is created by installing 3 small stainless steel. A salad bowl can be used in replacement of the stainless steel. Drill the bowl at the bottom and a strainer is fixed inside the hole and you have your sink. It is very simple and cheap.
9. Outdoor Garden Sink DIY
The amount of convenience you get from this sink is what makes it stand out. You don't have to rush inside the house to fill your watering can or for any water you need in your garden again, with this DIY garden sink. It is made from pine boards, studs, plastic center outlet, sink faucet adapter, and some others. Arrange the studs in a pattern that suits your preference.
10. DIY Kitchen Sink Installation
Ever tried installing an actual kitchen sink? This DIY guide will show you how to install a kitchen sink. Measure your sink accurately to fit in perfectly then turn off the hot and cold water. Open the faucet to release the pressure and remove the water supply line. The materials needed include a drain wrench and hacksaw.
11. DIY Sink From Plywood
This sink is made from several small plywoods cut in size by size. Lay long plywood as the base, then assemble the small plywoods on each edge to form something like a staircase. Make sure the plywood is measured accurately.
12. How To Build An Outdoor Sink
An outdoor sink is very essential in most houses. For the making process, you will need to make a hole on the cover of a drain bucket, then measure and install the drain pipe. Fix the wooden frame to the wall and coat it with polyurethane. Install the sink on the wooden frame and install the faucet and water line. You can paint the pipe to look just like wood but you can leave it if you like.
13. DIY Camp Sink
Another amazing DIY sink is this camp sink. It can be used in any recreational center or field. Gather the materials and tools needed for the project and start building, you will be needing a 5-gallon bucket, 7 popcorn bowls, a vinyl hose, PVC pipe, etc. Drill a hole of ¾" just above the bottom support of the bucket and insert and hose barb. Then prep the grey water bucket with the sink after which you will assemble the faucet. Then put it all together and you're good to go.
The most amazing fact about this DIY is that it is temporary and it is movable
14. DIY Toilet Top Sink
Are you tired of wasting water for the flush toilet? This sink is just for you. It is made from Plyboo sheet, plunge router, Brass compression Tee, and some other tools and materials. The first step in designing any material is the measurement, map out the template of the toilet tank with a felt pen. This will give the probable size of the sink.
15. DIY Plastic Hand Wash Sink
Here's another DIY you can lay your hand on. It is made by drilling the bottom of a plastic basin, then passing a strainer inside it. Use a pipe of different sizes to build a PVC stand that will hold the basin. I would recommend this for people who are looking for an easy DIY sink project.
16. Building A Modern Concrete Sink
Here's another amazing project that you can make from home. This guide shows you how to make another amazing concrete sink. However, this is a modern concrete sink that would look great in a modern home. The making process is quite easy to follow and would require the use of a couple of materials and tools.
17. DIY Outdoor Sink from Salvaged Materials
Salvaged materials that were supposed to be thrown away can be used to make an outdoor sink. In this project, you will need to gather a couple of materials and tools for the build. This DIY sink project should only be used outdoors.
18. How To Make An Oil Drum Sink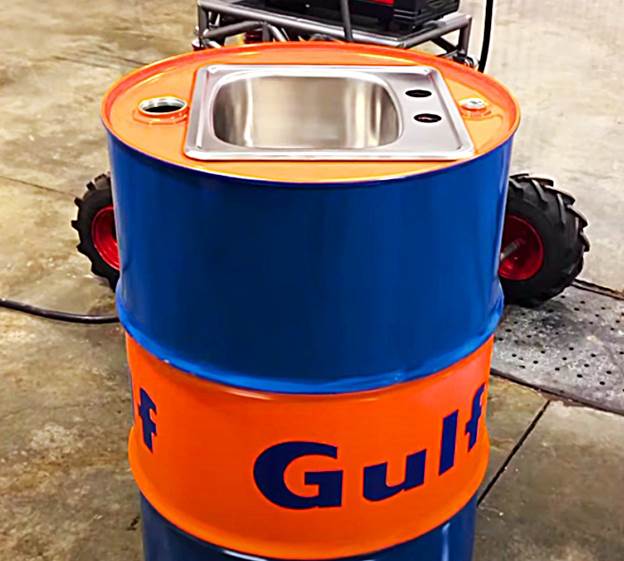 In creating an oil drum sink, the only skill needed is welding but if you don't have the tools or capability to do this, you can take it to a workshop. Start by cutting a square hole on the top of the drum which will serve as the sink bowl, then another square at the side for plumbing. The end product you will get is so cool and simple. Here are some of the material needed for the work: An oil drum,  metal cutter, drop-in sink, Sink plumbing, a tap, etc
This DIY kitchen sink is made from leftover materials. The base was made from pieces of wood and the top was made from old bed slats. You can paint any color you want and fix the faucet with silicone sealant. The making process is quite easy to follow.
20. How To Build A Rustic Plywood Sink
The process of building a rustic plywood sink is amazing and fun-filled. The materials needed for this are two plywood, black and decker tools, Dewalt routers, and many more.