Are you looking for the best possible ways to maximize your kitchen storage space?  I did some research and found out that many people do not know that they can use the corners of their kitchens to increase their kitchen storage capacity.
Every kitchen has a corner, the big question is, are you making good use of yours? I have listed 29 of the best kitchen corner storage ideas that would and can inspire you.
30 Kitchen Corner Storage Ideas For More Storage Space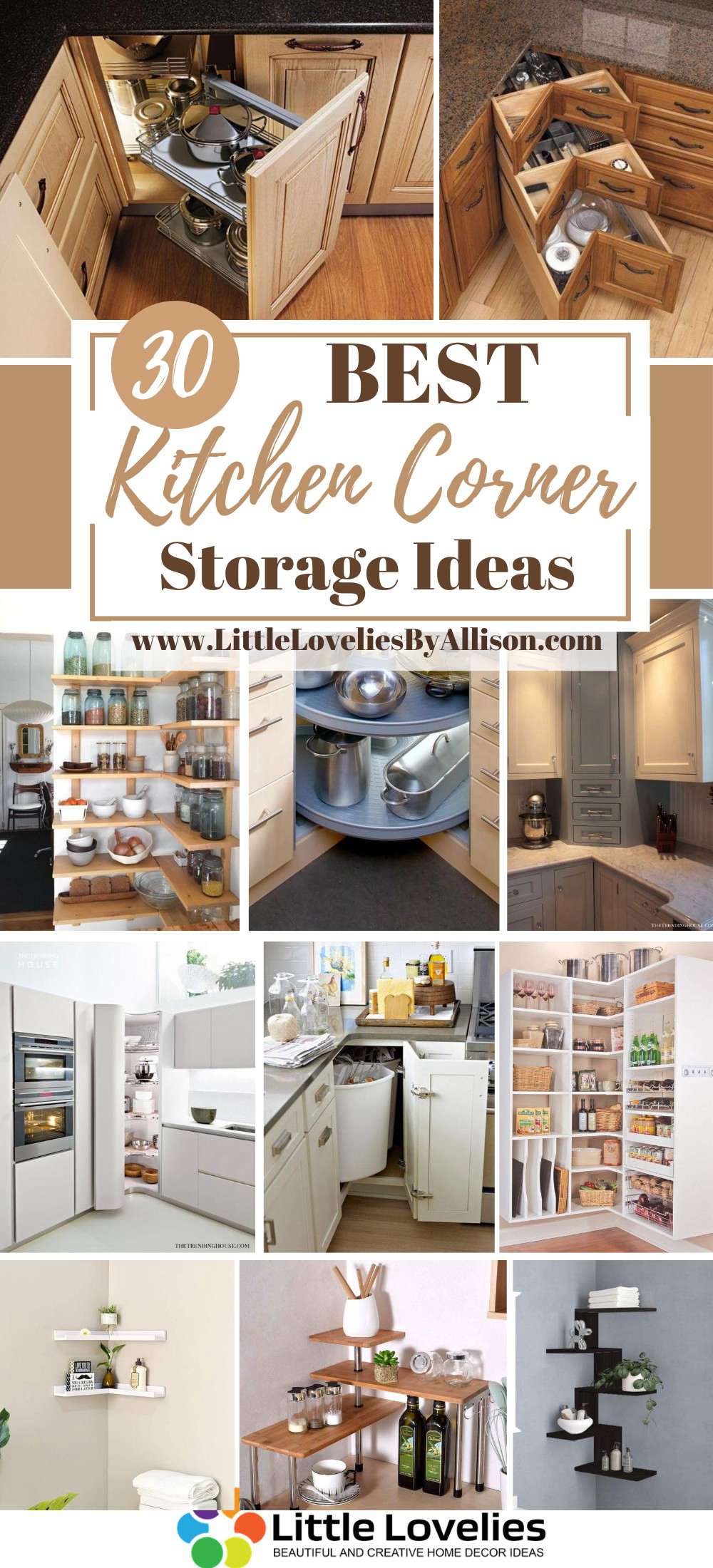 1. Under Cabinet Kitchen Storage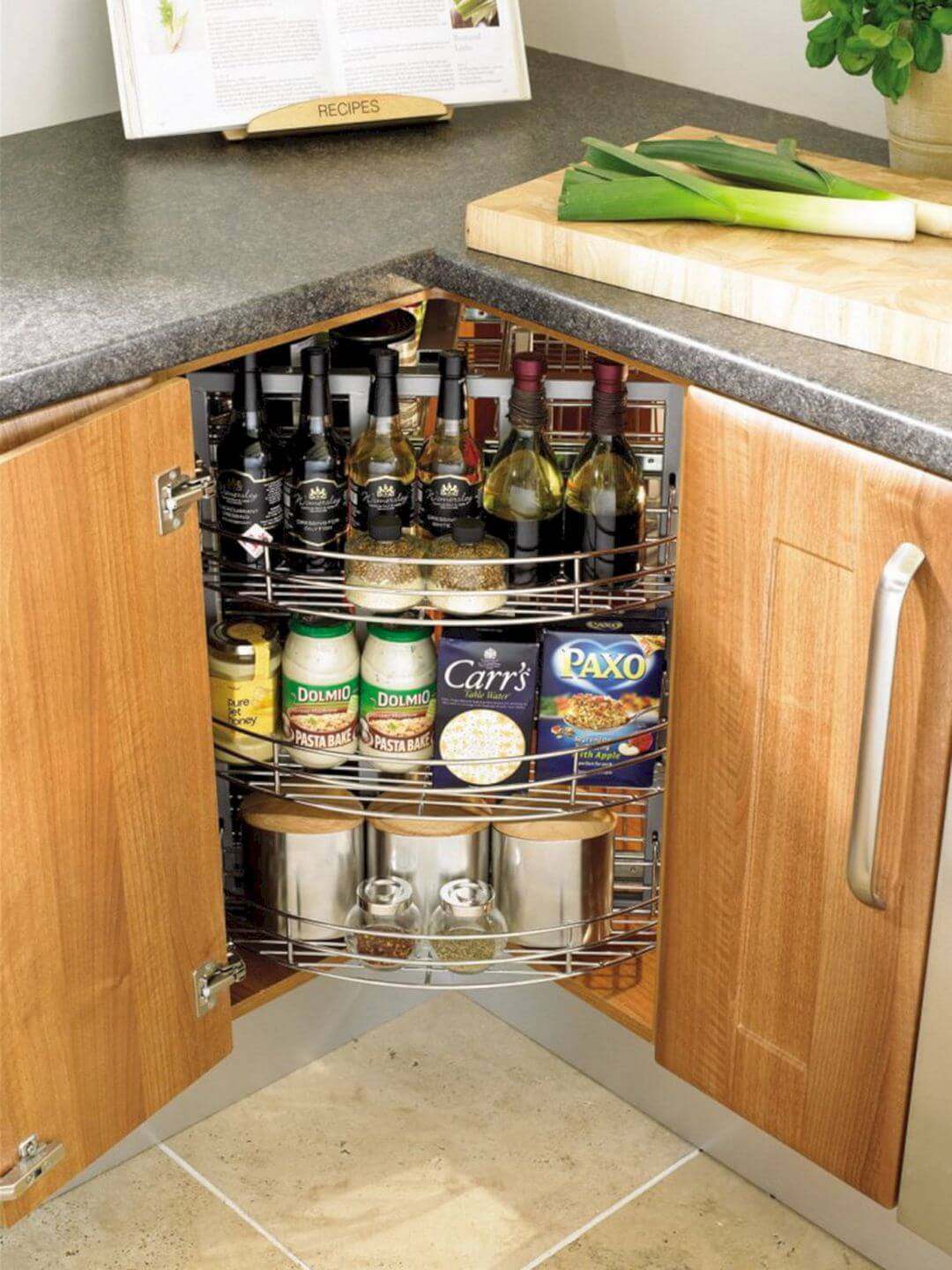 I love this kitchen corner storage idea. You can stock it up with wine, cereals, and just about anything else that would fit. If you have a large kitchen with cabinets, you can try out this kitchen corner storage idea.
2. White Corner Storage Cabinet
This corner cabinet storage can be created specifically to fit perfectly in the corner of your kitchen. It has a lot of shelves, a drawer, and a cabinet. I love the top-most shelf; you can use that area to decorate the white corner storage cabinet.
3. Corner Storage For Recipe Books
If you are me who doesn't joke with recipe books, you might want to consider this kitchen corner storage idea. It has five shelves in total, and it is the perfect place to keep your recipe books. The best part about this corner storage is that it doesn't take up much space.
4. Wall Hanging Kitchen Corner Storage
Another fantastic corner storage idea for your kitchen is this one. I like the fact that the shelves are hung on the wall. That way, you don't have to ever worry about the shelf getting in the way. I'd say it is perfect for storing cookbooks.
5. Wall Hanging Kitchen Corner Storage Idea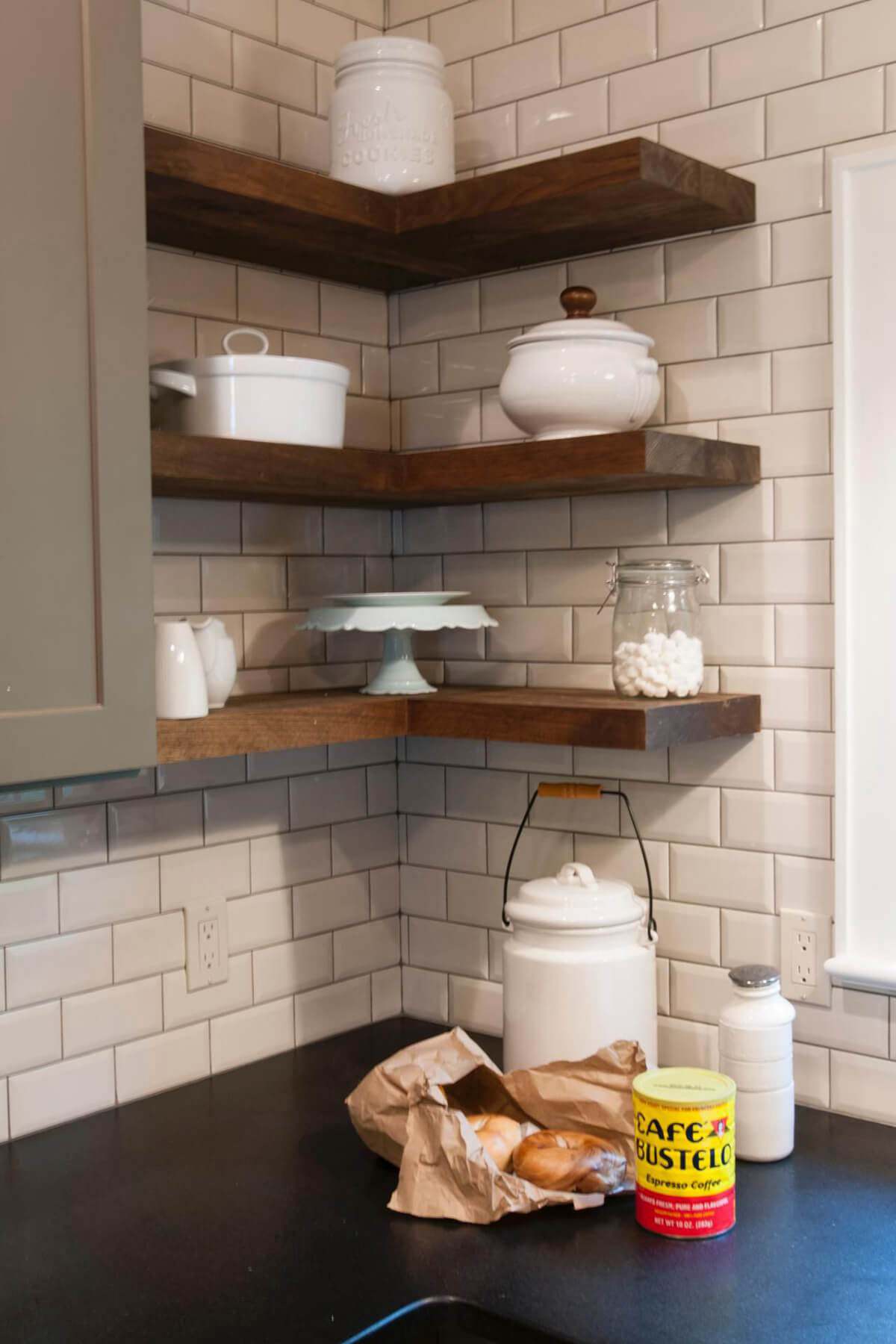 Make good use of the corner space beside your hanging kitchen cabinet. It can be used for the storing of ceramic bowls, plates, and more. We highly recommend this wall hanging kitchen corner if you have hanging cabinets.
6. Large Kitchen Corner Pantry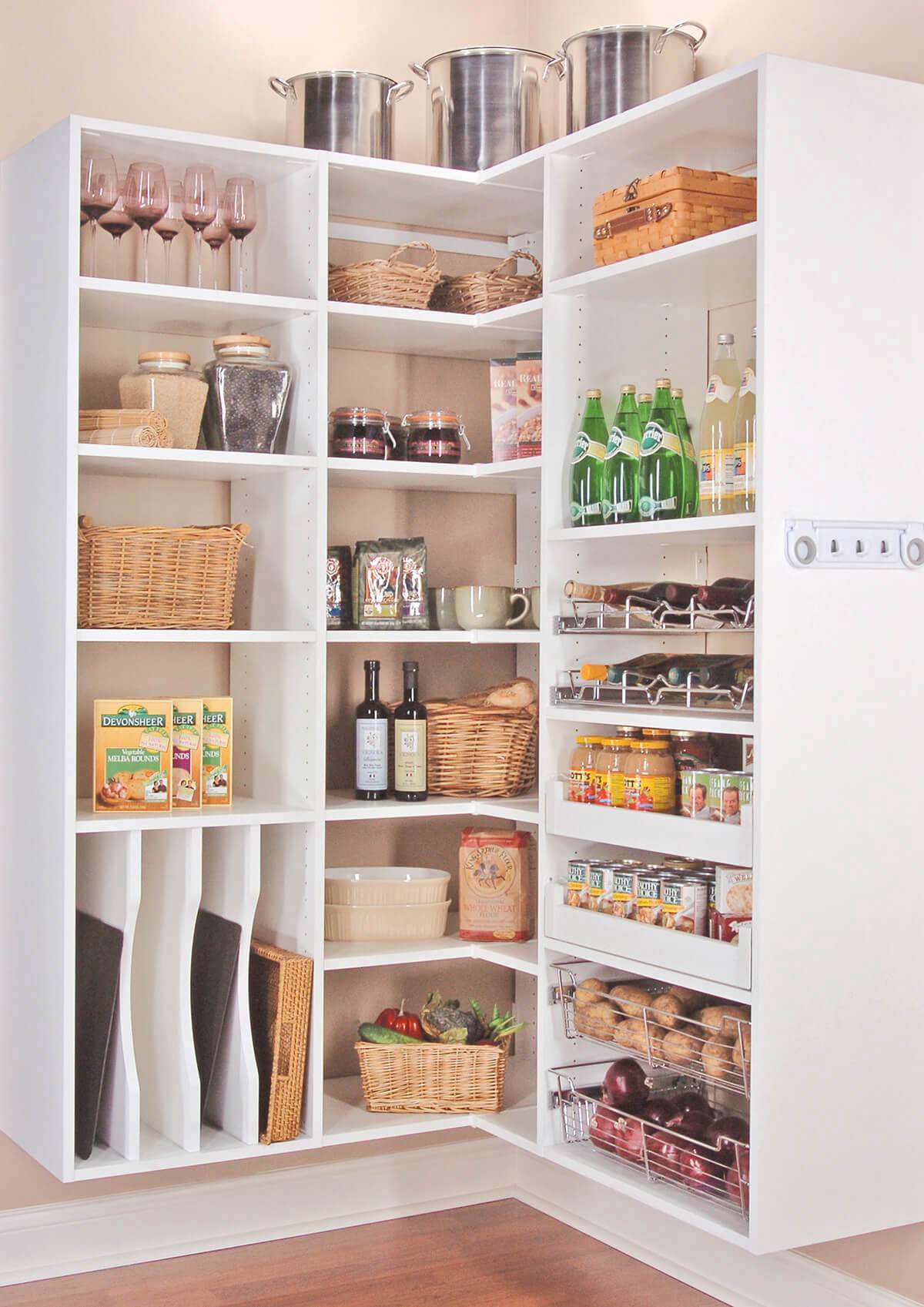 You can decide to go overboard. This idea can work out considerably in your kitchen if you experience storage issues but have some room for something big. This corner storage has a lot of shelves you can use for your storage needs.
7. Lazy Susan Shelf
If your kitchen cabinet has an unused corner space, you should consider making something like this. Thus kitchen corner storage is amazingly outstanding. I bet you would love it. It is a simple way to store cooking items and canned foods.
8. 8-Tier Pot and Pan Rack
You can store your kitchen pots and pans in the corner of your kitchen. I love this idea because it lets me store my pots and pans without having to sacrifice much space.
9. Ultimate Corner Storage For Kitchen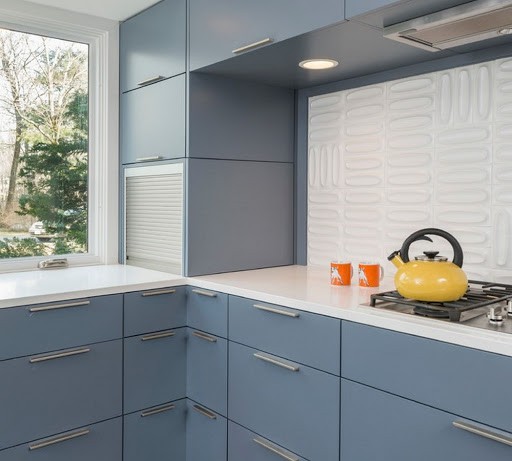 For this kitchen corner storage idea, a lot of space is used. I love the usage of free space on top of the countertop. You'd agree with me that the area is underutilized in most kitchens.
10. Kitchen Corner Spice Rack
This simple corner storage is powerful enough to accommodate your favorite cooking spices. An excellent hack would be having two of these placed in different kitchen corners. Trust me; it will come in handy.
11. 2-Tier Corner Storage For Kitchen
This corner storage can be used to decorate your kitchen. If you would like that, just add some flower vases, and your kitchen will be transformed. However, I would prefer using it to store some spices, bowls, or other small kitchen items.
12. Steel Wire Corner Shelving Unit
If you do not need more wood in your kitchen, you can settle for this steel wire corner storage. It has five shelves that can accommodate a lot of kitchen essentials. It isn't overly space consuming. We highly recommend this kitchen corner storage.
13. Countertop Corner Shelf Organizer
This is a fantastic way to organize your countertop. With this corner storage, you'd be able to save a lot of space by using this storage idea to organize kitchen essentials that would normally be on top of your countertop.
14. Modern 5-Tier Corner Storage For Kitchen
Are you looking for something more decorative? This corner storage idea is fantastic as it adds a modern touch to your kitchen. Having this would come in handy if you are running out of storage space or just want your kitchen to look better.
15. Kitchen Corner Storage Idea For Recipe Book
A great way to store those recipe books that you love is by placing them in this kitchen corner storage shelf. One of these shelves would be enough, but I think having two would be better.
16. DIY Floating Shelves
Floating shelves are a great way to maximize the corner spaces in your kitchen. In this DIY project, you'll learn how to make floating shelves using plywood and other tools. The procedure is not so easy, but it will be worth it.
17. DIY Corner Shelves
If you are a beginner woodworker, this would be a great project to improve yourself. This project will show you all the steps and tips you need to make corner shelves for your kitchen.
18. Low Budget DIY Corner Shelf With Cardboard
Are you looking for a low budget corner shelf? This DIY project will show you how you can make a low budget DIY corner shelf for storage in your kitchen using cardboard and some glue. It isn't the prettiest kitchen corner storage, but it would do. Only use this to store very lightweight kitchen items.
19. DIY Floating Corner Shelves
This has to be my favorite DIY project. Floating corner shelves are a fantastic way to store items in your kitchen corner. Here's a project that will show you how to make this floating corner shelf for your kitchen.
20. Drawers That Fit In Corners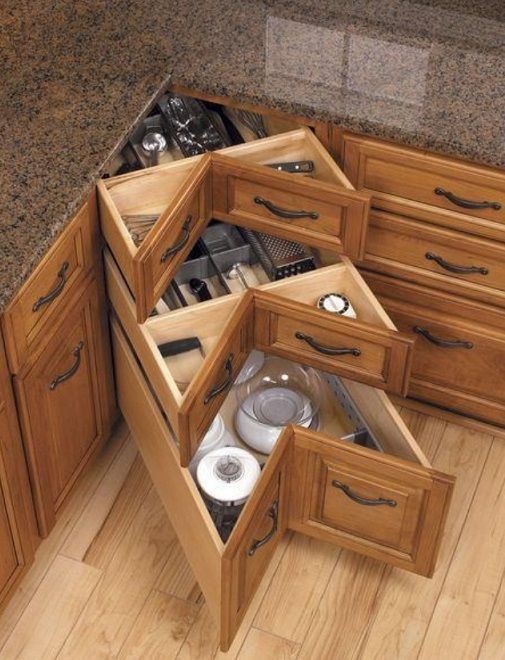 If you have a large cabinet in your kitchen you might want to consider having these uniquely built corner drawers. If you do not already have this in your kitchen, you might be neglecting a lot of storage space.
21. Kitchen Corner Storage Cabinet Shelf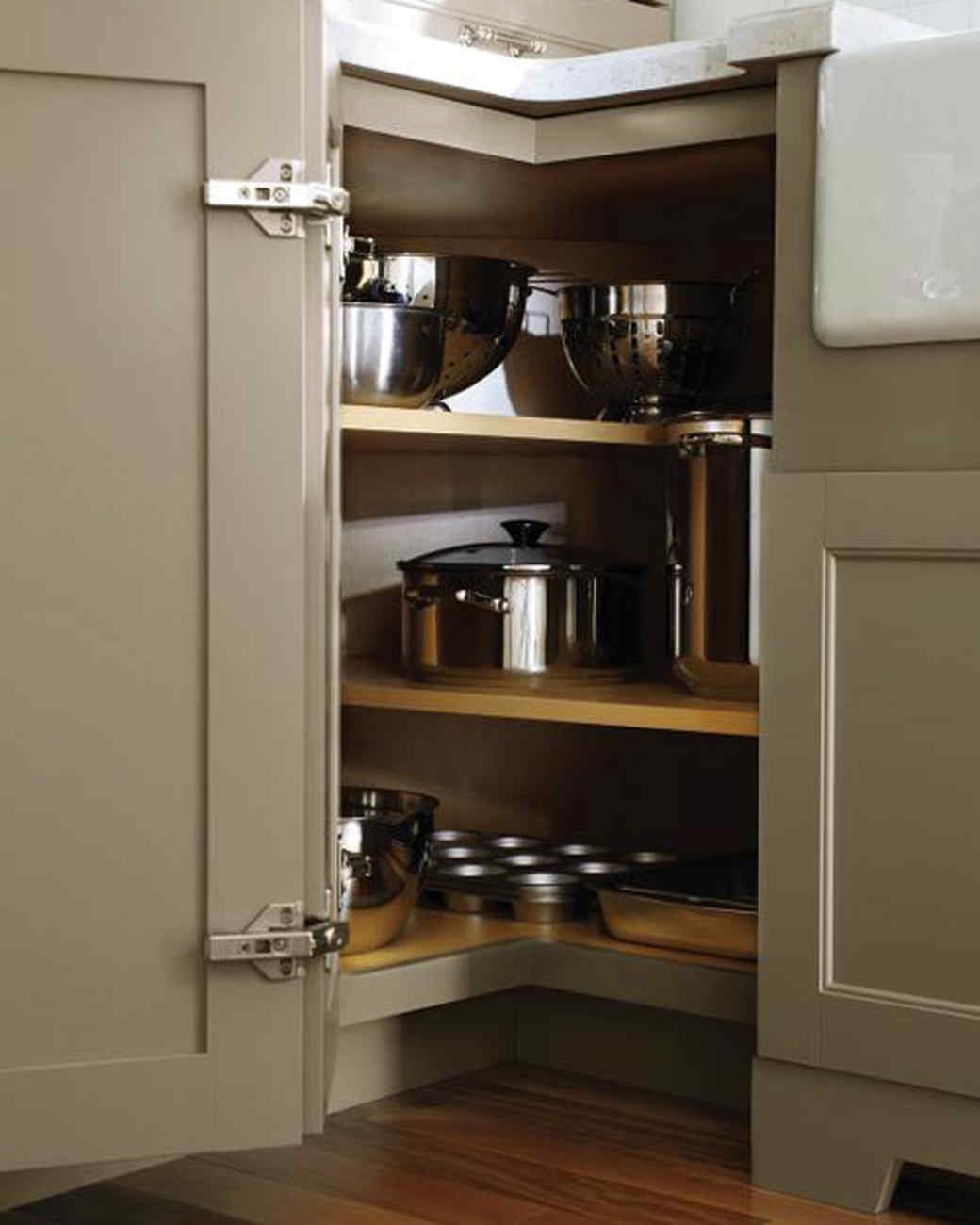 This cabinet has three shelves installed that can be used to store large crockpots and more. Instead of having to pull out corner drawers, you can settle for this. It is a fantastic kitchen corner storage idea.
22. Pull Out Kitchen Corner Cabinet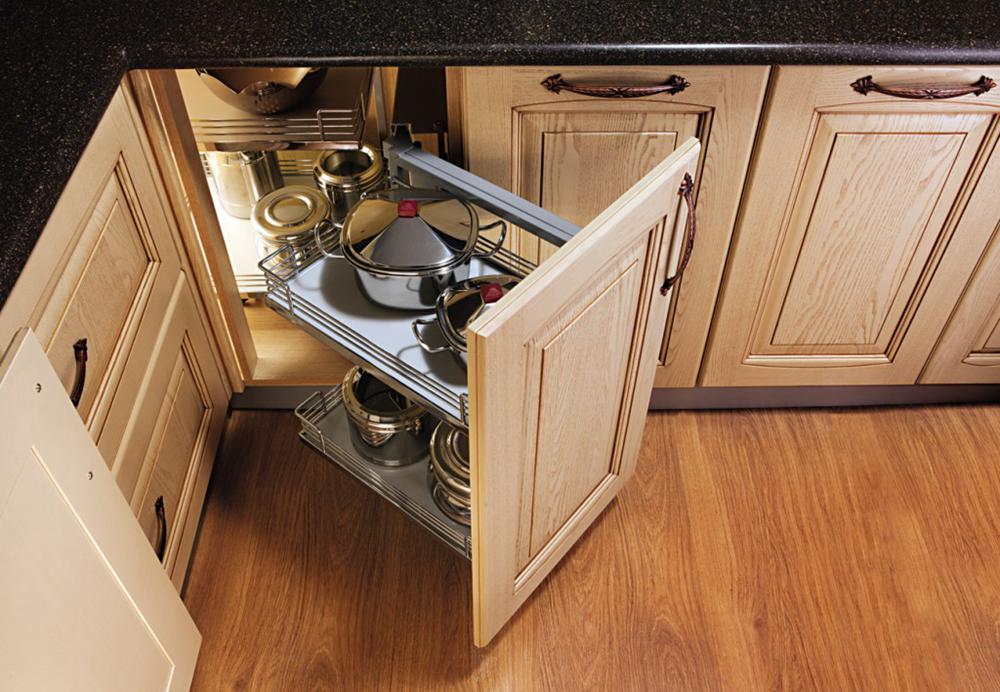 This idea is amazingly outstanding. With two shelves, you would be able to store many items in this kitchen corner cabinet. I love how it opens. We highly recommend this.
23. Kitchen Corner Storage Using A Bin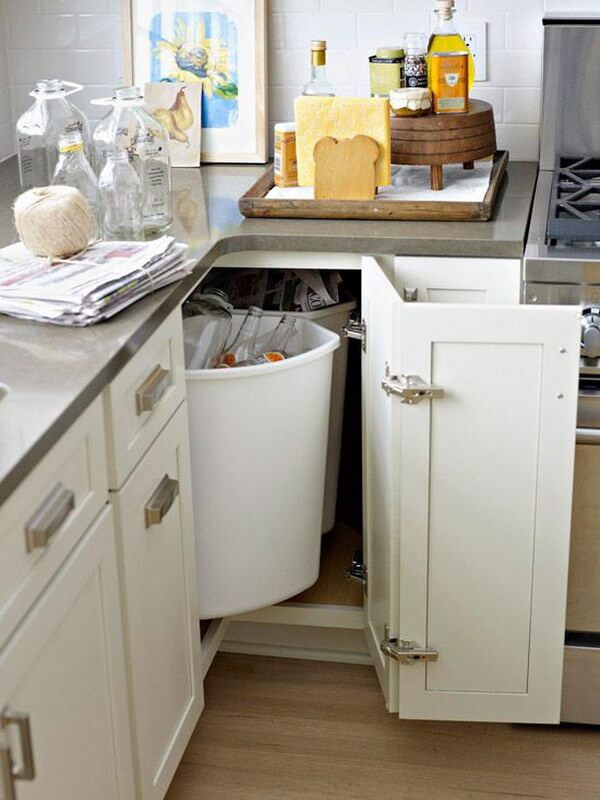 A great way to store your used bottles or other used items in your kitchen would be to place a bin in the corner area of your kitchen cabinet. This would work great if you don't want your bin visible.
24. Kitchen Cabinet With Pull Out Drawer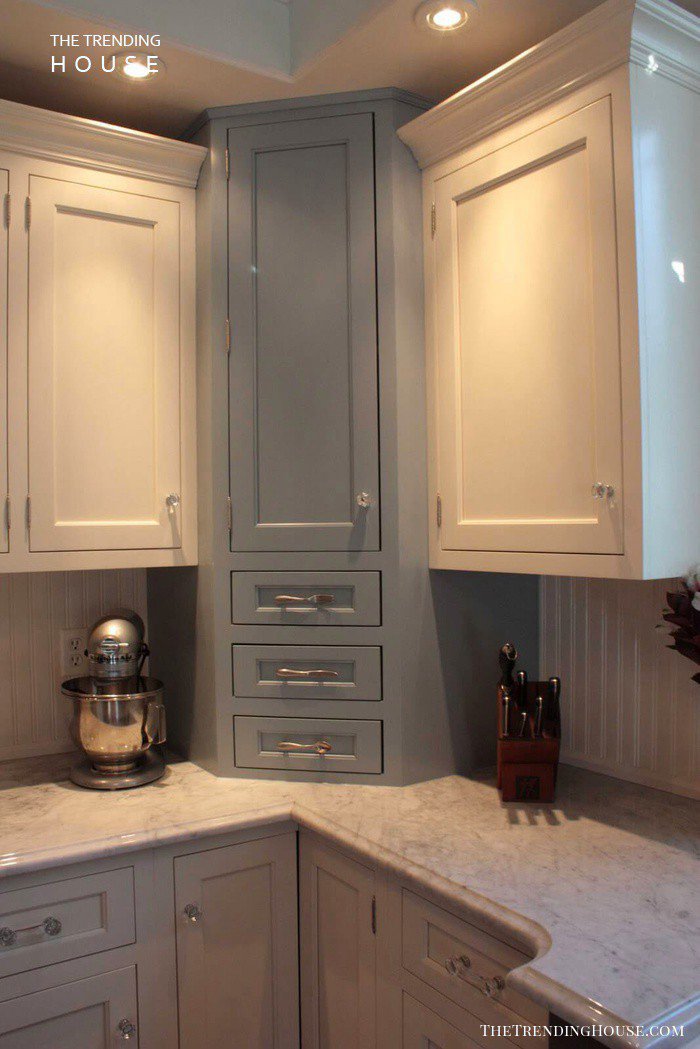 You can add an extra corner cabinet to your kitchen wall. This idea is amazing. It has a huge cabinet door, and three pull out drawers that would come in handy. Having this kitchen corner cabinet is a great way to maximize your space.
25. Modern Style Kitchen Cabinet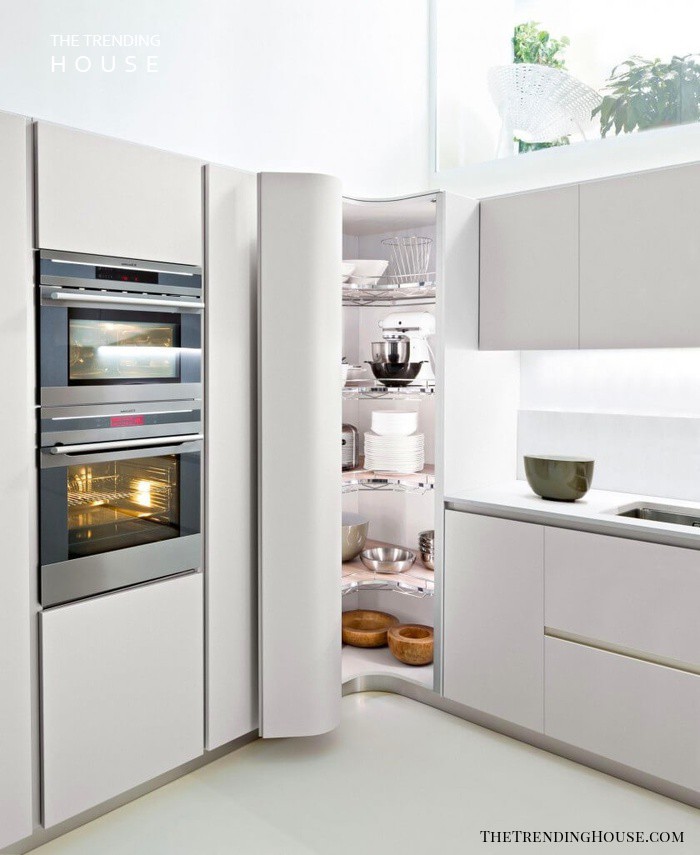 This modern kitchen corner storage has five shelves. It has an amazing slide door that won't get in the way when opened. With five shelves in total, you would be able to store a lot.
26. Lazy Susan Storage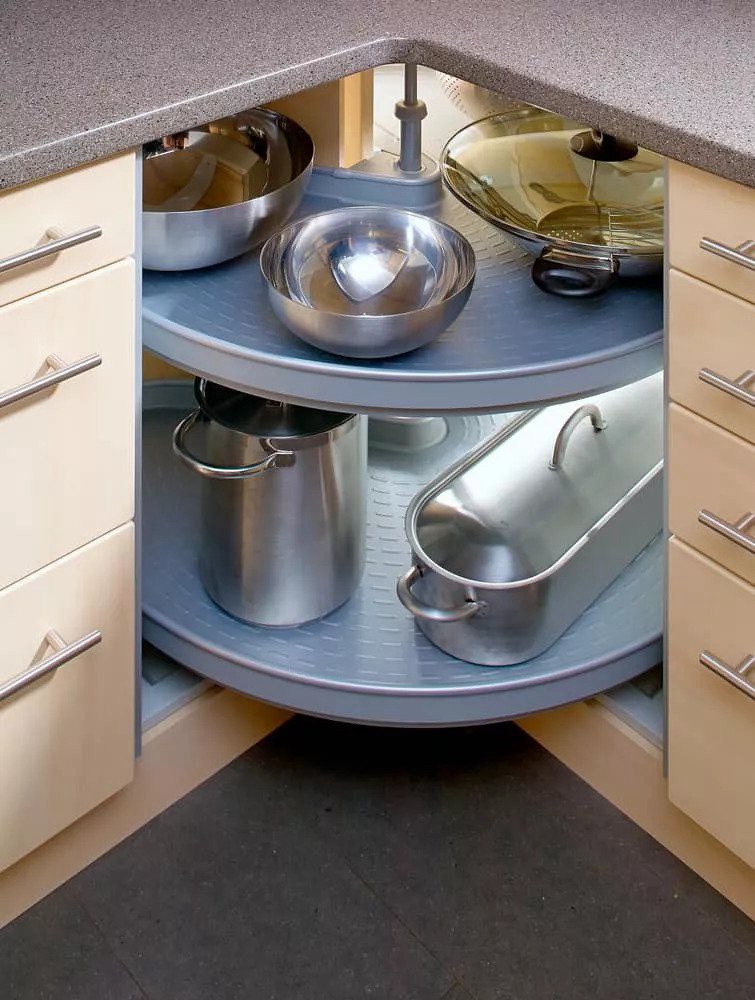 You won't be able to close the cabinet door of this corner storage but regardless, it is an amazing storage idea for the corner space of your kitchen.
27. Wall Mount Kitchen Corner Storage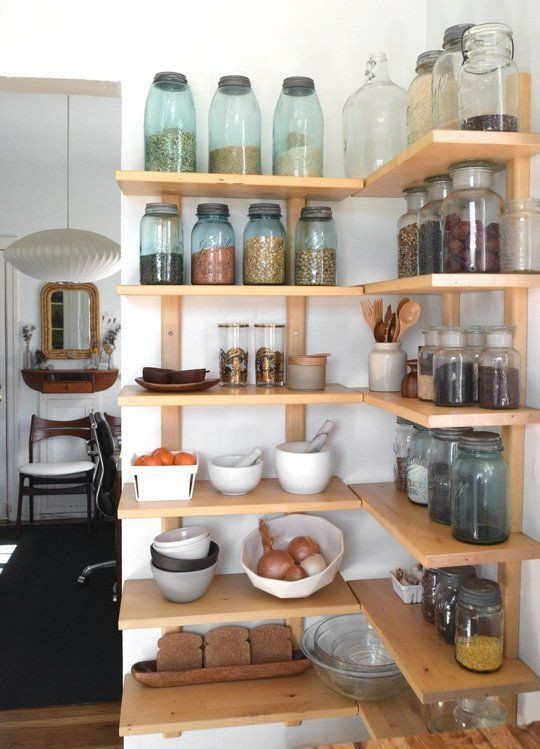 This patterned kitchen corner shelf is made of plywood. You can use this idea to store a lot of items in your kitchen corner. It's a perfect area for storing glass jars, bowls, and more.
28. Kitchen Corner Storage For Baking Dishes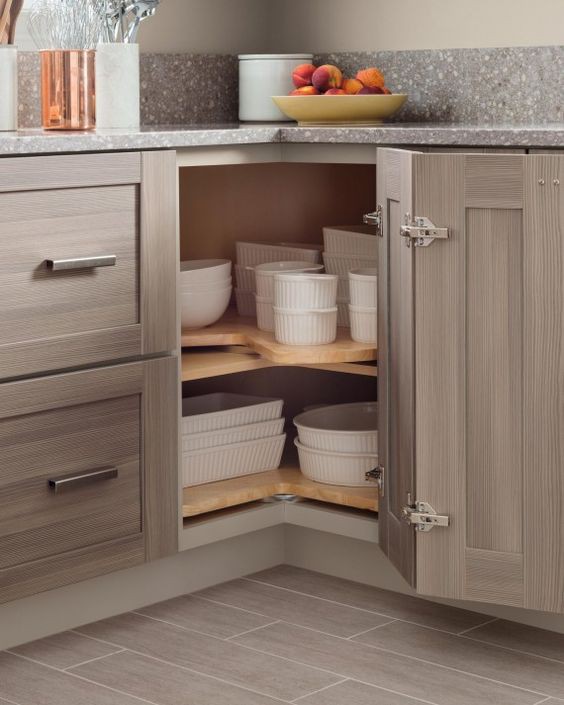 A great section to store your baking dishes is this corner storage. With two shelves available installed, you will have enough room to store different sizes of baking dishes.
29. Rolling Corner Cabinet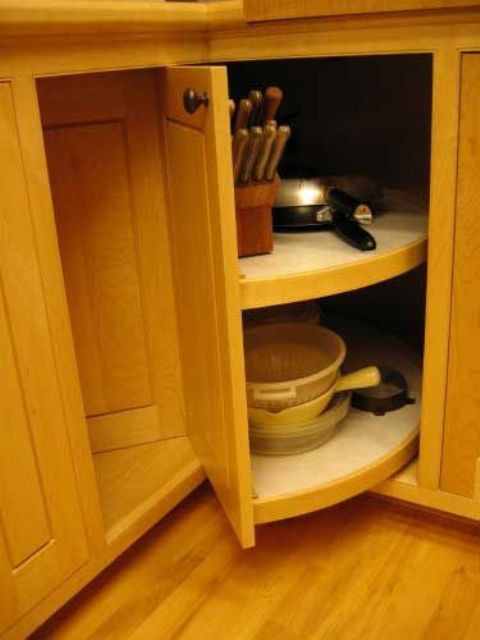 This is by far one of the most creative kitchen corner storage ideas. All you have to do to gain access is hold the knob and roll open the cabinet. With two shelves, you'll have room to store some basic kitchen essentials.
30. Kitchen Corner Pantry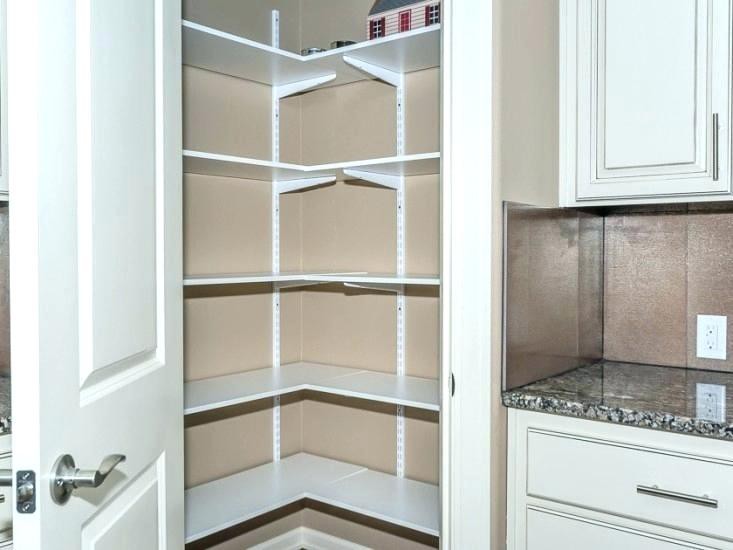 This fantastic kitchen corner pantry is one of the best kitchen corner storage ideas on our list. It has a door. If your kitchen doesn't have extra space for a large pantry, you can use the corner space in your kitchen.