Believe it or not, it is not true that you need a considerable amount of money to decorate the walls in your house. Also, you don't need to be Rembrandt or Picasso to make your home a real piece of art.  Most people can't believe how some of the simple solutions may look fascinating if you fit together the right parts of your interior in an original way.
In fact, even an inexpensive piece can turn your room to top-notch space. The only thing matter is your desire to be unique and attractive. In combination with little skills, you will transform every room in your house into a masterpiece made of love and effort. Let's see 31 DIY wall art ideas on how to combine flowers, mirrors, or canvas paintings to decorate your walls, no matter what interior style you prefer.
1. Diy Flower wall Art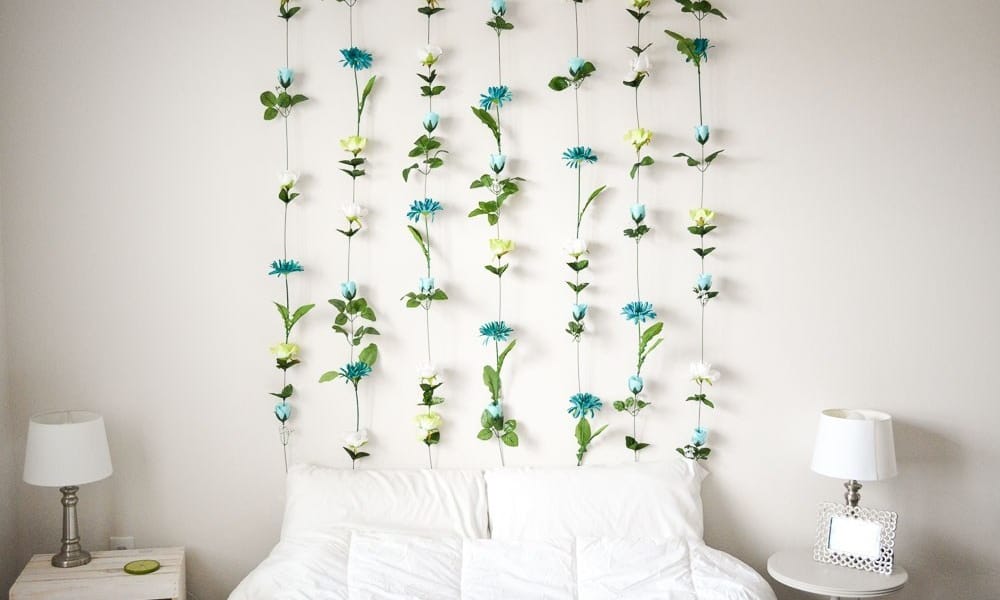 Even though artificial flowers may look corny in the vase, they can be surprisingly attractive hanged over the wall above the headboard in your bedroom. If you need a flower wall for a special occasion, you can use fresh ones, of course. However, that idea is quite impractical in the long run, and you should use plastic blooms instead.
2. Diy Framed puzzles wall Art
I like putting together an infinite series of tiny pieces of puzzles to create beautiful images. After finishing, I frame them and hang on the large white wall of my living room. If your children have the same passion, you can collect assembled puzzles and unexpectedly decorate your home
3. Diy Open books wall Art
There is a great possibility that you have a few old books you don't like at all somewhere in the basement. Find them, wipe off the dust from the covers, and hang them on the wall.
Don't forget to add hot glue between open pages to create the impression of flying-open pages. For this particular project, it is better to pick out hardcover books.
4. Diy Tins with flowers wall Art
If you have a pet, you probably buy tons of cans with food for a year. What if I tell you that you can use them to recycle and beautify your home at the same time?
Paint these tins in chosen color and plant small lovely cactuses into it. You will get a uniquely decorated wall in your living room, and the world will be saved from additional garbage. Great!
5. Diy Branch taxidermy wall Art
Personalizing your home is not a simple task, but you can do it if you are imaginative and a bit skillful. Think about making taxidermy without killing an animal, of course.
Everything you need is a wooden plaque, a pair of branches, and crafting moss. After attaching them on the desired way, you will get a room decorated in hunting style in an entirely unexpected way.
6. Diy Framed photos wall Art
If you have an old frame, especially the one from your grandma's wall, you can use it to make a shabby chic decoration for your wall. Paint it in dirty white and try to make it looks old and well-worn.
Hang it on the wall and fill its interior with favorite family photos. Yes, it takes so little to make your space looks extraordinary.
7. Diy Flower garden with butterflies wall Art
Making an elegant flower garden full of butterflies is not complicated at all. You can cut blooms and these lovely bugs from colorful paper and attach them to the wall of the kid's bedroom. Moreover, you can make them with your kid and have a wonderful time creating something extraordinary.
8. Diy Children's paintings wall Art
I believe that hanging my kids' paintings on the fridge is lovely support to their creativity. However, you can use these pieces of work to make colorful wallpaper in the kitchen or their rooms. If you frame them, you can keep their efforts alive for a long time.
9. Diy Autographs wall Art
To make this exceptional decoration, you should ask your friends for help. Purchase an wall art canvas or writing board and let them put their signatures on it by using a marker in a desirable color.
Make your board even more unique by adding some celebrity autographs in the center. What personalized decoration!
10. Diy Canvas print wall Art
Unfortunately, most of us can't afford expensive masterpieces of the great masters. However, it doesn't mean that you can't make the unique gallery of easily accessible canvas print wall arts.
Create your dream exhibition wall by combining your favorite paintings. Can you imagine a collage of Klimt, Monet, Dali, or Michelangelo in your living room? Sounds fascinating, isn't it?
11. Diy Painted pattern wall Art
Nowadays, it is a new modern way to decorate the walls in your home. Pick out the pattern you like the most and print a bunch of trees, flowers, hearts, umbrellas, or mountains all over the chosen wall. Not to mention that you can make it more personalized by using a photo of your children as a sample.
12. Diy Framed silk scarf wall Art
Don't worry if you don't know to paint or have no money for a decent piece of art. It doesn't mean that you can't have special paint on your wall. Use an old scarf made of silk and frame it. Hanging such unique decoration will add character to your living room.
13. Diy Gallery wall Art
I hate advertising, but I like using vintage advertising posters as unique pieces of art. I have a few hanging in the entrance hall of my house. Everyone who has ever come as a guest to our home admired that particular way of decorating. I find it unique to save the old advertisements for candy and juices that remind me of my childhood.
14. Diy Old window wall Art
Have you ever imagined that an old window may become a picture frame? That is the reason I like shabby chic so much. It is an extraordinary way to transform a piece of junk into art.
Everything you need is an old, damaged window. You can paint it and add your family photos instead of glass. It is so unexpected and unique, isn't it?
15. Diy Hat wall Art
If you, like me, like wearing hats, use them to decorate a wall in your bedroom. However, you can use other accessories such as scarves, bracelets, straps, necklaces, bags, or even shoes, if you find them inspiring. The more colorful your collection is, the more beautiful the wall will be.
16. Diy Romantic letter wall Art
If you have one of those sweet, pathetic old letters your grandpa wrote to your granny from war, you should save them from oblivion.
Make a magnified copy, frame it, and place it to the wall of your living room. How wonderful it is to have an opportunity to store emotions for eternity.
17. Diy Magazine collage wall Art
The best part of this particular project is that you can make it with your children. Cut colorful magazine paper strips and complete the silhouette of your favorite animal or bird.
That way, you will spend quality time with your kids, recycle the old paper, and get a fantastic piece of wall art for your home. Three benefits in one collage!
18. Diy Dahlia decoration wall Art
Find a tutorial on YouTube and learn how to make paper dahlia decorations. Use colorful paper and create a few 'flowers' for the wall in your child's room. Moreover, you can spend some inspired time with your kid and make these 'blooms' together.
19. Diy Lace project wall Art
Our grannies adored lace, but it has been considered too old-fashioned for decades. However, shabby chic has changed a lot, and we learn how to love and appreciate some outdated stuff again.
Look at the old wardrobe of your grandparents and find the soft lace doily. Save it from decay by cutting the pieces and making charming, country-inspired art. Well done!
20. Diy Colorful glass or pieces of mirror wall Art
Use cut pieces of glass or mirror and create a fantastic collage on your wall. It can be in the form of stained glass, or you can just attach every part on the wall separately. In both cases, the result will be astonishing. I find this type of decorations perfect for the entrance hall.
21. Diy Ceiling medallions wall Art
I have always hated ceiling medallions my parents had in every room, including mine, full of rock stars' posters. What a shame for a teenager! However, I have changed and found the practical value of these stupid, antique ornaments.
Paint old ceiling medallions and place them all over the wall. They will remind you of expensive decorations you can see in Hermitage and Louvre. WOW!
22. Diy Colorful crates wall Art
You can look for old wooden crates, in your local store. After painting these boxes, you can attach them to the wall, and transform something, which is basically waste, into a unique bookshelf. At the same time, you will become a part of the movement to preserve the planet through recycling. How lovely!
23. Diy Spray-painted plants wall Art
Go with your kids to the park and collect a bunch of leaves of various shapes and sizes. Use them as a pattern to follow the timeless tradition of making nature-inspired artwork. Choose the right color and create an inspiring decoration, fitting almost every style.
24. Diy Toilet paper roll decorations wall Art
Believe it or not, you can make elegant decorations made of toilet paper rolls. After painting them in black, you can create various shapes by using the so-called 'paper quilling' process.
As a result, you will get a frame full of forms taking on the appearance of rod iron even though you made them entirely of paper waste.
25. Diy String wall Art
If you are skillful and like handicrafts, you can make your favorite flowers or animals to create a unique string wall art design. The best of all is that you need just a wooden board, string, and nails to reorganize your wall from monotonous and dull to impressive and extraordinary. Dare to try; it is not difficult at all!
26. Diy Recycled calendars and postcards wall Art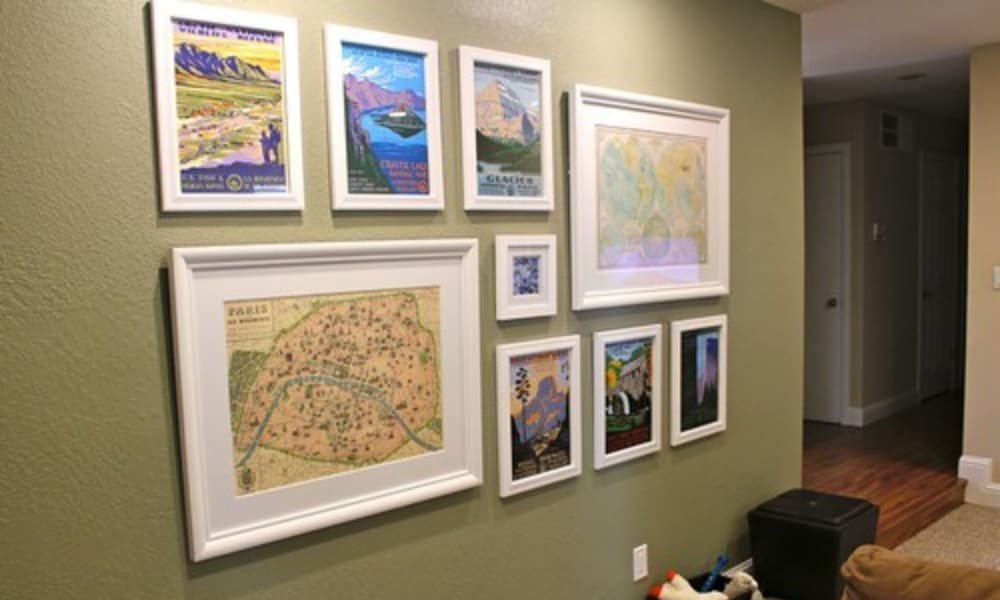 If you are sorry to throw away the old calendars and postcards, you can use them to make a lovely piece of art. Frame them separately or as a collage, and arrange them along the wall of the kitchen or living room.
27. Diy Recycled cake recipes wall Art
My granny cut cake recipes from magazines and collected them in a lovely wooden box. I didn't know what to do with them until I realized that there is a way to make a piece of wall art by using them.
If you have something like that in your house, use them to make a collage cake of recipes, for example. What an idea, ha?
28. Diy Vintage collage wall Art
If you miss the good old days or are nostalgic about beautiful items from your grandmother's house, why wouldn't you use them in a contemporary and unusual way?
Collect vintage picture frames, old decorative plates, gilded coffee cups, and romantic memories from traveling around Europe. Then, place them on the wall of your dining room or kitchen. That way, you will preserve a piece of the past and memories of your ancestors.
29. Diy Vinyl records or CDs wall Art
My husband is a passionate collector of vinyl records. He was thrilled when I came up with an idea to decorate our dining room by placing them on the wall. If you are younger, you may have a bunch of CDs staying useless in a box. You can use them to bring a unique artistic vibe in your home. What do you think?
30. Diy Magnetic Scrabble board wall Art
With a little effort, you can use a magnetic Scrabble board and make a convenient and practical decoration at the same time. Frame the board and take an opportunity to organize an ongoing game with the beloved ones you live with.
31. Diy Framed watercolor quote wall Art
Each of us has a favorite phrase, whether we invented it ourselves or it is a quote from some wise person we admire. Why wouldn't you combine your best-loved motto and a little art to make an exciting piece, which will look fantastic on your wall?
The watercolor technique is hard when you want to make a painting, but you don't need to be a top painter to mix a few colors on cardboard and write a quote over it. Pick out an appropriate frame, and make the wall in your living room inspiring and unique at the same time.