The word "rustic" is all over the place describing from small decorative items to styles of whole rooms. It is an ideal way to create coziness for your home and bring back nostalgic memories of your childhood.
What is the best place, if not your kitchen, to insert that style? These rustic kitchen island ideas are great examples to incorporate in an already farmhouse kitchen or in a modern one to mix and match. They come in different colors, sizes, and shapes and you can choose depending on your taste in decor.
Rustic Kitchen Island Ideas
1. Traditional Is Root Centric
Wood is the main material on the road to traditional style. A light blue kitchen island with a hardwood countertop transport your kitchen to that destination successfully! Matching cabinets are essential for an appealing result.
2. Crafting Is Art
If you are the type of person who loves crafting things, then I can happily tell you that you can make your kitchen island. Rustic from top to bottom, white with a dark wood countertop, and easy to create!
3. DIY And Recycle
Another farmhouse DIY project which is pretty doable is this wooden kitchen island. All you need are some crates, white paint, and planks for the surface. It might take a while but it is worth it!
4. Size Doesn't Matter
A functional and exciting rectangular wooden island with small wheels is everything you need if you wish for a movable rustic dining table! Plus, it comes with drawers and space underneath to use.
5. From Porch To Kitchen
A brilliant farmhouse kitchen with a kitchen island which is the center of everything. Made from reclaimed wood painted in shades of blue and a hardwood countertop to match. Discreet stools to not take away the beauty of the island.
6. Desk Into An Island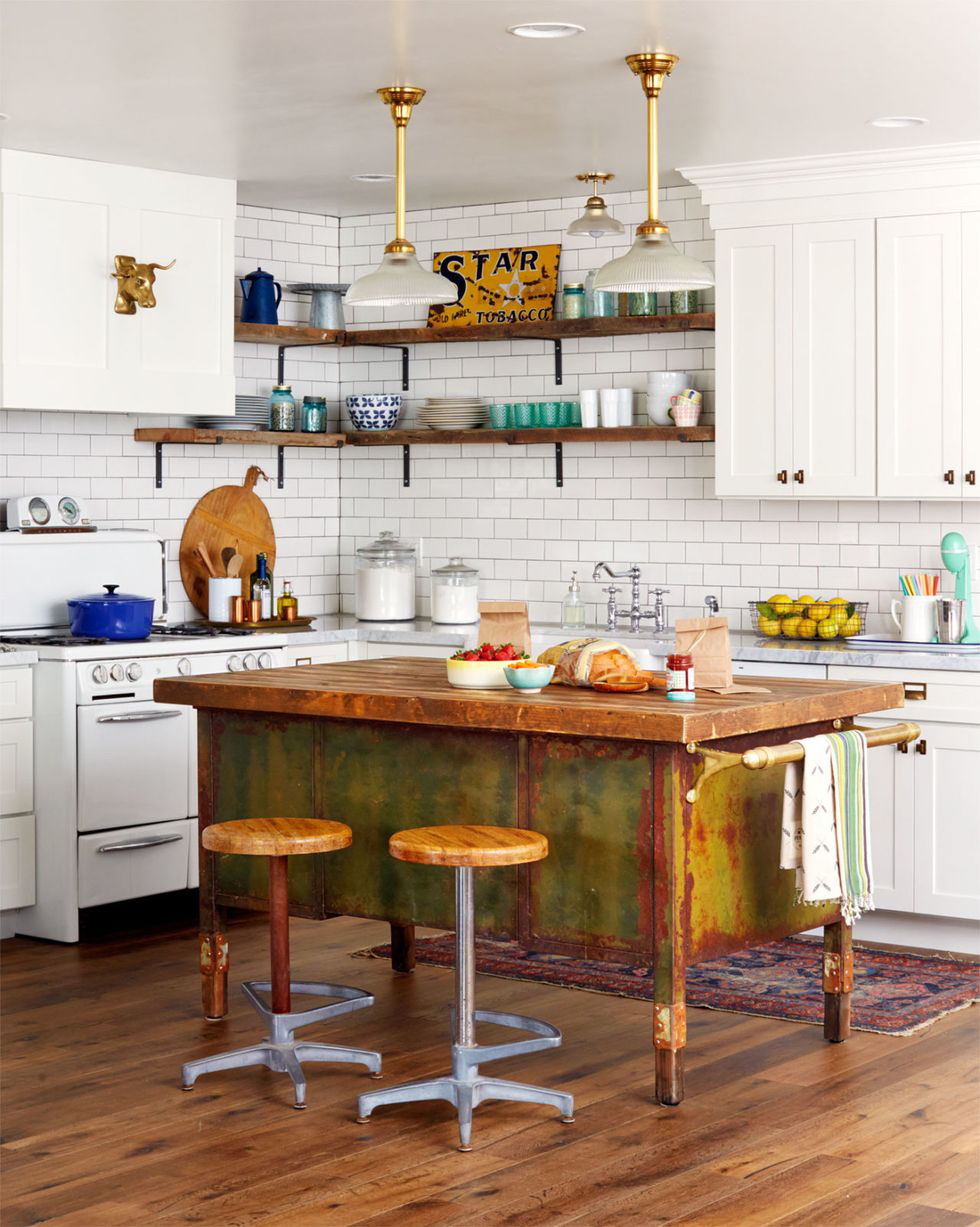 When you are a creative person, you can turn a metal military metal desk into a kitchen island by adding a wooden top. If you are a good designer, you place that island in a white kitchen to have a rustic twist! The green rusty coloring is a revolution on its own.
7. Unique Transformation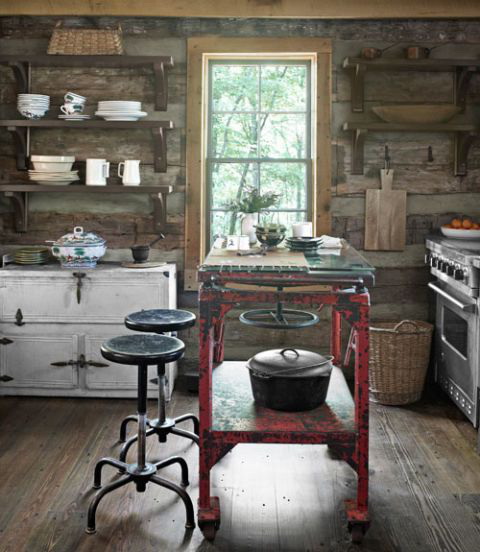 This is a kitchen island you will not find everywhere. An example of how you can transform an industrial kitchen island with cut glass on top into a rustic decorative element. Just give it the proper wooden background!
8. Colour Experiments
White and blue are not elements of the coastal style only. A high white kitchen island with blue decorative planks and a wooden countertop is very much rustic. The stools which appear as they come from a different era enhance this atmosphere.
9. Uncut Diamond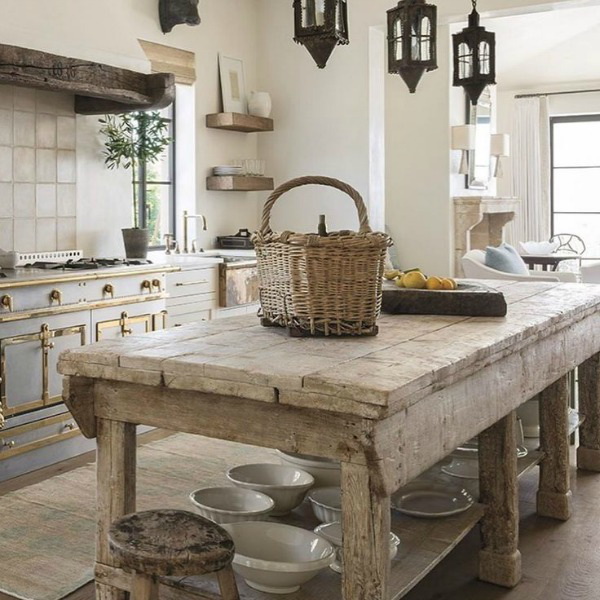 The raw aspect of this kitchen island is what is making it so superb. A large wooden island which looks like it came just from a stable into the kitchen. Space underneath can be used for storage or decorations.
10. Classic Piece
Here we have a case where a country style kitchen island can change the whole room. A classic wooden island with six legs, half of the simple and the other half like columns. The golden handle tricks you to believe that there is a drawer!
11. Storage Joy
Apart from the rustic beauty that lies on this island made of light wood, there is an important use of it! Sixteen drawers to use as storage space for your kitchenware! The darker tone of stools fits perfectly together with this item of furniture.
12. Build It Up
There is a hint in this kitchen island that it resembles some kind of wall! Wooden at its core, but with rectangular stones at its front. Those wooden planks which hold the countertop look like beams! If this isn't a farmhouse, then I don't know what it is!
13. Dark But Bright
A magnificent rustic image from top to bottom and the island is the cherry on the cake. Made of green wooden planks with marble on the top and big enough for a family to sit. Those wooden stools look not only appealing but comfortable too.
14. Focus On The Bricks
Put together contemporary with rustic with this lovely combination of the kitchen island and white stools. The size of the island is just perfect for any kitchen and its design with bricks and wood on the top is more than you can ask for.
15. Keyword: Functionality
A rustic wooden kitchen island with all the tools needed for the maximum of use. Drawers and space for storage, wheels to move around, and even a rail for the towels. The surface made of glass and the stools complete the package.
16. Nothing Compares To Handcrafted
If you belong to a group of people who prefer original furniture, then this kitchen island is a good choice. It is handmade, with a blue base which stands out and a wooden shape on both sides which indicates great woodworking skills.
17. X Is The Perfect Spot
Another handmade piece of art, this time with the shape of "X" starring. With beige, grey, and shades of brown wood, this country style kitchen island fits in every type of kitchen. The towel rail is a plus!
18. Go Cart
I don't even know where to start to describe the uniqueness of this item. It is made from a factory cart, painted in turquoise and they put a marble countertop on. It makes an impression in front of a white kitchen and it is quite functional.
19. No Brighter Colour Than White
This room projects the coastal style. However, the kitchen island may be painted in white to match the rest of the kitchen, but it is rustic. With two large drawers, a wooden surface, and the baskets underneath, it is beautifully incorporated in the rest of the room.
20. Famous Kitchen Island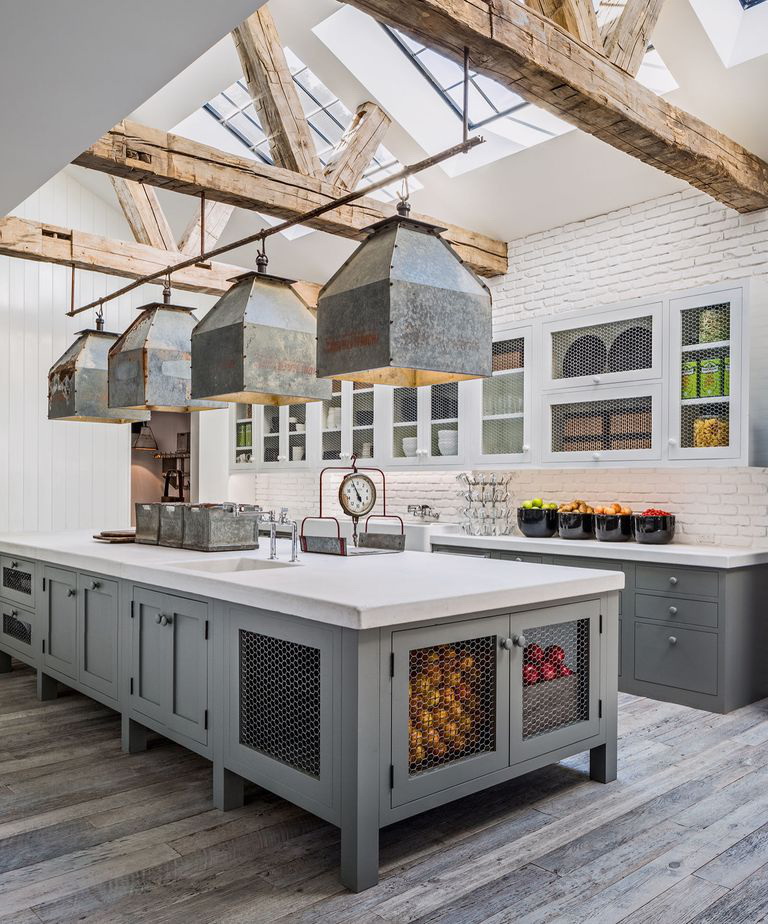 Even famous people, like Diane Keaton, choose the farmhouse style for their homes. A huge kitchen island with a lot of storage space painted in grey with a white countertop. There are even chicken coup reminders on the light fixtures and the wire netting on the cabinets!
21. An Ode To Large Spaces
When we own a large kitchen, we need a large kitchen island as well. This wooden kitchen island with a marble top is the perfect solution for this matter. The many drawers included and the sink on top make it an essential addition to a kitchen.
22. Simplicate And Add Lightness
There is no rule saying that a rustic kitchen island must be made of brown hardwood. If you enjoy walking in a kitchen with smooth colors, then a light blue island is what you need. Storage space: Check. Farmhouse: Check. Aesthetic: Check.
23. Rustic At Its Best
This piece of furniture is simple and extraordinary at the same time. A wooden kitchen island made of planks and contemporary stools to match with. It is proof that as long as you are creative, wonders can be made.
24. Take Out The Butcher Knives!
I have never seen something so basic and unique at the same time. An old butcher's table or a kitchen island? I guess it can be both! Amazingly appealing and exactly what you need if you want to add style but not overload the kitchen.
25. Close To Nature
There is nothing in this kitchen that is not made of wood. The same goes for the kitchen island as well. It is a large island with storage and painted in green as a resemblance to the green of the grass. Wondrous item, right on top color.
26. Colour Is The Smile Of The World
This red farmhouse kitchen island which serves as a preparation table brings extra warmth in the kitchen. Also, it includes an extended table with chairs to eat your dinner straight away.
27. Hardwood Original
A distinctive, rustic, large kitchen island to make a clear design statement. It is made of reclaimed hardwood planks and it is handcrafted. It includes a variety in the size of the drawers and a large space underneath.
28. Past Comes To Present
Kitchen islands can be made from old work tables and it pays off! This is an old carpenter's table which is remade into an island. You can get the "old" feeling from the design and the material, and with the addition of a sink, it becomes quite useful.
29. Cabin In The Woods
This low-ceiling kitchen expresses a cozy atmosphere. The classic addition of a rustic island is a good idea is someone desires to extend this kind of design. Made of walnut and matched with comfortable stools, it invites you in.
Conclusion
Rustic style is joining our lives more intensively than in the past. Farmhouse kitchen islands can be made of wood, metal, or even stone and are unique pieces of furniture to decorate your room. The thrilling fact is that you can create your own, giving it your personality touch, by remodeling an old item.
My advice is to go to the countryside style and add a stylish gathering place for your family and friends!