Are you having a hard time deciding where to place the marble flower vase you just bought? Are you looking at decorating your kitchen counter like a professional but don't know where to start?
We bring to you some of the best kitchen counter decorating ideas ever created. I will take you through a series of amazingly outstanding kitchen counter decorating ideas to choose from.
I put this list together to help you have an idea of what to do in your kitchen countertop.
36 Best Counter Decorating Ideas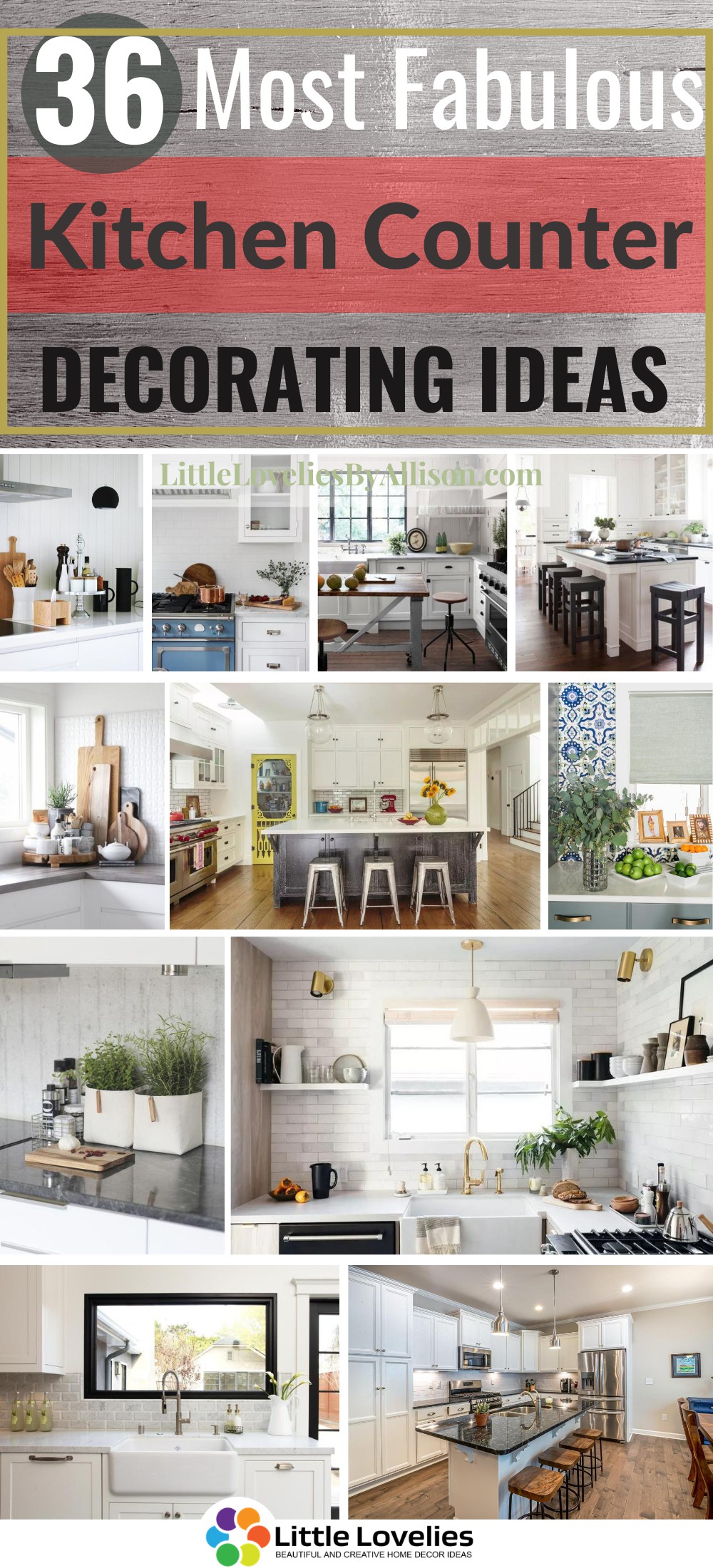 1. Simple Minimalist Counter With Books
Do you like keeping your designs simple? Here is one simple and minimalistic design that you would love. Your favorite cookbooks would fit in perfectly. Arrange the books in an orderly manner over the countertop, We would suggest that you start from the biggest books down to the smallest. As an add-on, you can also get bookends to spice up your kitchen countertop.
2. Minimal Kitchen Countertop Design With Flower Pot
You can purify the air around your kitchen by placing a clay flower pot with a purifying plant. There are lots of purifying plants to choose from. When choosing a plant for your kitchen countertop, we suggest that you go for something small and not overly large. You can also add a flame or flameless candlelight to help soften the kitchen.
3. Black and White Kitchen With Organised Soap Dispensers
I have used this design a couple of times, have you noticed the fancy bottles by the right? Imagine having that in your kitchen counter rather than the conventional soap dish. Two containers, one containing dish soap and the other containing hand soap. Then wrap it all up with a touch of nature in a vase and neatly arranged bottles of your favorite liquor.
4. Busy Kitchen Countertop Design Idea
Image source:
Not everyone loves a simple kitchen. You can use this idea to get rid of the emptiness in your kitchen countertop. A medium-size bowl with some fruits and a flower vase would make your kitchen top come alive. I love the chopping board and little bowls made of wood by the side. I have a strong feeling that you would love the neatly arrange soap dishes.
5. One Of A Kind Family Photo Countertop Design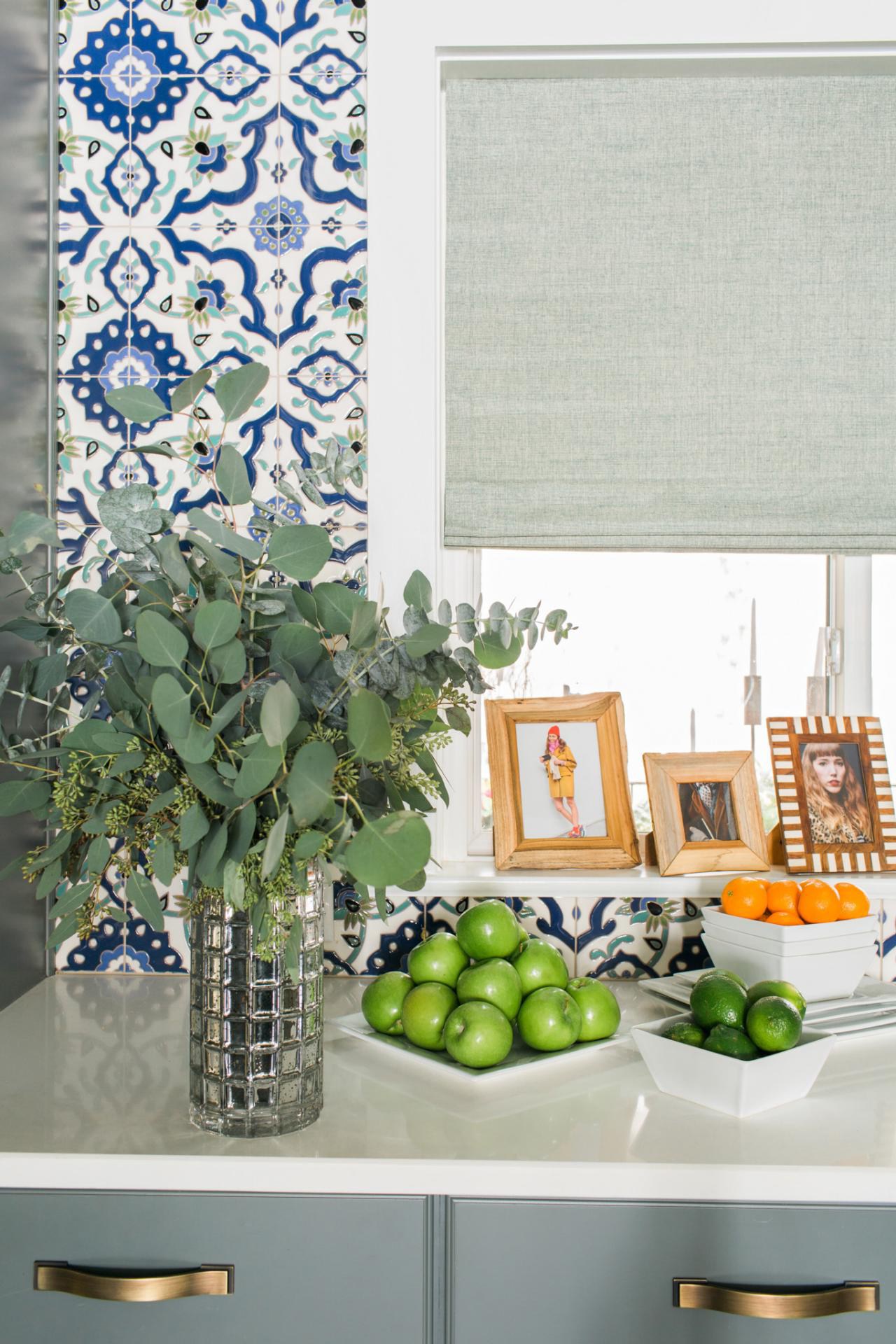 You can put those family photos that have been laying around to good use by placing them on your kitchen countertop, that way, your loved ones are always near. When you want to try out this idea, be sure to place the images in a frame and keep them grouped.
6. Designing With Home Grown Herbs
You can design your kitchen with herbs that you grew. The best part about this is that your meals will taste fresh when you use these herbs to cook.
7. Designing With Chopping Boards
I want you to close your eyes for just 4 seconds and imaging your kitchen countertop with amazingly outstanding chopping boards of different sizes. This is one design that can completely change the look of your kitchen countertop. Don't scatter the chopping boards. Arrange them neatly in a corner.
8. Use Colorful Antiques To Revive Your Kitchen Countertop
All you might need to revive your kitchen might be antiques in different colors. You do not need to be an artist to know what colors to use. A mixture of bright colors would do. Try not to go overboard.
9. Make Your Kitchen Look Interesting With Green
Inspired by Kate Coughlin, We recommend you get a glass vase and fill it up with some green apples, for the final touch, You can use artificial topiary balls in a flower vase.
10. Simple Yet Attractive Kitchen Countertop Design
As Walt Whitman once said, "simplicity is the glory of expression". That was probably what Kristen Nix thought about when she placed this amazingly outstanding star sculpture in her kitchen countertop. This design idea leaves your kitchen countertop looking clean and accessible.
11. Zinc Countertop With A Touch Of Uniqueness
If you want to settle for a zinc countertop, you need to avoid materials that would probably react with your Zinc countertop. A metal bowl where you can store some freshly picked or purchased apples would be ideal. Also, go for an artificial flower vase. It will add that final perfect touch.
12. Marble Countertop Design For Kitchen
If you have a marble countertop or you are planning on having one, we would highly recommend this design for your kitchen. A bottle of wine, some vases for storage (with matching colors), and of course the most used element (Artificial flower vase).
13. Granite Kitchen Countertop With Minimal Design
I love this simple design. With some bottles of wine packed to one side and a couple of same color artificial fruits to amp the simple design.
14. Dispensers Add Beauty To Countertops
Ideally, a kitchen countertop is not supposed to have a lot of items on it. This design has only two major decorative items. The flower vase gives a neutral feel to the kitchen counter and the soap dispenser delivers a clear message.
15. Farmhouse Kitchen With Mini Storage Jars
I cannot overemphasize the importance of storage jars, here we can see that glass jars for storing a lot of powdered food items are made available and kept close to the gas cooker for easy access. There is also a ceramic container for the storage of wooden spoons. I love the flower vase more.
16. Coffee Lovers Paradise Countertop
As a coffee lover, the first thing you would want to get would be the coffee machine that would fit the size of your countertop. I also highly recommend a storage canister for coffee grounds.
17. Well Arranged Kitchen Countertop With Green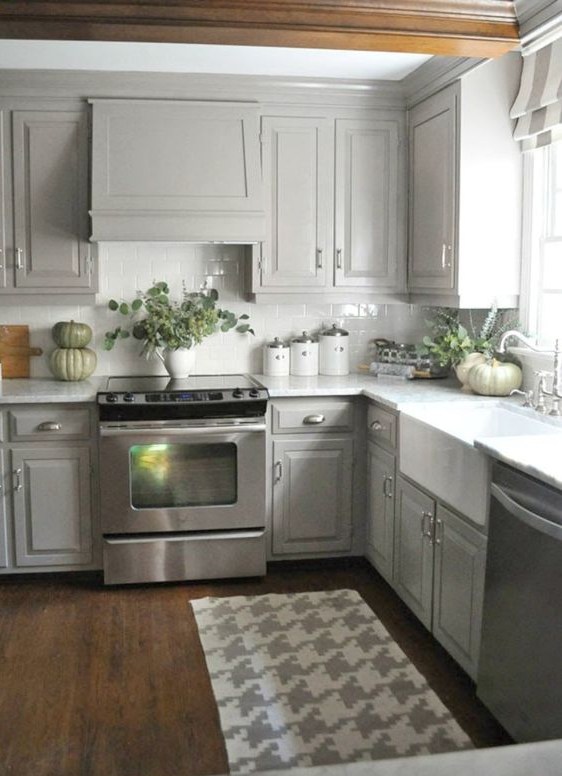 I could not find an artificial pumpkin so, for this idea, you would have to settle for real pumpkin. It gives a greeny and natural feel to your kitchen. A huge flower vase was used with a couple of storage canisters.
18. Concrete Kitchen Countertop
We recommend using a concrete slab as your kitchen countertop. Concrete is highly customizable. You can place wood or metal on a concrete kitchen countertop without ever being worried about a chemical reaction like it would happen with zinc.
19. Amazing Kitchen Countertop Idea With A Touch Of green
I can bet you like what you are looking at. This countertop requires just two basic add-ons, a white tray for some apples and a flower vase.
20. Modern Kitchen Countertop Design
This modern countertop design could be the perfect fit for your kitchen. I am specifically in love with the river sink.
21. Contemporary Stainless Steel Kitchen Countertop Design
The best part about this kind of countertop is that you can easily wipe off stubborn stains. For a countertop like this, adding stainless steel canisters and bowls as decorating items would work perfectly.
22. Ideal Kitchen Counter Top For Baking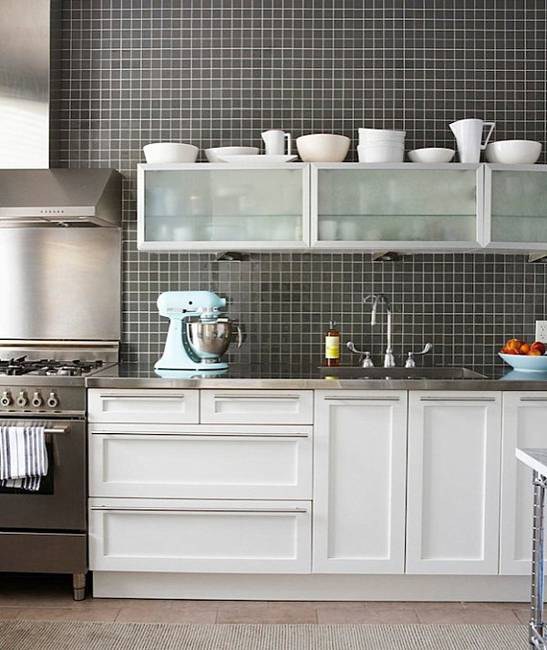 We highly recommend this minimal design if you are into baking. As you can see in the photo, the cake mixer is placed close to the gas cooker. There's also a bowl by the side with almost the same color as the cake mixer.
23. Black and White Kitchen Counter Design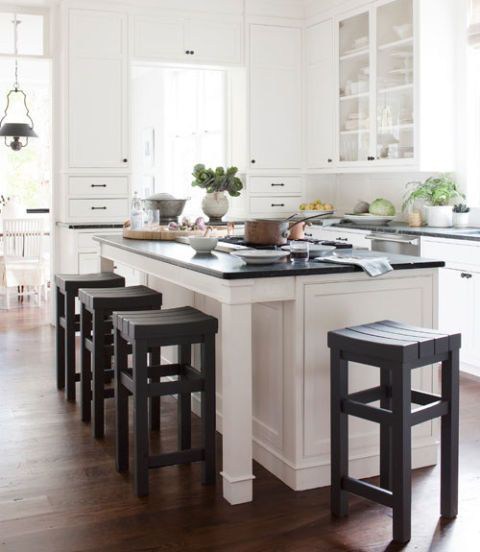 The dark countertop is ideal for lovers of black. Pay attention to the green in the background. For you it could be artificial plants of homegrown herbs.
24. Country Style Kitchen Countertop Design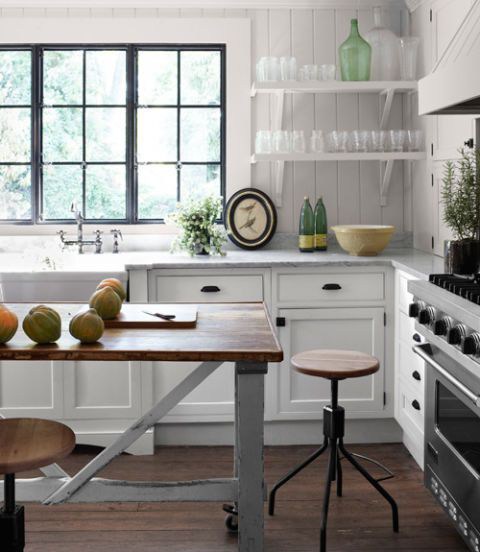 In this countertop design you can see the use of flowers for purity and a couple of green pumpkins on the countertop. As an add-on, the designer uses a framed image. We would suggest you use your favorite fruit or plant.
25. White Kitchen Countertop With Minimal Design
With a perfect marble finish over the top, the designer makes use of the space but not too much. A simple storage platform for the mouth-watering bananas and a candle holder is used to add beauty to the kitchen countertop.
26. Ideal Kitchen Countertop With Perfect Marble Finish
You have the free will to do whatever you want with this amazingly outstanding countertop with a marble finish. A stainless steel bowl for storing fruits would be nice.
27. Wooden Styled Kitchen With Marble Top Finish
If you love marble you'd notice the marble vase in the picture. I bet you also noticed the plates and glass. They are placed there to add beauty to the kitchen.
28. Retro Style Kitchen With Simple Countertop Design
I love the wine holder in the middle of the countertop. You can choose your favorite wines and place them in there.
29. Cool White And Green Countertop Design
The first thing we noticed about this kitchen countertop design was the professional placement of specific items at various corners. You can see the bowl with fruits, then the picture frame with some little bowls, the wood platform for the wine bottle and the glass flower vase.
30. Modern Style Kitchen Countertop Design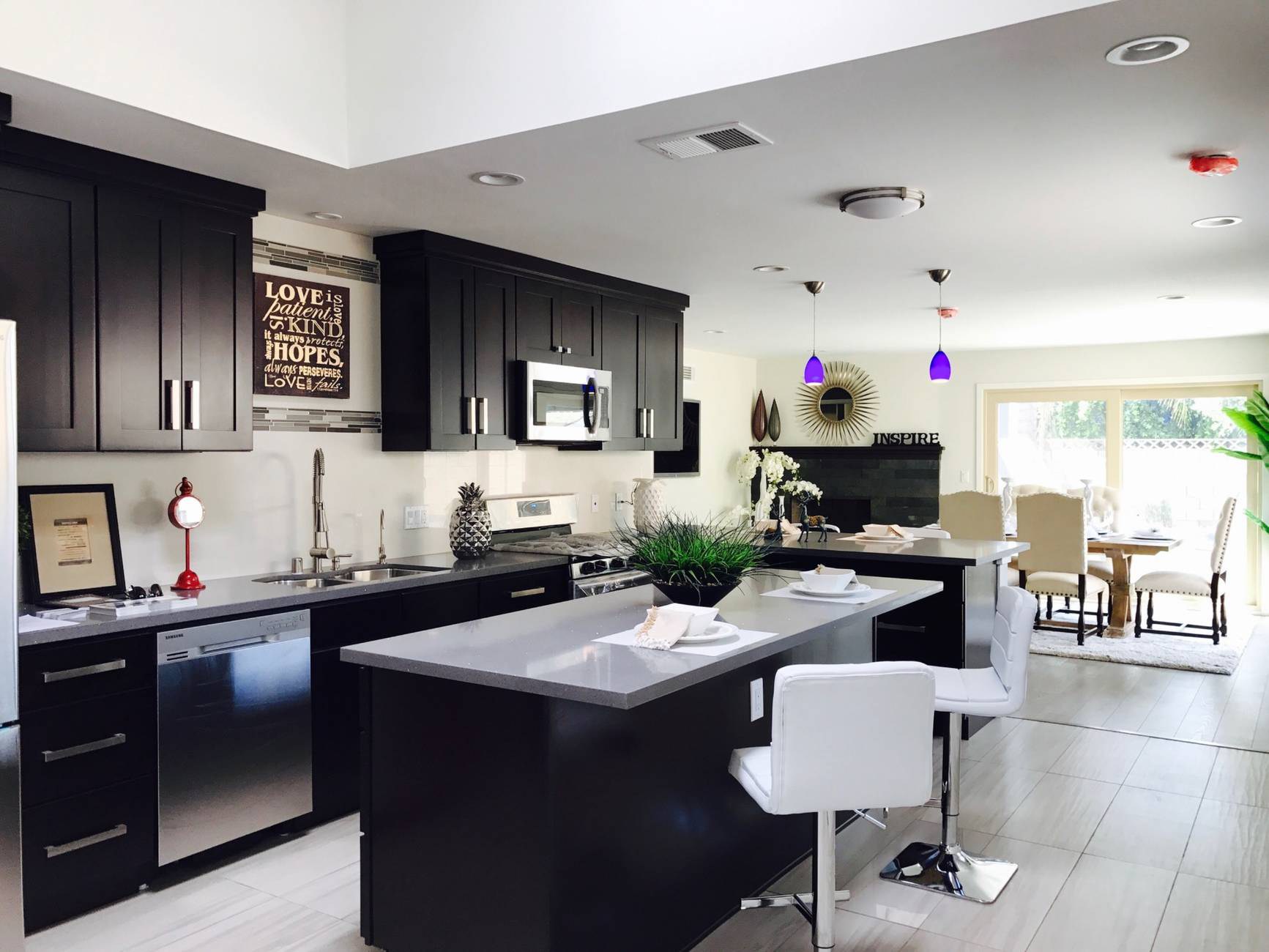 The first thing you would notice about this kitchen counter decoration is probably the big green flower bowl. Looking farther, you'd also notice amazing antiques like the pineapple-shaped sculpture and the framed image.
31. Modern House Kitchen Design With Simplicity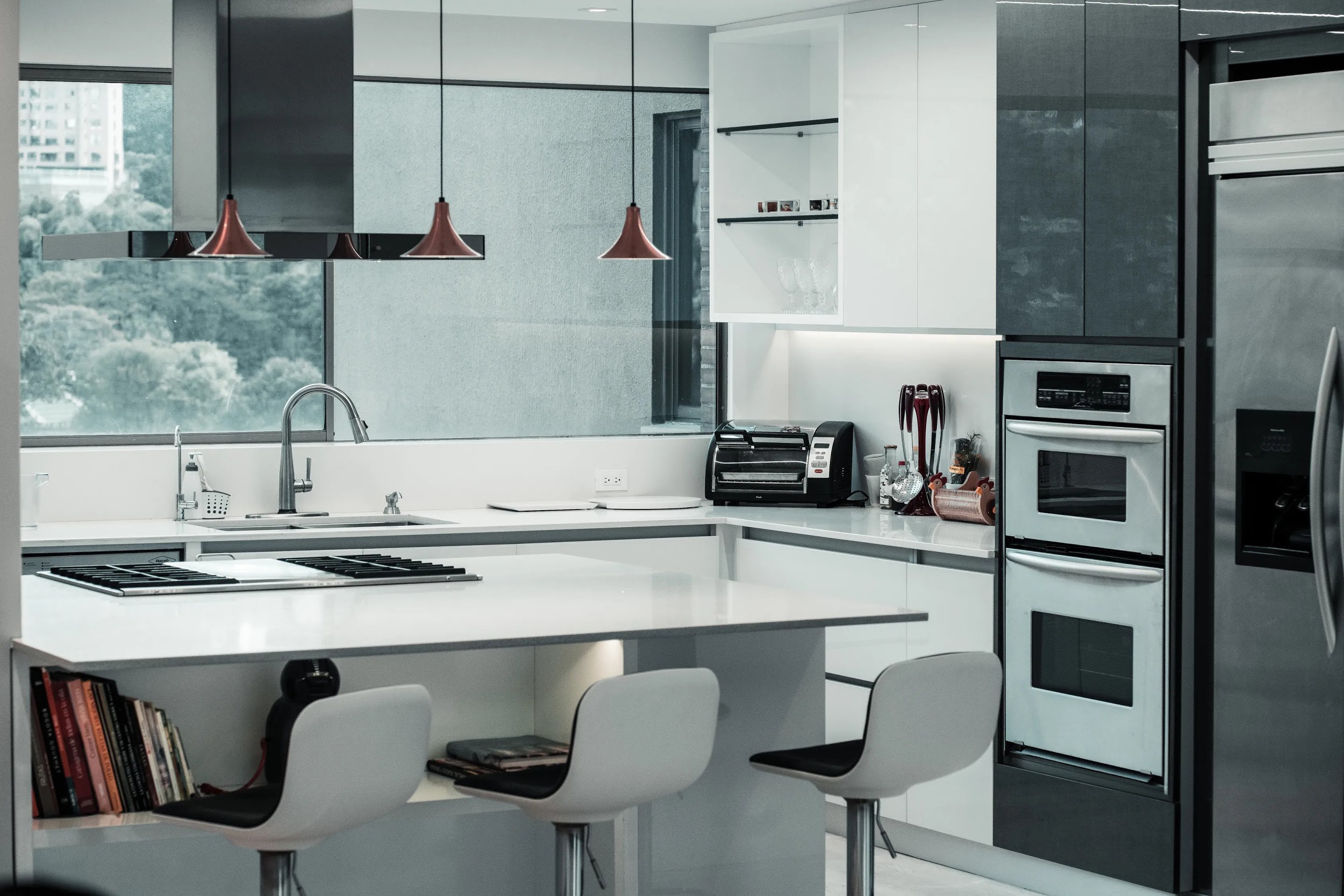 This amazing white marble finish is big enough to accommodate a lot of decor items, but the designer chose to make it simple. The microwave is in a perfect location far away from any water splash from the sink. I also love the spoon holder next to the microwave.
32. Kitchen Countertop With Homemade Herbs
Growing your herbs has its advantage, one of which is "fresh herbs." You can see how the used glass and ceramic bowls to grow and groom herbs used for cooking. There's also a large fruit bowl that can always come in handy.
33. Small Kitchen Countertop Design Idea
This kitchen countertop design is minimal but amazing. The first thing we noticed about this was the basket containing the napkin and other items. We also noticed the nicely arranged spoons, knives, and cups. Although space here is limited, the available space was used wonderfully well.
34. Beauty And Functionality In Your Kitchen
Give your kitchen the best look by gathering good looking pots, knives, cutting boards, flower vases, and more. You'd get beauty and functionality with these items in your kitchen.
35. Modern Kitchen With Wooden Countertop Decor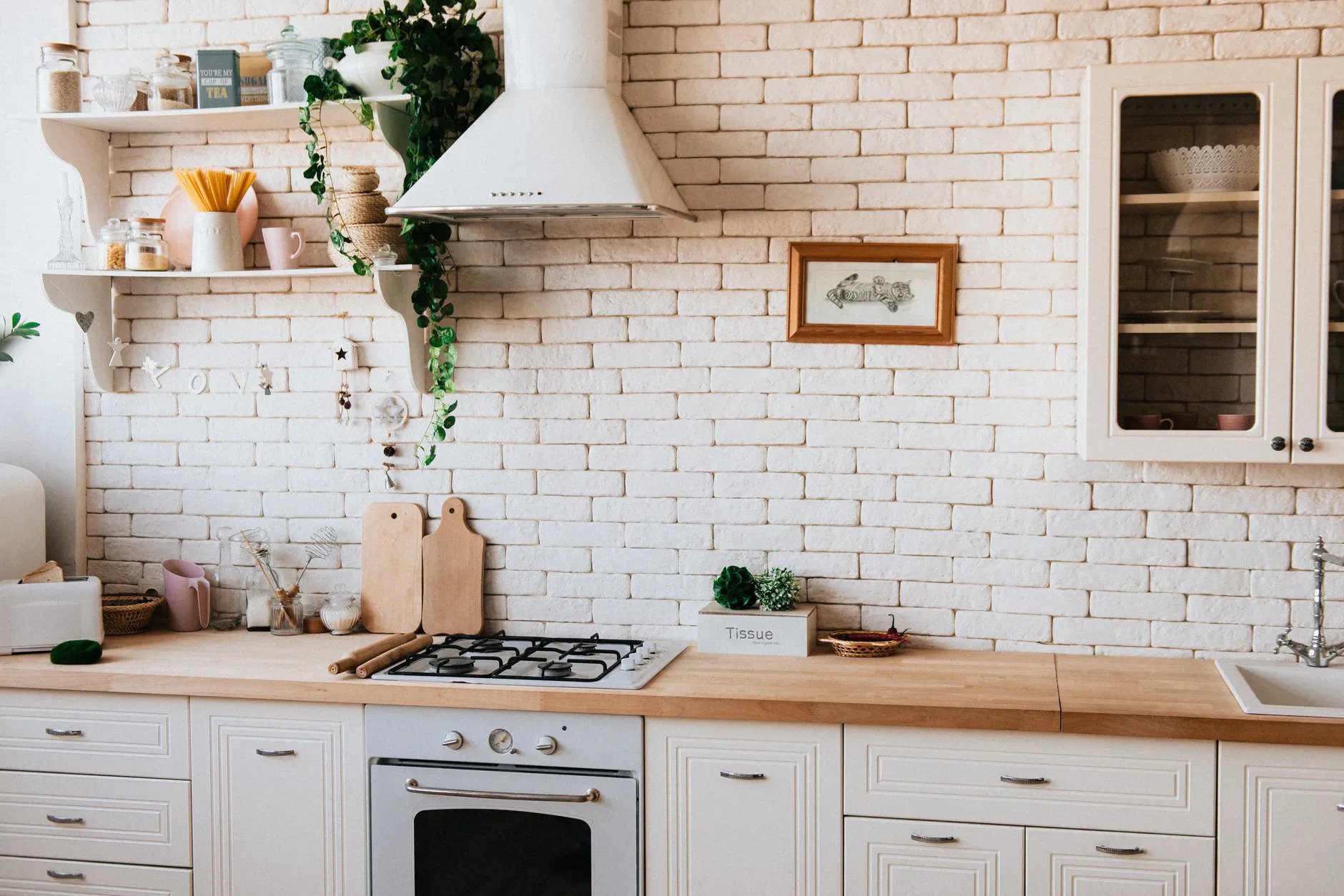 With a wood countertop, you won't need to go over the top with different colors. Fancy chopping boards would complement the wooden countertop. If you must use extra colors green wouldn't be a bad idea.
36. A Mixture Of The Best Kitchen Materials
I love this kitchen counter design because it is a collation of wood, marble, ceramic, and a stainless steel cake stand for storing ingredients.