Is your kitchen countertop looking old? Don't worry. It is normal for a kitchen countertop to lose its spark after years of usage. Changing your kitchen countertop is one quick way to change the overall face of your kitchen.
I have put together 21 of the best DIY kitchen countertop ideas for you. I'm sure you'll find the right kind of countertop to use for your kitchen.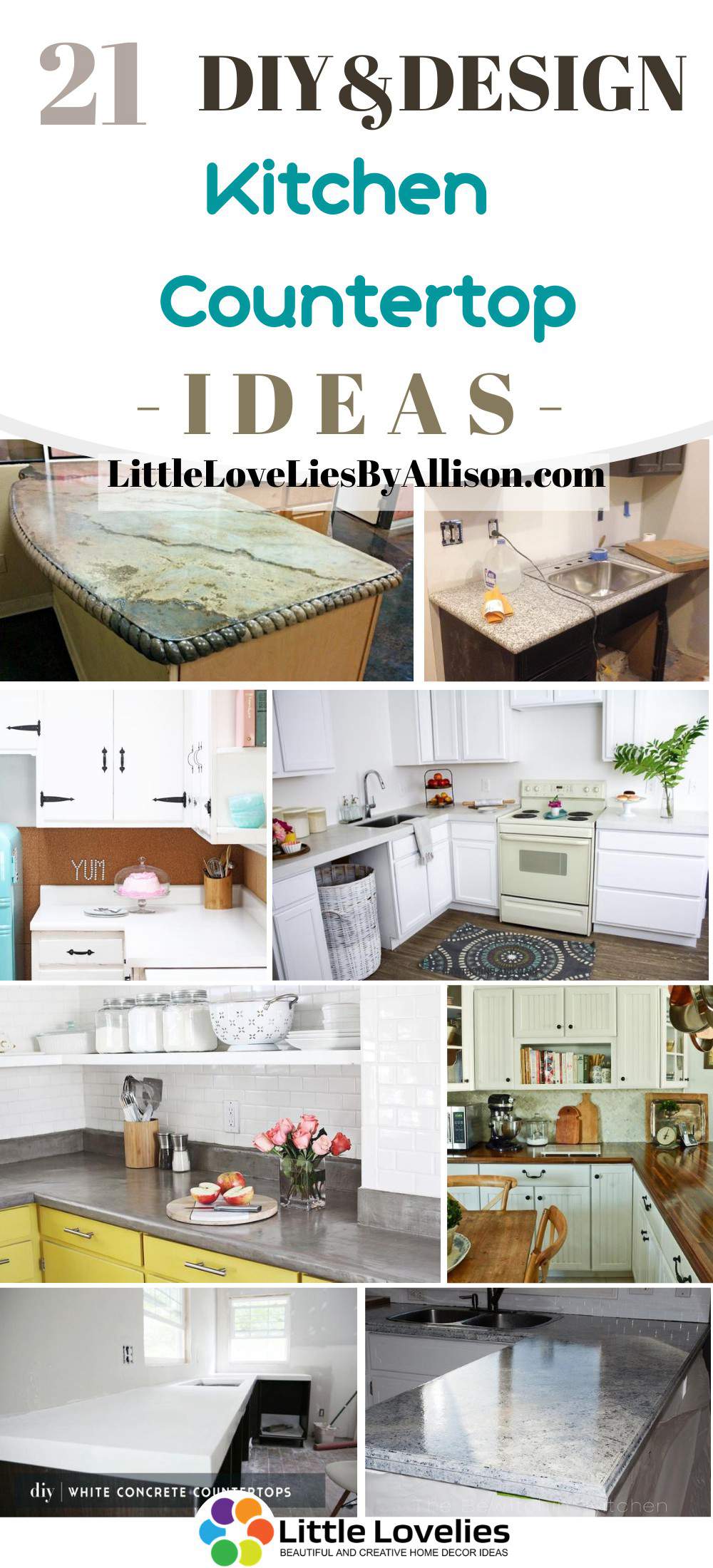 Types Of Countertops
A countertop is a flat surface where work takes place. Countertops are usually found in workshops or kitchens. Here are some types of countertops.
Tiled Countertops: These countertops are a great way to add beauty to your kitchen being that there are various tile designs that you can use. They are not so easy to install, but with the right guide, you'll be able to do it yourself.
Granite Countertops: 70% of countertops in kitchens are made of granite. Granite countertops are quite expensive to purchase but worth it. Granite countertops require a lot of work to install.
Wood Countertops: The famous butcher block falls in this category. Wood countertops are highly customizable. They can be painted, tiled, and more. With a little bit of woodworking skill make a wood countertop for your kitchen.
Concrete Countertops: This kind of countertop is made of cement. Concrete countertops are very durable. You can use a concrete countertop for years without having to worry about wear and tear. It takes days to make a concrete countertop.
Contact Paper Countertops: For a low-budget kitchen countertop makeover, contact paper is the best way to give life to your old kitchen countertop. All you would need to do is purchase your preferred contact paper and install it on your kitchen countertop.
1. DIY Tiled Countertop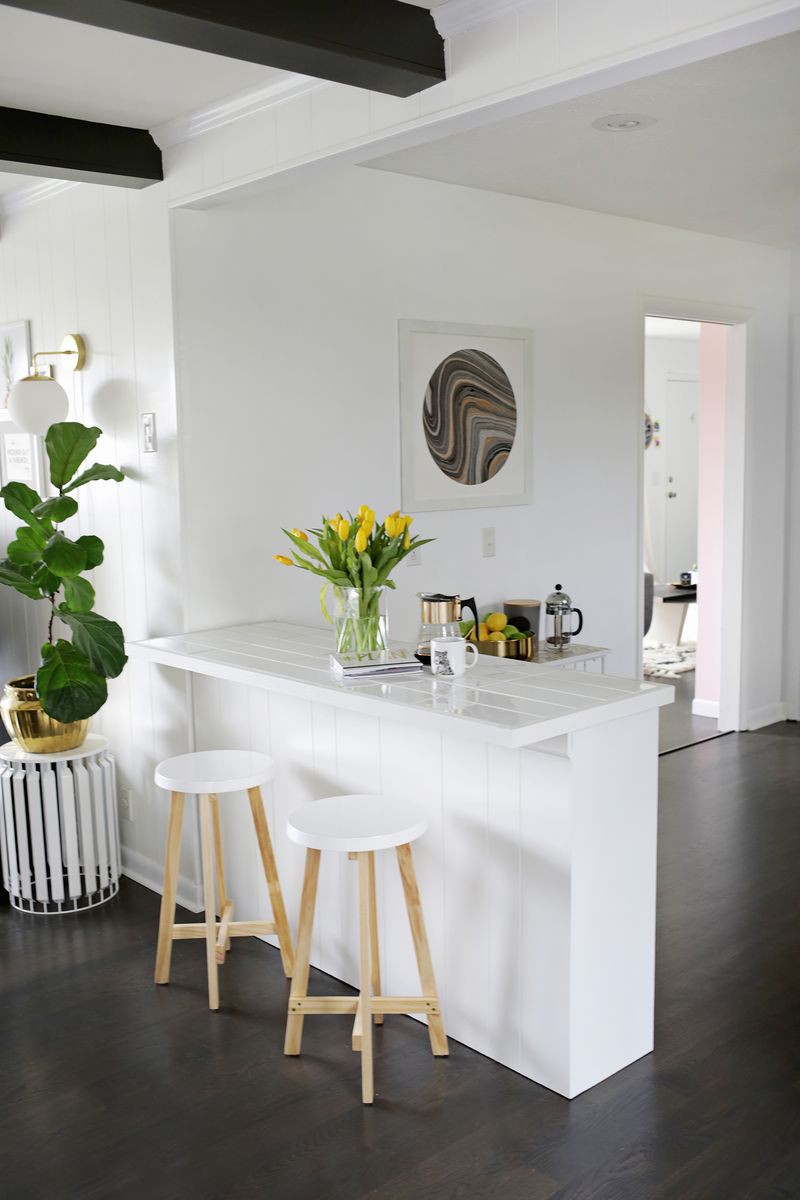 Have you ever used a tiled countertop? Well, I have and the experience is amazing. If you are looking at giving an upgrade to your existing kitchen countertop, you can consider using a tiled kitchen countertop. It is easy to make. This tutorial will show you how to make one.
Check the Idea
2. Replacing A Contact Paper Countertop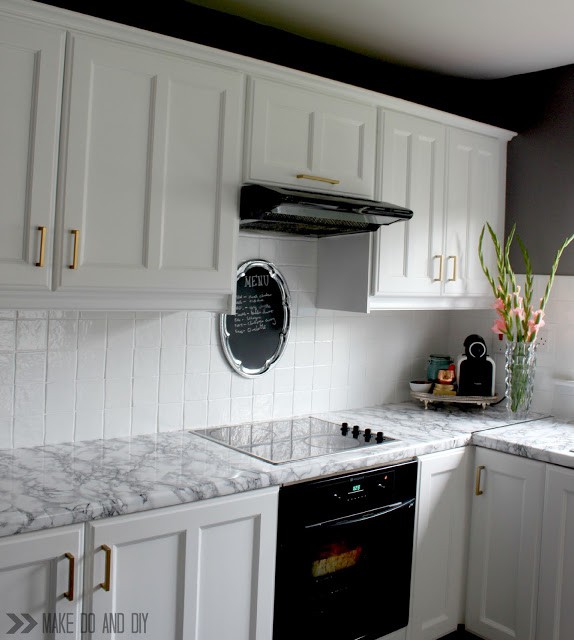 Sometimes all you need for a complete kitchen countertop makeover is to change the contact paper. Do you like the countertop in the kitchen image above? Here's a DIY project on how you can use contact paper to completely transform your
Check the Idea
3. DIY White Concrete Countertop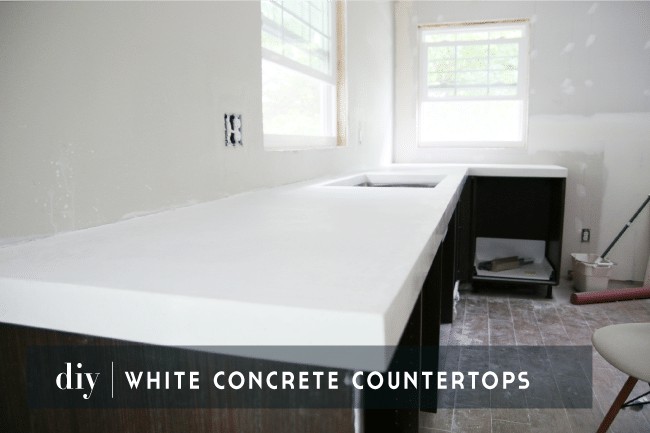 A concrete countertop is ultimately the strongest kind of countertops you can have in your kitchen. This DIY project will show you how to install a concrete countertop.
Check the Idea
4. DIY Wood Flooring Countertop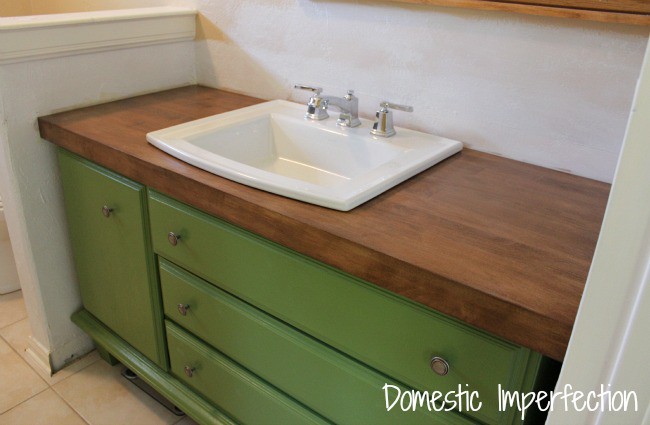 Before you crucify me for including a bathroom countertop, hear me out. I included it because you can use the same approach for your kitchen countertop. In this DIY tutorial, Adam and Ashely were able to create this amazing countertop using wood flooring. The countertop has a sleek and smooth design.
Check the Idea
5. Painting Kitchen Countertop With Giani Granite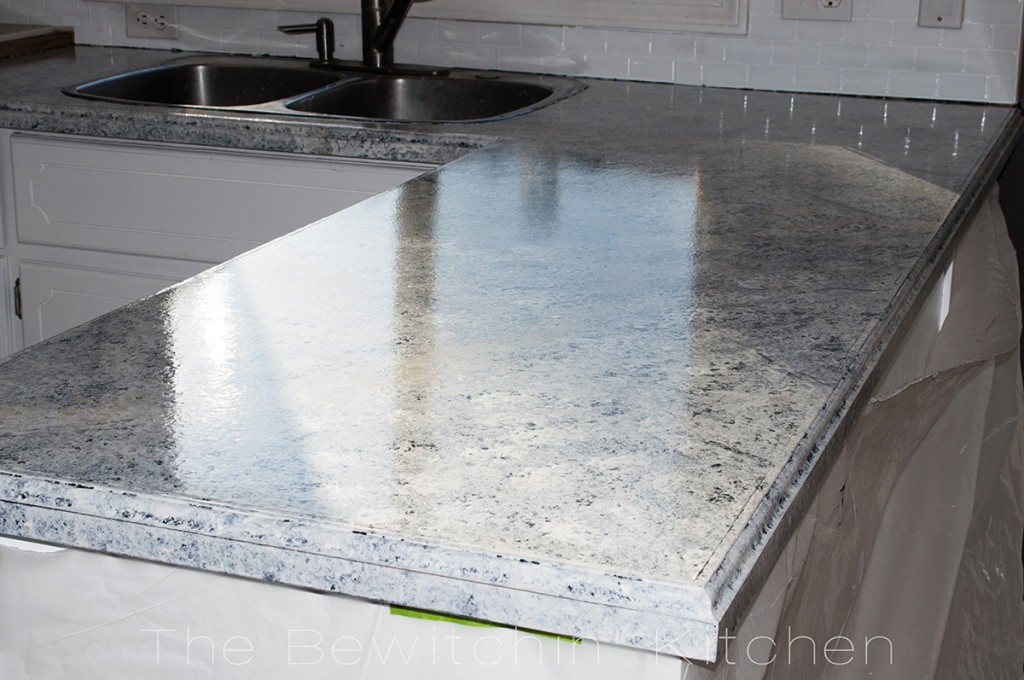 All your kitchen countertop might need is paint. For this DIY kitchen countertop idea, paint was used to transform it into the beauty you are seeing. I feel the picture isn't doing much justice to how beautiful this countertop looks. You can do the same thing to your kitchen countertop.
Check the Idea
6. DIY Faux Marble Countertop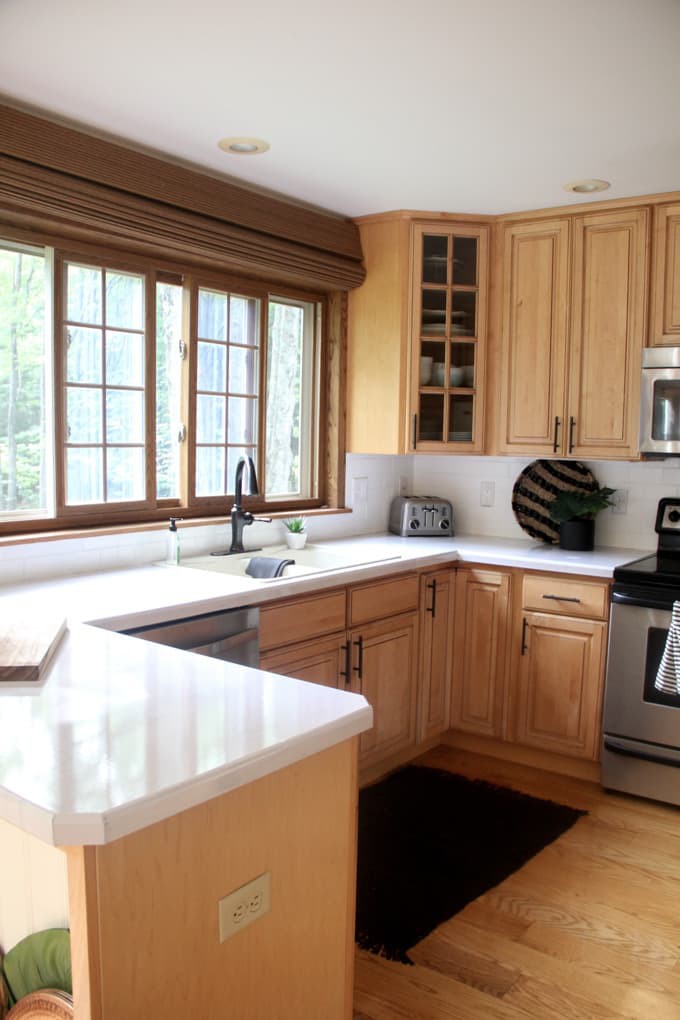 Have a good look at this amazing white countertop. The first thing that comes to mind is "is that marble" Nope. It isn't. It's actually paper. If you are not proud of your kitchen countertop, You too can transform your countertop as the creator did in the image above.
Check the Idea
7. DIY Butcher Block Countertop

I have heard a lot of people say that butcher block countertops are the best kind of countertops to cut on. This is partially true, I would say, butcher block countertops are the best to maintain, cut on, and also quite affordable. In this DIY tutorial, you'll learn how Ashely was able to install a butcher block countertop in her kitchen.
Check the Idea
8. DIY Mahogany Countertop

Have a look at this amazing kitchen countertop. From the image, you can see that it is very thick. I have a strong feeling this one would be able to withstand wear and tear. We highly recommend this DIY project if you are looking at trying something durable.
Check the Idea
9. DIY Paint Laminate Kitchen Countertop

Do you love black? I do too. When I saw this black kitchen countertop I felt like ripping off my countertop and doing this. I might do it eventually. This countertop is beautiful. It will literally transform your kitchen. Paint and other tools were used to make this DIY kitchen countertop.
Check the Idea
10. DIY Kitchen Countertop Makeover

You can click on the DIY link to see the before of this kitchen countertop. It wasn't so bad, but the "after result" is way better than how it looked before. You might think this countertop is made of concrete but no, paint was used.
Check the Idea
11. DIY Refinish Countertop

I love the warm feeling that this countertop brings. If you have a standalone kitchen cabinet. You might want to consider this DIY kitchen countertop refinishing. It is low-budget and beautiful. All you will need to do is purchase a finishing kit and be on your way to transforming your kitchen countertop.
Check the Idea
12. DIY Butcher Block Countertop

Butcher block still remains one of the best options out there when it comes to kitchen countertops. You can cut on this countertop without the fear of your countertop getting bad. If you are always chopping and cutting, I'd suggest you use a butcher block countertop.
Check the Idea
13. DIY Concrete Countertop Replica

Are you a big fan of concrete countertops? Would you like to have a concrete countertop in your kitchen but you don't have the money? We have got you covered. Here's a DIY project that will show you how to transform your kitchen countertop to look exactly like a concrete countertop. What was used is paint.
Check the Idea
14. DIY Penny Countertop

Your eyes aren't deceiving you, that's actually a kitchen countertop with pennies on it. This design is one of the best I have seen so far. For you to achieve this, you'll need a whole of pennies. I have included a link to the DIY project where you'll see all the required steps to make this DIY kitchen penny countertop.
Check the Idea
15. DIY Actual Concrete Countertop

If you are tired of seeing fake concrete countertop tutorials online that end up being painted countertops, here's the real deal. In this DIY project, you will learn how to make an actual concrete countertop made of cement. The process isn't easy to accomplish, you might need the help of someone to get this done if you have little or no experience with concrete.
16. DIY White Stone Kitchen Countertop

Are you looking for a tutorial that will give you tips on how you can install the white stone kitchen countertop you just got? Here's an excluding DIY guide. However, you must be conversant with the tools used before trying to install a granite countertop by yourself.
17. DIY Kitchen Countertop With Cement

If you don't feel comfortable with your present kitchen countertop, it might be a sign that you need to change it. A cement kitchen countertop is an amazing option to go for. It is very durable if done rightly. A cement countertop can last for years without going bad.
Check the Idea
18. DIY Granite Slab Kitchen Countertop

Are you tired of seeing painted granite countertops? Here's a real one. In this DIY project, the creators ordered a real $250 granite slab and installed it. You can make this for your kitchen with plywood and a couple of other tools. We highly recommend this DIY project for your kitchen countertop needs.
Check the Idea
19. DIY Tiled Countertop

Tiled countertops are a great way to add beauty to your kitchen countertop. Here's a tutorial that will show you steps, tips, and tricks you need to know before making a tiled countertop in your kitchen. Tiled countertops are great but not as strong as concrete countertops.
20. DIY Concrete Kitchen Countertop

This project would take about a week to complete. This concrete countertop is really beautiful. The countertop looks like a very expensive granite countertop. It is just concrete. We highly recommend this project.
Check the Idea
21. DIY Paint Laminate Kitchen Countertop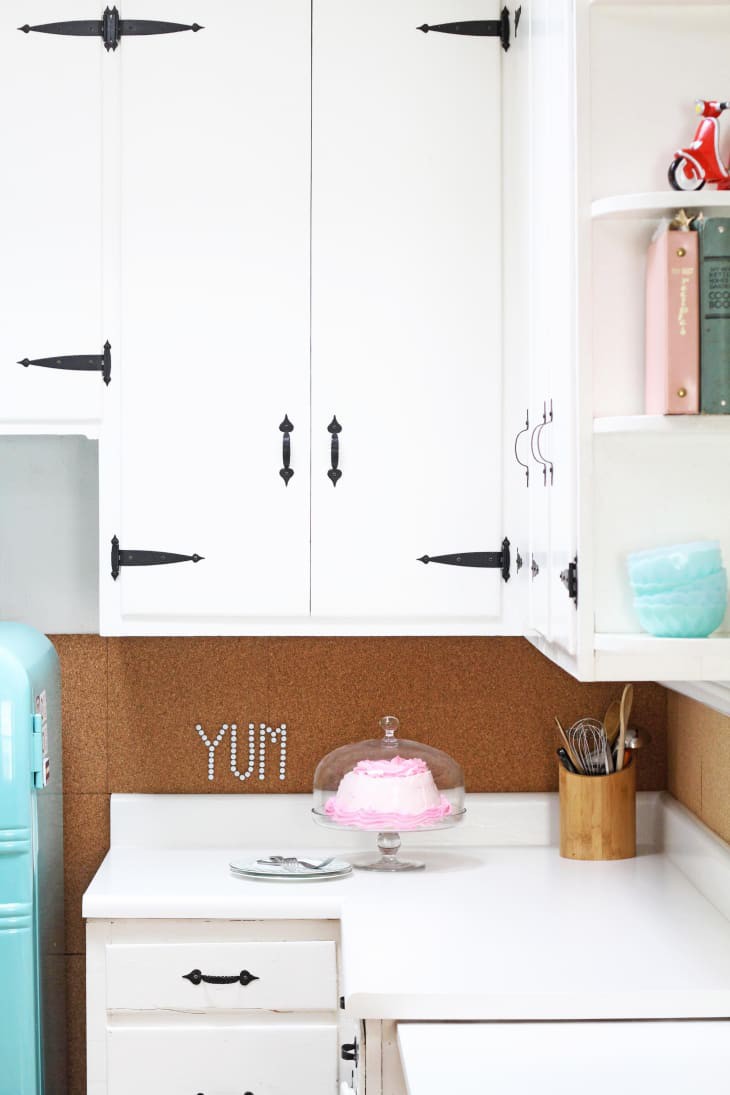 One of the best ways to make your kitchen countertop to look better is to paint it. Before going ahead to paint your kitchen counter, make sure it is made of a material that can be painted. Wood and concrete can be painted.
Check the Idea