Before you start renovating your kitchen, make sure to check out our handpicked collection of 32 brown kitchen ideas that will take your breath away!
The kitchen is the heart of the house, hence worth every penny you spend on it.
However, it is not always necessary to brainstorm ideas that you will not be able to execute. The reason mostly being a low budget.
These 32 brown kitchen ideas are not only budget-friendly but extremely chic too!
32 Brown Kitchen Ideas
1. The Wiggly Illuminance
This unique two-toned kitchen theme is imparted with extra radiance, thanks to this island-top light. The white shade adds an extra chic touch to the overall aura of the kitchen. It has a curious wiggle in its rod which makes this island-top light unique and groovy! If you are looking for modern contemporary island-top lights, then our collection of island-top lights will surprise you!
2. Simplistic & Homey
A country-style kitchen with a modern touch! These delicate rustic chairs can give any brown kitchen that extra homey vibe! Their mid-century architecture makes an exquisite partnership with the overall radiance of this kitchen. You can place these beside a kitchen island or even a dining table, and they will look just as good!
3. Black Beauty
Can we all just take a moment to appreciate the color black? These flat-topped black stools give kitchens the ultimate retro vibe. The black upholstery of the stool top coupled with warm brown legs makes a delicious blend, that will make your kitchen steal glances of guests passing by! To view a large plethora of stylish stools, make sure to click on the link below!
4. Sheer Radiance
You can never go wrong with the right amount of lighting. This linear set of light will set your affairs straight! Not only do they aid in cooking, but also give your kitchen space a revamped look! Good lighting is key to an inviting kitchen. Make sure to check out our recast collection of lights!
5. Deliciously Brown
Here is a sneak peek into Rachel Allen's gorgeous kitchen! Not only is her kitchen well-lit, but is accompanied by a vast range of milky brown cabinets. These cabinets can serve as kitchen islands as well, for you to experience comfort and style as a duo. Check out our range of brown cabinets.
6. Ironically Rustic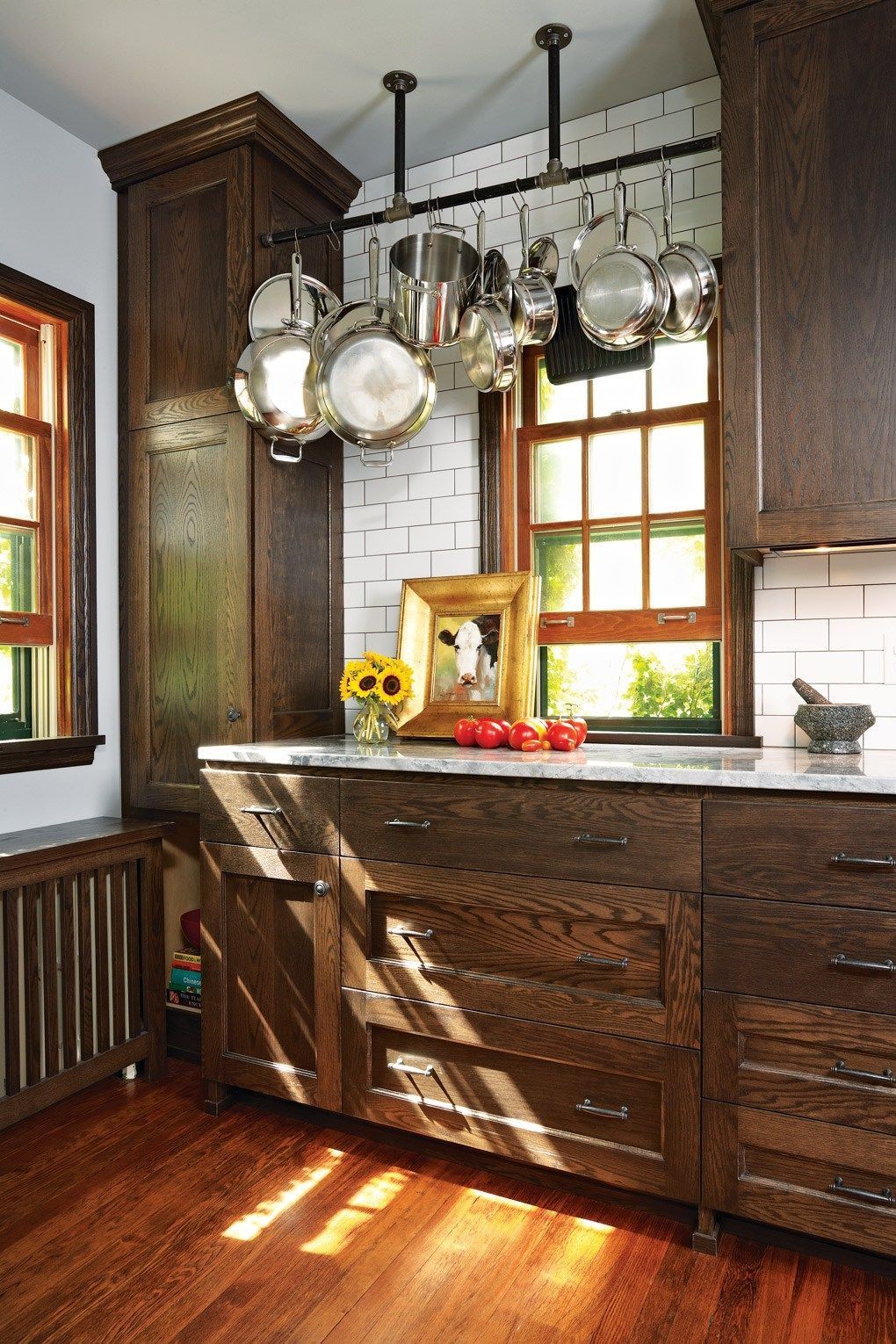 The best part about browns is that you can play with them all you want and come up with a thousand themes and ideas. Just like this one! This elegant interplay of wood cabinets and drawers are giving us all major rustic feels! A wooden interior coupled with natural lighting is the most simplified approach to an attractive kitchen.
7. Futuristic Glamour
This kitchen has been designed by a world-class interior specialist. Not only does this kitchen execute the perfect example of modern contemporary design, but the addition of those tall shelves with glass panes has taken this kitchen to the next level. Every kitchen needs shelves, but to hunt for stylish ones is much of a task. Check out our vast range of kitchen shelves, you will not be disappointed!
8. Soft & Plush
All that cooking and dish-washing does make one tired and soggy, so it is best to include a velvety rug to soothe your feet while you work. A boho style rug with a unique accented tone is sure to spice up your kitchen!
9. A Basket Frenzy
Baskets are a unique tool to brighten up your kitchen. They make everything so easy to store and decorate. Stacking up fruits and vegetables or simply for arranging some of your favorite items, a basket can make it all look trendy and welcoming!
10.  Glamour Extraordinaire
This has got to be one of those kitchen islands that take your breath away. The picturesque wooden pattern in combination with a luxurious glossy finish can make any kitchen look delectable and inviting. The brown hues of this kitchen island contrasting with the reflective lighting are examples of remarkable design execution.
11. Bespoke Elegance
Kitchen wall tiles are new in trend. If you are low on budget but want your kitchen to have that wow factor, then just grab a bunch of these to decorate your wall. Voila! You have a bold personality!
12.  Paint Me Happy
Did you know that floor paints are the latest trend to have surfaced recently? And for all the good reasons! Grabbing your favorite floor paint gives you the freedom to make your kitchen groove the way you want it to! So just grab a bucket, and paint your floor happy!
13. Happy Together
Nothing is more beautiful than a morning breakfast at the kitchen dining tables! Lazy Sundays are all about coffee and scrambled eggs, mixed with chatter and laughter exchanged at the kitchen table. Give your mornings a positive vibe with a small and welcoming dining table.
14.  Useful Utensils
With all the splatter going on in kitchens, you need a kitchen towel to rescue you! Kitchen towels with creative designs and patterns impart the entire kitchen a sense of wholeness. They are also very cost-friendly!
15.  Pots Galore!
What is the point of having those brass and steel beauties when you can not display them? An elegant pot rack can set all your affairs straight. Not only will it make your pots and pans more accessible, but will also impart the kitchen a professional look!
16. Monochrome essentials
This breathtakingly aerated and illuminated kitchen is given a pop of texture by this circular two-tiered tray! Not only do trays come in handy for serving purposes, but such uniquely crafted designs can also be used for decorative purposes.
17. Contrasting Curtains
These minimalistic light yellow curtains give this beautiful farmhouse kitchen a subtle pop of color. The floral-abstract print of this curtain gives the overall aura of the kitchen a fresh vibe!
18. Rustic Benches
This set of farmhouse-style rustic benches give a new glow to this well-lit kitchen! The matte wooden top in combination with the rustic creamy white paint gives this kitchen a whole new mood! Kitchen benches always make your kitchens stand out!
19. Palatial Hangings
A chandelier never fails to give your kitchen that extra luxurious touch. This stunning rectangular chandelier makes a bold statement with a beautiful execution of studded stones. Not to forget, the subtle illuminance adds more to the elegance of this monochromatic kitchen.
20. The Floral Fantasy
This blinding and airy kitchen displays a lot of personality, especially with the unique arrangement of cutlery and vases. You can never go wrong with glass vases in kitchens! The glass vase resonates with the clear and airy vibe of this modern contemporary kitchen.
21. Tea-cup Party
Never shy away from showcasing your favorite set of mug or cup collections! This set of textured white mugs make you want to have another cup of coffee right away. So grab your set now!
22. Rainbows & Beyond
A multi-colored pyrex collection is no less than an asset for your kitchen. Not only are these babies tough and long-lasting, but also look ravishing when displayed in one of your shelves and cabinets!
23. Breathable Treasures
If you choose to display a collection of faux plants in your kitchen, then they will inevitably give your kitchen a tropical and fresh vibe. The sort which is soothing to the eyes, like this gorgeous faux plant hanging by the wall. Greens will do your kitchen good!
24.  Casters For Dynamics
This breath-taking modern contemporary kitchen is imparted with a professional look, thanks to that steel cart with casters. The wooden tiers coupled with the matte black legs make a perfect duo of rustic and modern vibes!
25. A Picturesque Kitchen
Tell your story the way you want to! Frames and photos in your kitchen will personalize your kitchen and give it the personality that mirrors yours! This stunning kitchen with subtle blue hues is contrasted well with black panel frames.
26. The Talking Wall
Why not make a statement by getting a wallpaper that will speak for itself? This black and white doodle wallpaper makes a perfect adaptation in this accented kitchen. A groovy touch to your kitchen will perk up the wow factor!
27. You Will Float Too!
This french style kitchen with accented hues makes a solid statement by addition of those two-tiered floating shelves. Not only are they efficient space savers, but also give your kitchen the luxurious touch it deserves.
28. A Piece Of Cake
Birthdays or no birthdays, cakes, and pastries are a must! These delicate and modern creamy-toned cake stands can contrast well against any display of cupcakes or confectionaries. Make your cakes look more inviting by these cake stands!
29. Churn That Batter!
This artisan mixer is portraying a colorful personality. That unique interplay of florals amidst the mustard background can make any kitchen look artistic and stylish. Besides, you always need to equip your kitchen with the best machines. Why not invest in artistic ones?
30. Pendants And Jewels
Your neck is not the only place for pendants, get your kitchen ceilings some pendants too and watch how they make your kitchen dazzle! These delicate crystal ball pendants can give your kitchen sheer radiance with a massive style statement!
31. Retro & Red
Who knew that giving your kitchen a pop of color would be so easy? Are your chairs too brass and boring? No problem! Just grab some spray paint and color them wild! These retro red chairs are giving this kitchen a whole new look.
32. Decadent Temptations
For all of you chocolate fanatics out there, this could be your new addiction. A flowing stream of chocolate coupled with your favorite biscottis is divine! Chocolate fountains are not just for the stores, but for your kitchens too!
1 – Jar | 2 – Spice Rack | 3 – Oven Mitts  | 4 – Potholders | 5 – Table Cloth | 6 – Rugs | 7 – Candle Holder  | 8 – Clock | 9- Wall Art | 10 – Storage Basket
*We are a participant in the Amazon Services LLC Associates Program, an affiliate advertising program designed to provide a means for sites to earn advertising fees by linking to Amazon.com.