A great way to organize plastic bags in your home is by using a plastic bag holder. In this article, we have listed 25 DIY Plastic Bag Holder Plans that you can make easily. You do not need any skills to make a plastic bag holder.
Also, you won't have to spend above much, all the plans listed in this article are below the $10 mark. Some can even be made at zero cost if you have the materials and tools at home. Are you ready to build? Let's dive in!
You May Also Like: 25 DIY Sunglasses Holder - How To Make A Sunglass Organizer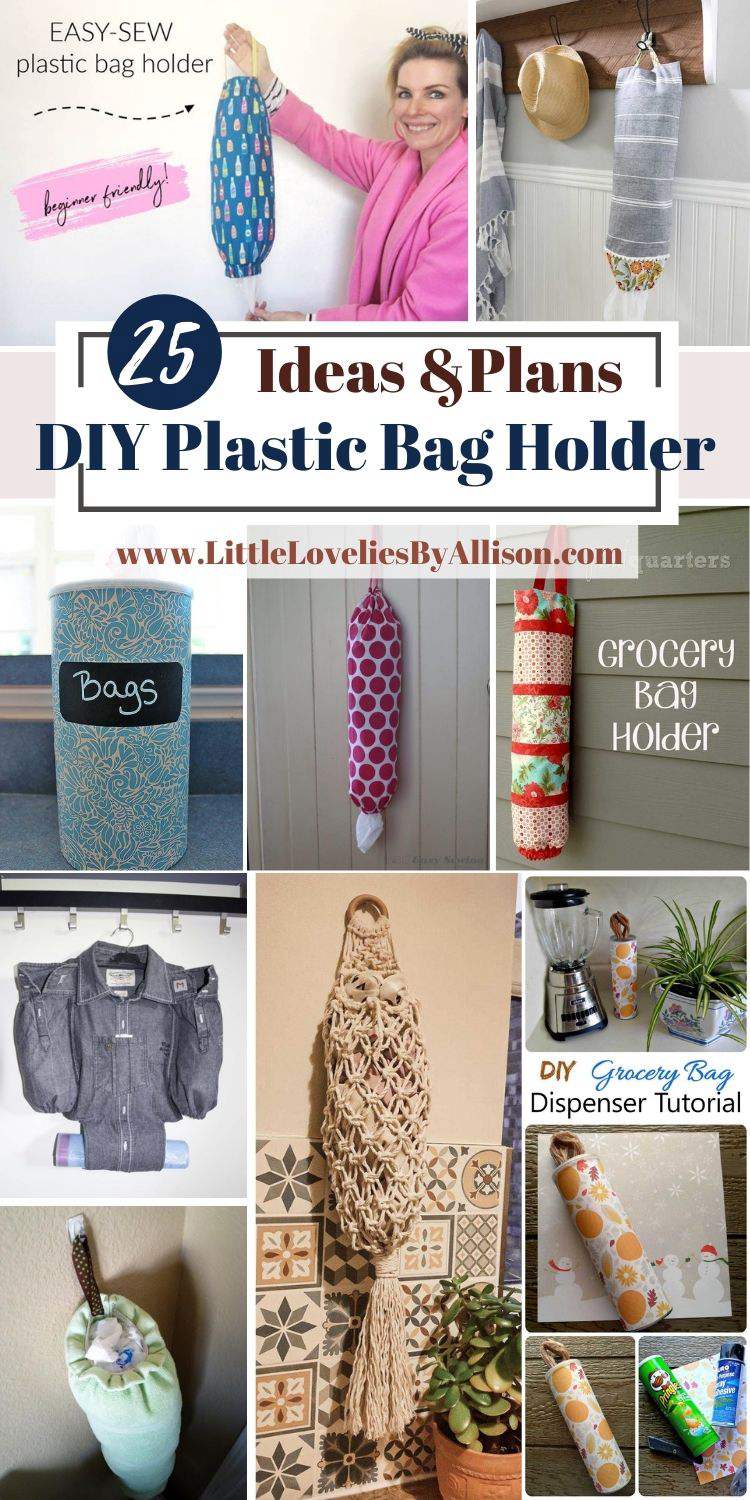 1. DIY Plastic Bag Dispenser
So this is an adorable and easy-to-make dispenser and it's a no-sew plastic bag dispenser. Cut your fabric to desired length and width. Create hem with hot glue, create a tunnel to feed elastic through. Lengthwise fold the fabric in half and turn right side out. Feed elastic, glue string, and hang up.
2. Easy-sew Plastic Bag Holder
This plastic bag holder helps you stay organized, looks cuter rather than been shoved in a drawer. Get 19" x 22" cotton fabric, two 10" length elastic, bias tape or ribbon, sewing machine, and iron.
3. How To Make A Grocery Bag Holder
Here's an easy bag holder that won't take you more than 30minutes to get down with. Grab your tea towels and fold short ends and sew on the machine. Do the same for long edges. Turn right side out. Feed ribbon on too and elastic at the bottom.
4. DIY Grocery Bag Holder
Using an 18" x 18" fabric, 10" x 1½" fabric, and elastic, fold the edges and sew them. Feed elastic through space you created while folding edges. Then use a strip of fabric to make a loop for hanging.
5. DIY Simple Plastic Bag Holder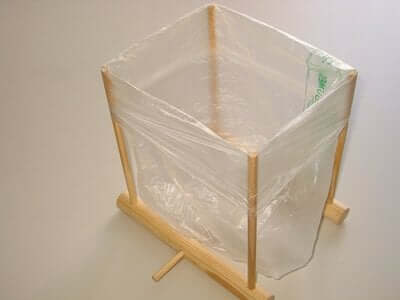 Most of our shopping bags are being turned into rubbish bags so they go to the garbage can. But in the meantime, they're been used as rubbish bags and it's improper to have them lying on the floor that's why we have this wooden plastic bag stand right here.
6. DIY Personal Plastic Bag Holder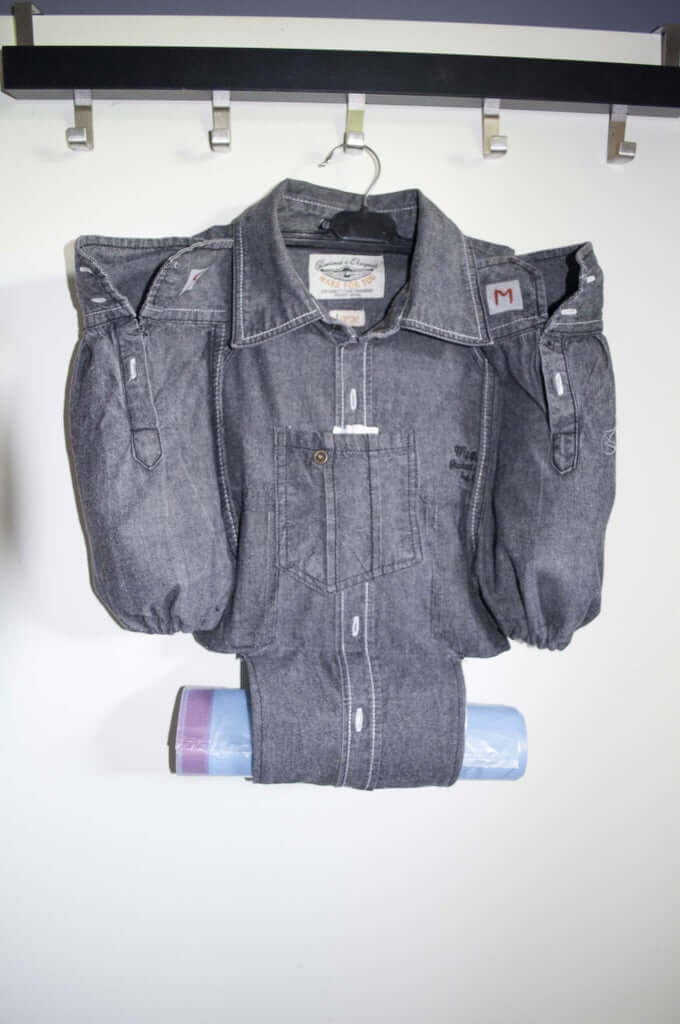 To settle the issue of having plastic bags lying around or being unable to identify the right size of bag you need in a bag full of various sizes, we have this creative plastic bag method right here. So you will be using 1 coat rack, tape, Plastic tube, and 1 old shirt. Now prepare your shirt for use by taking off pockets, buttons, and sleeves. Sew necessary parts and then insert your various sizes at each position so it's easy to locate.
7. DIY Plastic Bag Holder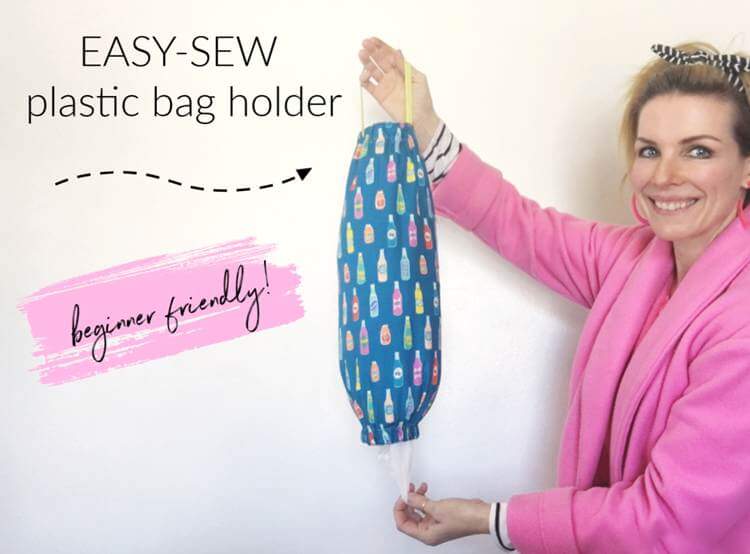 This is a stylish fabric plastic bag holder which is hung up on the wall. Since it is a fabric that is used to make this bag holder, of course, we need to do some basic sewing and that's basically to stitch the elastic on both ends of the bag holder. So ensure to Cut one piece of fabric 19" wide x 22" tall and get Elastic: 2 pieces of 10". Sew together having both ends open with elastic.
8. DIY Grocery Bag Holder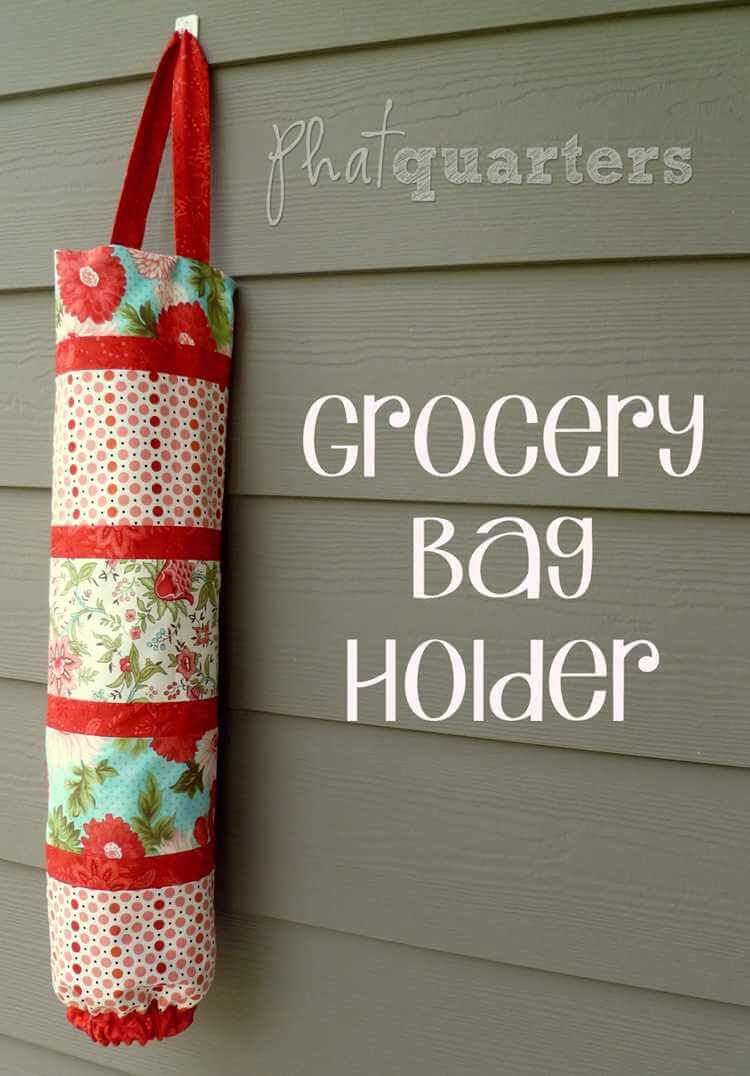 Over here is another beautiful plastic grocery bag holder which will only take about thirty minutes of your time with some basic stitches you'll be handling. Get four fat quarters, one piece of fabric for the lining cut to 16.5″ x 26.5″, one piece of 1″ elastic, cut to 10″ long. Sew and put your plastic bags.
9. DIY Plastic Bag Holder
Having a plastic bag holder helps you to be more organized as you don't need to mess up everywhere with your bags. So cut your piece of fabric, one for the bag and the other for the loop, and then sew. Slide bags in at the top and pull them out at the bottom when you need them.
10. How To Make A DIY Plastic Bag Dispenser
This is not made with fabric or cans but with a plastic bottle and I don't think you'll be having expenses while on this project. Get a plastic bottle and cut out the middle part. Roll your plastic bags together and put them into the bottle. Then take out at the top whenever you're in need.
11. How To Make A Plastic Bag Holder
You may want to go as far as making a wooden box for a bag holder, this will suit your taste as well. Get your boards and cut them to size and begin to build a box so it can be suspended against the wall. Stuff in bags at the top and take out at the bottom.
12. DIY Recycled Bag Dispenser
You'll be using a 2 ltr plastic bottle, scissors, utility knife, spray paint, market/decorative crafts, and bags. So cut out the top and bottom part of the bottle and spray paint to the desired color. Use an adhesive sticker on the back and stick it to the wall, you can put it in and take out your bags.
13. DIY Grocery Bag Storage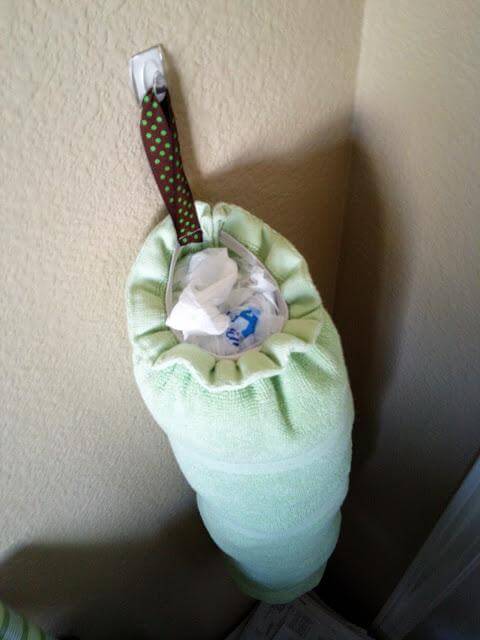 You may not need to get the materials used here at the store because you just might have them in your home. materials used are Hand Towel - the bigger the better, ¼" or ½" elastic, 9" of Ribbon and Thread. On one end of the towel sew elastic on it, bunch up and stretch. Do the same on the other end of the towel. Sew the towel like a narrow tube. You're done.
14. DIY Fabric Grocery Sack Holder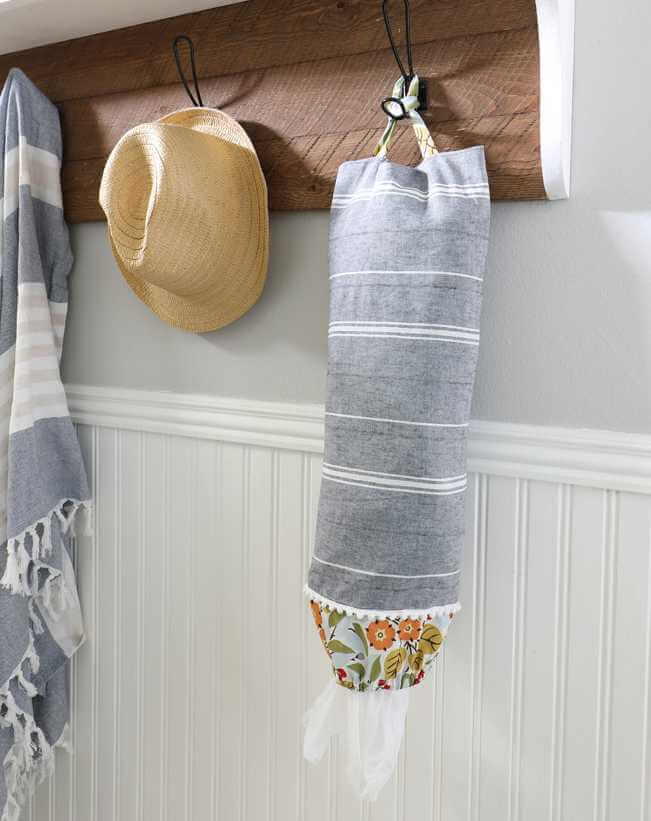 So here's another beautiful fabric grocery sack holder, hanging pretty on the wall. Using Cotton Fabric (Contrasting prints optional), Coordinating Thread, ¼ inch elastic, 8-10 inches in length, Fabric Scissors, Sewing Machine. Join both materials by Sewing, put elastic just at the bottom and make your sac holder like a narrow tube.
15. DIY Plastic Bag Holder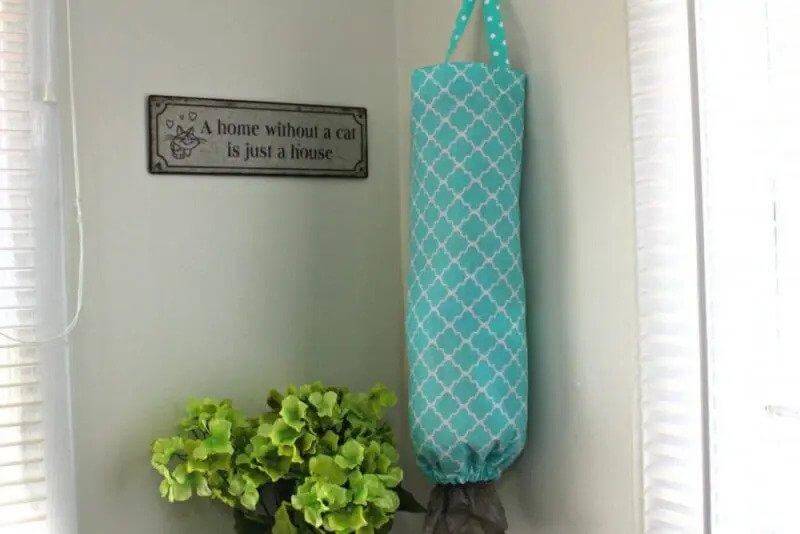 So this is a no-sew bag dispenser. If you can paddle a machine or make some stitches you can decide to run your thread. But for this project glue was used and here's a breakdown of the materials that were used in the making; Fat quarter of fabric (18″x22″ fabric), Knit elastic, Ribbon, Fabric glue.
16. DIY Plastic Bag Holder

So here's a DIY plastic bag holder quite different from the fabric methods. This is made out of a can and these were the supplies used: An empty Pringles can, a Duro Spray Adhesive, One piece of 12 x 12 scrapbook paper, a Boxcutter, Scissors.
17. DIY No Sew Plastic Bag Dispenser
Using scissors, hot glue & hot glue sticks, tape, paper clip, bendable wire, fabric, and ribbon, you can have your plastic bag holder too set up in your home. Get folding and glue edges then feed your ribbon through.
18. How To Make A Plastic Bag Dispenser
This is a really basic dispenser here. All you need is to get a wipe container. Then fold your plastic bags in half and line them up making sure they overlap each other. Begin to roll the bags all the way to the end and put them in the container.
19. How To Make A Plastic Bag Holder
Cut off the bottom of a five-liter plastic bottle, make a hole, and hook to the wall. Then you just stick your plastic bags from the bigger base on top and pull them out from the bottom when you need them.
20. DIY Plastic Bag Holder
To make the different types of dispensers here all you need is a plastic bottle, paper cutter, small rope, tape or candle, scissors, empty tissue box, and an old rectangle container. They are simple to make.
21. DIY Coffee Can Plastic Bag Holder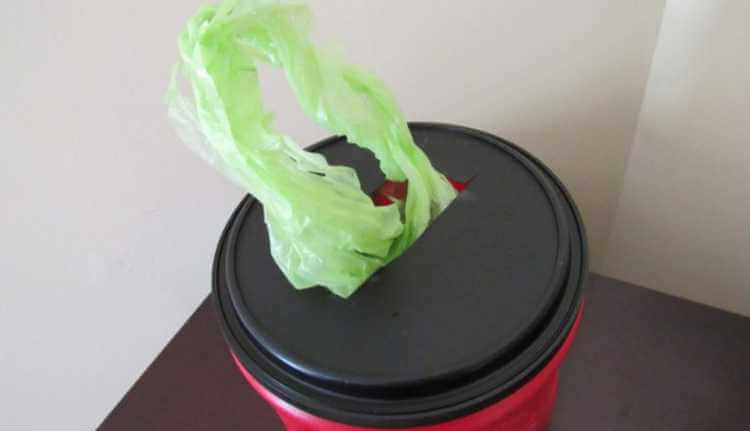 With this simple DIY step, you can keep your excess plastic bags under control with these items; Large plastic coffee cans with a lid, Grocery bags, Sharp scissors, or knife. Begin by Stuffing the plastic bag into the coffee can leaving only the handles out. Fold the bottom of the new bag over the previous bag's handles.
22. DIY Macrame Plastic Bag Holder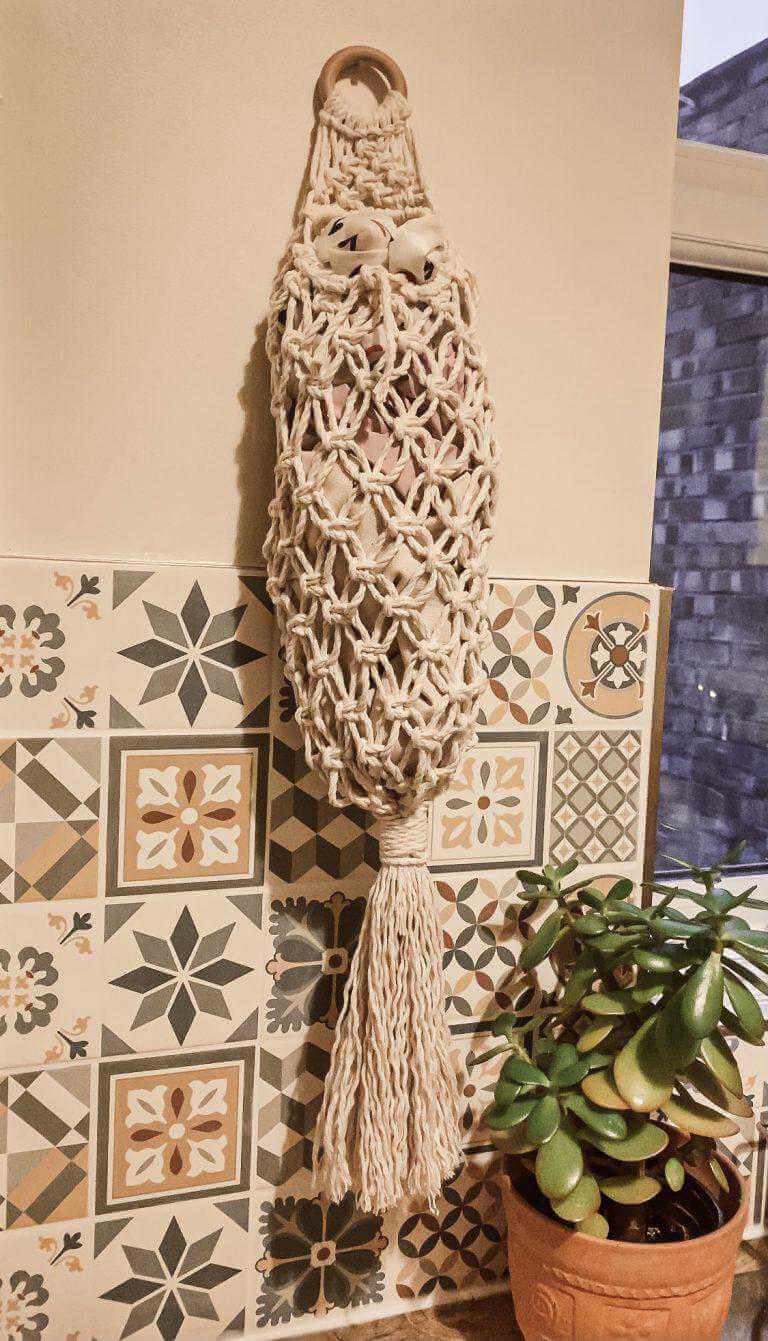 This is a beautiful home craft piece here. In case this is the first you're going to be handling a macrame DIY, you might have some difficulty. Otherwise, you can easily flow with the steps shown here or probably be creative and make your unique macrame DIY bag holder. So here's what you need; 20 x 2m lengths of Macrame Cord, 2 x 30cm lengths of Macrame Cord, 1x Wooden Ring (55mm), Scissors.
23. DIY Grocery Bag Holder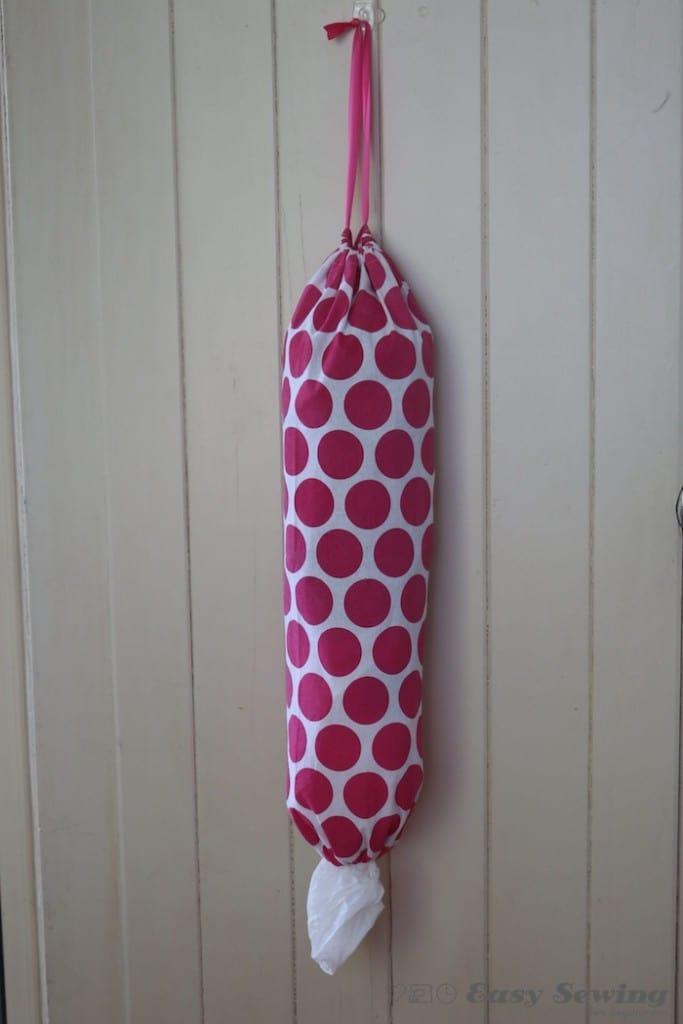 This bag holder is quick, easy, and simple to handle. It's made using a  tea towel. Get a Tea towel (old or new), 25"(50cm) Ribbon, 11" (23cm) Elastic, thread, then you should have a Sewing machine, scissors, Lighter, Pins, or Fabric Clips, Safety pin. Get sewing and achieve your bag.
24. DIY Plastic Bag Holder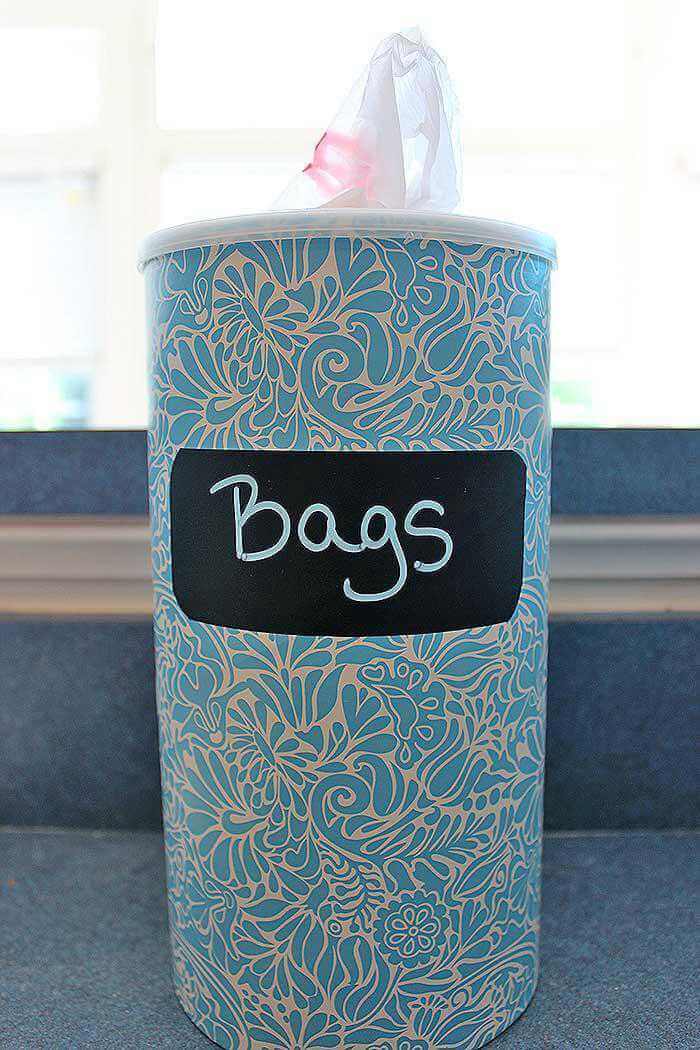 You can use canisters to make this bag holder. Get an empty oatmeal canister and take off the label. Cut your contact paper to the size of the canister and glue it. Make a big X cut on the lid of your canister and replace the lid. Your bag holder is done.
25. DIY Plastic Bag Dispenser
Cut out the top and bottom of a soda bottle, attach the adhesive sticker to the back so you can stick it to the wall, then stick it in your plastic bags. It's that simple.
Conclusion
That's a wrap! I hope you were able to find a suitable DIY plastic bag holder for yourself. Feel free to leave your contributions or questions in the comments section below. Thanks for stopping by.