DIY Tiered trays are a great decor piece and organization tool to have around the house. They give any corner an understated elegance, and they are perfect for all areas of your home. There are so many designs of tiered trays available in the market and online stores. This article is for people who want to learn to make their tiered trays.
Not a kitchen expert? No problem! The DIY Tiered Tray is the easiest way to serve up mouth-watering meals with style. It allows you to create an intricate presentation without setting up tables and chairs. It's perfect for appetizers, spreads, and desserts, or as a serving piece after dinner! If you are tired of assembling bulky, inconvenient food trays every time you want to serve guests? Do yourself a favor and create a DIY Tiered Tray instead.
1. DIY Dollar Tree Tiered Tray
What do a pizza tray, stove covers, and candle holders have in common? They are all items that can be used to make your very own DIY tiered tray!  This video uses these items to make a tiered tray, and the result is simply gorgeous! You definitely won't find something like this in a store.
2. Tiered Tray DIY
This video uses unique articles to make a gorgeous, one-of-a-kind tiered tray. Have you ever imagined what a rectangular tiered tray would look like? How about a terracotta tray? If it seems out of this world to you, watch this video and blow your mind!
3. Cheap Tiered Tray DIY
Need a DIY tray ASAP? Using this video, you can have one in a few hours. Here, unfinished wood plates are used to create a beautiful two-tier tray that is customizable!
4. Farmhouse Tiered Tray
Want that fresh, whitewashed farmhouse look that goes with practically anything? Well, you can find it in this video. This tray is sturdy enough to hold your succulents and other things. Why not try your hand at it?
5. Rustic 3-Tier Tray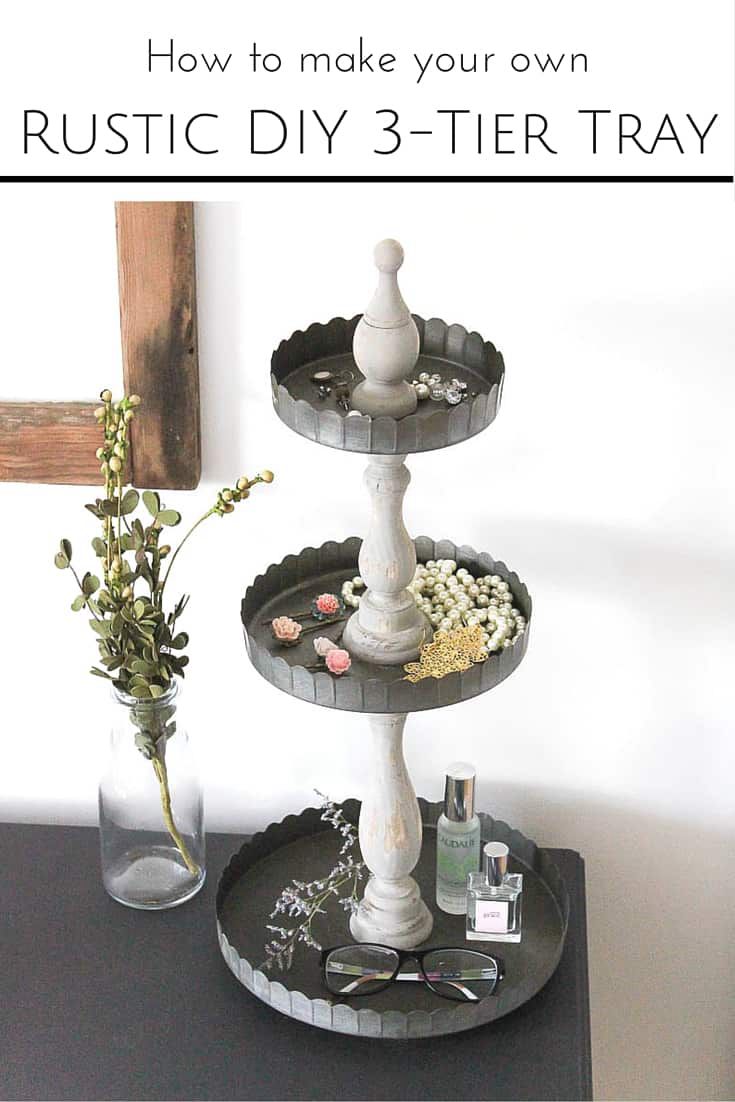 Are you a fan of all things rustic? Do you think there are not enough tiered trays that fit your rustic aesthetic? Well, with this article, you can make your very own rustic tiered tray, just the way you like it. homemadelovely
6. DIY Tiered Tray Decor For Fall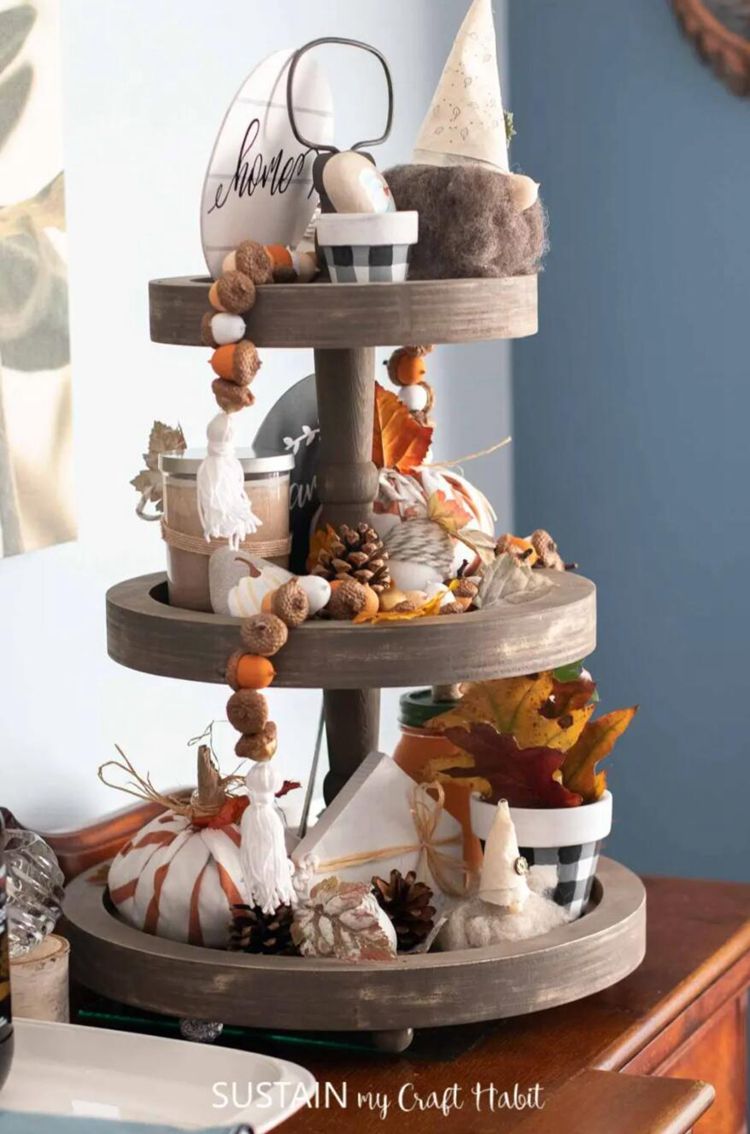 A tiered tray needs to hold something. Here, you can find so many ideas on what to fill your tiered tray with this fall. From wooden signs to acorn necklaces and cloth pumpkins, there's no end to the bounty that your wooden DIY tiered tray can hold. sustainmycrafthabit
7. DIY Two Tiered Tray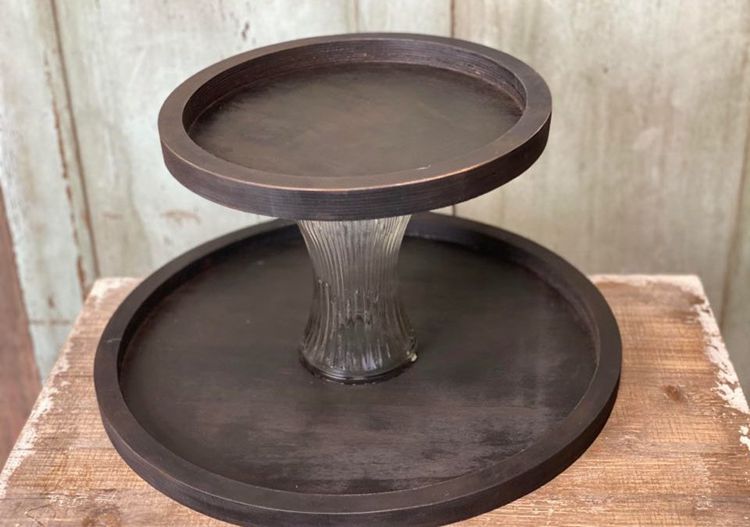 Here's a large two-tier tray perfect for your kitchen. It was made using two unfinished trays, a vase, and glue. Simple, right? The amazing thing is that you can use any size and shape of a tray to accomplish this! Let your imagination run wild. theshabbytree
8. DIY Tiered Tray And Wood Decor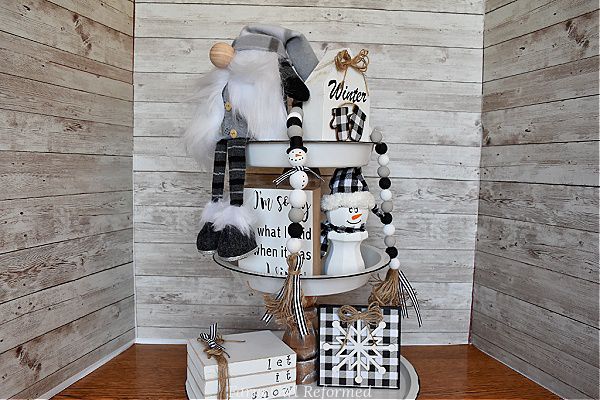 Themed tiered trays are all the rage this season, and this winter-themed tiered tray is not an exception. It is elegant in all its monochrome glory, and it makes you long for winter nights spent in front of the fireplace drinking hot chocolate. Winter is almost over, but this tray can be customized for every season. I can guarantee that you'll have a lot of fun making these. Farmgirlreformed
9. Making A Tiered Tray
This is a quick and easy way to spice up the decor in your house. Make small tiered trays and use them to hold your candles, wooden signs, and other bits of craft you have in your house. This tutorial uses a nail gun, but if you don't have that at hand, you can just use screws.
10. Dollar Tree Tiered Tray
Making a galvanized three-tiered tray has never been easier thanks to the hacks contained in this video. You can decide to make your risers out of glass, or wood and create your masterpiece. Watch this video to learn how.
11. How To Make A Tiered Tray With No Screws
Have you ever wondered how to make a tiered tray without screws? Well, that's what this is about. Learn to make an amazing tiered tray without using screws. It's all in here. Let's get to it.
12. Farmhouse Themed Tiered Tray
This is one unique tiered tray. It's not just a tiered tray. It is a farmhouse-themed 3-tiered tray. Amazing right? You'll need some pans, candle holders, and spray to get this done.
Let us show you.
13. DIY Wood Tiered Tray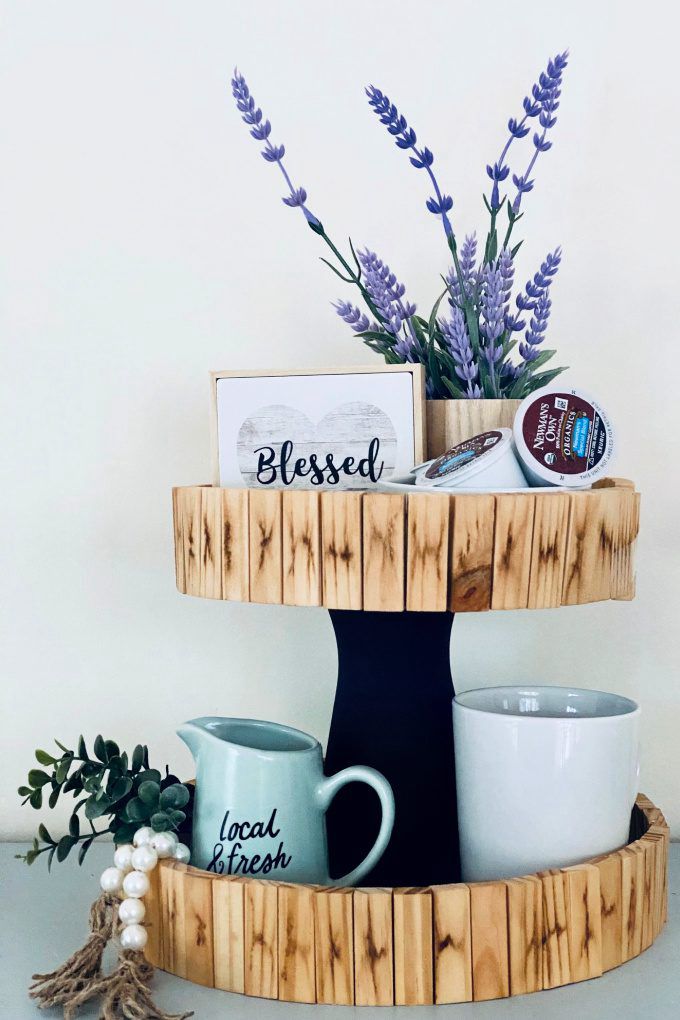 This DIY wood-tiered tray tutorial will give you a step-by-step guide on how to make a unique farmhouse tray that will add some rustic charm to your home using items from the dollar store. It's the perfect spot to display your other DIY projects and have them stand out. jugglingactmama
14. Dollar Tree Tiered Tray DIY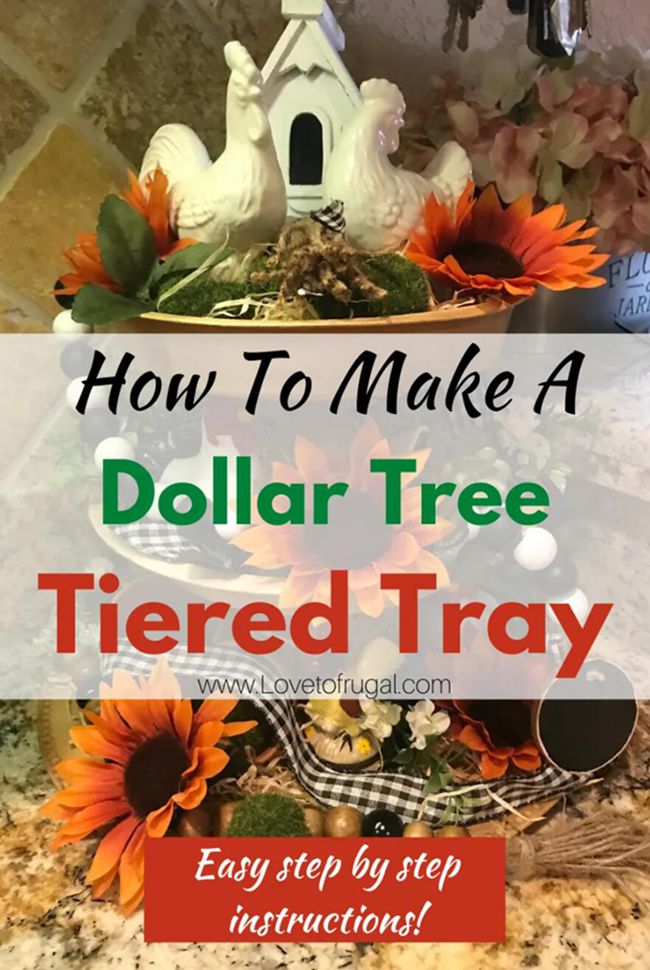 If you enjoy decorating your home in and out of seasons, then a tiered tray is a must for you, but looking at the prices of the ones at the department stores, you might not want to churn out that amount of money, especially if you are on a budget.
Here we show you how to make an adorable and affordable Dollar Tree tiered tray for just a few dollars!  Once you've put it together, painted it with your choice of colors, and decorated it, it'll be as cute as the expensive ones, probably even better! lovetofrugal
15. DIY Farmhouse Tiered Tray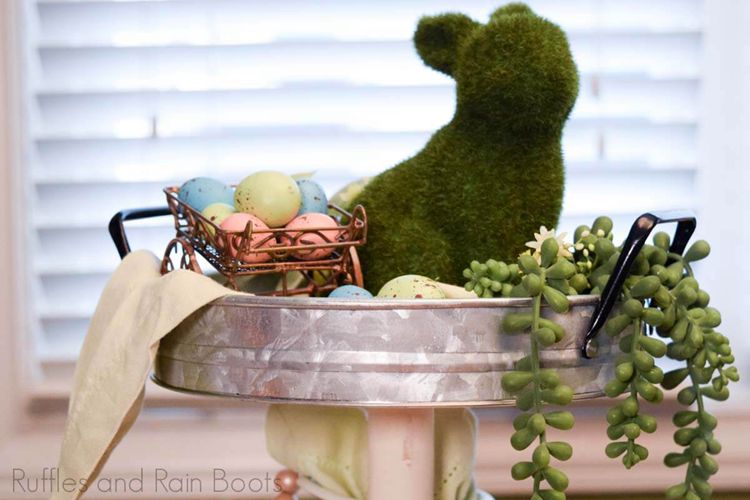 Tiered trays are an amazing way to beautify and add decor to your home. They also accentuate the items you put in them. Learn how to DIY this cute farmhouse-tiered tray now and rock it in your apartment. The best part is you don't even have to use screws. rufflesandrainboots
16. DIY Dollar Tree Farmhouse Tiered Tray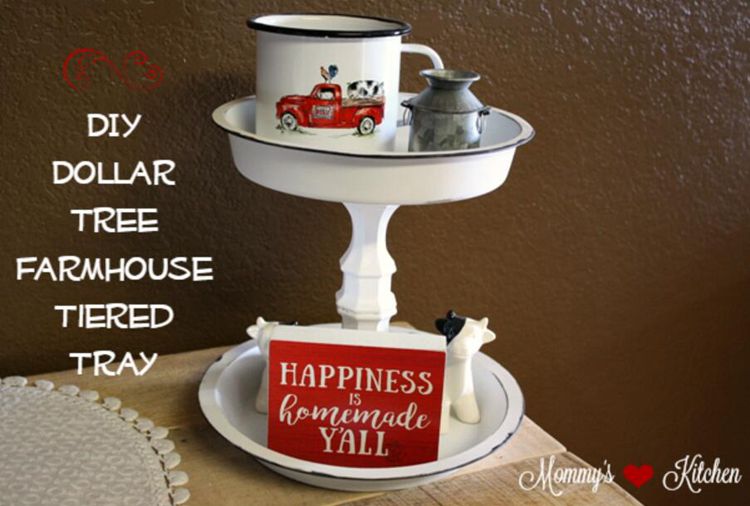 Learn this DIY Dollar Tree Farmhouse Tiered Tray and have fun with it. These are the things you'll need.
Dollar Tree pie plate
Dollar Tree cake pan
(4) inch Dollar Tree glass taper candle holders glue gun & glue sticks.
E-6000 permanent clear adhesive bond
Chalk Spray Paint.
sponge paint Brush + smaller paintbrush
black acrylic or black chalk paint.
17. DIY 3-Tier Tray
This 3-tier tray will get you singing some beautiful tunes. It's creative and easy to craft. This beauty is made out of thrifty plates and some dollar tree candles. Come on, let's get into it.
18. Dollar Tree Tier Tray
This dollar tree tier tray is one of a kind as it is combined with the pioneer woman fabric from Walmart. I'm pretty sure you want to get in on this one. You can learn to DIY this pioneer woman dollar tree tier tray here.
19. How To Make A Tiered Tray
The supplies you'll need for this project include oven burner covers, twine, hot glue, E6000 glue, chalkboard tags, wooden cubes. Once you have all these together, you're ready to learn how to DIY this amazing tiered tray.
20. DIY Tiered Tray
Everyone should have a tiered tray in their house. Rather than buy the expensive ones from departmental stores, you can learn to DIY a tiered tray yourself. Once you make one, you assuredly won't stop. Trust me.
Conclusion
There you go! 20 DIY tiered trays just for you. Unique designs that are sure to dazzle your family and friends and get you building. I'm sure you found this helpful. Thanks for stopping by, if this article has been helpful to you, kindly share it with your friends and family that might be interested in making a DIY tiered tray.