Home projects require urgent attention because these mini crafts help keep your home tidied without breaking your wallet. One of those projects we'll be handling today is a paper towel dispenser or holder.
In this article, we have compiled a list of 25 DIY Paper Towel Holder projects that you can make from the comfort of your home.
You May Also Like:25 DIY Sunglasses Holder - How To Make A Sunglass Organizer
1. Farmhouse Paper Towel Holder DIY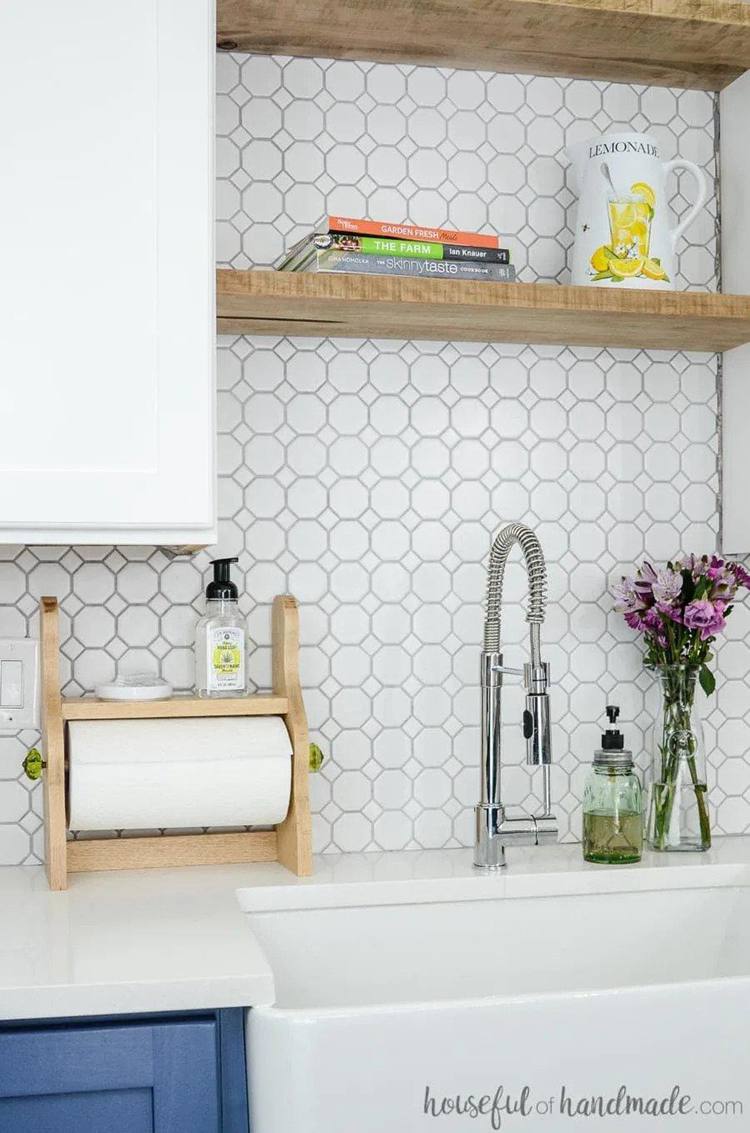 Instead of going for a common vertical paper towel holder, you can decide to go horizontal!. To make this modern farmhouse paper towel holder, the following supplies are needed; Wood, 30″ of 1×6 board, 12″ of 1×4 board, 12″ of 1×2 board, 12″ of ¾″ dowel, Wood glue, 1 ¼″ screw, Kreg Jig, 2 decorative knobs, Stain and sealer, Minwax Weathered Oak stain and furniture wax for sealer.
2. DIY Easy Paper Towel Holder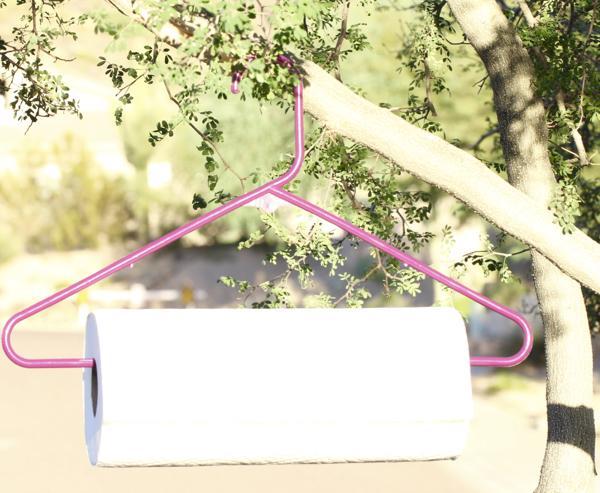 This inexpensive DIY Paper Towel Holder Hanger trick is thrifty, quick to make, and works like a charm in diverse ways. This handy DIY Paper Towel Holder can hang on a tree limb when going camping. If you need a napkin or are just cleaning up a spill, it's so convenient to have handy access to paper towels when you're camping.
3. Paper Towel Holder With Shelf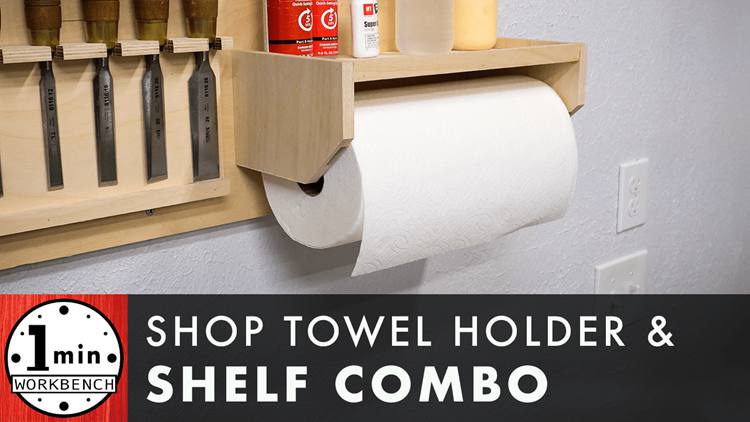 Obviously, almost everyone has a paper towel holder in their kitchen for some tangible reason around the home. To avoid having your towel roll out completely you should try an easily accessible towel holder. This towel holder is made of wood and serves other purposes because it is designed like a shelf. So you have a top above it where you can place simple items.
4. Under Cabinet Paper Towel Holder DIY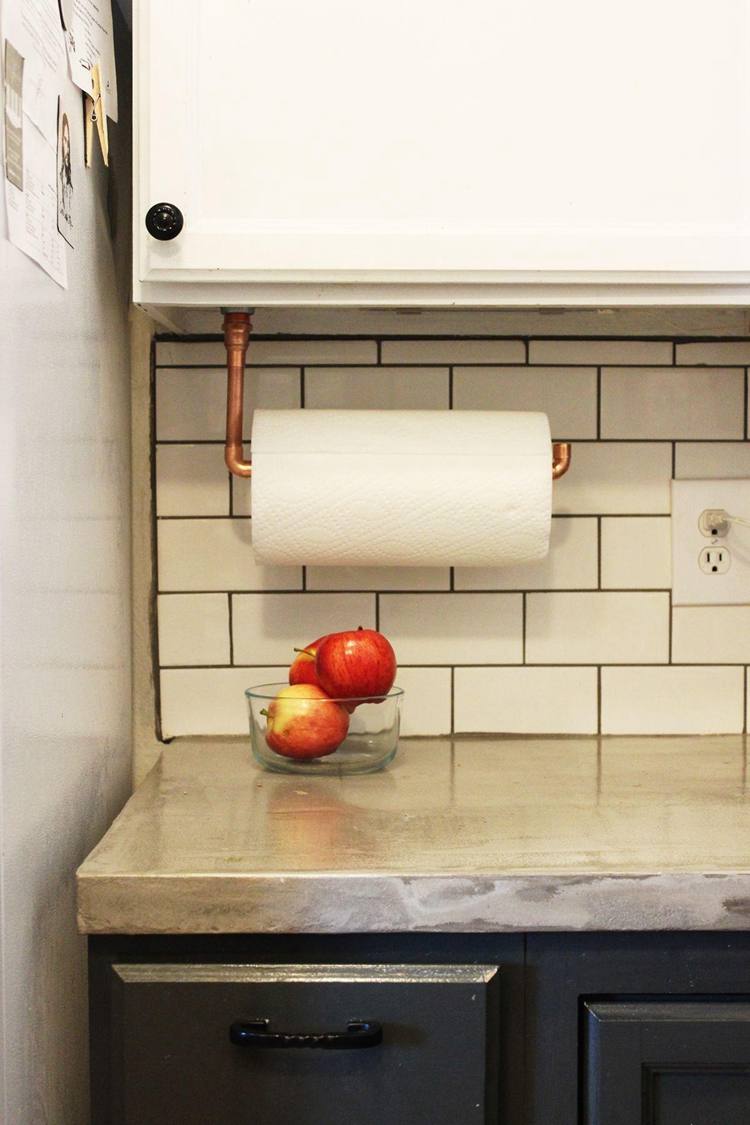 If you love a more modernized look then I promise you're going to love this under cabinet paper towel holder which could be modified for other uses. You're going to love this DIY project and enjoy the process involved because it's fast and easy and pretty much foolproof.
5. Making A Paper Towel Holder
This easy paper towel holder is made out of scrap lumber and it is mounted on the cabinet where it sits pretty and beautifully enough to ease your stress. The good thing is it can be accessed whenever you want. You'll definitely love this.
6. Paper Towel Holder DIY
Explore this video and you'll come to see diverse DIY ideas on how to make a towel holder for your home too. This video will tutor you and give you just the right project you're looking for.
7. How To Make A DIY Paper Towel Holder
This material used in this project was upcycled from another DIY project. You may as well get a new one for yourself. In addition to the cover rod and wooden board is needed to keep the rod upright. Follow through and get this done with ease.
8. DIY Paper Towel Holder Using Recycled Cardboard
In this video walkthrough, you'll see how to make a towel holder from recycled cardboard. The process is quick and easy, no special skill required here. Using an empty aluminum foil roll, cardboard, Exacto knife, pen, scissors, round bowl, glue gun, tape, and gold spray you can get started.
9. DIY Wooden Paper Towel Holder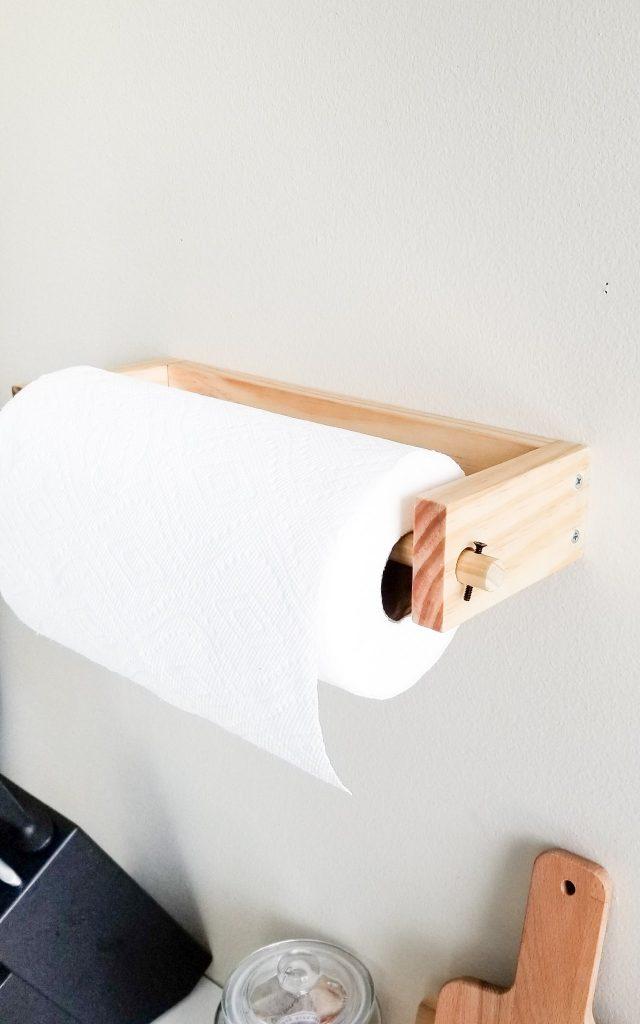 Right here is a paper towel holder that can be mounted on the wall or under the cabinet. This holder is made of wood and it's a super easy, inexpensive project. Grab your wood and begin to cut to size or measurements. Next drill holes at specific locations, use glue and screws to assemble. Sand and finish with paint or polyurethane.
10. How To Make A Paper Towel Holder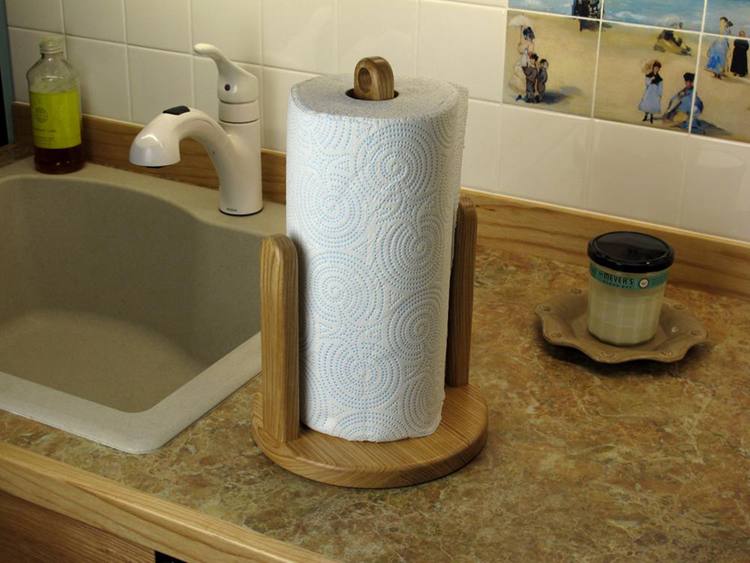 This is a versatile piece since it is not permanently mounted to a wall or cabinet. It can be moved and used where it's needed and then stored out of sight. Give this beautiful craft a try and enjoy its purpose.
11. DIY Magnetic Paper Towel Holder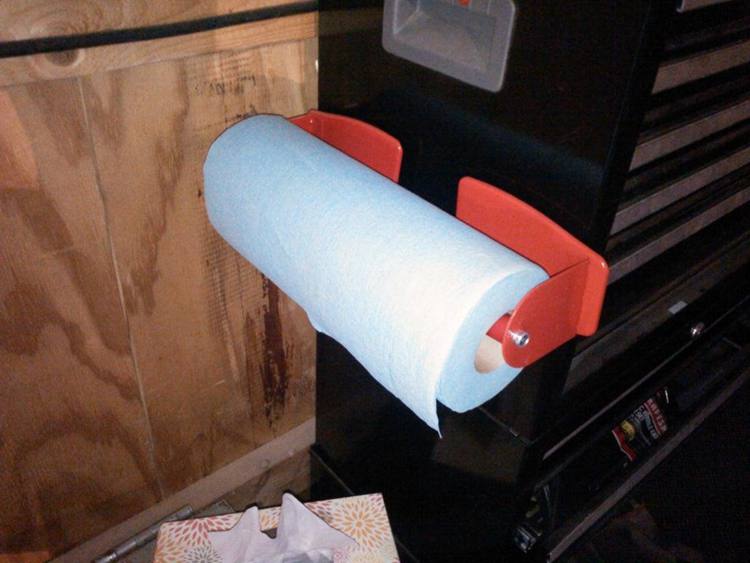 Towel holders can ease the stress of struggling with rolls on the floor. So you too can have this pretty magnetic paper towel holder set up in your kitchen. Gather these materials to get started; Some plywood, Magnets, Screws, A Dowel Rod, Screw Gun, Miter Saw, Measuring Tape.
12. DIY Bungee Paper Towel Holder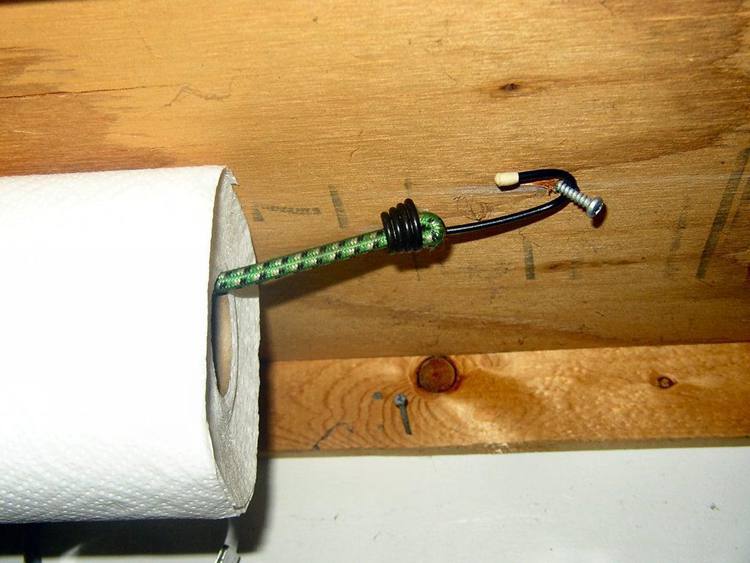 This is one of the most basic ideas I assure you can ever find. Within a couple of minutes, you're done with this. So find a bungee cord, put in a couple of nails or screws, hang the towel roll. It's ready for use.
13. DIY Paper Towel Holder
If you're sure you can't weld pls don't try this or maybe you can implore expertise to handle this stage for you. This holder is made out of scrap metal using a ⅜" (9mm) metal rod welded to a ⅛" (3mm) flat bar. Spray paint to your choice color.
14. How To Make A Paper Towel Holder From PVC
It may excite you to know that PVC isn't left out as a part of these ideas. PVCs are great DIY tools for customizing your item and this towel holder is one of those things you will be made with PVC. You can create these out of these materials; four 90⁰, four 45⁰ PVC fittings, two 11" PVC pipe, one 9" inch PVC pipe, one can of flat black Spray paint, drill and bit to drill pilot holes for screws and PVC cutter.
15. Easy Paper Towel Holder DIY
This a pretty, simple, and easy build. If you often make a mess and want a towel close by oftentimes then you're at the right place and at the right time I assure you. This video is explicit enough to tutor you towards being a creator of a paper towel holder.
16. DIY Wooden Towel Rack
This isn't just a towel dispenser to hold one paper towel but this has provision for two paper towels. That is the fun part of it. You can put up two at once for long time use. This handy twin roll paper towel holder has a simple construction step. Follow through and be guided.
17. How To Make A Paper Towel Holder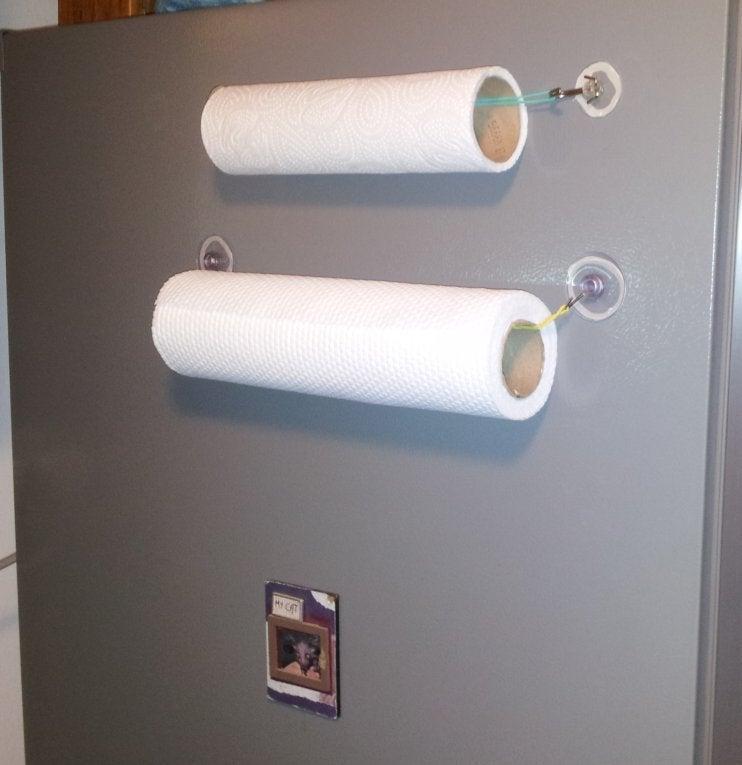 This DIY idea will help you save enough space in the kitchen. By using two wall-mounted hooks and a rubber band, hold the roll of paper towels on a wall, refrigerator side, or cabinet door. It looks really pretty and accessible over there.
18. DIY Knex Paper Towel Holder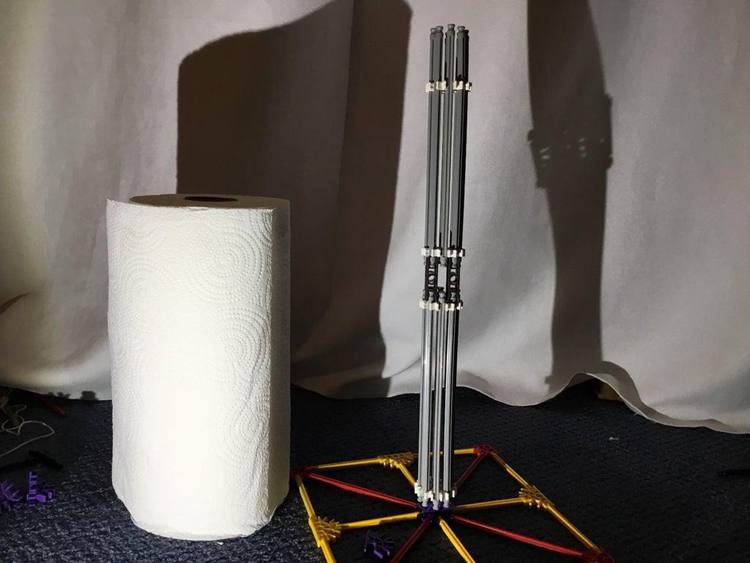 This is also a basic and simple idea to make a towel holder. You build, build, build and assemble. It's really not difficult. If you can build Legos then you can put this together in no distant time.
19. DIY Pallet Wood Paper Towel Holder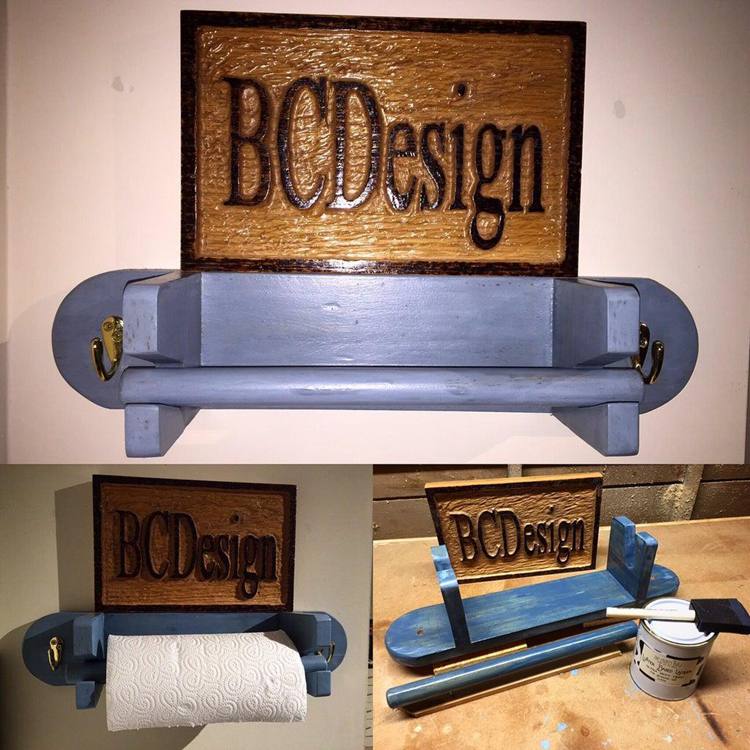 This DIY project is beginner-friendly, anyone could try using hand tools or power tools. With your materials in place, cut your woods then cut out slots for the dowel. Mark, cut, and drill backboard. Mark and drill mounting holes, mark hook position. Attach side pieces. Drill holes, wall plugs and mount paper towel holder.
20. DIY Industrial Pipe Paper Towel Holder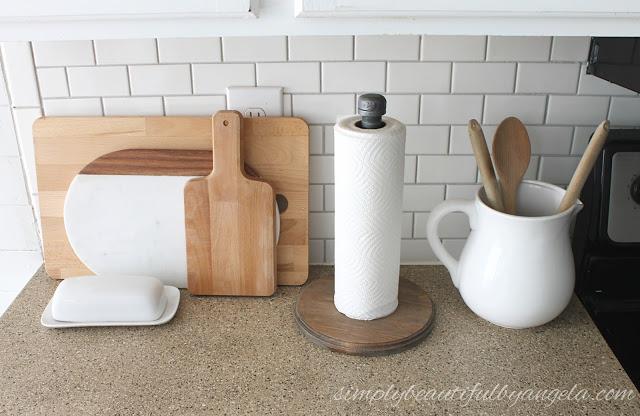 Far from the horizontal paper towel holder is also a vertical towel holder which can be moved to any position around the kitchen. By Using the provided materials and adhering strictly to the steps you'll have this made.
21. DIY Paper Towel Holder
This paper holder will definitely fit your kitchen perfectly well. It's a classic and stylish design that will look more like a decoration to your kitchen. It adds beauty. Take a rope, then using beads feed them to the rope till you have the desired length you want. Put the paper towel and hang up.
22. DIY Macrame Tissue Holder
If you're among those who learned how to make macrame then you'll have no issues getting this done. Otherwise, you can also learn that from this video. With these items in place, you will be a step closer to achieving this project. Macrame, dowels, yarn, wood ring, beads.
23. How To Make Paper Towel Holder
Using an empty paper towel roll, tape, ruler and Exacto knife this super easy and basic paper towel holder can be made in just a couple of minutes.
24. Paper Towel Holder DIY
This may seem like some sort of complex techniques required here but nevertheless impossible is nothing. Get tutored by this guide and also make this mechanical build.
25. DIY Paper Towel Dispenser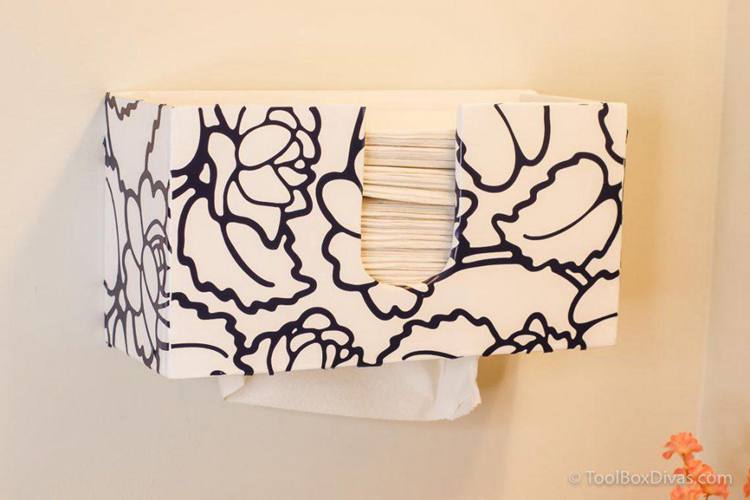 This piece of writing will tutor you on how to make this easy paper towel dispenser for c-fold and multifold paper towels. With your boards cut to size, cut out an opening for the front panel. Using wood glue and brad nailer, assemble the parts of the dispenser. Then cut out the bottom opening. Sand, stain, or paint.
Conclusion
Most people can't do without towels in the kitchen. You can now avoid hiding your rolls thanks to all these ideas. Make your choice, get the materials, get building, have fun and you'd love your outcome. Thanks for stopping by.