Are you looking for the best DIY sunglasses holder? Search no more, I have good news. I have compiled an epic list of 25 DIY sunglasses holder. Most of the sunglasses holder listed in this article are pretty easy to make.
For some, you would need woodworking skills and for others, you would need your craft skills. Regardless, after reading this article you would know how to make a sunglass organizer.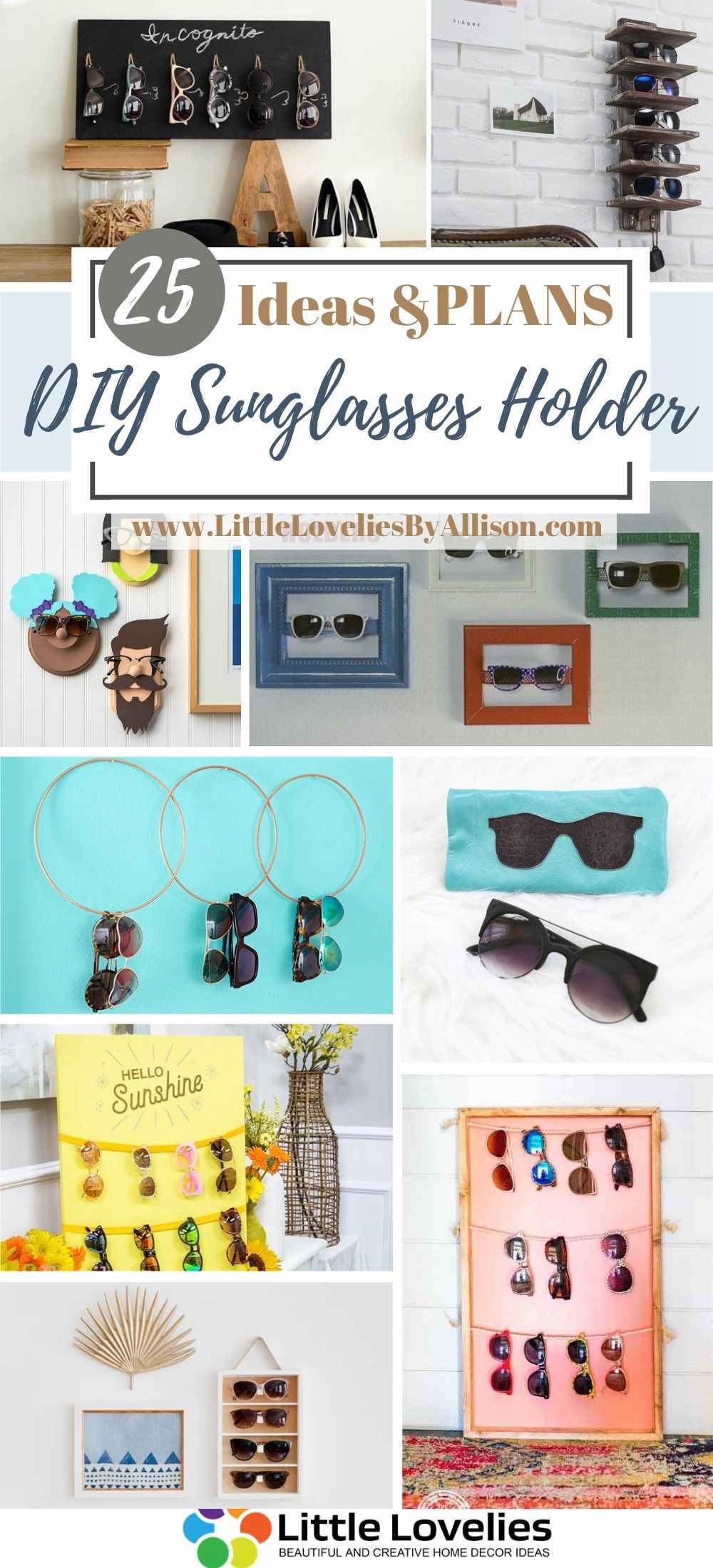 1. DIY Sunglass Holder Wall Display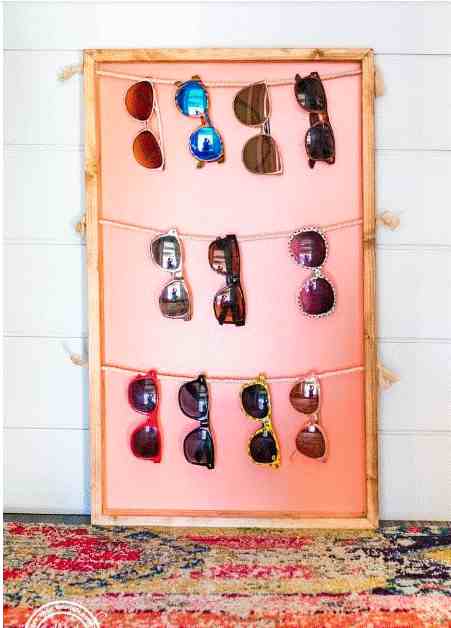 You can keep this in your room to spice up the room decor. The pink background makes this sunglasses holder ideal for pink room decor. There are three sections where you can hang sunglasses. The making process is not so difficult. With all the tools and materials handy, you should be able to put this together.
2. Renter Friendly DIY Sunglasses Holder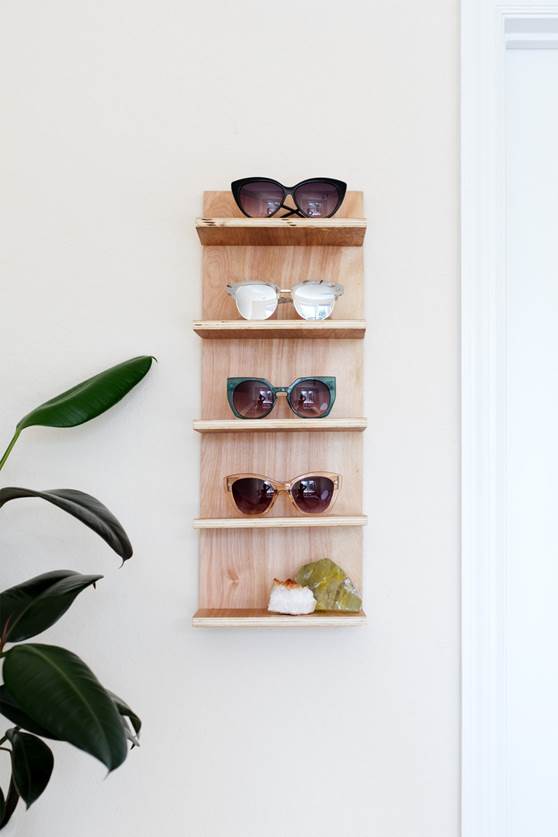 I found this wooden frame to be quite stunning. It could be the next perfect wall decor in your home. It has shelves for storing your sunglasses. With this sunglass holder, you can store up to 5 sunglasses. I think this is pretty amazing.
3. DIY Sunglasses Holder Frame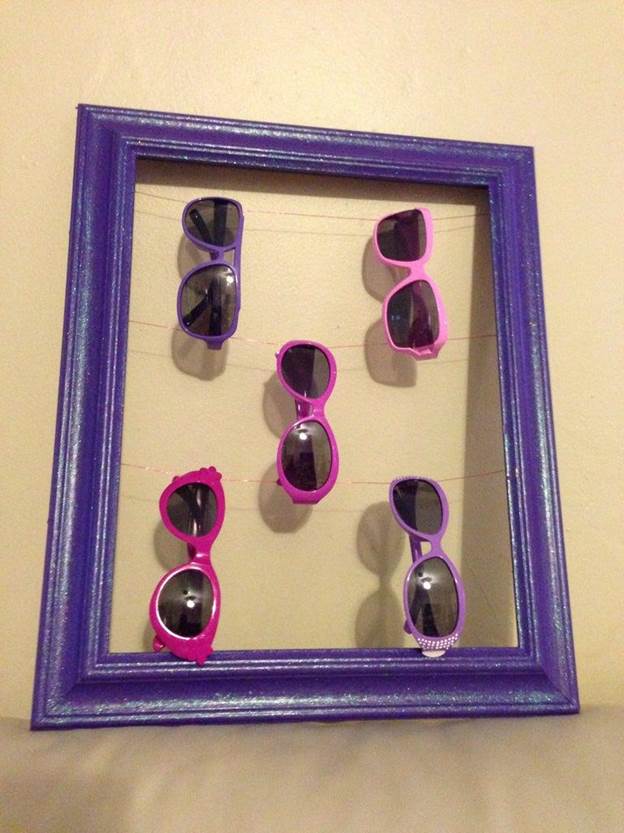 In this DIY tutorial, you will learn how to convert a picture frame into a cool sunglass holder. I think this is a great way of organizing your shades. Also, it is a low-budget holder, this means you won't have to spend much to make this. Feel free to use that old picture frame in your house.
4. Sunglass Rack From A Piece Of 2X4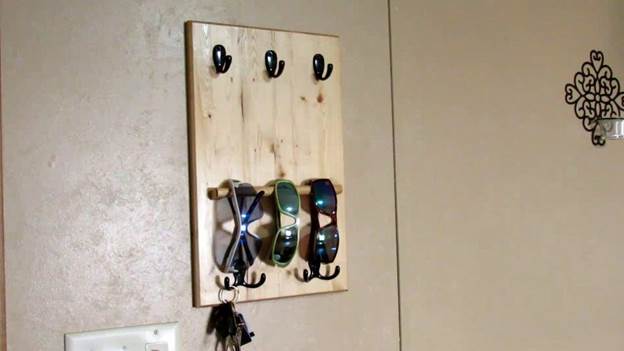 Using a piece of 2x4, the creator was able to make this amazingly outstanding sunglass rack. It can also be used as a cap rack and key rack. Basically, this is a multi-purpose rack. The making process is quite easy to follow. Being that this is made of wood, you will need some woodworking tools.
5. DIY Sunglasses Holder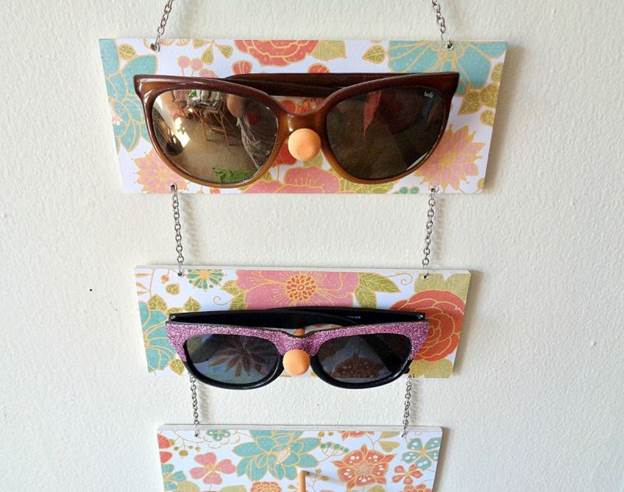 Here's one for the ladies. The floral design on this glasses holder makes it an ideal place for the ladies to keep their unique shades. This sunglasses holder can contain up to 2 shades, but you can make yours longer, it's all about preference.
6. Leather Sunglasses Holder DIY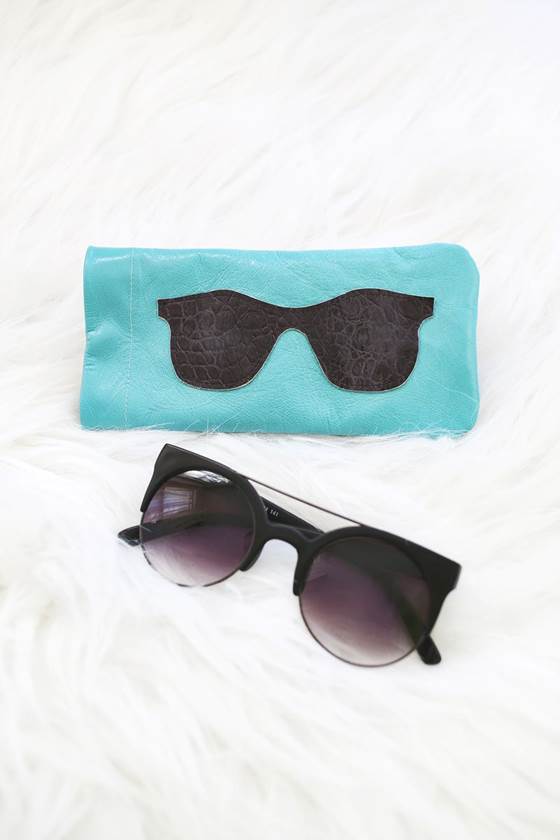 Are you looking for a sunglasses holder that can be carried around? I found one. You can decide to use it to keep dust away from your shades, you can also use it as a case for carrying your expensive shade around. It is made of leather and is pretty easy to put together.
7. DIY Sunglasses Holder With Fun Faces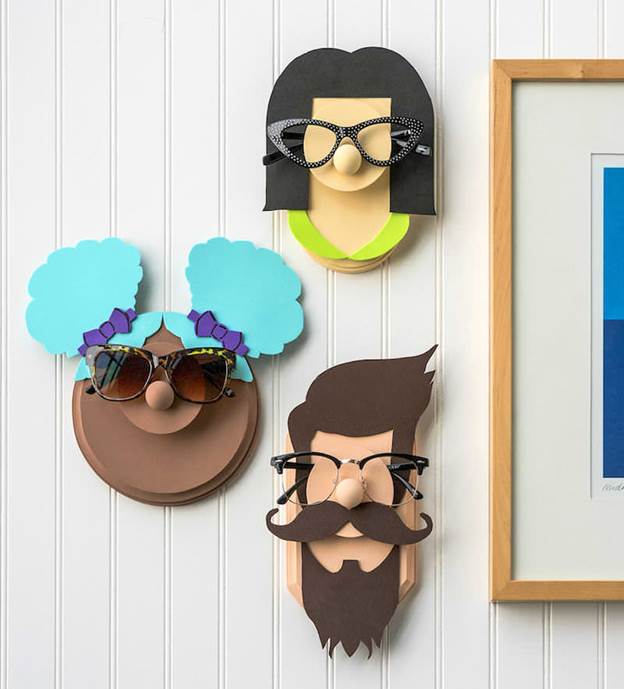 Here's another cool one that will most definitely add beauty to your home. The faces are made by putting certain pieces of wood together. The process, however, is not as easy as it may seem. You will need a whole lot of materials to put this sunglasses holder together.
8. DIY Sunshine Sunglass Holder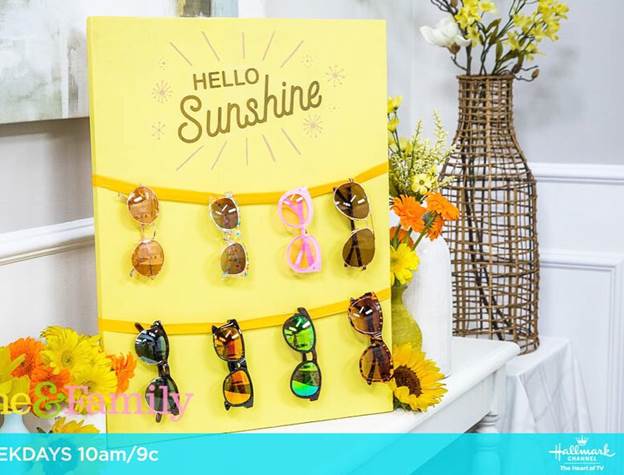 Brighten up your room with this fantastic sunshine sunglass holder. The yellow background used on the sunglass holder would immediately bring life to any room it is placed in. With this holder, you can store a couple of glasses. This sunglasses holder is ideal for people who have a lot of sunglasses.
9. DIY Sunglass Holder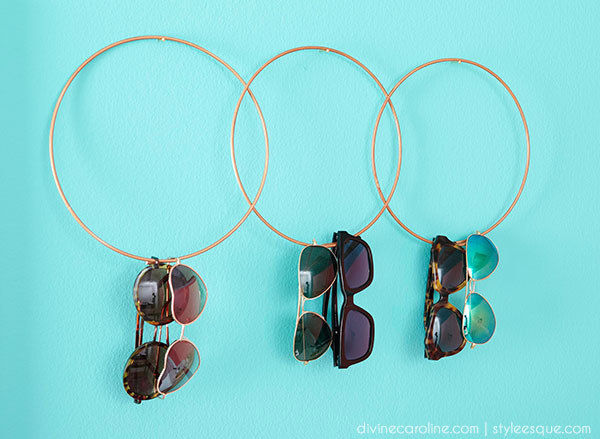 This is by far the easiest sunglass holder you can DIY. For the making process, all you would need to do is get the rings, spray paint them, nail them to the wall and use them to organize your sunglasses. Check out the tutorial for full instructions.
10. DIY Sunglasses Organizer With Wood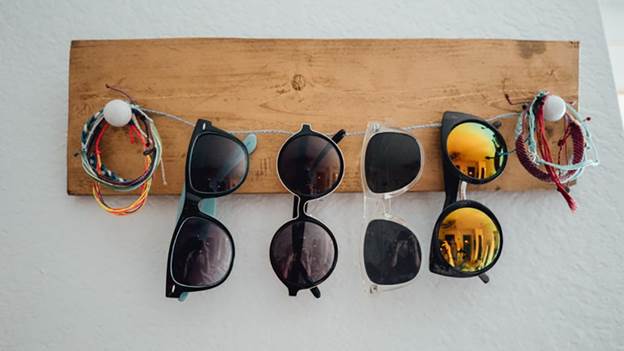 I love it when something amazing is made out of wood. Imagine having this sunglass organized in your rustic home, now that will be pretty amazing. The making process of this sunglass organizer is also easy. The materials needed are quite easy to get.
11. Easy Sunglasses Hanger
Previously, you must have seen where I mentioned the use of a picture frame for a sunglass holder. In this DIY tutorial, the creator used a bigger picture frame, thus providing more storage space for the sunglasses. This is ideal for people who have a lot of eyeglasses to store.
12. DIY Rotating Glasses Display
I love the fact that this one rotates. Buying a rotating glass display would literally cost a whole lot, in this guide, the creator will show you how to make one using materials that can easily be found. The making process is easy to follow if you have all the materials handy.
13. DIY Eyeglass Display Board
In this DIY guide, the creator will show you how she was able to come up with this amazingly outstanding eyeglass display board. Feel free to change the background color to anything you would like. I think black would be a great color to use. Making this eyeglass display board is easy.
14. Pallet Sunglasses Holder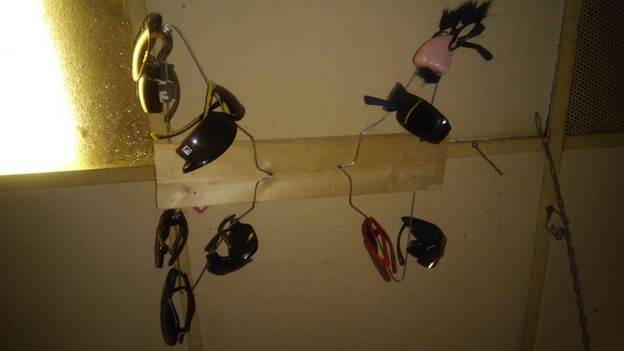 Using pallet wood and two iron hangers, the creator was able to craft this cool sunglasses holder. While this isn't the prettiest, I still think it is amazing. You should probably check it out. Yours might come out looking a whole lot better after improvisation.
15. DIY Sunglasses Organizer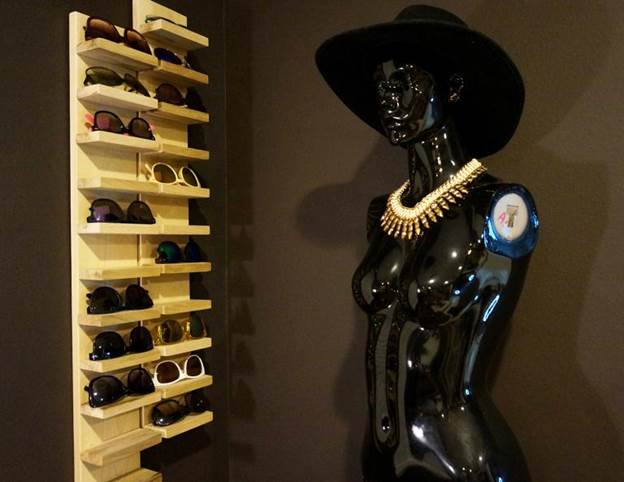 Talk about so much beauty, here it is. With this DIY sunglasses holder, you can store more than 20 sunglasses. It is made of wood and thus requires the use of woodworking tools. I love the fact that it is hung on the wall, this makes it easier to grab a pair of glasses.
16. How To Make An Organizer For Sunglasses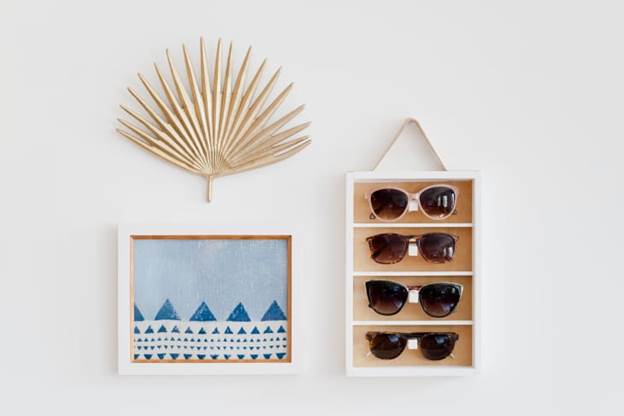 Have a good look at this cute sunglass organizer, you would agree with me that it is something one would love to have hanging on his or her room wall. The white edges and brown background make this sunglass holder look absolutely stunning.
17. DIY Sunglasses Organizer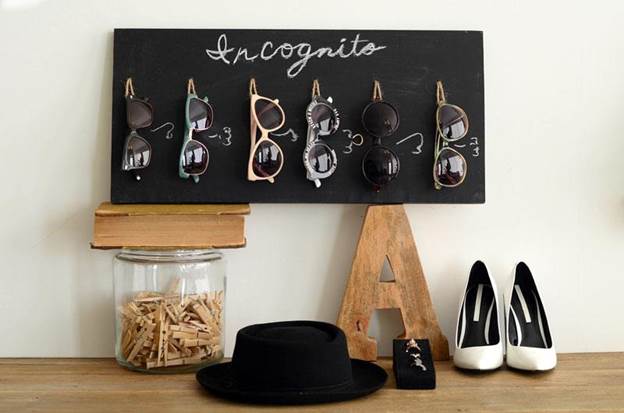 Hanging your glasses on a mini-chalk board isn't something I would ever think of. Kudos to the creator for sharing this amazing piece. Making this for yourself is quite easy. With all the required materials handy, you would be done in no time.
18. DIY Framed Sunglasses Holder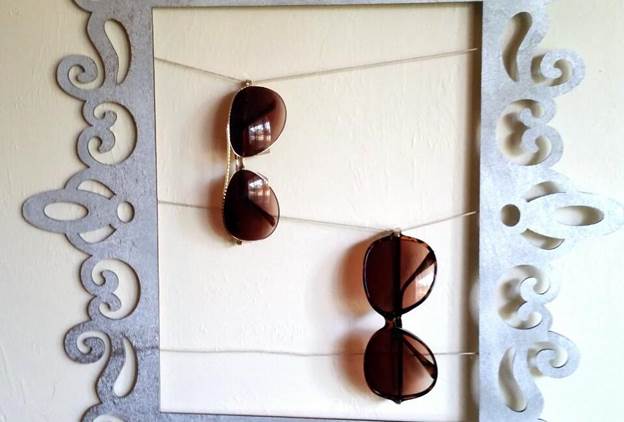 I stumbled upon another framed sunglasses holder, but this one is quite different from the previous ones. If you look closely, you would notice the unique design of the frame, I think this framed sunglasses holder is quite stunning.
19. How To Build A Sunglasses Rack
You do not need to be a professional woodworker to get the hang of this sunglass rack. I believe with practice and hard work, anyone would be able to build one of these. The building process would require the use of woodworking tools. If you are having issues putting this together, you can ask for help from a pro.
20. DIY Sunglass Holder
For this wooden DIY sunglasses holder project, you won't need a lot of power tools. All you would need is glue, some plywood, and a few other materials. I love how simple this sunglass holder looks., I would highly recommend it.
21. DIY Hanger Sunglass Organizer
Using a hanger, the creator was able to make a very simple sunglass organizer, however, she covered the hanger with fabric to make it look way better than it would have been without the fabric. I think this is a great way to organize your sunglasses without having to spend too much.
22. DIY Sunglasses Holder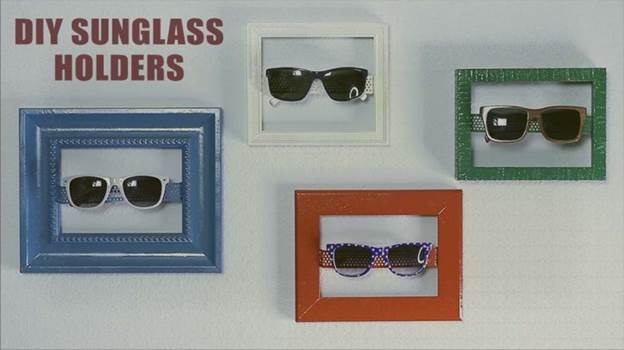 In this DIY tutorial, the creator was able to make sunglass holders of different sizes and colors. For the making process, you will need to get picture frames of different sizes. I think this is a cool DIY sunglasses holder to try out.
23. DIY Sunglasses Holder For $5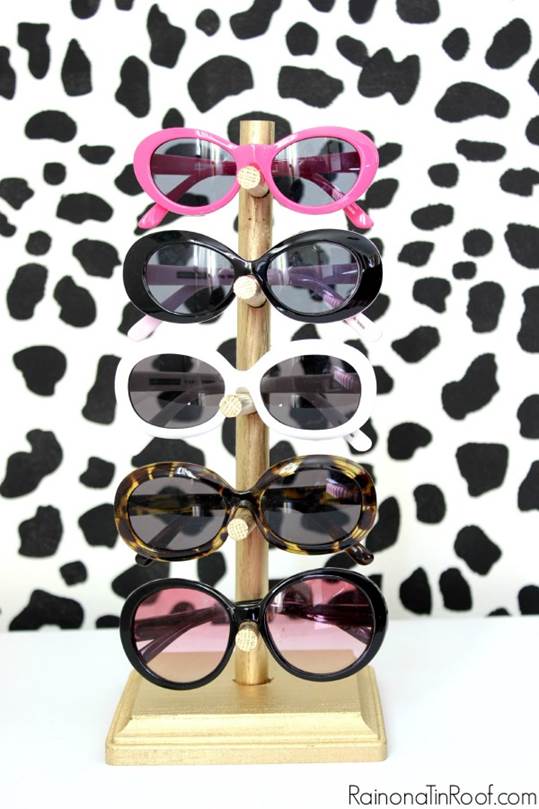 Despite how beautiful this sunglasses holder looks, it costs just $5 to make. That's literally all the creator had to spend. This price may surge up a little bit, but I'm sure it won't go past the $10 mark. This DIY sunglasses holder can hold up to 5 sunglasses.
24. Sunglass Holder For Car
Here's another cool place to keep your glass when it is not in use. This sunglass holder is ideal for usage in a car. The cost of buying one of these is quite low. You should be able to afford one for your car.
25. Wooden Sunglasses Holder
I found this and decided to include it for people who have zero experience in woodworking but are in dire need of a wooden sunglasses holder. This sunglass holder is also affordable.