Did you know that a DIY gable bracket can be installed in about an hour after build? Well, it's true, and you can create them for your house to have a well-built structure. These DIY gable brackets are incredibly handy to have around if you're planning on installing a metal roof on your home. They're one of the easiest things to make at home, so it's worth the time! Yeah, it is easy to build if you are a woodworking expert but not so easy if you are completely new to the woodworking space.
In this article, we have compiled 8 unique projects that will show you how other amazing creators were able to make their DIY gable brackets. This compilation is meant to inspire you to create something amazing for your home. Are you ready to build? Go through the list and be inspired.
1. DIY Decorative Gable
Want to build a gable bracket? Well, that's a great idea. This tutorial shows you a walkthrough of how the creator could build one from start to finish. The process starts with getting the wood for the task. You will need a measuring tape, drill, wood stain, decorative garage magnets, and a couple of other materials for the tools and materials. This project isn't going to be a walk in the park, and if you are a beginner, you might have issues understanding the whole concept. Feel free to check other options if this seems too complicated.
2. How To DIY Gable Brackets
Here's another tutorial to look at; this one doesn't show you in-depth steps on how to go about this, hence also not ideal if you are making a DIY gable bracket for the very first time. This video tutorial is meant to inspire people to create their own gable brackets using the unique methods of the creator. The frames aren't the fanciest, but they sure look okay if you ask me. Check out the video tutorial above to watch the time-lapse video of the whole procedure.
3. DIY Decorative Gable Trim
If you are looking for a well-detailed video tutorial that will show you how to make a gable bracket, then here's one. It is also beginner-friendly. The creator takes time to explain the process of making a decorative gable trim in depth. Feel free to change the design to something more spectacular if you want to. The main thing here is understanding the main concept, and the rest is pretty simple to follow.
4. $10 Gable Bracket DIY
Who is this tutorial for? It is for people who want to build a decorative roof without spending too much on materials. In this guide, the creator shows how to make a gable bracket for only $10. When the creator made this video, the price of things might have inflated a little bit; regardless, you won't spend more than $20 on this entire project unless you do not have essential woodworking equipment and need to purchase it.
The first thing you want to do is figure out the angle of the roof you want to install a gable. You should use cardboard to take measurements first before cutting the wood. A picture of the roof will also be of great assistance if you work from indoors.
5. How To Make Decorative Roof Brackets
Here's another useful tutorial you would probably enjoy reading. This tutorial will teach you how to build decorative roof brackets. The total cost of materials that will be used in the course of this project is about $500, and the entire project should take a day or two to complete if you are a professional; beginners might have to spend a longer time.
The making process starts with preparing the wood boards and then creating a template for the brackets. The final step is cutting the template. For a complete explanation on how to go about this works, click on the link. thisoldhouse
6. Quick And Easy Gable Bracket
I found yet another unique tutorial that will give you an idea of how to go about a gable bracket. The video tutorial would be appreciated more by professionals than beginners since the creator doesn't explain the entire making process in depth. You will simply need some basic woodworking equipment like a drill, measuring tape, saw, and a few others for the materials and tools. What are you waiting for? Check out the full video and let it inspire you to create an amazingly outstanding gable bracket.
7. DIY Gable Brackets On A Shed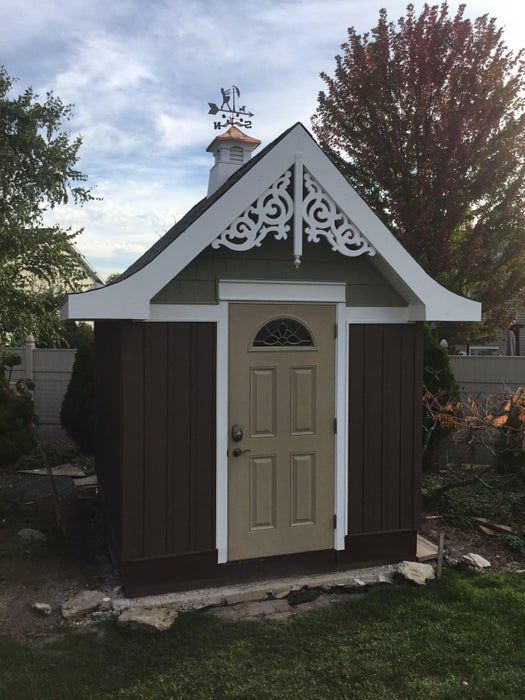 This is a complete project that shows you how to build a shed. So, why did we include it on our list of DIY gable bracket projects? You will notice the nicely done decorative gable brackets just above the shed's door if you look closely. A complete section in the full guide shows you how to build this, but I guess you will have to go through with the entire article to find out where the gable bracket project begins.
I would highly recommend this project for beginners and even professionals. The making process isn't as challenging as it looks. instructables
8. DIY Decorative Timber Truss
Here's yet another tutorial meant to inspire you to create a decorative timber truss. This is a larger gable bracket for those who have a bigger gable. The creator simply explains the entire making process. It doesn't matter if you are a beginner or expert at woodworking; you would definitely get the hang of this tutorial after watching the video.