Incense produces scents that have aromatherapy qualities and it is extremely relaxing just to watch it burn as the thin stream of smoke spirals into the air and then disperses. There's no excuse for you not to have a stick or two incense burning away while you cozy up and get stuck into that good book. You know why? That's because incense holders are super easy to make so why not.
In this article, we have put together 24 DIY incense holders ideas for your viewing pleasure. Go through our list, make your pick and start the building process.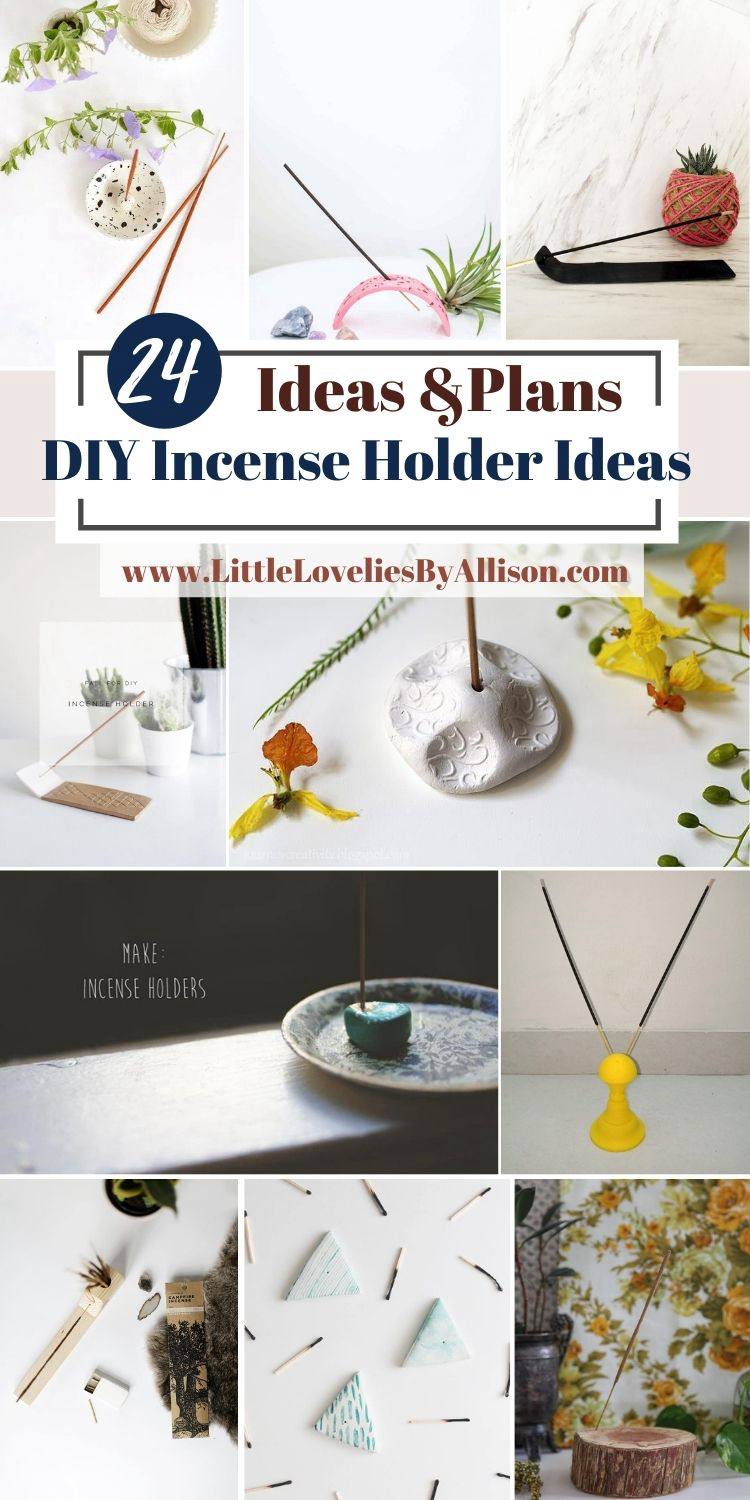 1. DIY Incense Holders
Burning incense is an awesome way to create a calming atmosphere inside your home. Right here is a really super cool and pretty way to make a modernized incense holder. With a small jar filled with sparkling stones, your table can look stunning with the beautiful incense holder.
2. DIY Polymer Clay Incense Holder
Other than lighting candles most people like to burn incense because it adds a lovely fragrance to your space. So keenly follow through with this guide on how to make a polymer clay incense holder.
3. DIY Incense Holder Using Little Dishes
Amazing how these little dishes can serve a great purpose to you. With just three items in place, you can have an incense holder super ready. In addition to the little dishes, get 15mm-20mm beads, bead caps, and of course incense sticks.
4. DIY Incense And Candle Holder
In this video walkthrough, you'll learn how to make this lotus incense holder at your convenience. The step-by-step guide provided here alongside the materials you'll be using are towards achieving one common thing.
5. Incense Holder DIY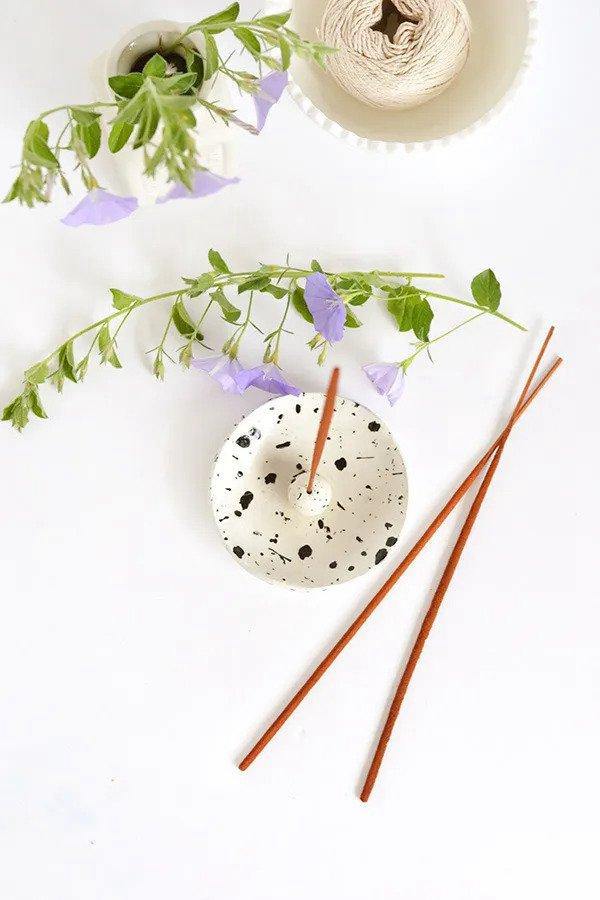 This incense holder is made of clay, which is one of the things you need to get this done. Alongside materials like Small bowl, Craft knife, Rolling pin or jar, Skewer or toothpick, Superglue, Black acrylic paint, and High gloss varnish. Explore the steps.
6. DIY Terrazzo Style Clay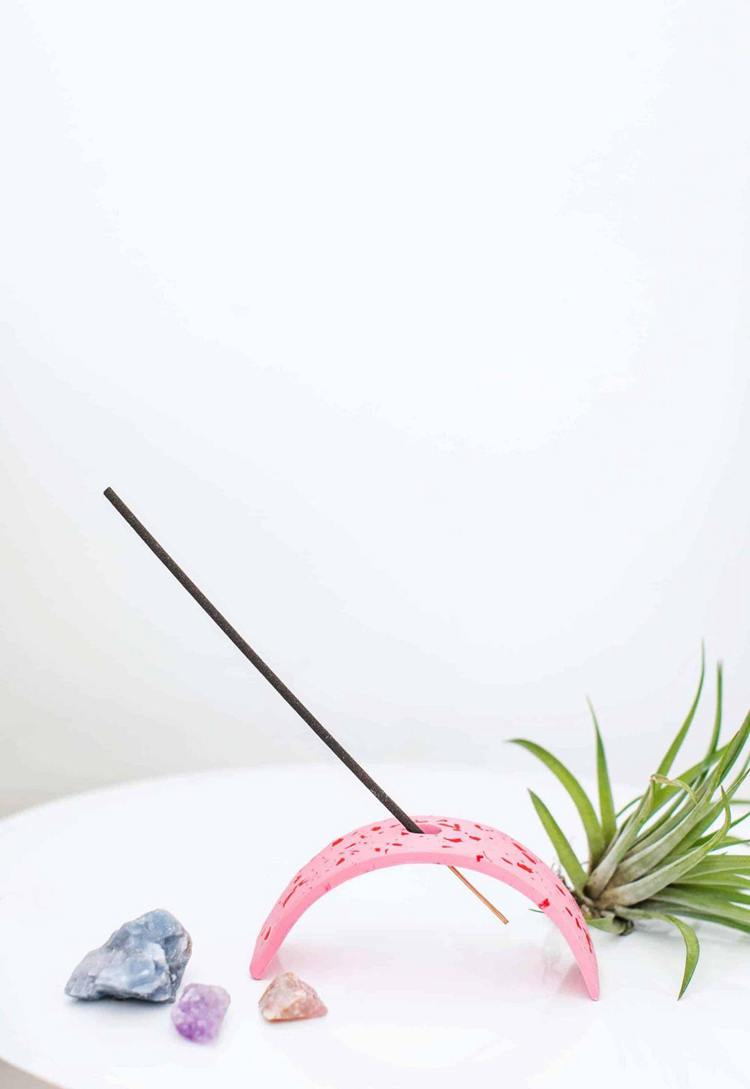 This oven-bake clay incense holder is an easy way to keep even your smallest home accessories looking good as they sit out on your desktop! In order to make this beautiful terrazzo style clay, the following supplies will be useful; acrylic roller, clay cutter, 2 small packages of colored, oven-bake clay for the base color, 1 small package of colored, oven-bake clay for color specks, parchment paper, plastic straw, oven-safe cylinders such as mason jar or aluminum can.
7. How To Make Your Own Incense Holder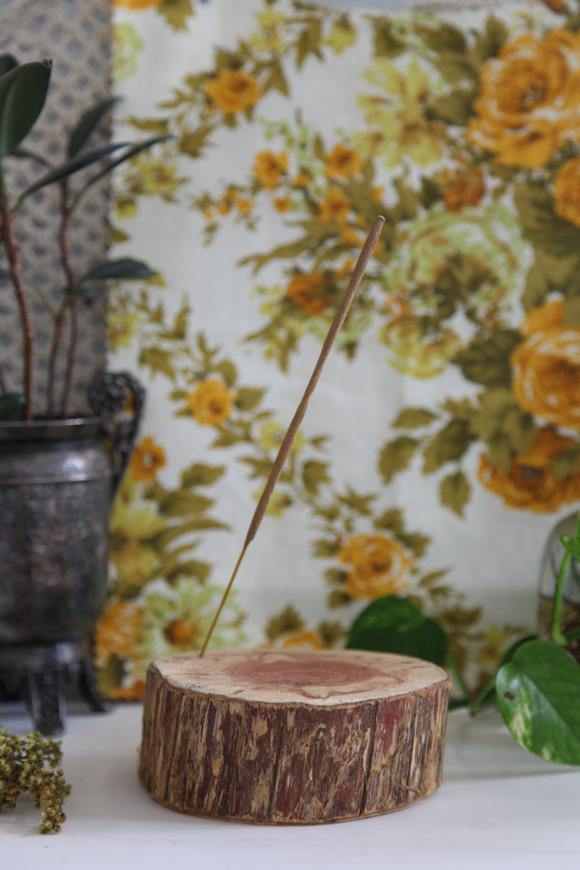 Other than lighting candles, you may as well like to burn incense and relax in its fragrance. This is really simple craftwork that can be done in a few minutes. Get a wooden slab, use a nail to create a hole for your incense stick. When that is done take out the nail ad put your incense and let it burn
8. DIY Clay Hand Incense Holder
Who else thinks it's time to get creative? Enough of the boring talks and makes right? You're gonna enjoy this project, it's an interesting one. This is a clay molded hand incense holder and it makes your work more unique and special. It's lovely.
9. DIY Incense Holder
Do you know that getting your hand busy on some kind of craft is a stress reliever? Well, you just found out, so you're welcome 🤭 . This is made out of a small plant pot. You take out the plant and fill the pot with maybe white sand or sparkle stones or whatever suits you. Attach your stick and that's it. No stress.
10. How To Make A Clay Splatter-Painted Incense Holder
With these materials; air-dry clay, paint, brush, varnish, glue, knife, bowl, and a toothpick. You can easily set up or create your customized incense holder without getting to buy it at a cost. After molding your clay to shape, leave it to dry. Then splatter paint to give it a more stylish look.
11. DIY Incense Holder
Right here you'll see how you can make a bottle incense holder. Yeah, using a bottle, key ring holder, black and white paint, this can be done. Use the keyring holder to hold your stick downwards as it burns into the bottle. Then wait for it to smoke from bottom to top. Ta-dah, it's done and super easy.
12. How To Make A DIY Incense Holder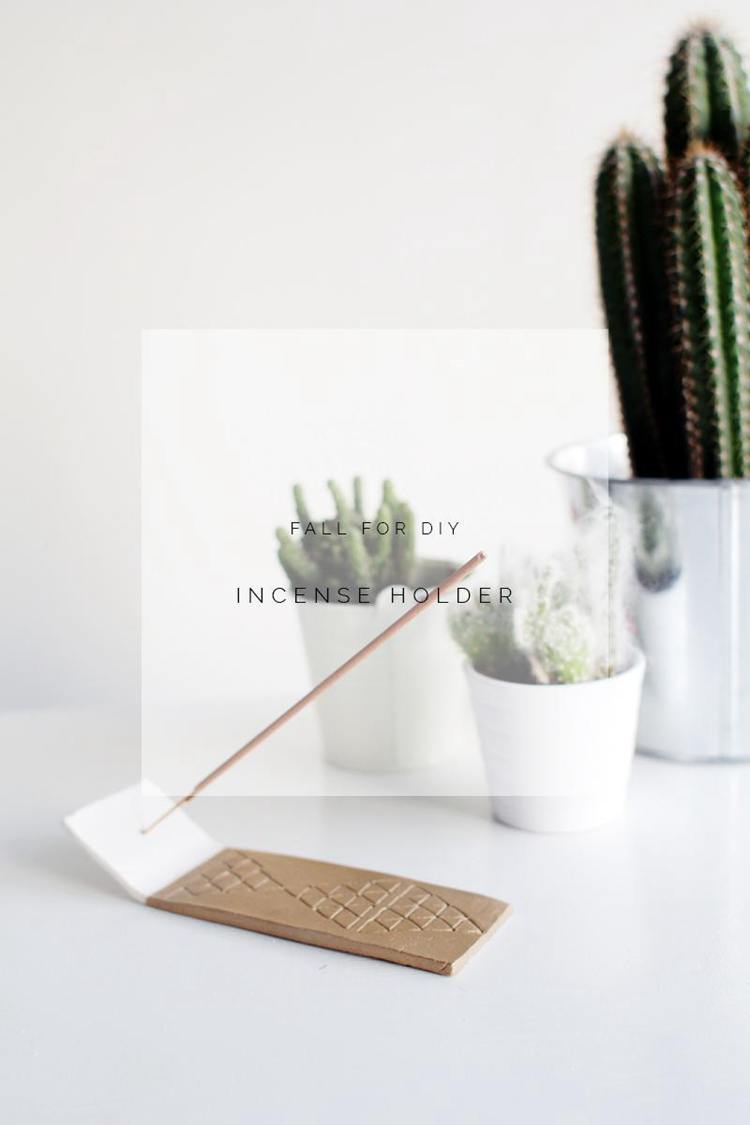 Are you tired of messing up your home with piles of incense ash? Then you may want to try this simple DIY clay incense holder using Air dry clay, roller, sheet metal (optional), skewer, spray paint or Varnish, craft knife.
13. DIY Clay Incense Holder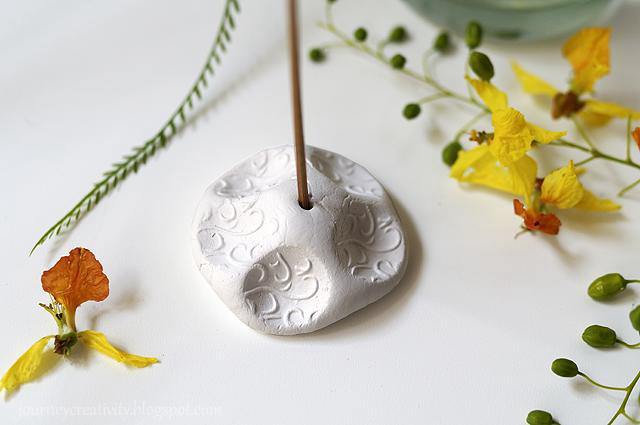 You will need modeling clay, a button with an embossed design, a skewer, or a straw. Then proceed to make a ball with the clay. Use the embossed design button to imprint. Finally, make a hole in the middle with the stick. Voila! It's ready for use.
14. DIY Incense Holder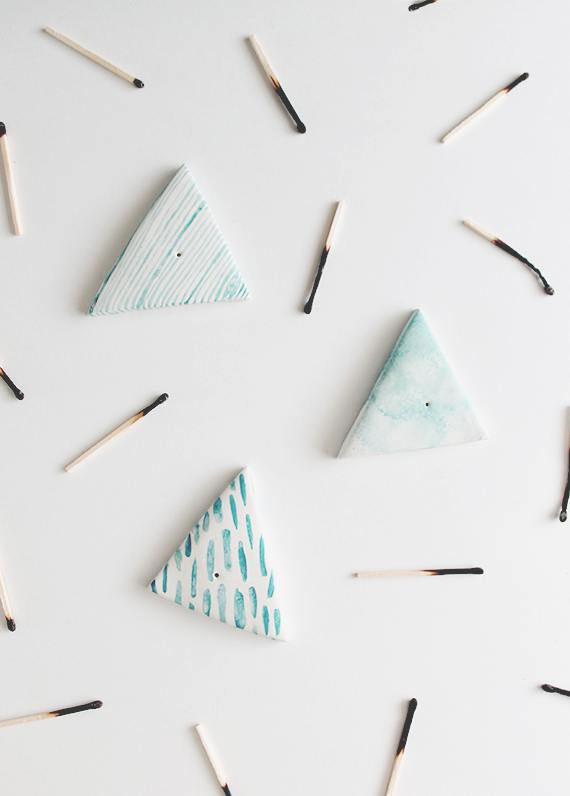 In less than 5 minutes you can also make a simple little incense holder so you can always get your room scented. It's a seamless process and with these basic items you're all set; polymer, clay, rolling pin, a clay blade, acrylic paints.
15. Easy Incense Holder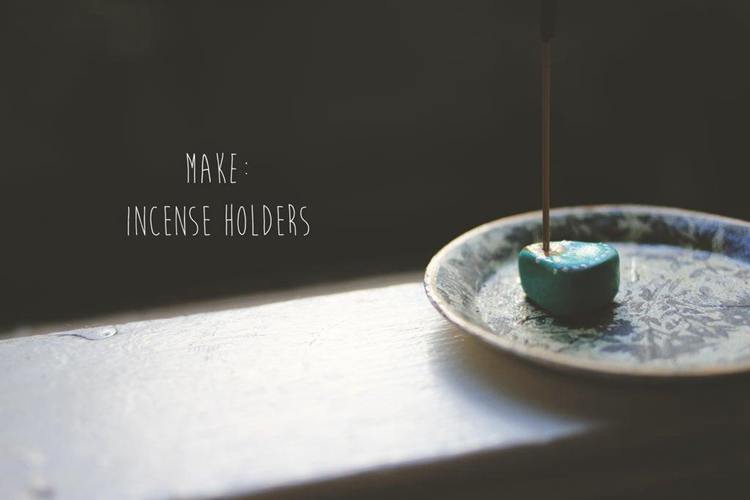 Do you think it's time for an upgrade of that poor incense holder? If your answer is yes then this is for you. Follow me as I present a basic, easy method of making your new incense holder.
16. DIY Incense Holder
At about right now, I'm pretty sure you're ashamed of your incense holder that you make it hideous in your home. Not to worry, right here is how to make an incense holder that's simple and pretty enough to leave out. So basically with wood, bandsaw, sandpaper or belt sander, drill press, wood glue, and clamp this is done.
17. Incense Burner Made From Wine Bottle
Be sure to have this in a safe place and do not leave it unattended in order to avoid an extreme home accident. What we have here is an incense holder made of a wine bottle. Ensure that the keyring holder fits the size of the bottle opener so that your incense stick can face downward while being on the key ring instead of touching the bottle bottom.
18. How To Make An Incense Holder Cottage
Trust me, creativity is the new cool everywhere. You'll be excited about this project because while it produces a sweet fragrance it also adds beauty to your home. Explore this Video walkthrough and make your own clay cottage incense holder.
19. DIY Candle And Incense Holder
Do you burn scented sticks to perfume your space and create a magical atmosphere? If so, it is an opportunity to build a base yourself, since the classic wooden bases are commercially available you can also try this out yourself.
20. DIY Incense Stick Holder With Leaf
This incense holder is leaf-shaped and sprayed to your choice color just the way you love it. It isn't just a leaf but a clay molded to form a leaf shape and this came out really attractive and lovely. It's a great project you should consider.
21. DIY Clay Incense Holder
With your clay flattened out, trace a leaf shape and use a toothpick to form the veins to make it more realistic. Paint with your desired color. Your simple little incense holder is all ready for use. Trust me the beauty this will attract to your space is second to none. Basic supplies are; acrylic paint, air-dry clay, leaves, roller, cutter vaseline, and non-stick sheet.
22. 3D Printed Incense Stick Holder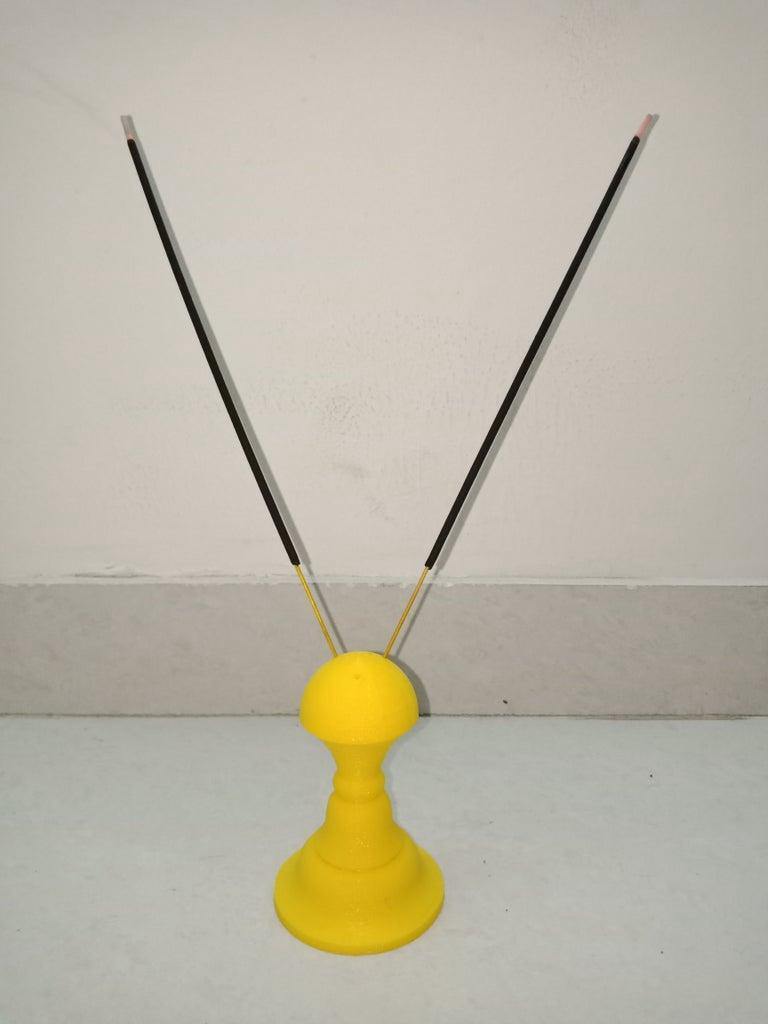 For the more stylish and classy folks, you'd definitely love this 3D printed incense holder. This is a more modernized form you can ever find. You can choose whatever color best suits you and decide to burn two or more sticks.
23. Tin Foil Incense Holder DIY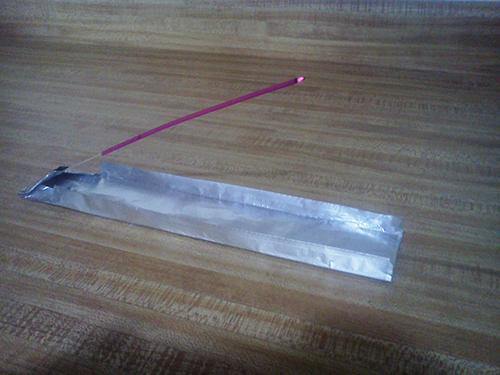 Apart from the regular or conventional wooden or clay incense holder, there's a simpler version coming your way. This holder is made using just a tin foil sheet. It's that simple and easy.
24. DIY Incense Holder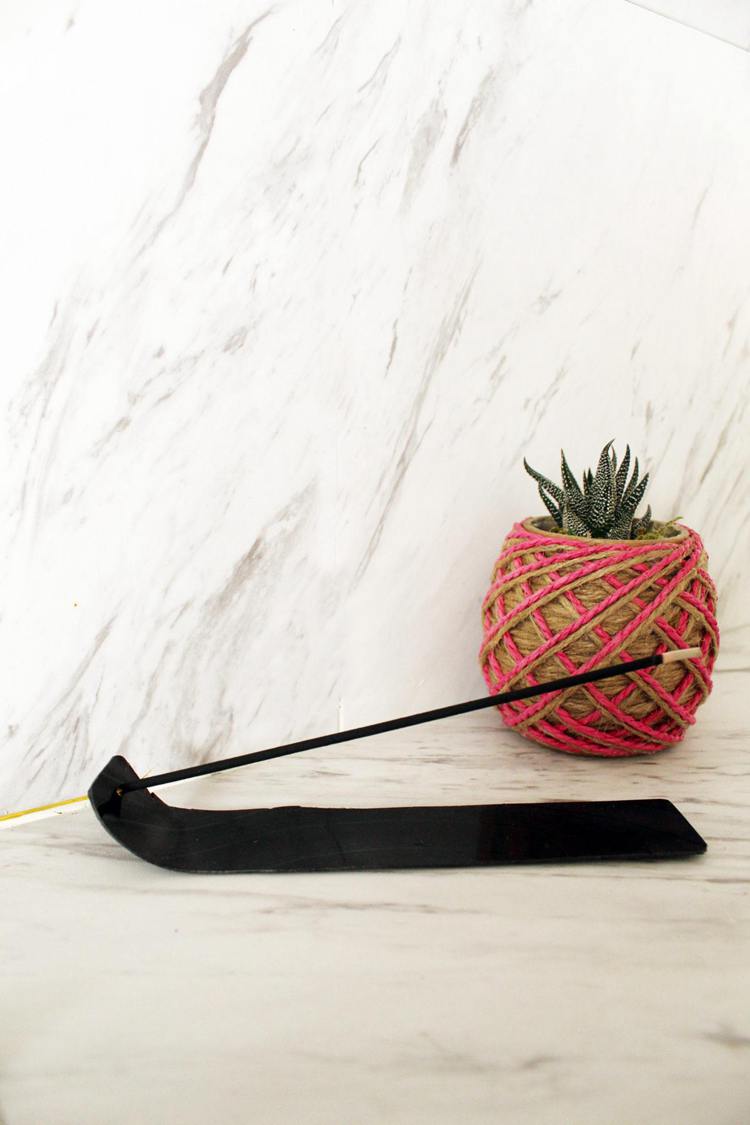 Did you know that out of a vinyl record you can make an easy incense holder for yourself? It's no fairytale I must say but this is cool and pretty. This article will help you explore the steps and guide you to having yours too.
Conclusion
Burning incense Sticks acts as room freshener as well as relaxes the body. This will destroy all the negative energies, thoughts and improve your health. All the processes are seamless and inexpensive.